The Samsung Galaxy Watch6 Classic brings back the much-loved mechanical rotating bezel and offers a larger, brighter display for easy viewing. This is a true smartwatch for all occasions.
Sometimes I get the impression that smartwatches are designed for people who find themselves in extreme conditions. The adverts feature either people without subcutaneous fat, members of the army of influencers who are "always there", or at least managers who throw promotions even on the golf course. But what should a mere mortal who is still saving up for his first private jet choose?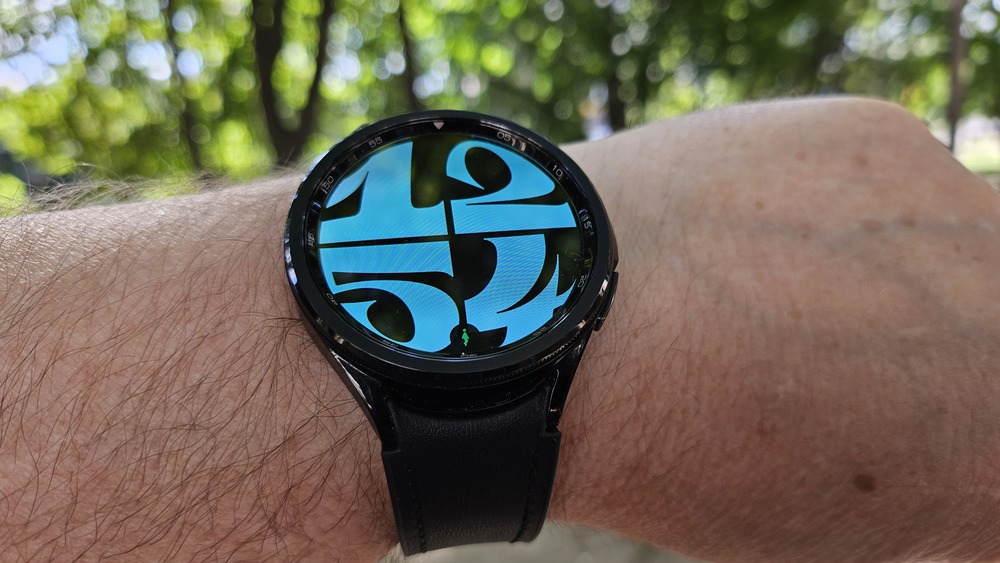 While Apple has a firm grip on the global watch market, Android has yet to establish itself as a hegemon. A number of brands are growing their own private but rigidly fenced-off systems, Huawei and Honor are trying to sell their child under two names, and Google itself is offering its Wear OS like a feudal lord to his daughter without a dowry. After working with Samsung, a system was created in which it is difficult to distinguish what and from whom it comes more, but the result is pleasant, useful and smart, just like the watch itself. But is it really perfect?
Read alsо: Samsung Galaxy Flip5 review: There's simply no better foldable smartphone
What is interesting about Samsung Galaxy Watch6 Classic
Samsung Galaxy Watch6 Classic is one of the most popular new products introduced by the Korean company in recent weeks. It is undoubtedly a top-class smartwatch that offers users ease of use, a wealth of features, and excellent build quality. If we add powerful components and Google's Wear OS system, we get an almost perfect device for every Android fan.
The entire line of the new Galaxy Watch6 has approximately the same technical solutions as the 2022 models. However, last year's models abandoned the classic bezel version.
In any case, the first and most important change in the new watch concerns the display, which has grown by 0.1 inches for all variants without increasing the overall size of the product, thanks to better space optimisation with the front bezels reduced by 30%. The display is even brighter and clearer, with a brightness of up to 2000 nits, so it will be easy to read information even in sunlight.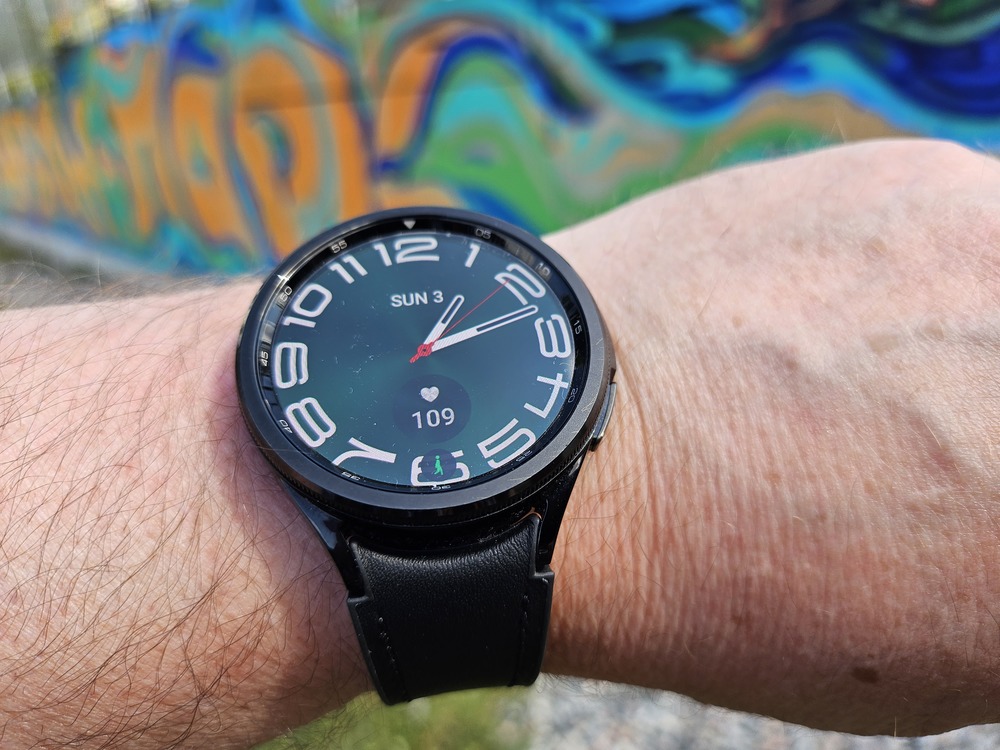 An attractive technical novelty is the SoC, now the Galaxy Watch6 has the new Exynos W930, and there has been a slight increase in RAM from 1.5 to 2 GB. These are small improvements that, without affecting battery life, improve the speed and overall comfort of use. Samsung continues to release smartwatches running on Google's WearOS, but it has managed to retain its former recognition thanks to its own One UI Watch 3 shell.
For review, I received a larger version of the watch with a diameter of 47 mm, marked SM-R960, with a larger battery and screen size. However, you can also buy the Samsung Galaxy Watch6 Classic in the 43mm version SM-R950. It has not only smaller dimensions, but also a slightly smaller battery capacity. This is perhaps a more "feminine" version of the Samsung watch. Both variants also exist in LTE versions – the smaller one is labelled SM-R955, and the larger one SM-R965.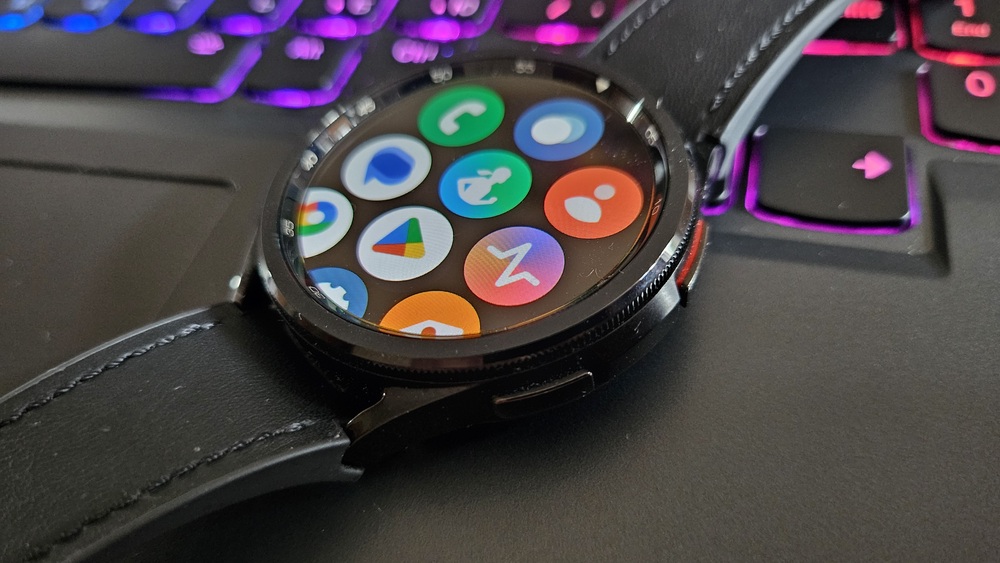 A few words about prices. The recommended price for the Samsung Galaxy Watch6 Classic in the 43 mm version SM-R950 in Ukrainian stores starts at $400. But if you are interested in the larger version of the watch with a diameter of 47 mm (SM-R960), you will have to pay $440. The 47 mm version of the Samsung Galaxy Watch6 Classic with LTE support (SM-R965) costs $490. Of course, this is a very expensive smartwatch, but believe me, it's worth it.
Technical specifications of the Samsung Galaxy Watch6 Classic 47 mm
316L stainless steel case (MIL-STD-810H certified), water resistant to 5 atmospheres (IP68), Gorilla Glass DX, mechanical bezel
1.4-inch Super AMOLED display with a resolution of 480×480 pixels (452 ppi), sapphire crystal
Dual-core Exynos W930 processor (2×Cortex-A55 1.4 GHz), 5 nm
2 GB of RAM, 16 GB of permanent memory
Connectivity: Wi-Fi a/b/g/n 2.4/5 GHz, Bluetooth 5.3, GPS/GLONASS/GALILEO/Beidou, NFC
Built-in speaker and microphone, vibration
Sensors: accelerometer, barometer, gyroscope, geomagnetic sensor, light sensor, optical heart rate sensor, electrical heart rate sensor (ECG), bioelectrical impedance analysis sensor, Hall sensor
Functions: activity detection and tracking, heart rate, SpO2, blood pressure and body composition, ECG, fall detection, contactless payments
Non-removable 425 mAh lithium-ion battery, wireless charging (Qi)
Wear OS 4 with One UI Watch 5 interface
Fluoroelastomer strap with 20 mm mount, third-party straps can be used
Dimensions: 46.5 x 46.5 x 10.9 mm
Weight: 59 g (without strap)
Price: from $400.
Only the essentials are in the package
Samsung Galaxy Watch6 Classic 47 mm arrived in a familiar elongated white cardboard box. I like the design style. Quite impressive and concise – the full name of the watch model and the trademark. Nothing unnecessary, inside as well.
Here you'll find only the Samsung Galaxy Watch6 Classic 47 mm in its unfolded form and a branded black cable with a magnetic charger. We also didn't forget about the paper instructions and warranty card. That is, the package contains only the most necessary and sufficient for the watch to work.
Samsung Galaxy Watch6 Classic
Read alsо: Samsung Galaxy S23 Ultra smartphone review: An unprecedented flagship
Opulent design: the return of rotating bezel
The Galaxy Watch6 Classic looks and feels like a traditional watch, as is usual for Samsung. But while the Galaxy Watch6 has an aluminium case, the classic models are made of stainless steel in black or silver. As I already mentioned, the Galaxy Watch6 Classic is available in two sizes: 43 mm and 47 mm. This is slightly larger than the 42 mm and 46 mm variants of the Galaxy Watch 4 Classic and the 46 mm of the Galaxy Watch 5 Pro.
The highlight of the design is the triumphant return of the rotating bezel, which was not present in last year's Galaxy Watch5 series. The bezel rotates smoothly and comfortably, and can be used to scroll through menus, tiles (widgets), notifications, and more. It also adds a touch of sophistication to the watch as it has a textured button along the outer edge.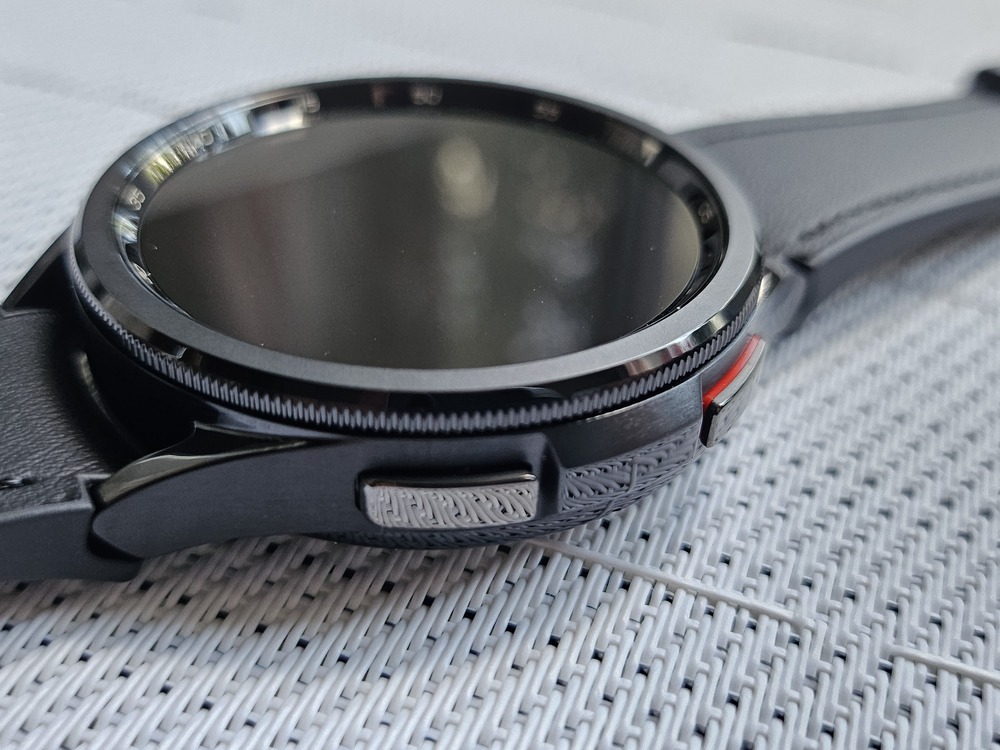 I know that many fans of Samsung smartwatches were unpleasantly surprised by the disappearance of the Galaxy Watch 5 Pro's bezel. The Korean developers did not explain this in any way, which caused the righteous anger of users. And now it has triumphantly returned. The rotating mechanical bezel barely protrudes above the protective glass, simultaneously performs the control function, and, apparently, no one expects excessive decor from it. The rotating bezel was a highly sought-after feature, but I can't say that it personally enhanced the experience of the watch for me.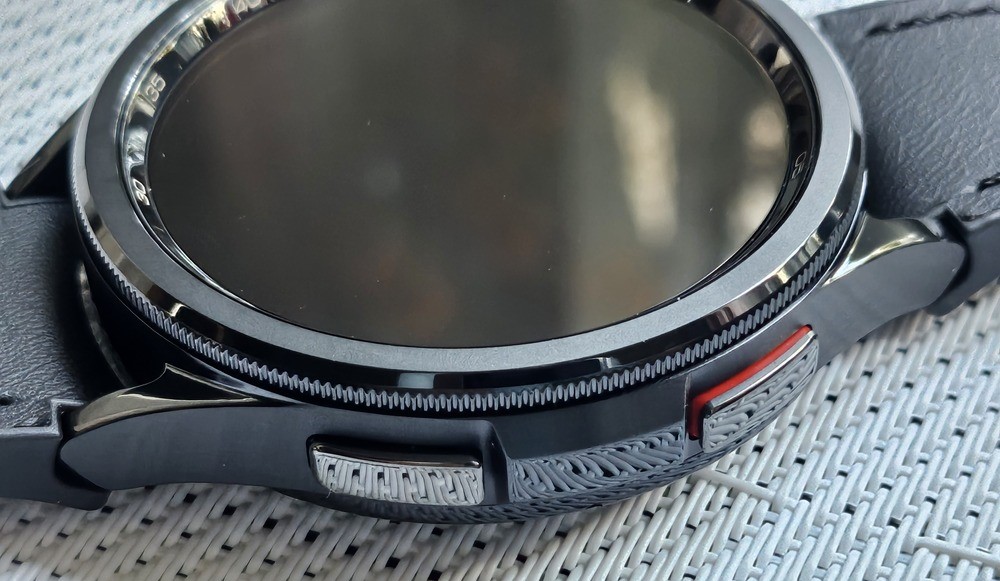 The last few smartwatches I used didn't have a mechanical bezel, so it took me a while to get back into the habit of using one. If you find it convenient, great. But I'm just being a bit nitpicky – you get used to the bezel over time, and it makes finding and controlling the watch much faster.
Although you can control Galaxy Watch6 Classic with two physical buttons, which are still on the right side of the case. There's a textured Home button on top and a Back button below. They are easy to press and have a pleasant tactile response. The Home button can also be configured to launch apps by double or long pressing.
The highest quality materials: steel case and bezel, sapphire crystal. Water and dust resistant to IP68 standard, the watch can withstand immersion to a depth of 50 m. There is also a certificate of resistance according to the military standard MIL-STD-810H. The only drawback worth noting is the complete absence of oleophobic glass treatment, so fingerprints are easily left on it.
The watch weighs 59 g, which is not much, and does not cause discomfort during normal daily use, however, this cannot be said about sports activities, when, especially in cardio disciplines, the weight on the wrist is felt and can be problematic. Initially, the presence of the Watch6 Classic 47 mm on my wrist was a little uncomfortable at night, especially in this very hot summer time, but I managed to get used to it.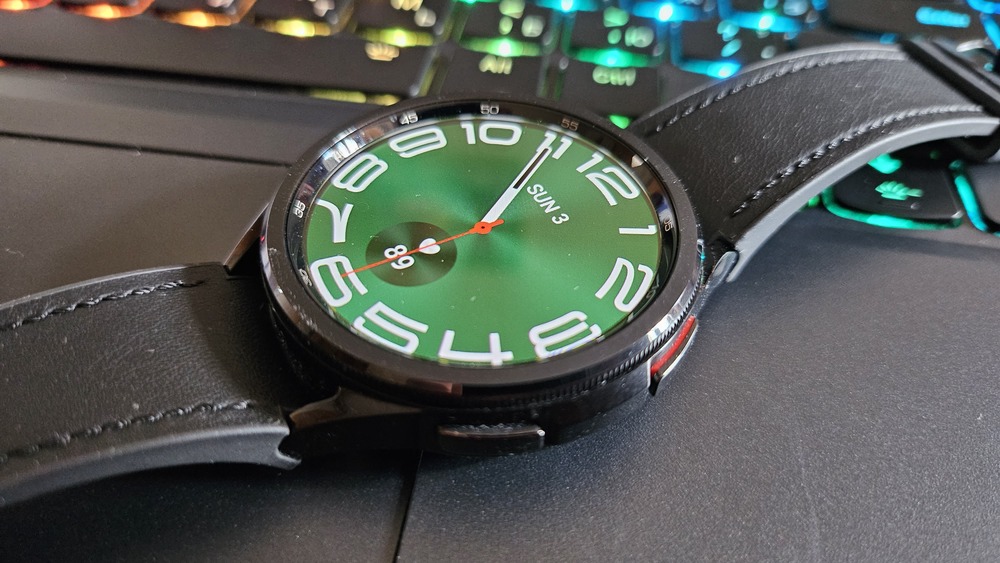 I've always liked the set of sensors on the back of this smartwatch. Of course, this time there are no new sensors, but there is almost everything you need to effectively track your health and workouts. I'll talk about how the sensors work and their accuracy separately.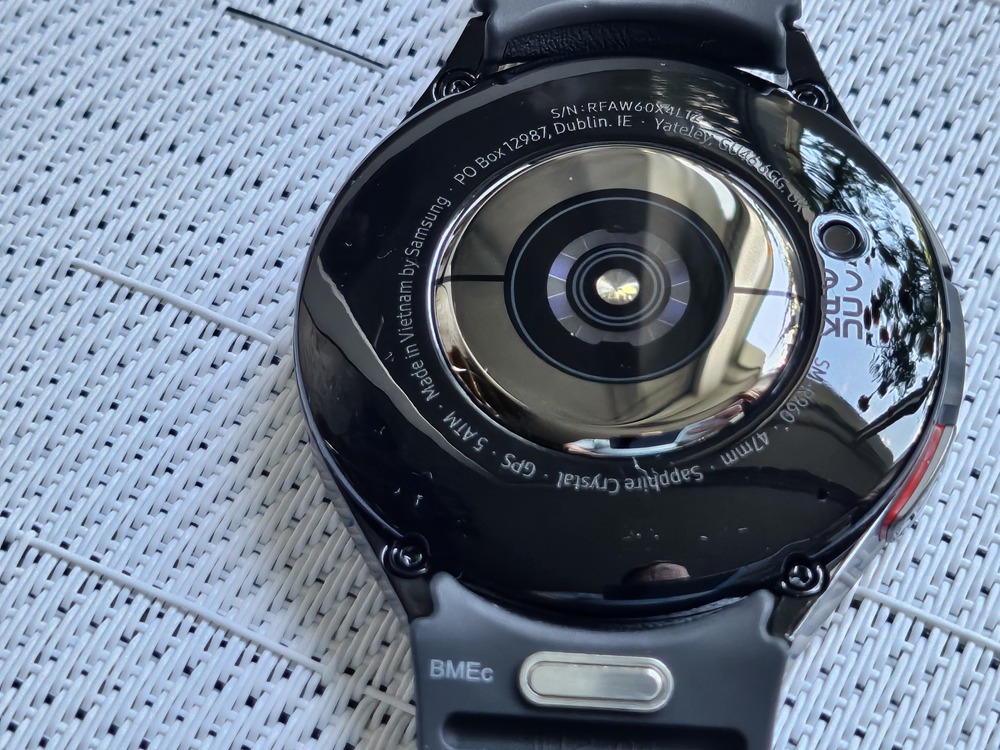 The Galaxy Watch6 Classic comes with a soft and flexible Hybrid Eco-Leather band, which is made up of vegan leather with a fluoroelastomer lining. The latter material is used in most synthetic straps because it is relatively economical and can easily withstand water and sweat. Essentially, you have the style and look of leather, but with the properties of fluoroelastomer, which gives you better versatility in your clothing choices and allows you to train without having to replace your strap.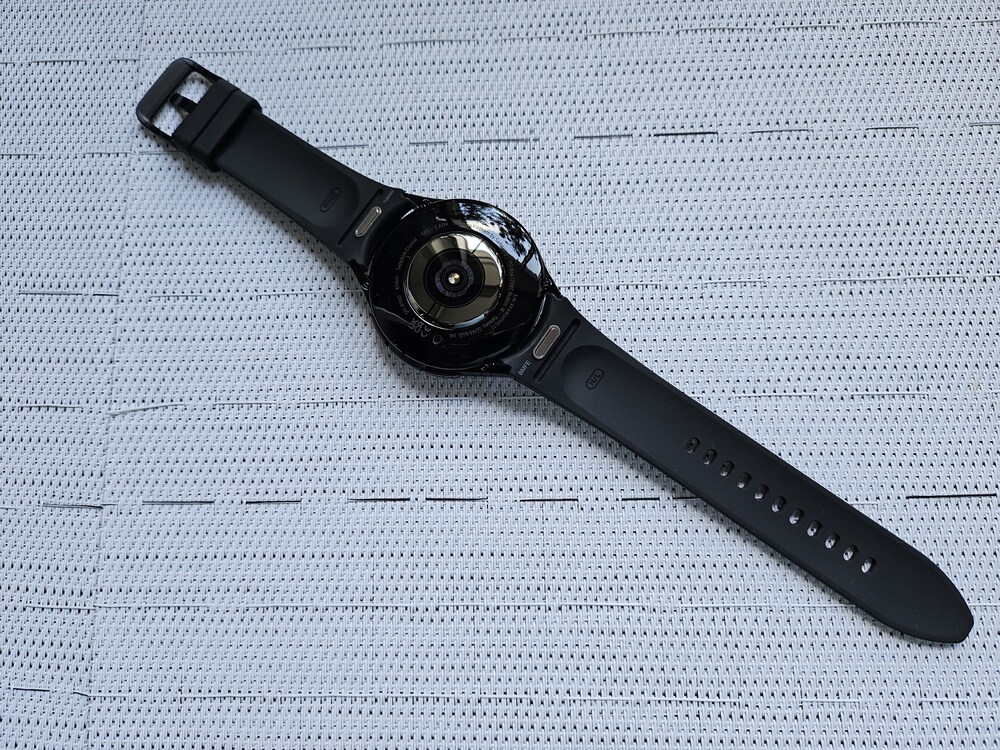 The strap is soft enough to be suitable for both everyday wear and gym workouts. Fluoroelastomer is an anti-allergic material, so you can safely wear it every day. Despite the summer heat, it doesn't make your wrists sweat too much, is comfortable even when worn for many hours, and has a wide opening/closing range to adapt to different wrist sizes of people.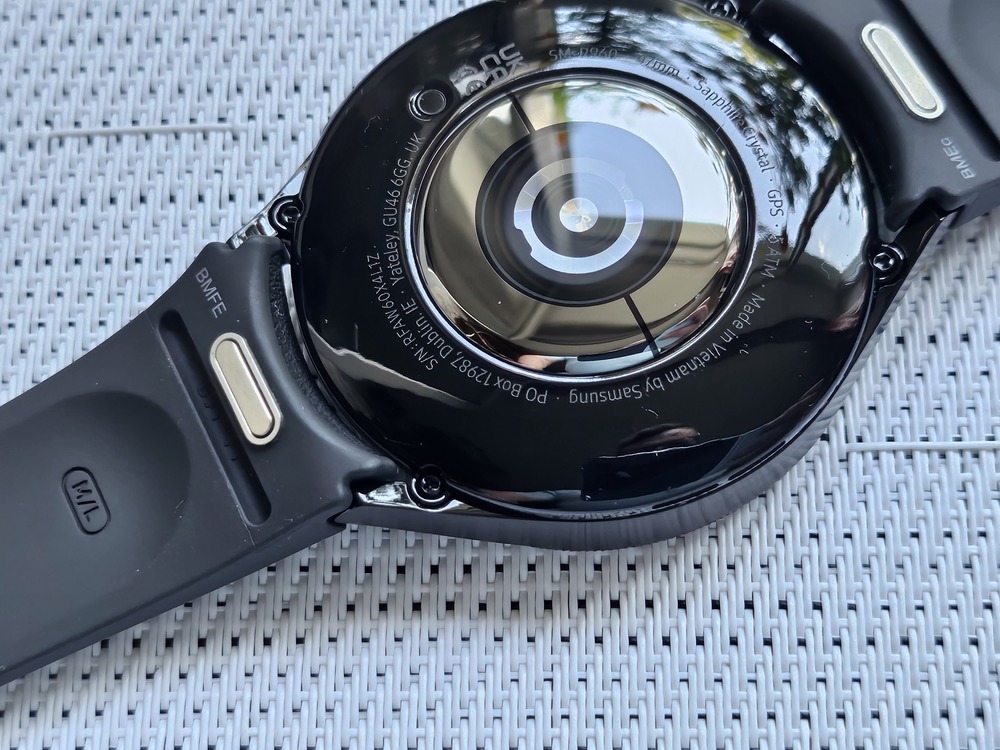 Normally, I wouldn't be thrilled with a standard watch band, but Samsung offers a new quick connect mechanism that makes it easy to swap it out for other straps.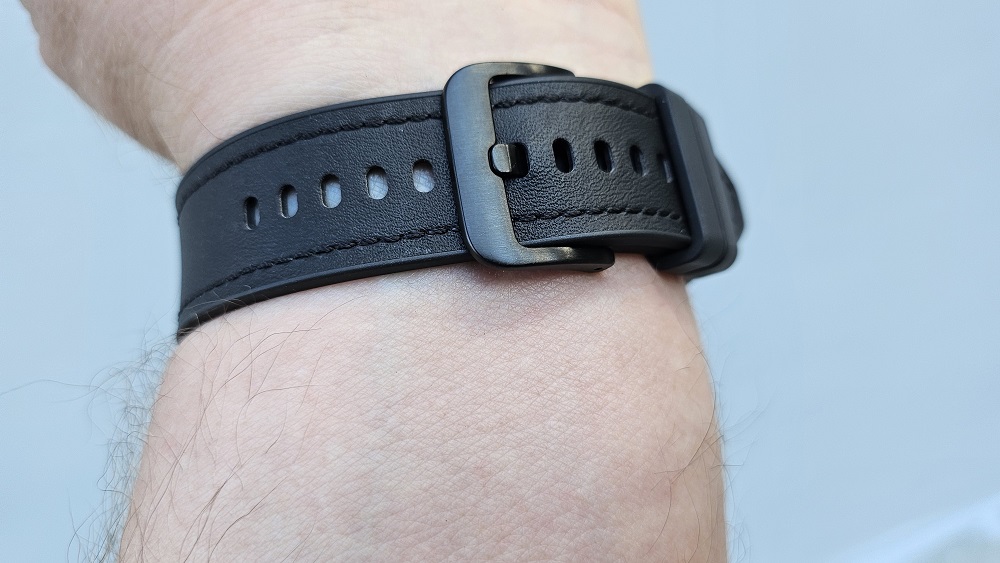 Unlike Google's annoying proprietary mechanism for Pixel Watch bands, Samsung has managed to do this in a way that still supports standard 20 or 22mm bands.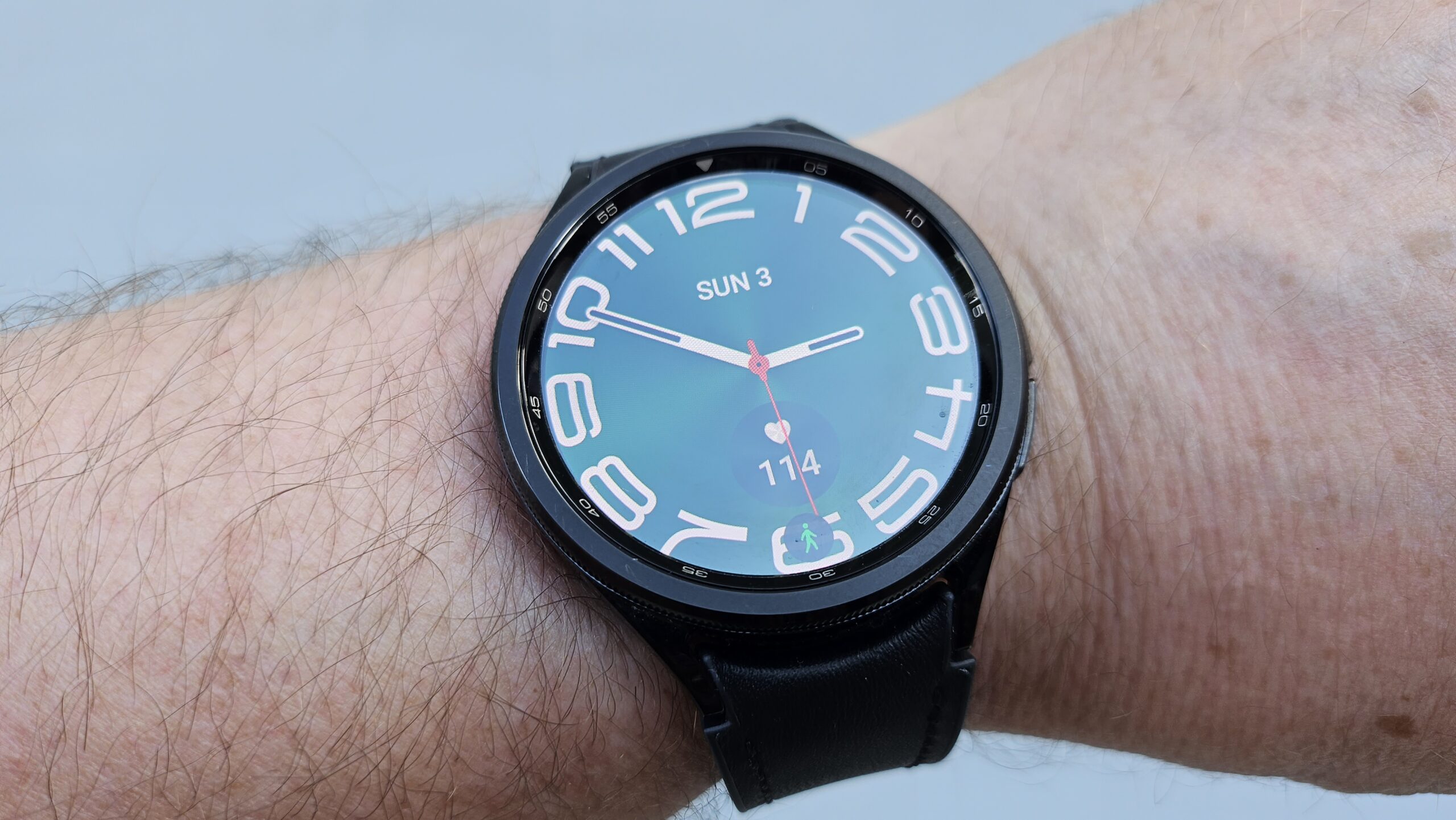 In my opinion, the Galaxy Watch6 Classic is a great design. The watch looks quite executive, but it also has a sporty feel to it, and it's made from valuable, high-quality materials.
Read also: Samsung Galaxy A54 5G Review: New king of the mid-range?
Great bright display
This year, Samsung decided to seriously update the displays of its smartwatches. Let me remind you that Galaxy Watch6 Classic is available in 43 mm and 47 mm versions with a 1.3-inch and 1.5-inch Super AMOLED screen, respectively, which is protected by sapphire crystal.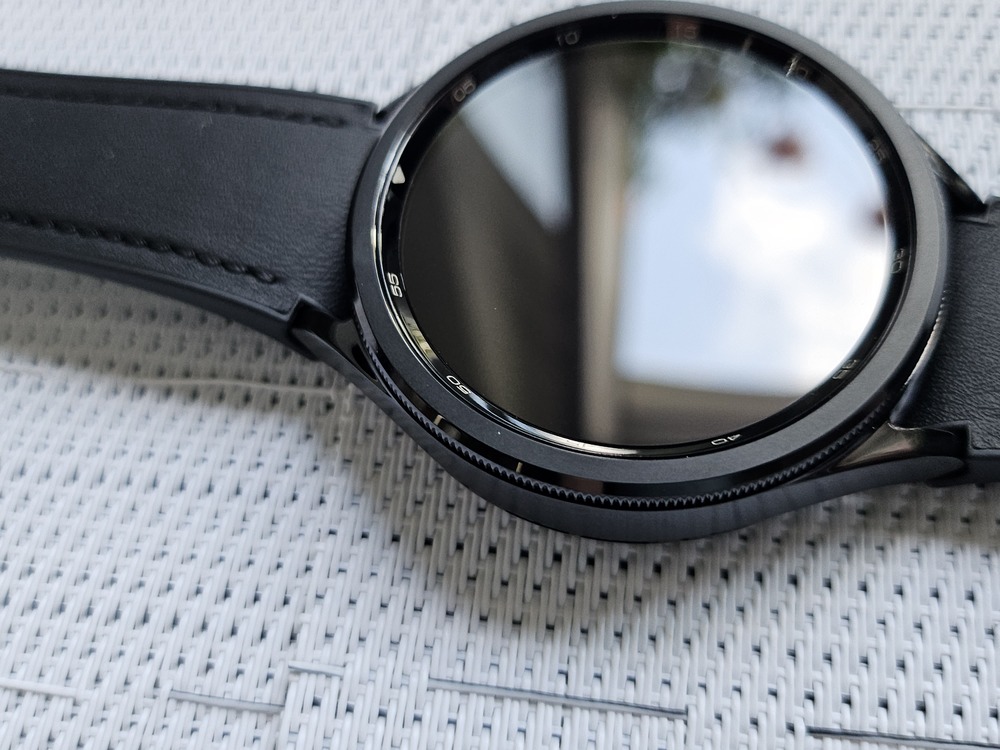 We're reviewing the latest one, and the upgrade is noticeable. The 1.5-inch Super AMOLED panel delivers a very high resolution of 480×480 pixels. However, in my opinion, much more important is the new bezel, which is 30% thinner, meaning a larger screen on the same surface area. When set to automatic maximum brightness, the bezel reaches an impressive maximum brightness of 2000 nits, which is comparable to the Apple Watch Ultra. This significantly improves outdoor readability and is a game changer.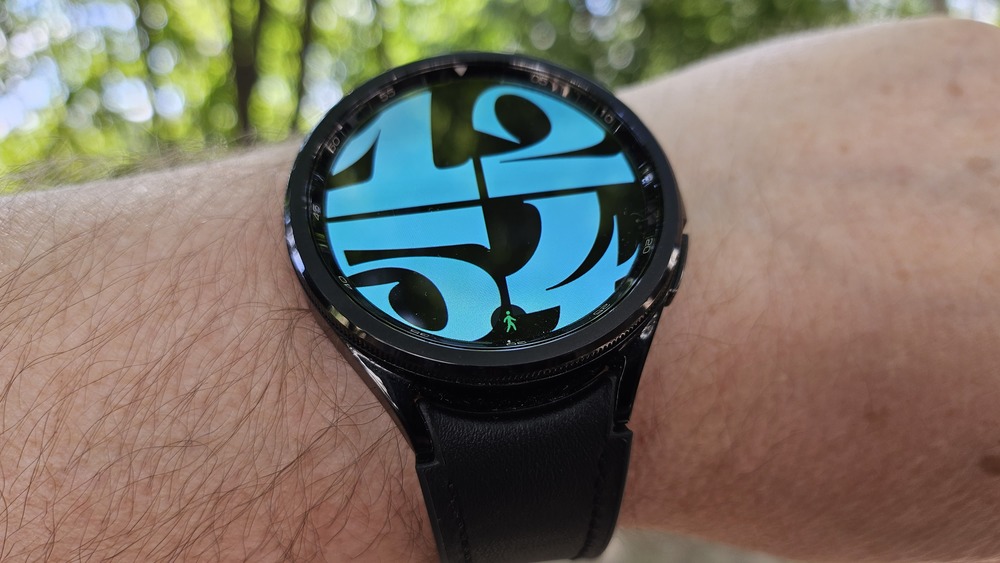 You might not think Samsung's marketing claims of a 30% reduction in bezel thickness are that important, but they make a huge difference when you're using the device. It makes for a more pleasant viewing experience and adds to the device's visual appeal. It's a nice step up from last year's Galaxy Watch.
Speaking from experience. Using the 47mm model, I really felt like I had a big, clear and bright screen on my wrist. Everything is extremely easy to see and read. I really appreciate the ability to see more information on the screen, because my eyesight is not the same. Maybe some people don't like the way a big watch looks on the wrist, but it's very comfortable, because when you can fit a lot of information on the screen, you have to admit that it's very convenient.
The watch is able to adjust its brightness according to the surrounding conditions, it is easy to wake it up by tapping or raising your hand, but most often I was happy to turn the bezel to do this. The ability to turn off the display by covering it with your palm also works, you just need to physically touch the screen.
Also worth mentioning is the very large number of watch faces available for Galaxy Watch6 Classic. There is really a variety for every taste. The collection is huge, many of them are free, but you can also buy a watch face you like. In addition, you can, of course, choose a watch face for the active Always on display.
Read alsо: Review of Huawei Watch D with pressure measurement function
Performance: Exynos W930 chipset
At the heart of the Galaxy Watch6 Classic is Samsung's new 1.4GHz Exynos W930 chipset, manufactured using 5nm lithography. It is an upgrade of the Exynos W920 processor already known from the Galaxy Watch5 Pro and Galaxy Watch4 Classic. Technologically, it's not a revolution, as Cortex-A55 cores have been around since 2017, but they are enough for the system to run smoothly. The updated processor works in combination with 2 GB of RAM and 16 GB of internal storage. You'll notice an improvement in performance if you update your Galaxy Watch4 or Watch5, even though the scale of the change isn't too significant.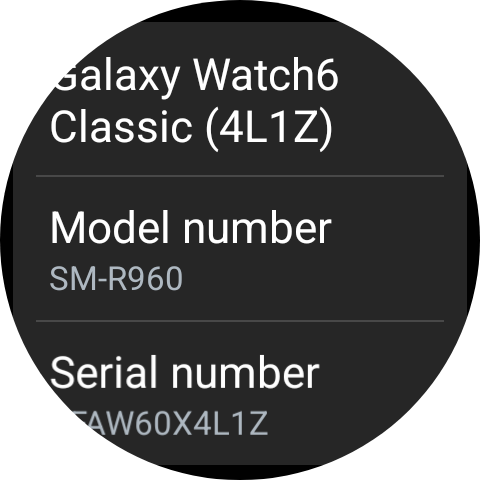 The power of this processor is more than enough to keep all the functions of your smartwatch running smoothly. The operating system is smooth, the fitness tracking functions work without any lag, and the tactile experience is also pleasant. The optimisations introduced by the new chipset also help to increase battery life compared to the previous iteration.
Read also: Review and experience: Is it worth buying the Samsung Galaxy S22 Plus in 2023?
Wear OS: a friendly system with unexpected loopholes
As already mentioned, the watch runs on Wear OS 4.0, supplemented by the One UI 5.0 Watch extension. In fact, the basis of this entire platform is Android 13. It's hard for me to distinguish where Tizen ended, where Wear OS began, and what One UI adds for variety. What's important is that even a beginner can quickly navigate the system.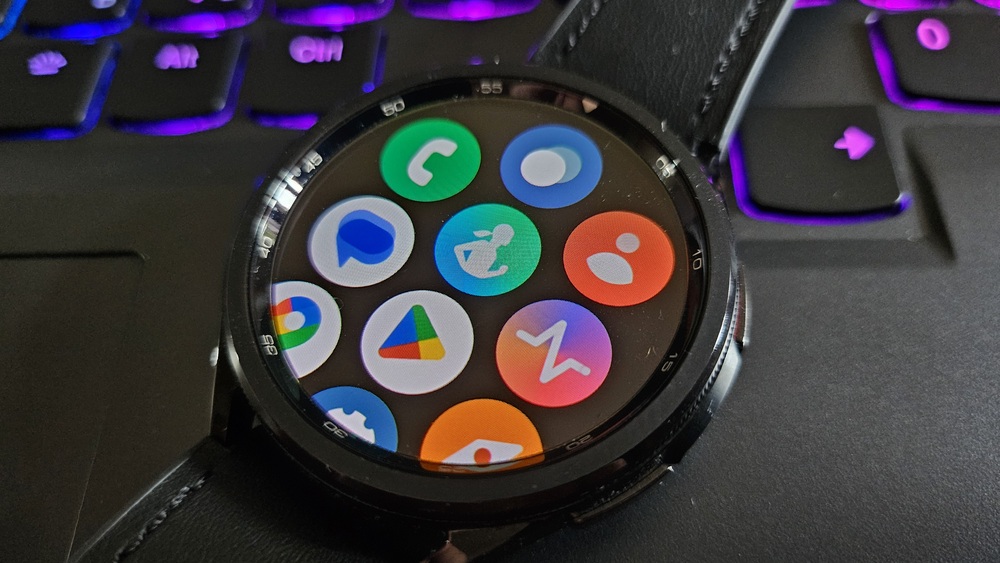 By placing the One UI shell on top of Wear OS 4.0, Samsung is delivering a consistent user experience across its mobile ecosystem. This also means that the best experience is delivered to those users who use it with a compatible Samsung Galaxy phone.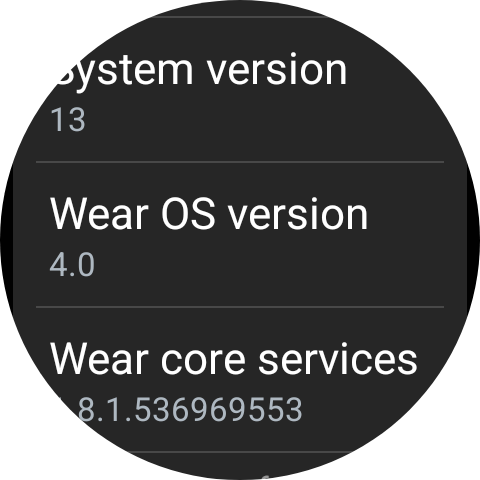 The One UI 5.0 Watch's updated interface is improved, but still feels very familiar, so you won't have to learn if you've been using Samsung smartwatches for a while. The gestures are the same, the user interface is well organised, and navigation using the mechanical bezel is as seamless as ever (and it also reduces the need to tap the display too often).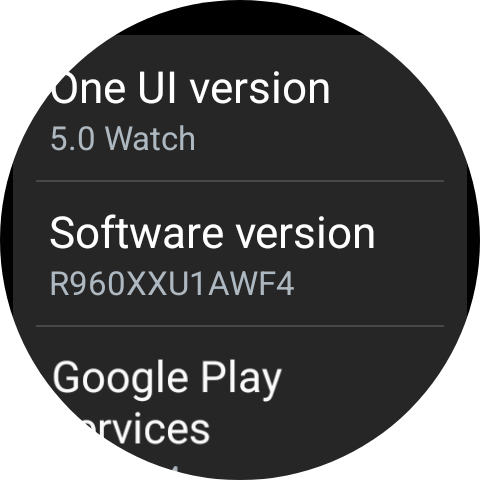 Swiping from the top opens quick settings switches, swiping left and the bottom button work as a step back, the top button returns you to the home screen with a short press, and long press and double press can also be set. Pressing both buttons at the same time takes a screenshot. If you were looking for a way to scroll through your recent apps, this is good, but you'll have to manually assign the double tap function.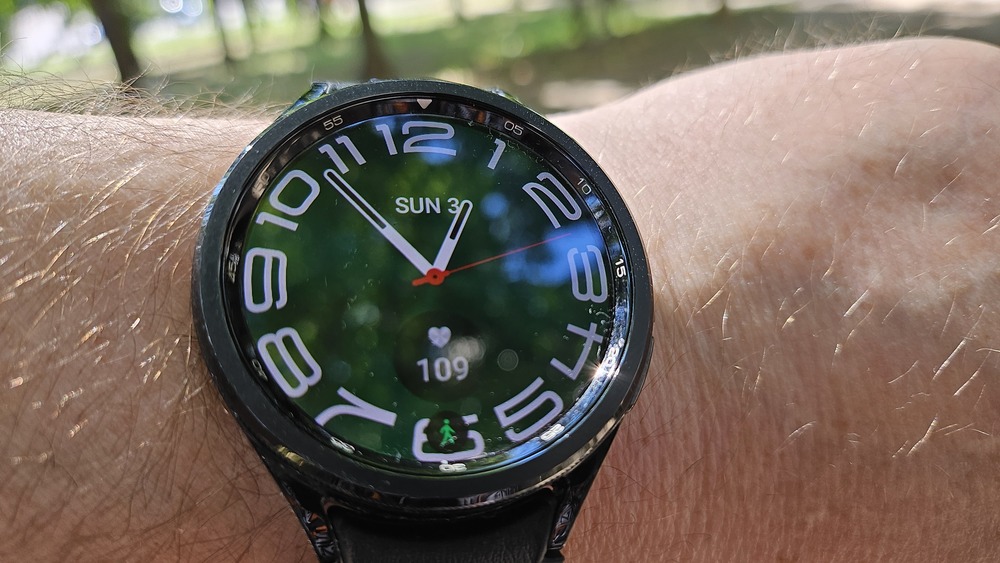 The software also has some good software tricks up its sleeve. The camera view feature is very useful when you're connected to a compatible Galaxy phone. You can open up the camera viewfinder on the smartwatch and even zoom in and out using the physical rotating bezel, so it's great for taking photos from a distance. Samsung also offers beautiful watch faces and four generations of Android OS updates for the Galaxy Watch6 Classic. However, keep in mind that many of the new software features and watch faces are also coming to the Galaxy Watch4 and Watch5 lines via software updates.
Samsung Galaxy Watch6 Classic - One UI 5.0 Watch
Read also: Samsung Galaxy S23 review: the cool compact flagship
Sync and support for Galaxy Watch6 Classic
We've left the technical details behind, so it's time to move on to the most important thing, namely how the new Samsung watch works in practice. Before you can start using the Galaxy Watch6 Classic, you'll need to sync it with your smartphone and special apps. This is possible thanks to the built-in Bluetooth 5.3 module. In addition, the Galaxy Watch6 Classic also boasts a wireless Wi-Fi connection and an NFC module for contactless payments.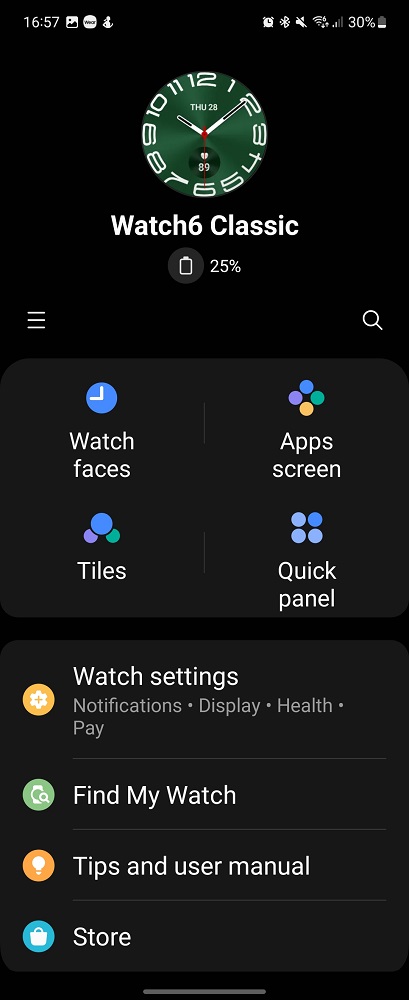 The new Samsung watch works seamlessly with Android and iOS phones. To ensure correct operation and interaction with your smartphone, you should immediately install the apps (if you have a Samsung smartphone, they are already installed) provided by the manufacturer:
Samsung Wearable
Samsung Health & Samsung Health Monitor
Samsung Wearable is an app that serves as a control centre for the most important settings of your smartwatch and user profile. It is here that we personalise our Samsung watch by choosing, for example, one of the more than 100 watch faces or widgets that appear on the display.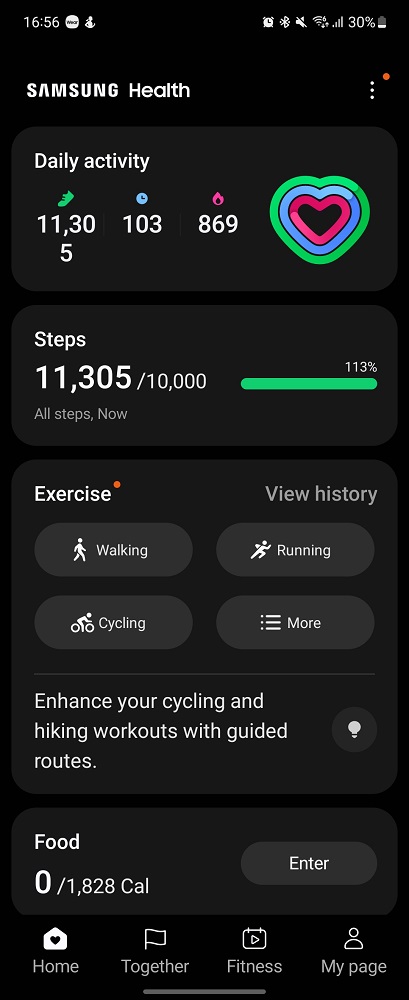 The next two app offerings for Galaxy Watch6 Classic are related to health and activity monitoring. They provide reports on workouts, daily activities, and the results of health measurements – including those related to heart function. We also have tips and tricks on how to improve the hygiene of your life and activities to enjoy better physical condition and health every day.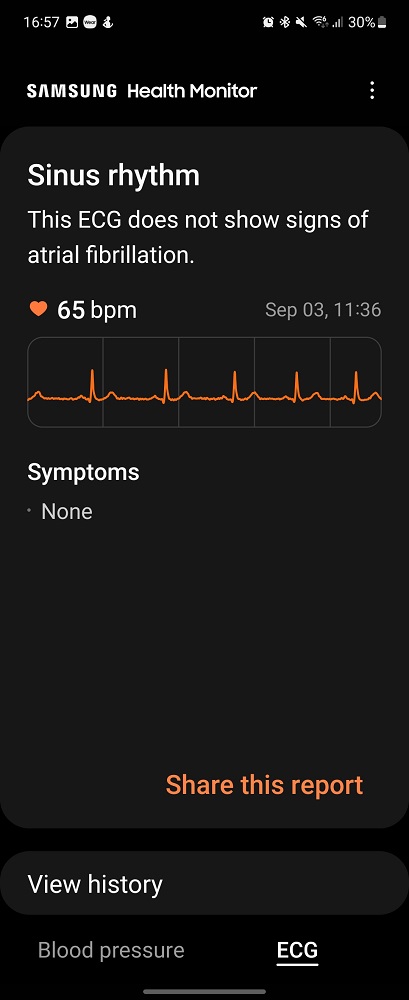 And how does Galaxy Watch6 Classic work from the wrist? There are two ways. Firstly, by touch, which I rate as instantaneous. In addition to the standard up/down navigation, you can use the bezel at your disposal. This makes moving between the most important widgets much more intuitive, smoother and, therefore, simply faster.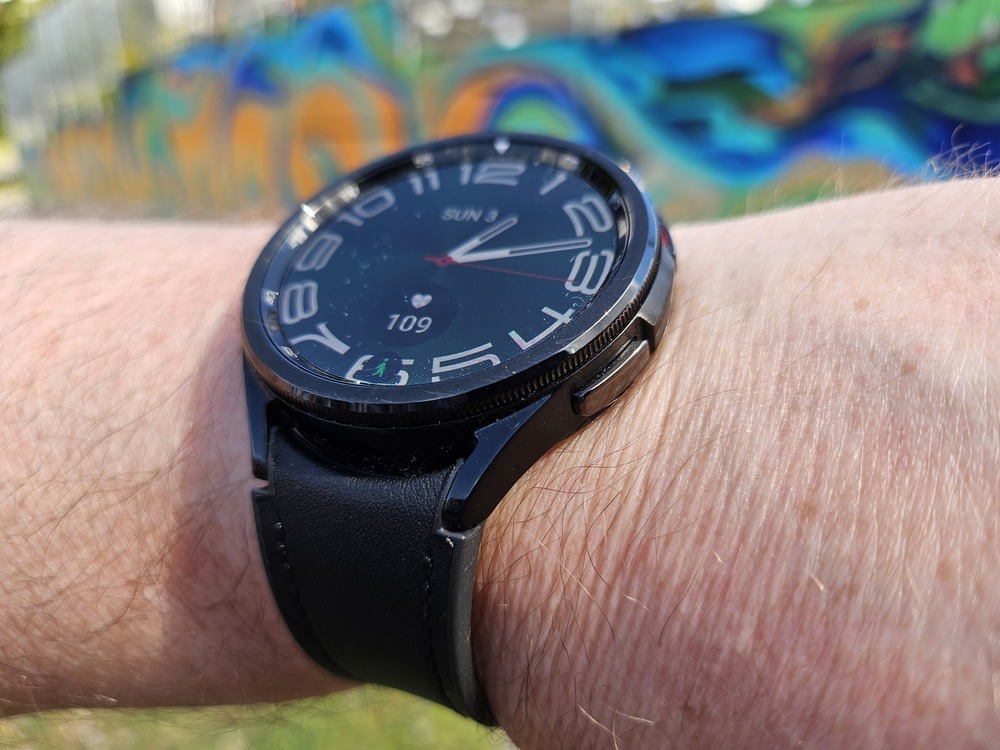 There are also two mechanical buttons – home (top) and back (bottom). In addition, you can use them to use certain options, such as commands to turn the clock on/off or activate SOS emergency calls.
Read also: Samsung Galaxy Fold4 experience: What makes it a multitasking device?
Your health is in complete control with Galaxy Watch6 Classic
It's no secret that in all Samsung watches, the issue of health and effective control over it is one of the most important. This time, too. The Galaxy Watch6 Classic allows you to accurately track individual body parameters, which in this model is supported by advanced sensors such as a heart rate sensor, ECG measurement, and a pulse oximeter for monitoring blood oxygenation.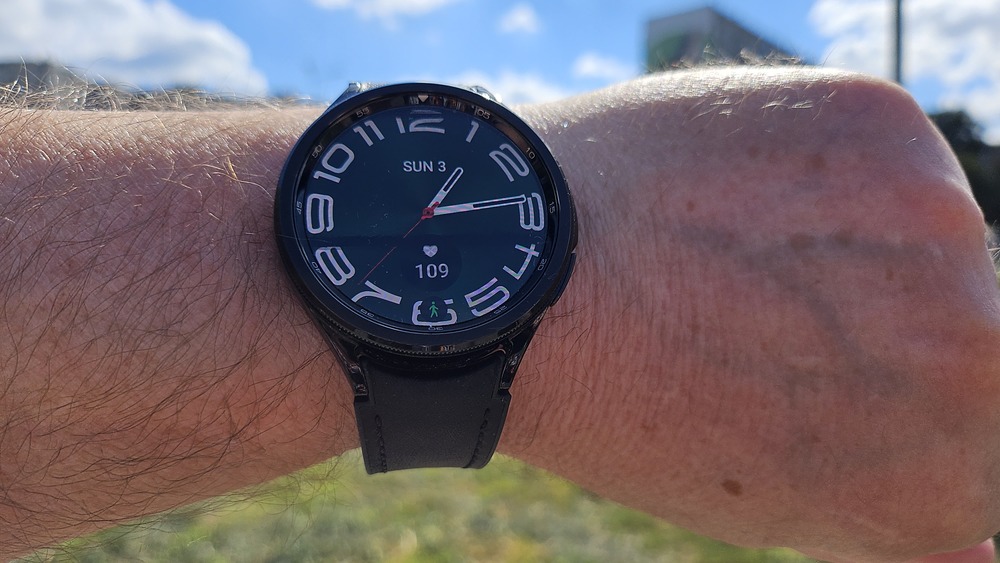 Sleep and stress
Like all Samsung watches, the Galaxy Watch6 Classic can monitor the quality of our sleep on many levels. It does this in great detail – it will successfully track not only the time of rest, but also the course of its individual phases and evaluate them meticulously.
But that's not all. The latest smartwatch from the Korean brand will also tell you how much the body has recovered mentally and physically during rest and what the actual oxygen saturation of the blood looked like during sleep. The programme will also offer a lot of tips on how to improve the quality of our sleep and what to do to really make a difference.
Samsung Galaxy Watch6 Classic
It's also worth noting the stress check function, which is nothing more than an intelligent analysis of data collected by sensors, including, for example, heart rate or blood pressure. You can measure your stress level with Galaxy Watch6 Classic at any time.
If you want to see detailed reports and tips, you'll need to use the Samsung Health app. If necessary, you can also use your Samsung Watch to take advantage of relaxing breathing exercises that are great for restoring your mood and overall life balance.
Multiplanar heart monitoring
Blood pressure measurement is also one of the components of the Galaxy Watch6 Classic's advanced heart and circulatory system monitoring. In addition, Samsung provides a quick ECG measurement with a sensor that detects atrial fibrillation.
Specialised sensors are placed in the mechanical buttons of the watch, making it easy to use – just put your fingers and hold them in the designated place for a certain time. Throughout the entire echocardiogram study, the sensors give out clear messages that are regularly displayed on the screen of the Korean brand's smartwatch, so there is no risk that someone will not be able to cope with this process. Basic test data will appear on your wrist. However, if you are interested in more advanced, detailed information, you can find it in the Samsung Health Monitor app.
Read alsо: Choosing a Foldable Smartphone: Samsung Galaxy Fold vs. Flip – Which Type Is Better?
Measurement of heart rate and blood pressure
The Galaxy Watch6 Classic uses a sensor known from the previous version of the device to check your heart rate. It's the PPG sensor, which continuously measures your heart rate. It works very accurately and warns you if your heart rate is too high or low. The watch checks your heart rate both during physical activity and at rest.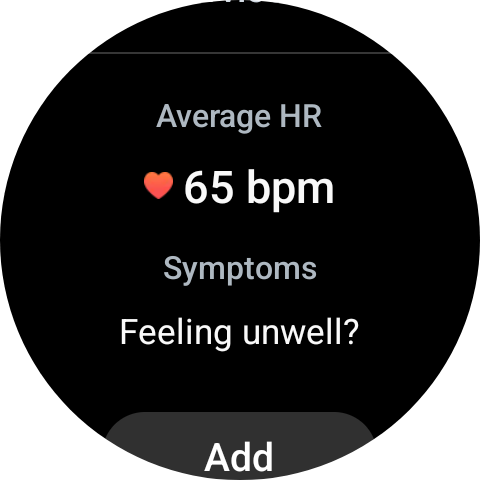 As already mentioned, you can check your blood pressure with the Galaxy Watch6 Classic. This is a very important functionality that can also be activated from your own wrist, but to measure your blood pressure correctly, you need to use the Samsung Health Monitor app and calibrate it with a professional blood pressure monitor.
Samsung Galaxy Watch6 Classic - ECG
A quick blood pressure measurement can answer key questions about your current state and well-being and even give you a signal that you need to see a doctor for a specialised diagnosis. But remember, this is not a medical device.
Read alsо: Samsung Galaxy Z Fold3 5G review: Addictive foldable smartphone
Body composition check
The Galaxy Watch6 Classic also gives you quick body composition analysis. With this sensor device on your wrist, you can check what your body composition looks like. The watch will show you how much muscle, fat or water you have in a few minutes. Simply tap the top mechanical button where the BIA (bioelectrical impedance analysis) sensor is hidden, and then run the corresponding command.
The results of the analysis will appear on the smartwatch screen in a few minutes. In turn, detailed reports will be available in the app, where, after entering your weight, you can also effectively monitor your BMI (body mass index) and calorie intake.
SOS function
It is also worth mentioning that Galaxy Watch6 Classic is ideal for crisis situations. The device provides the SOS function, which is known and appreciated by many users. How does it work in practice? Fortunately, I was not able to test it personally.
However, you should know that if there is an accident, all you have to do is press the mechanical home button on the Galaxy Watch6 Classic five times to send information about the incident and your location to emergency services or designated contacts. We can also set up an automatic call to emergency numbers that will take place 10 seconds after a serious fall is detected. All this is to ensure that help in a life-threatening situation always arrives on time. The SOS feature can be personalised to suit your needs in the Samsung Wearable app.
Read alsо: Samsung Galaxy S21 FE 5G review: Now definitely a fan flagship
Sports and training
Another key feature of this Samsung watch is its undeniable sporty potential. In my opinion, this will be one of the features that will finally convince those on the fence to bet on this model. Regardless of whether we play professional sports or our activities are limited to Sunday walks, the new Samsung smartwatch is a great tool for monitoring your body parameters during your activity. It's ready to keep up with us in any situation, collecting the most important information about the smallest actions, and being a real support during hard workouts.
Daily activity reports
Galaxy Watch6 Classic effectively proves that every activity counts. The device collects the most important information about the user's movement, thus creating daily activity reports. It is on their basis that you can calculate the number of steps taken per day and calories burned, as well as determine the most intense time of day and even the total time of movement.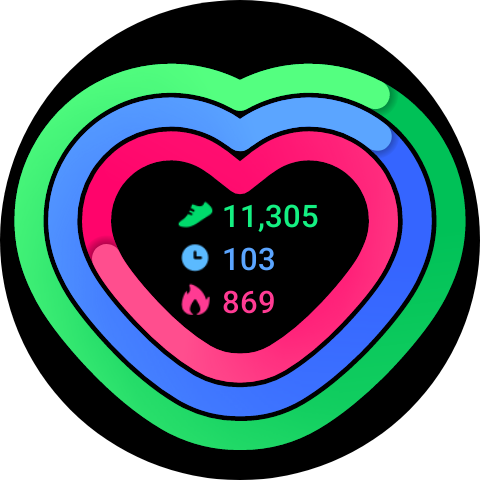 You can later compare these records in the app. They will also show the results for a month and even a year. In turn, such a broad analysis allows you to take measures that can really influence your lifestyle and the state of your body.
It's also worth noting that when your Samsung watch detects inactivity for a long time, it will automatically remind you to move. The Galaxy Watch6 Classic will do this with a short vibration and a motivating message.
Read also: Review of the Samsung AX32 smart air purifier (AX32BG3100GG)
Modes of the Galaxy Watch6 Classic
Intense sports with a Samsung watch is a pleasure. The Galaxy Watch6 Classic offers over 90 advanced sports modes. Some of them are available at the smartwatch level, while others need to be activated at the app level.
Nevertheless, the choice is huge. Among the predefined workouts, you'll find many running, cycling and water sports activities. The fair sex will probably enjoy fitness, yoga or dancing. On the other hand, men may prefer, for example, strength disciplines, which are also numerous.
Samsung Galaxy Watch6 Classic - Samsung Health
Interestingly, the Galaxy Watch6 Classic also allows you to create your own workout routines, making it even more adaptable to your needs. And best of all, in many cases, it automatically detects when an activity is about to start and starts collecting the most important information about it. The latter option is very useful and includes, for example, walking, running, cycling and much more.
No matter which activity you choose, the Galaxy Watch6 Classic will check key information such as time, distance, pace and heart rate every time. The basic data from the smartwatch will be constantly displayed on the screen during your workout, and for more advanced reports, you'll have to look at the Samsung Health app.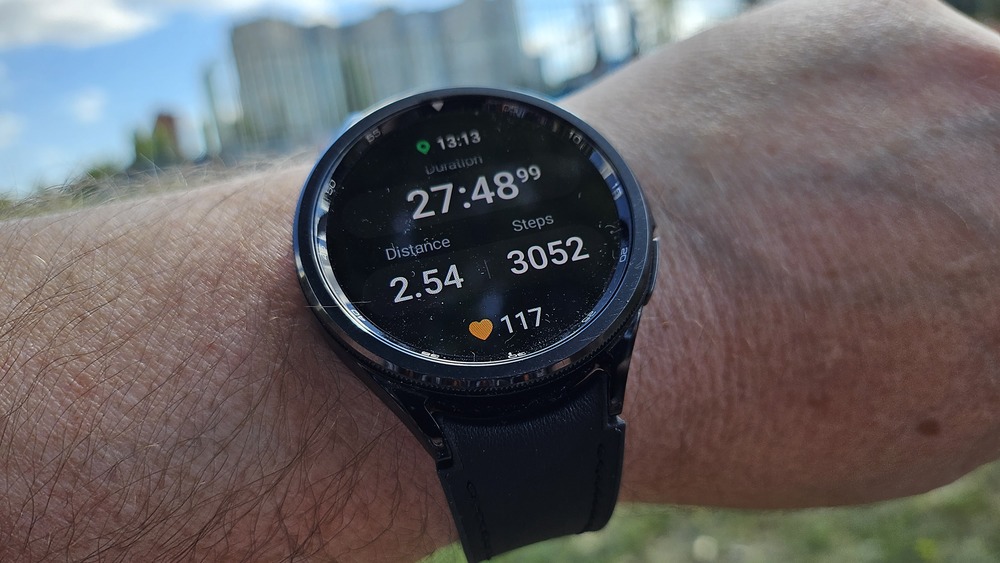 A very useful feature is the built-in satellite navigation system. It is thanks to them that the Samsung wearable device effectively records the route you have travelled and allows you to plan the next one, while determining, for example, the distances between key points and even the return route. All this is to make training with Galaxy Watch6 Classic a pleasure.
The icing on the cake is the fact that, based on activity reports and ongoing performance checks, Samsung smartwatches set, among other things, personalised heart rate zones that adapt workouts to the user's real capabilities without burdening them with unnecessary information. This is done through intelligent analysis of a person's age, physical condition, and other data. This approach always makes exercises not only effective but also absolutely safe for our health.
Read also: Samsung Galaxy A34 5G review: a balanced mid-range
Communications of Galaxy Watch6 Classic
Мій варіант Galaxy Watch6 Classic не підтримував підключення LTE. Що стосується комунікаційних можливостей, то тестований годинник має все, що потрібно  користувачеві від такого пристрою. Звичайно, після попередньої синхронізації з сумісним смартфоном.
With Galaxy Watch6 Classic, we can check for incoming calls and messages. What's more, we can manage them by answering or rejecting calls, as well as reading and replying to messages using the touchscreen keyboard or predefined replies or emoticons. We can also see notifications from selected apps, which can be switched off if necessary, so that they don't interfere with an important meeting or rest. Interestingly, the device can work in dedicated modes: sleep, cinema, or the popular "do not disturb" mode.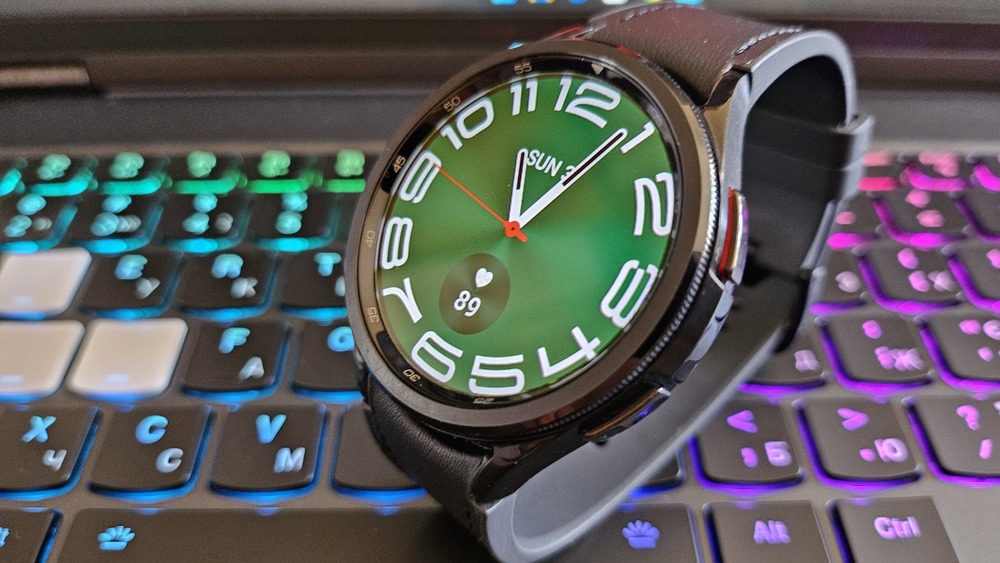 In addition to the above, Samsung smartwatches allow you to use a calendar that can contain information and reminders about the most important dates, an application with an accurate weather forecast for a given location, a compass, a stopwatch, an alarm clock, as well as a music player and the popular "Find My Phone" option. Women will also be pleased with the fact that this device and its dedicated app can effectively track the phases of the lunar cycle. And all this is offered by the Galaxy Watch6 Classic smartwatch.
Read also: Samsung Galaxy Watch4 review: elegant smartwatch running WearOS
Battery life and charging speed
The battery life of the Galaxy Watch6 Classic depends on the model you buy. The 43 mm model has a 300 mAh battery, while the 47 mm device has a 425 mAh battery, which is slightly smaller than the batteries in the Galaxy Watch4 Classic (361 mAh and 247 mAh)
Samsung claims that the watch can last up to two days on a single charge in standard use, or up to seven days in power saving mode. The developers claim that with the Always On Display option enabled, it can run for up to 30 hours on a single charge. When we switch it off, this time will increase to 40 hours. How is it in practice? Unfortunately, the same. I write "unfortunately" because this problem can affect the purchase decision for many people. In fact, the watch with the AoD option turned on and without training lasted exactly 27 hours. In turn, when I also trained, this time was reduced to 21 hours.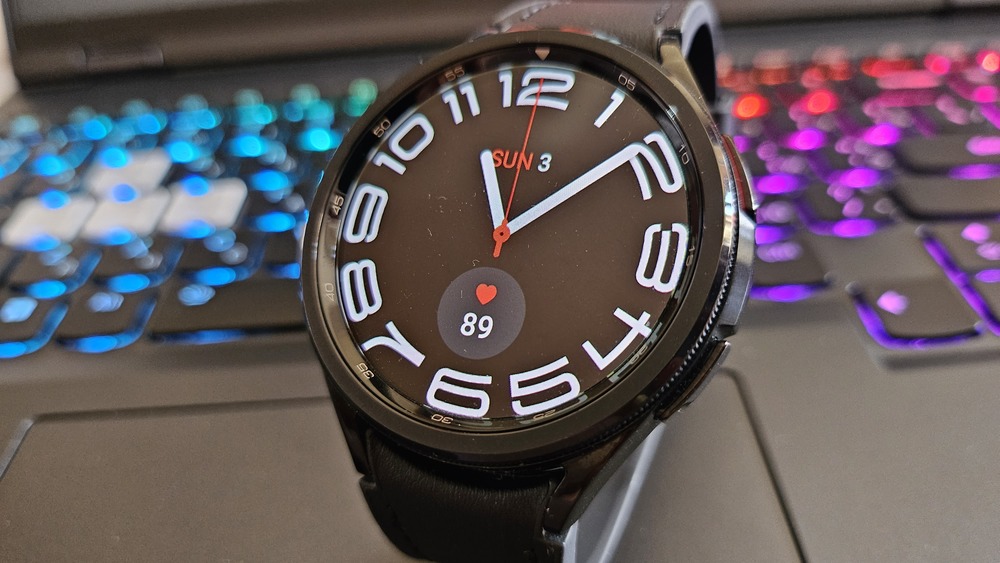 I believe that in the context of the competitive solutions that are currently on the market, this time should be at least 24 hours with full smartwatch functionality. However, we must admit that the manufacturer speaks about this openly, so we know what we are choosing. Yes, this is much less than my own Huawei Watch GT3, which lasts up to 10 days on a single charge. That's why it was hard for me to get used to charging my Samsung watch every day in the early days.
However, fast charging is available here – in an hour, the smartwatch has an almost full battery. However, to use it, you need to consider access to an outlet or carry a crisis power bank in your backpack. And, above all, answer the question for yourself: do the functionalities of Galaxy Watch6 Classic outweigh the need to recharge it regularly? I leave it to your discretion.
The watch supports wireless charging and comes with a magnetic charger in the box. You can also use the reverse wireless charging feature on some Galaxy phones to charge the watch, which is a good backup method. It's still very annoying that Samsung watches can't be charged with regular Qi chargers and use reverse wireless charging from third-party phones.
Read also: Samsung Galaxy Watch4 Classic review: As classy as they come
Is it worth buying the Galaxy Watch6 Classic?
Despite the fact that at first glance, the Galaxy Watch6 Classic model does not differ significantly from its predecessor, except for the return of the rotating bezel, it is worth taking a closer look at it and exploring its full functional potential. You can be sure that with each stage of getting to know this device, the desire to use it will become stronger and stronger.
The new Samsung watch is sure to appeal to active people who value training support, rely on detailed activity reports, and appreciate tips that improve fitness and performance. Advanced health monitoring is also a plus, which can be useful not only during workouts but also on a daily basis, for example, by monitoring heart rate, pulse, blood oxygenation and many other key aspects of health.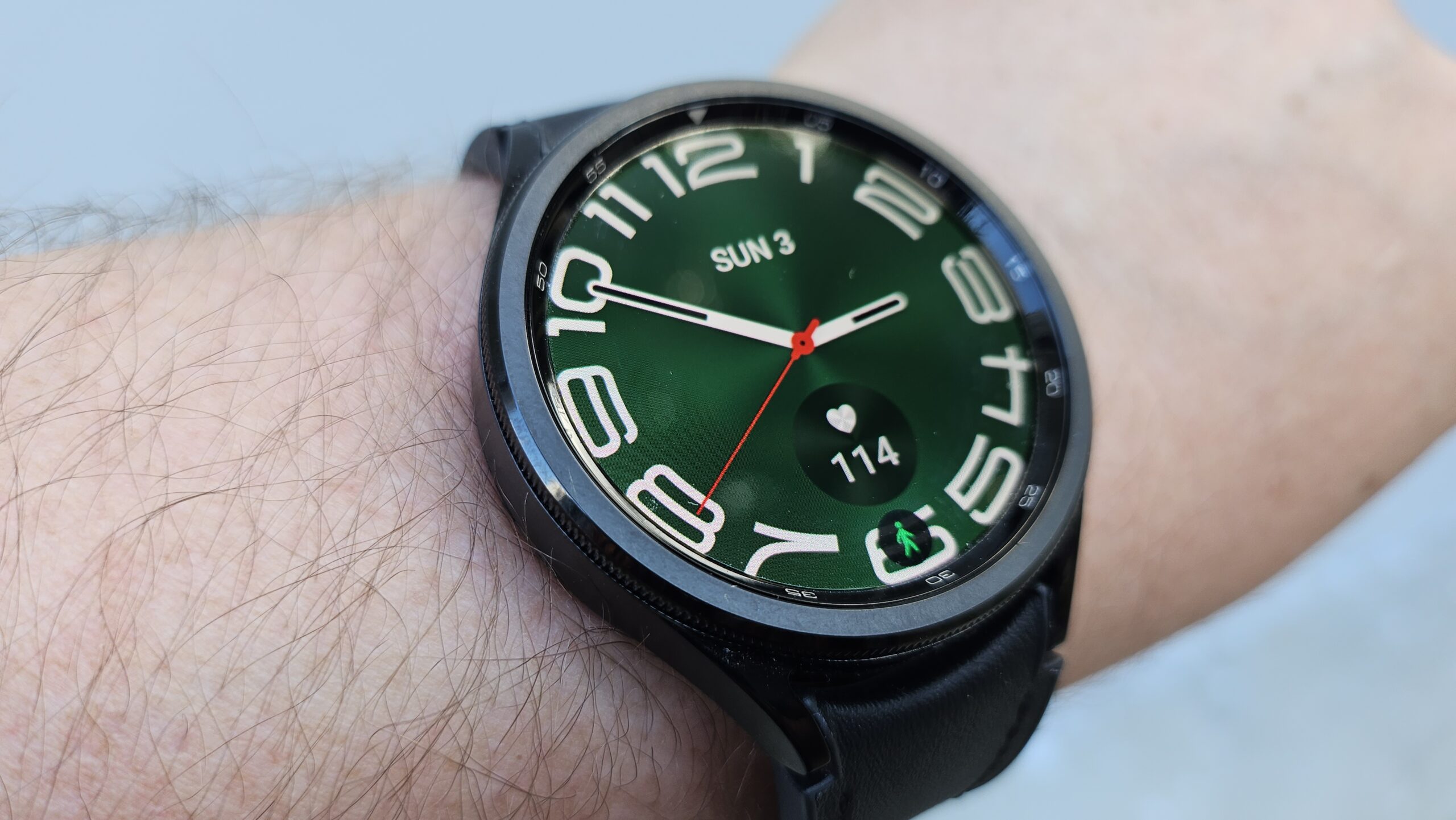 The battery in Galaxy Watch6 Classic doesn't hold a charge for long. However, if we realise how much the watch gives in return, this can be forgiven. Samsung's watch effectively compensates for this small drawback with a beautiful and sensitive AMOLED screen, excellent components and a system that makes it easy and convenient to manage your daily activities. With the Galaxy Watch6 Classic, the user stays connected at all times, has key data at hand, and feels more comfortable using, for example, fast contactless payments, navigation, and many other apps that the watch provides.
There's no getting around the fact that the Galaxy Watch6 Classic is a robust smartwatch that offers a lot of features and capabilities. It has a beautiful design, mechanical bezel, large display, smooth operation, and a host of health and fitness features.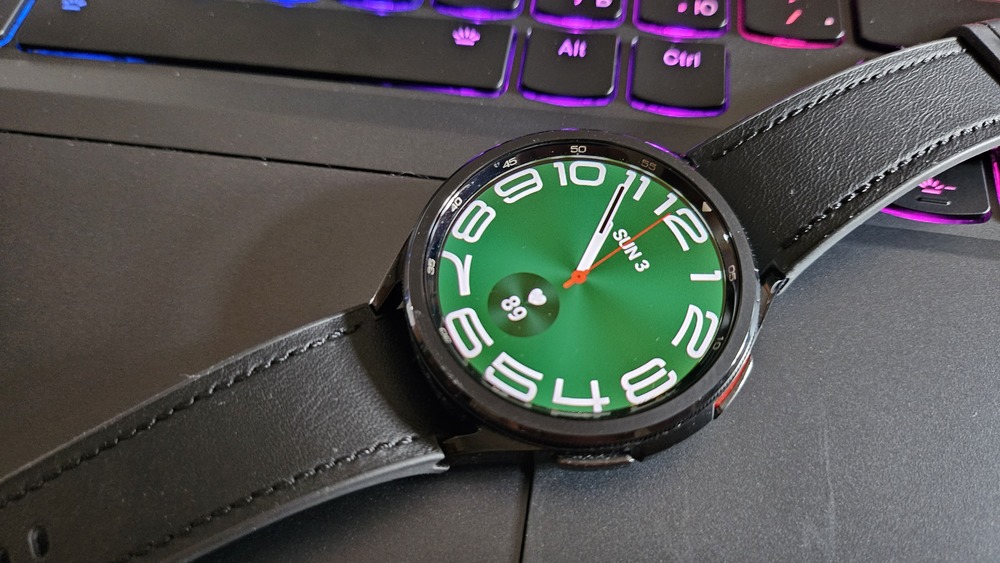 Importantly, the wristwatch can make use of Samsung's rich ecosystem, switching freely between paired devices. I especially recommend it to people who love the brand and have other Samsung products. Then using it to its full potential will be even easier and more efficient. If you want a truly smart watch, then the Samsung Galaxy Watch6 Classic will not disappoint you.
Advantages
excellent workmanship
high-quality case materials
Super AMOLED display protected by durable Gorilla Glass DX
the ability to control by touch or with a mechanical rotary bezel
water and dust resistance according to the military standard MIL-STD-810H and IP68 certification
built-in GPS, a wide range of sports functions to choose from
many functions and sensors for measuring the state of the body
music control, the ability to send messages directly from the watch
WearOS 4 with the ability to install apps from Google Play
contactless payments via Google Pay
excellent price-quality ratio
Disadvantages
not very high autonomy
charging could be faster
too high a price
slightly thicker and heavier than the Galaxy Watch5 Pro
Read also: