Yes, by gamepad I mean a small plastic smartphone holder with only four buttons. The elder brother of cheap and primitive lever triggers and suction-cup joysticks. But GameSir F4 Falcon, firstly, can be charged by Type-C, and secondly, can poke at the screen. And thirdly, it is a little more expensive.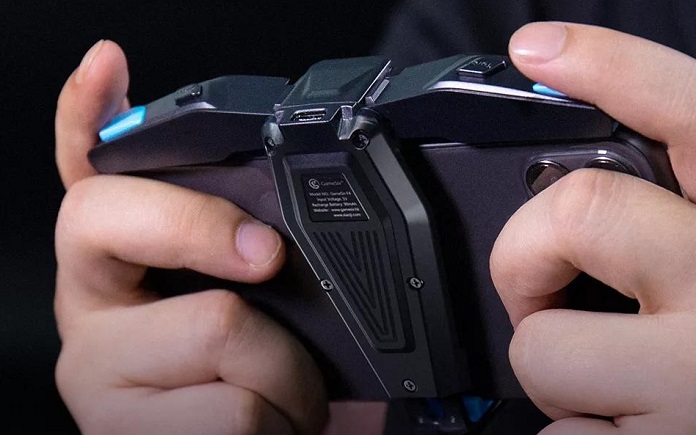 Market positioning
How much more expensive? $23 on AliExpress. Or a little more. $30 is not uncommon when looking through some retailers. For this price, of course, you can purchase a full-fledged gamepad from GameSir, and even with a smartphone mount. So is the Falcon worth its money?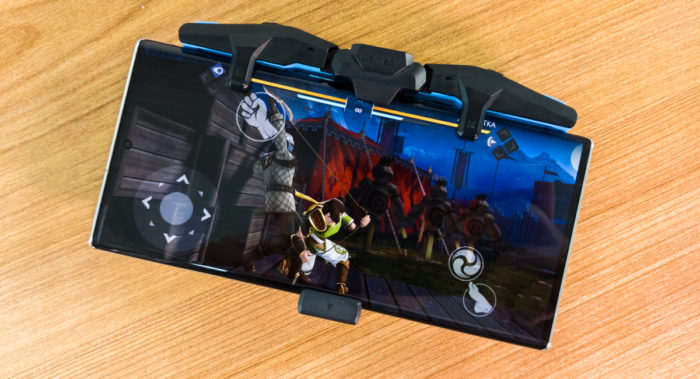 What's in the box
In the box, along with the gamepad itself, there are paper manuals and a warranty, as well as a Type-C cable.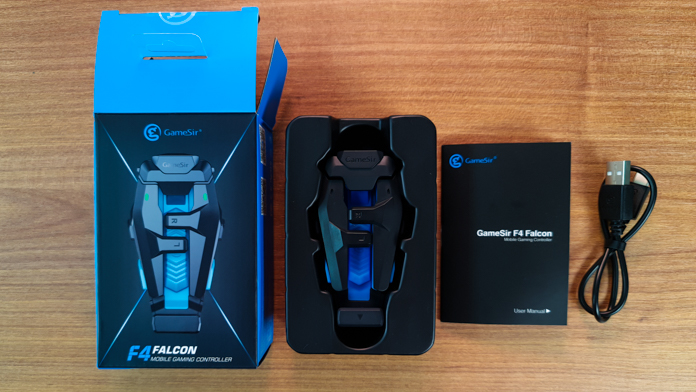 Appearance, materials, build quality
Maybe the looks justify the price? Well, GameSir F4 Falcon is pretty, no doubt about that. Black matte plastic, with blue silicone elements, and its compactness deserves attention.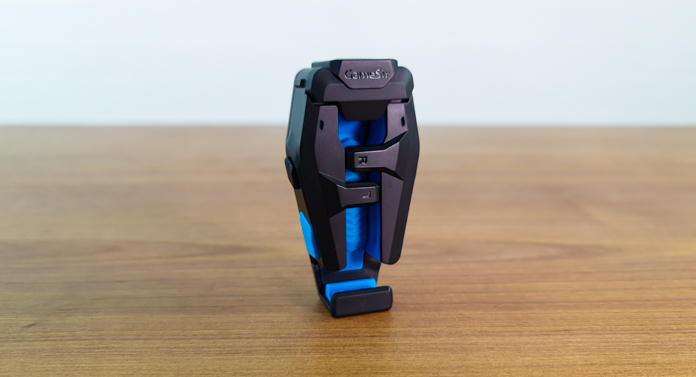 Fortunately, when folded (yes, it folds), this unit takes up not much more space than the smallest of the power banks. Not the thinnest, but tiny. Some might even fit it into a pocket with a smartphone!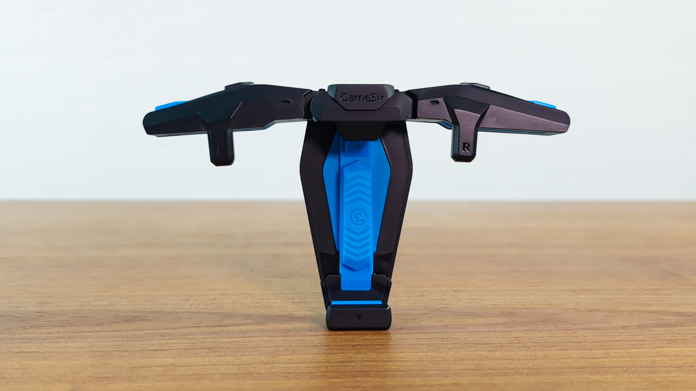 Our hero consists of a main stand, with a logo in front and a nameplate in the back.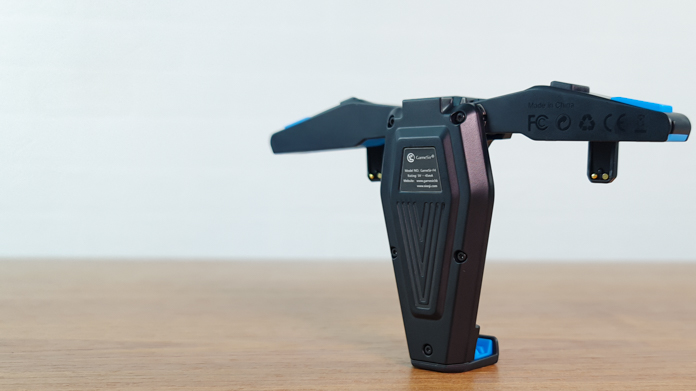 At the top there is a Type-C connector.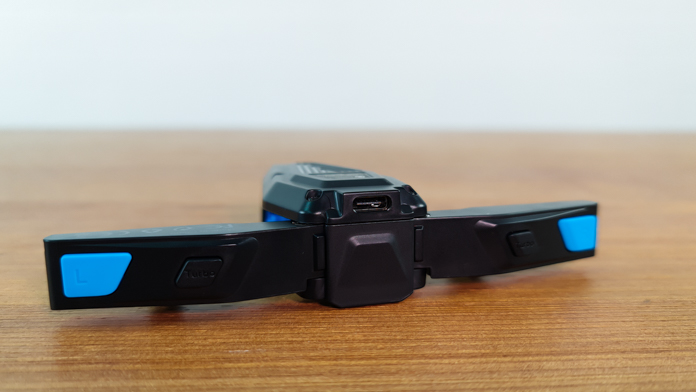 There is a chubby rubber damper on the bottom front to avoid scratching the smartphone.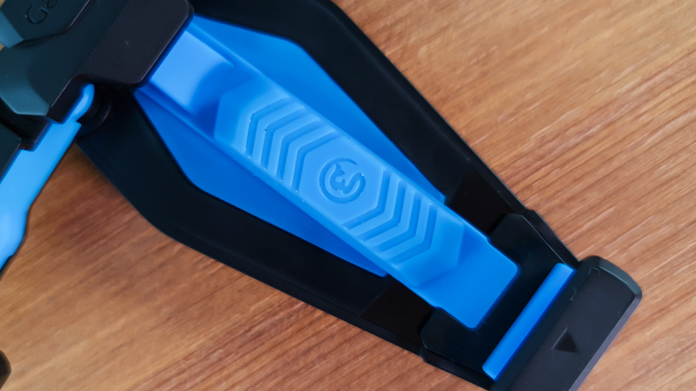 Below is a sliding holder, when pulled back, the device turns on and the LEDs light up.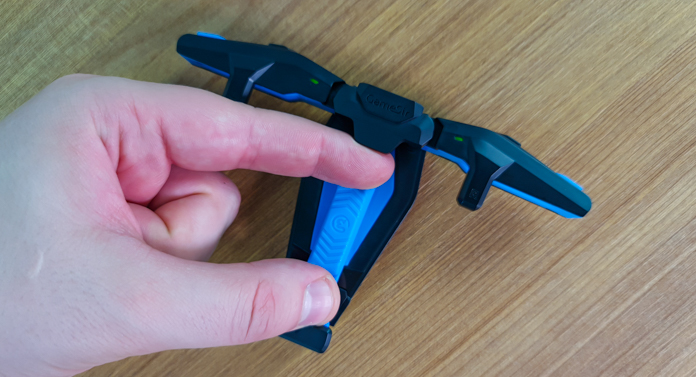 On the sides of the divider are clip-on handles with rubberized blue grooves, plastic tabs with L/R indicators and tiny LED indicators.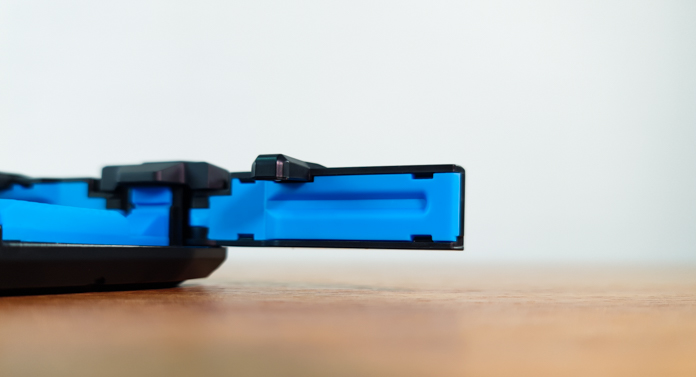 On the upper ends of the knobs are two buttons – blue L/R and one Turbo button.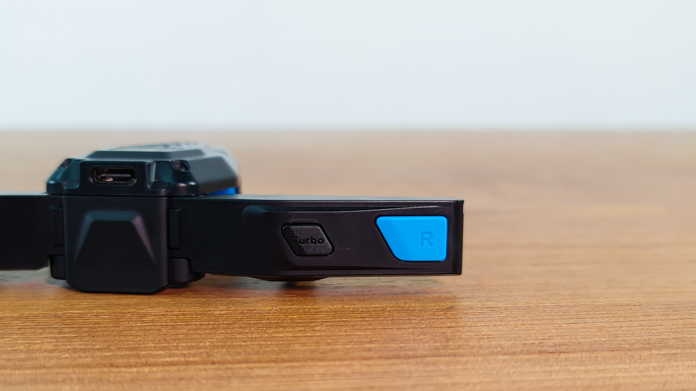 The case is held together by hexalobe screws, all of which are located on the rear.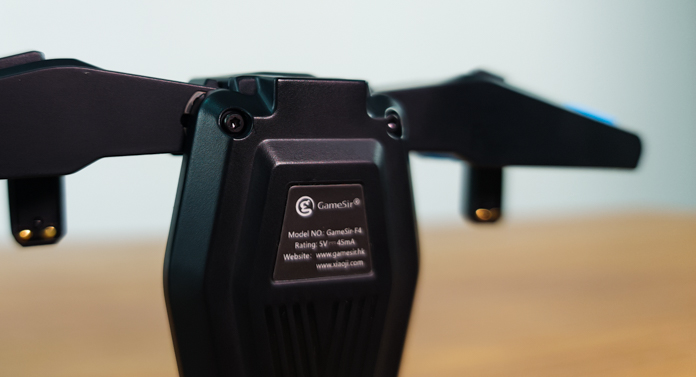 Preparation
The principle of operation of the gamepad is described in the instructions. Which is even available in English, although I was looking for English for a long time among different dialects of Chinese. The bottom line is that two sets of two buttons play a role that is both familiar and strange. But quite familiar to all fans of Bloody gaming mice. Yes, the very ones that are banned at tournaments.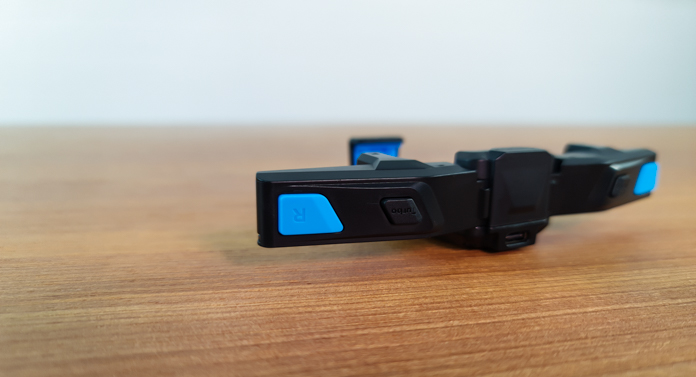 L/R buttons are responsible for pressing the screen at a certain point on the screen. And the Turbo buttons change the number of presses: 3, 6 or 9 presses at the same time.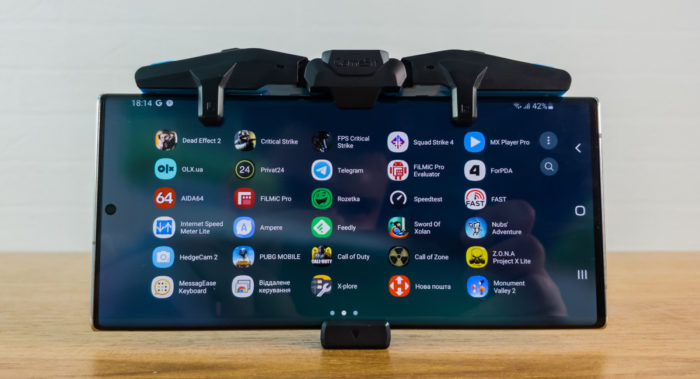 Don't worry about versatility and compatibility. GameSir F4 Falcon fits the Samsung Galaxy Note20 Ultra, which might as well be a tablet. Any smaller smartphone will fit.
Operating experience
Due to its compactness and pocketability, GameSir F4 Falcon can be carried with a smartphone – and this is the main advantage over a full-size gamepad, which only fits in a bag. Furthermore, the buttons are very pleasant and are pressed with a clear click; they are located under the index fingers.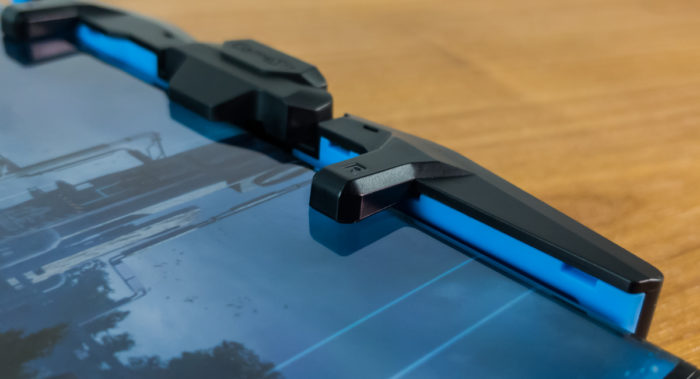 However, everything – and I mean EVERYTHING – will depend on whether your favorite game supports pressing into the upper area of ​​the screen.
What I mean is that you need to either reassign two areas in the interface of your favorite interactive fun for each of the physical buttons, or hope that they will be there initially. Or play something that reacts immediately to pressing the entire screen, if it's some kind of time killer or platformer like Geometry Dash.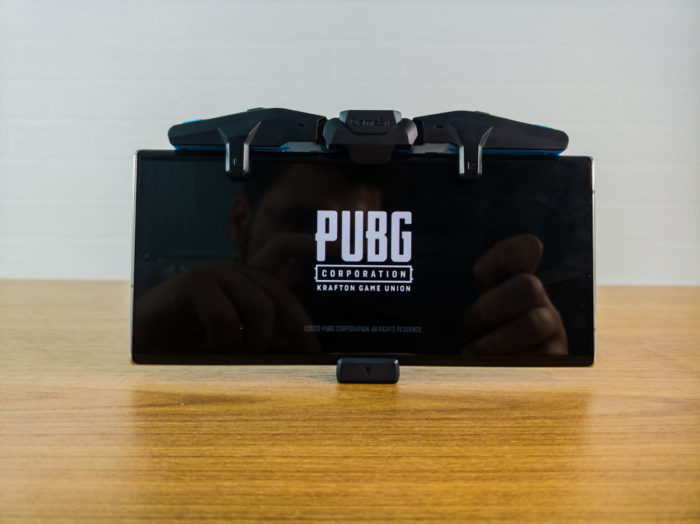 I'm pretty sure that a lot of the games either don't support button swapping or have no functionality at the top of the screen. However, popular games like PUBG Mobile or even games via GeForce NOW are not affected.
By the way, while I was testing games that supported key remapping, I hated the non-skippable tutorials in 3D title so much that I remembered why I no longer play on Android at all.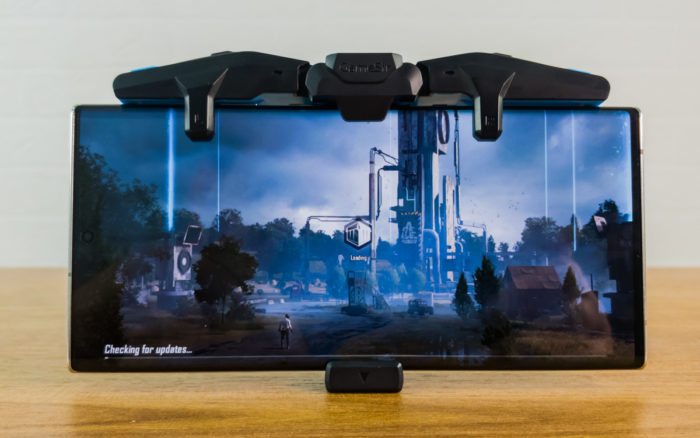 And the games have become so simple now – even Asphalt 9 by default does not require you to control the gas and brakes, the car drives itself and in fact the game is a runner, not a racing simulator. So go find a game that requires a gamepad.
Verdict
GameSir F4 Falcon is an interesting gadget. Not very useful outside of games, and situational in games as well, and not cheap. But it's well-built, compact, hardy, does not require a Bluetooth connection and is generally pretty. I will not recommend it to everyone, but casual gamers might find it useful.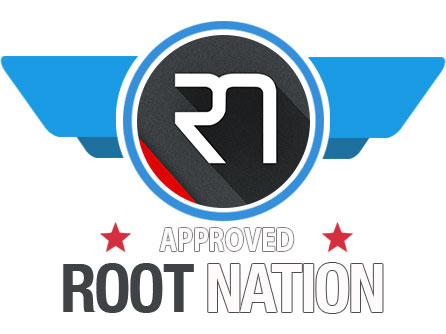 Prices
Subscribe to our accounts: