Ever since Windows Hello appeared in laptops, and the iPhone and Huawei began to allow unlocking without entering passwords, remote identification has been fascinating people. And then the Kickstarter campaigns began, and prototypes started flowing. And products began appearing. Successful ones, too. Just like Hideez FIDO Security Key.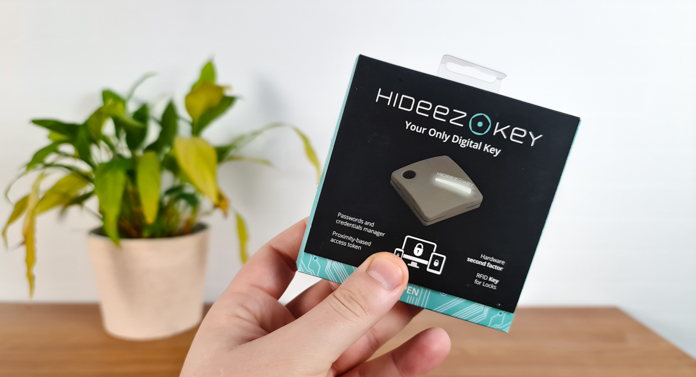 Market positioning
And right here I will start my educational program, which will be VERY useful to you, I guarantee it. Hideez Key ST101 and Hideez FIDO Security Key are different devices that practically do not overlap in functionality, although they may look very similar.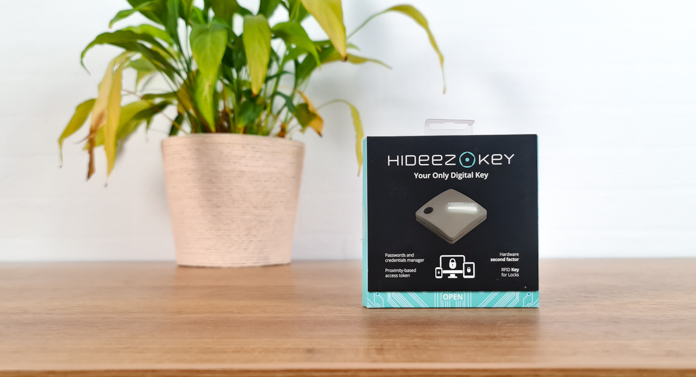 If you have seen Hideez Key reviews that mentioned the Hideez Safe application, then you have seen a review of the first model, ST101. This model is made exclusively for the consumer sector.
If you want to buy a modern device for personal or corporate use, you should consider Hideez FIDO Security Key. It costs about 50 USD. Today we will talk about this particular model.
What's in the box
Inside the box with a very dense and high-quality magnet we find the device itself, as well as a very high-quality metal ring with a twist sleeve. Which is threaded through the hole in the token.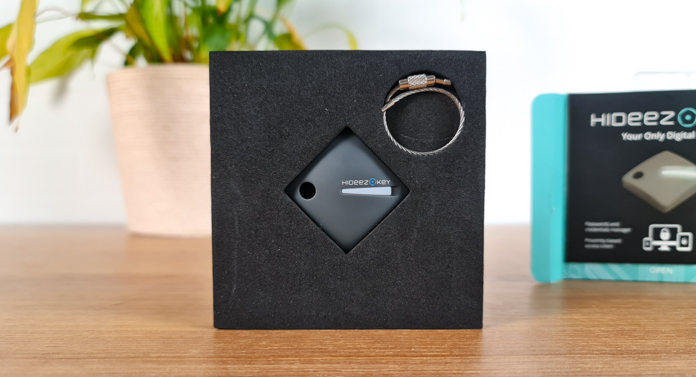 Design
The Hideez FIDO Security Key itself is a matte gray plastic rectangle with slightly softened sides. And a large hole for threading the ring.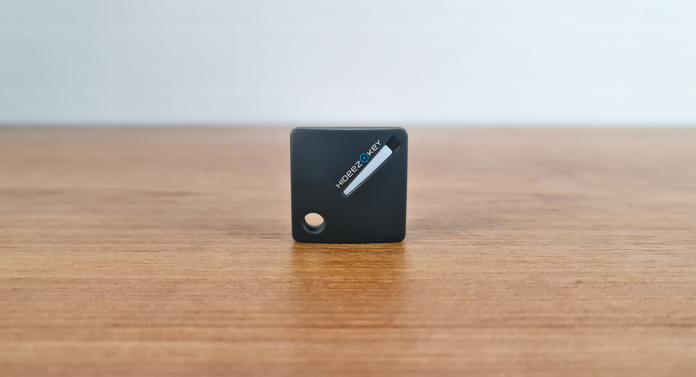 Above is the name and a white translucent button that indicates that the device is working. Below is technical information. In the corners there are thin shallow cuts.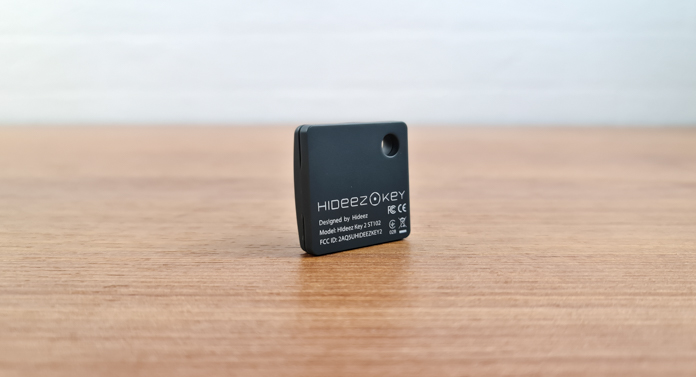 Key dimensions are 32.5 × 32.5 × 9.5 mm, weight is 9 grams. You get Bluetooth 4.2 (with Low Energy support), as well as a 120 kHz RFID tag, model T5577 Atmel.
A peak inside 
A CR032 battery is located inside the case. To get to it, the case must be opened.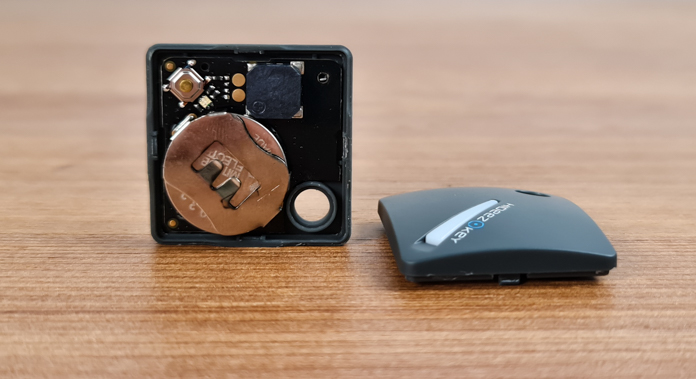 This is done by prying off two plastic latches – something thin and strong can pushed between the slot of the two halves of the case, and the opening occurs without much problem. This can be done with any sturdy thing you might have lying around, but that might cause a change in the aesthetic component of the case.
The plastic is relatively soft, so a metal tool can leave a mark. It is better to use a plastic card to open the case, simply by sliding it along the case.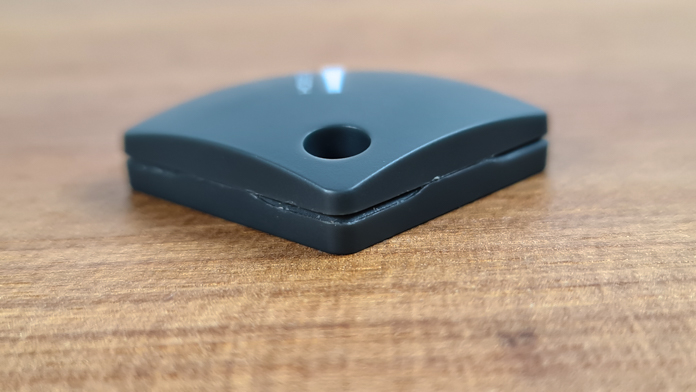 Inside we see a simple microcircuit, including a diode, a battery, an RFID tag… and that is it.
On the reverse side there is a chip with a poorly readable name. I think it says V52832QFAAEO1822EL or something.
What is FIDO anyway?
Hideez FIDO Security Key can act as a FIDO U2F key. This is, in essence, a wireless key that confirms the identity of a person using two-factor authentication with the help of cryptography.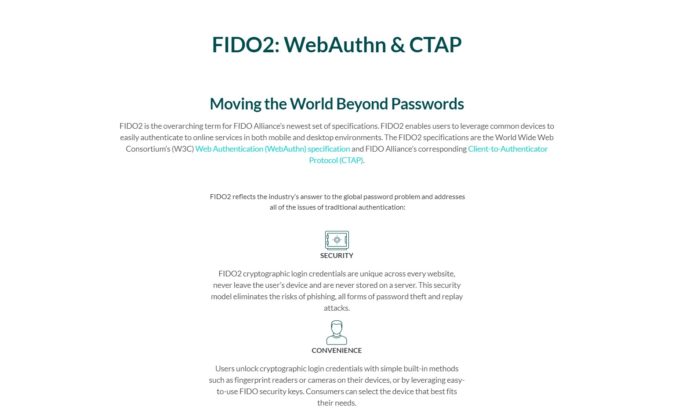 FIDO (Fast IDentity Online) is tried and tested technology, although the FIDO alliance was created "only" in 2012. Its essence was and is to remove the need for passwords — to make user identification possible thanks to a physical gizmo, be it a flash drive or a keychain.
In order not to delve into details that few people are interested in and practically nobody needs, a FIDO key is a passport for quick access to equipment, resources and sites that support this passport.
It will NOT allow you to completely get rid of passwords, because it is used AFTER entering the username and password. In fact, this is the key for two-factor authentication. That is, the difference between you and the spoofer in this case will only be that you have a physical confirmation key along with a login and password while they only have a login and a password.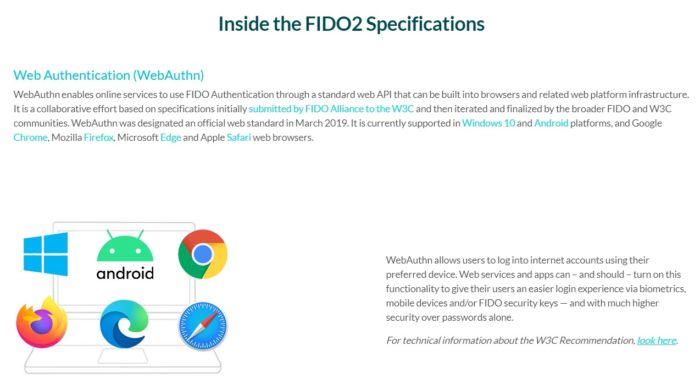 Now – how it all works. First you need to connect the key to your computer or smartphone. A pair is created through the Bluetooth devices window, where the gadget becomes visible after a single button press. The last five digits in the name of the token from the Bluetooth list are the last five digits from the serial number from the box.
Read also: 5 simple tips: How to create and manage passwords
We choose a token in the menu, and the light turns green. Click it – and that's it, the connection is set. After that, you need to create a personal pin-code for Hideez FIDO Security Key. It is created in the Windows 10 options, in the Login Options tab> Security Key> Details.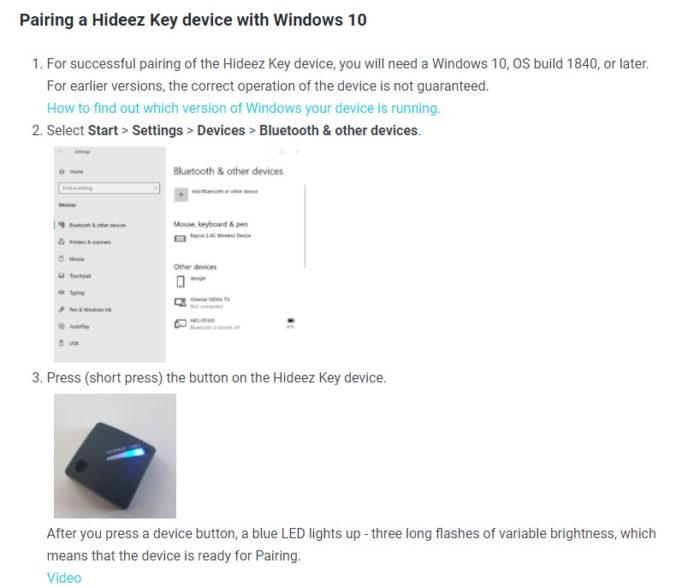 Since FIDO2 is an updated and up-to-date version of U2F, it only supports passwordless authentication. So using the FIDO2 key, you can log into your accounts with additional confirmation, which protects them from hacking. This is the current method for logging into Facebook, Google, Twitter and many other services. Each of them has its own instructions for connecting, but does not require any additional software from Hideez FIDO Security Key.
Application in the corporate sector

When working with corporate software, which, like all software for all versions, can be downloaded from here, Hideez FIDO Security Key reveals its full potential. You can configure PC unlocking by proximity, locking at a distance, a password manager, one-time password authentication and synchronization with Microsoft Active Directory.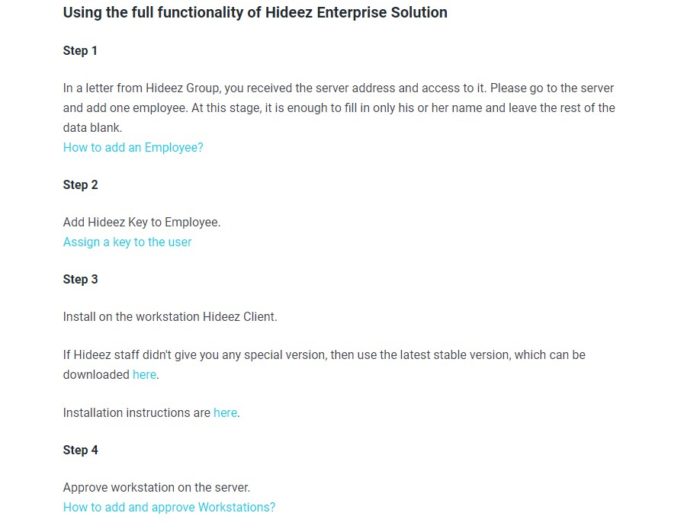 Full tutorial for connecting to the server is here.
Verdict 
This product can be either useless or irreplaceable for you. This token for an ordinary user can be a security key and an emergency way to log into a Google account if one-time keys are not available. And in the corporate segment, Hideez FIDO Security Key will be practically irreplaceable due to its ease of use and minimal user requirements.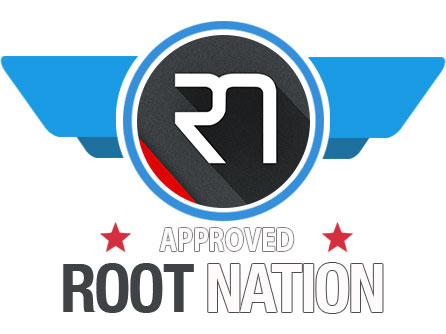 Subscribe to our accounts: