iOS's passcode protection and other security measures are praiseworthy because they keep intruders away from your device. No one can enter your iPhone/iPad without entering the correct passcode. It is laudable, isn't it?
But what if you forget the passcode? What if you have tried a wrong passcode multiple times and your device is disabled? What if your second-hand phone is locked? All these situations are quite troublesome for the user and can put him/her in misery.
If your iPhone/iPad is disabled, you cannot bypass the passcode and use the device. Unfortunately, in most cases, you cannot unlock your iPhone using iTunes. But don't worry; you can unlock your disabled phone or bypass the passcode without iTunes by using LockWiper. You can get rid of this annoying problem within a few clicks.
Stay with us till the end of the article, and we will teach you how to reset disabled iPhone without iTunes. Let's dive into it.
Part 1: iMyFone LockWiper Overview
iMyFone LockWiper is a simple desktop app that can help you unlock your iPhone/iPad without any hassle. It only takes three steps, and after that, you are ready to use your phone. The best part is that you don't need the old passcode, Apple ID, or any credentials; just use the tool and get rid of any lock you are struggling with.
LockWiper is a versatile tool; it can bypass the passcode, Face ID, Touch ID, Apple ID, MDM lock, and screen time passcode. Most importantly, it is a beginner-friendly and simplistic tool; even if you have no experience, you can use it and remove the lock from your device. It offers a step-by-step guide that anyone can follow.
The best thing about LockWiper is that you can check the compatibility of your device using the free version, and after your satisfaction, you can buy a license.
Features of LockWiper
Unlock or Remove Apple ID
You might have used your Apple ID and password long ago, and you don't remember your credentials. It is quite common, and people forget their credentials as they don't use it frequently and save/write them to remember. LockWiper can remove the Apple ID from your device, and then you can use a new ID.
Bypass Screen Passcode/Touch of Face ID
If you don't remember the passcode, the device is disabled, or you have bought a secondhand iPhone/iPad with a screen passcode, Touch ID, or Face ID, you can't use your device unless you bypass it using powerful unlocking software.
LockWiper can bypass the passcode, Touch ID, or Face ID from your device and make it like a new iPhone/iPad. Even if your iPhone is broken and you cannot type the passcode, LockWiper can unlock the device.
Unlock Screen Time/Restrictions Passcode
People don't use screen time passcodes often, which is why they usually forget this passcode. However, there is no need to worry about it, as you can bypass this passcode with LockWiper without losing your data.
Bypass MDM
iPhone/iPad users get locked out of Remote Management lock while using a second-hand phone. Removing MDM profiles is quite simple. You can get rid of the profile using LockWiper, and it will take only a few seconds. You will be able to use all features without any restrictions.
Part 2: How to Reset Disabled iPhone/iPad without Relying on iTunes
You cannot rely on iTunes to reset your disabled iPhone. The message on the screen compels you to connect the device to iTunes, but most of the time, it does not work. There can be an issue with the iOS version, syncing of the phone with iTunes, or anything else. Thus, you need an alternative that does not need iTunes to reset the disabled iPhone.
LockWiper is the perfect tool if you want to reset your disabled iPhone/iPad. Within three steps, you can reset your device, and after that, you can use it just like a new phone straight out of the box.
Before using LockWiper, you need to keep a few things in mind.
After using the Unlock Screen Passcode mode of LockWiper, your data will be erased.
The iOS version will be updated to the latest compatible version.
If Find My iPhone is enabled, you need Apple ID and Password after unlocking the device.
Let's see the step-by-step method.
Steps for Resetting a Disabled iPhone/iPad Using LockWiper
Note: While following the step-by-step method, keep your iPhone/iPad connected to your computer. Otherwise, you might need to start the whole process again.
Step 1: Download and install iMyFone LockWiper on your PC. Launch the app. You will have four options to choose from; click on Unlock Screen Passcode.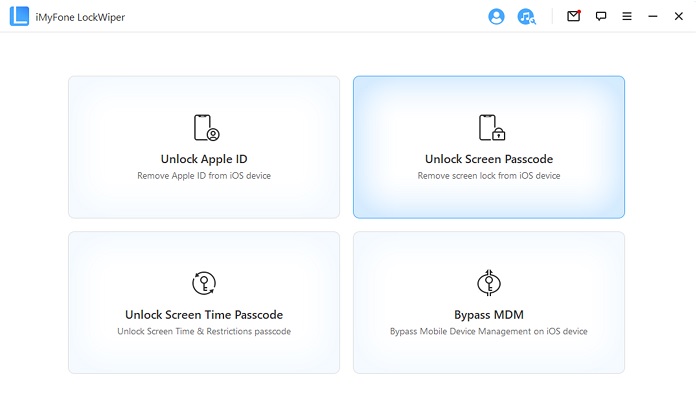 Click on the Start button to proceed further.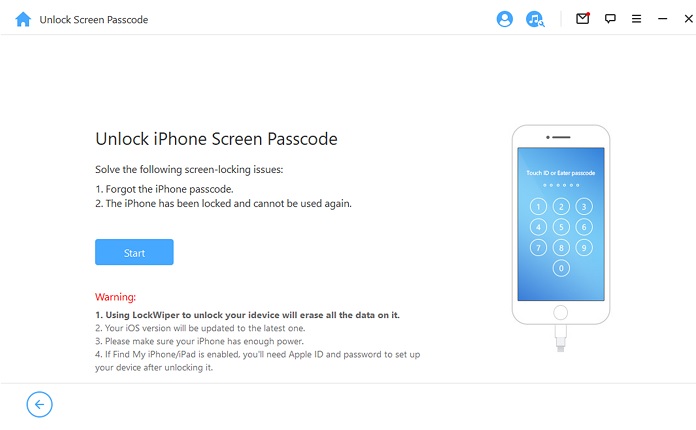 Now, you need to connect your device to the computer. Use a USB cable and connect the device. When you are ready, click on Next.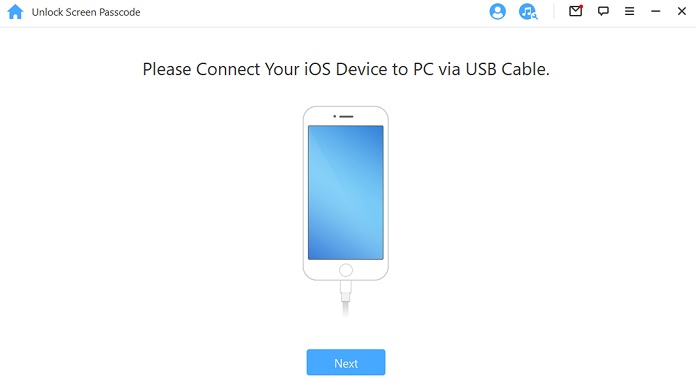 You need to put your device in the DFU mode by looking at the steps shown on the app.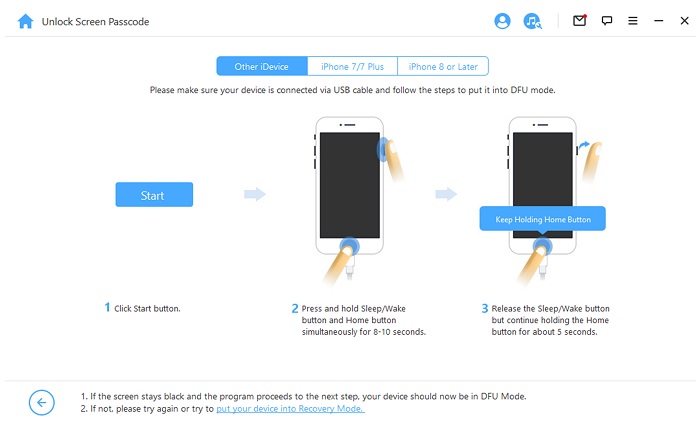 Note: At this stage, it is possible that your device might not be recognized. Click on "put your device into Recovery mode" and follow the steps.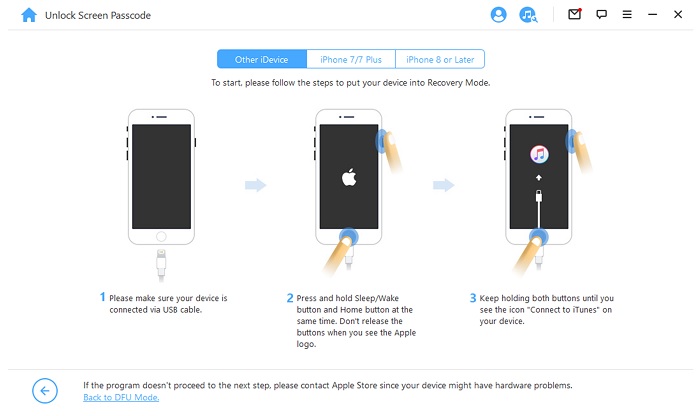 Step 2: After a successful connection of your device and LockWiper, the app will automatically detect the required firmware for your device. Click on the Download button and save the firmware on your device.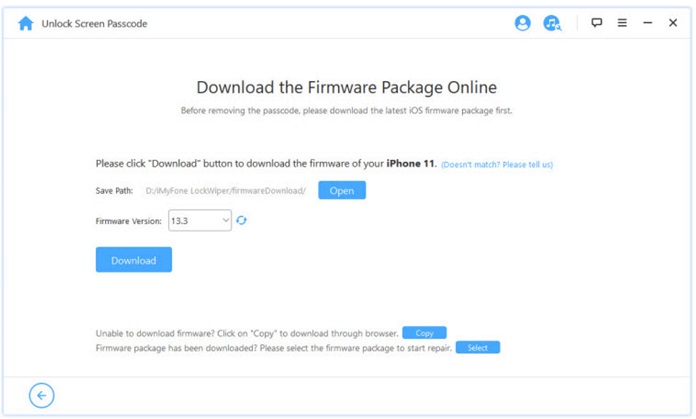 Now, you need to extract the downloaded firmware. Click on Start to Extract. It will take a few seconds or a minute to extract all files.
Note: If you face any issue in downloading the firmware, then click on Copy located at the bottom of the screen. Open any browser and download the firmware.
Step 3: Everything is ready, and the last step is to unlock the device. Click on Start Unlock.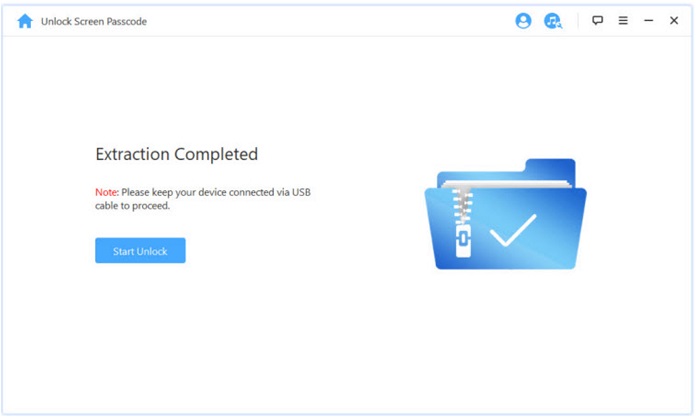 LockWiper will ask you for confirmation. Type "000000" and click on Unlock.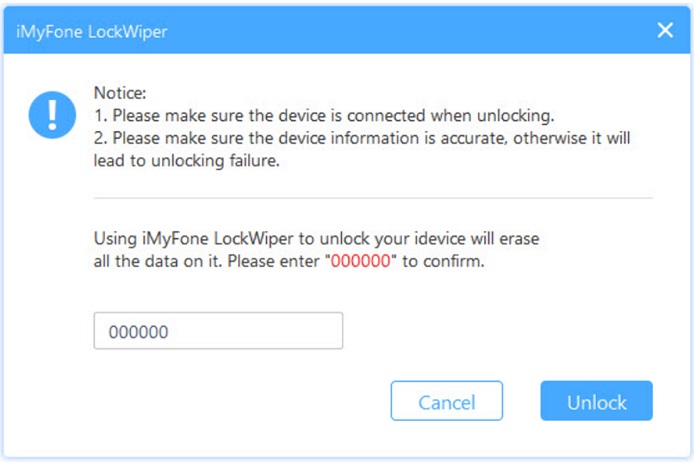 It will take a few seconds or a minute to unlock the device. You will get the completion message. Finally, click on Done.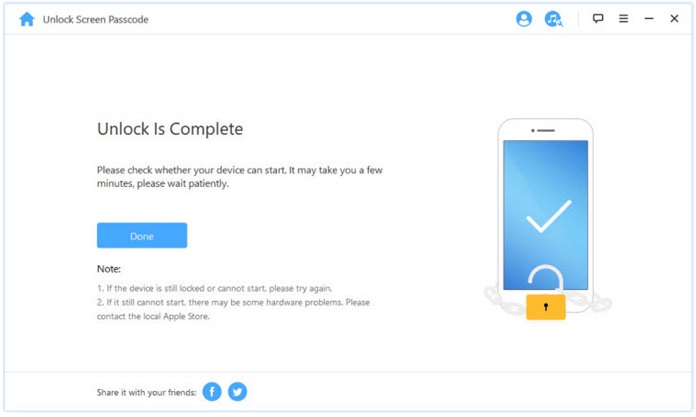 You are good to enjoy your device.
Bonus Part: Student Beans: Special Discount for Students!
iMyFone proudly announces its Student Beans special discount offer. Students can get our best-selling products at a discount of up to 60%. All you need to do is create a Student Beans account and verify your student identity. After successful verification, you can enjoy up to 60% off on all products.
iMyFone has a wide collection of apps and tools that are quite helpful for students. We have data recovery tools, data management tools, a video editor, and many other software programs that can make a student's life easier.
The product discount is available on monthly, yearly, and lifetime plans. This is the best time to grab a tool with a lifetime license at a low cost and enjoy it for the rest of your life.
What are you waiting for? Create an account today, apply for the discount.
Part 4: iMyFone iOS15 Tips & Tricks Page
iMyFone tries to make the life of all iOS users free from all troubles associated with their iPhone/iPad. Therefore, we keep our readers updated about the tips & tricks so that they can get rid of their issues and make their life hassle-free.
The beta version of iOS 15 has already been released. To keep our readers updated, we have introduced the iOS15 Tips & Tricks page. You can easily find the solution to your problems. Keep yourself updated with upcoming iOS 15 events, offers, and tips & tricks.
Video
Conclusion
We understand how stressful it is to get locked out of your iPhone/iPad. There can be many reasons for a disabled device, but you can solve all your issues using LockWiper. Whether you have forgotten your password, someone has sold a secondhand device locked with a passcode, you have tried a wrong password many times, or there is any other reason, LockWiper is the all-in-one and easiest solution. We have explained how to reset disabled iPhone without using iTunes. If you still have any questions, feel free to comment below or contact our customer support.