Most compact headphones can be divided into in-ear and over-ear, each of these two groups having more or less similar contours. Some have a smoother shape, some have a shorter/longer leg, but conceptually they are all similar. And you think that you really can't come up with anything original with the design here. And then you see the Sony LinkBuds WF-L900.
Positioning and price
Headphones cost a lot of money – about $110. For this price, you can find many interesting models with features such as active noise cancellation or improved microphones. What else can Sony LinkBuds offer its customers besides the original design?
Package contents of Sony LinkBuds WF-L900
The headset comes with the most standard equipment. In the box you will find a case with earbuds, an instruction manual, a charging cable, and a set of replacement ear cushions.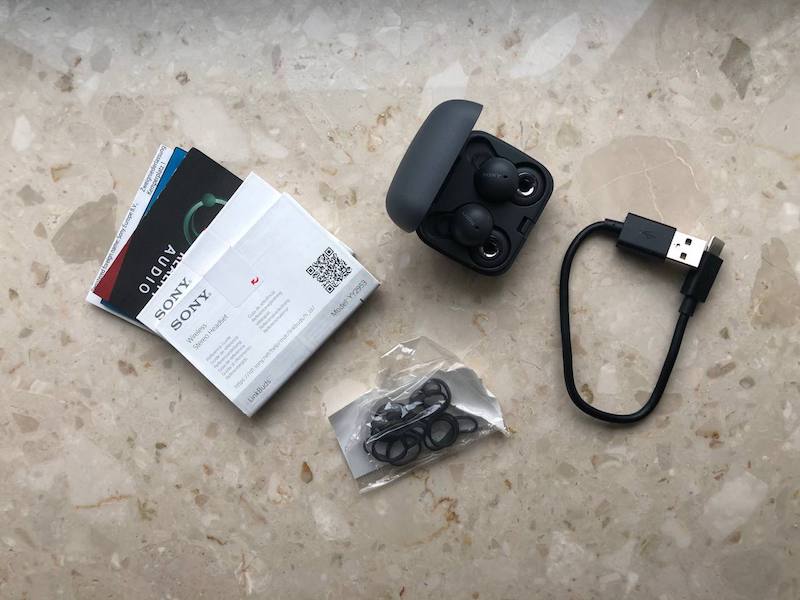 Design, materials, built quality of Sony LinkBuds WF-L900
When I opened the case and saw the earbuds, my first thought was – what are they and how do you even put them in your ear? In my mind, an earbud is something in the shape of the letter L or maybe something that looks like a bean. Here, however, each earbud is a combination of a donut and a hemisphere, and they come together sideways. In short, it's very difficult to explain in words, so I sincerely advise you to look at the photos.
The earbuds themselves are small in size, and there is an LED on the side that indicates that the earbud is connected. The speaker is the same donut, and the hemisphere is needed to place the earbud in the right place. An additional silicone ear acts as a kind of spacer, clinging to the curves of the auricle. I will tell you how convenient it is a little later.
I was surprised that, having gone for such crazy experiments with the shape, Sony was extremely conservative with the color scheme – there are black and white options. And this time I would like to see more color solutions, because if you experiment and make headphones an element of style, then bring a gold version, rose gold, and some neon yellow, pink, and green options. I think these headphones would benefit from a greater variety of color variations.
The materials and build quality of the headset are expectedly good – it's Sony, after all, and it would be strange to get something mediocre. The matte plastic is quite pleasant to the touch, and what is especially pleasing is that it does not collect prints and traces of dirt at all. In addition, the headphones are protected according to the IPX4 standard, that is, they are not afraid of sweat and splashes.
The headphone case also looks different from the standard one – instead of a narrow parallelepiped, we have an almost cubic "box". On the one hand, it looks very nice, but on the other hand, it's a little less comfortable to carry in the pocket of tight jeans than usual.
Otherwise, in terms of style, the case is designed as simply as possible. There is a company logo on the lid, a connection button and a USB Type-C port for charging the case on the back. The charge indicator is not just on the front edge, but is built into the lock.
Read also: Philips TAT1207 headphones review: bass babies
Ergonomics and comfort of use
I probably had the most questions about the ergonomics of the headphones. The non-standard shape is cool from the point of view of "standing out among the competitors' lineup". But as for the fit of the headphones, I had a complete failure and incompatibility with them. None of the ear cushion sets gave me the impression that the headphone fits firmly and I won't lose it by accidentally moving my head too much.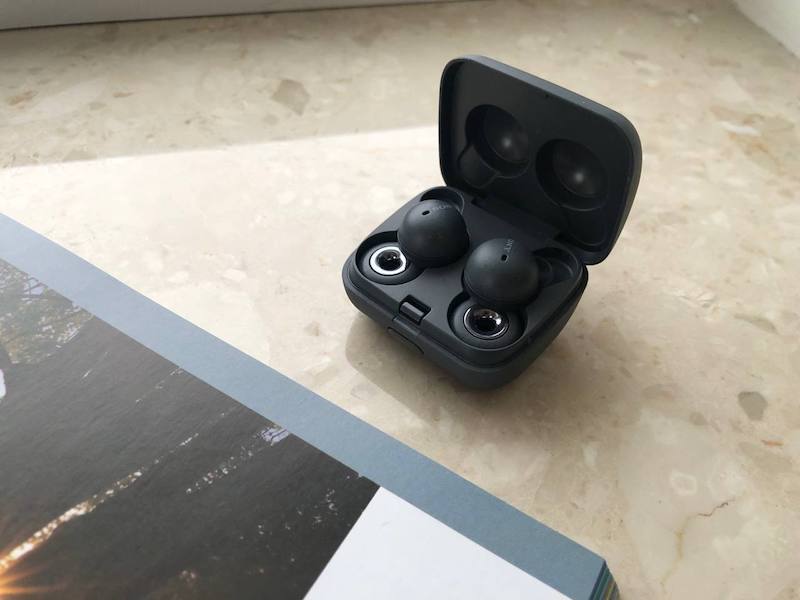 However, I have to say that I've seen reviewers say that these headphones fit very comfortably, and some people even went for a run with them. In principle, the fit of headphones is quite an individual matter, rather, we can talk about a general pattern – it will suit most people or it will not. And in this case, due to such an original form, problems may arise with the fact that not everyone will be comfortable using this headset.
Sony LinkBuds WF-L900 connection, control and software
To set up Sony LinkBuds, you need to install a separate Headphones application. I found it too cluttered with unnecessary tabs and options, so it's not easy to figure out what's what right away.
Controls are standard – by default, a double tap is a play pause, a triple tap is the next track. If you wish, you can reconfigure these gestures to other options. An interesting point is that you can enable the so-called extended recognition field. In this case, the headphones will read the tap not only on the earbud itself, but also on the area near the temple. This is really convenient, especially since this feature really works in practice.
360 Reality Audio is another of the declared highlights of Sony LinkBuds, but it doesn't excite me as much. It's just that other headphones in the above-average segment do an excellent job of creating surround sound, so in our case it doesn't look like something incredible. In addition, this feature works only with some individual services, access to which must be purchased.
Sound of Sony LinkBuds WF-L900
With their sound, Sony LinkBuds reminded me of the legendary Koss Porta Pro, which were my faithful companions during my student days. Here we get the same principle of open headphones, with all the advantages and disadvantages. On the one hand, you can hear your surroundings very well along with the music playing, so, for example, you can hear a car approaching if you're listening to music on the street, or that a child has woken up in the next room and you should run to calm him down. On the other hand, people around you will hear your music better than you do.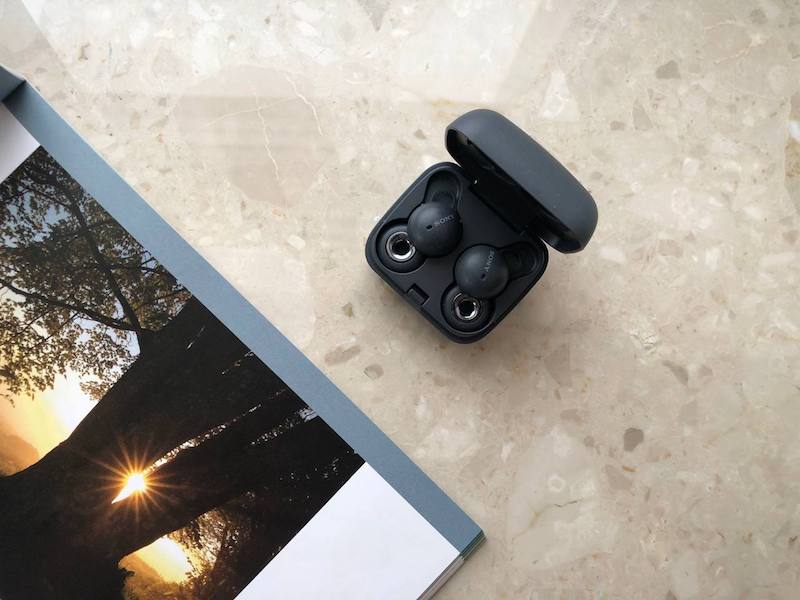 As for the sound quality of Sony LinkBuds, I thought that the headphones lacked bass and sounded flat overall. Perhaps this impression was influenced by the mechanics of sound wave propagation from their speakers, so that the sound is not concentrated directly into the ear.
Voice communication
If you consider Sony LinkBuds WF-L900 as a wireless headset, there are no problems or complaints. Moreover, the same open speaker system will come in handy if you spend a lot of time on calls – your ears will thank you for not overloading during long conversations.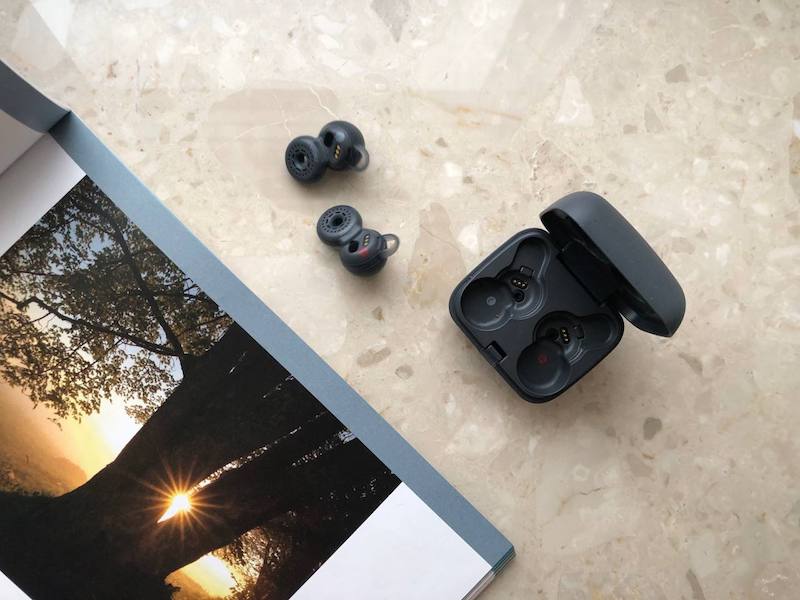 Autonomy of Sony LinkBuds WF-L900
In terms of battery life, Sony LinkBuds don't grab stars from the sky – you'll get up to 5 hours of operation without recharging, plus another 10-12 hours with a charge from the case. These are fairly standard figures that can be justified by the light weight of the headphones.
Conclusions
In my opinion, Sony LinkBuds WF-L900 are an example of how functionality is sacrificed for style. For the sake of an interesting appearance, the developers have created a model that fits strangely in the ear and transmits sound in an original way, but which completely eliminates immersion in music.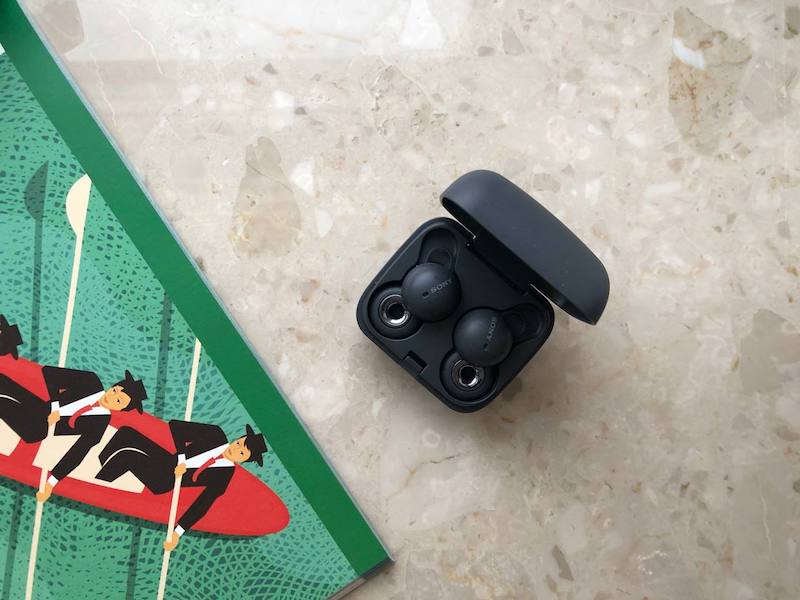 Undoubtedly, there will be people who will find the ergonomics of the headset to their liking and who are looking for such models with an open speaker system. However, in such a saturated market as smartphone accessories, not all players can afford to target a narrow audience. Sony has managed to do it – and has created a truly unique model that is not for everyone. I advise you to test it in practice, because you will either love it or hate it – nothing in between.
Read also: