"Google Pixel 7 & 7 Pro will come with free VPN powered by Google One"— statement that caught my eye when I was watching Google's announcement of their new flagship phones. Privacy and Google don't usually go together in one sentence so I decided to place my pre-order. Let's see where Google has taken Pixel phones since I last checked back in the days of Pixel 3 XL. This is what I have discovered.
ML stands for Machine Learning
Design: Signature elements
Before last year Pixel design was all over the place and had a clear identity crisis. Not a single signature element that would be recognizable through the generations can be found since the launch of original Pixel phone. In 2021 with introduction of Pixel 6/6 Pro we had a major "Pixel shift" in design department and Pixel design got a signature element — massive camera array module that stretched across phone's back edge to edge.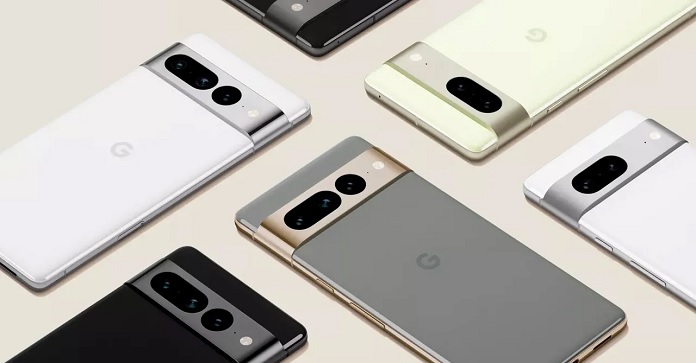 Visor looked very cyberpunk and I even found it attractive. Pixel 7/7 Pro continues "visor trend". Now visor is made out of aluminium and designed to flow seamlessly in to the polished frame. Visor has two asymmetric cutouts for the camera lenses and now has steampunk  vibes if you ask me.
The screen has a slight waterfall curve that flows gentle in to the phone's aluminium frame. I would prefer flat screen but the curve is so minimal that it doesn't effect content consumption. Corning® Gorilla® Glass Victus™ is used to cover both front and back of the phone. There's a mystery insert in aluminium frame on top of the phone that looks like a button but it's just an antenna for 5G mmWaves.
Ear piece is so well integrated between the frame and the top of the screen that it's barely visible. Front camera cutout is just a small black dot located top centre portion of the screen. Power and volume buttons located next to each other, both made out of metal and feel just right — no rattle and perfect action.
The bottom of the phone has two speaker cutouts and a USB-C 3.2 gen 2 port. The phone is weather sealed to an IP68 standard that is welcome and expected at this price range.
In hands Pixel 7 Pro feels premium, I would even say as premium as stainless steel iPhone Pro models.
Colours available are: Obsidian, Snow, Hazel. Dimensions are: 162.9 x 76.6 x 8.9 mm (6.41 x 3.02 x 0.35 in) and weight is 212 g.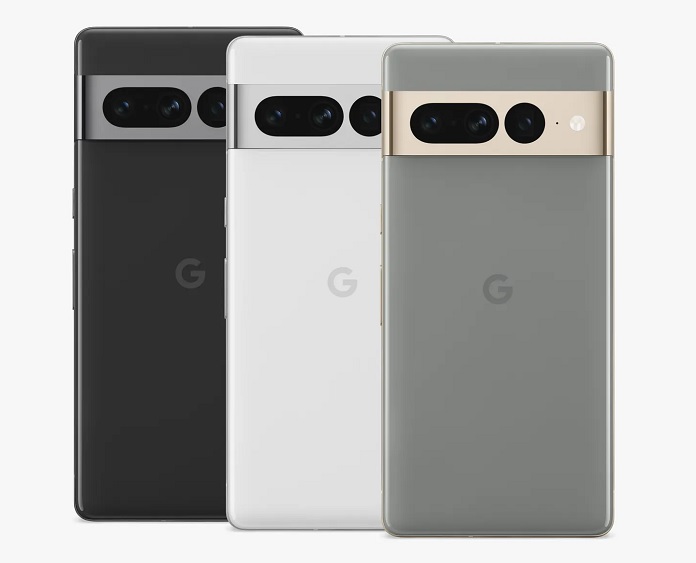 The box is minimal and contains only the phone, USB-A to USB-C adapter and USB-C charging cable that supports speeds up to USB 2.0. Keep that in mind cause when used with proper cable data transfer rates are blazing fast with USB 3.2 gen 2 supported by Pixel 7 Pro.
Read also: Huawei nova 10 Pro Review: Curved Screen, Super Cameras And 100W Charging
Security: face and finger unlock — dynamic duo
Face unlock returns in Pixel 7 Pro after it's first an only appearance in Pixel 4/4 XL. This time instead of bulky depth scanning IR module Google uses just front facing camera powered by machine learning. It works in tandem with under the screen optical fingerprint reader that is design to fill in security gaps machine learning introduces in to the verification process.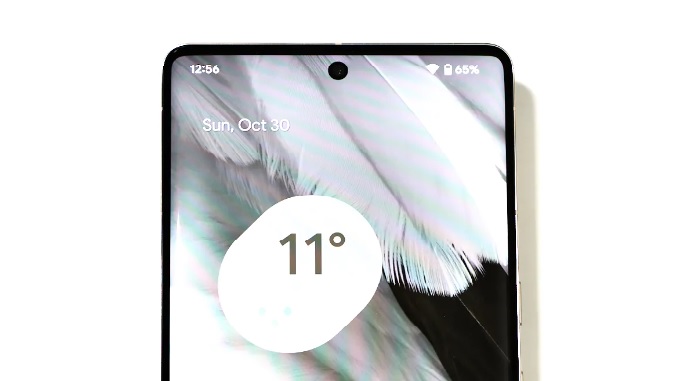 Google created several security levels on Pixel 7 Pro allowing fingerprint to be the only verification option available for the financial apps or Google wallet transactions and a blend of face/finger verification for anything else. Face Unlock at the same time simplifies and speeds up unlocking phone during daily tasks.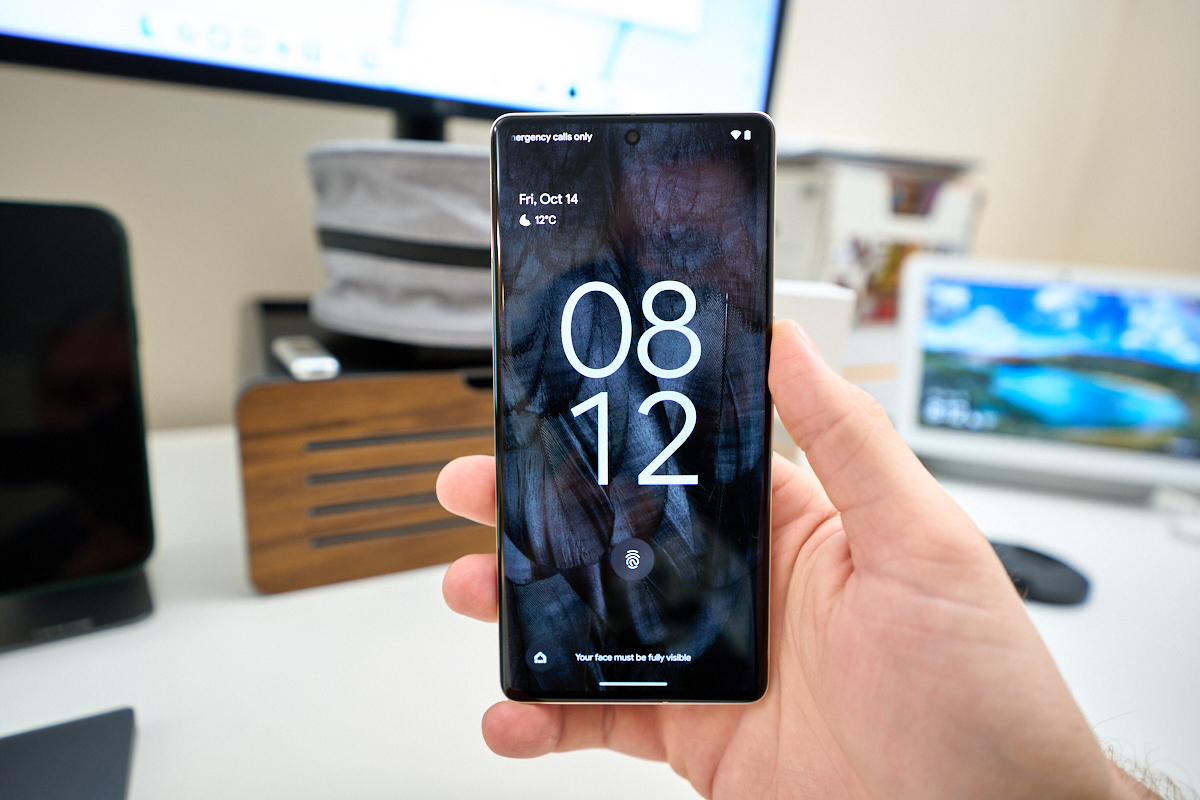 Android 13 does a really good job visualizing  what method has been used during the verification: animating a white ring around the front camera or lighting up area around the fingerprint scanner. Scanning is sometimes so fast that it's hard to tell if it was the face or finger that unlocked the phone. In a low light situations Pixel 7 Pro relies mostly on fingerprint scanner since camera would have to light up your face to complete the verification. Face unlock is also very sensitive to distance and I often found myself holding Pixel 7 Pro to far for it to activate.
iPhone's Face ID is still more reliable and convenient verification on any phone to date but Google made significant improvements in Pixel 7 Pro and ML learning face verification has great potential of becoming a superior technology in near future.
Read also: Black Hornet Review – Military Drones Smaller Than A Smartphone
Hardware: Google Tensor G2 or G1.5?
Pixel 7 Pro is the most fluid and responsive android smartphone I have ever experienced. Google Tensor SoC is a continuation of collaboration between Google and Samsung where Korean manufacturer provided building blocks and Google used them to assemble SoC that met their needs. Tensor G2 follows the same 2+2+4 design as original Tensor before it.
CPU:   2.85 GHz x 2 Cortex-X1
2.35 GHz x 2 Cortex-A78
1.80 GHz x 4 Cortex-A55
GPU:   Mali-G710 MP7
RAM:   12 GB LPDDR5
ML: edge TPU gen2
Security: Titan M2
On paper not much is different from previous generation Tensor chip. 2 Cortex A78 cores replacing A76 is a welcome update and a newer GPU also is nice to have. Other then that nothing to write about, accept that in benchmarks Pixel 7 Pro doesn't set any records and performs mostly average. Real power comes from Tensor Processor Unit (TPU) that is design to improve ML and natural language processing. It is a hard to quantify metric and all we know is that it should be 60% improvement from G1 according to Google.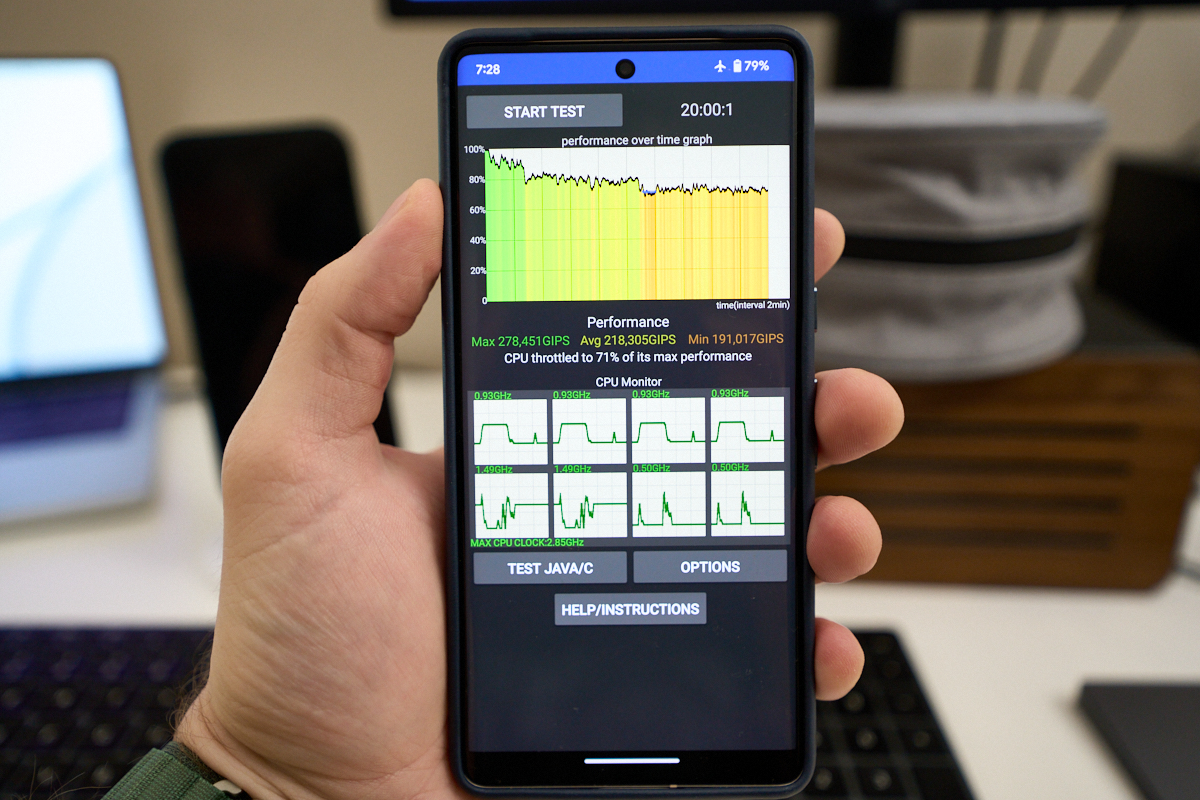 All in all Pixel 7 Pro runs fast, all the tasks are done in a snap and the phone stays barely warm. When performing hard tasks phone becomes rather hot but still manageable. Gamers should be aware that CPU throttles during intensive gameplay but that might change in future updates like it was recently fixed for Pixel 6 line.
Read also: ASUS ROG Strix GS-AX5400 review: affordable Wi-Fi 6 for the gamers
Software: Android 13 – casual robot
I enjoy aesthetics of the new Android 13 a lot. UI elements that follow background colours, haptics, system sounds and external design of the phone finally feel coherent. Android 13 looks simple and yet maintains expected level of customization.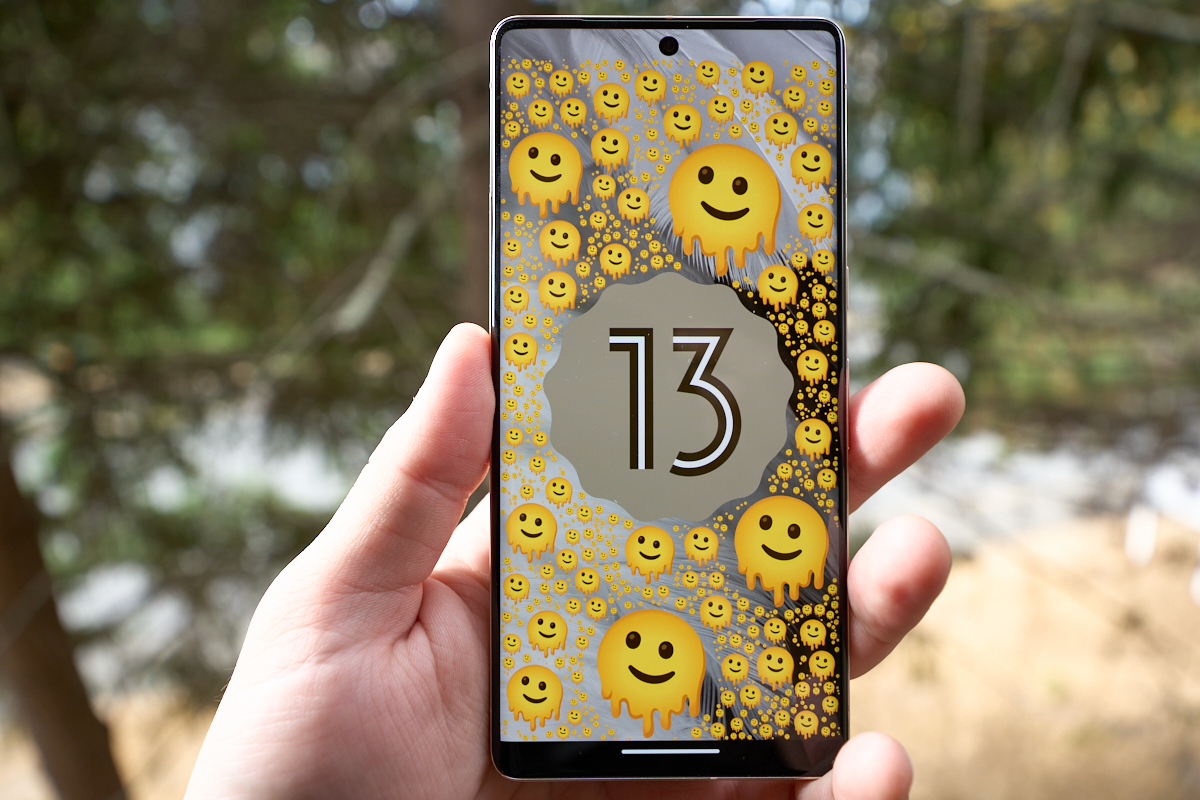 I can't help but admire how during the screen lock UI fades in a direction of the power button and when unlocked unfolds from the same button. Same is when you plug in the charger energy wave rolls across the screen from the connector but when put on the wireless charger same wave becomes a circle coming from the centre of the screen. I could go on and on describing beautiful elements in  Android 13 but there's just too many of them. I personally liked feature where you now can select text and images right from the App Overview Multitasking screen.
What is interesting is that with Android 13 drops support for 32-bit apps, if your favourite app has not been updated to 64-bit be aware — Pixel 7 Pro won't even install it.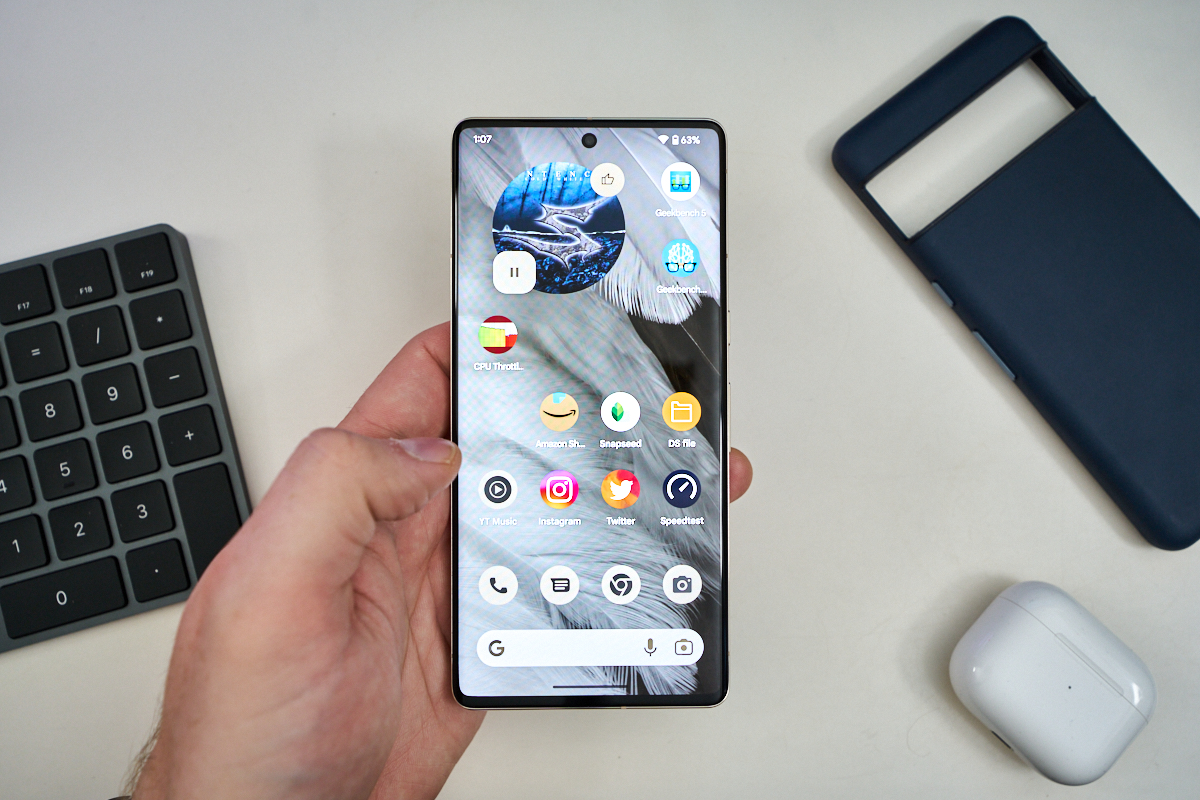 Since Pixel 7 Pro was developed using in house SoC Tensor this allowed Google to support phone for longer than usual. Major Android updates are guaranteed for three years and security updates up to five. Also Pixel 7 Pro is eligible in special  Google program called — "feature drop". It means once in a while Pixel will get big features separate from major system updates.

My favourite Pixel feature — advance haptics is also present in Pixel 7 Pro. It's incredible addictive and intuitive. iPhone's Taptic Engine feels dead and old after long time using Pixel's haptic.
Read also: Motorola Moto G32 review: Balanced and affordable
Display: best Pixel display to date
Pixel 7 Pro is equipped with 6.7 inch 1440 x 3120 pixel 19.5:9 ratio LTPO OLED 120Hz display. It has been a while when I could just open a box with Pixel phone and be completely satisfied with it's screen.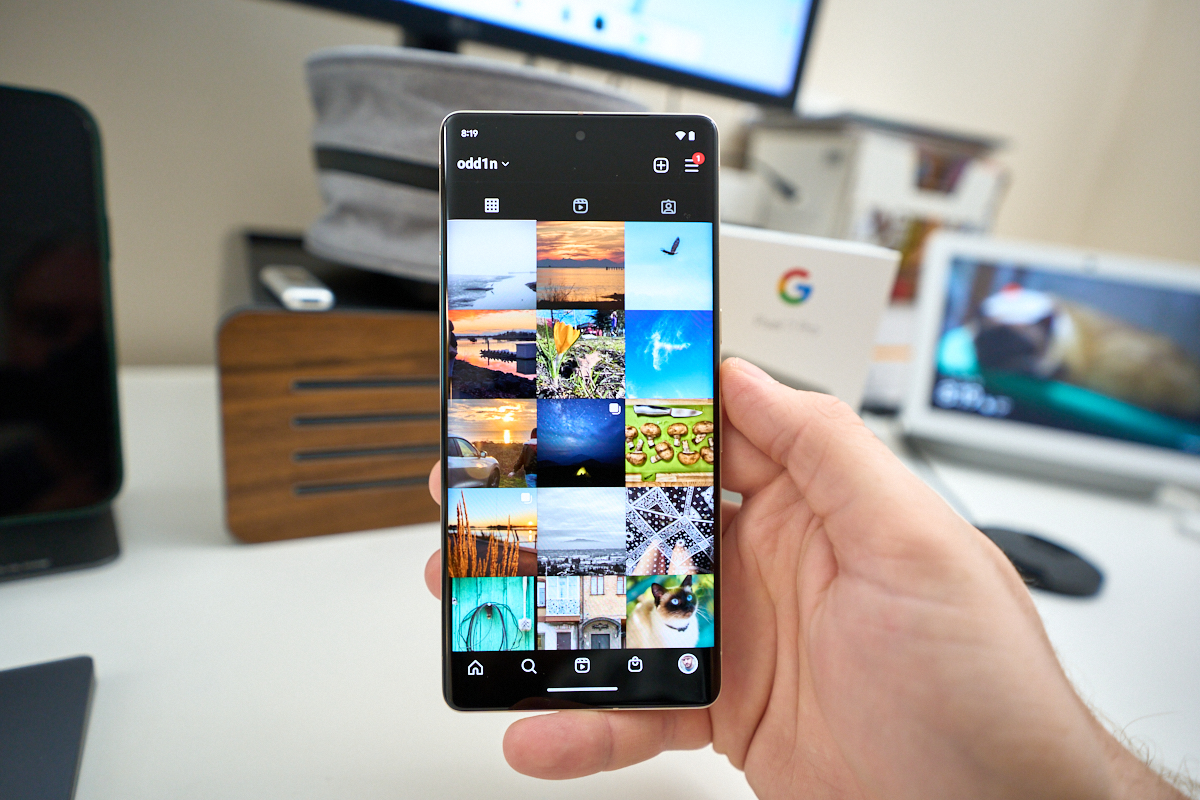 Pixel 7 Pro is the first Pixel display that checkmarks all of the important specs of high end mobile screen. White balance — spot on. HDR support — up to 1500 nits. Perfect colour behaviour at minimum brightness – check. Great outdoors performance and no weird colour shift of axis – present. I hold Pixel's display next to iPhone 13 Pro Max display and they are virtually identical.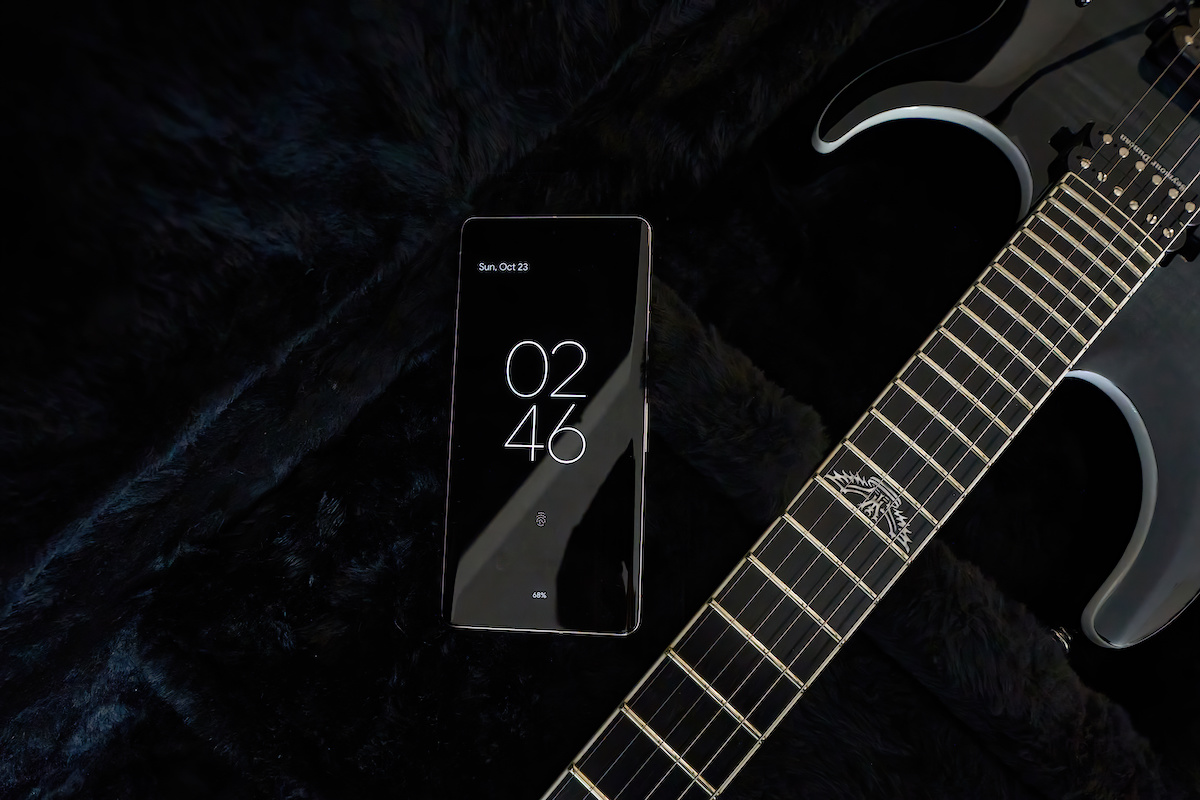 Pixel 7 Pro supports always on display that is really common for most high end android smartphones but new this year for iPhone 14 Pro. To my taste Google's implementation for always on is much better then Apple's attempt. Out of the box phone is set to 1080 FHD+ resolution that I immediately suggest to switch to normal 1440p QHD+. In my testing resolution didn't affect battery life too much. Auto brightness still requires a lot of effort to dial it to perfection and considering how much Google invests in to machine learning it is weird to see such an inconsistent behaviour. Other than inconsistent auto brightness I find Pixel 7 Pro display a joy to use when editing photos or consuming media content.
Read also: Xiaomi 12 Review: Flagship For Everyone
Sound: solid performance
Pixel 7 Pro sounds full and loud with good stereoscopic image. In some scenarios Pixel 7 Pro sounds louder but not alway clearer than my iPhone 13 Pro Max. Google allows for adaptive sound feature that equalizes sound according to the environment and sometimes it works really well.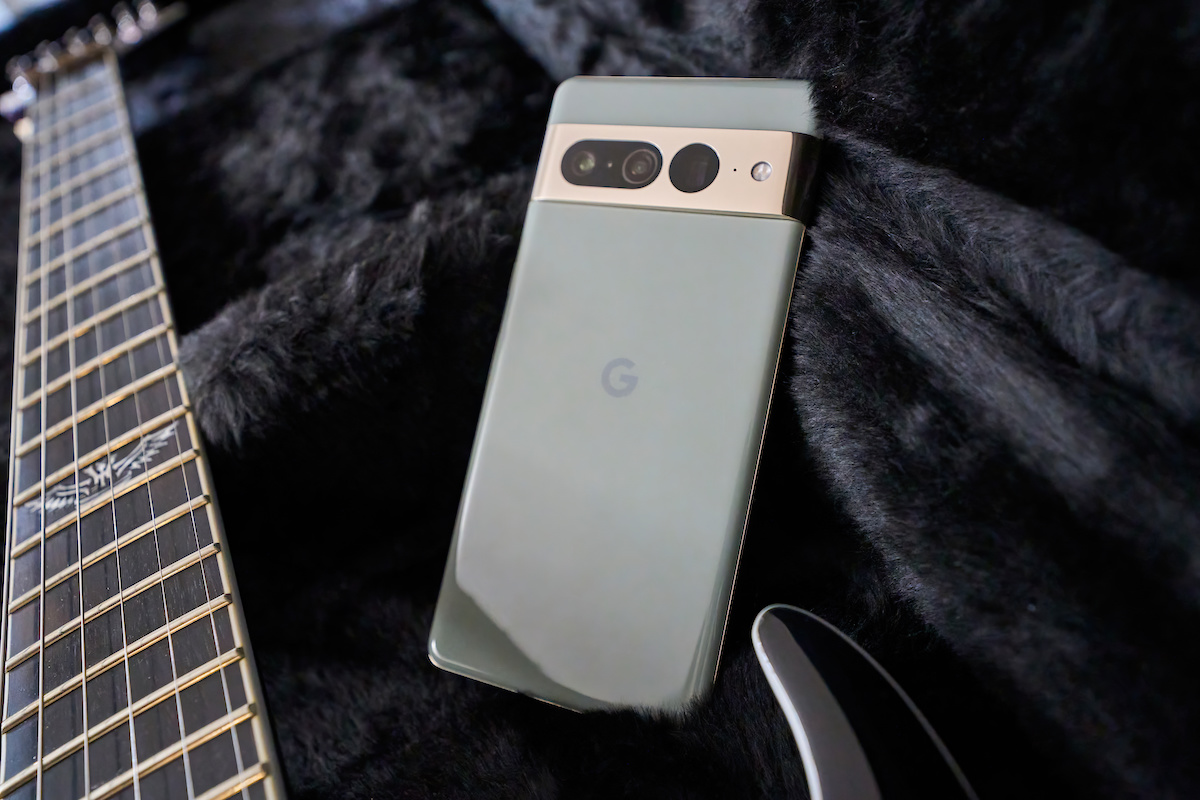 Read also: Sennheiser Momentum True Wireless 3 Review: the third generation of audiophile headphones
Camera: $10 000 camera system in a pocket
Long story short — Pixel 7 Pro is one of the most capable smartphones cameras on the market if not the most capable. Google does phenomenal job in advancing computational photography and Apple is just afraid to admit that all they do now is trying to match iPhone's performance to Google's ML tech.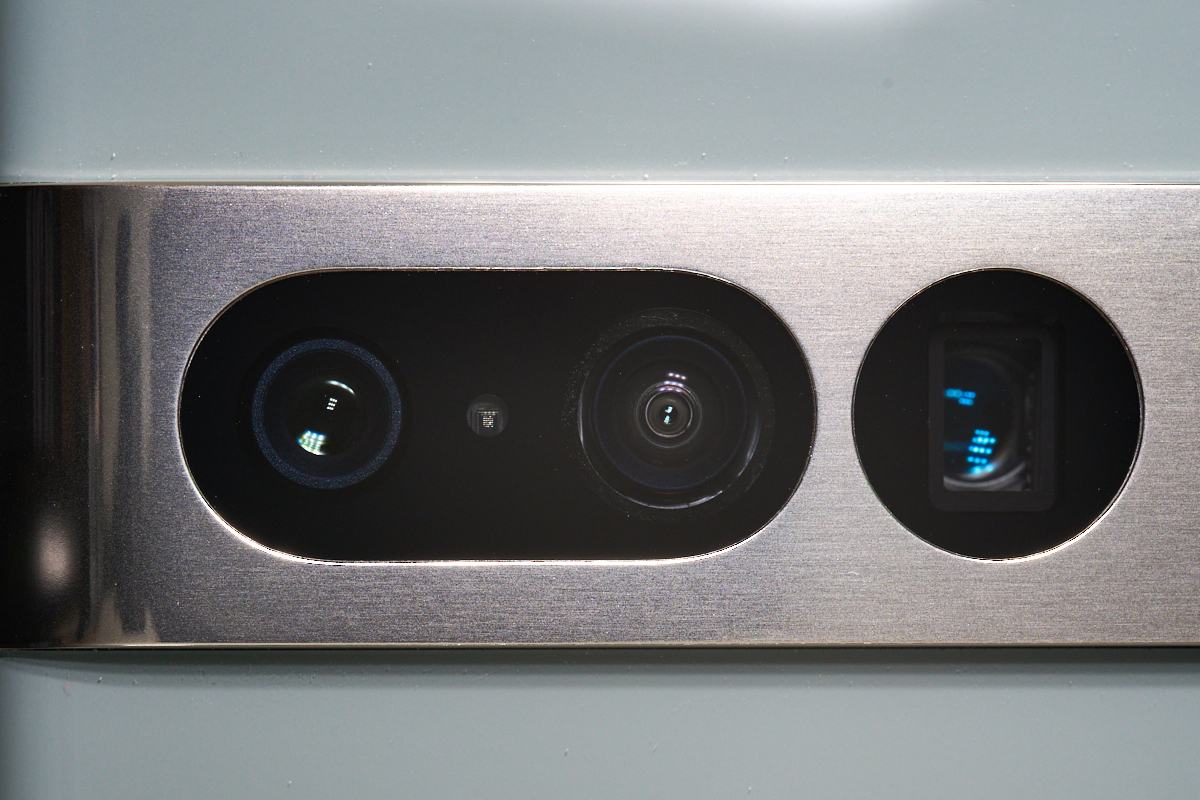 Pixels 7 Pro's Visor hosts three separate camera modules. Each with own lens and sensor behind it. In marketing materials they are: 12MP ultra wide, 50MP wide and 48MP telephoto modules. For you photographers out there: 13.5 mm, 24.5 mm and 114.5 mm equivalents. Both 50MP and 48MP sensors allow for extra digital cropping — artificial zoom steps that go up to 30x with help of ML. Google doesn't give access to full resolution even in RAW files unlike Apple.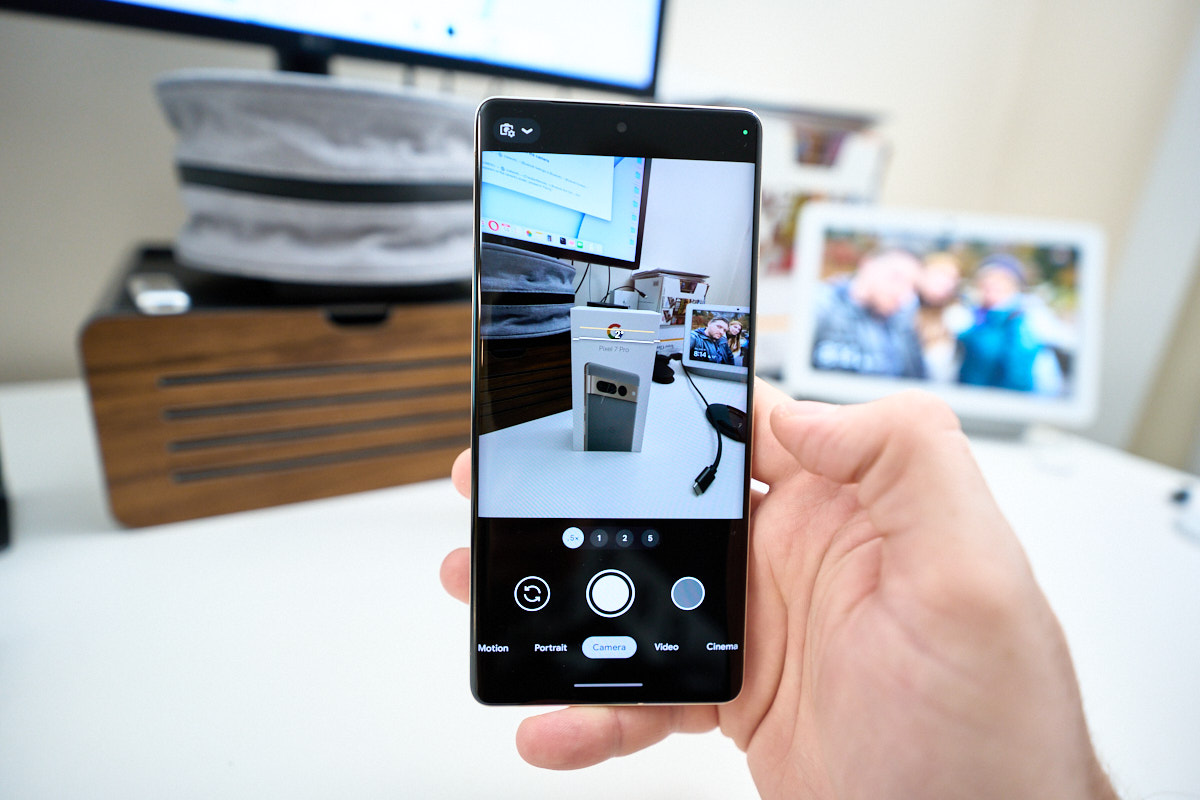 I need to say a couple of good words about camera UI in Android 13. Considering how powerful camera became Google did a really good job organizing interface in way it's intuitive for beginners at the same time efficient for experienced photographers. I really like quick camera launch feature by double tapping the power button and also customizable double tap on camera's viewfinder to give an instant access to zoom or front facing camera. The layout and controls make sense and just work. Exposure slider is splint in to three: highlights, shadows and white balance. Interactive visual guides are available by taping question mark buttons next to some special features, quickly explaining what they do.
I think we are beyond that point where we have to take pictures of a brick walls to explain how sharp pictures from smartphones became this year. Let's talk about Pixle 7 Pro's camera like it's a real camera and even compare it to a real one. Here are all of the specs in one place:
Ultra Wide: 12MP 1/2,86" sensor – 1.95mm, f2.2, EFR = 13.6mm (6.97 crop) AF, Macro
Wide: 50MP ISOCELL GN1 1/1.31" sensor – 6.81mm, f1.85, EFR = 24.5mm (3.6 crop) OIS, PDAF, Laser AF
Telephoto: 48MP 1/2.55" sensor – 19mm, f3.5, EFR = 114.5mm (6.02 crop) OIS PDAF
Front camera: 10.8 MP 1/3.1″ sensor, 2.74mm, f/2.2, EFR = 21mm (7.6 crop)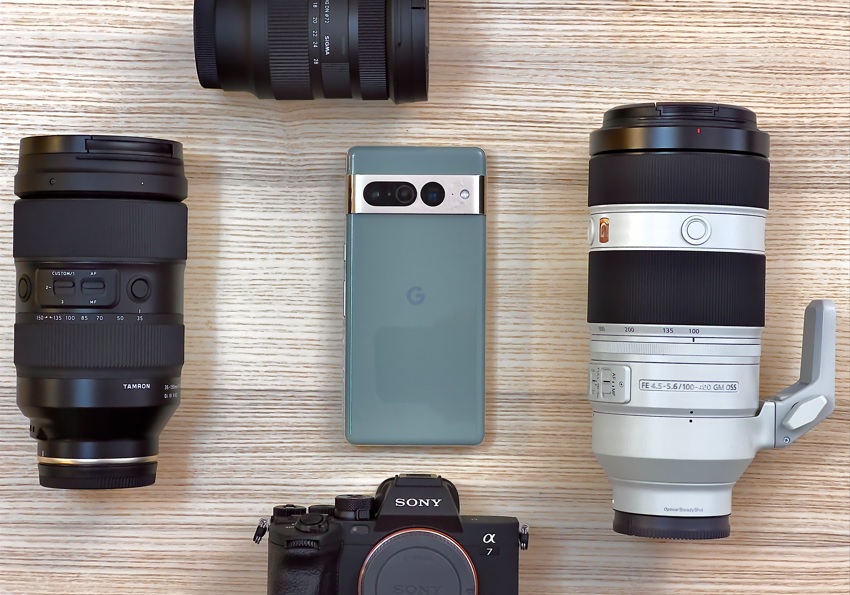 All this hardware in combination with Google's advanced ML algorithms delivers performance that immediately captures the eye. I was testing Pixel 7 Pro performance right against my Sony A7 IV with lenses covering distances from 16mm to 400mm and I must say it was a close match. Smartphone is still losing to a full frame camera but only cause I demand a lot from my image capturing device and have certain preferences. Pixel 7 Pro compensates the lack of big sensor with ML magic, sometimes turning really complex photo technics in to a touch of single button.
Google Camera can produce RAW along with JPEG files for those who want to go beyond what ML editing has to offer.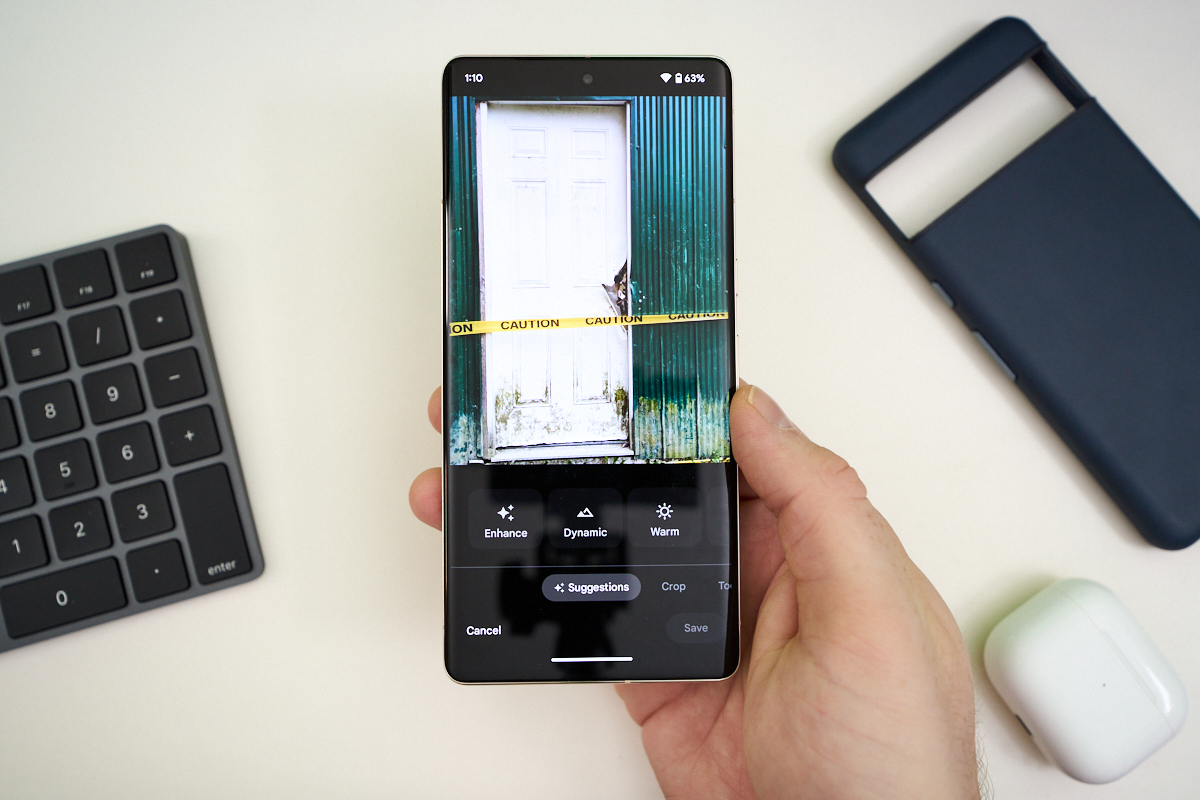 Pixel's camera app has whole plethora of modes available to enhance picture taking process. Let me quickly break down what those modes do:
Macro Focus – Ultrawide 12MP model is capable of taking macro/close focus shots. Macro photography with 13mm wide lens is a challenge by itself. Add not the best sensor to it and as a result we have a mode that is an achievement for a smartphone but nothing special for people that a serious about macro.
Magic Eraser – trick that allows you edit out unwanted objects from your photos using power of AI. Sometimes indeed works magical.
Photo Unblur – Pixel 7/7 Pro exclusive feature. It's available inside Google Photos App edit mod. Allows to fix any image that suffered from motion or any other type of blur. It does a pretty good job as long as it can detect human subject. Doesn't work with objects or animals.
Motion mode – so far a beta feature. Has two modes: action pan and long exposure. In both cases Google is trying to simplify photo technics that allow creative motion trails on photos.  Action pan creates background blur for a subject in motion and long exposure blurs the moving subject keeping the background static. I didn't have a chance to test this mode. Maybe in future articles I'll go in to details of this mode.
Panorama – Good old panorama sweep that is nothing new to the world of mobile photography
Manual white balancing – Pixel 7 Pro does auto WB with robotic precision but in case your vision of the moment is different WB slider is one tap away.
Locked Folder – if some of your pictures require extra security Pixel 7 Pro allows to set up a protected folder for them
Night Sight – ML feature that allows for well lit photos even in darkest informants. Available since Nexus 5X I believe.
Top Shot – ML algorithm that shows you best frames in series of shots or in videos
Portrait mode – another feature that has been present in mobile photography long enough that it doesn't require explanation. Fake bokeh in Google's implementation is not bad but nothing to discuss really.
Super Res Zoom – Up 30x zoom available with help of telephoto lens and clever ML algorithms. Woks good and maybe even better then in most smartphones.
Dual exposure controls – important sliders that allow tuning the HDR algorithms allowing to adjust highlights and shadows with a tap on a viewfinder. Quite useful for those who know what they are doing.
See examples of shooting photos and videos with a Pixel 7 Pro cameras
Pixel 7 Pro is a solid performer when it comes to video. 4K30 HDR is available with all cameras including the front facing one. 4K60 is possible but in SDR only. I was pleasantly surprised by video quality from Pixel 7 pro especially from front facing camera. In my tests sound recorded using front camera was way noticeably better to the one produced using any of the back cameras. I'm not saying the sound is bad when using back cameras, it's good, just I prefer sound recorded with front camera. Also notable feature is a voice isolation that makes voice sound better on the recording. Stabilization has different settings and allows for slow pan mode that looks really beautiful and smooth.
The only thing I find questionable in Pixel's video is Cinematic mode. It allows to record HD video with artificial shallow depth of field effect that I would not personally use in my work. But maybe it's just me.
All things considered Pixel 7 Pro is a home run when it comes to smartphone photo and video work. Even if you don't plan to use Pixel as a smartphone I could justify owning one purely for it's camera features.
Read also: Comparison Of Moto G52 And Moto G62 5G: So Similar And So Different
Connectivity: stable and strong
Pixel 6 phones have been haunted by connectivity issues since day one. I'm happy to report that Pixel 7 Pro connectivity performance is outstanding and sometimes even beats my iPhone 13 Pro in areas with challenging coverage.
Pixel 7 Pro just like any other Pixel phone before supports a list of unique call related ML features that are not available to other androids. In case you need any if them Pixel might be the best phone for you. You'll need to be in one of the supported countries to use most of them: Australia, Canada, France, Germany, Ireland, Italy, Japan, Spain, the UK, and the US.
Call Screen – Google assistant will pickup the phone for you and will give you a transcription of the conversation with options what to do next.
Hold for me – if you are calling a business most of the times you will be put on hold. Instead of listening to a horrible music Google Assistant will notify you when operator picks up the phone.
Direct my Call – simplifies interactions with numeric options when calling some business. Instead of listening to a list of option Pixel will try to give you key pad option ahead of time and right on your screen.
Wait time – estimates time when business puts you on hold.
Voice message transcription – transcribes voice messages sent by you beloved lazy contacts. Telegram messenger sells this feature as part of premium plan btw.
Google recorder – app that records voice memos, transcribes them and can even add labels for different speakers.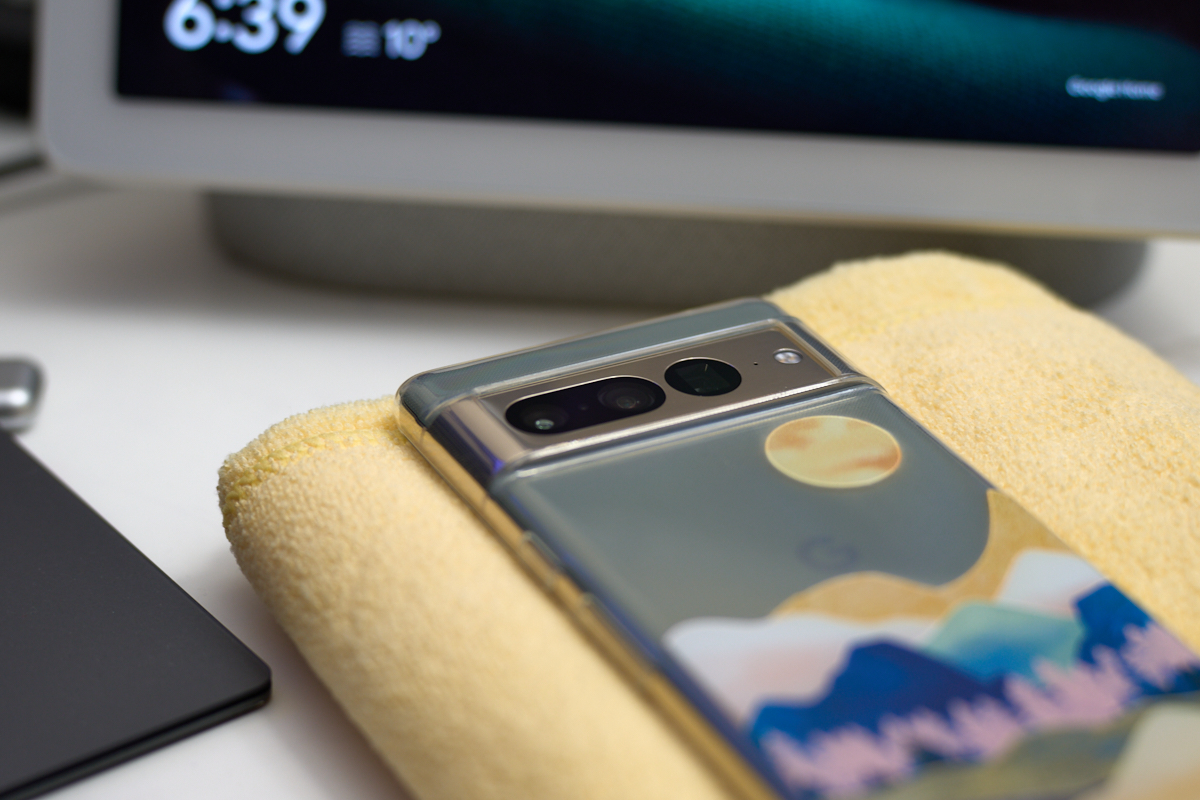 Pixel 7 Pro supports:
Wi-Fi 6E (802.11ax) with 2.4 GHz + 5 GHz + 6 GHz, HE160, MIMO
Bluetooth® v5.2 with dual antennas for enhanced quality and connection, BLE, LDAC, aptX HD
Ultra-wideband chip for accurate ranging and spatial orientation
NFC
Dual-band GNSS
GPS, GLONASS, Galileo, QZSS, BeiDou
eSIM, 5G mmWave
Battery: Good but not phenomenal
Li-Ion 5000 mAh battery in a phone is not an achievement anymore but it's a good size all things considered. The phone lasts a full day of heavy use and after can be quick charged with usb-c up to 30w or at around 23w when used on wireless pixel Qi stand. Phone supports reverse charging that can soon be activated automatically but now there is a switch that needs to be toggled to start charging external devices.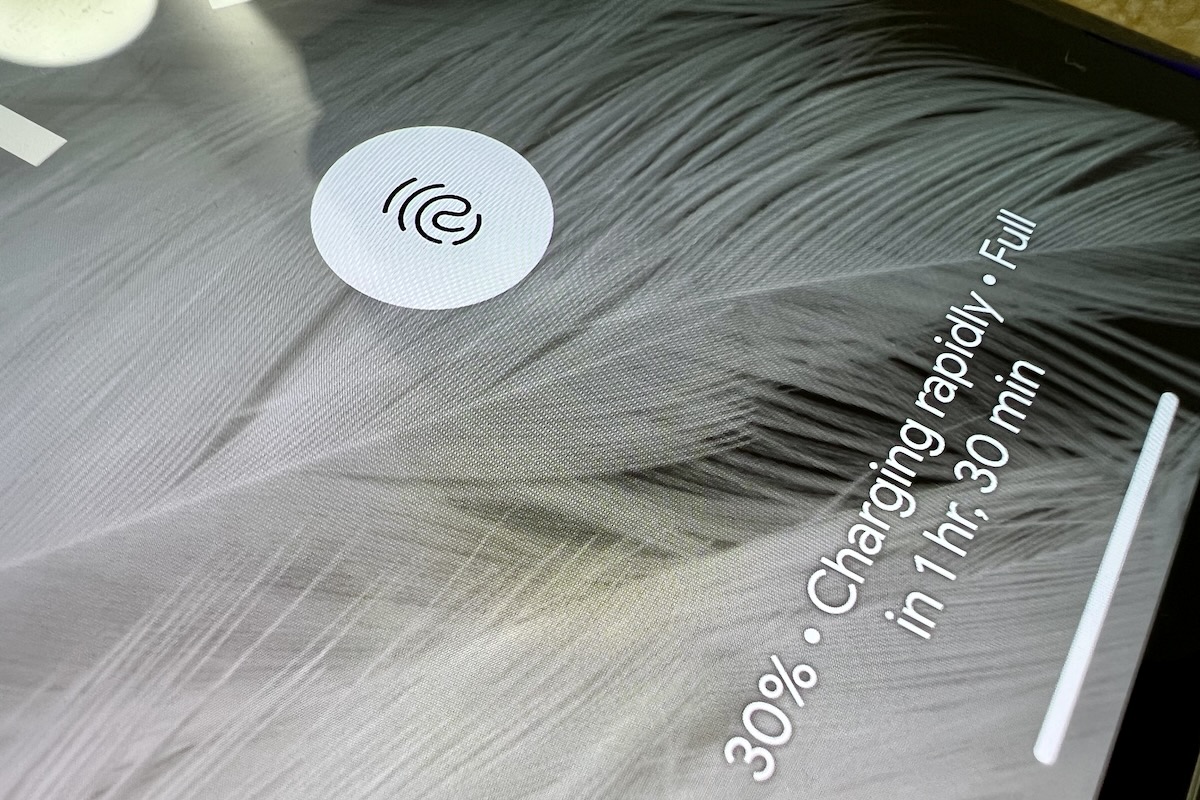 About that VPN powered by Google's promises
The future I was sold on is not available yet and promised for December update. I don't have any regrets since Pixel 7 Pro turned to be a really great phone even without it.
Read also: Choosing a Foldable Smartphone: Samsung Galaxy Fold vs. Flip – Which Type Is Better?
Verdict: Greatest Pixel 6S ever
I'm absolutely blown away how good new Pixel 7 Pro is. I left Pixel phones due to lack of vision for the brand. Pixel 7 has a lot of potential moving forward. It's a joy to use as a camera and as a smartphone. Most polished and tactile Android experience to date.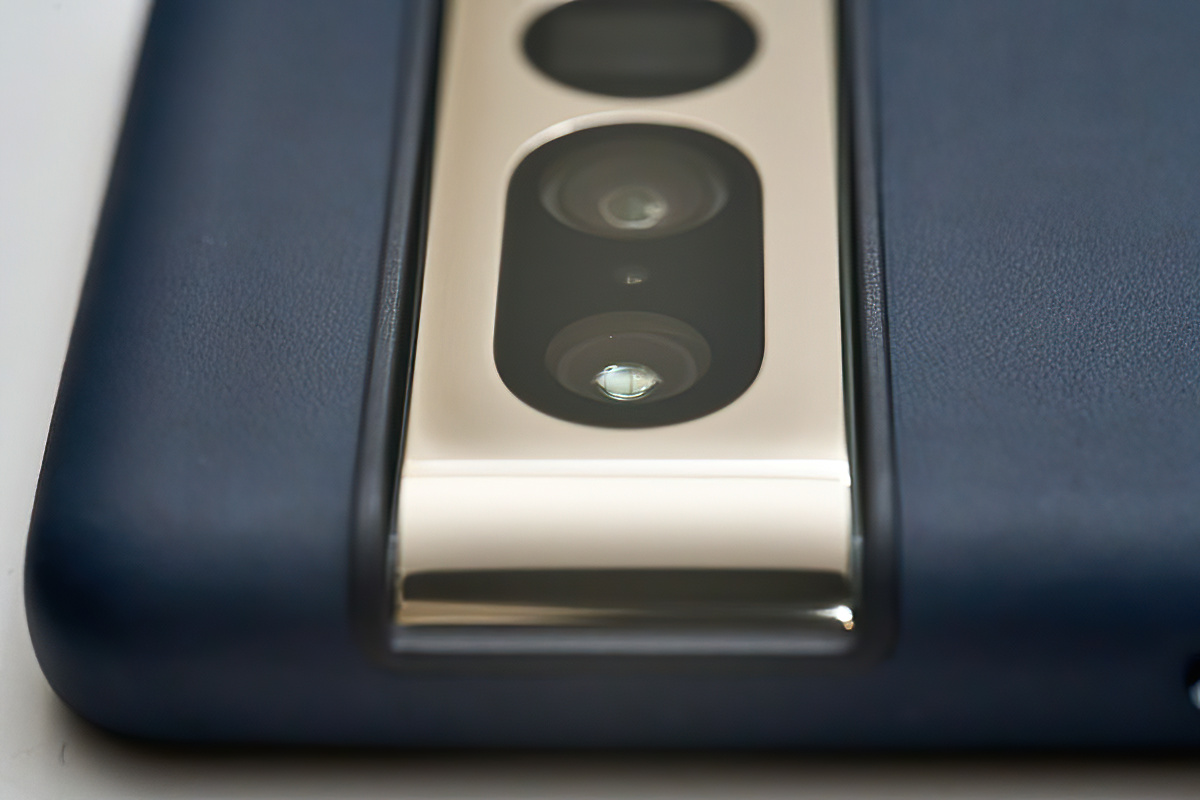 I definitely recommend this device despite it's shortcomings of not so great battery life and maybe somewhat average CPU performance. Pixel 7 Pro starts at $899 for 128GB, $999 for 256GB and $1099 for 512GB model. If not for the Apple Watch I would have ditched iPhone in no time and switched to Pixel 7 Pro as my only personal mobile device.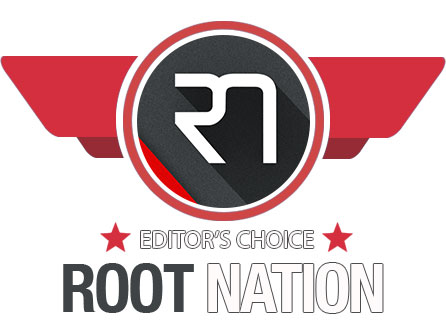 Read also: Google Pixel 3 XL retro review… should you buy it instead of a new BUDGET smartphone?