In this review we'll talk about the new phone from Motorola, which was released at the end of summer, the Moto Edge 20. The smartphone belongs to the class of so-called sub-flagships, that is, it is a simplified version of the flagship model, which differs in a number of compromises compared to the flagship. It looks like the best of both worlds, but… is it? Let's see for ourselves.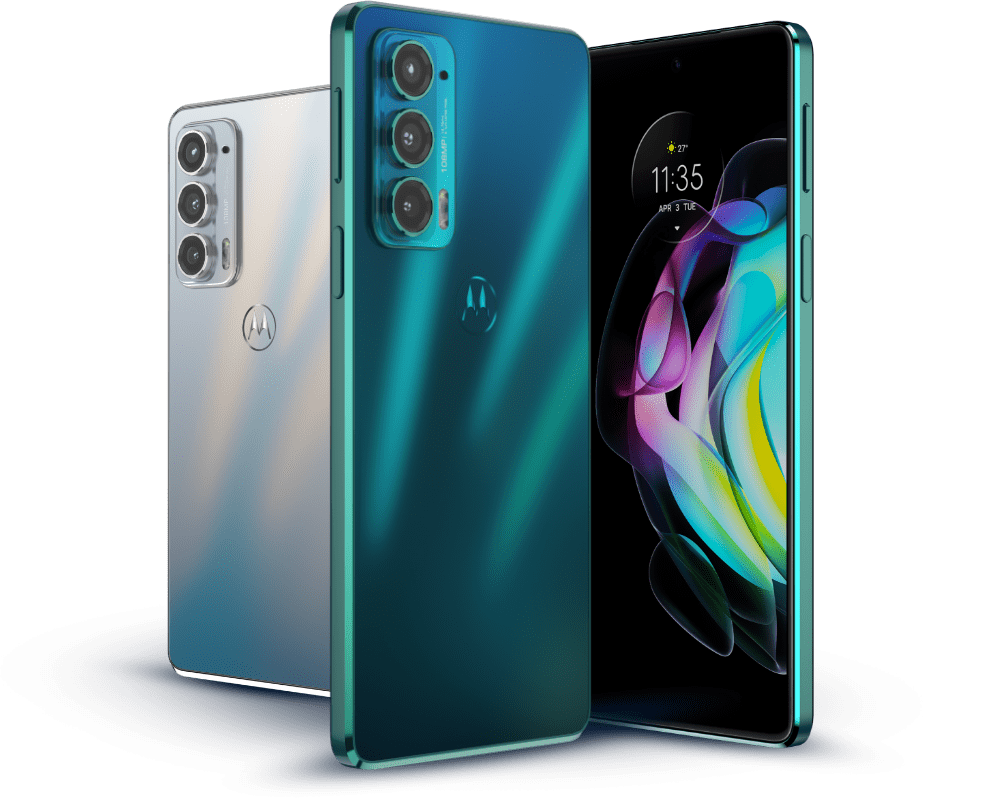 Positioning
Moto introduced both the Moto Edge 20, the Edge 20 Pro and theEdge 20 lite. Unlike the G series, which also has a flagship-like G100, Edge models stand out for their bright design. Moreover, if the previous smartphones of the series differed in strongly rounded edges of the screen, now the trend is flat shapes.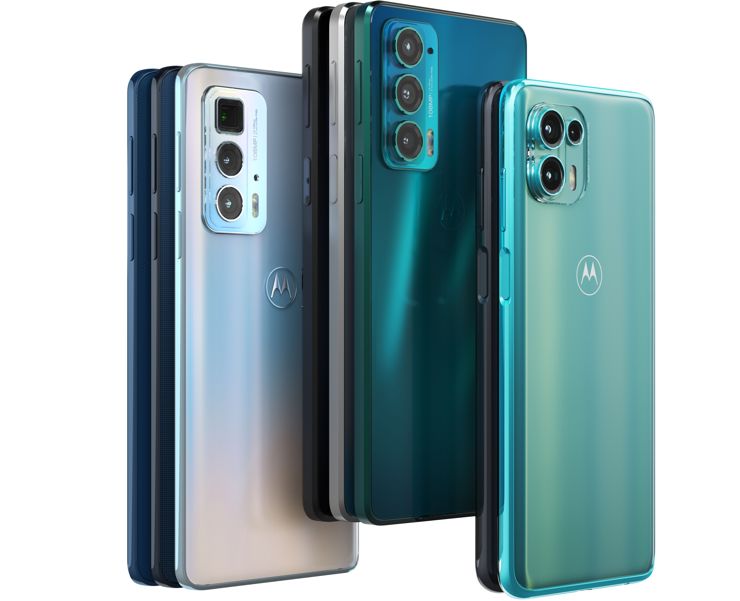 At the same time, the Edge 20 Pro is not a flagship, not really. It's more like an "affordable flagship." The device does not use the top Snapdragon 888 processor. Not because it's cheaper that way, but because this chip could use some work and it gets warm a lot. The 870th Dragon also copes well with any tasks, and stays cold.
The usual Edge 20 differs from the pro version by a weaker chipset, smaller RAM and ROM. In addition, the older model has a more advanced telephoto lens that captures a lot of light and allows for a 5-x zoom with excellent quality. The Edge series basically focuses on good photos. How good they are we'll find out during the review.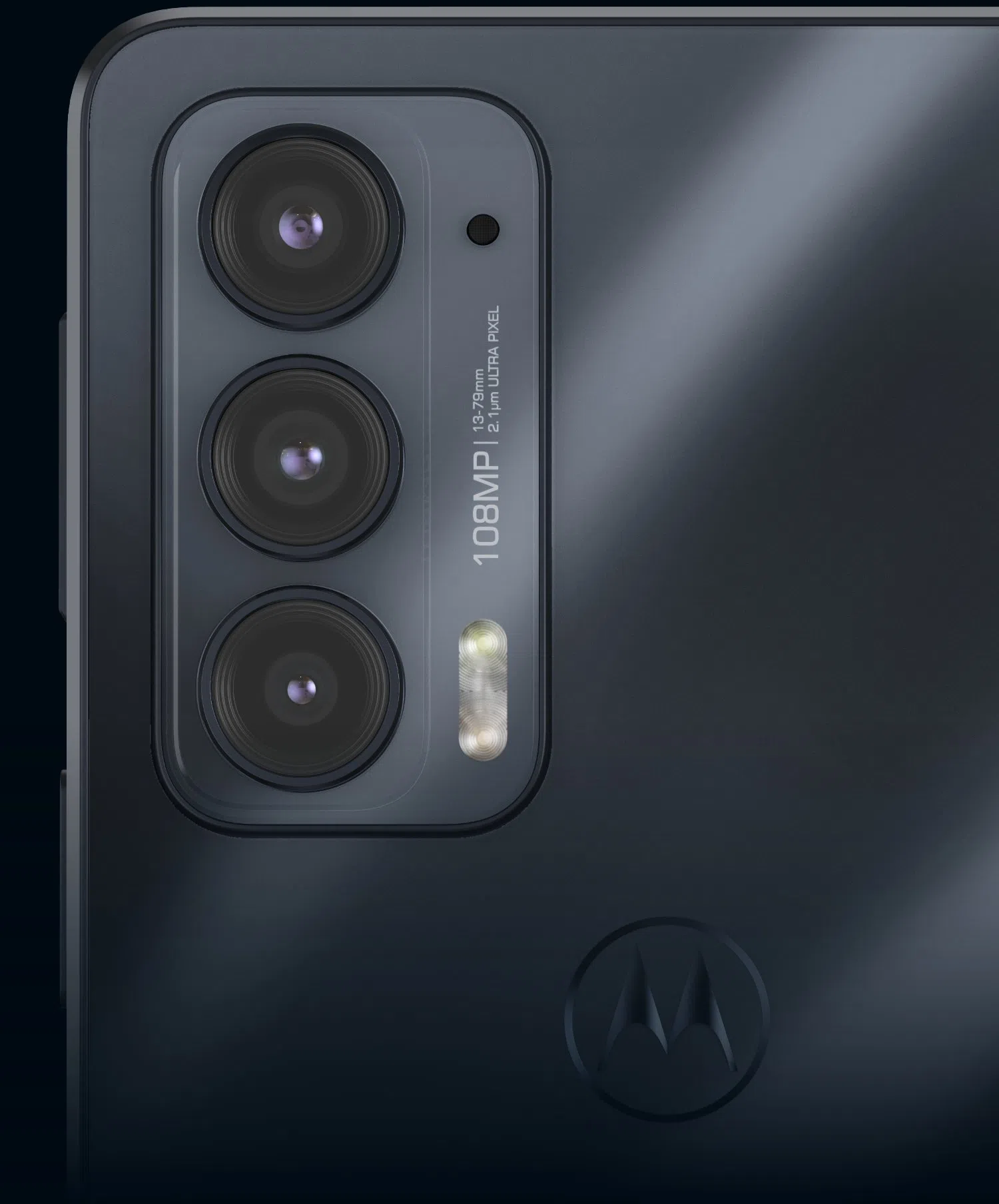 By the way, the model can also act as a competitor to the G100, since chipsets, memory and even their prices are comparable. But in terms of design, display quality and shooting, of course, it is more interesting than the Edge 20. But the G100 has a better battery. And the processor is still a little more powerful. But we'll talk about competitors in detail in the final section of the review.
Read also: Moto G100 Review: Not a Computer, But It's Close
Full specifications of the Moto Edge 20 и цена
Screen: OLED, 6.7 inches, 2400×1080 pixels, 20:9 aspect ratio, refresh rate 144 Hz, HDR 10+
Processor: Qualcomm Snapdragon 778G
Video accelerator: Adreno 642L
Memory: 8 GB RAM, 128 GB UFS 3.1 ROM
Battery: 4000 mAh, fast charging 30 W.
Main camera: 108 MP, f/1.9, PDAF, Quad Pixel + 16 MP wide-angle lens, f/2.2, 118 ̊ + 8 MP telephoto lens, f/2.4, with optical stabilization
Fron-facing camera: 32 MP, f/2.5, Quad Pixel
Data transmission: LTE, 5G NR (n1/n3/n5/n7/n8/n28/n38/n41/n66/n77/n78), NFC, Wi-Fi 6E (a/b/g/n/ac/ax 2, 4 + 5 GHz), Bluetooth 5.2, GPS (A-GP
OS: Android 11
Dimensions and weight: 163.00×76.00×6.99 mm, 163 g
What's in the box
The box contains the smartphone itself, a cable with two USB-C connectors (so if you want to buy additional charger, choose the right one), a weighty 30-watt power supply, documentation, and a SIM eject tool.
There was also a silicone cover. It's quite good, it protects the screen and cameras, has pleasant matte edges and grayish hue (so when it turns yellow, like all silicone, it will not be noticeable). You can use it, why not.
Design
Here I'll just say "wow!" Motorola has done something right here, that's for sure. First of all, rectangular edges are striking. Just a breath of fresh air against the background of hundreds of soap-looking smartphones. At the same time, sharp edges do not mean "like an iPhone", the smartphone body is more, so to speak, rectangular. It looks really cool.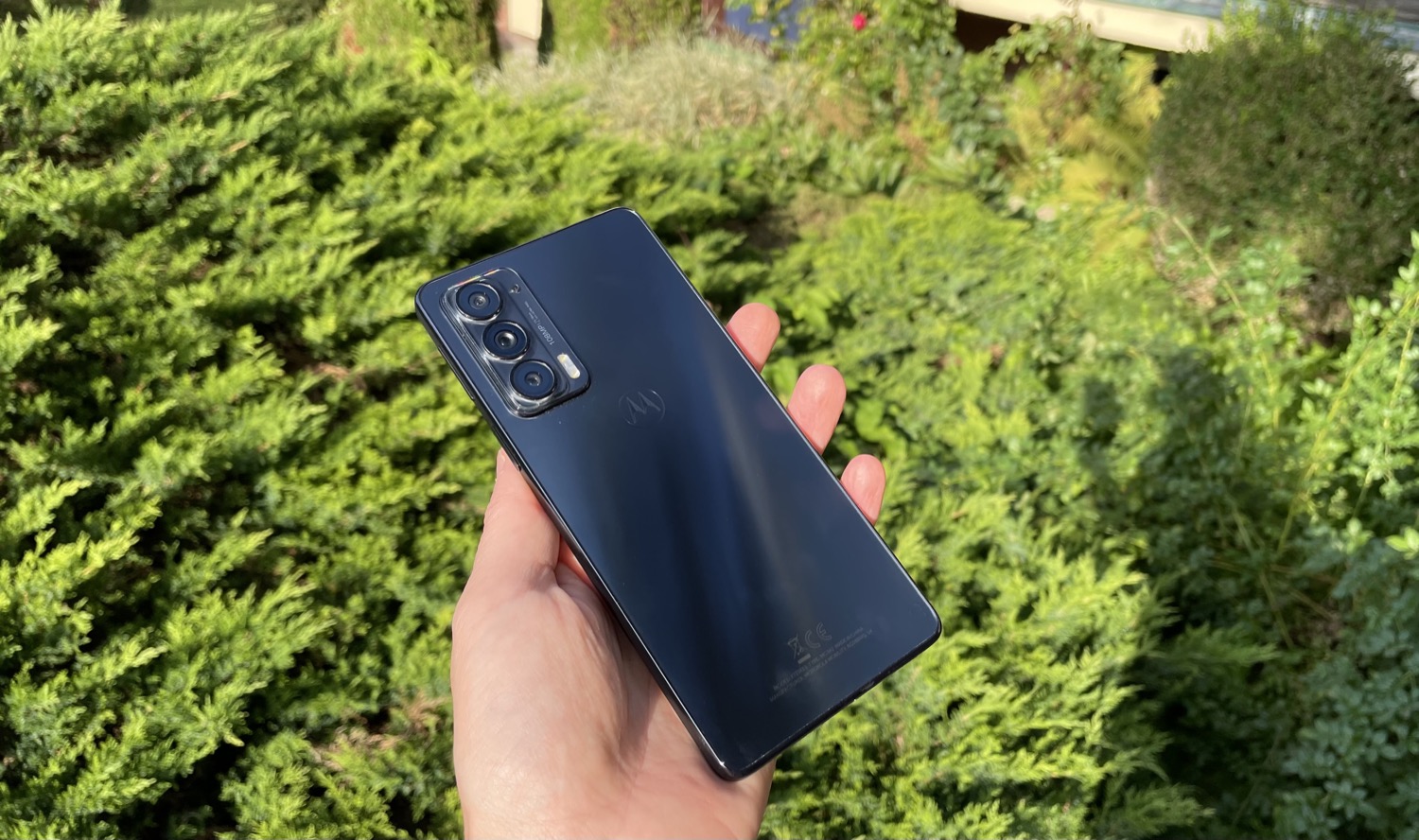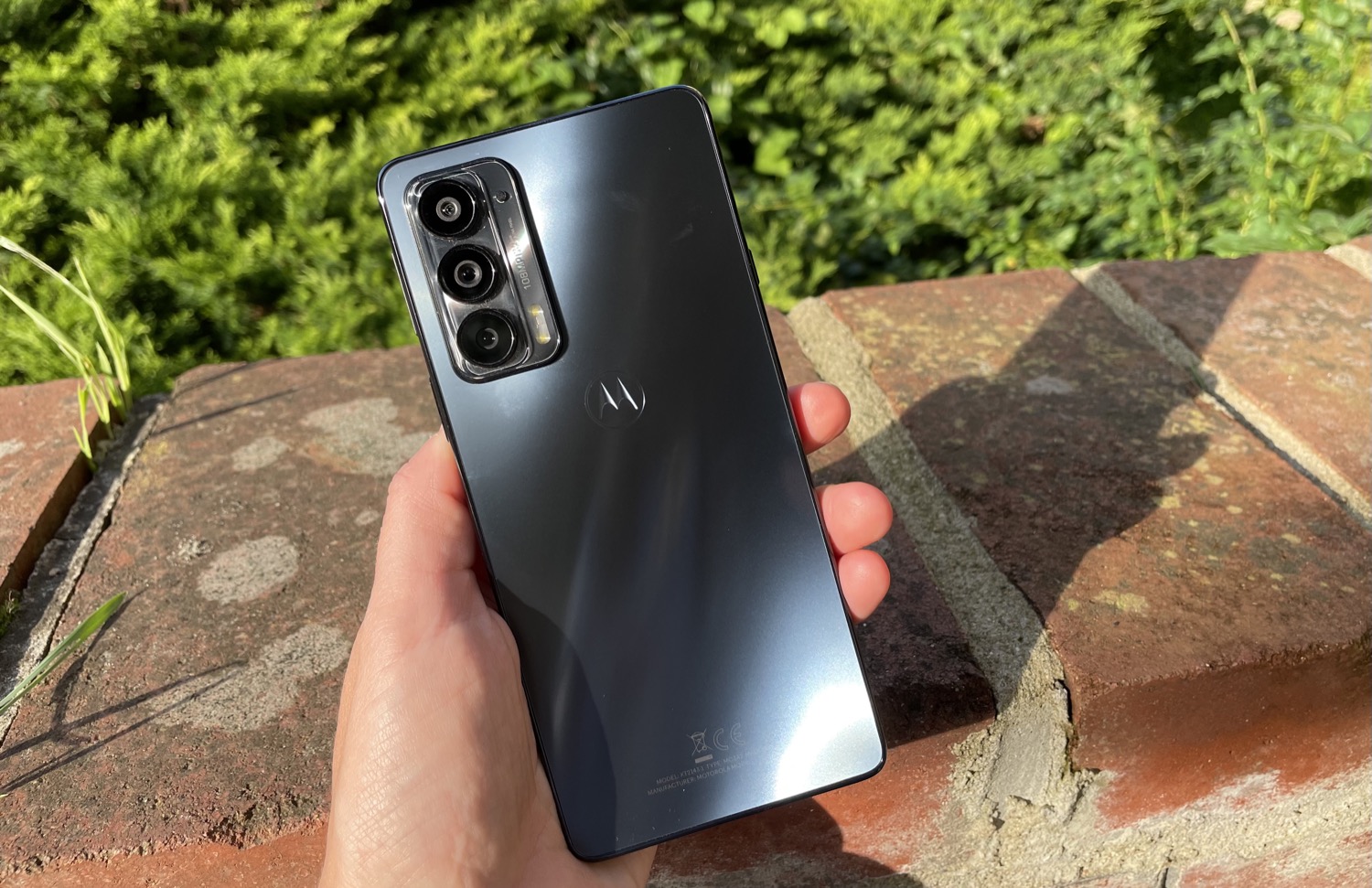 And the Edge 20 is sooooo light! Like a feather, it weights nothing. At the same time, the device is very thin (less than 8 mm).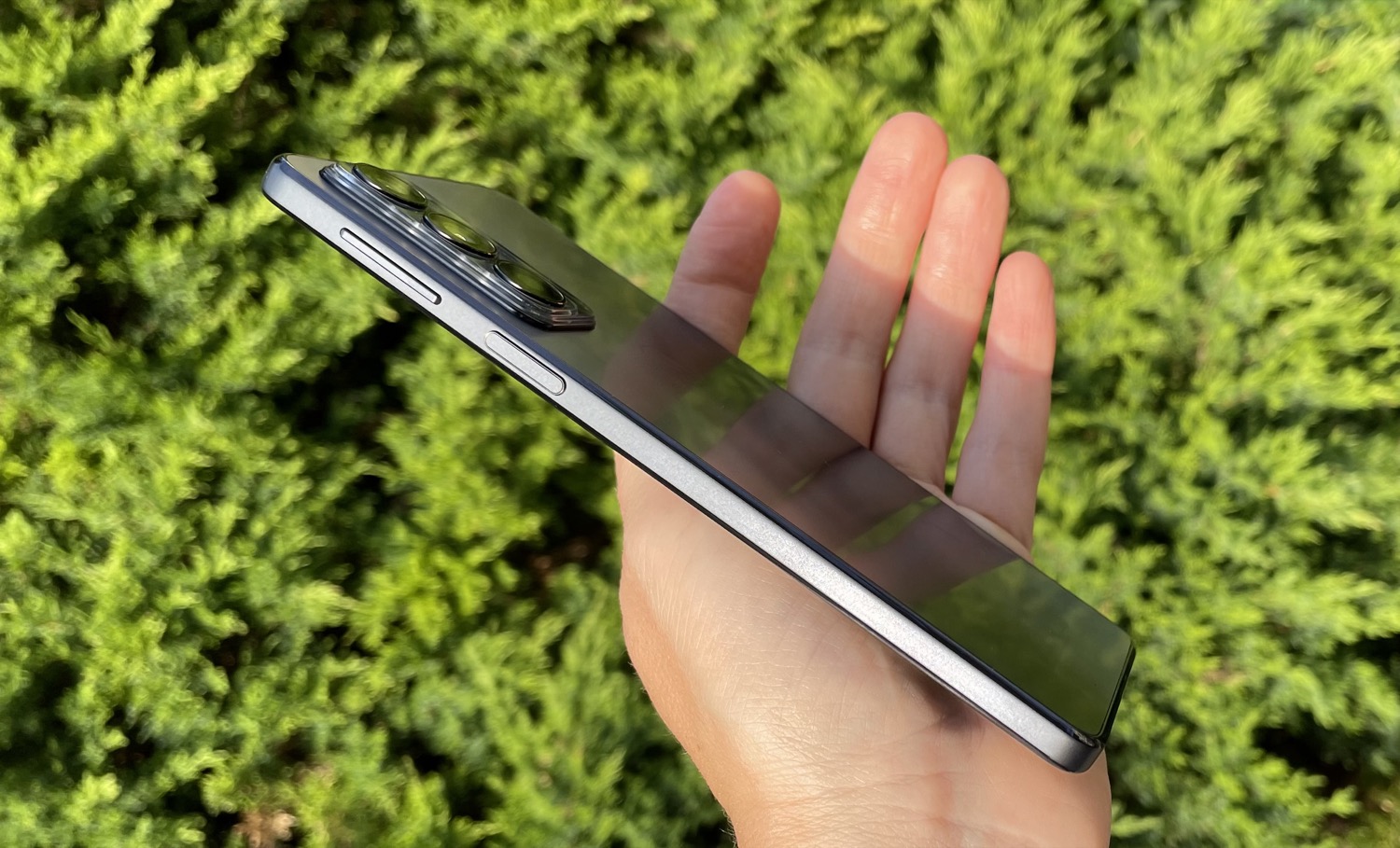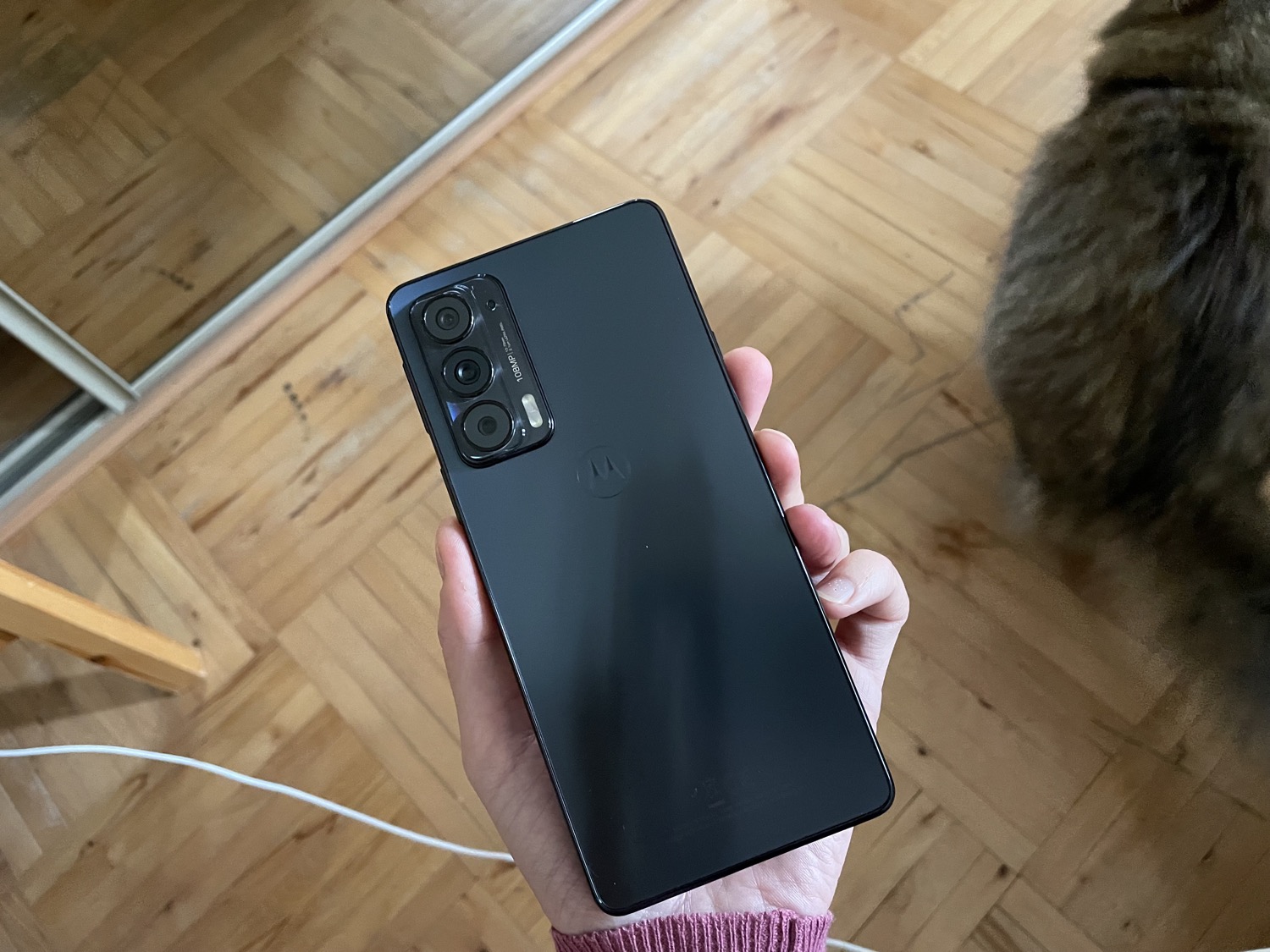 Of course, the phone is large, like most current models, but I'm used to it – the content is more convenient to read from the big screen. It is quite possible to use the device with one hand, although sometimes you have to change the grip.
The bezels could be smaller, but they aren't huge anyway. At the same time, the upper and lower bezels have the same size, which is unusual for this price.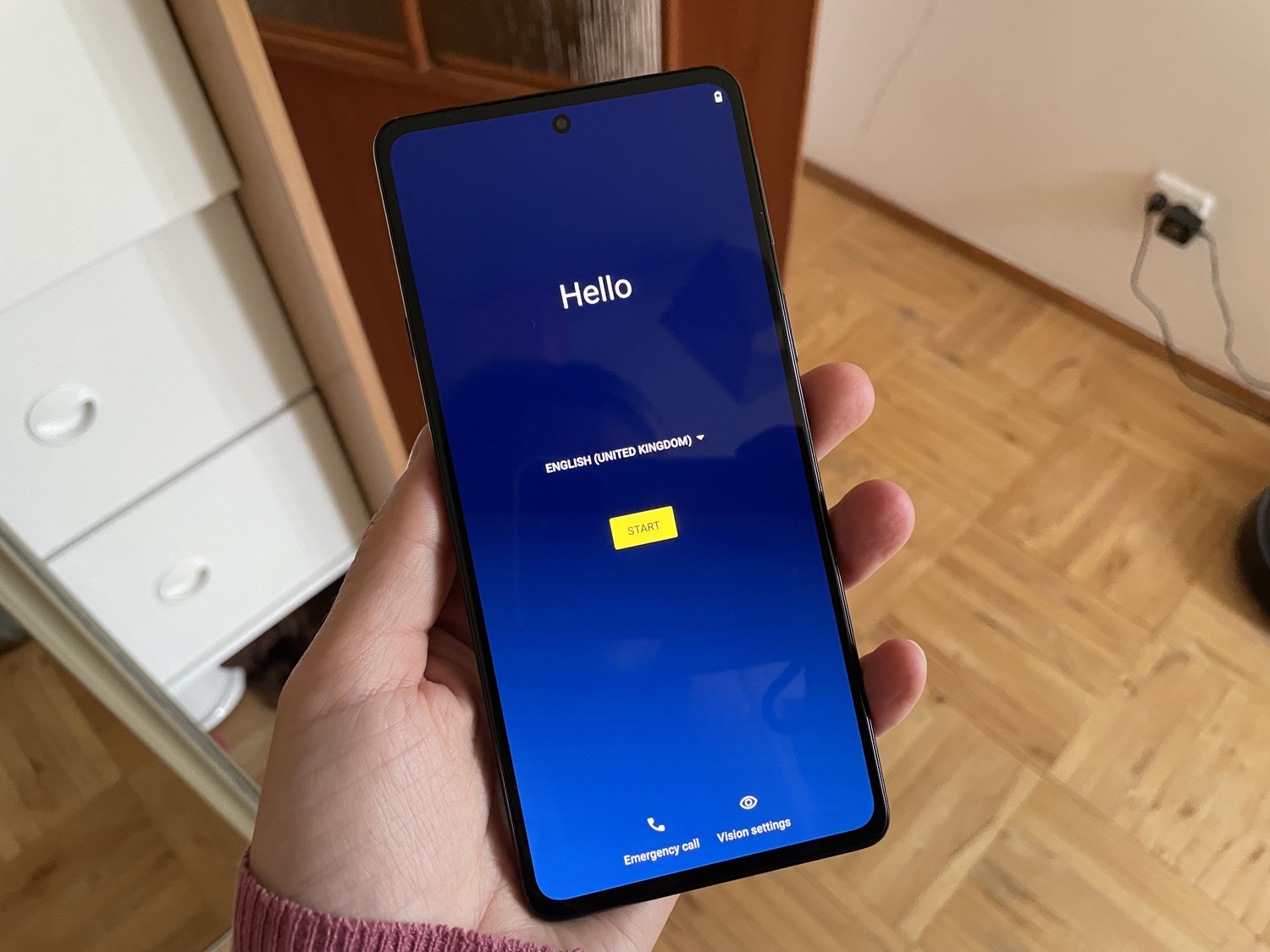 The front-facing camera is located right in the screen, its peephole is very small and is practically invisible.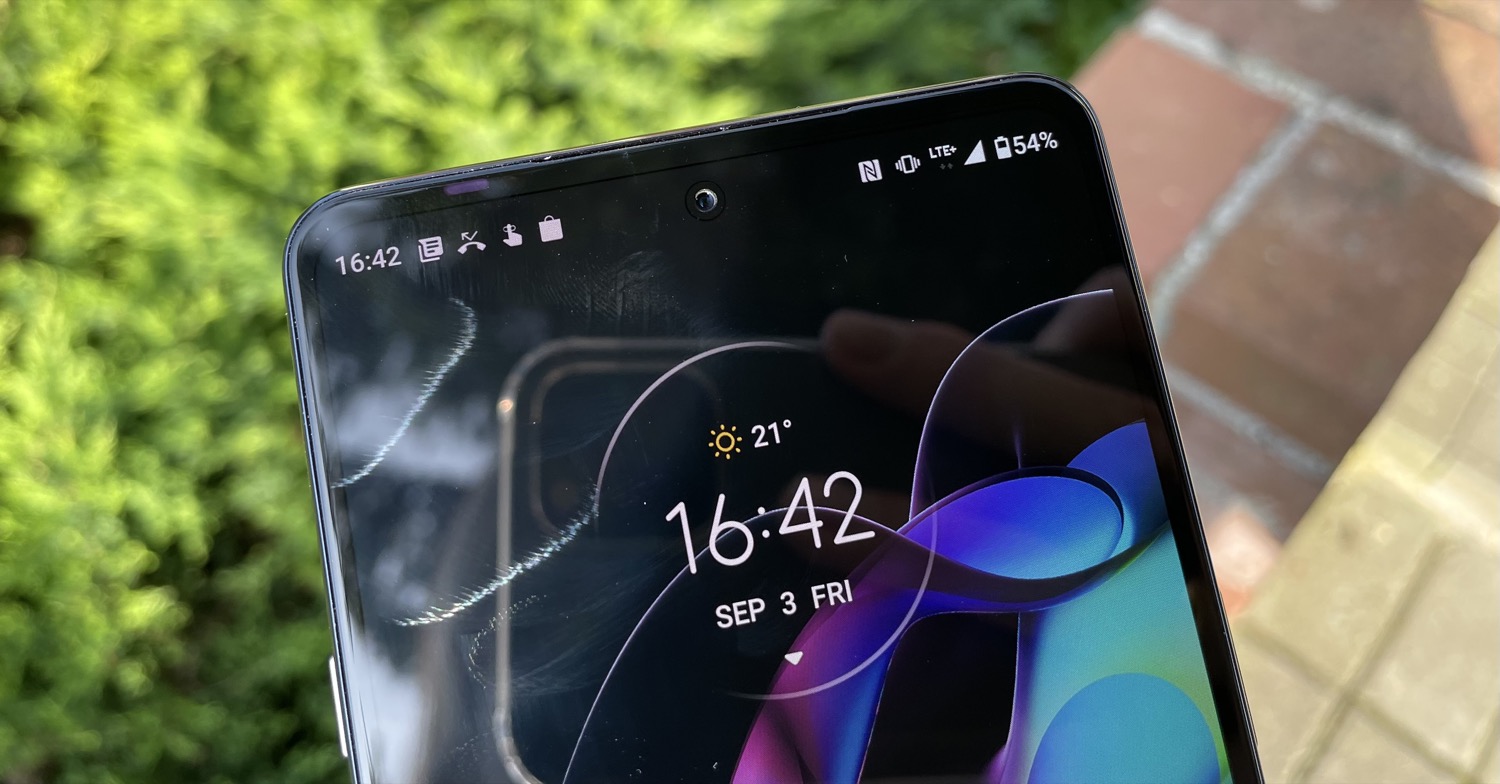 However, many default apps have a black bar at the top of the screen. In the settings, you can choose which programs or games should run in full screen mode.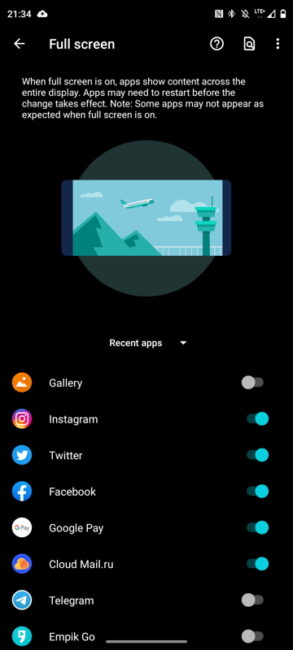 The display is protected by Corning Gorilla Glass 3. Not the latest version, of course. The oleophobic coating is not bad, it doesn't attract fingerprints much.
The edges of the body are aluminum, and they are interesting. The flat part is polished, and the lightly smoothed edges are glossy. It looks quite good.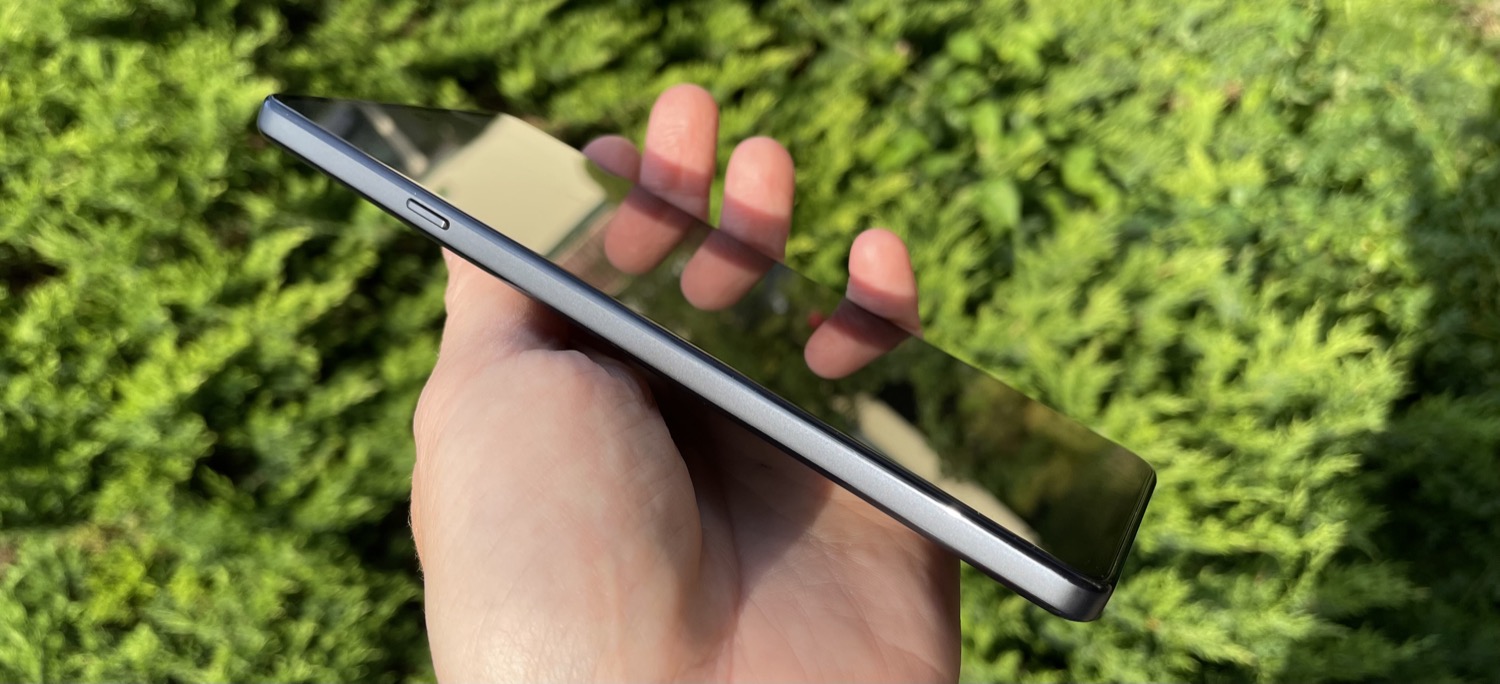 The back panel is similar to a glass, but this is a mid-ranger after all. So we actually have plastic here. But excellent plastic! Sure, it is a fingerprint magnet, but other than that, I have nothing to point out. Looks good.
Of course, when you look at the back panel of the Moto Edge 20, first of all you pay attention to the massive block of cameras. It looks, you might even say, professional. At the same time, the lenses themselves are not as large as they seem, it's all a bit of a farce. The black edges are just for show.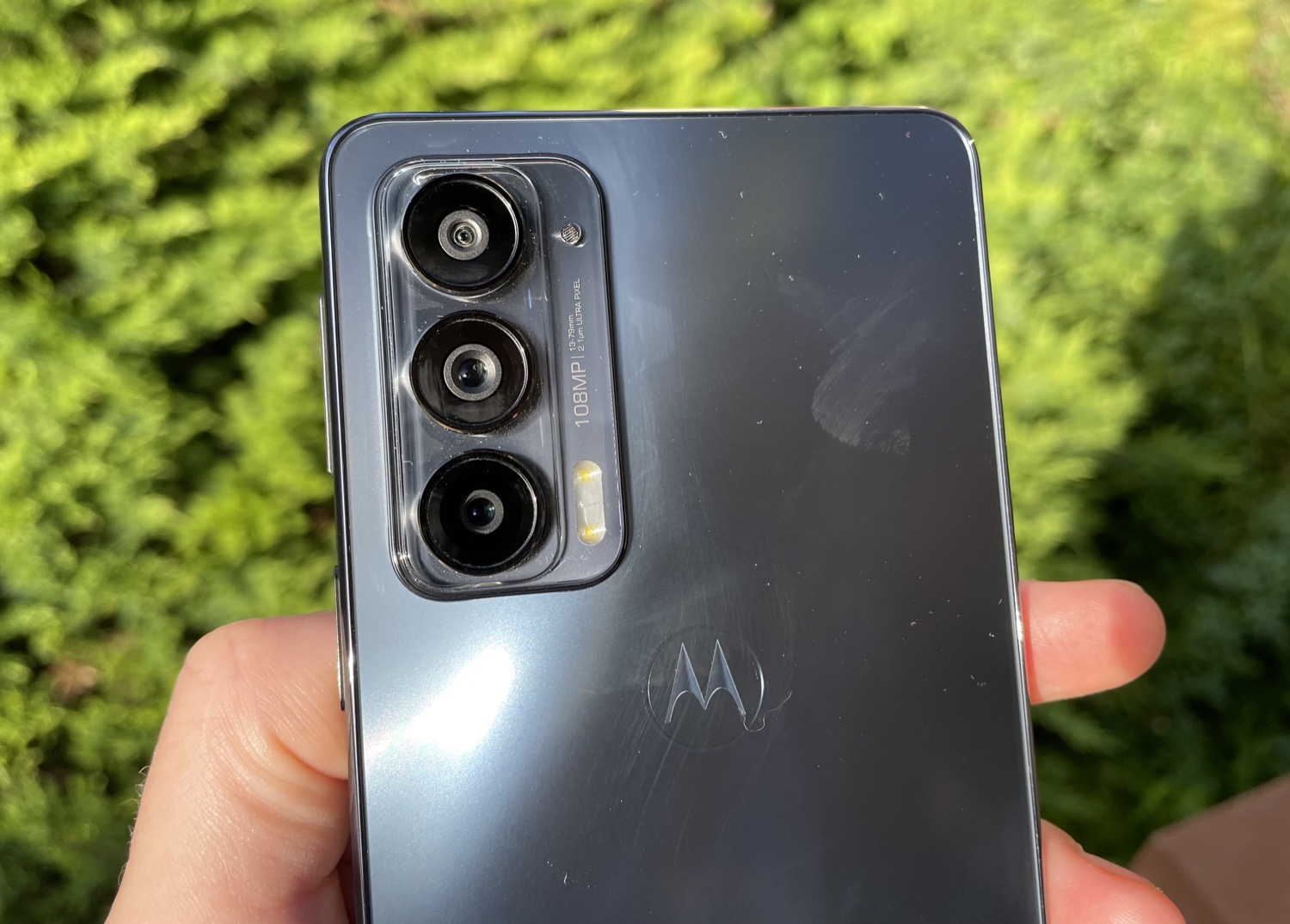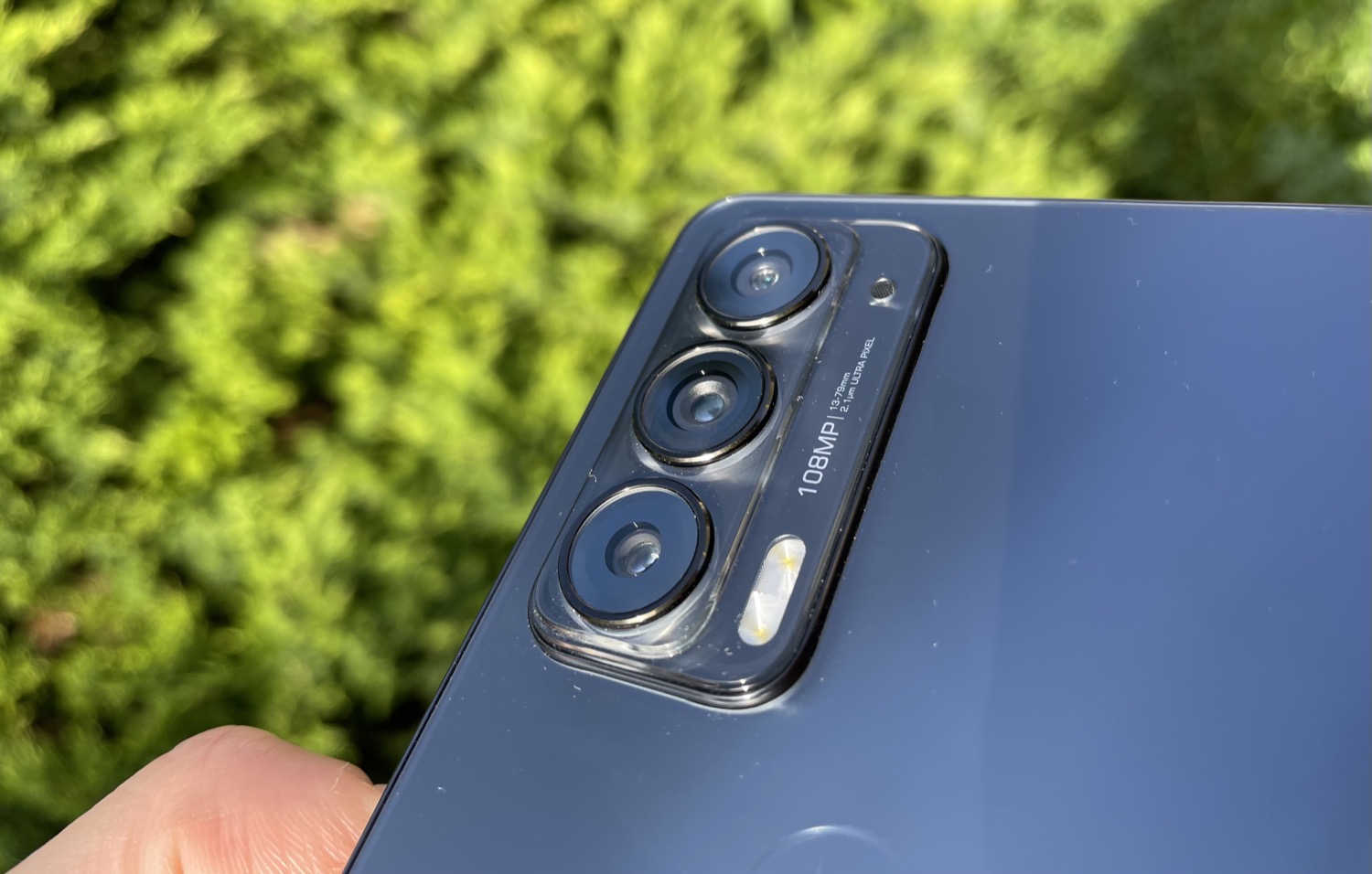 Three main camera modules are located on a noticeably raised platform. If the phone is on the table, it is a bit wobbly.

The device is available in three colors – Frosted Grey, Frosted White, and Frosted Emerald , all of them matte.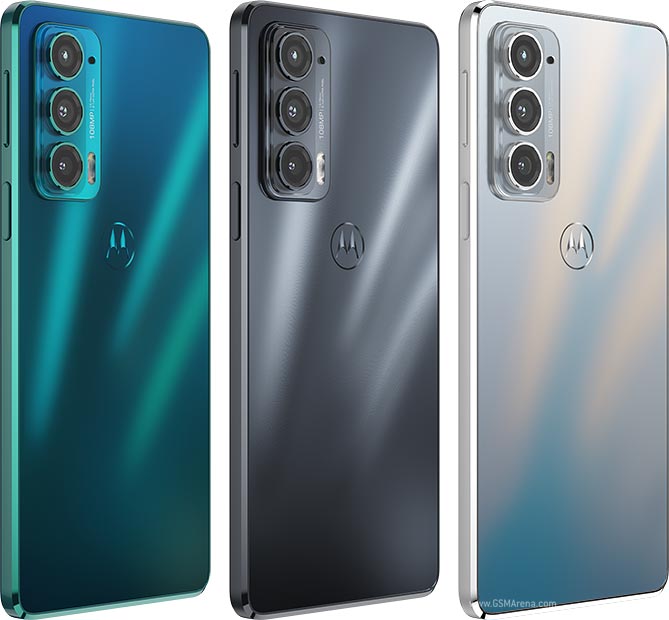 The control keys in Moto Edge 20, fortunately, are located on both sides of the device (Motorola sometimes likes to shove everything on one). On the left is the Google Assistant call key. Not very large, located at a sufficient height. For many, it is useless, you can't reassign it, but you can disable it in the settings.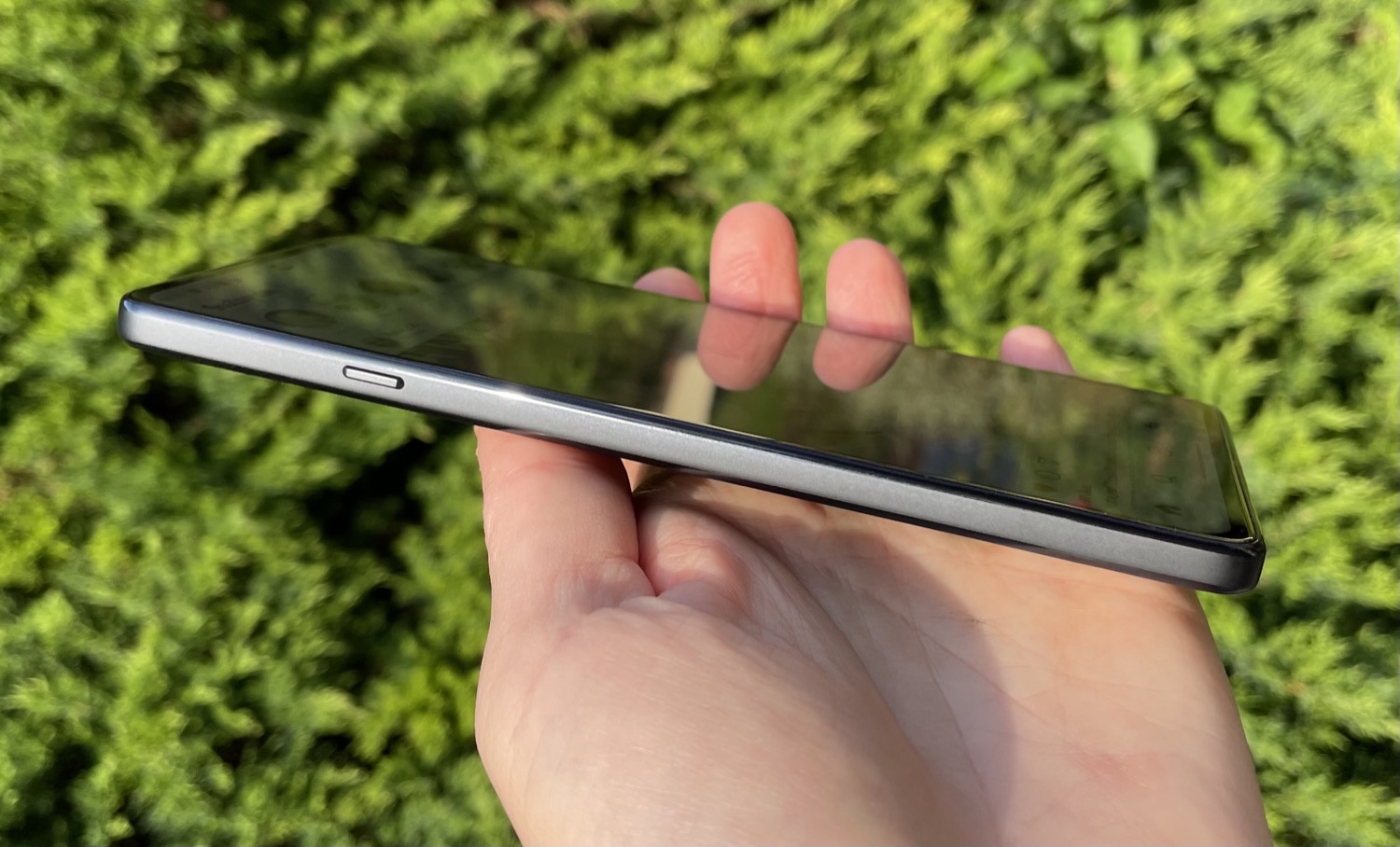 On the right is a dual volume change key, as well as an on/lock button combined with a fingerprint scanner.

Older Motos had such a button/scanner recessed in the case, which was not the most convenient solution. Well, now we have the usual button that protrudes somewhat above the body. It has a clear stroke, optimal location, sufficient size. And most importantly, you unlock the phone with one touch. Of course, an on-screen fingerprint scanner could also be embedded in the OLED display, but this isn't worse.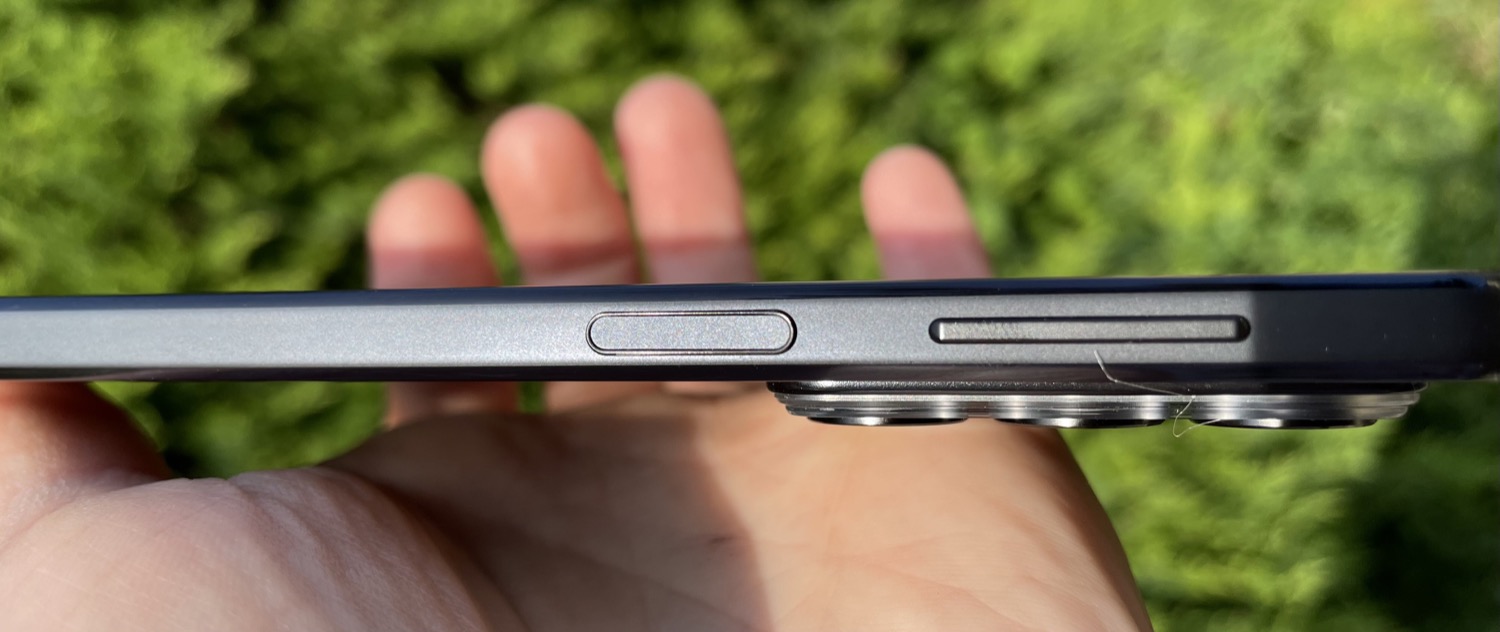 A double-tap on the lock key (not pressing, but only touching) calls a custom menu with app icons for quick launch.
There is nothing interesting on the top end of the Moto Edge 20, but on the bottom edge there is a charging connector, microphone and mono speaker slots, and finally a SIM card slot. The latter is made of plastic, fits bad to the body and looks a little cheap. However,  hardly anyone is constantly looking at the bottom edge of their phone, right?


The slot itself has the "sandwich" format, the first SIM card fits from above, the other from below. There is no memory card slot.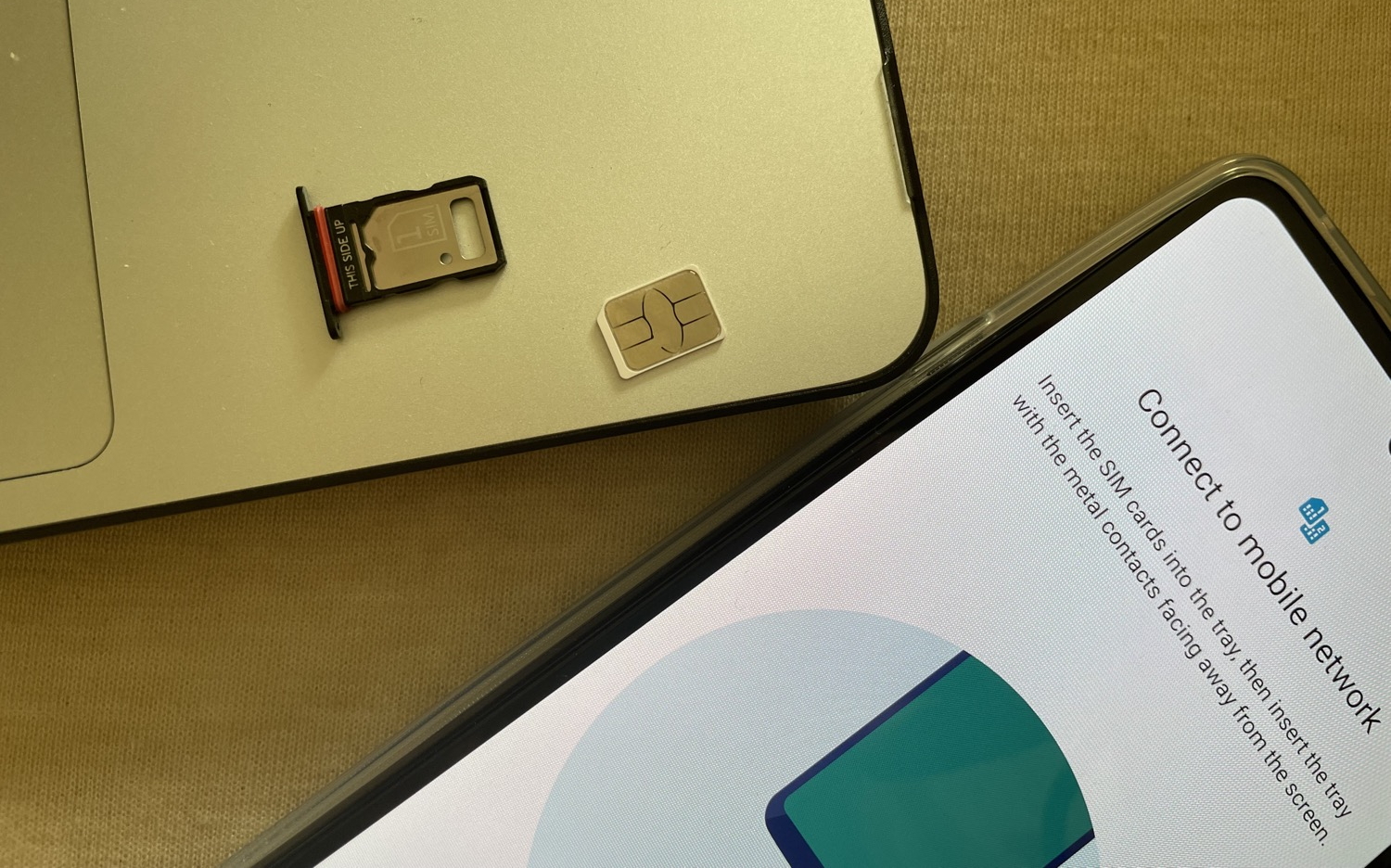 In conclusion, it should be added that the Moto Edge 20 body has a hydrophobic shell with IP52 level protection. Nothing special, but it's nice. It is in all current Motorola lineup, even in cheaper models.
Read also: Motorola Moto G50 review: Extremely Affordable 5G Smartphone 
Screen
Motorola is particularly proud of the screens of the updated Edge smartphone series. The quality of the 6.7-inch OLED sensor here is excellent thanks to support for HDR10+ technology. The picture is juicy, viewing angles are good, without color distortion. The depth of black is high. The image is very clear.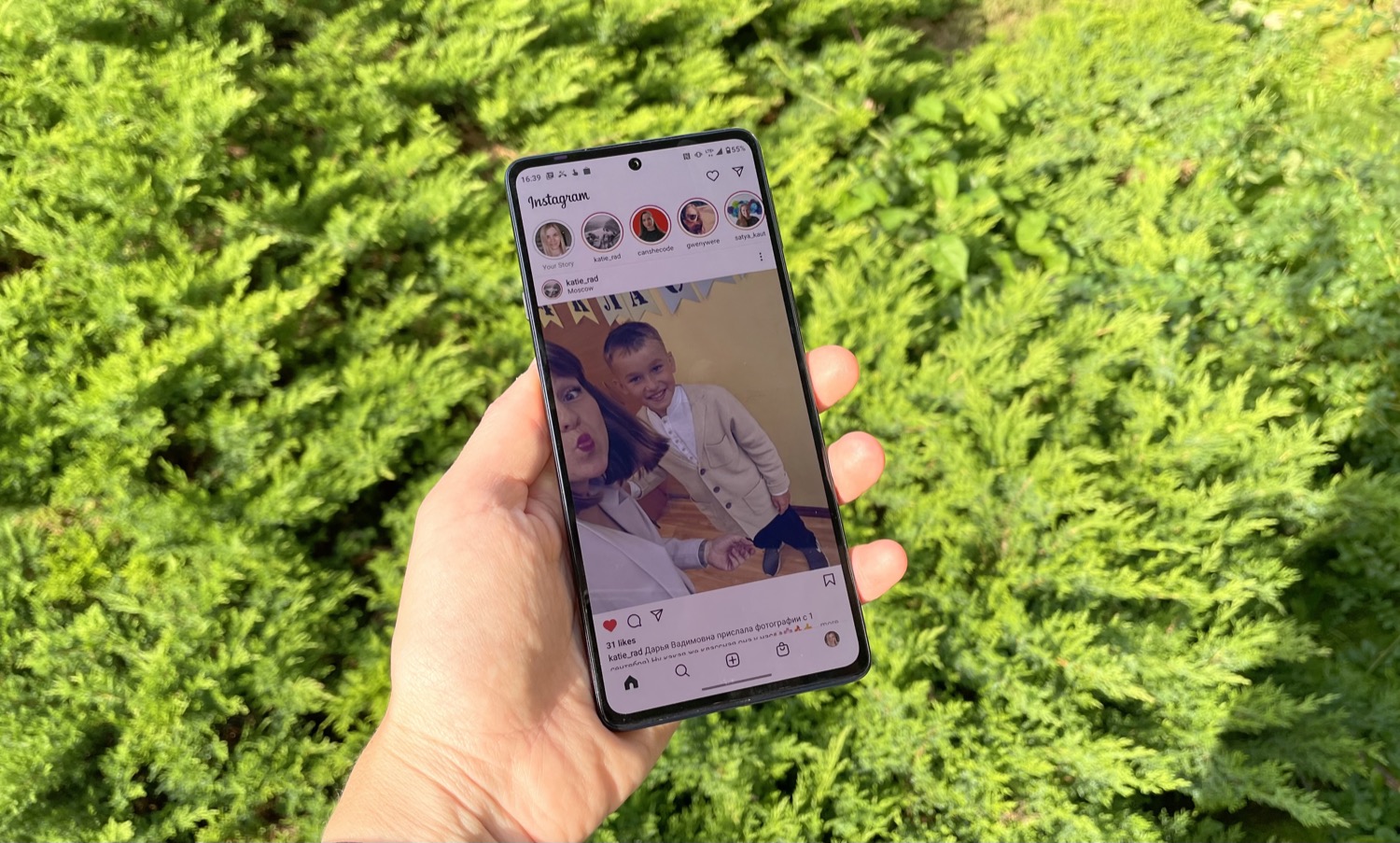 The main feature of the model is 144 Hz screen refresh rate. The other models offer 90 Hz (and even this is a huge difference compared to the standard 60 Hz). Competitors also have 120 Hz. But 144 Hz for this money is not yet very common. Of course, the picture is very smooth and striking. Three modes are available – automatic (the phone will set itself depending on the application and charge level), 60 Hz or 144 Hz.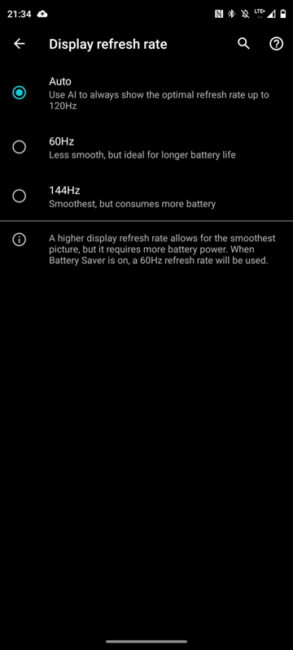 Automatic brightness works fine. There is an option to adjust the color temperature. There are three saturation options.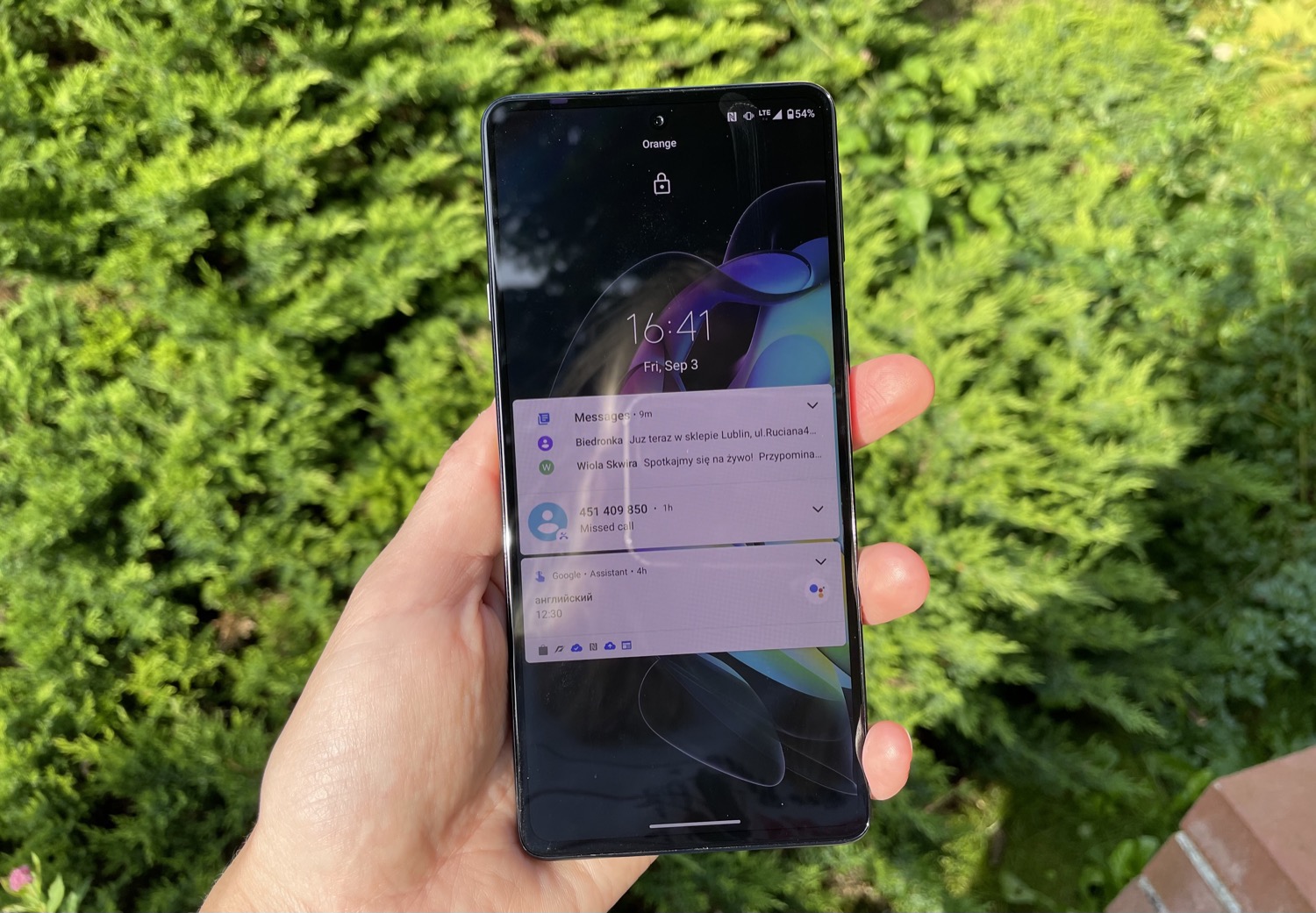 Readability in the sun is not bad, although the contexts of the display are harder to see (maximum brightness is about 466 nits).
Sun readability is good, although the display fades (max brightness around 466 nits).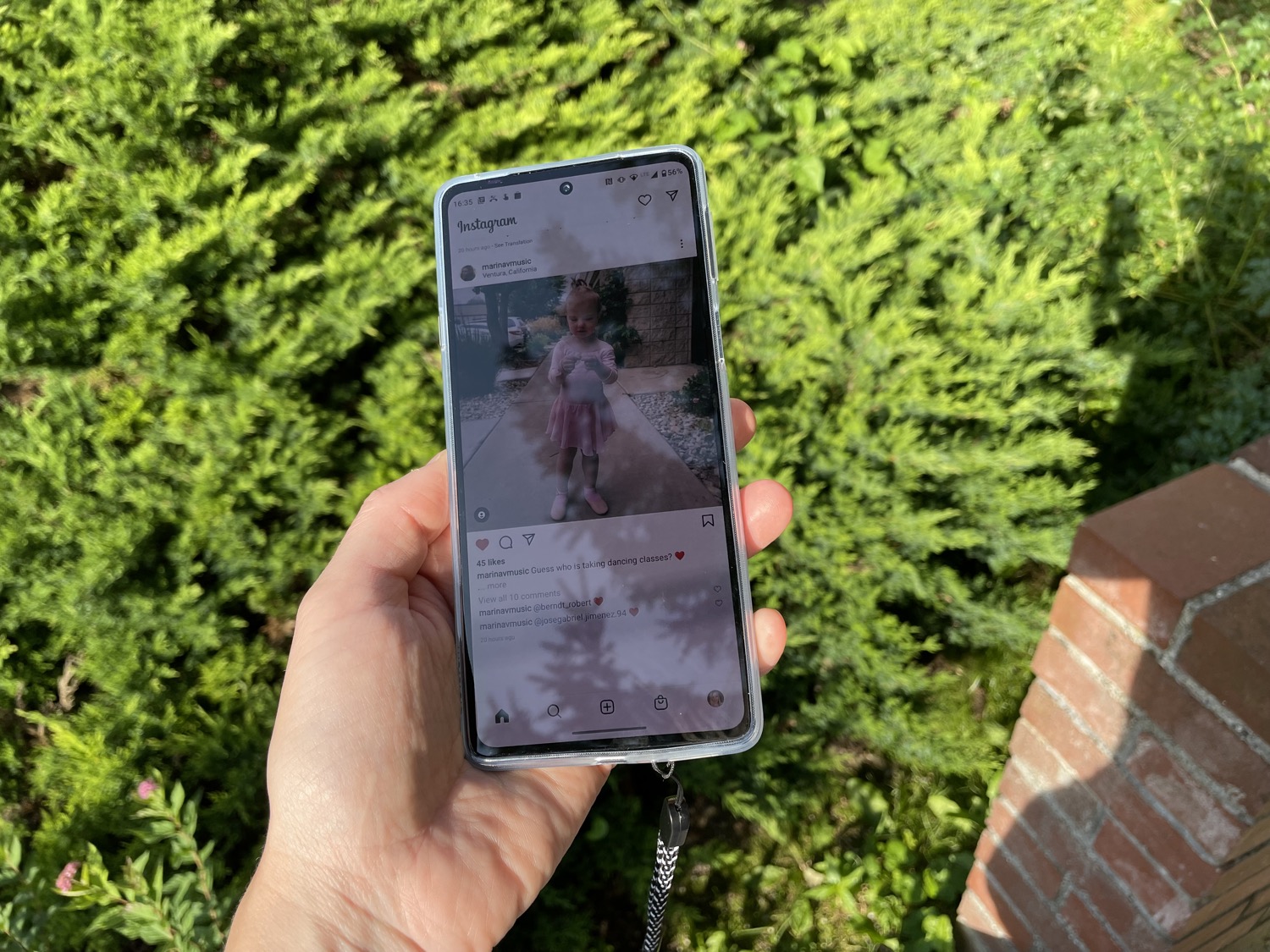 Hardware and performance
The smartphone uses the Qualcomm Snapdragon 778G chipset. It's quite new (presented in spring 2021) with a 5G modem for mid-ranger. The model is only slightly weaker than the popular Snapdragon 780G. The 778G processor is based on a 6 nm process, contains 8 cores, one of which operates at a frequency of up to 2.4 GHz, three up to 2.2 GHz and four more up to 1.9 GHz.
The chipset is equipped with a powerful Adreno 642L graphics chip, which is 40% more efficient than its predecessor. That's why Qualcomm advertises the chip as ideal for those who often play on a smartphone. There is also a Snapdragon X53 5G modem, fresh Wi-Fi 6 and Bluetooth 5.2 modules, the Hexagon 770 AI chip and the ISP Spectra 570l image processor, which allows you to record up to 3 images at 22 Mpx resolution each at a time. This chipset is designed for models with FHD+ 144 Hz displays. Cameras up to 192 MP are also supported.
In short, the hardware is good. And combined with a decent amount of RAM (8 GB), it works perfectly.
I'm not a fan of synthetic tests on phones, in my opinion, they mean nothing. But still, in GeekBench 5 the model scores about 2,555 points, in 3DMark Wild Life Vulkan 1.1 it scores about 2500 points, and in in AnTuTu 9 it scores 488600. If you compare the numbers, models such as realme GT, Moto G100, Poco X3 Pro, and OnePlus Nord 2 are certainly faster.
But personal impressions are more important. I can say with confidence that the performance of the device is excellent and everything, and everything works with no issues. At certain point the device becomes a little warm, but not hot.
The Motorola Edge 20 also copes with stress tests perfectly. Using 100% of the Moto Edge 20 GPU, stable performance with a total of 98.9% can be maintained. This is an excellent indicator.
Then we conducted a throttling test that proved that the Edge 20 is able to maintain 78% of maximum performance for one hour at 100% processor utilization. This is great for a passively cooled smartphone.
The Motorola Edge 20 has excellent performance, taking into account the price category. The device is fast and, most importantly, stable with no heating issues.
Read also: Motorola Moto G30 review – Impressive Budget Smartphone with 90Hz Display  
Cameras
Motorola places serious emphasis on the photographic component in the Edge 20 series. Let's test it.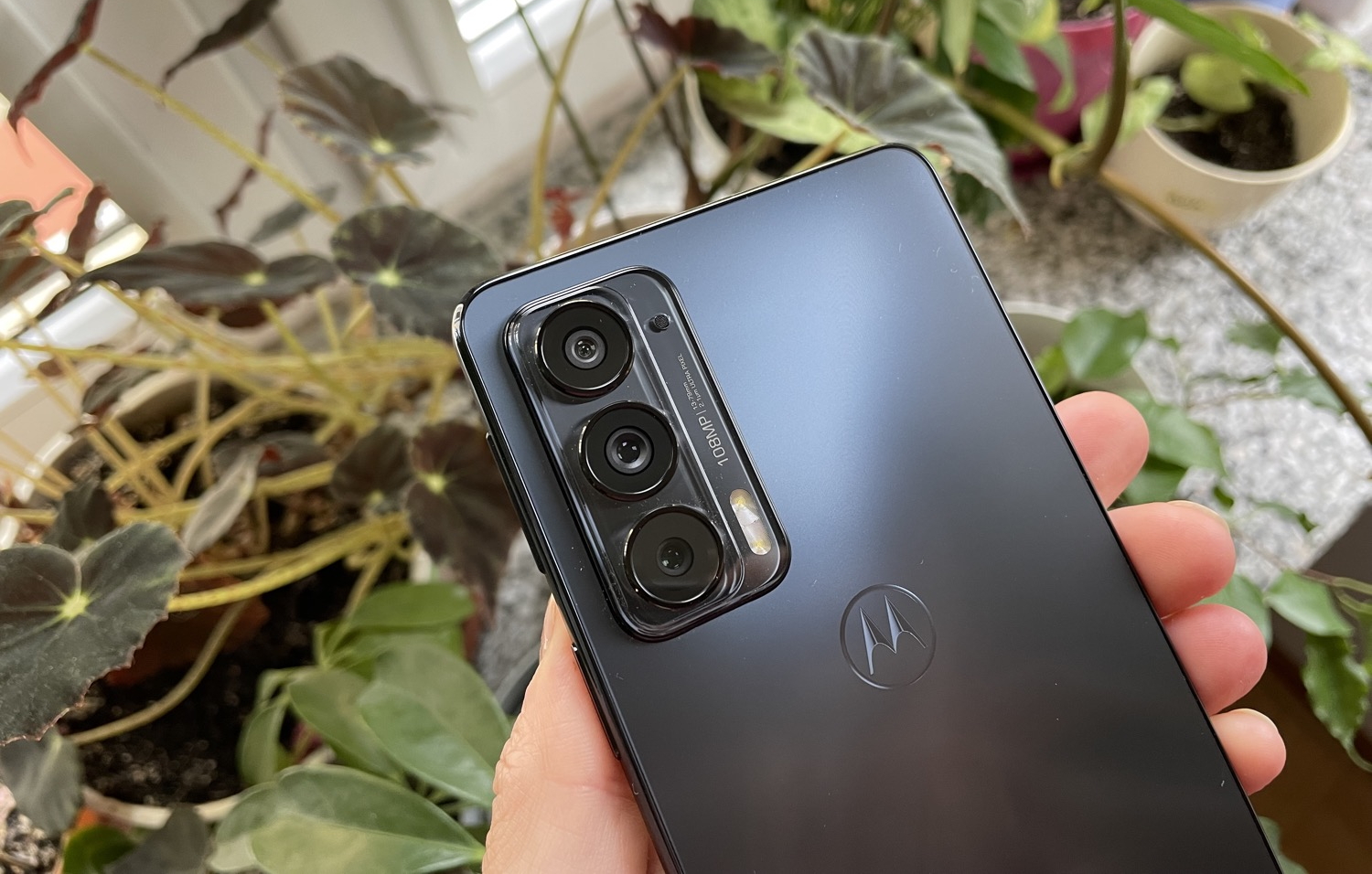 The Moto Edge 20 smartphone is equipped with three main modules – a 108-megapixel main camera, an 8-megapixel camera with 3x optical zoom and a 16-megapixel ultra-wide-angle lens that can shoot macro thanks to autofocus. There is also a double LED flash.
The Motorola Edge 20 main camera uses a 108-megapixel Samsung ISOCELL HM2 sensor measuring 1/1.52 inches 0.7 μm and a 24 mm f/1.9 lens. However, do not think that your photos will have a resolution of 108 MP. Pixel aggregation technology is used, we have 12 MP images at the output, but clear and detailed. Stabilization is electronic, with no OIS. Night mode supports only the main lens.
There is also an 8-megapixel telephoto module with OmniVision OV08A10 1/4.4 with 1.0 μm pixels and an f/2.4 78 mm lens. It allows you to perform 3x optical zoom without loss of quality. Both OIS (Optical Stabilization) and PDAF (Phase Autofocus) are available for this module.
The ultra-wide-angle camera is a 16-megapixel OmniVision OV16A10 sensor measuring 1/3.06′′ with 1.0 μm pixels and f/2.2 17 mm lens. Thanks to the presence of autofocus, this camera allows you to take macros from a distance of 4-8 cm.
The selfie camera has a 32-megapixel OmniVision OV32B40 sensor measuring 1/3 inches with a resolution of 0.7 μm, with 28 mm f/2.3 lens. The focus is fixed. Pixels are also combined, so the pics have a resolution of 8 MP.
Let's talk about the quality. As expected, everything is fine in good light, taking into account the price category of the smartphone. The pictures are clear, well detailed, with pleasant color reproduction (very realistic).
As already noted, by default photos have a resolution of 12 MP (3000×4000 pixels). The original 108 MP can also be enabled in the settings, but it makes little sense – photos will just be heavier. It is worth noting that if you take pictures in their original resolution and then manually reduce them to the same 12 MP, they will be more detailed. But the difference is not that obvious. In addition, the full resolution photo is slightly darker than usual. Here's a comparison (108 MP on the right).
As for night shooting, it is acceptable, again taking into account the price.
There is also a special night mode. However, most often it highlights the pictures too much, and they become unnatural. But in almost complete darkness it can help. Here's a comparison. Photos made with the night mode are on the right.
The wide angle is not bad, the photos come out fine, with decent contrast and dynamic range, the angles are almost not distorted. The detail is not very detailed and you can find fault with color rendering, but most users will still be satisfied. Below is a photo from a standard lens (left) compared to a photo from a wide-angle lens (on the right).
As already mentioned, the wide-angle camera has autofocus, so it can take not only "wide" pictures, but also macro from a distance of 4-8 cm. The device takes juicy and beautiful pictures up close. However, you need to try to keep the camera as stationary as possible. Examples of macro photos (look closely, for example, at the second one – you can even see the structure of the leaves!):
The 8 megapixel telephoto camera, as well as the main one, saves 12 megapixel photos, which is strange. It allows you to zoom 3 times without losing quality. Pictures look very good – excellent colors, contrast, dynamic range. Why increase to 12 MP though? Examples of images from a telephoto lens (right) compared to the usual (left) are below:
The smartphone also supports 30x zoom. Nothing serious, but still the quality for such a zoom is decent. For comparison, I took a photo on iPhone 12 with a 10x zoom and the results are… see for yourself.
Examples of photos with 30x zoom are on the right:
When you're zooming, there is a hint on the screen saying where exactly you are.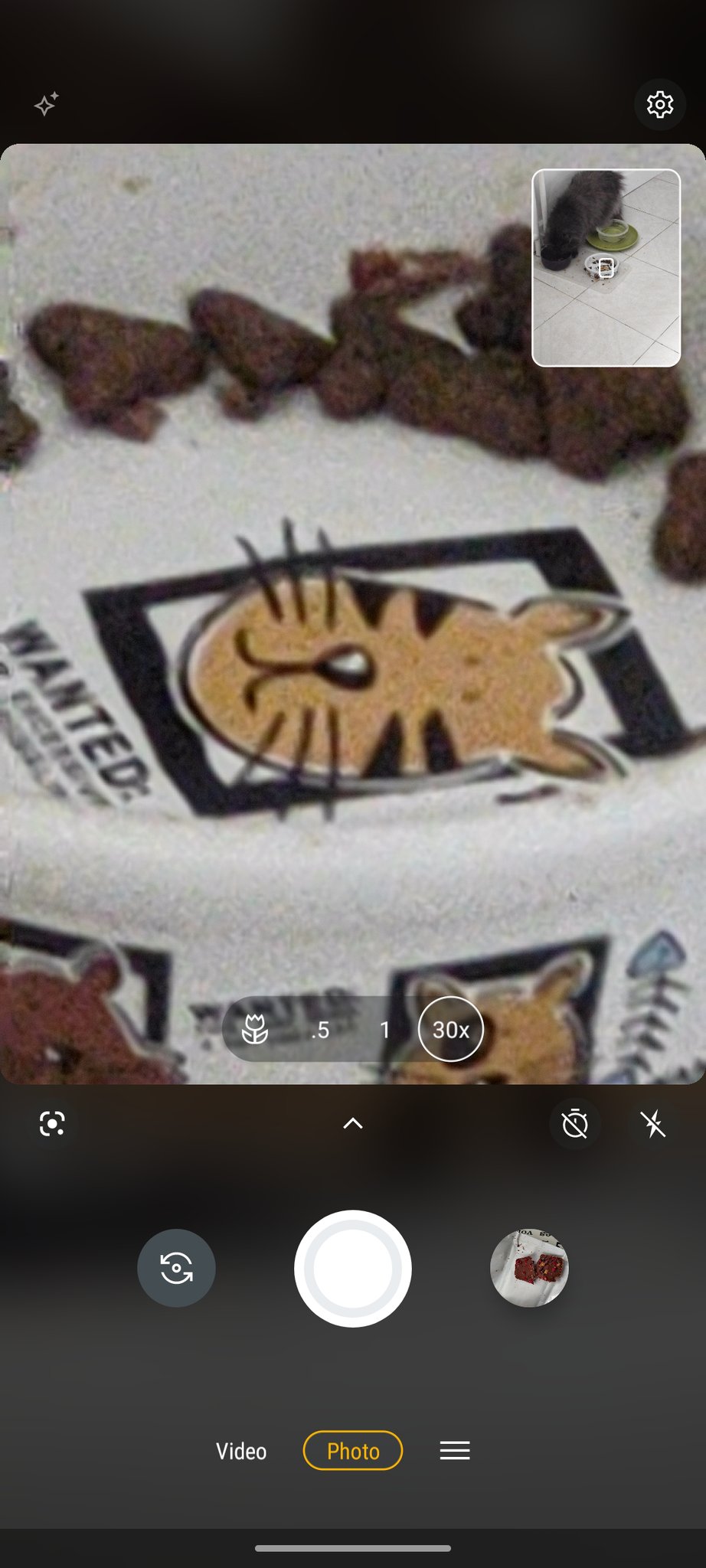 Portrait mode uses the main module by default, but there is an option to switch to the telephoto and thus zoom in on the object three times. The quality is good, the background is can be blurred.
The selfie camera has a resolution of 32 megapixels, but the pictures are saved in 8 megapixels to improve quality. Selfies are excellent – clear, detailed, with good color reproduction, good contrast and dynamic range. Perhaps the sharpness is overstated, but it's a matter of taste. In the settings, you can also enable the original 32 MP resolution, but such photos are blurred, as if not in focus. Examples of selfies in 8 MP resolution:
ALL EXAMPLES OF PHOTOS IN THE ORIGINAL RESOLUTION
The Motorola Moto Edge 20 records 4K video at 30 frames per second and 1080p at 60 frames per second. This applies to the main module, the rest are limited to 1080p resolution at 30 frames per second. Additional electronic stabilization (EIS) is available only in [email protected] fps mode for all modules.
It is also worth noting Audio Zoom technology. Additional microphones and AI are used to concentrate on the sound source and filter unnecessary noise on the video.
Video from the main camera is good – there are a lot of details, no noise. The dynamic range is commendable, the contrast is also excellent. The colors are a little cold.
We wouldn't recommend shooting in the dark, there's a lot of noise. But it's quite possible to use the wide angle (not in the dark), the quality is relatively good. In our opinion, the telephoto shoots best of all, it also has optical stabilization and very pleasant natural colors.
The Motorola camera application has undergone some changes over the past couple of software versions, but the main way to navigate the menu and camera modes have remained the same. There is Pro mode, which gives you almost complete control over camera settings, such as white balance, ISO, autofocus, exposure and shutter speed up to 32 seconds for all three lenses.
Interesting features include recording super-slowmo video at 960 fps. The Moto Edge 20 displays such videos 4 times slower than previous Motorola models. It is also possible to record to the main camera and selfie camera at the same time (in a separate window).
There's a weird issue with permissions. In the settings, you can select either 8 MP or 12, or the original resolution. At the same time, if you choose 8 or 12, the settings apply to all main cameras. That is, every camera will save 8 or 12 MP photos. The first option is not ideal for the main module, the second is not ideal for the telephoto, there is no golden mean. You can only use professional mode. It stores images as expected, in 12 MP for the main one, 16 MP for ultra-wide and 8 MP for the telephoto. But using Pro mode takes time and effort, and it's not for everyone.
Read also: Motorola Moto G10 vs Moto G20: Which Twin to Choose?
Data transfer and the Ready For mode
As already noted, everything is fine with data transmission. You get Wi-Fi 6, Bluetooth 5.2, NFC for payment in stores, 5G (all ranges are supported, including new European n1, n38 and n78), as well as geolocation services (GPS, AGPS, LTEPP, SUPL, Glonass, Galileo, Beidou).
But what's more interesting is the "Ready for" mode. This is when the smartphone acts as a PC when connected to a monitor or TV (optionally a laptop) and provides a special UI.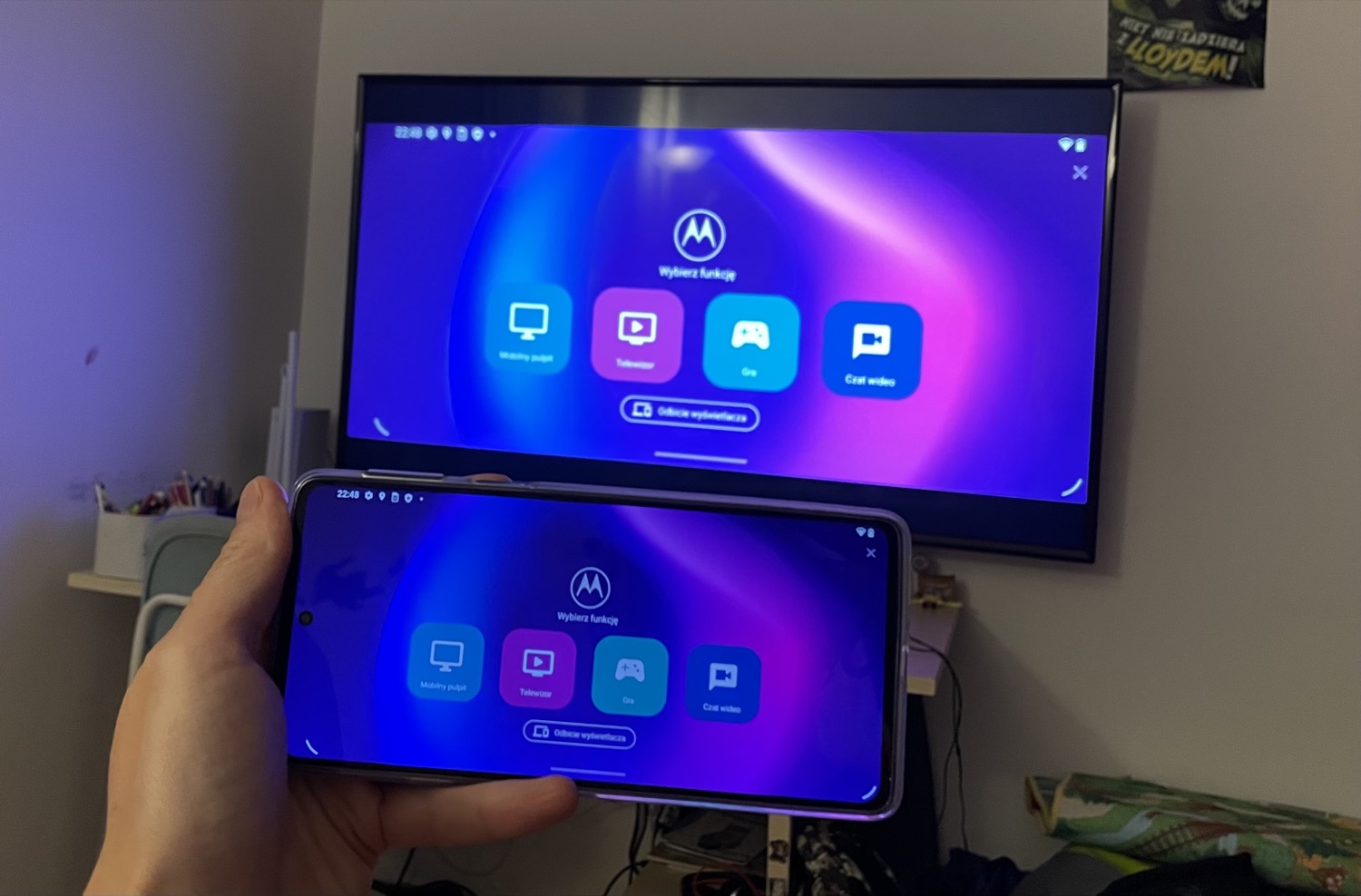 It is worth noting that this mode exists in different variations depending on the model. For example, in the G100 review, I described Ready For working with a USB-C to HDMI cable (included). There was no wireless version there. But the Edge 20 supports only the wireless "Ready for" option, while the Edge 20 Pro supports both wireless and wired options.
Why is wireless worse than wired? There is no information about it anywhere. I can only assume that it's about the data transfer rate and the image resolution. A compatibility table is available on the Moto website, crosses indicate the supported connection type.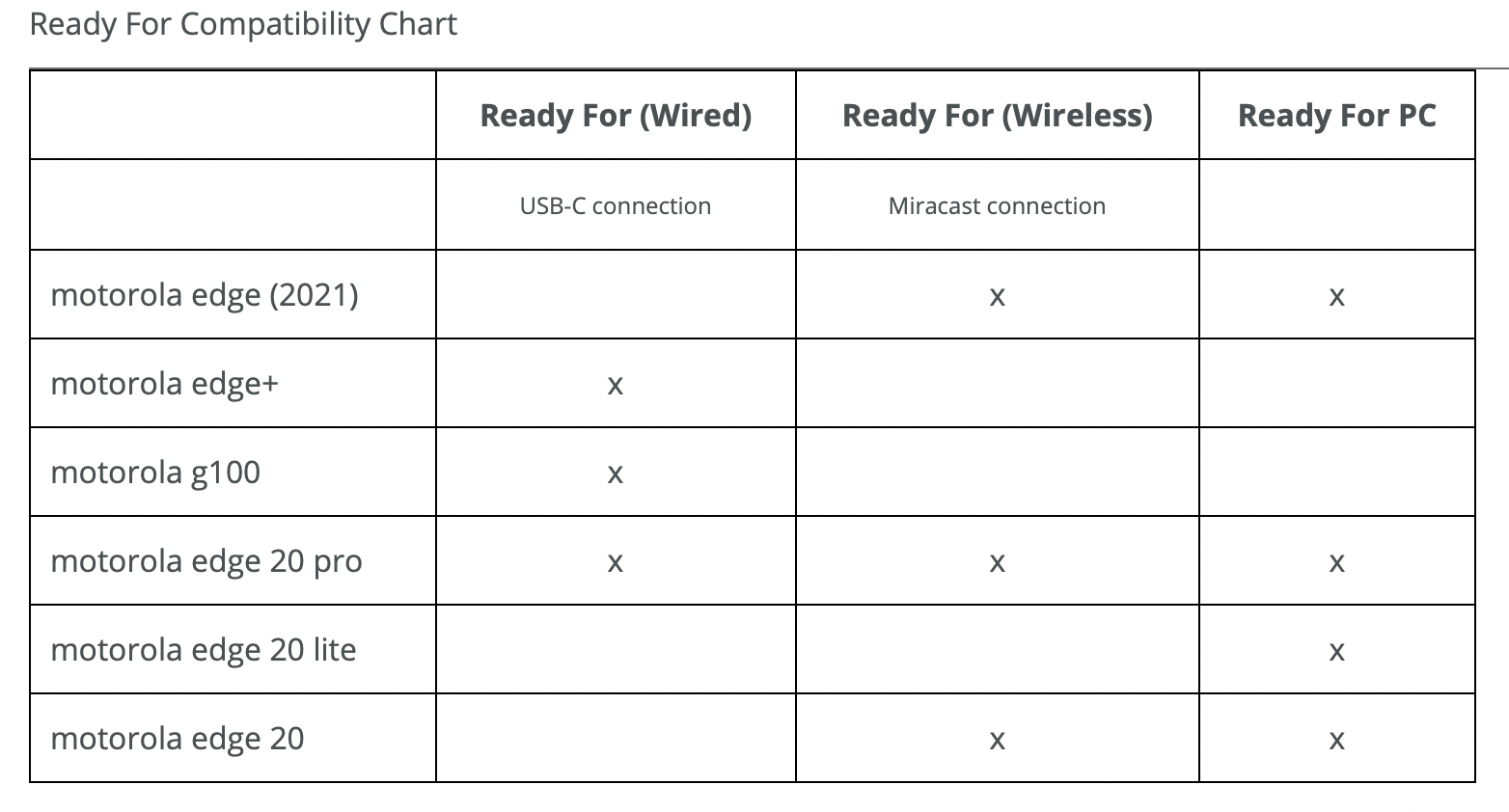 As you can see, there is also a "Ready for PC" mode. It allows you to display the smartphone screen in the desktop version in a separate app for Mac or Windows. The usual Ready for options allow you to connect your smartphone to your TV or compatible monitor. Miracast protocol is used for a wireless connection (and, I remind you, it is only supported by the Moto Edge 20). Most TVs support it. Some monitors too, are favorites, like the Huawei MateView.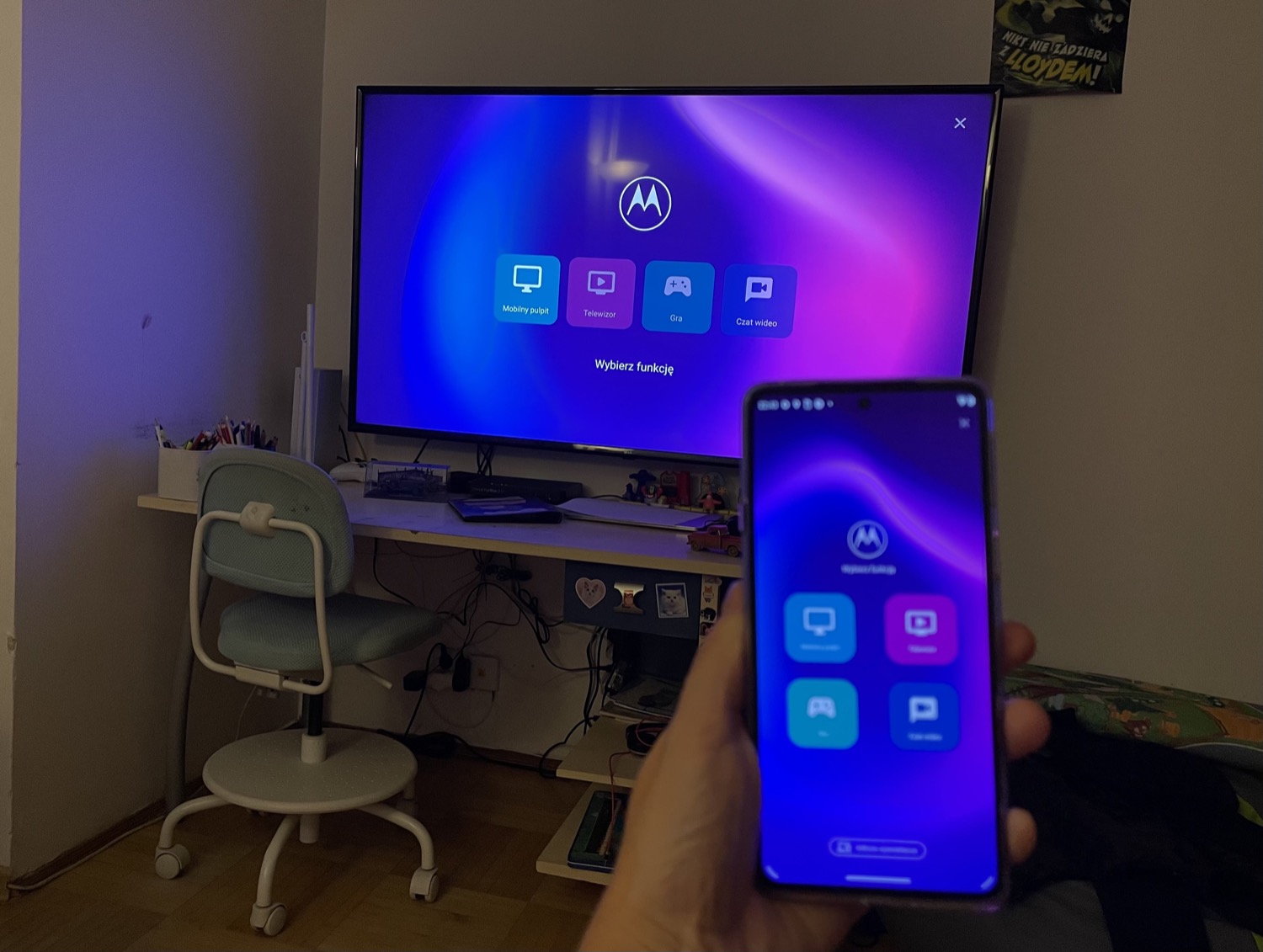 In Ready for mode, the phone can be used as an alternative to a computer or a game console, or you can use its camera or microphone for remote learning. It can act like a mouse.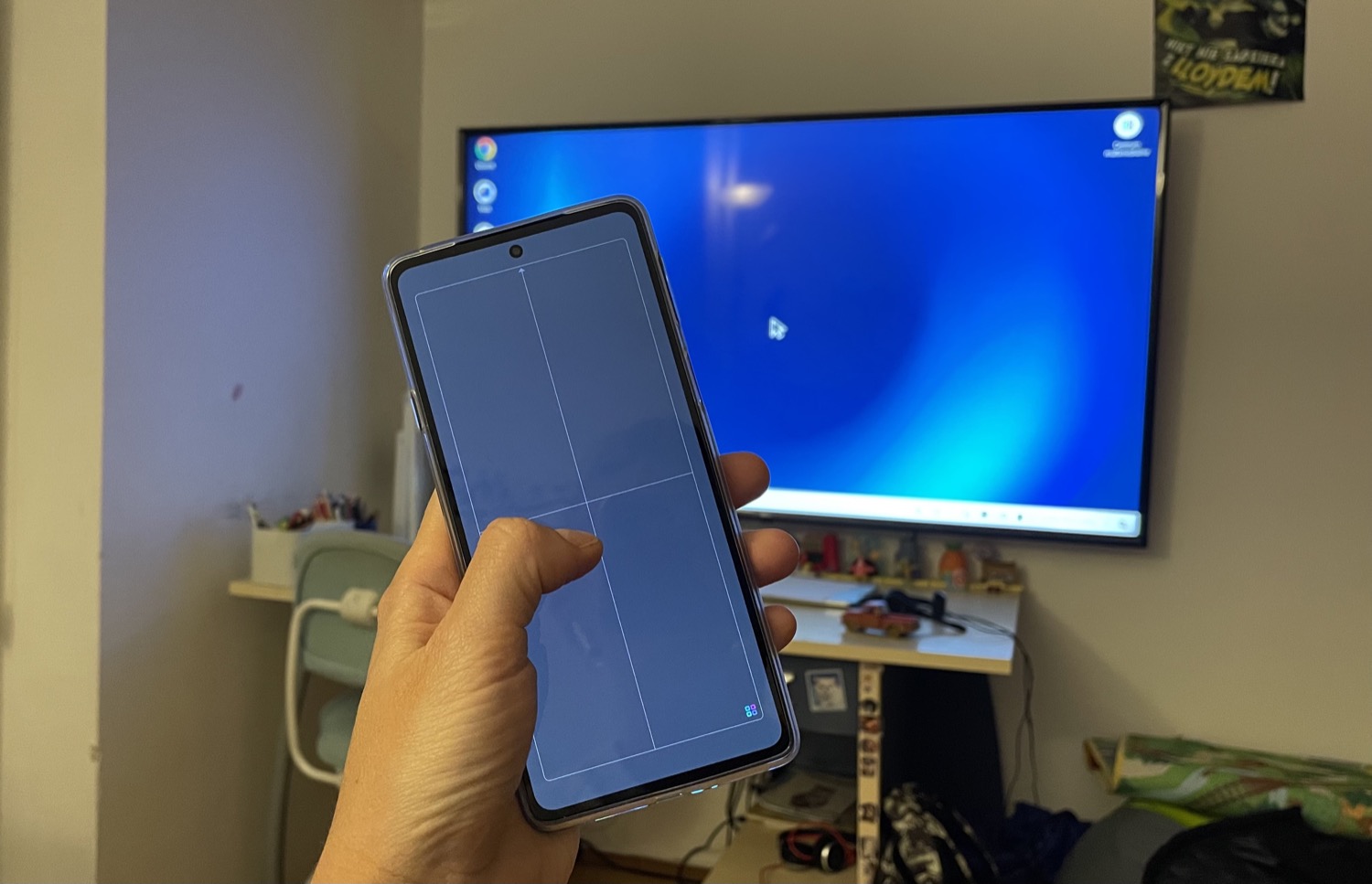 Ready For modes
There are four of them:
desktop
TV
games
video call
Desktop
The first option adapts the Android mobile interface for a large screen. It becomes easier to work with different apps at the same time, you can open several windows. You can connect a Bluetooth mouse and a keyboard.
TV
When choosing the second option, the smartphone automatically selects streaming apps. And they fully adapt to the large display format. All calls and notifications are completely disabled while watching the video. Or not, whatever is best for you.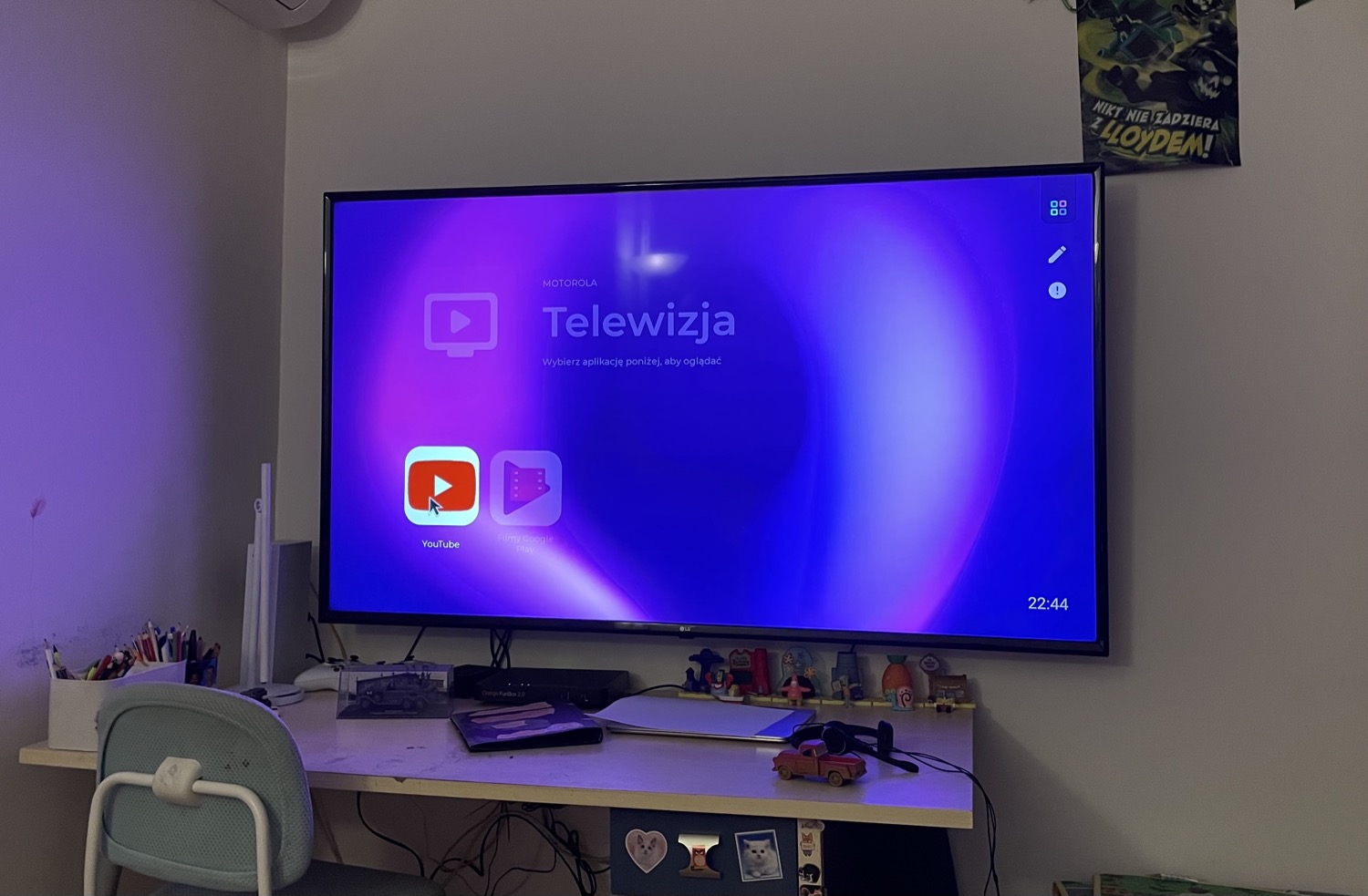 Games
The game mode, as you can guess, allows you to play comfortably on the big screen. You need titles that work in landscape orientation – shooters, racers, etc. You can connect a wireless controller and forget (theoretically) about that unobtainable PS5.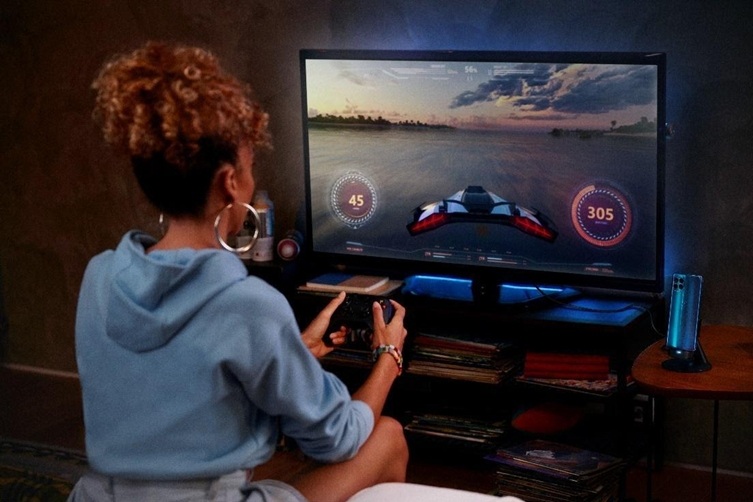 Video calls
Video chat mode supports various messangers, such as WhatsApp, Google Duo, FB Messenger. Its main feature is that you can use main cameras for better picture quality. If you want to communicate in a group, you can switch to the wide angle.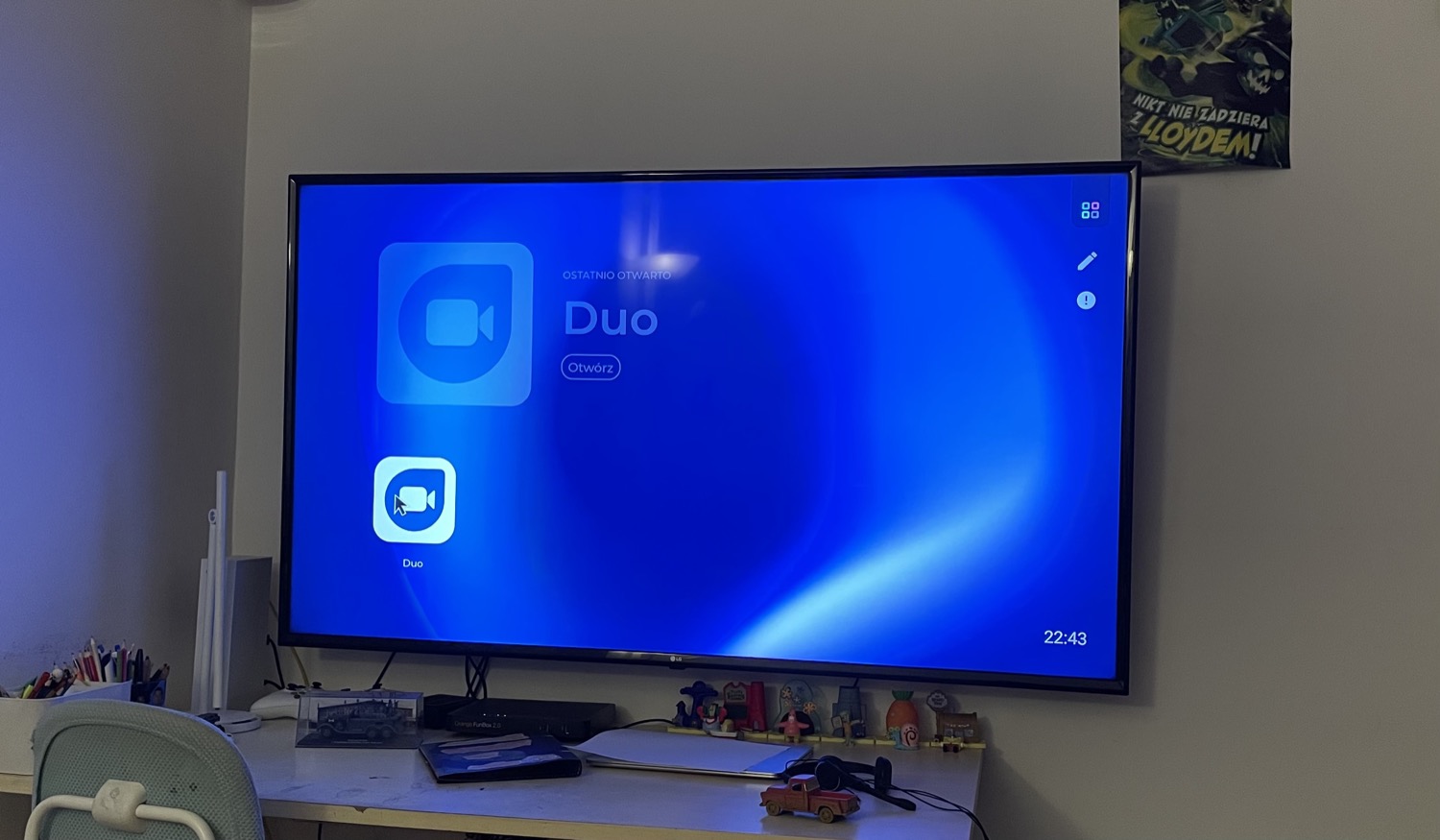 It is also possible to "just" broadcast the contents of the screen to TV.
"Ready For" is an interesting feature. It is rare in smartphones and especially in inexpensive models. At the same time, it is thought out and implemented nicely. There were no problems during the test. Perhaps some of the users will find it useful.
Sound
The main speaker is monophonic (it's a mid-ranger after all). It's mediocre, but loud enough. The sound is excellent while using headphones though. The system has an equalizer that will allow you to customize the sound to your liking. But there's no 3.5 mm connector, even though in other Motos (for example, the current G-series) it is present.
Software
The Moto Edge 20 runs on Android 11. Android 12 is now the latest, but almost no phones have yet received it, except for test models. In any case, as soon as the operating system is adapted to Motorola for mass use, the update will arrive. And when 13 comes, it will be supported too.
The traditional advantage of Moto is a nimble "pure" Android without any shells. There's the Moto launcher, but it is also not much different from ordinary Android. There's a new cool feature: notifications on the lock screen have the ability to quickly preview them by touching (Peek Display).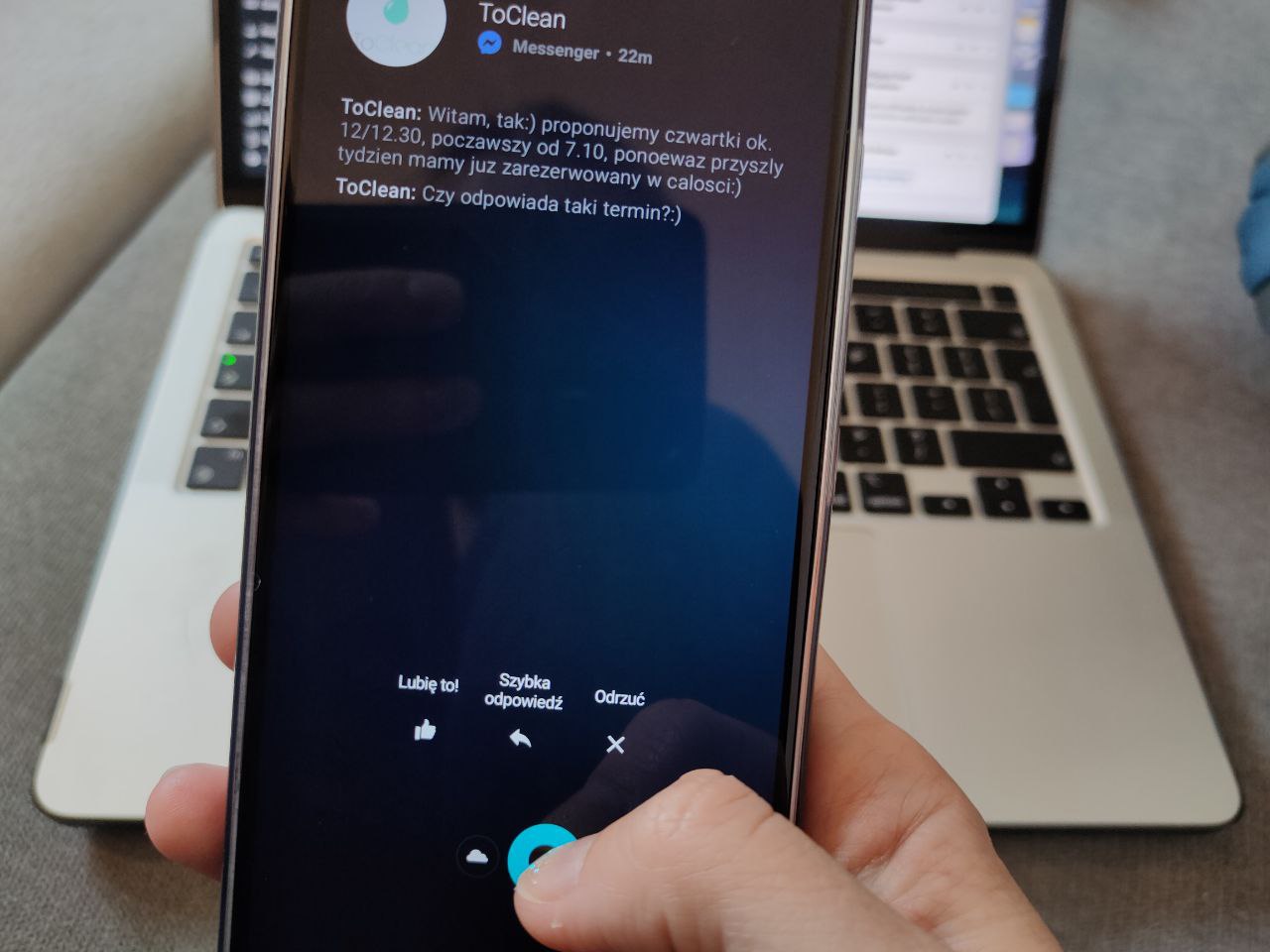 And there is also a whole "Moto Functions" app with a collection of useful settings – themes, gesture control and other features (for example, optimization for games).
Interestingly, it is possible to run a separate app in a window while gaming. But the choice is very limited.
There is also an option to split the display into two parts, but not all applications support it.
Read also: OnePlus Nord 2 5G review: Almost a flagship killer 
Battery life
Most Moto G-series have 5000 mAh batteries, or even better. Well, here we have a thin and stylish device that just can't fit more than a 4000 mAh battery.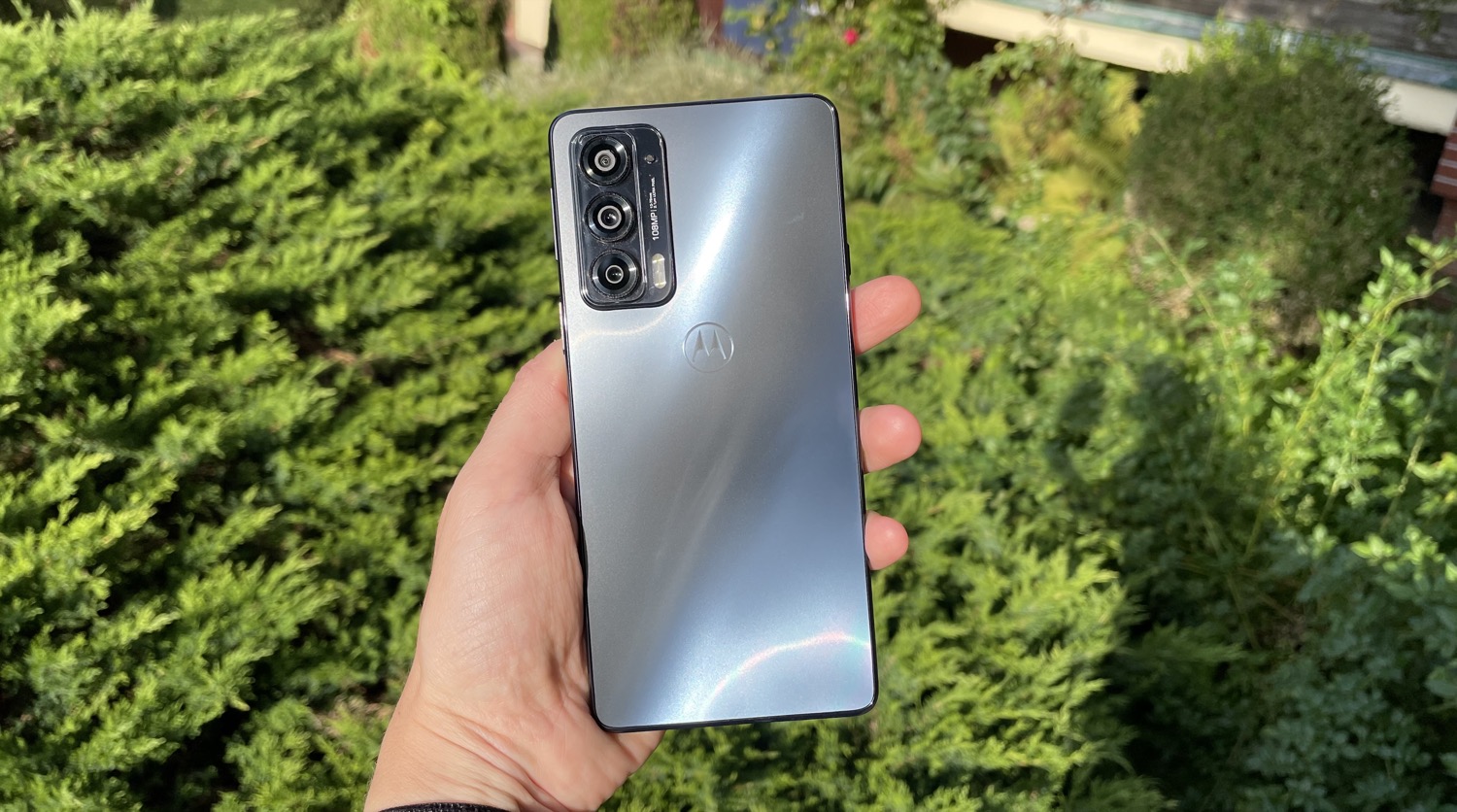 In specialized tests, Moto Edge 20 scored 28 hours in call mode, 10 hours 45 minutes of web surfing at above-average screen brightness (adaptive screen) and 17 hours 55 minutes in video playback mode at medium brightness level at 60 Hz. Not bad, but also not ideal, devices such as Realme GT Master Edition, Realme GT, OnePlus Nord 2 and Samsung Galaxy A52 offer a few hours more. But they also have 4300-4500 mAh batteries.
During the test, I actively used the device and I always had enough charge until late at night, with about 20-25% left. In my opinion, a reasonable compromise.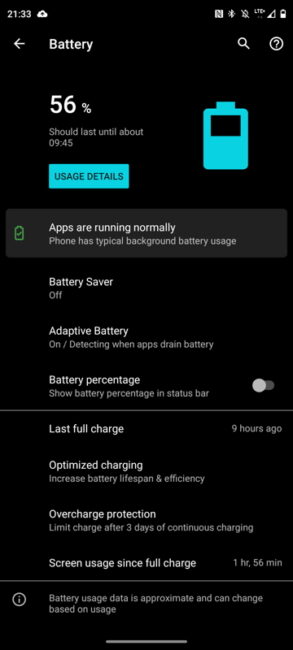 30-watt fast charging is supported. The TurboPower power supply supports the USB Power Delivery standard, so you can use it to charge other compatible devices, such as laptops.
In half an hour, the phone is able to charge by 68%, which is quite a good indicator. In 40 minutes it was at 87%. After 90% charge (which takes about 43 minutes), the Edge 20 starts charging much slower, so it takes another 20 minutes for 100%. Total is about one hour.
There is no wireless charging. It's a little pity, but this technology has not yet reached medium-range phones.
Read also: Redmi Note 10S review: Affordable smartphone with NFC and Super AMOLED 
Verdict
The Moto Edge 20 is another affordable device from Motorola. In this price category, very few models have an OLED 144 Hz screens, so yes, for this hardware it's affordable. And in addition it has a neat design (the phone is light and thin), IP52 moisture protection, quite fast hardware, enough memory, impressive cameras, well-optimized Android and the Ready For option to use the smartphone as a wireless PC with a monitor or TV. The latter is quite a unique feature with nothing similar except for Samsung DeX, supported only by the flagships.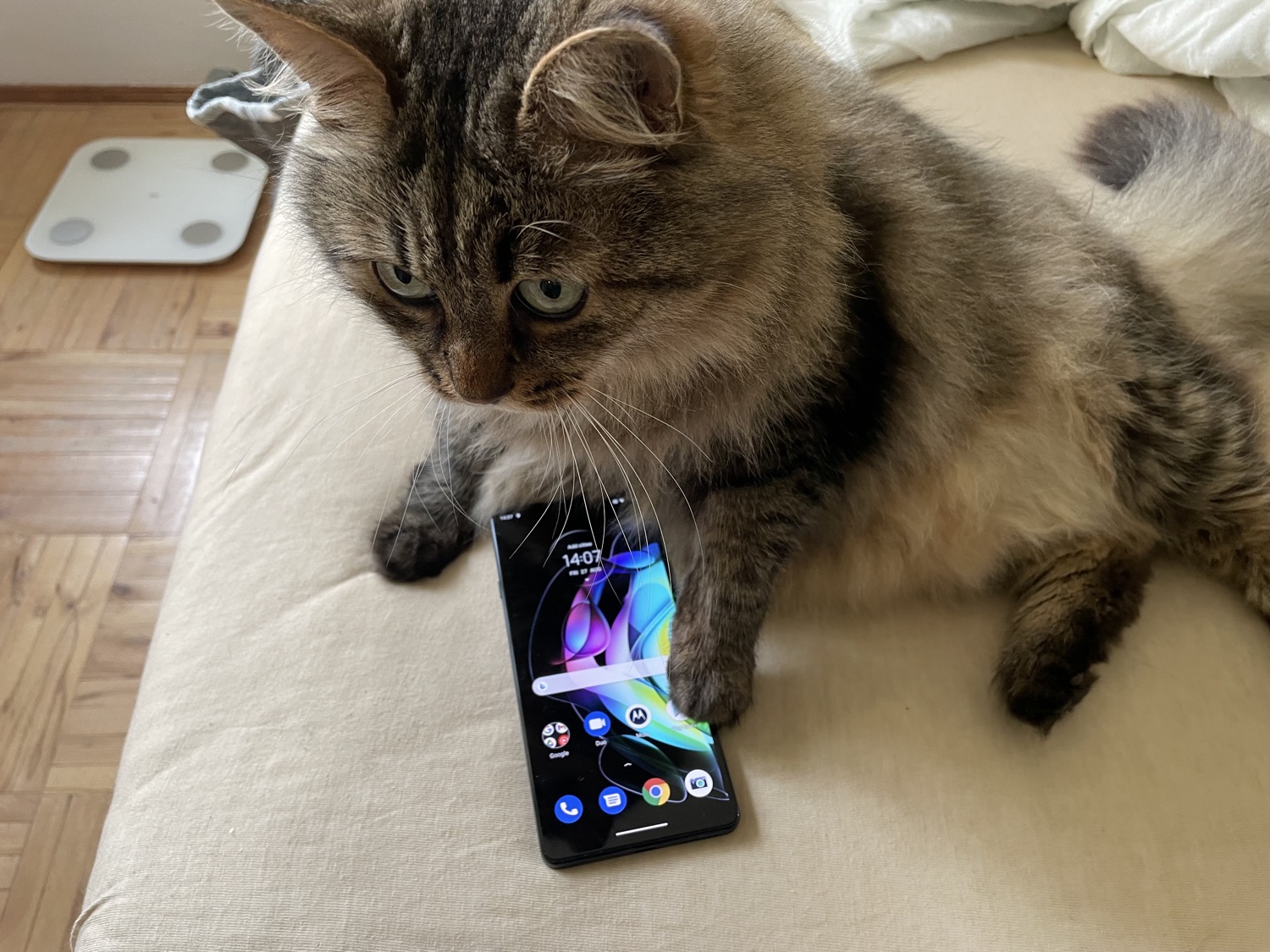 Not everything is perfect: there are no stereo speakers and the battery is lacking.
Are there any competitors? There's plenty in this price range! First of all, Nubia Red Magic 6R comes to mind. It has a 144 Hz OLED screen and the Snapdragon 888, touch-sensitive game triggers, stereo speakers and faster charging. But it's not as "rugged" and its zoom capabilities are subpar.
The Realme GT Master Explorer and Master Edition are also strong competitors. The second one is weaker in terms of cameras, but its processor is the same as in the Edge 20, and the device is noticeably cheaper. And the design of the models also attracts attention. The Realme GT Master Explorer is still available only in China, but the Snapdragon 870, the 50 MP camera with OIS, stereo speakers and 65-watt charging make it an attractive option for importing.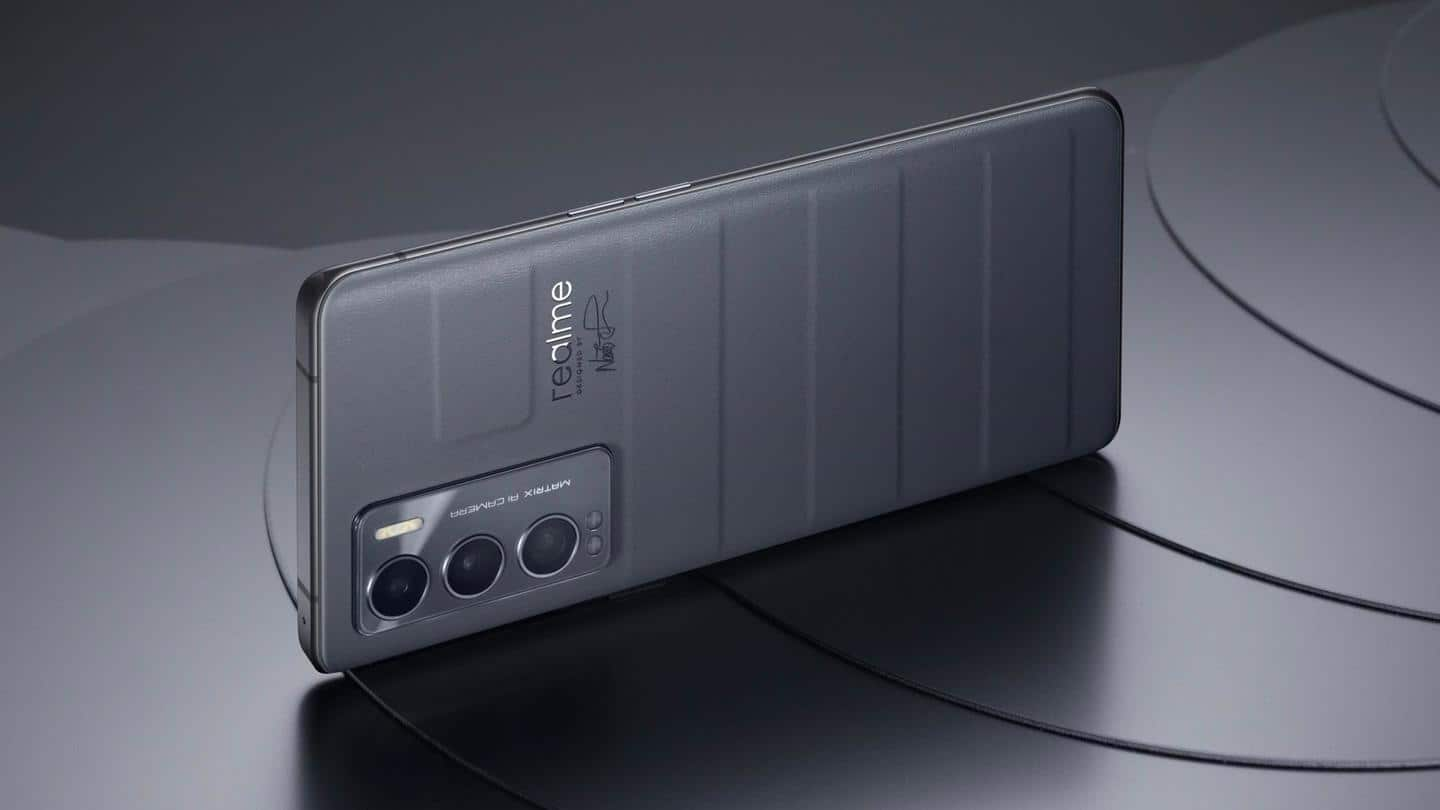 Oh yes, there is also the Realme GT itself, which costs the same as the Edge 20, and offers the top Snapdragon 888. However, its cameras are not particularly impressive.
The Samsung Galaxy A72, which costs a little cheaper, also offers an excellent Super AMOLED display with 90 Hz, impressive IP67 water protection, a good set of cameras, and a 5000 mAh battery. But charging is not as fast, there's less RAM, and the chipset is weaker.
You can't forget the Galaxy A52s with the same processor, large Super AMOLED 120 Hz display, optical stabilization, stereo speakers, and full water protection. There's even a microSD slot and 3.5 mm headphone output. And the price is lower than that of our Moto. Except that there is only 6 GB of RAM. And, of course, there is no PC mode.
Finally, you can also look at the very affordable Poco F3. It has cool features like a 120 Hz AMOLED screen and the Snapdragon 870 5G chipset. There are also stereo speakers and a powerful battery. The cameras are not as good as the Edge 20.
Oh yes, let's not forget about competitors in the Moto line itself! Many times mentioned in this text, the Moto G100 supports the wired Ready For mode. Its screen has a regular IPS with 90 Hz update, but the Snapdragon 870 5G chip is more powerful, and the battery is impressive. There is no zoom camera, but there is a second front-facing camera. And the design, of course, is not as interesting as the Edge 20.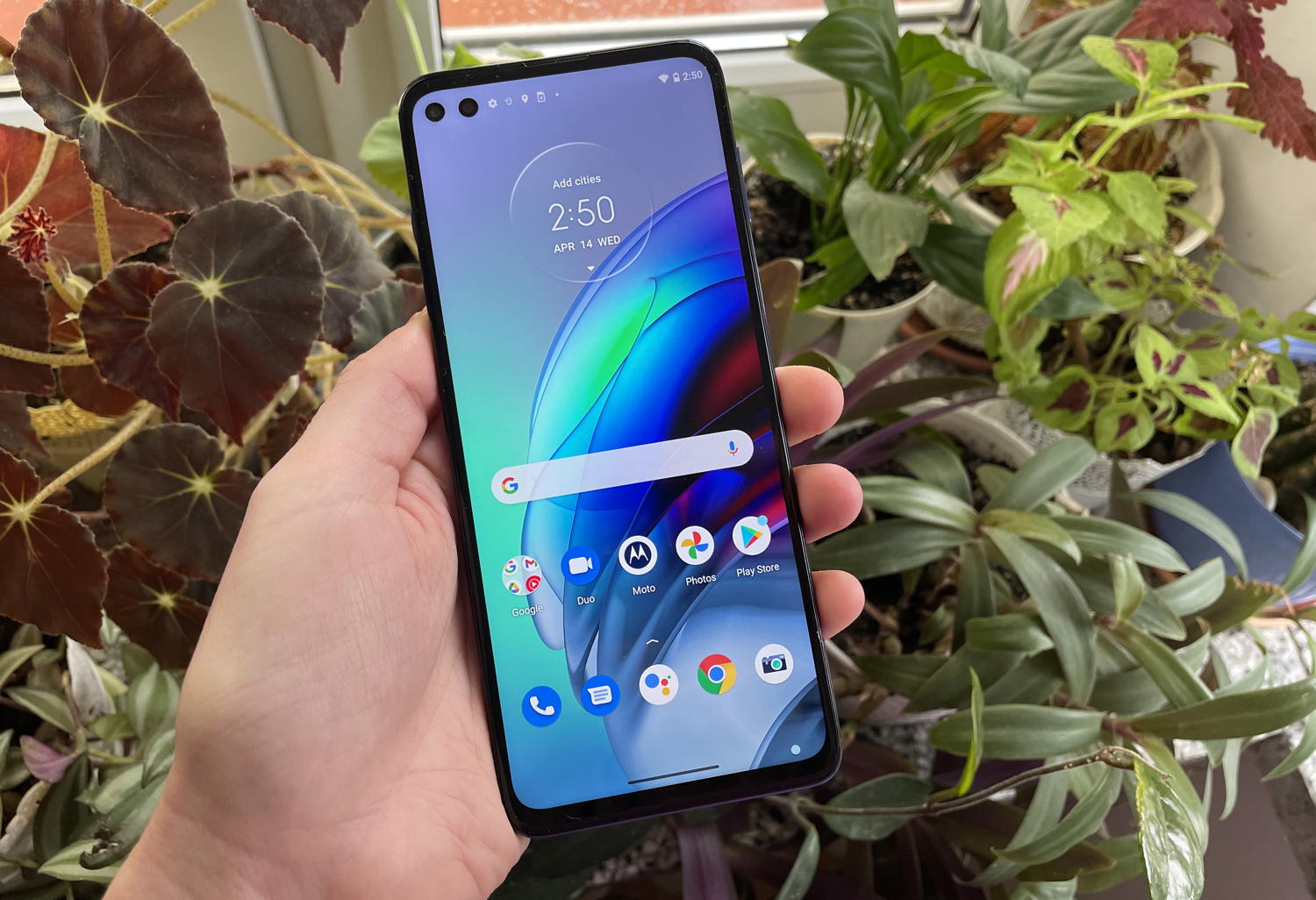 The other two models of the 2021 Edge line may also be good alternatives. The Edge 20 Lite received a budget Dimensity 720 5G processor, 90 Hz screen and lost its zoom camera, but costs almost three times cheaper and is very durable. In turn, the Edge 20 Pro is noticeably more expensive, but it has 12 GB of RAM, a stronger set of cameras, and a larger 4500 mAh battery.
The choice, as always, is huge. And the final decision is up to you! If you have any questions, feel free to ask in the commends!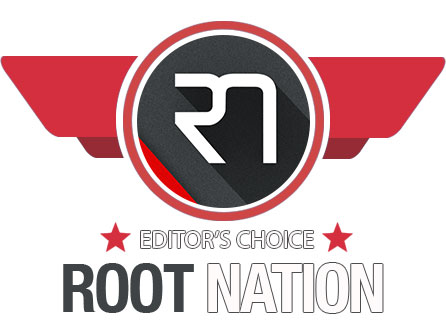 Subscribe to our accounts: