In mid-March of this year, the Xiaomi Poco sub-brand introduced a new mid-range smartphone – Poco X3 Pro. The new device has quite a lot in common with the already popular Poco X3 NFC and, apparently to consolidate the success, the Chinese company decided to release a more advanced version of the popular model. Today we will take a closer look at the new Poco X3 Pro and try to find out how the device differs from its predecessor and what it will be able to offer a potential buyer in the end.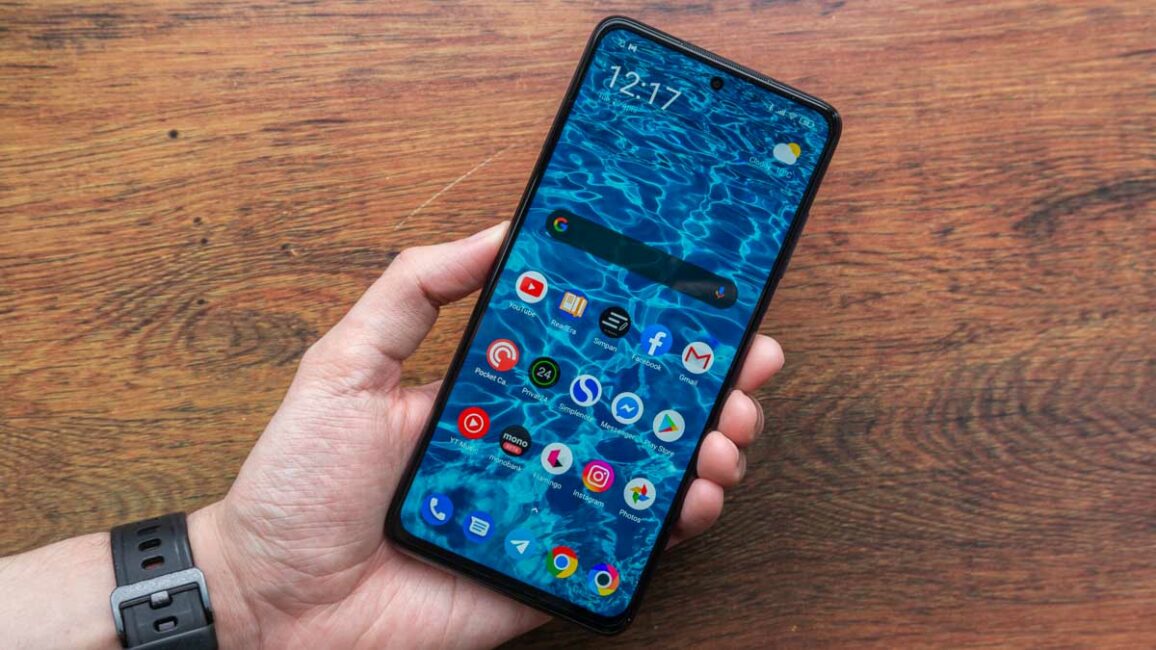 Poco X3 Pro full specifications
Display: 6.67′′, IPS LCD, 2400×1080 pixels, 20:9 aspect ratio, 395 ppi, 450 nits, 120 Hz, HDR10
Chipset: Qualcomm Snapdragon 860, 7 nm, 8-core, 1 Kryo 485 Gold core with 2.96 GHz, 3 Kryo 485 Gold cores with 2.42 GHz, 4 Kryo 485 Silver cores with 1.78 GHz
Graphic accelerator: Adreno 640
RAM: 6/8 GB, LPDDR4x
Storage: 128/256 GB, UFS 3.1
Support for microSD memory cards: up to 1 TB
Wireless networks: Wi-Fi 5, Bluetooth 5.0 (A2DP, LE), GPS (A-GPS, GLONASS, GALILEO, BDS), NFC
Main camera: quadruple, main module 48 MP, f/1.8, 1/2.0′′, 0.8μm, PDAF; ultra-wide-angle module 8 MP, f/2.2, 119 ̊; macro 2 MP, f/2.4; depth sensor 2 MP, f/2.4
Front-facing camera: 20 MP, f/2.2, 1/3.4′′, 0.8μm
Battery: 5160 mAh
Charging: fast wired 33 W
OS: Android 11 with MIUI 12 shell
Dimensions: 165.3×76.8×9.4 mm
Weight: 215 g
Poco X3 Pro price and positioning
The current lineup of Poco smartphones consists of only a few models, so it is not so difficult to understand it all. As I noted earlier, the Poco X3 Pro is essentially an improved version of last year's hit Poco X3 NFC. And in the manufacturer's lineup, this is the strongest mid-ranger, and therefore its price tag is also average. In some markets, the smartphone is sold in two versions – base 6/128 GB and top-end 8/256 GB with recommended price tags of $285 and $339, respectively.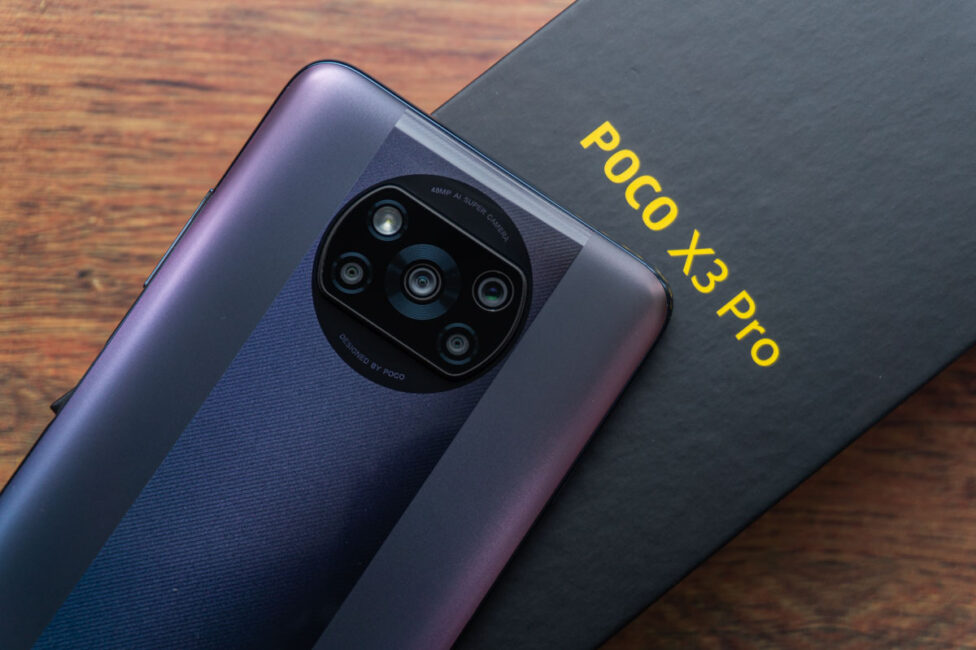 In general, compared to the Poco X3 NFC, the phone has slightly risen in price, but this is a widespread trend, and the rise in price is often justified. Take memory, for example. Now  we have 6 GB of RAM and 128 GB of storage, whereas for last year's X3 NFC these were the maximum possible numbers.
What's in the box
In a small cardboard box, decorated in Poco's signature black and yellow colors, there is a smartphone, a 33 W power adapter, a 1 meter USB Type-A/Type-C cable, a transparent silicone case, a SIM eject tool, an accompanying documentation and a couple of nice little things in the form of a small greeting from the Poco CEO and a set of 7 rectangular stickers in different colors and sizes.
The bundled cover is quite adequate, albeit quite simple. It's dense, with a plug for the Type-C port, all the necessary slots, a relatively high rim above the screen and high-quality protection for the camera unit. Also, right out of the box, the screen has have a good protective film, which is definitely nice.
Design, materials and build quality
Once again we will return to the Poco X3 NFC, because the design of the new Poco X3 Pro is almost identical. The modern-looking front panel with a front camera embedded in the center of the screen is complimented by a quite unique back plate of the smartphone.
In front, of course, the smartphone is nothing special – a classic. The bezels around the screen are rather big. The top indent is slightly thicker than the side ones, the bottom, traditionally, is even thicker. The corners of the screen are also rounded.
From behind, the smartphone looks more interesting. The block with cameras is designed in the form of a circle with the top and bottom sides cut off, and the module itself is placed on a black circle with the descriptions of the camera's features.
The block itself protrudes above the surface of the case, but not very much and is covered by a bundled cover, so there are no problems in this regard. A fairly wide strip with a pattern in the form of thin diagonal lines runs along the center of the lid. There is also a large iridescent vertical Poco logo at the bottom.
This strip is glossy and collects prints, but on the sides there is a matte finish, and this is the first and only difference between the X3 Pro and the X3 NFC, if you do not take into account the colors. It is definitely better, the smartphone is now more pleasant to hold and, in general, gets less dirty.
The colors of the case also increased in number, and bronze was added to the blue and black. Accordingly, there are three colors: Phantom Black, Metal Bronze and Frost Blue. I have a smartphone in black, Phantom Black, and I can say that it is different from the black Poco X3 NFC. The new model has a kind of blue-purple color, and therefore the black version is now not as boring as it was before.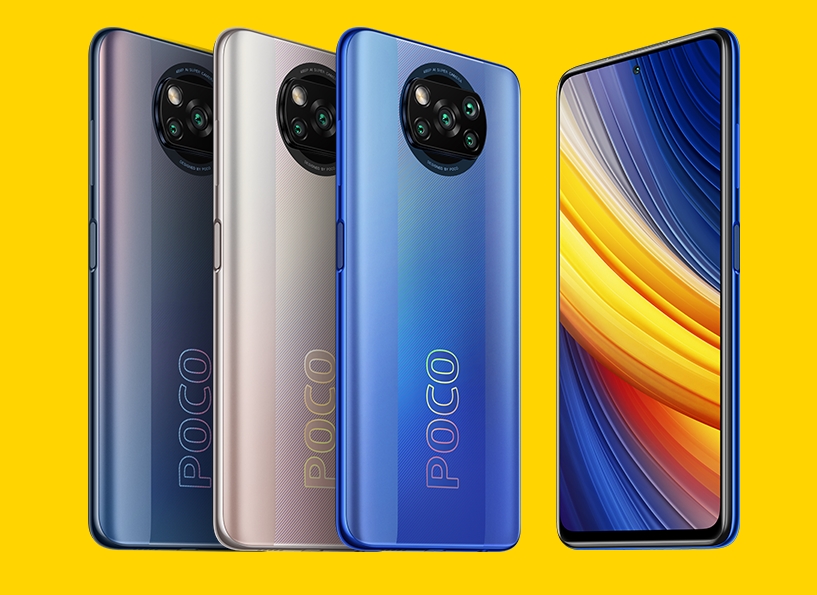 The materials of the case have remained practically unchanged. The back is plastic, the edges are also plastic with an imitation of metal, and the front is a flat glass Corning Gorilla Glass of the 6th generation (the predecessor had the 5th). The build quality is very good, although the back panel bends a little under strong pressure.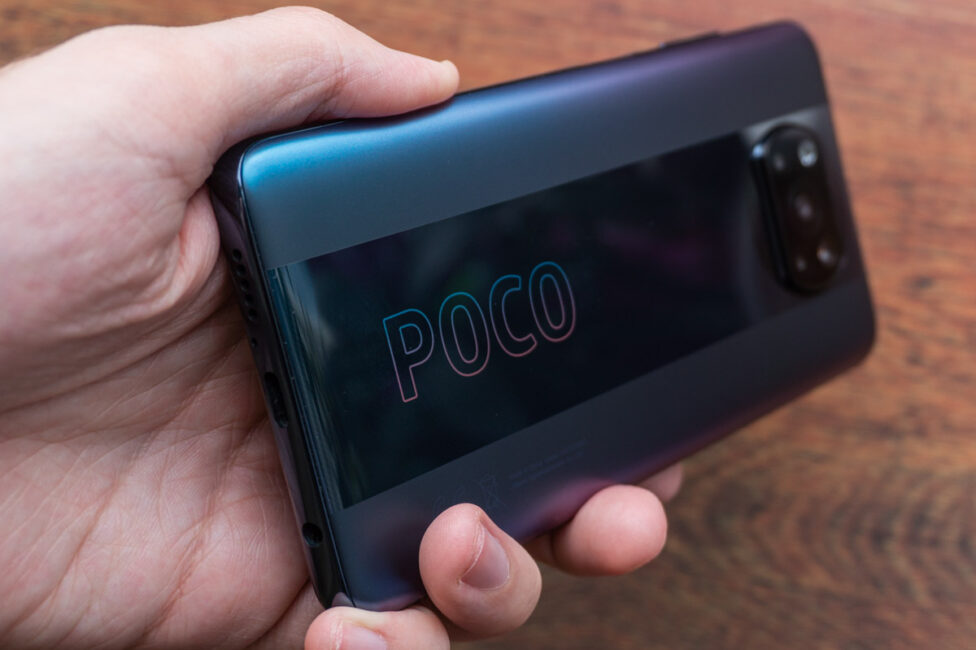 The phone is protected from splashes and dust according to the IP53 standard. This is no full-fledged moisture protection, but it is better than nothing, I suppose. As I have already noted, the glossy strip on the back will get dirty more often than the matte side ones, and in general the smartphone likes to collect dust on the back side near the block with cameras.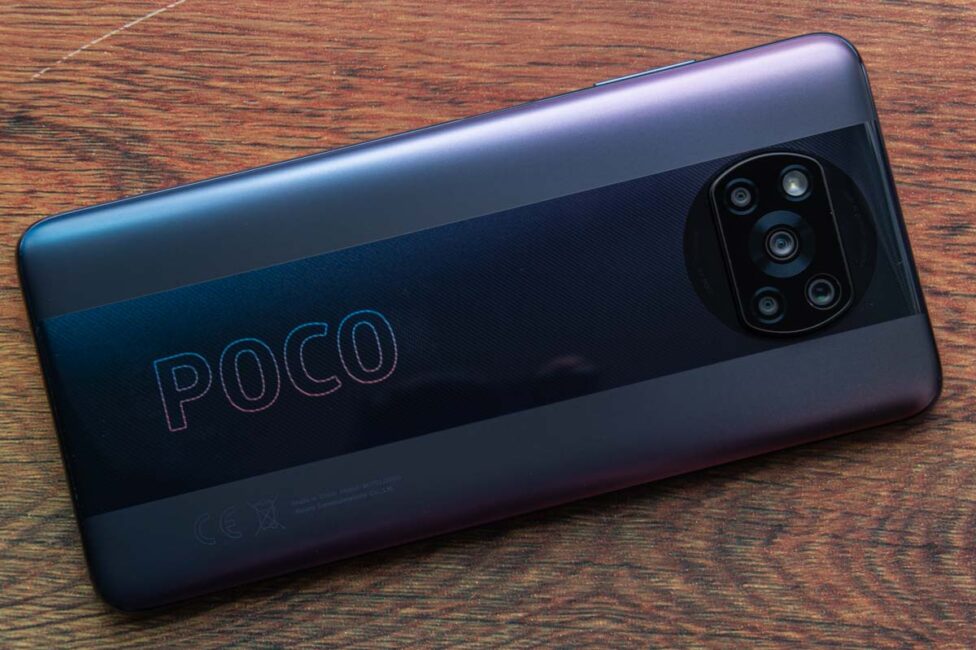 The layout
In front, all elements are located at the top of the screen. These include: a front-facing camera, the earpiece speaker, light and proximity sensors, as well as a one-color white light, which is hidden right behind the speaker mesh.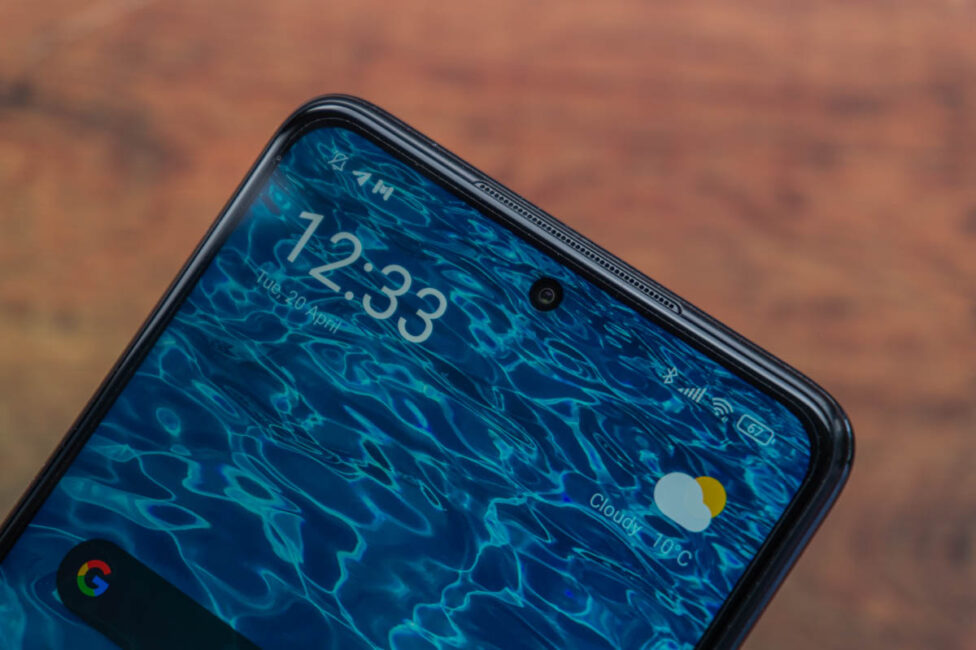 On the right there is a paired volume rocker and in a small recess there is a power button, which is combined with a fingerprint scanner. On the left is only a combined slot for one nanoSIM and one microSD memory card, or for two nanoSIM cards.
At the top there is an additional microphone for noise cancellation, an infrared port for controlling household appliances and an additional hole for the top speaker (for a slightly louder and better sound). At the bottom is a multimedia speaker, main microphone, Type-C port and 3.5mm audio jack.
On the back is a block with four camera eyes and a flash, below is a large vertical Poco logo, and to the right of it are various markings and inscriptions.
Ergonomics
In terms of ergonomics, the Poco X3 Pro doesn't really stand out. It is rather large – a body with dimensions of 165.3 × 76.8 × 9.4 mm is relatively heavy, weighing 215 g. Quite bulky for use with one hand. The buttons are well placed, but it is impossible to reach the top of the screen without changing the grip. The case is a little slippery as well.
Poco X3 Pro display
The Poco X3 Pro display does not differ from its predecessor in general terms. This is a 6.67-inch IPS LCD screen with FHD+ (aka 2400×1080 pixels) resolution. The aspect ratio of the screen, as usual, is elongated – 20:9, the pixel density per inch is 395 ppi, the brightness is also declared at 450 nits. In addition, the screen is endowed with a high refresh rate of 120Hz, a sampling rate of 240Hz and HDR10.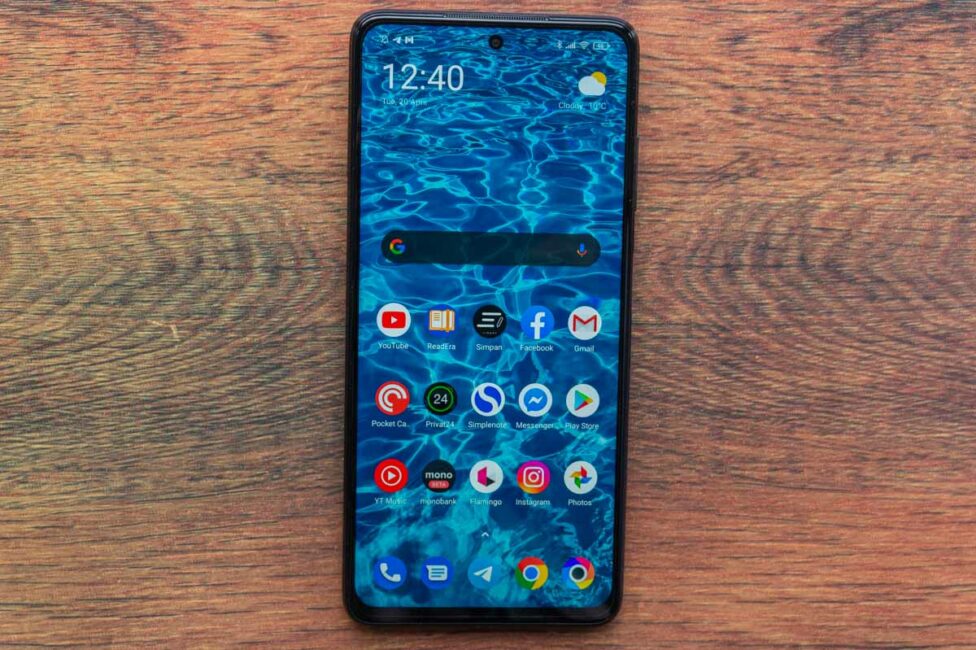 Specifications like these imply that we have a pretty good screen. The colors are pleasing but not oversaturated. The brightness is almost always enough, but the auto brightness does not work quite correctly and often you have to move the slider manually. Viewing angles are typical for IPS, and the picture doesn't not get distorted. But at diagonal angles, the contrast of dark tones is lost is usual.
The refresh rate of 120 Hz is also a very nice feature. The UI of the shell and apps is smooth, and the increased frequency works in some games. The frequency itself is dynamic and can vary depending on the task. The smartphone can automatically set 50, 60, 90 or 120 Hz depending on the running apps and user interaction.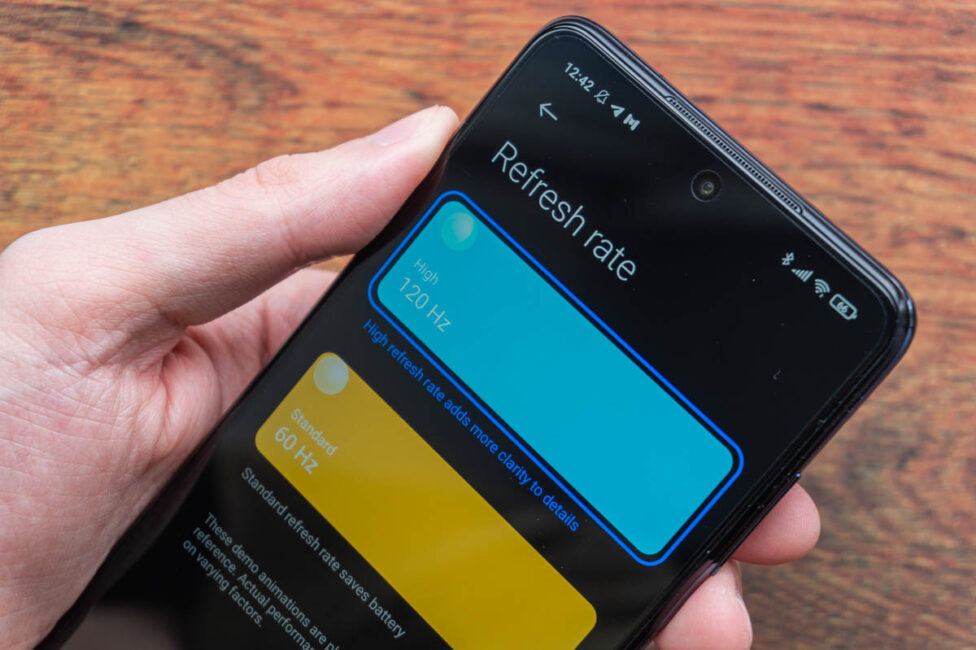 In the display parameters there is a light/dark theme with the ability to set a schedule, a reading mode (also with a schedule), adjustments of colors and screen temperature, a choice of a refresh rate and a number of other less interesting options: text size, screen behavior when the device is in VR-mode, full screen mode and auto-rotation.
Poco X3 Pro - Display Settings
Poco X3 Pro performance
If you have been following Xiaomi smartphones for a long time, then it is probably no secret for you that they love to be the first. Take, for example, the Xiaomi Mi 11 – this smartphone became the first in the world based on the flagship Qualcomm Snapdragon 888 chip. Or the original Poco X3 – after all, it was also the first smartphone with a Qualcomm Snapdragon 732G chip. And this trend continues with the Poco X3 Pro – this is the world's first smartphone that runs on the latest SoC Qualcomm Snapdragon 860. Sounds good, of course, but the trick is that it's new only formally. In fact, this is a slightly updated version of the Qualcomm Snapdragon 855+ platform, which has been in existence for two years already.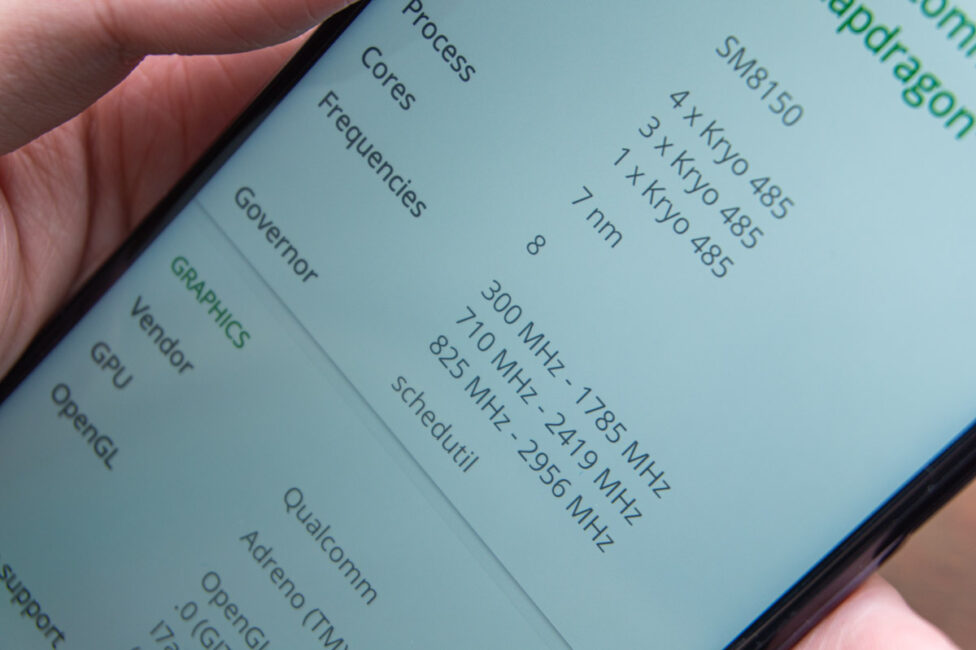 But are there any changes? The Snapdragon 855+ and the Snapdragon 860 have one page on the Qualcomm website, for example, which already tells us a lot. Personally, I could count as many as two differences. First, Snapdragon 860 support for two displays with FHD+ resolution with a frequency of 90 Hz, while Snapdragon 855+ supports two FHD+ displays with a frequency of 60 Hz. Second, support for up to 16 GB of RAM in the Snapdragon 860; Snapdragon 855+ "only" supports 12 GB. It's possible that some manufacturers actually put 16 GB of RAM in a smartphone on an 860 chip, but how many  smartphones have we seen with two screens on the near-flagship platform? And do you really need 90 Hz on both?
These differences are imperceptible, and therefore it should not be surprising that some benchmarks and utilities define this very Qualcomm Snapdragon 860 as Snapdragon 855+.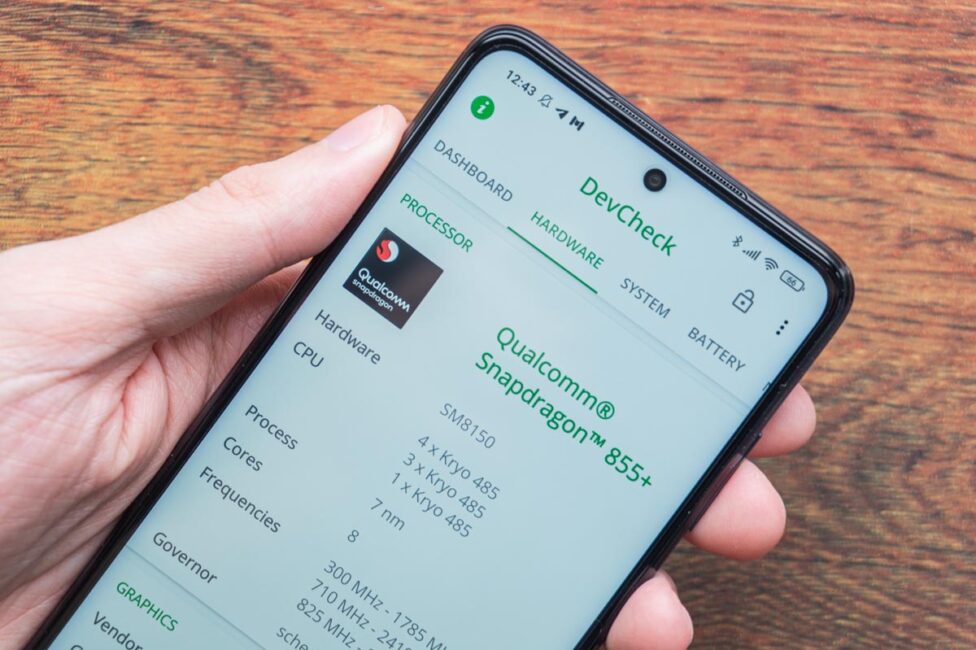 What kind of chipset is this? This is a 7nm, 8-core chipset with 1 high-performance Kryo 485 Gold core clocked at up to 2.96 GHz, 3 Kryo 485 Gold cores up to 2.42 GHz and 4 Kryo 485 Silver cores running at maximum clock speed of 1.78 GHz. Adreno 640 handles the graphics. Tests show that it is a productive chip, but it has its problems and before we talk about them, I'll tell you about memory variations.
There is plenty of RAM in the smartphone. There are two versions for 6 and 8 GB of RAM and it is clear that there will be no problems with a lack of RAM in any of the two modifications in the near future. Memory type is LPDDR4x.
There can be 128 or 256 GB of fast UFS 3.1 type storage, which is very good. I have a smartphone on the test in the basic configuration, where out of 128 GB, 107.07 GB are available to the user. You can expand the memory by installing a microSD memory card with a capacity of up to 1 TB, but keep in mind that this option is possible only if there is no second SIM card, since the slot is combined.
I already had experience with Qualcomm Snapdragon 855+ last year. Then I tested the Realme X3 SuperZoom smartphone which throttled quite actively. In 15 minutes of the stress test of the processor, its performance in normal operation fell by 35-36%, and by 26% in high performance mode. Judging by the results of Qualcomm Snapdragon 860 in the same test on the Poco X3 Pro, the problem is still relevant. Here, in the same 15 minutes, no less than 30% of the maximum performance is lost. Moreover, there is, of course, no such thing as a high performance mode. But let me reassure you that in reality it is unlikely that you will be able to stress the processor that much. But what about games?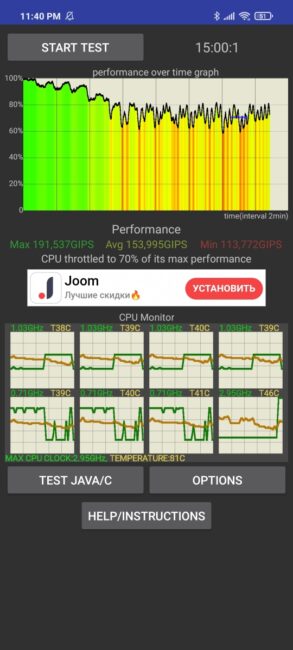 In games, this phenomenon can manifest itself after a long game time and result in a slight loss of fps. But in fact, there is a way out and in practice you will not encounter this problem either. By default, all installed games go to the built-in game hub and run with Game Turbo. What does it mean? This means that when the games are launched the hardware of the smartphone will work as intended. I tested the hub in the throttling test and as a result, we observe an even green graph and a loss of performance by only 11% of the maximum. So if suddenly the game won't start with Game Turbo by default, I recommend adding it manually.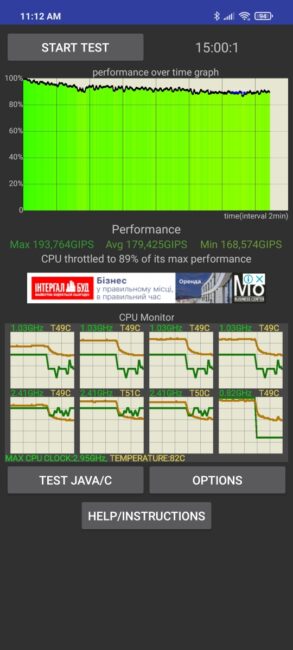 The phone runs the games with no issues; the new model is definitely better than its predecessor. The average FPS measurements from GameBench:
Call of Duty: Mobile – settings on high, all effects (except reflections) are included, ~60 FPS; Royal Battle is ~60 FPS
Genshin Impact – maximum graphic settings with all effects, ~42 FPS
PUBG Mobile – Ultra graphics settings with smoothing and shadows (without reflections), ~40 FPS (this is a limitation of the game itself)
Shadowgun Legends on ultra-graphics, ~60 FPS
As you can see, the results on the highest of settings are very decent. Almost flagship level, except the Poco X3 Pro costs several times less. Of course, such a heavyweight as Genshin Impact is not very playable at top graphics, but you can always lower something, disable something and eventually achieve a completely stable and at the same time high frame rate. So this smartphone is definitely suitable for games. Again – given its not very high cost and such a high level of performance. But there's no real alternative.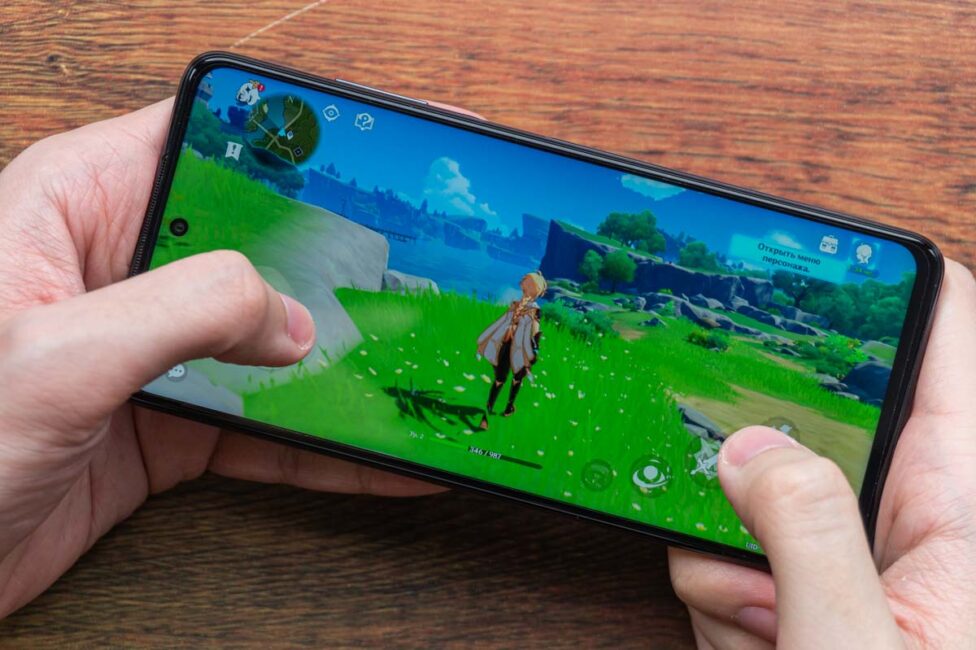 Read also: 18 ways to make use of your old smartphone
Poco X3 Pro cameras
And if the hardware in the Poco X3 Pro was improved compared to its predecessor, then the cameras are the opposite. The set of modules is the same: there are four cameras, but the ultra-wide-angle module has lost a little in megapixels. Instead of 64 megapixels in the main module, we got 48 megapixels, and the ultra-wide is 8 megapixels, whereas earlier this camera was 13 megapixels. The set of cameras itself looks like this:
Main wide-angle module: 48 MP, f/1.8, 1/2.0″, 0.8µm, PDAF
Optional ultra-wide-angle module: 8 MP, f/2.2, 119˚
Macro module: 2 MP, f/2.4
Depth sensor: 2 MP, f/2.4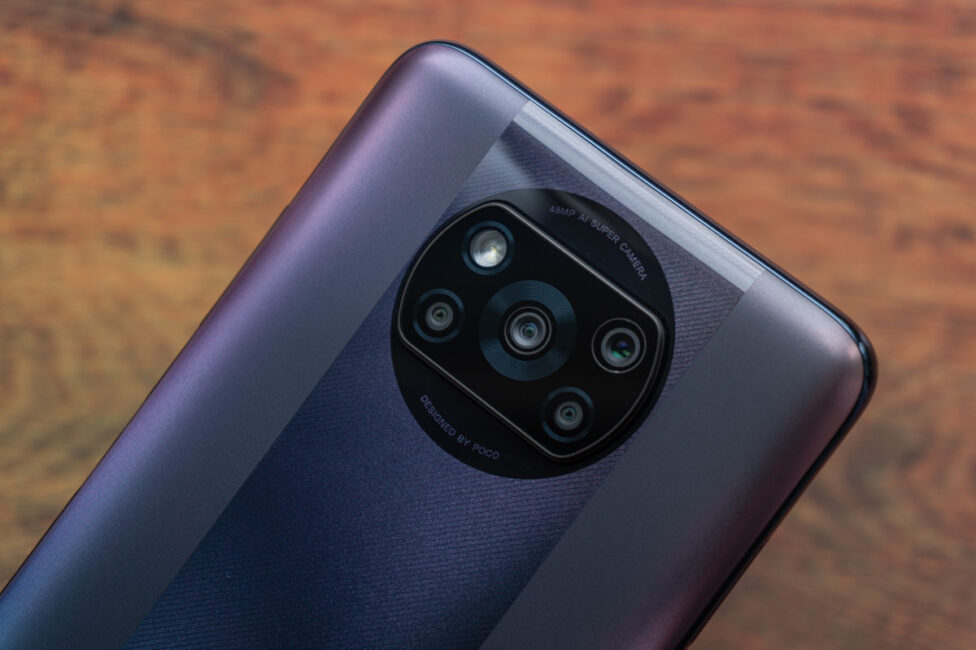 The main camera shoots pretty well for a mid-range smartphone. In the daytime there is detail, normal dynamic range and good colors. At the same time, there is practically no noise, but this is achieved by aggressive noise cancellation, which, among other things, deletes some small details. As for night shots, it is better to take them in dedicated night mode in order to get less digital noise and more information in dark areas.
EXAMPLES OF PHOTOS IN FULL RESOLUTION FROM THE MAIN CAMERA
By default, photos are saved at 12 megapixels, but there is a separate 48 megapixel mode. The truth is, I didn't like the pictures in full resolution. They are noisier and the detail is not much better. So I find standard definition to be the best choice.
The ultra-wide module shoots just fine, for 8 megapixels. The detail is not particularly prominent, the colors are okay, although the white balance differs from the main module. But the angle is very wide and there is an automatic distortion correction. You shouldn't shoot at night, the photos are dark and noisy. But there is a night mode, in which photos will at least be brighter, sharper and with less digital noise.
EXAMPLES OF FULL RESOLUTION PHOTOS FROM ULTRA WIDE ANGLE LENS
You shouldn't expect anything special from the macro module. It has low resolution and therefore low image quality. You can use it, but only with ideal lighting, because in all other scenarios it is useless. The focus of the module is fixed, so you need to shoot at a distance of about 4 cm between the module and the subject itself.
EXAMPLES OF PHOTOS IN FULL RESOLUTION FROM A MACRO CAMERA
You can record video in 4K and 60 FPS, while ultra-wide module can record a maximum of 1080p at 30 FPS. As for the quality of the main module, it is good. There is solid electronic stabilization, fast autofocus and decent dynamic range. The ultra-wide module is bad for video, at least when it comes to details, but the color rendition is almost the same as that of the main module, and there is also stabilization.
The front-facing camera is 20 megapixels (f/2.2, 1/3.4″, 0.8µm) and it seems to be no different from the front-facing camera of the Poco X3 NFC. Detailing during the day and indoors in good lighting is not bad, the color rendition is natural. Photo is good, video… not so much. There is a rolling shutter effect, so it is not recommended to make sudden movements during shooting. You can record video in 1080p at 30 FPS.
The camera app has modes such as: manual, portraits, night, panoramas, long exposure, documents, cloning for photos. There are also several modes for video: video clip, video blog, slow motion and fast motion.
Unlocking
The use of an IPS panel in the Poco X3 Pro did not allow the manufacturer to integrate a fingerprint scanner into the screen, and therefore we have here a standard capacitive one. The fingerprint scanner platform is aligned with the power button and is located on the right side of the smartphone. The height of its placement was chosen very well, the finger often rests on the scanner, which, moreover, works very well. Unlocking is almost instantaneous and error-free.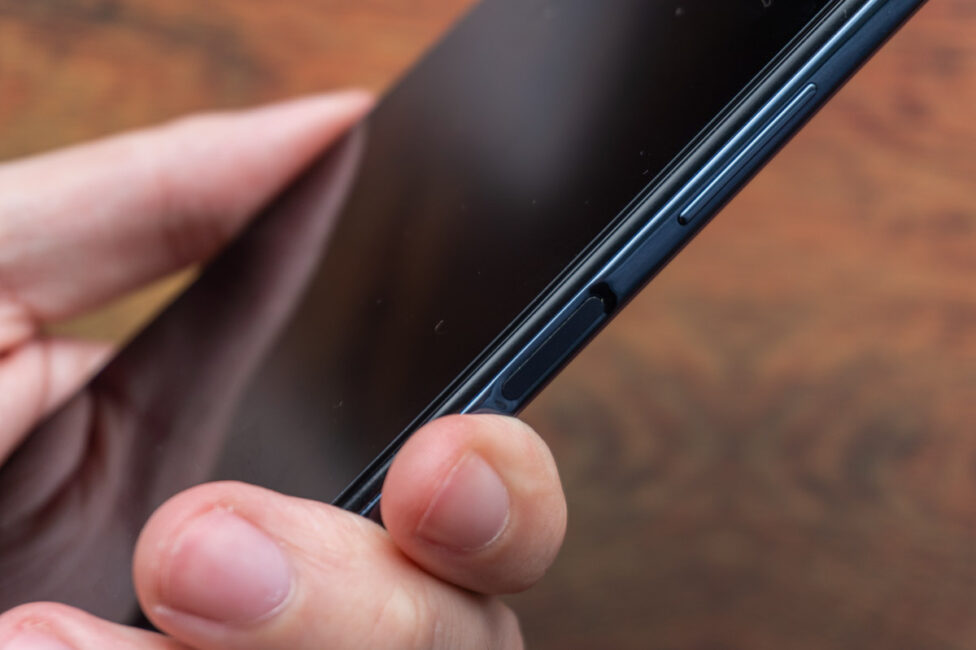 In total, you can add up to 5 different prints and choose the reading method – by touching or by full physical pressure. Personally, I settled on the second to save myself from errors.
The second method of unlocking with face recognition also works quite well. If there is lighting around, the owner is recognized quite quickly. In complete darkness, the method will no longer work. Generally speaking, this method is a bit slower than the first, but sometimes it just turns out to be more convenient.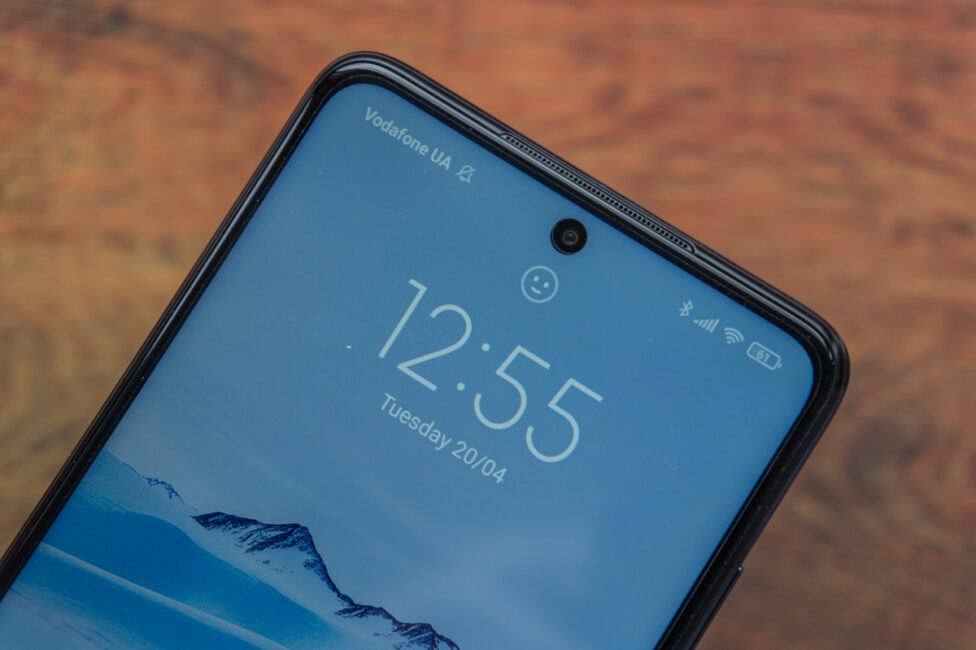 In the settings, you can add a second alternative view (or a second other face), stay on the lock screen after a successful scan and activate recognition immediately when the screen is turned on – the charge will be consumed a little faster, but the scan speed will be faster.
Poco X3 Pro battery life
The Poco X3 Pro received a non-removable 5160 mAh battery and in this regard, it is also no different from the classic Poco X3 NFC. The capacity is more than enough. The smartphone works at least all day from morning to late evening, this is a typical result for a modern device, but with moderate use, you can stretch the charge for two days.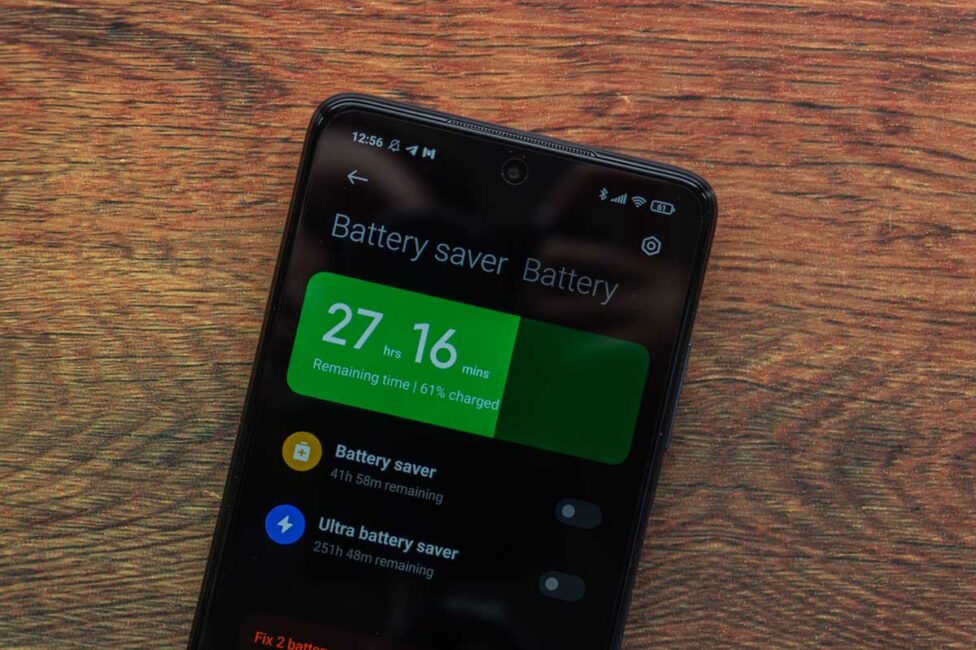 On average, my smartphone lived on a single charge for 7-8 hours of active screen in 120 Hz mode. There are no energy-hungry features like Always On Display, which would additionally take a few percent of the charge per day, although in fairness the display here is not AMOLED, and that means you won't be able to save power by turning on the dark theme. Plus, don't forget about the high refresh rate display.
I ran the battery test from PCMark on the Poco X3 Pro twice – with 120 Hz selected in the settings, and also with a standard refresh rate of 60 Hz with maximum display brightness. The results differ and are quite significant: in the first case we have 7 hours and 25 minutes, and in the second 8 hours and 22 minutes. By themselves, the results are quite decent, especially at 60 Hz.
The smartphone comes with a 33 W charging adapter and the manufacturer promises to quickly charge the device up to 59% in 30 minutes and completely in 59 minutes, but the measurements I took show slightly different numbers. However, for a mid-budget smartphone, it's still fast:
00:00 — 7%
00:10 — 26%
00:20 — 41%
00:30 — 56%
00:40 — 71%
00:50 — 85%
01:00 — 96%
01:05 — 100%
Sound and communication
The speaker is just okay, the voice is clear, but more importantly, this earpiece speaker plays along with the main speaker. That is, like the usual Poco X3, the X3 Pro has stereo sound. You get a very decent volume levels and good low frequencies. Naturally, I cannot say that it is as clean and of high quality as on the flagship Xiaomi Mi 11, but you cannot expect better from a smartphone of this class. So, good stereo sound.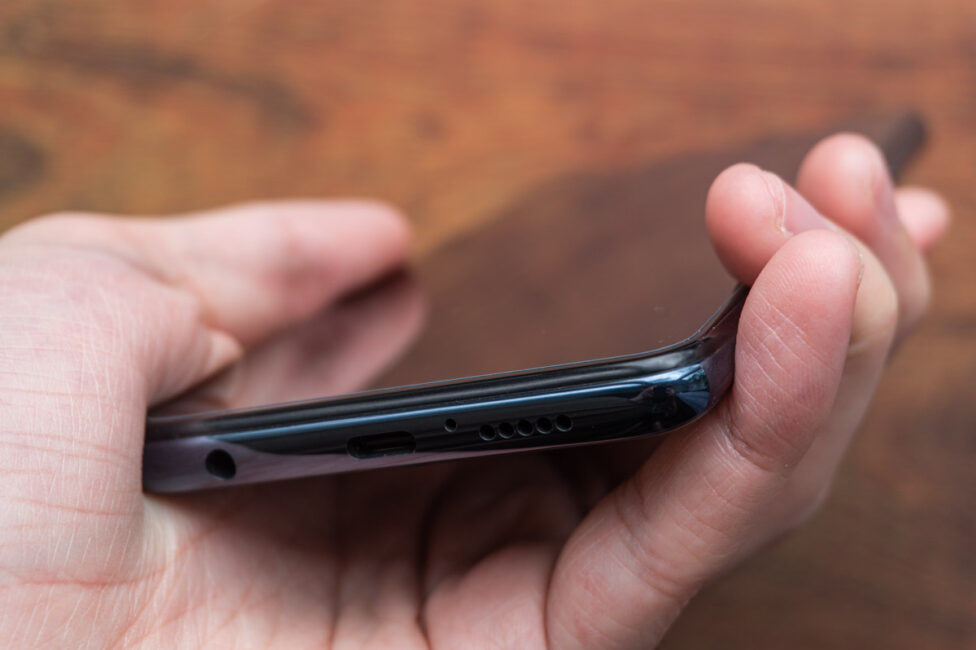 In wireless or wired headphones, Poco X3 Pro sounds good by default. But you can do even better by playing around with the settings in the sound options. There are presets with sound control for specific headphones, equalizer and volume control in accordance with the user's auditory perception. There are also four profiles: smart, music, video and voice, which work for speakers as well.
You can also note the pleasant vibration feedback of the smartphone. Even if it does not reach the level of response of the flagships from Xiaomi, but it's good enough.
The Poco X3 Pro has all the necessary wireless modules on board: dual-band Wi-Fi 5, stable Bluetooth 5.0 (A2DP, LE), relatively accurate GPS (A-GPS, GLONASS, GALILEO, BDS) and NFC.
Firmware and software
The firmware of the smartphone as a whole does not differ from the standard MIUI 12 version based on Android 11. The only noticeable difference is the Poco desktop with a different desktop layout itself and other icons. Here, apps are not placed directly on the desktop, but are hidden in the applications menu, which in turn is divided into several tabs with different categories. Among them are: communication, entertainment, photography and similar categories. Categories can be sorted, deleted or completely disabled.
The rest is the most typical MIUI 12 with its rich set of functional and visual features. There are themes, various gestures and other special features, like the previously mentioned game hub with a game accelerator, floating app windows and other useful features.
Verdict
The Poco X3 Pro is a very good and balanced smartphone with a recognizable design, a high-quality body with IP53 protection, a large 120 Hz display, very powerful hardware for the segment and good cameras. Also among the advantages are fast and stable unlocking methods, stereo sound and decent battery life. But the cons are really difficult to point out, given the price tag of the device.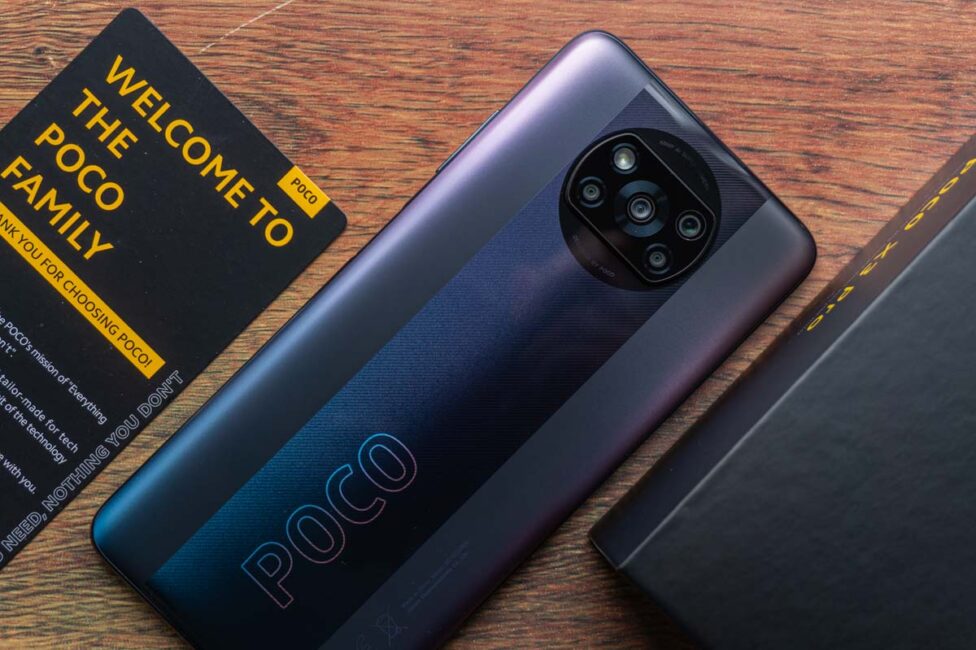 Read also: Moto G 5G Plus review – A Bargain from Motorola
The Poco X3 Pro, by and large, has not received a large number of updates compared to the Poco X3 NFC safe for more productive hardware. The cameras are more or less the same, and you have to directly compare them to see the difference. But the positioning of the device is obvious – this is a smartphone for those who prefer performance to cameras. So if you need a powerful and relatively inexpensive smartphone for gaming, this is your choice.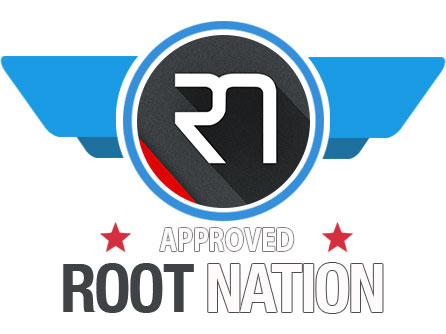 Subscribe to our accounts: