This review was one of the most difficult to write, cause I just couldn't stop playing
A year ago Gabe Newell, founder of the Valve, came out with an interview where he announced Valve's new hardware — Steam Deck. I was putting money down for a pre-order even before he finished his speech. After placing my order on July 16th 2021 I finally got my very own Steam Deck 512Gb model only on July 26th 2022. Was it worth a year long wait? Let's find out.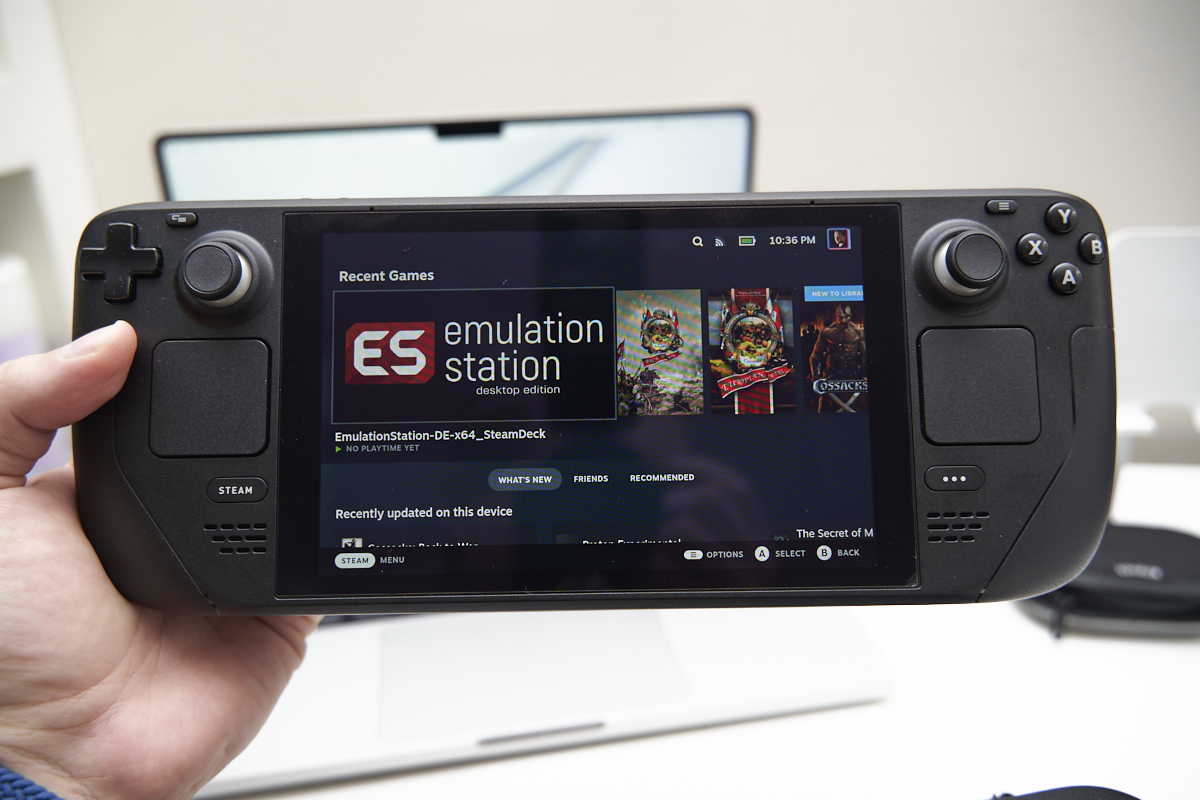 Steam Deck is an incredibly versatile device with an open architecture. That makes it not just a portable gaming console but a powerful and yet portable PC with all known input methods attached to it. Think of it as a gaming PC laptop with 2 trackpads, touchscreen, gyro, analog sticks, d-pad, microSD card slot, haptic feedback and 18 customizable buttons. All this hardware runs on the Steam OS and incased in a shape of a handheld gaming console. Photos don't tell the story of how nice Steam Deck feels in hands and you'll have to trust me on this one.
 I should make a note about packaging. Valve made a grate choice by shipping device in just a cardboard box that is designed around included hardshell case and a power adapter box. Once you open shipping box only a small plastic seal holds zippers together, indicating that Steam Deck wasn't open before. Cleaning cloth can be found inside the hardshell case and a small pouch is hiding in the bottom compartment of the case held by elastic band (on pictures I already put my own usb-c cable there).  That is the way.
Out of the box, Valve, the quick start sheet tells you to plug the device's power adapter and only then power it on. This is to wake the battery from its shipping state. After a short boot sequence Steam Deck will ask for the Steam Store account. After the login a dashboard with your Steam games will show up. This is called "Game Mode". Just like any other game console launchers it helps you to launch you recently played or install purchased games. At this point users can choose how the want to interact with the UI. The navigation can be done by taping the touchscreen, using regular gamepad buttons like on any home console or you can even hook up a poise and select items with a pointer on a screen. I often find myself blending touch and gamepad controls.
Read also: Backbone One PlayStation Edition: Very good, not very PlayStation
Most likely you will see a recommendation to download a free game from Valve – The Desk Job. It's a cool game that helps new users to master all the controls Steam Deck has to offer. I strongly recommend for anyone new to the Steam Deck to play it first.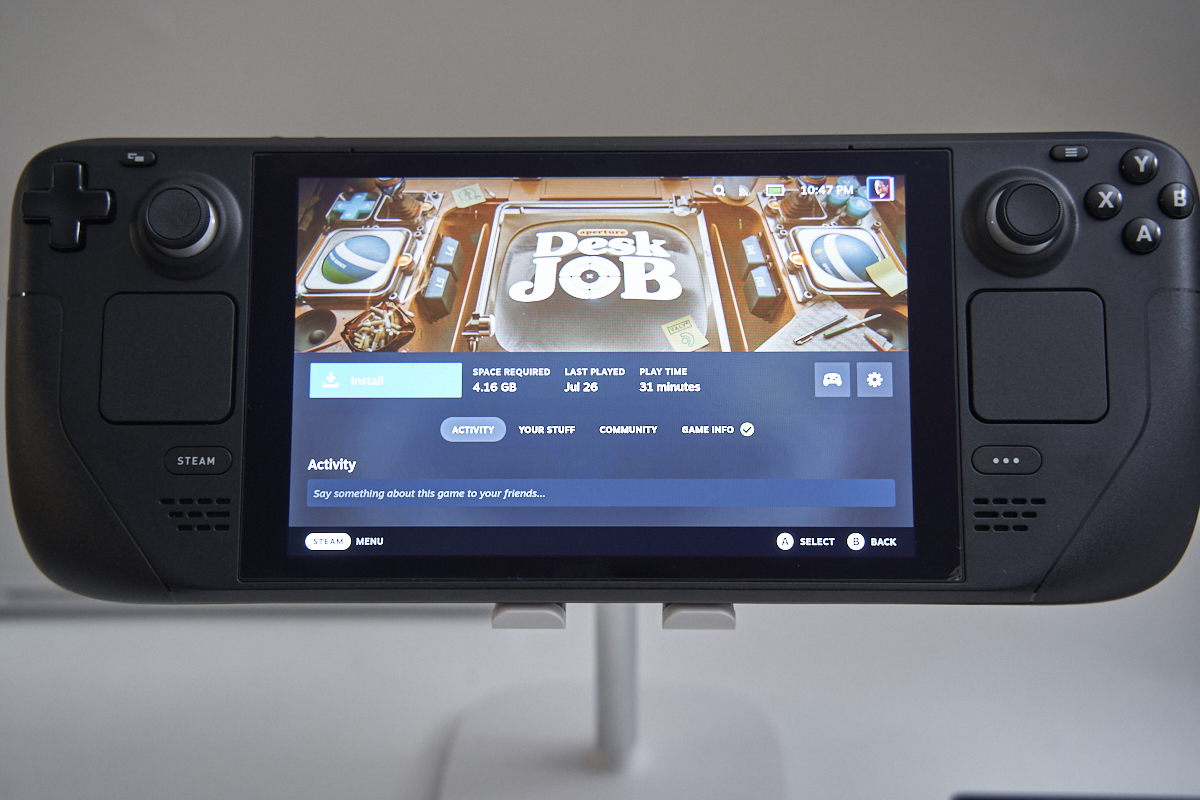 On top of usual game pad controls Steam Deck has two unique buttons: a "steam" button and a button with three dots (also known as quick access button). Steam button opens up navigation menu and also can act as a modifier for your shortcuts (needs to be held down to see the list of shortcuts). The quick access button on the other side acts as a control centre for quick adjustments like screen brightness and power management.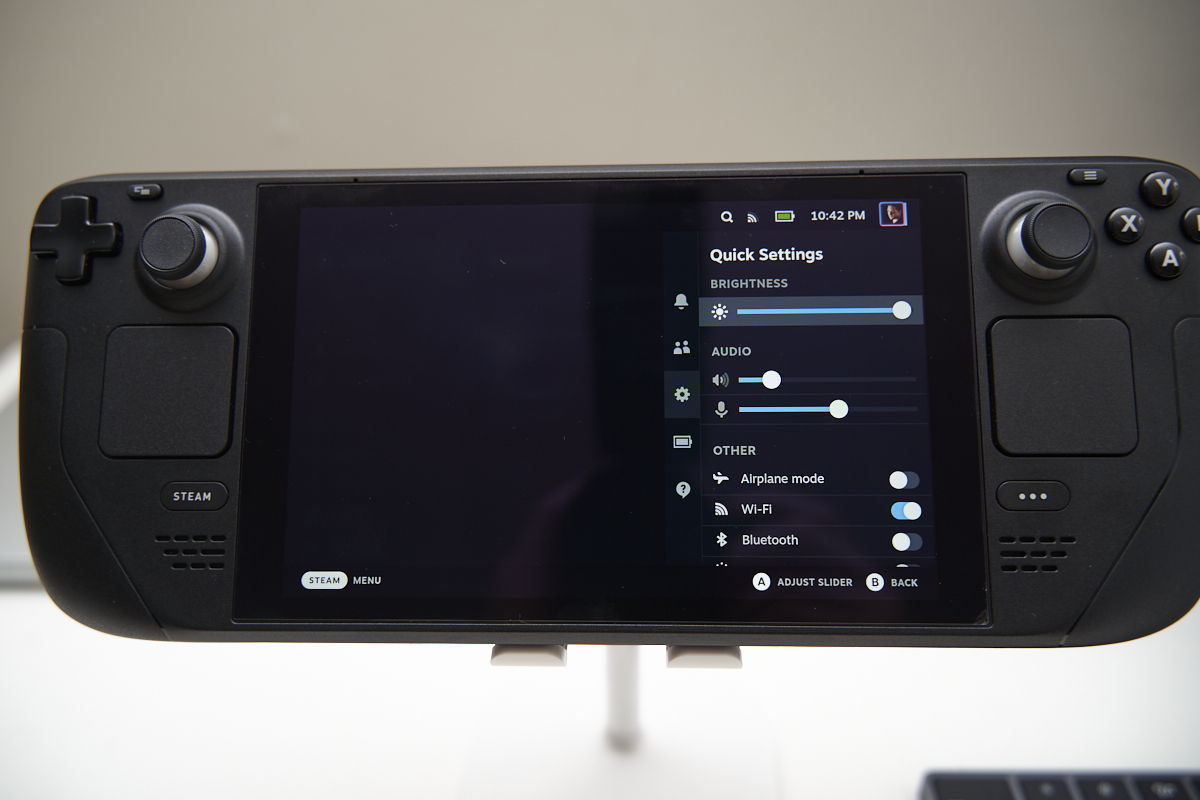 Top edge of the device has volume control buttons, 3.5mm headphone jack, exhaust vent, a single usb-c port with LED status light for both: charging and accessories and a power button. There's also a start and a select buttons located by the D-pad and XYAB buttons respectively. They are the least pleasant and the worst positioned buttons on the whole device and the good thing about them is that they are not often used.
The Back of the device has Valve's Logo and air intake vent that should not be covered for better thermal performance.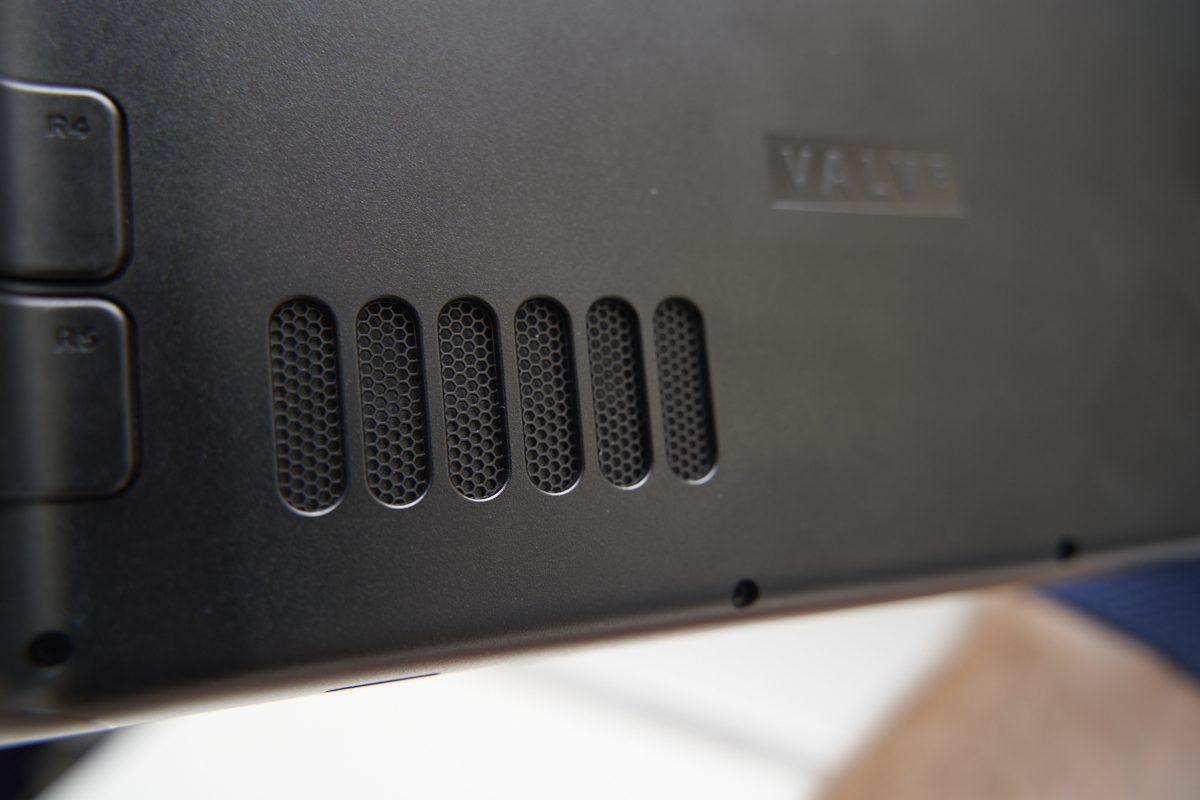 To be frank Steam Deck is not a gaming console it's a gaming laptop in a shape of the handheld console. What makes it stand out is the trick inherited from the consoles: in the middle of any gameplay (even if it's a retro emulator running) the power button puts Steam Deck in to a deep sleep and saves the battery. Another press will resume gameplay from the same spot within seconds. This behaviour alone answers why not to buy a gaming laptop instead of a Steam Deck. Been able to jump in and out of the gameplay in matter of seconds is an important attribute of any good handheld gaming device. It's critical to have this kind of feature on a portable gaming device and the Steam Deck nails this experience.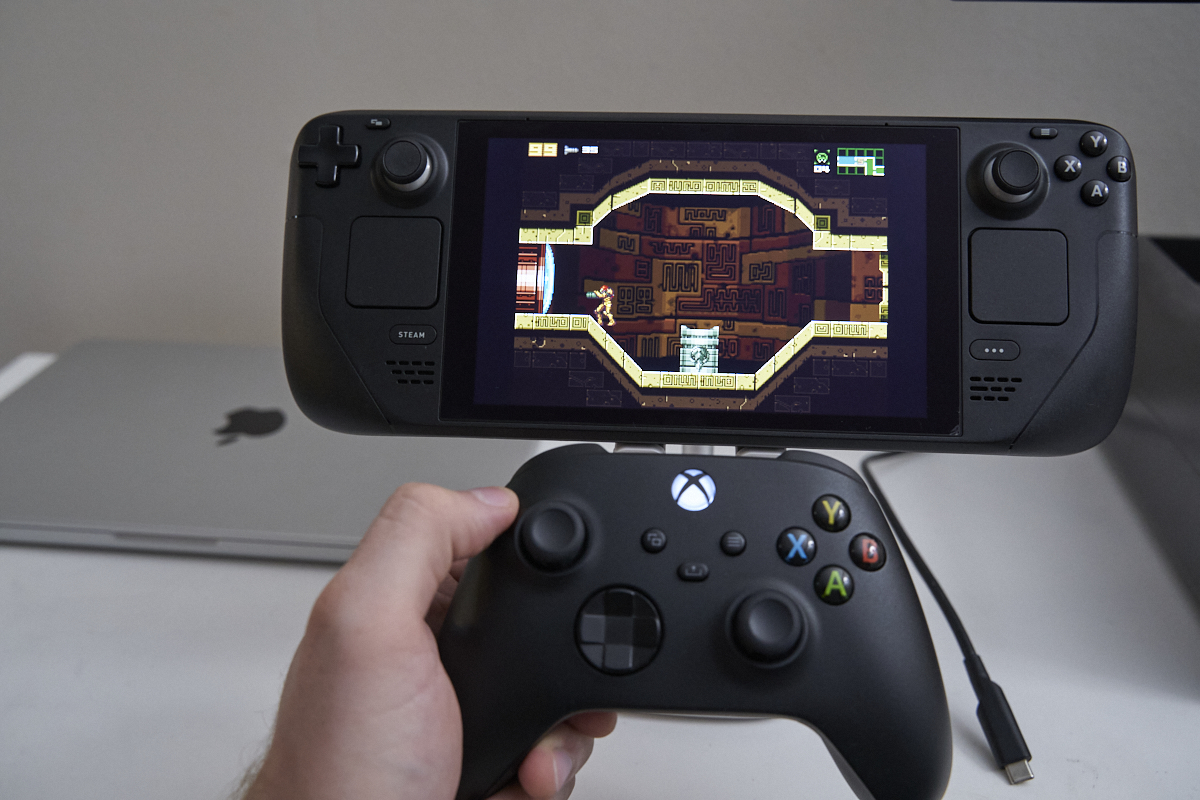 Ergonomics
Anyone and their mother after seeing pictures of Steam Deck will say its size is beyond something that can be called comfortable. After using it for more than two weeks I can say that designers deed a phenomenal job and it must be the current state of technology and price targets that held them back. Ideally this things needed to have a bigger OLED screen, be a little smaller and maybe 200g lighter. After beating Metroid Zero Mission and Metroid II Samus Returns I can say that active game sessions can give your arms cramps and feel somewhat uncomfortable. But device brings so much fun that I kept playing ignoring the discomfort. Hopefully there's a potential to make future versions of the Steam Deck lighter, smaller and a little more comfortable in XYAB buttons area. Comparing with industry standard game pads from Sony and Microsoft a should say that Valve borrows more ideas from the Xbox controller than Sony's Dual Sense and it's a good thing. D-pad, bumpers and triggers are all great and remind me of what previous generation of Xbox Controller felt, the analog sticks are sitting at comfortable hight, XYAB buttons feel great, grip is incredibly comfortable and bottom pedals (L3,L4,R3,R4) don't get in the way and introduce very little accidental inputs.  Comparing controls to what Nintendo has to offer, Valve is winning hands down versus cheap, crippled and miniaturized controls on the Switch.
Worth mentioning that analog sticks has touch sensitivity and can identify if you have your fingers on them or off. This helps in some first person shooters to activate the gyroscope sensor to fine tune the aiming right before you press the trigger.
Read also: GameSir X3 Type-C review: new mobile gamepad with a cooler
What makes Steam Deck stand out from other consoles of this form factor or in fact any console is the presence of two track pads on both side. They are touch sensitive and are capable of replacing mouse input on the go. Both of them can be pressed and the amount of customizations on them is through the roof.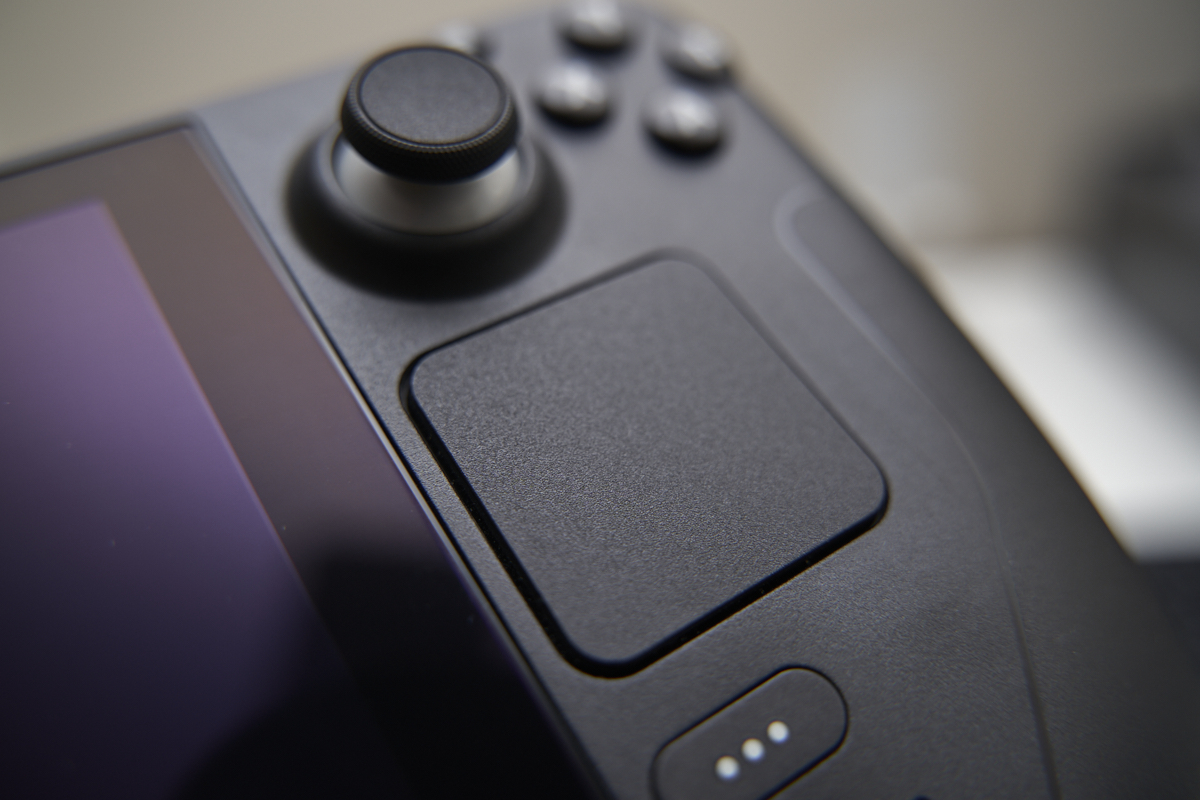 The Screen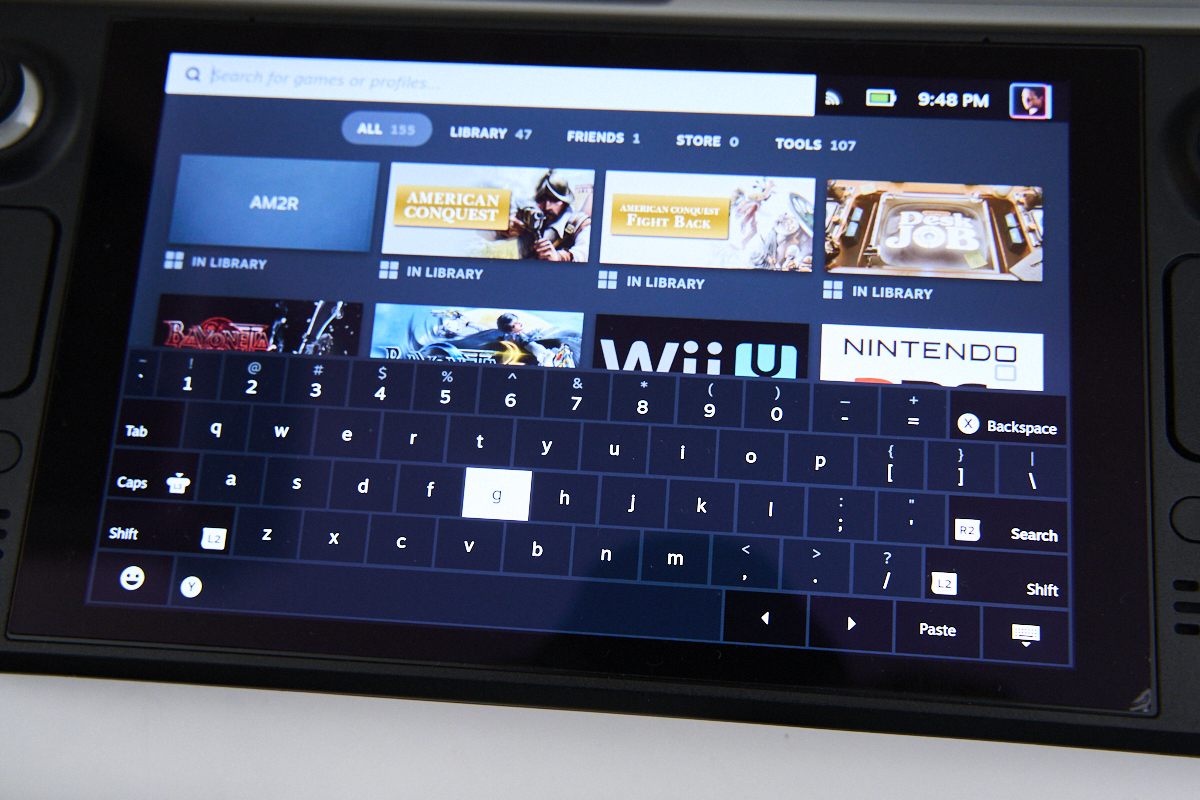 Device uses 16:10 IPS 7-inch touch sensitive screen with 800p resolution. I got 512GB version of Steam Deck that is supposed to come with a better screen then 64GB and 256Gb variants. This screen is etched and has antiglare. By modern standards the screen is just ok and doesn't set any record in any department. It does the job but I decided to put a glass screen protector since the screen doesn't have oleofobic coating and matt surface eats up the contrast. Screen protector brings back some of the contrast and makes touch and cleaning experience more in line with modern devices.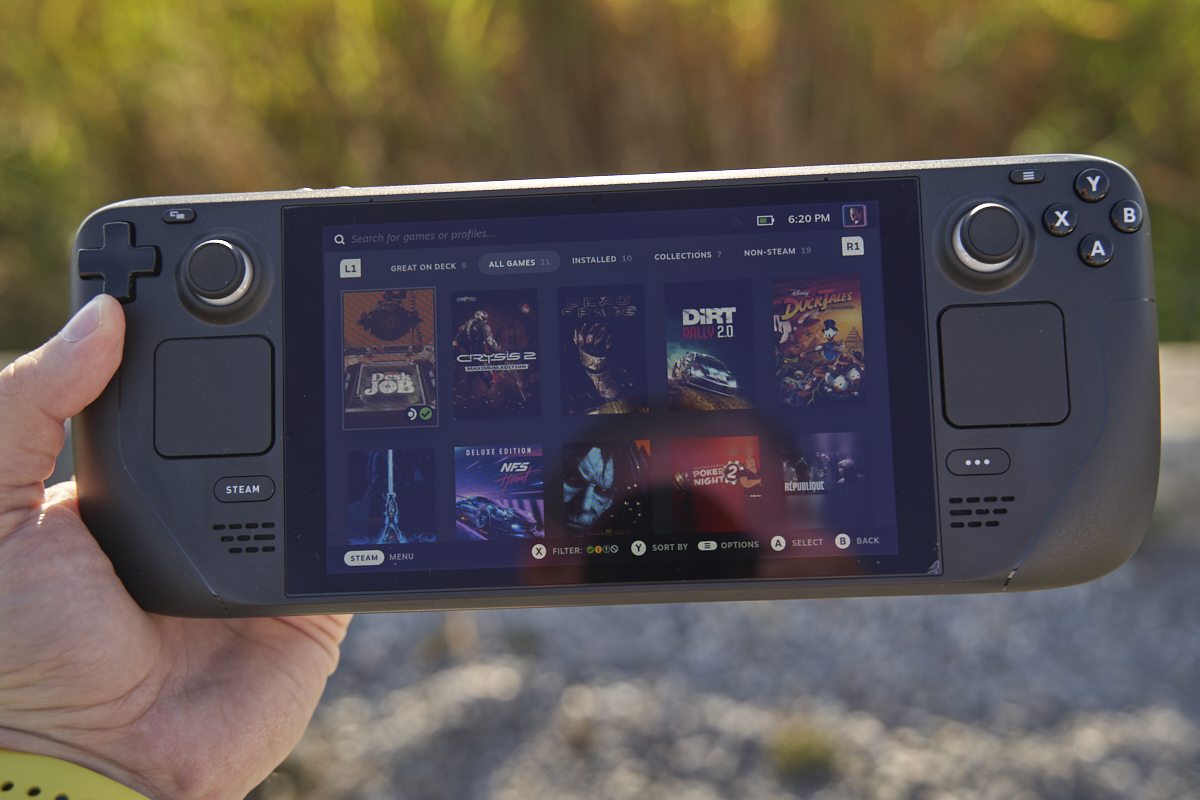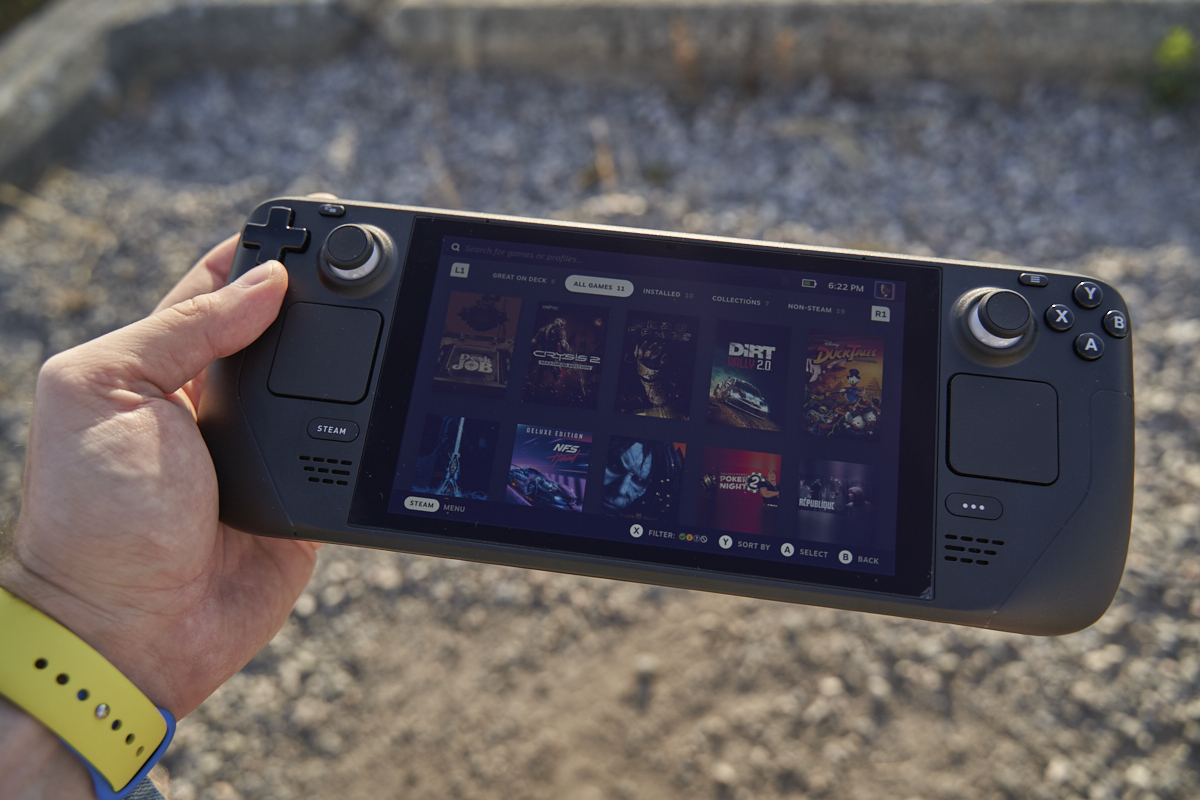 We would love to see OLED screen on a Steam Deck but it would be much harder to hit aggressive price points Valve is targeting here so for now we will have to live with somewhat dated technology here. Looking at how easy it is to disassemble the device I can tell that if OLED model will be introduced in the future, it will be possible to swap the screen on older units if you have the skills to do it. Also it is possible to replace SSD storage drive and other components to custom ones like analog sticks or a fan.
While on the subject of the design I can't walk away from how the software openness translates in to the hardware design philosophy. The Steam Deck is a repair friendly device and iFixit partnered with Valve to provides access to spare parts. Just for this incentive alone I justify purchase of my own personal Steam Deck. This kind of thinking is almost gone in modern tech industry and needs to be supported whenever there is a chance.   
Steam OS 3.3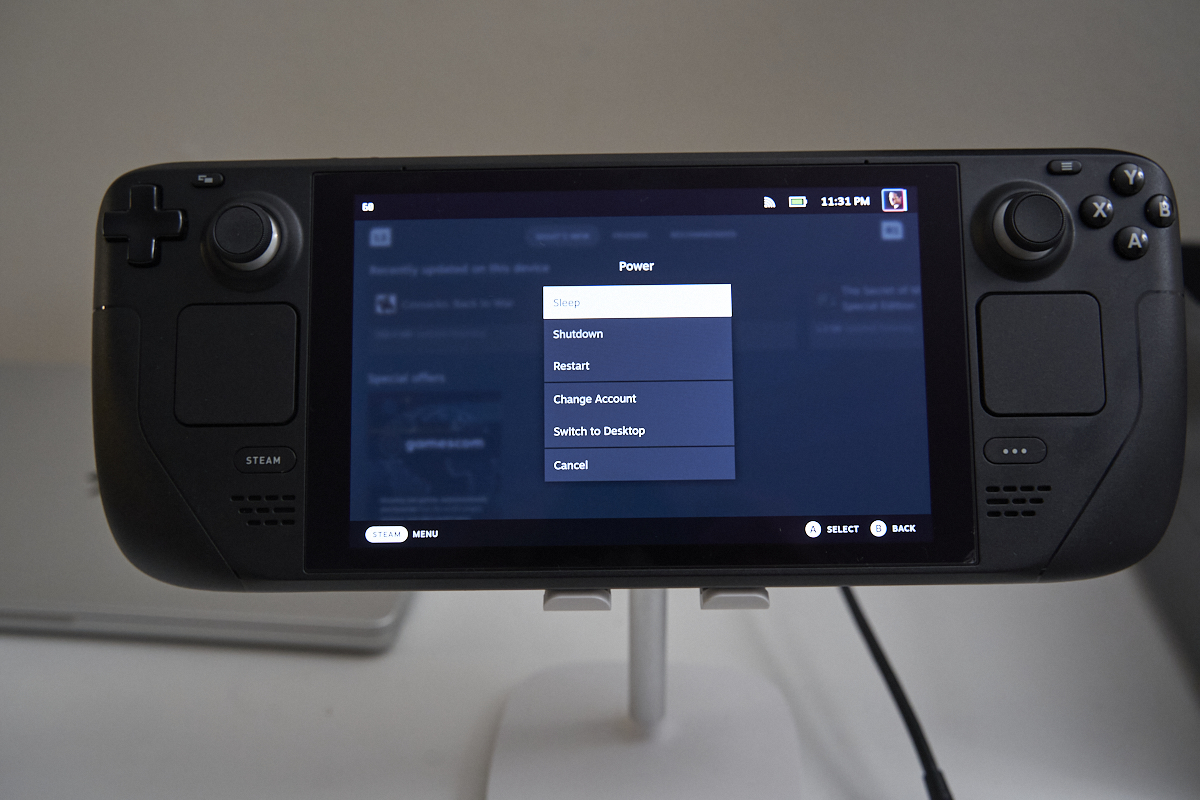 I started writing the review with Seam OS 3.0. But shortly after the Steam OS 3.3 was released and I must say a lot of my complains got polished in this update. Steam OS is far from perfect but you can tell Valve committed to take the device to a whole new level after shipping to customers. 
Read also: Boosteroid cloud gaming service: how to use it to the max
Steam Deck has an interesting UI paradigm where user are allowed to switch between Linux desktop style UI and Steam big picture inspired UI. Desktop mode is a little hard to navigate without a keyboard and mouse but allows to do way more with your hardware — something we lost long time ago on our way to a perfect consumer product. Game Mode on the other hand is designed for those who doesn't want to spend time under the hood and just wants to start playing games.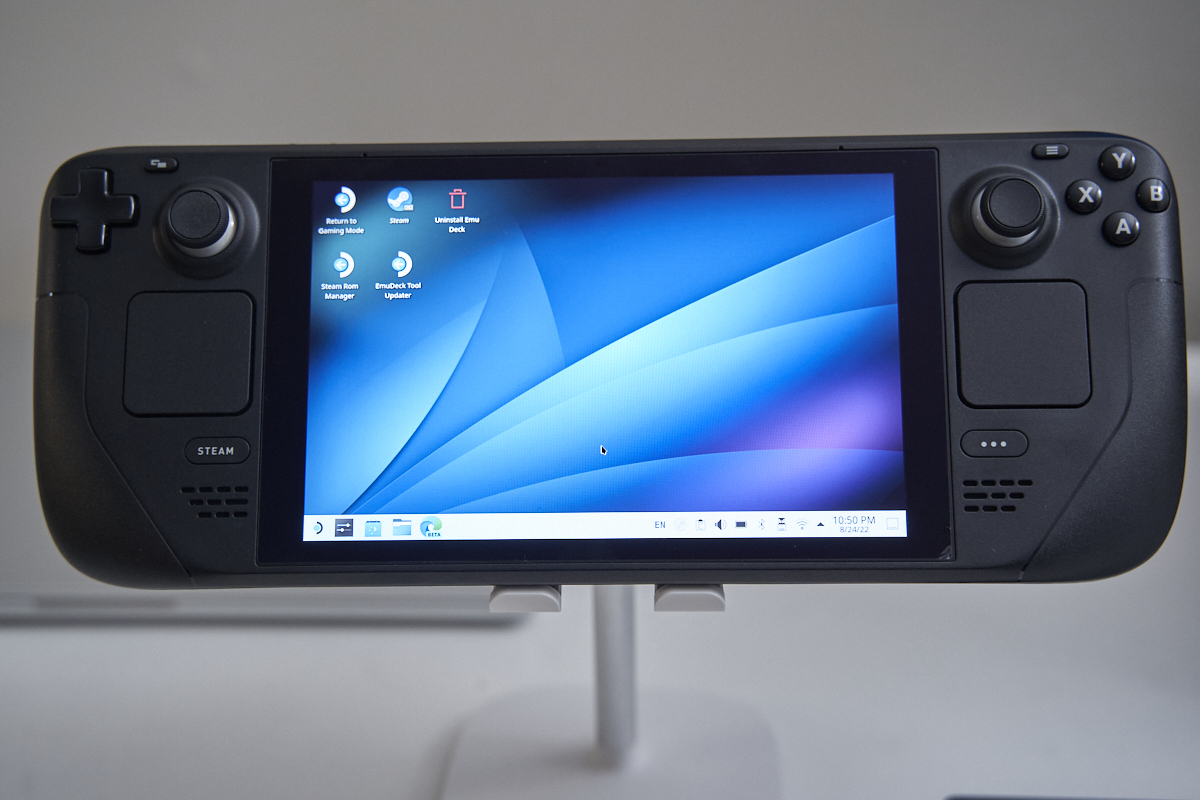 Desktop Mode is not exactly easy to master. Understanding the logics of Linux is something users may have to invest some time to unleash the full potential of their devices. Luckily all the information is widely available on the web and a path of the emulation enthusiast will make learning more fun. Connecting Steam Deck to a monitor with keyboard and mouse in this case is almost essential cause the only thing that maps external controls to a desktop UI is the Steam Store app itself.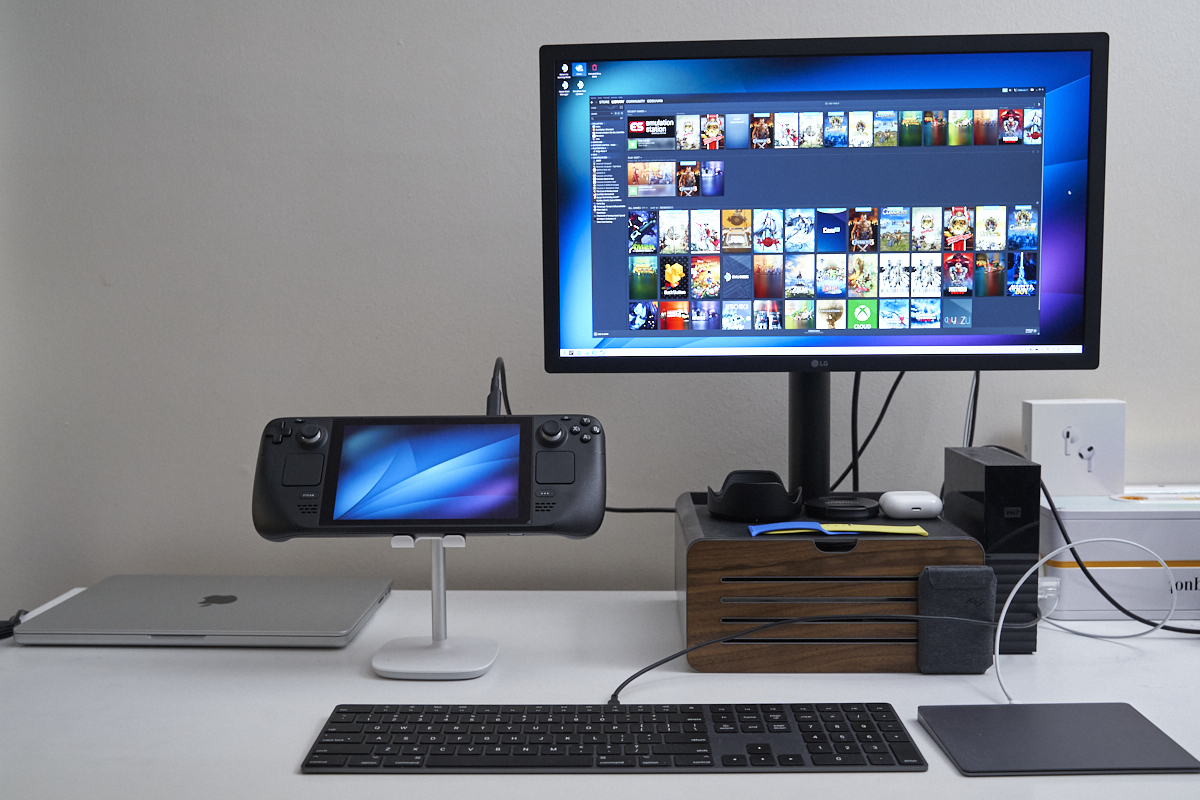 By the way I think that controller layouts management is something Valve doesn't receive enough praise. Steam allows you to switch between layouts on the fly in the middle of the gameplay. You can pick either from built-in presets, your own presets or a community offered layouts (rated with hours played). Allowing gamer to utilize such things as gyro for aiming in the first person shooter or have a proper mouse controls on one of the Deck's trackpads. Valve's approach to controls makes other consoles feel almost pedestrian. 
50000 launch titles (almost)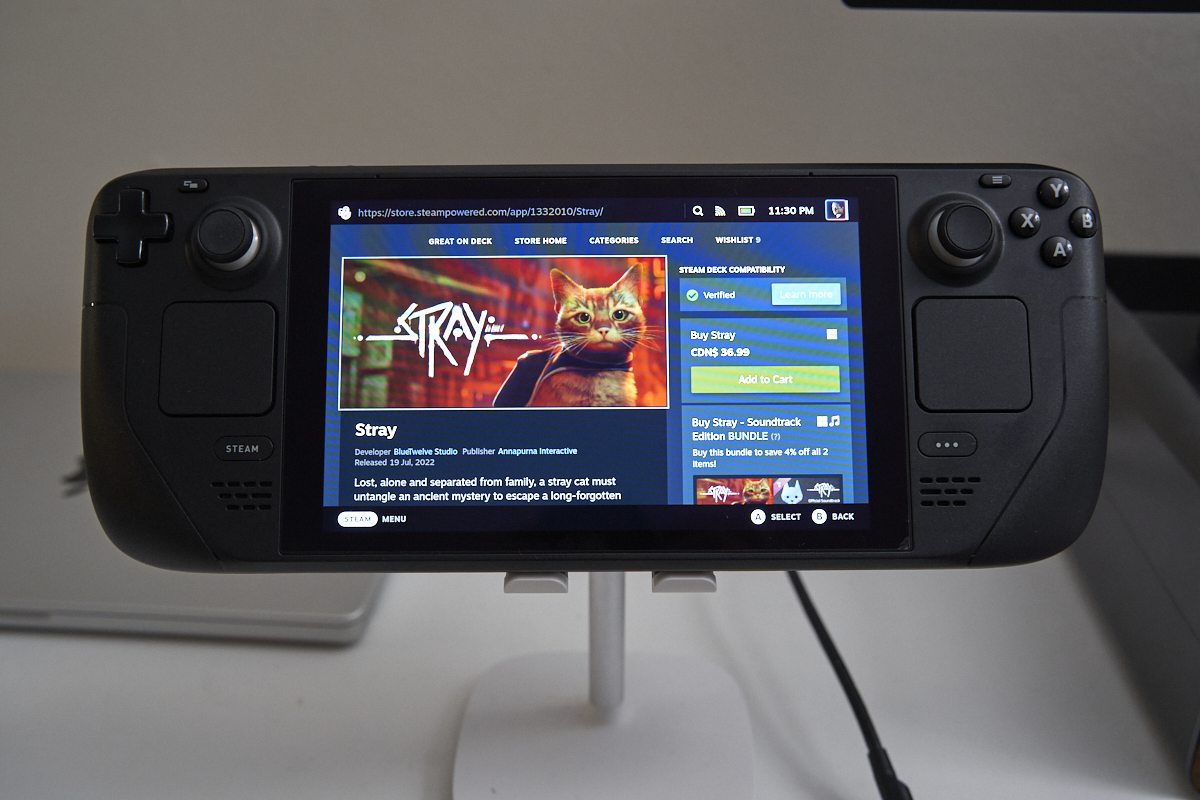 Launching new gaming consoles is hard even for companies with lots of heritage and experience. Valve came to the showdown armed with Steam's Store impressive portfolio and some miracles of Proton layer that allowed them to run almost any game available for PC on their Linux based handheld device. They came up with rating system that shows level of compatibility with Steam Deck but it's just a recommendation not a restriction. Users are sometime asked to contribute to this rating system after playing games that have a score, so Valve can change ratings in the future. Even those games that have unsupported badge can still be launched from Desktop Mode with help of Proton layer.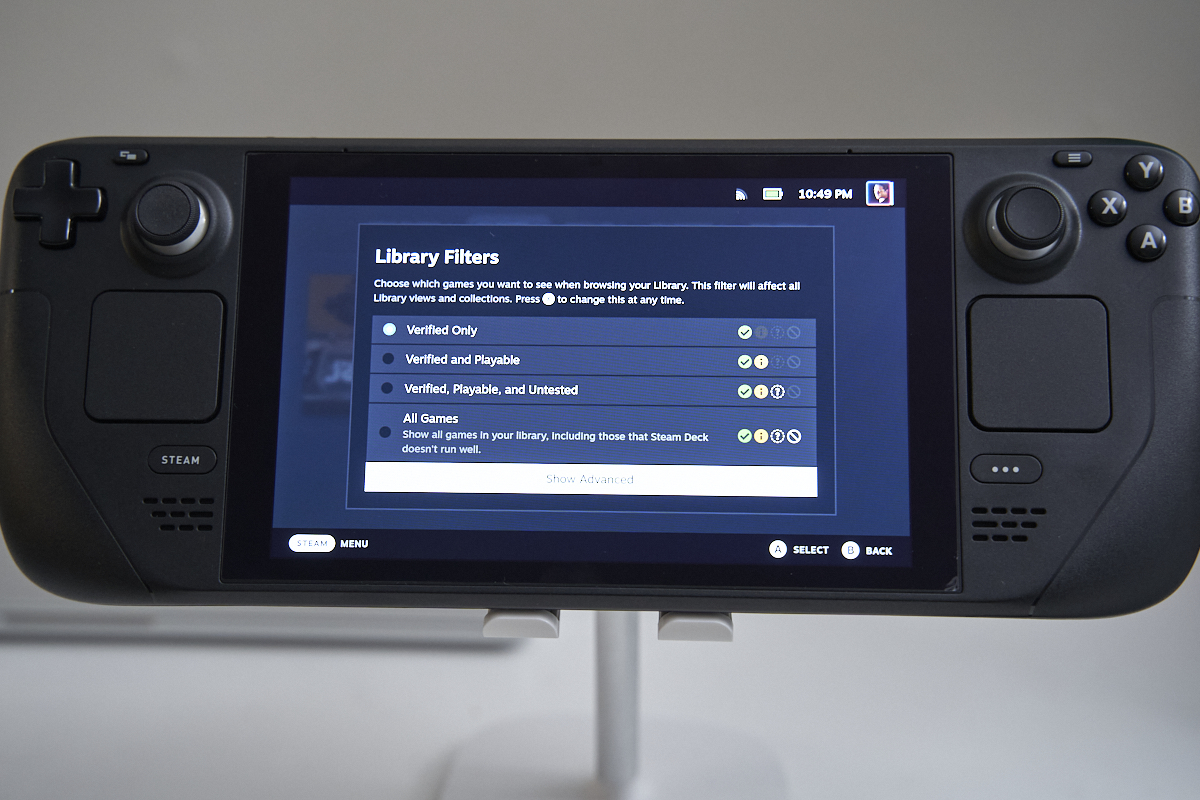 To take things to a whole new level I managed to side load windows version of AM2R (unofficial remake of Metroid: Samus returns) through the Desktop Mode, manually adding Proton layer to it. The game now works great and shows up in a Gaming Mode just like other games from the official Steam Store.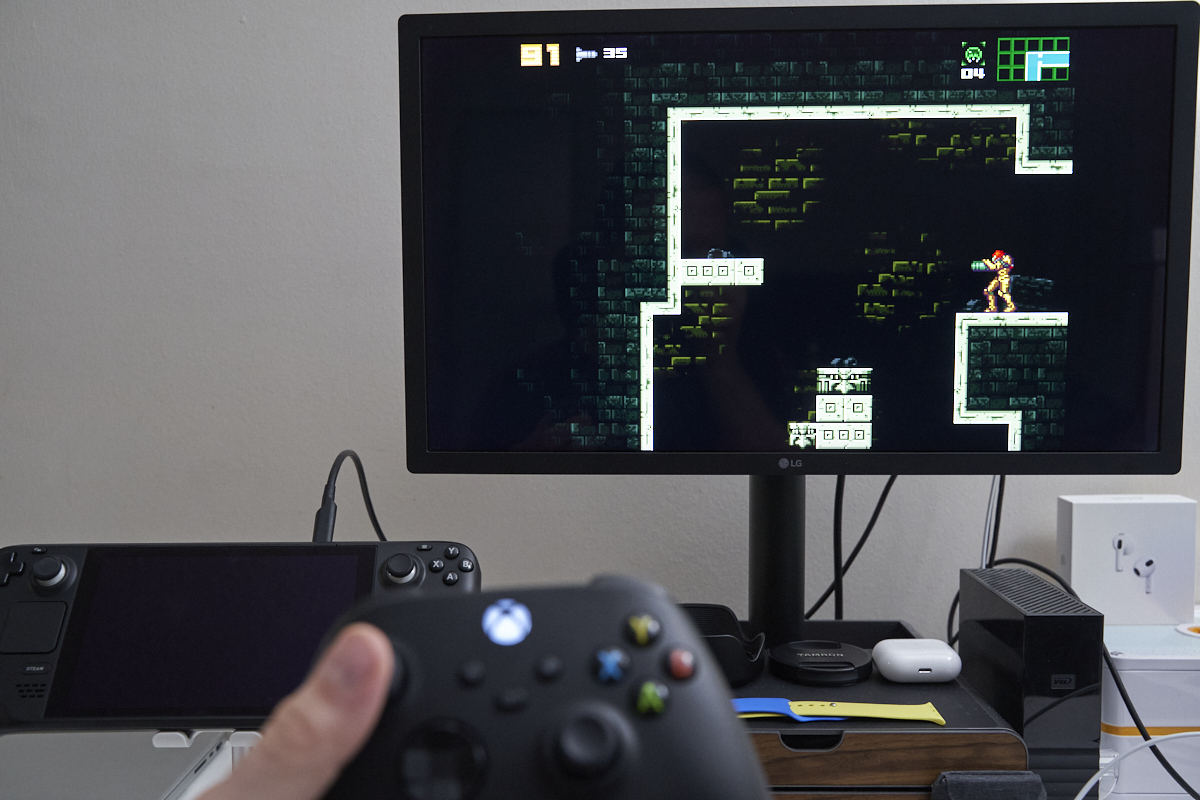 Hardware
Despite all of the design achievements we are far from having a great gaming console without fans inside. Steam Deck is no exception. The harder you push the device — the more aggressive the fan will blow air. Despite all that I don't find neither temperature nor noise discomforting to play. Trying to play with someone sleeping next to you when the Steam Deck is at full throttle will most likely wake that person up.
Built in speakers do a really good job and the sound from them is nothing to be ashamed of. I would more often find myself playing without headphones and just enjoying sound from the external speakers. The device also has a built in mic.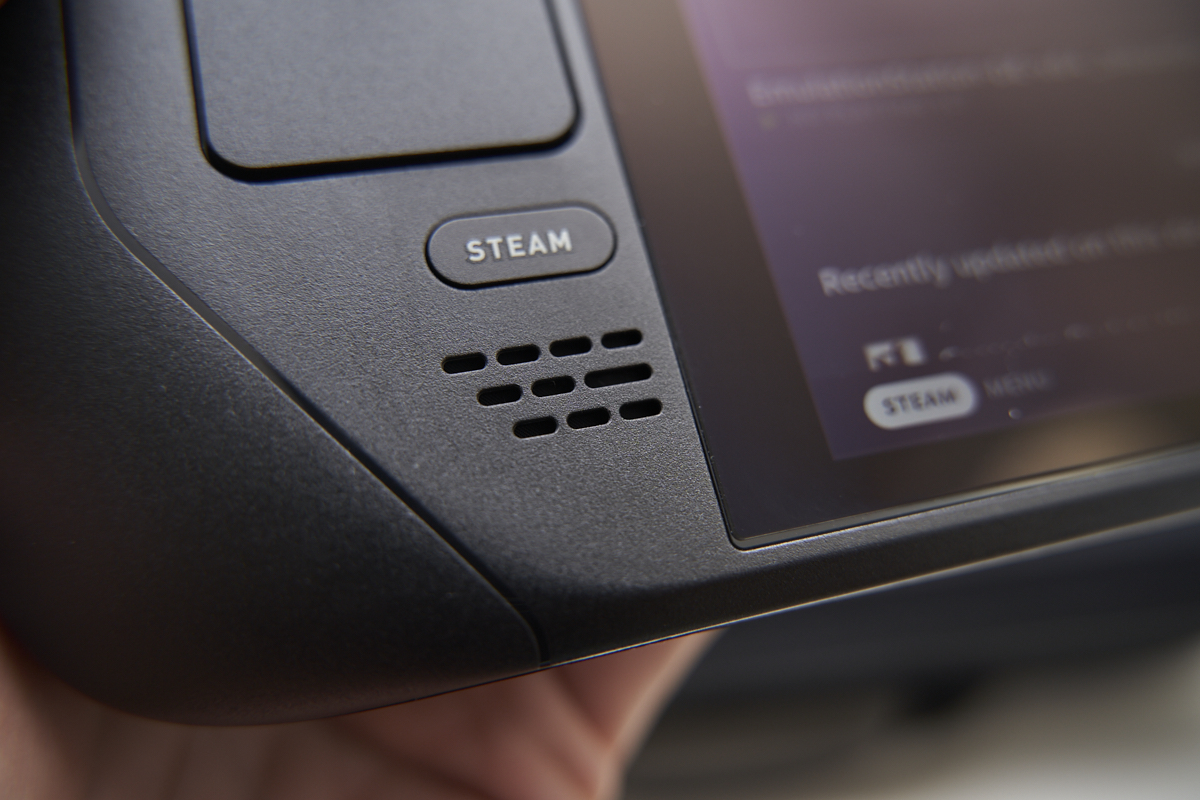 Battery life is heavily dependant on the task. Steam OS provides users with a proper overlay screens to monitor how your settings affect longevity and performance. For my use Steam Deck lasted anywhere from 2 to 6 hours of gameplay. It's impressive how the RYZEN hardware can scale itself depending if you play latest God of War or emulating some retro console from 1994. To put it simple — battery size is 40Whr, at full speed Steam Deck consumes 20W. You are given all the tools to monitor consumption and make adjustments to prolong the battery life in expanse of the performance.
Full charge takes about two hours from the supplied 45W adapter. Fast charging is not supported and getting a bigger power supply won't make charging faster.
| | |
| --- | --- |
| CPU | Valve's custom Zen2 "Van Gogh," 4 cores, 8 threads, 2.4 – 3.5 GHz |
| GPU | 8 RDNA 2 CUs, 1.0 – 1.6 GHz |
| RAM | 16GB LPDDR5 |
| Storage Drive | 64GB eMMC or 256GB / 512GB m.2 NVMe SSD (PCIe Gen 3 x4) |
| Display | 7-inch touchscreen, 1280 x 800 (16:10), 60 Hz, IPS, Anti-glare etched glass |
| Connectivity | Dual-band 802.11ac, Bluetooth 5.0 |
| Ports | USB Type-C with DisplayPort, 3.5 mm headphone jack, microSD card reader (UHS-I) |
| Battery | 40 WHr |
| Power Adapter | 45 W |
| Dimensions | 298 x 117 x 49 mm |
| Weight | 669 grams |
| Price | $399/$530/$649 |
On the market there are competitors that are building the same type of device like Steam Deck. Brands such as GPD and Aya Neo have been on the market for quite a while now. But despite sometimes having a more modern hardware they lack in software department and just installing a regular version of windows on this type of devices is simply not enough. With Windows you get less compatibility issues (arguably) but initial set up is a pain. Small quality of life improvements  such as instant wakeup and sleep and MicroSd card management are often missing as well. Most of the times those brands can't hit price targets of the Steam Deck and cost way more with far worst support.
Read also: Nintendo Switch OLED review: The handheld is all grown up
Is microSD good enough?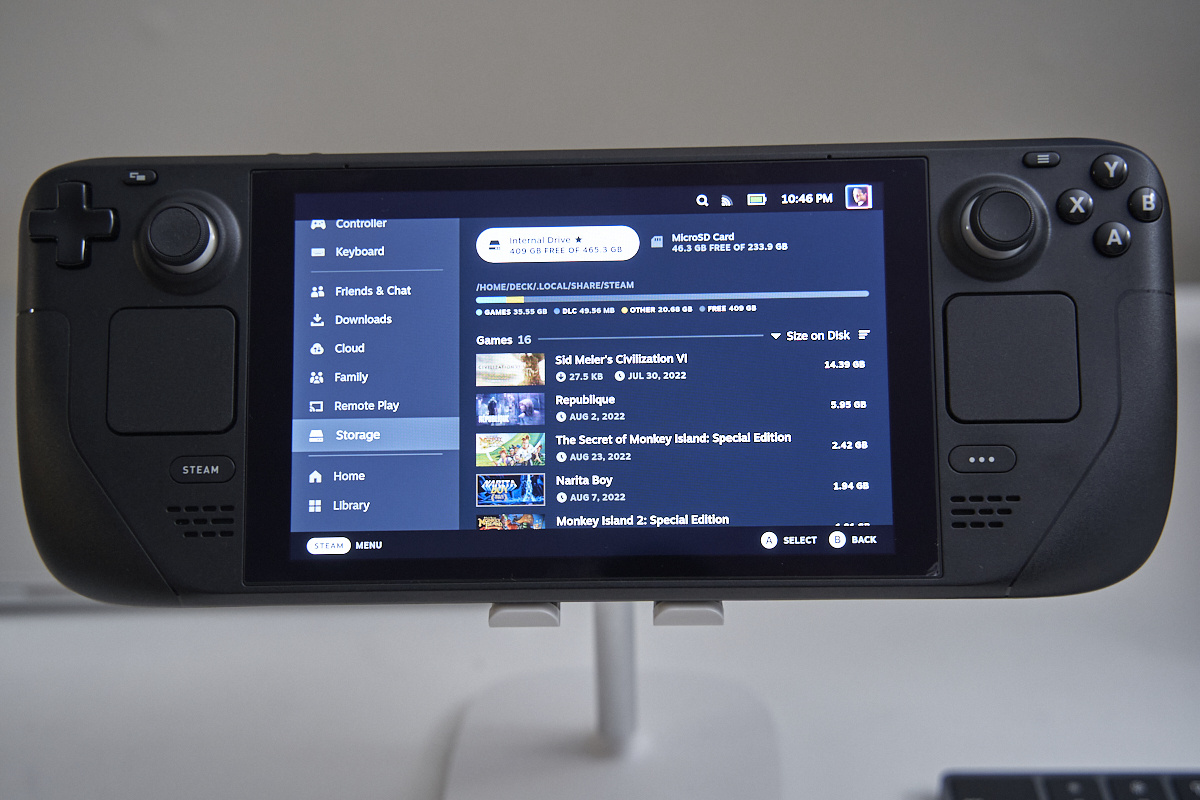 I ordered 512GB model due to my disbelief that microSD will be adequate storage option for modern titles that can easy be more then 100GB in size. What a surplice it was for me to learn that not even the fastest format of UHS-I cards are completely indistinguishable from the internal SSD. After seeing this I can recommend 64GB model to anyone who is willing to invest in to a microSD card up to the size they need. There's no penalty for using SD card as a primary game storage and all other specs are the same between other models.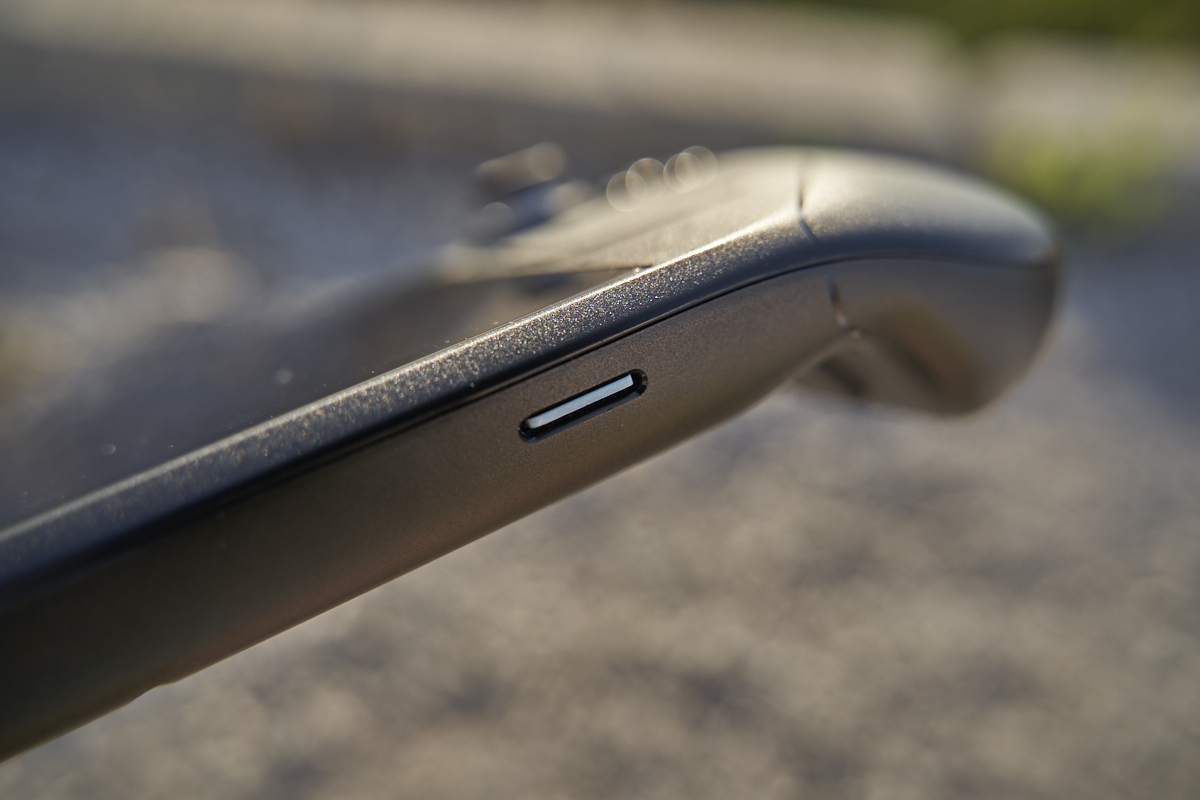 Where does the Steam Deck fits on the market?
Emulation. Current state of community support for Steam Deck is nothing short of phenomenal. Enthusiasts invested a ton of time to make Steam Deck the best machine when it comes to emulating retro and some current consoles. Emu Deck software and the community controller layouts make entry to an emulation scene the easiest it has ever been. What used to take weeks to set up, now a matter of hours. For me it was the most used application and I had an absolute blast revisiting all the classic games I've missed so much from SNES, PS1 and 3DS era. I personally can't think of better device to emulate 3DS's dual screen gimmick and Steam Deck does it with grace at higher resolution then OG hardware and even allows for more then 5 hours of gameplay on a single charge in this mode.
Steam Games. The combination of rather conservative screen resolution and a modern SoC design from AMD makes playing AAA titles on Steam Deck a comfortable and visually pleasing experience. The battery life is questionable in this mode though. Make sure you stay close to an outlet. 
Cloud gaming. Microsoft was kind enough to provide official instructions on how to launch xCloud on Steam Deck and experience is actually pretty decent. Hopefully they will invest in proper cloud gaming app and make it available on the Steam Store. 
Busy life on the move with short brakes. Makes Steam Deck a goto device for gamers with little kids who just can't sit down at the TV for a reasonable time and can only afford short game sessions here and there. Those gamers who drive for leaving and have only short brakes will find the device interesting.
EV owners that charge on public chargers for two or more hours. I personally enjoyed specifically this scenario and it worked great for me.
Those unhappy with how blurry the portable mode is on Nintendo Switch. According to a resent Digital Foundry study Nintendo Switch can sometimes go as low as 360p in portable mode. If you are like me and you eyes start to hurt after seeing so much blur during the gameplay you will for sure enjoy Steam Deck's crisp resolution.
I bet in comments you can come up with even more places of where Steam Deck fits in your life. So go ahead and let me know what you think.
Steam Deck versus elephant in the room — Nintendo Switch
I never liked Nintendos hardware. They make absolutely brilliant games and it's the games that sell average at best hardware. This is my personal opinion but Nintendo Switch is built like an inexpensive toy. Steam Deck feels like a truck next to the Switch. When it comes to gaming sure Switch now has a much more modern OLED screen and can last anywhere from 4-5+ hours on a single charge. But games look much worse and low res when in handheld mode. There's no difference in visuals for the Steam Deck wether it's plugged in or not. I'm not sue how to compare cause one is a full blown portable PC and the other one is just a game device. I hope Nintendo one day will build something closer to Steam Deck's level of design so we all could enjoy their games on a solid hardware.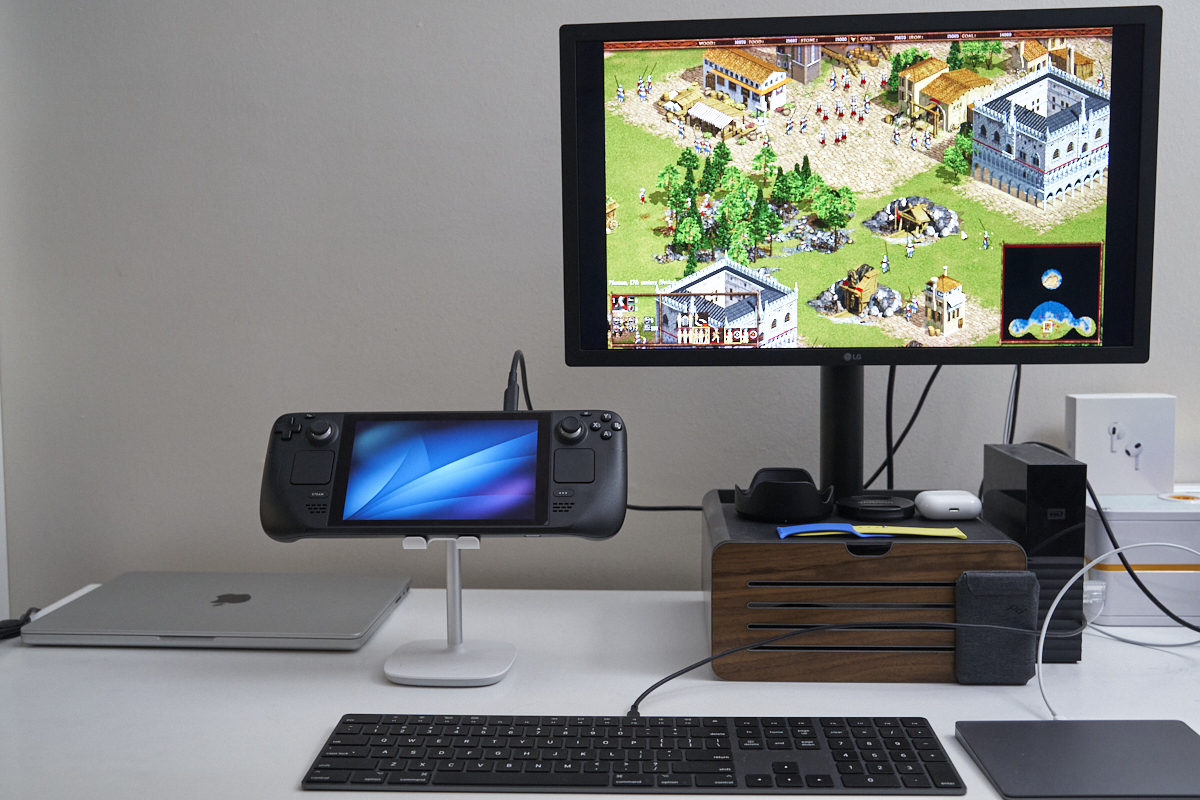 Dream Deck?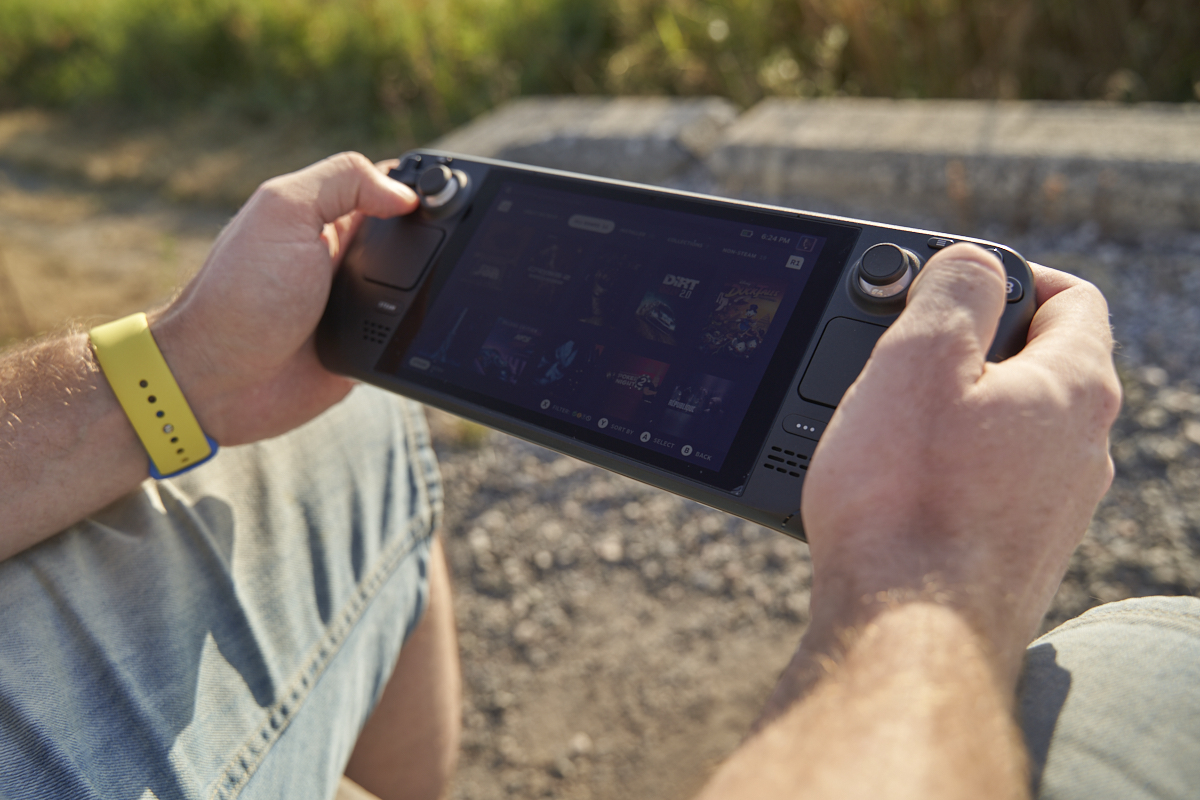 Steam Deck is by no means your typical handheld console. It's a modern gaming PC in a shape of a handheld. It's not as polished as some might expect but I'll let it slide due to amount of potential this device has. Ergonomics of the device is top notch despite looking bulky and heavy on pictures. Steam Deck is a device that can be rendered as "jailbroaken out of the box" with all the benefits and fun that comes with this term. As of today the experience is solid and absolutely worth the asking price. Valve's commitment in conjunction with community support can unleash completely unexpected potential of this device making it even more desirable and hopefully more available in future. Now you have to excuse me I have to go back to gaming on my Steam Deck.
Where to Buy
Recommended reading:

You can also help Ukraine fight with Russian occupants via Savelife or via an official page of the National Bank of Ukraine.