At the end of summer, the Moto G60s was released. We have already tested the models of the current G-series more than once. Specifically G100, G50, G30, G10, and the G20. Like the other phones in the series, the G60s belongs to the budget series, but tries to be as high end as possible.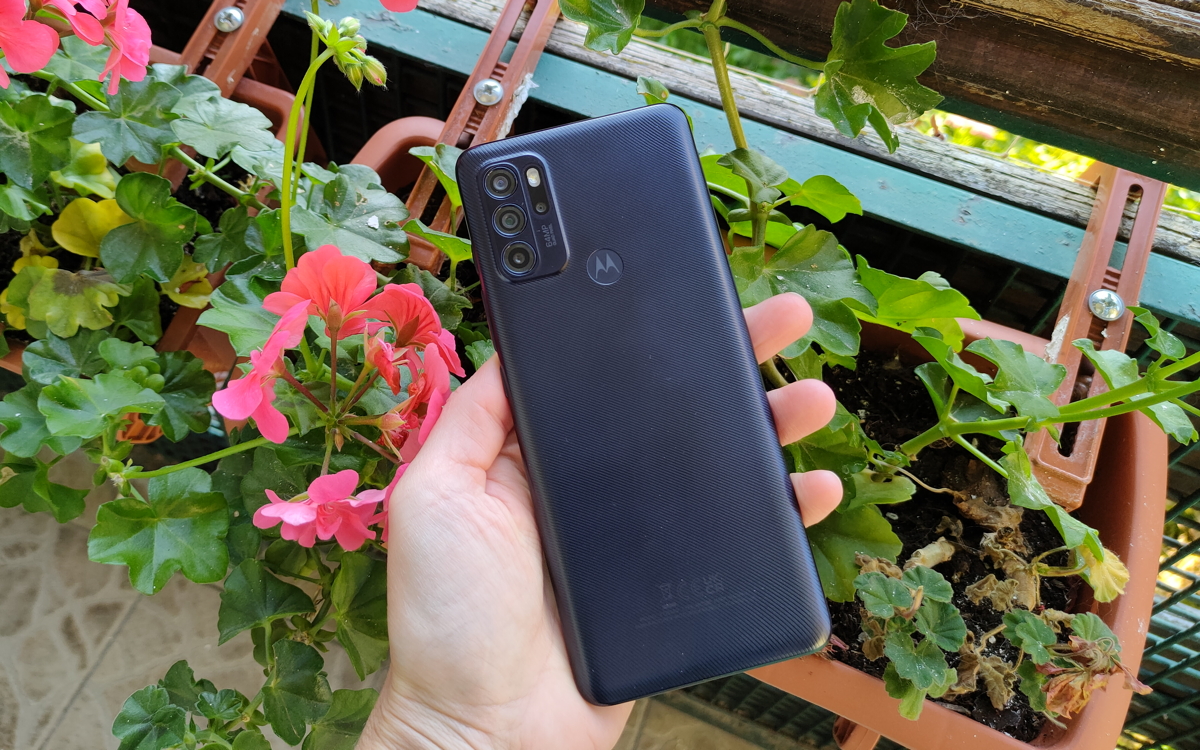 By the way, there's an another G60 model with a large 6.8-inch display. It has a Qualcomm processor, not MediaTek, and a better battery capacity. It was originally created for the Indian market.
The new phone costs $300. Not the cheapest model, but bot exactly expensive either. The Moto G60s stands out with a quad camera, 50W fast charging, 5000mAh battery, and a large display. Let's figure out what the Moto G60s is and is it worth your attention.
Read also: Motorola Moto G50 review — Extremely Affordable 5G Smartphone
Full specifications of the Moto G60s:
Screen: IPS, 6.8 inches, 2460×1080 pixels, 120 Hz refresh rate, HDR 10, 20:9 aspect ratio
Processor: Mediatek Helio G95
Video: Mali-G76 MC4
Memory: 6 GB RAM, 128 GB UFS 2.1 ROM, microSDXC card slot up to 1 TB
Battery: 5000 mAh, fast charging 50 W (Moto TurboPower, Quick Charge 4).
Main camera: 64 MP f/1.7 main module, phase autofocus; wide-angle module 8 MP f/2.2, 119 ̊; macro module 5 MP f/2.4; depth sensor for background blur 2 MP
Front-facing camera: 16 MP, f/2.2
Data transmission: LTE, NFC, Wi-Fi a/b/g/n/ac 2.4 + 5 GHz), Bluetooth 5.0, GPS (A-GPS, GLONASS, Galileo), USB Type-C
OS: Android 11
Dimensions and weight: 167.7×75.9×9.6 mm, 212 g.
What's in the box
Everything is as usual: you've got the phone, a case, a cable, a charger, documentation and a SIM eject tool.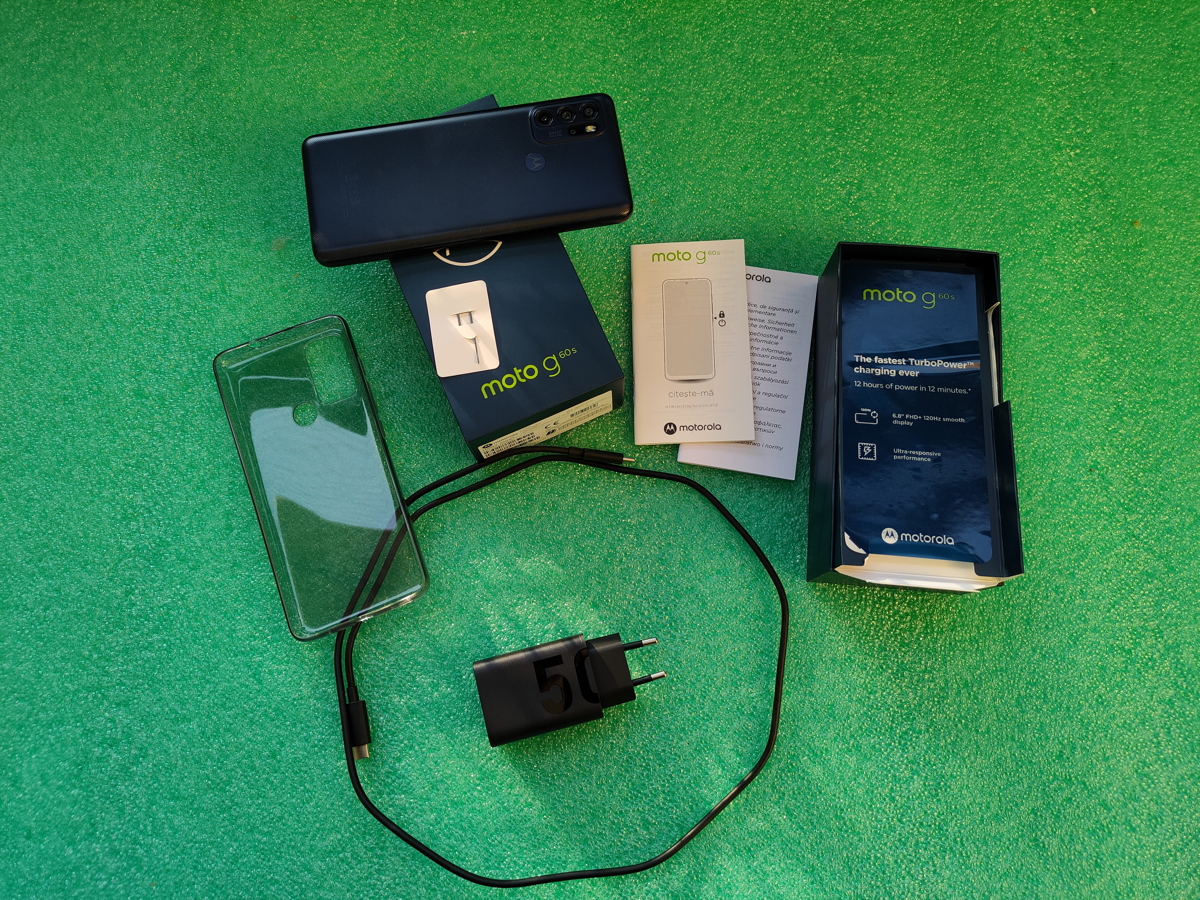 The silicone case is the simplest type, without any interesting elements. It's fine, for a while at least. By the way, it has a grayish tint, which is a plus – when it turns yellow, like any silicone, it will not look bad.
But charging is the highlight of the program. Most often, budget models are supplied with 20 W or 30 W chargers, but here we have a weighty 50 W brick. And not simple, but with two USB-inputs – regular USB-A and more modern USB-C. You can use whichever cable is more convenient for you. And, if necessary, charge two devices with one charge.
Read also: Moto G100 Review: Not a Computer, But It's Close
Design
Before us is the classic "brick" of the G-series (nothing like the Edge line). It looks like most of the G-series devices and a lot of other inexpensive smartphones.
The device is thick (9.6 mm), weighty (212 grams), huge (6.8-inch screen and not the narrowest bezels). It is possible to use it with one hand, but it is inconvenient. So I warn you right away, if you want a compact phone, look at something else. The Moto G60s is quite a unit. However, some people love big phones for their big screens. Or maybe they just have big hands. To each their own.
Let's look at the device from all angles. The front-facing panel, of course, is covered with glass. There is no data on whether it is a Gorilla or any other type of protected glass. There is an oleophobic coating, so the screen does not collect fingerprints much and it is easy to wipe them. The bezels of the screen are not too narrow, but this still a budget phone.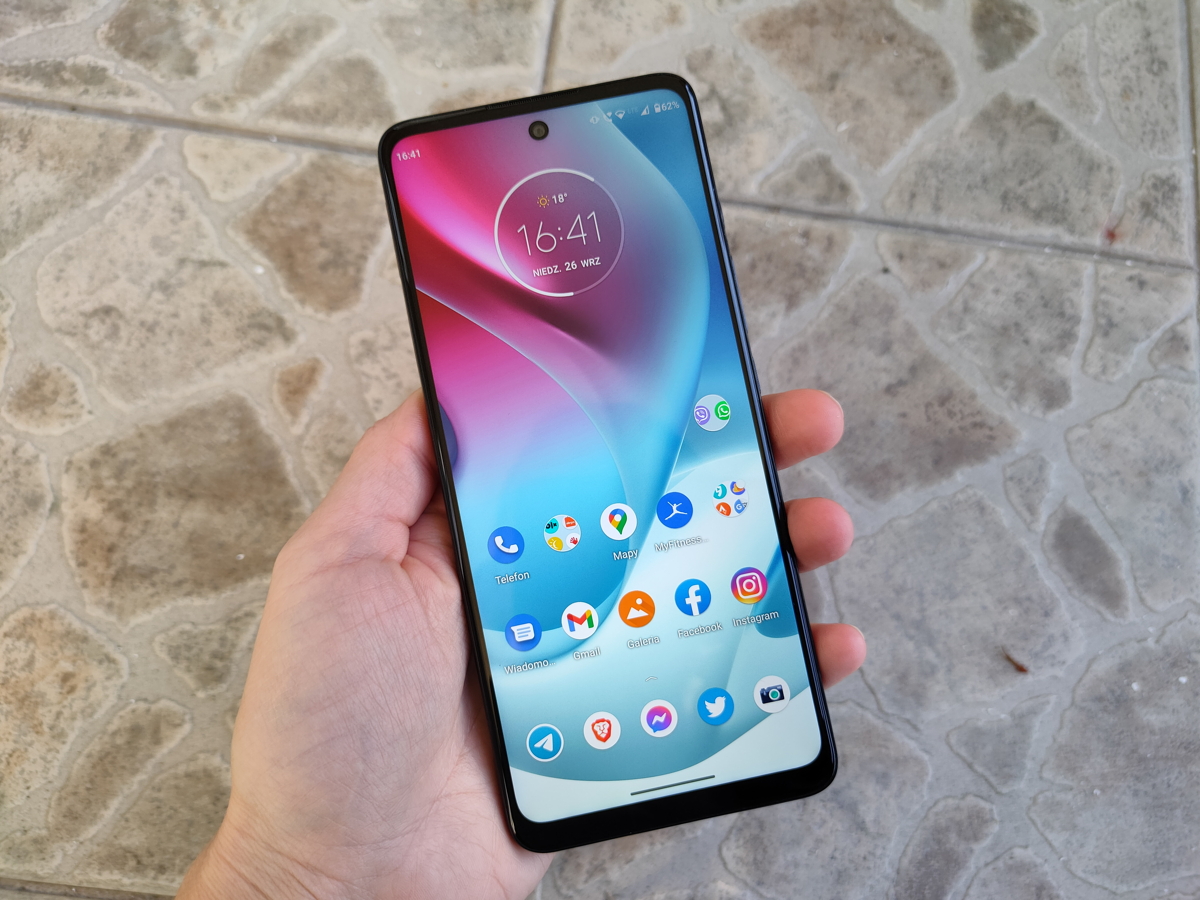 There's an obvious "chin" below.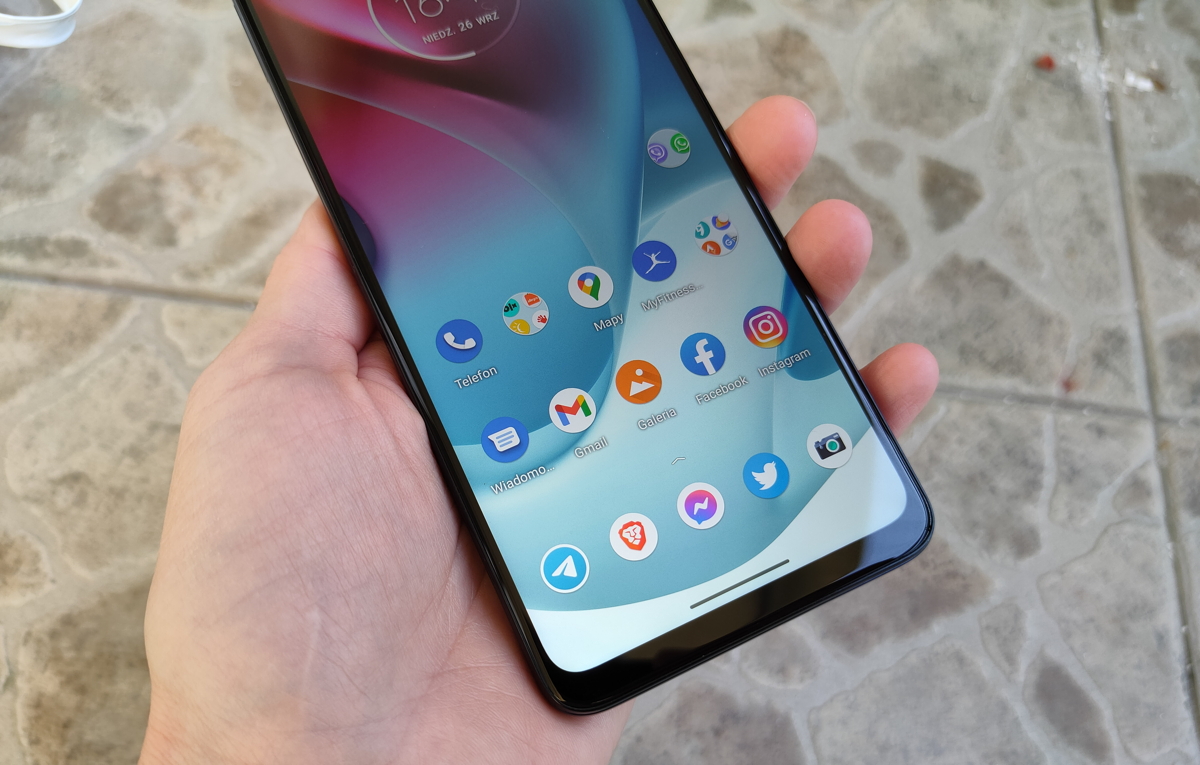 The selfie camera is embedded in the screen and is located in the middle. I also saw more accurate cameras even among affordable devices, and in the case of the Moto G60s the hole is quite large.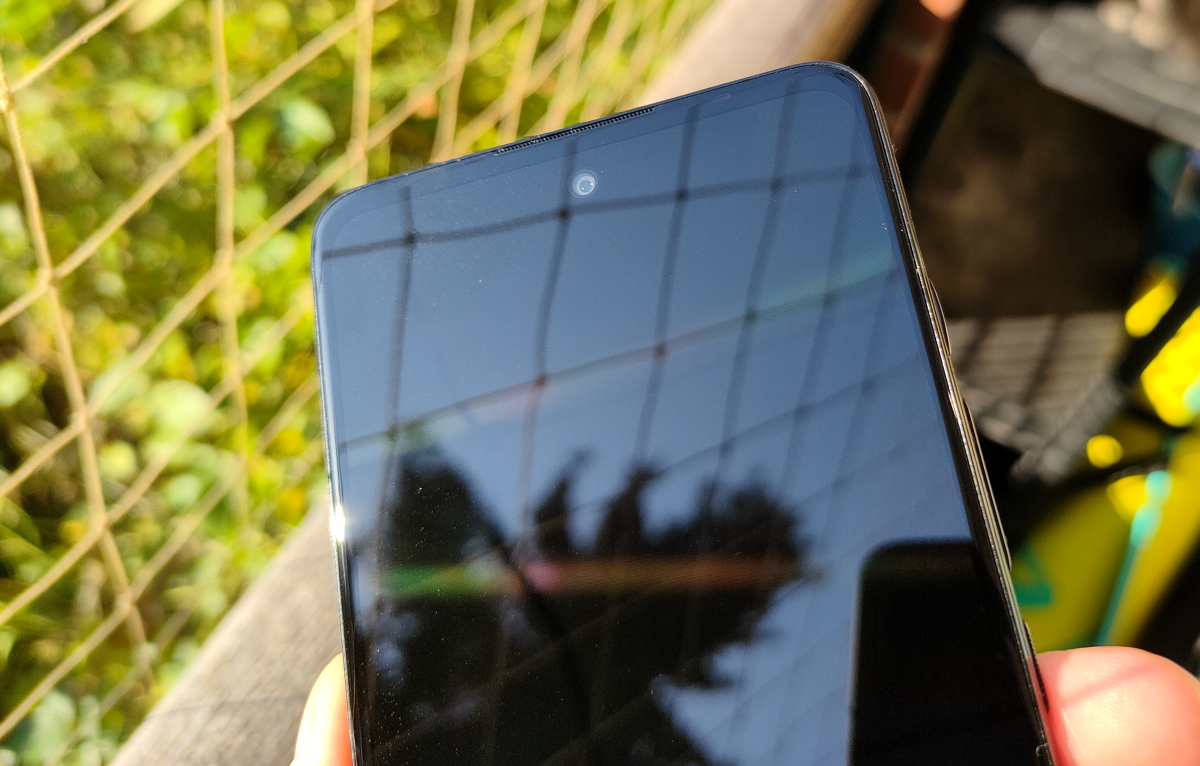 Many apps have a black bar at the top by default. In the settings, you can choose which apps or games should run in full screen mode.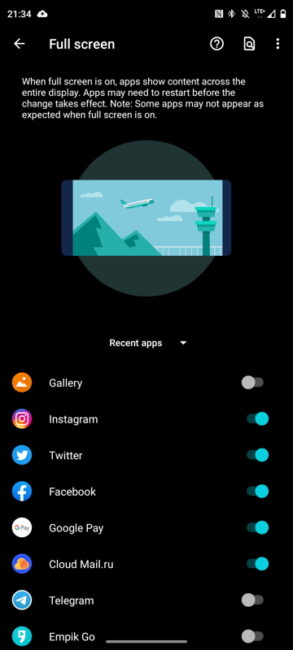 To make the plastic back cover less boring, Moto decided to give it a texture. The Moto G10 has a nice-looking wave, and this one has something similar.
The panel is matte; it hardly collects fingerprints. Scratches on it will obviously not be visible either. There are two colors – gray-green and dark blue. Both are so-so in my eyes.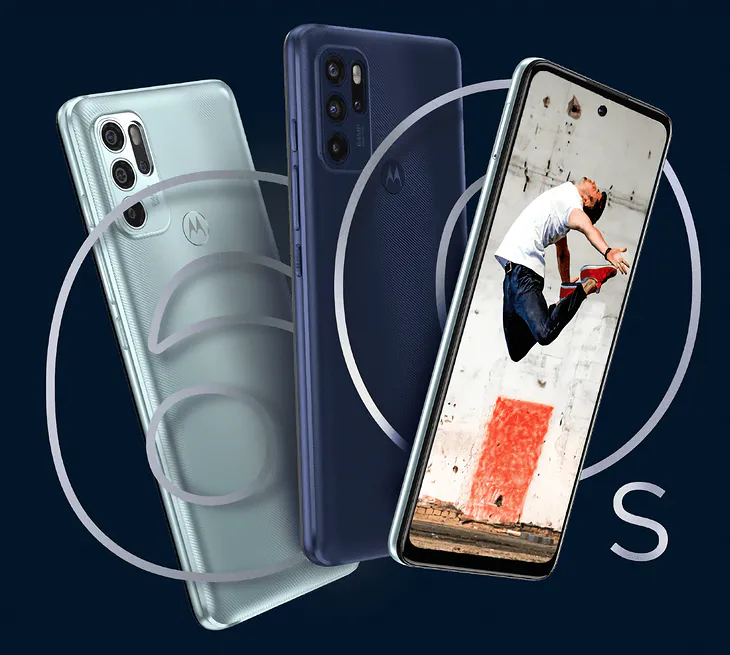 The camera unit with flash is located on the protruding module. He protrudes a bit. You can pay attention to the fact that the "windows" of the cameras themselves are noticeably larger than the lenses.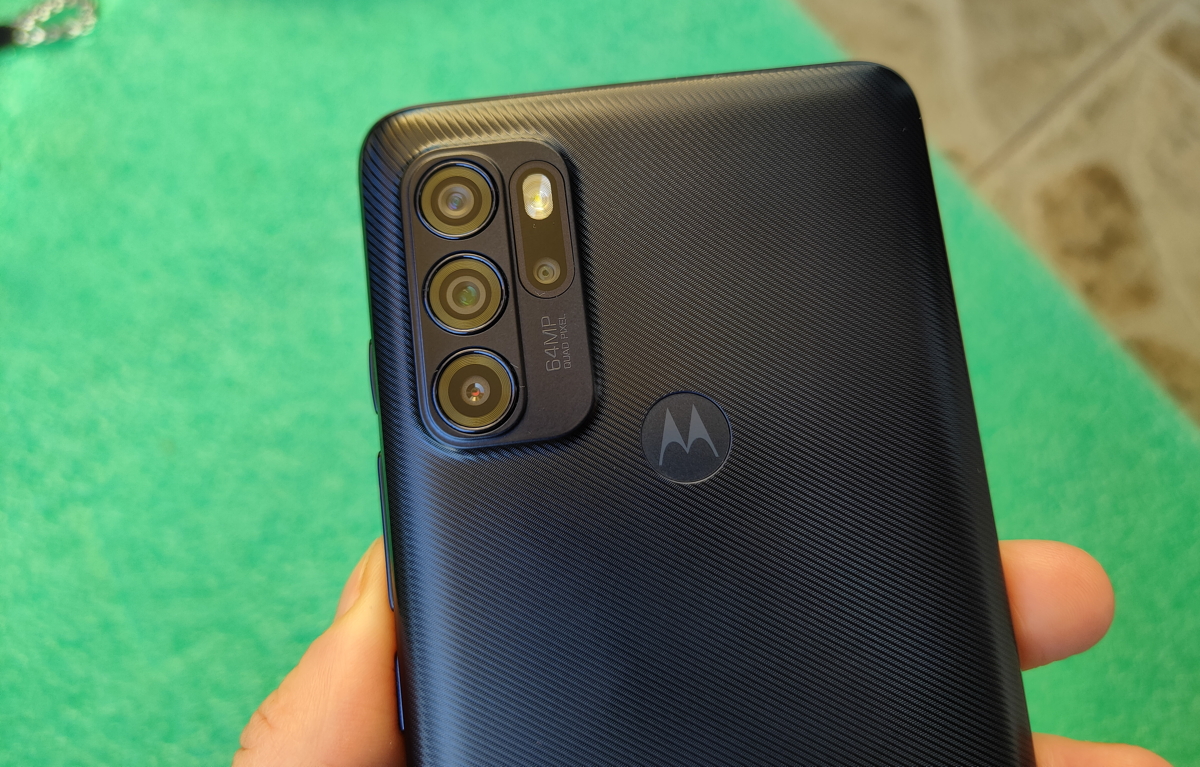 Also on the back is a fingerprint scanner. Sadly, it's not on the edge. It works fine. If you put on the cover, then the index finger conveniently falls directly into the recess, and you get used to it quickly.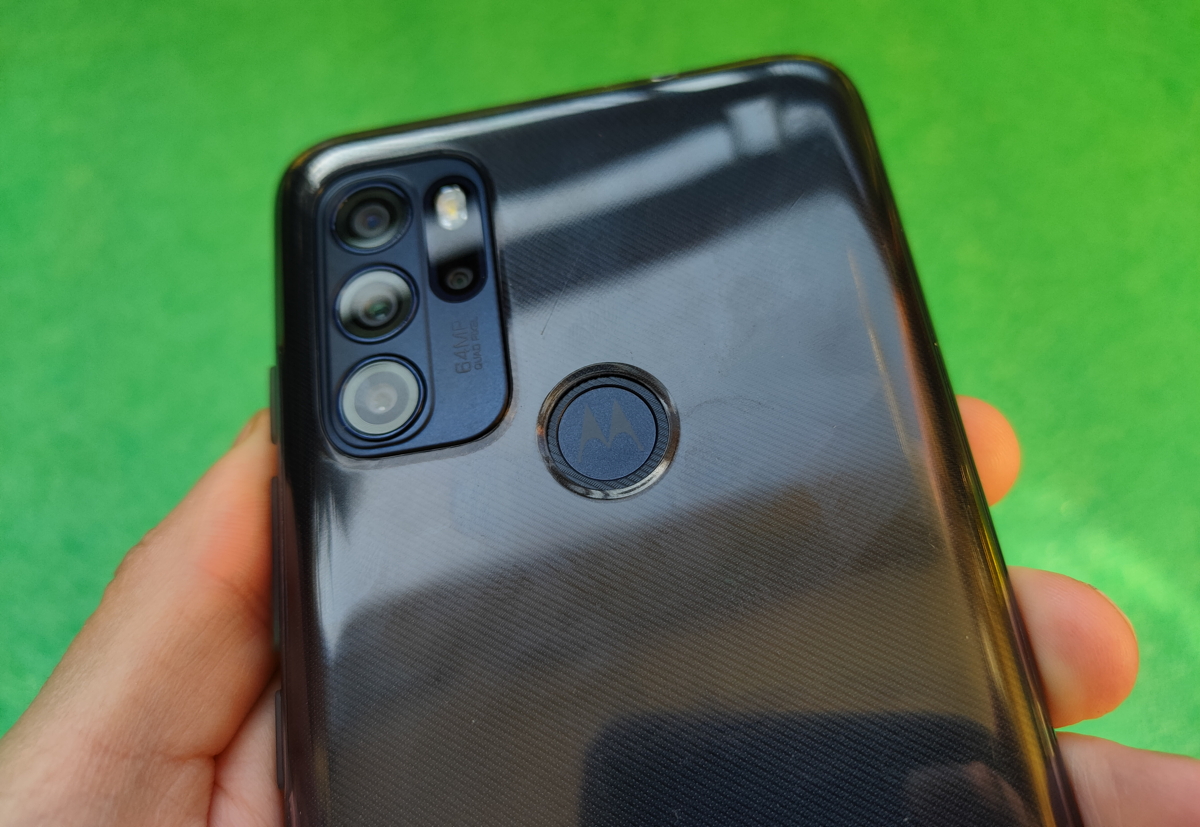 On the left side of the smartphone there is only a slot for SIM cards and a memory card (combined – you get either two SIM cards, or one + a memory card).

On the right side there is a separate Google Assistant call key (you cannot reassign it, but you can disable it in the settings), a double volume rocker and a power / lock button with a ribbed surface. In my opinion, the keys are located too crowded, out of habit I could not immediately find, for example, the volume control. Also, the power key could be larger.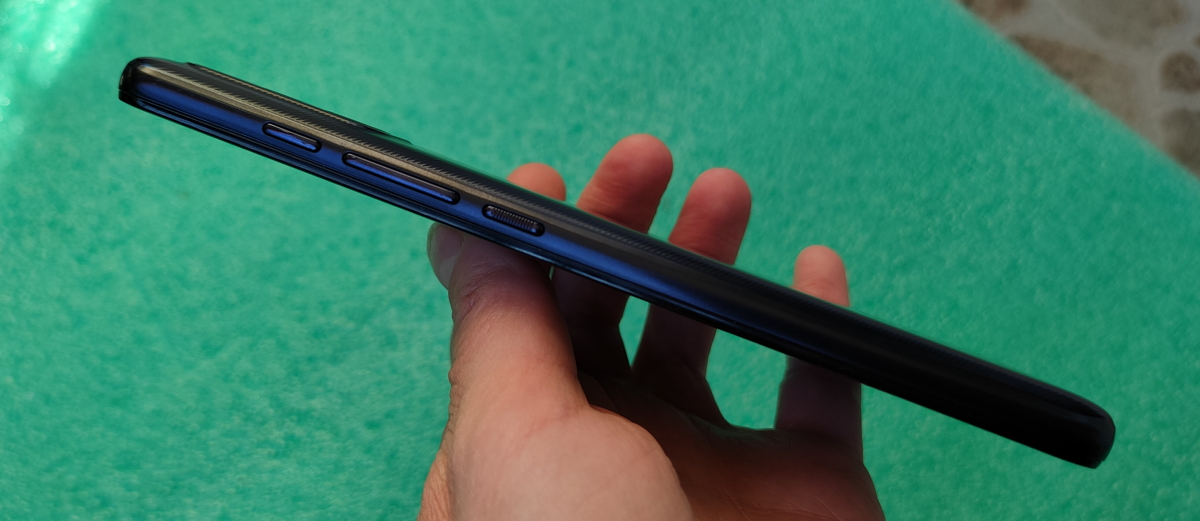 At the top of the smartphone there is a microphone that acts as a noise suppressor, as well as a 3.5 mm headphone jack. It's good that Moto does not abandon this port.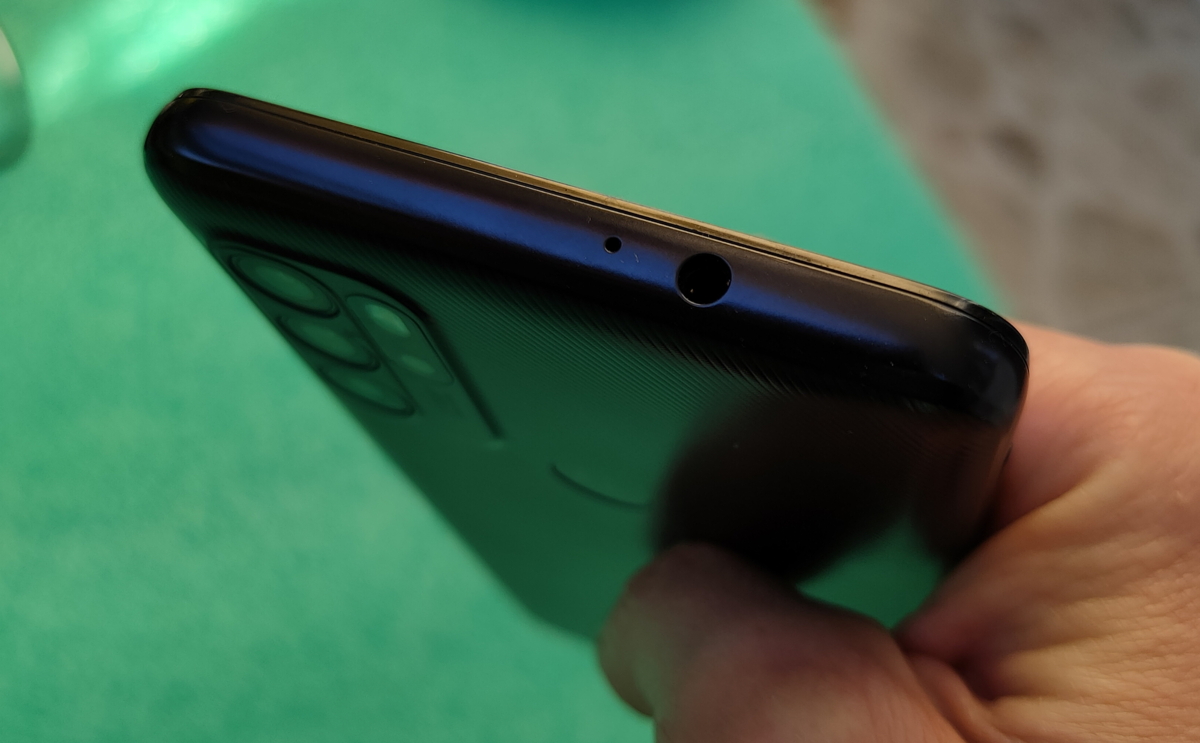 At the bottom there is another microphone, speaker and Type-C charging connector.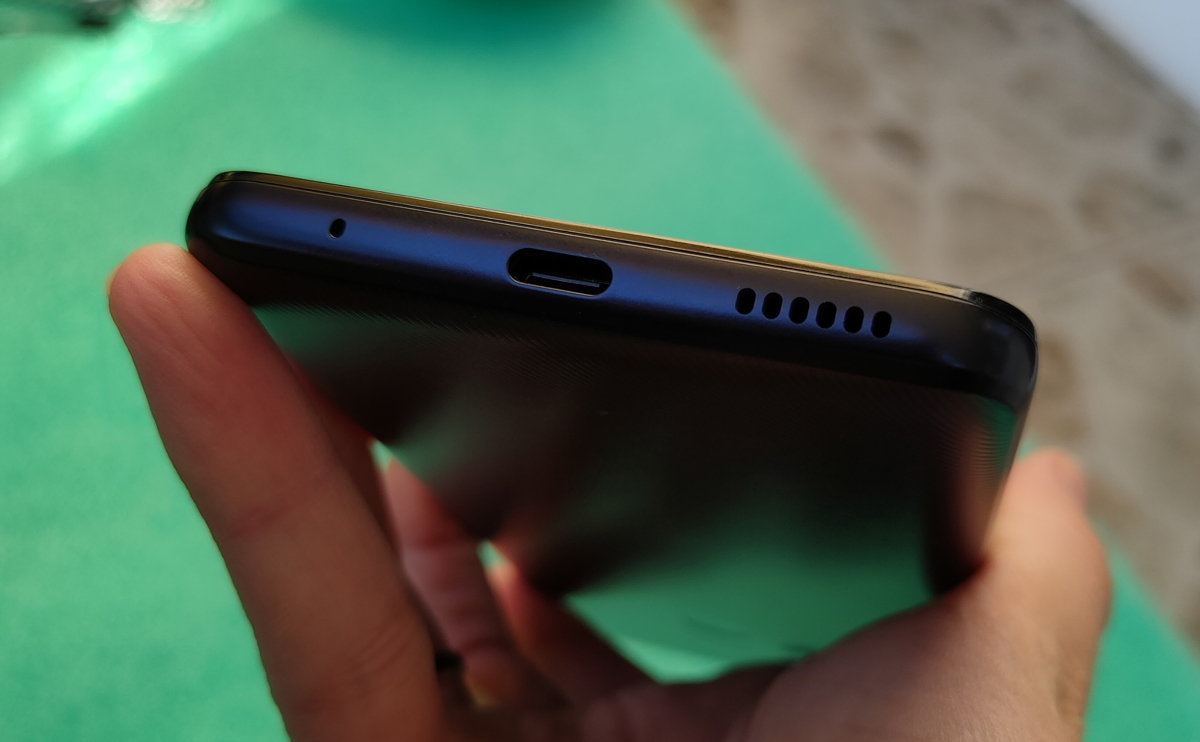 The build quality of the smartphone is perfect. The Moto G60s case has a hydrophobic shell, it is not afraid of drops of water and rain (IP52).
Read also: Motorola Moto G30 review – Impressive Budget Smartphone with 90Hz Display
Moto G60s display
The Moto G60s screen, like the other G-series models, is IPS. There is support for HDR10. The shades are pleasant, there is no graininess, good viewing angles without distortion, of white levels, brightness and contrast. Perhaps the depth of the black color could be higher. The large display makes a very good impression, taking into account the price category of the smartphone (excuse me for my photos, I temporarily lost my good camera).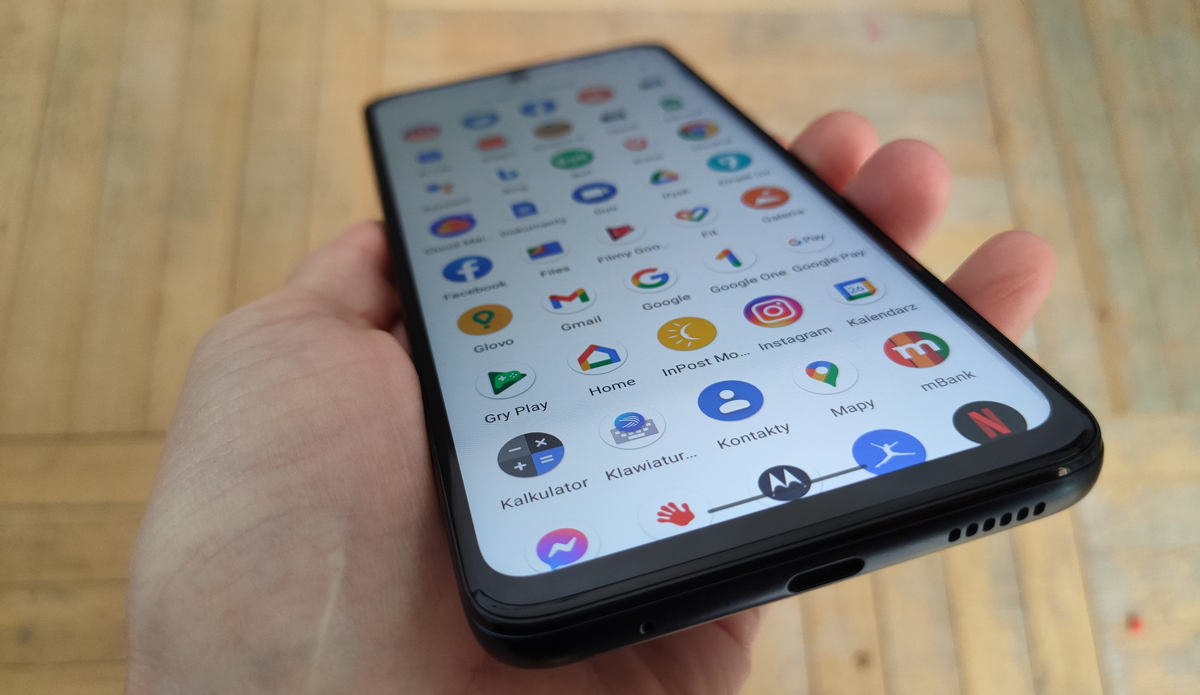 An important advantage for the inexpensive model is the 120 Hz screen. The G50 and G20 have 90Hz, and they look good. But 120 Hz is even smoother! There are three modes – automatic, 60 Hz or 120 Hz.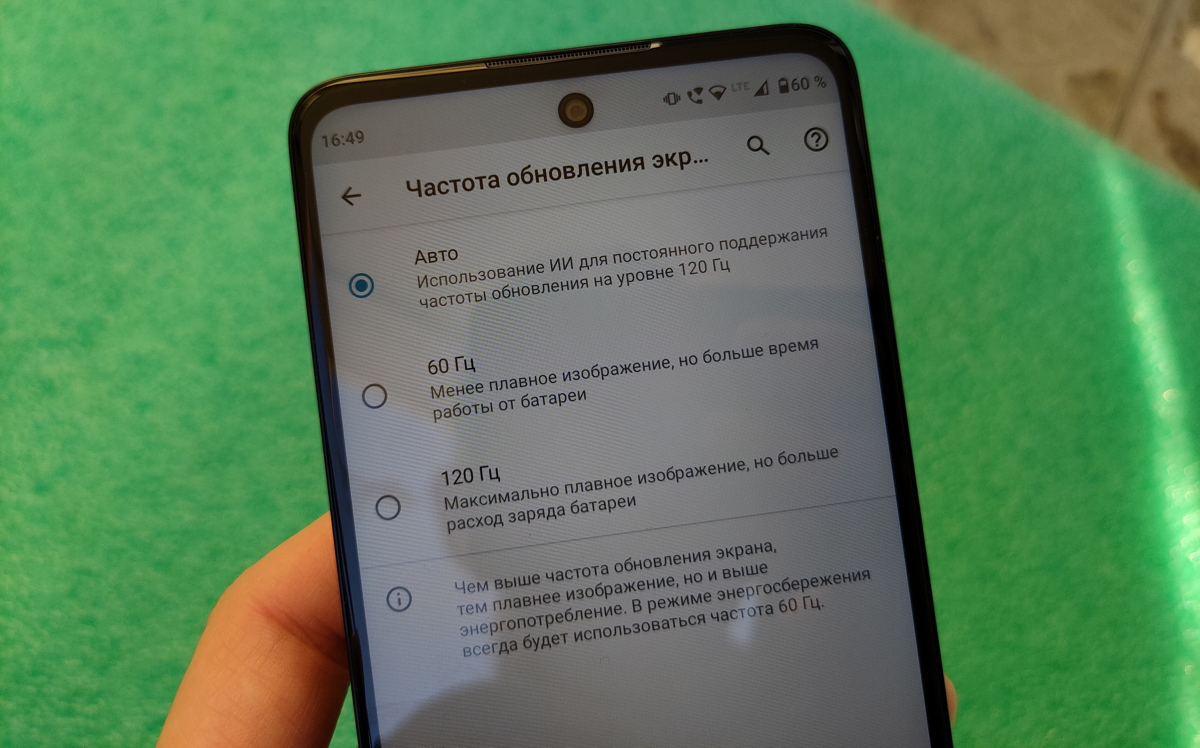 Automatic brightness change works fine. There is an option for adjusting the color temperature.
The display fades in the sun, the maximum brightness level is low (according to tests, the device supports 560 nits max).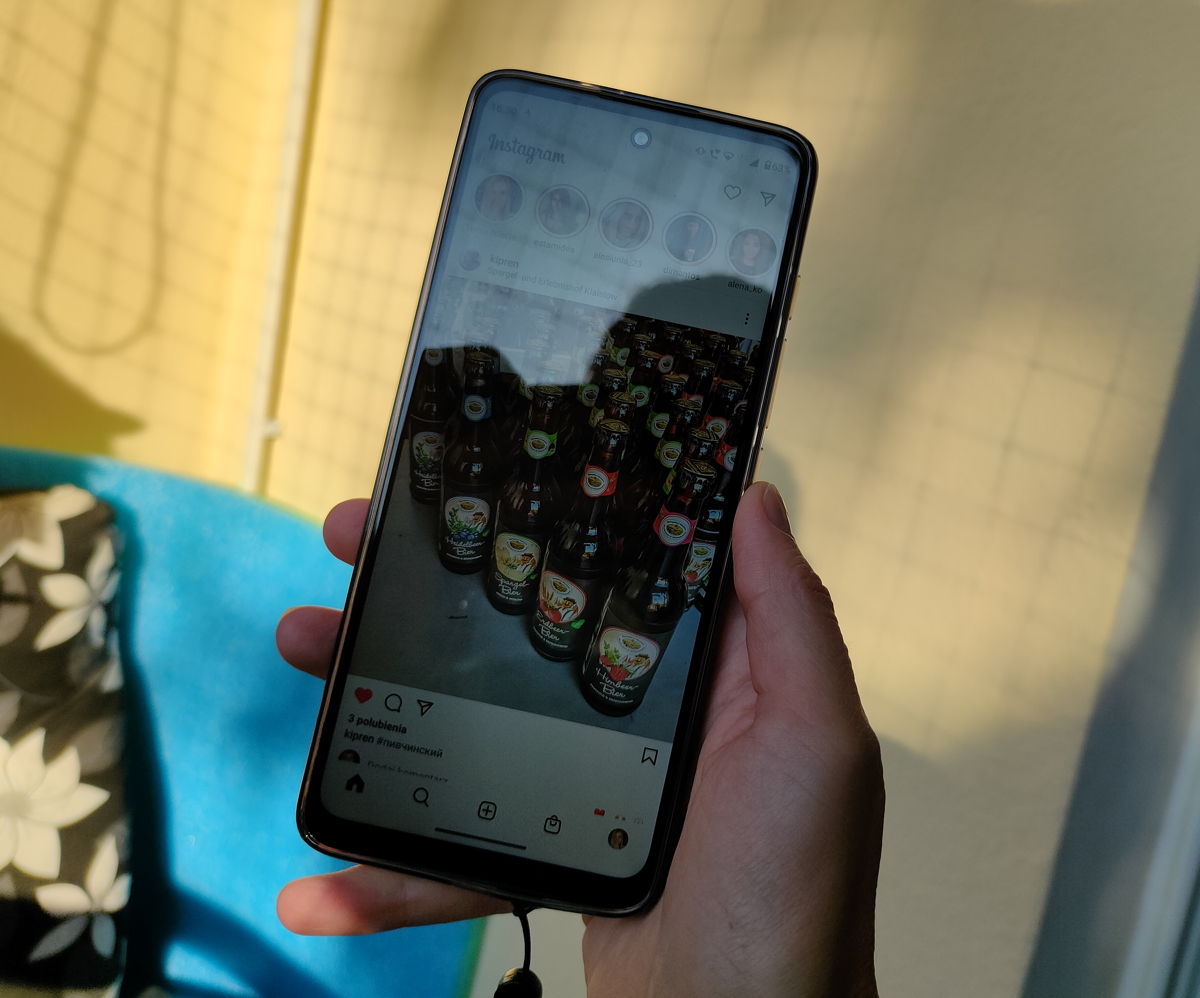 Read also: Motorola Moto G10 vs Moto G20: Which Twin to Choose?
The hardware and performance of the Moto G50
The device is powered by the Mediatek Helio G95 mid-range chipset. The chip is not the newest, it is more than a year old, based on the 12 nm process technology, with no 5G  support. It contains two Cortex-A72 cores running at 2.05 Hz and 6 Cortex-A55 cores at 2 GHz. Nothing outstanding: already outdated versions of WiFi 5 and Bluetooth 5.0, relatively slow UFS 2.1 memory. The processor features MediaTek HyperEngine technology that improves gaming performance.
But I'm not going to scold the device. The processor may not be the newest, but it is powerful. In addition, we have a decent amount of 6 GB of RAM. It often happens that after top-level devices, I get weaker smartphones for testing. It's often difficult to change expectations; you want to complain about how slow a phone is, even though it's not considering the price.
I didn't just test the Moto G60s, but I used it as my main phone for two weeks (because I sold my iPhone 12 Pro to order a new one). And there was no feeling that I downgraded! Yes, the device is not as fast as a top-end iPhone, but it is quite suitable for daily use. In basic tasks everything is fast, demanding games run great, while the phone practically does not heat up. This inexpensive device is comfortable to use, most users will be satisfied.
In Geekbench the device is gaining about 1600 points, in AnTuTu it got 263 630 points. In general, the performance of the G60s is comparable to the aforementioned G50, but it benefits from a larger amount of RAM.
Cameras
Motorola is positioning the G60s as an inexpensive device with good cameras. I can say that the cameras are decent. Taking into account the price of the device, of course.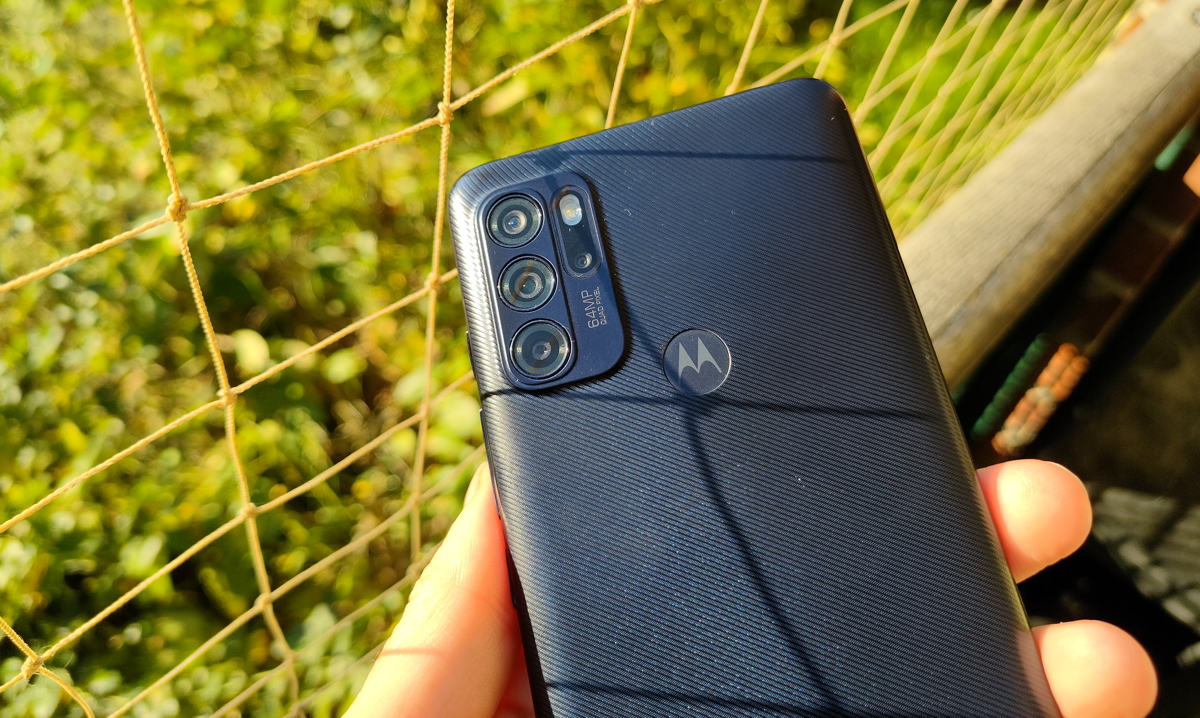 The camera block consists of three main lenses and an auxiliary 2 Mp depth sensor. The main set has a 64 MP wide-angle module, a 8 MP ultra-wide angle and 5 MP macro camera. Instead of a macro lens, I would prefer a telephoto lens for getting closer to objects without losing quality.
In good light, the pictures from the main cameras are excellent. It is worth noting that, as always with Motorola, the Quad Pixel technology is used, when 4 pixels are combined into one for better quality, so we get 16 megapixel images at the output.
If the lighting is weak, at least the usual room lighting, then the clarity decreases, noise appears, the color rendition gets worse.
In the dark, everything is bad, with awful color rendition and sharpness.
Night mode (proprietary NightVision) works only with the main module. And, frankly, it's not impressive. It brightens the image, making it look unnatural. Example on the right:
The wide angle lens is fine. Yes, the color rendering is worse than in the photo taken from the main lens, but sometimes you need to fit more into a shot. Examples of photos on the right:
Macro lens is another story. It is suitable for photographing from a minimum distance (about 4 cm). You can't use it to bring objects closer (not to be confused with a telephoto lens).
Yes, you can get more or less clear close-up shots, but they will have a low resolution (5 megapixels) and not the best color reproduction. Plus, to take a clear photo, you have to hold the phone steady and hope that no wind will blow on the object. Few people will bother. Look at examples of photos in their original resolution (you can find them here), everything looks better on miniatures.
In addition, the main lens also takes good close-up photos (albeit not from such a short distance). At the very least, the background can be blurred.
Oh yeah, I don't recommend using a wide-angle lens or macro lens if the lighting is worse than ideal. You'll just waste your time.
The selfie camera is fine, taking into account the cost. With good lighting, you can get okay selfies for Instagram or something.
ALL PHOTOS IN THE ORIGINAL RESOLUTION
Video recording can be carried out in the following modes:
Main module: UHD 4K (30 fps), FHD (30 fps)
Ultra Wide: FHD (30 fps)
Macro: HD (30 fps)
On the one hand, there is 4K, on the other, you cannot shoot at 60fps, even in HD!
And, frankly, even in good lighting, the quality is deplorable. The problem is with clarity, depth, dynamic range. And even if you record in HD, there is no stabilization, everything is shaking. It is better not to turn on the video recording mode at all. Examples:
As a "compensation" Motorola offers slowmo mode, highlighting one specific color in the recording, slow motion video, as well as dual recording, which allows you to simultaneously record video from the front and main cameras. But all this is not encouraging considering the quality.
The camera UI is standard for Moto. It's intuitive and convenient. In addition to standard shooting modes, there is also "selective color" mode (leaves one color in the photo), panorama, "live" photos, filters in real time, PRO-mode with RAW support.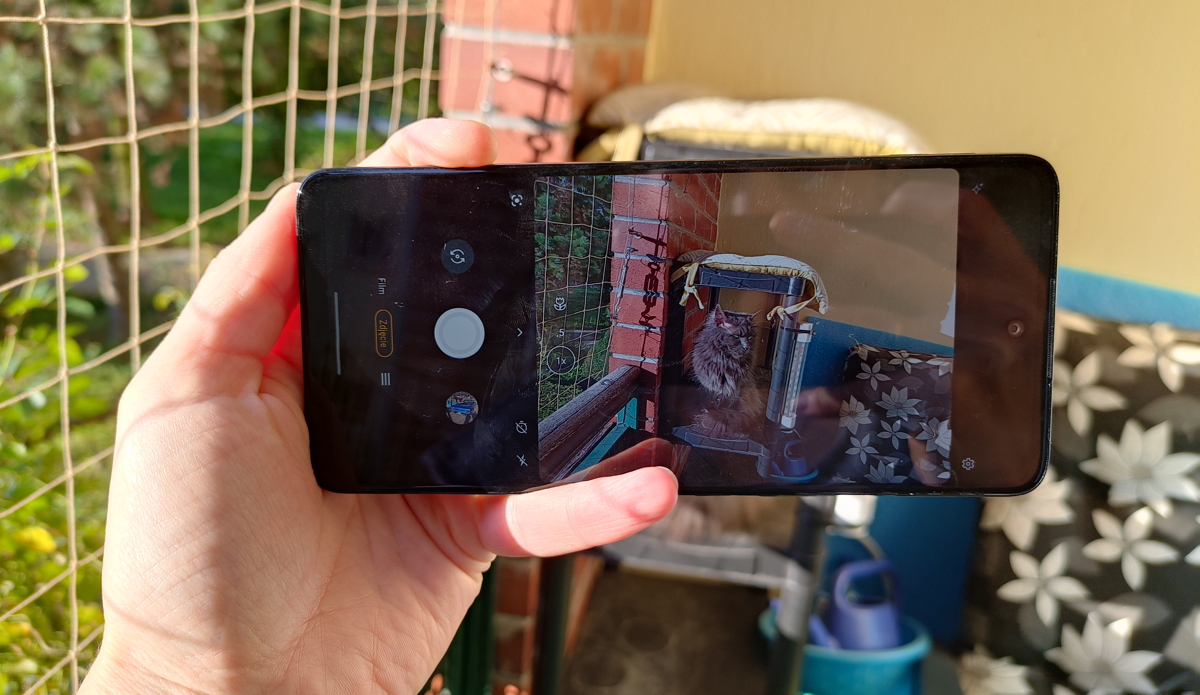 Read also: Moto Edge 20 review: Why do we need flagships anyway?
Read also
As noted in the section about the chipset, everything is there, but outdated in some places. WiFi 802.11 a/b/g/n/ac 2.4 + 5 GHz, Bluetooth 5.0, NFC, GPS, GLONASS, Galileo. There is no 5G, because, again, the chipset does not support it. There is a compass (magnetic sensor).
Everything works fine.
Sound
The main speaker is monaural, loud, with decent sound even at maximum volume. The sound quality is good in the headphones (tested with wireless buds from Huawei). The presence of a 3.5 mm jack is encouraging. The system has an equalizer that allows you to customize the sound to your liking.
Software
The Moto G50 runs on fresh Android 11 out of the box. There will be an update to Android 12, but when is unknown.
The traditional advantage of Moto is nimble, "clean" Android, perfectly optimized for work on a specific "hardware". There's a special launcher, but it does not differ significantly from the usual Android.
There's a nice feature that allows you to preview notifications on the locked screen (Peek Display).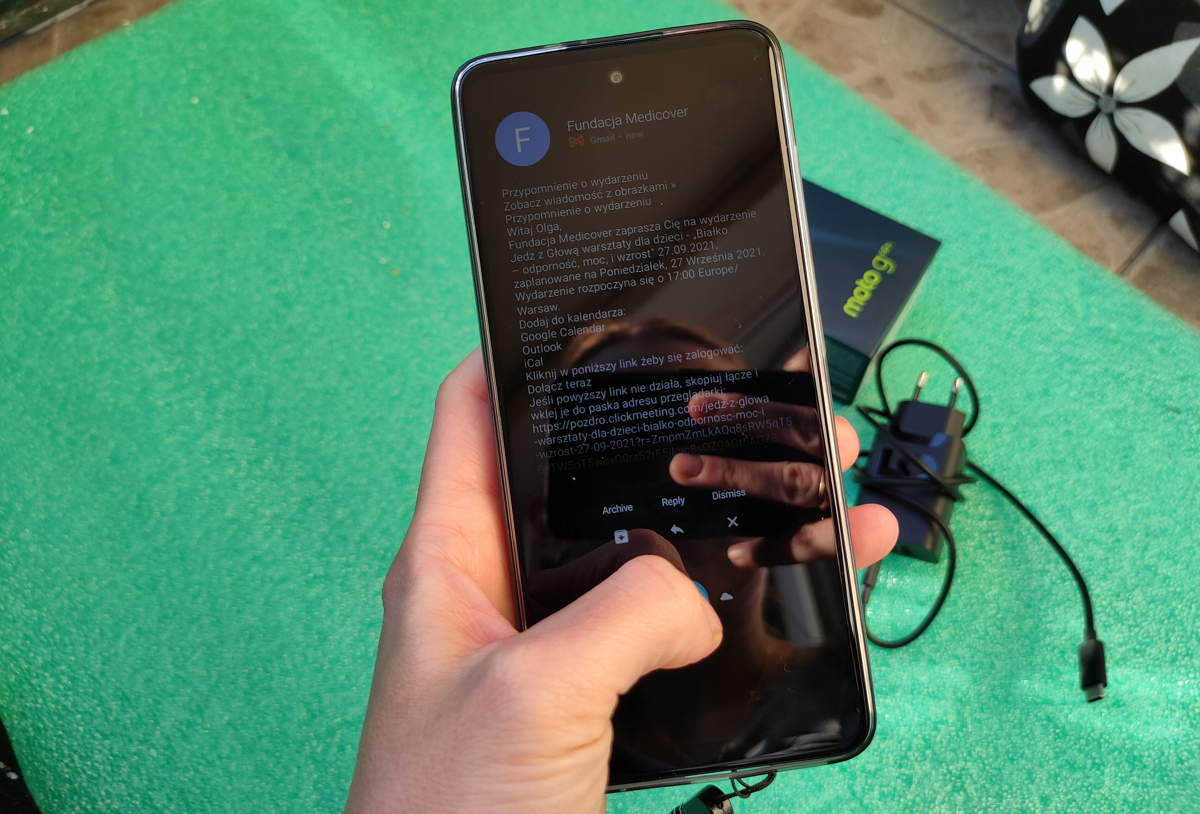 And, of course, there are Moto Features, customizable in a separate app. You can manage gestures, themes and other features.
You can also run applications in a separate window during the game. But their choice is very limited. There is also an option to split the display into two, but not all apps support it.
Read also: Moto G 5G Plus review – A Bargain from Motorola
Battery life
The battery has a capacity of 5,000 mAh, for Moto (at least in the G-series) this is the gold standard. An energy efficient processor, well-optimized hardware and software … in short, the device is very tenacious. I used the G60s for two weeks, and I ALWAYS had enough charge until late at night. Like, spear 30 percents.
It is extremely important to note here that I almost never let go of the phone, I surf the Internet, I take a lot of pictures, and so on. With active use, the iPhone lasted for me until 4-6 pm at best. If you are not as crazy as I am, your Moto G60s will be last 2-3 days without any problems. The adaptive mode does not greatly affect the battery life at all, which is nice. In general, the Moto G50 can offer you 9 to 15 hours of work, depending on the task.
There is no wireless charging, of course, but the Moto G60s is an inexpensive smartphone.
5000mAh battery is nice. But you know what's even nicer? 50-watt TurboPower fast charging. Something you never see in affordable devices. It means you can get to 100% in less than an hour (about 50 minutes, to be more precise). In addition, the charging is compatible with the Power Delivery standard; I charged my MacBook with it without any problems.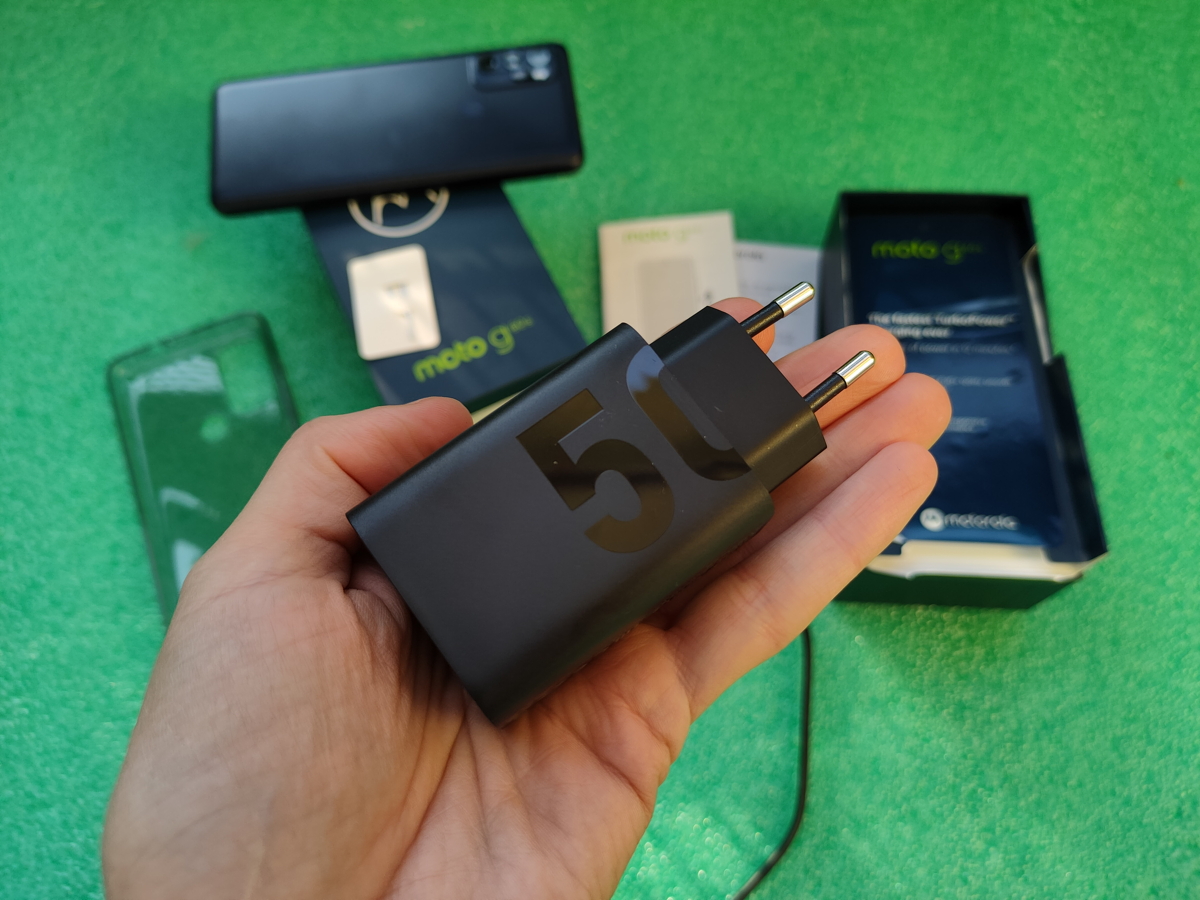 Motorola advertises that 12 minutes of charging is enough for 12 hours of smartphone use. I checked – in 12 minutes the device charges by about 35-40%. And if you do not use it as actively as I do, then this will be enough for 12 hours, so the manufacturer is not wrong.
Verdict
Motorola released another decent budget smartphone. The device is large, heavy and thick, but it has a 5000mAh battery and a 6.8-inch screen with excellent color reproduction and 120Hz refresh rate. Don't forget about fast 50 W charging (compatible power supply included). The Moto G60s is also worth praising for its 3.5mm minijack, microSD card slot, clean and well-optimized Android.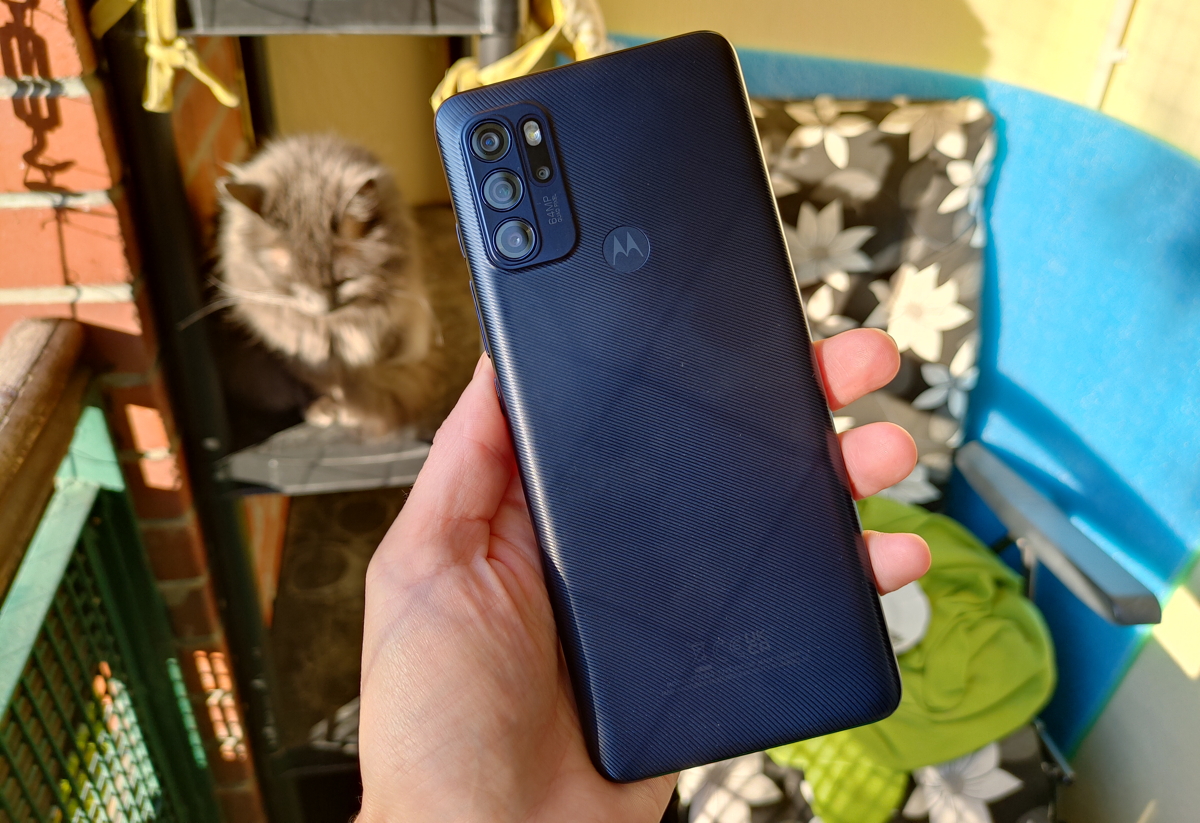 Perhaps the cameras could be better, including when it comes to video. But in general, with good lighting, you will get decent footage from the main module anyway. There is no 5G, but LTE speeds are more than enough for now.
And at the end of the review, let's talk about the competitors, you know that I don't let go of any phone without comparison. The device may be good in itself, but you gotta compare it with other similar models. So what can you choose as an alternative to the Moto G60s? There are many options.
For example, there is the Samsung A32. It is weaker in terms of hardware, but it is fast and takes good photos, and is equipped with a Super AMOLED display, a convenient OneUI shell, and it costs a little less.
No one can surpass the POCO X3 Pro with its 8 GB of RAM and 256 GB of storage. It also has a large display, 5160 mAh battery, 33-watt fast charging, stereo sound, a screen with 120 Hz refresh rate. The chipset is the advanced Snapdragon 860. The cameras are also not perfect, but the device is even a little cheaper than Moto G60s.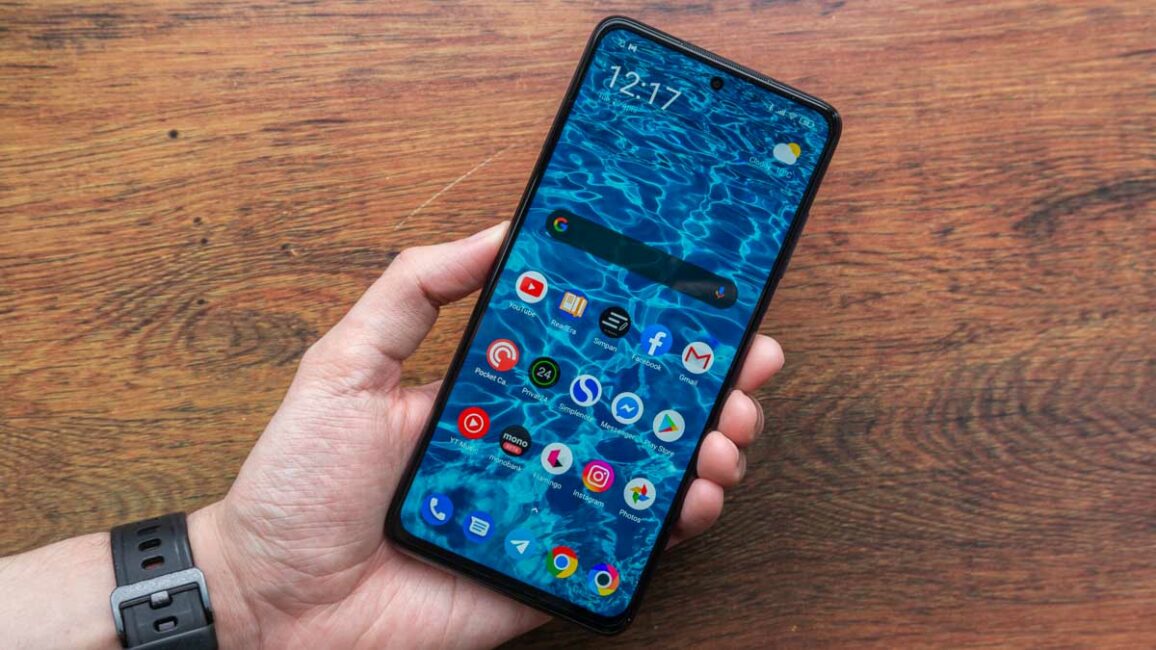 The Xiaomi Redmi Note 10 Pro 6/128 GB also looks like a very good choice. It costs only a little more, has an excellent AMOLED screen with a refresh rate of 120 Hz, is powered by a powerful Snapdragon 732G processor, has a 5020 mAh battery, is not too big and looks good. The main camera module has 108 megapixel resolution.
The main competitor of the Xiaomi Redmi Note 10 Pro (and Motorola) is the realme 8 Pro. It's a bright and stylish device with a Super AMOLED display (120 Hz), a powerful Snapdragon 720G chipset, an equally good 108 megapixel main camera, and 8 GB of RAM. And it also has an excellent 50W charging, although the battery capacity is just 4500 mAh. Read the detailed comparison between the realme 8 Pro and the Redmi Note 10 Pro here.
There's also the Xiaomi Redmi Note 10S 6/128GB, which costs the same as the Moto G60s. It's a relatively small device with a 33-watt charger and a Super AMOLED display (albeit without an increased refresh rate).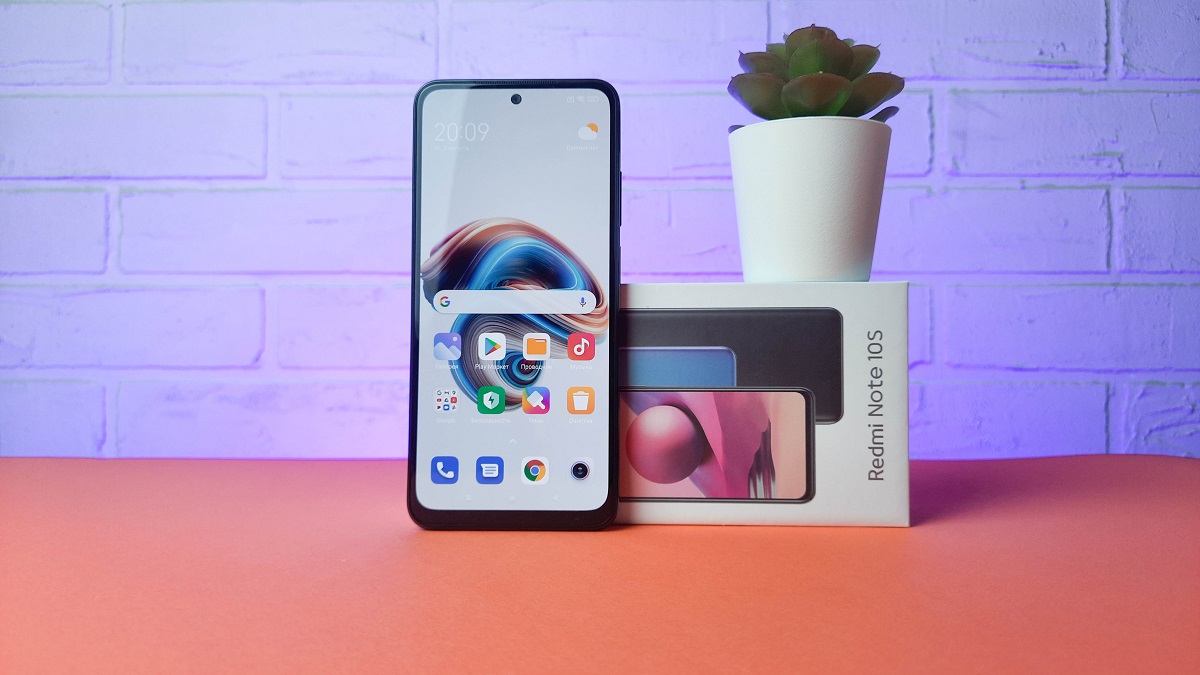 The base realme 8 in the 6/128 GB version is also extremely good. It has an excellent Super AMOLED display (but only with standard 60 Hz), good cameras (the modules themselves may not be perfect, but the post-processing makes all the difference. At the same time, the device is very compact (in the world of modern smartphones, of course). It costs about $50 less than the Moto G60s. We have a detailed comparison of the realme 8 and the Redmi Note 10S by Dmitry Koval.
Other interesting alternatives include the OnePlus Nord N10 5G and the OPPO Reno 4 Z 5G 8/128GB.
Read also: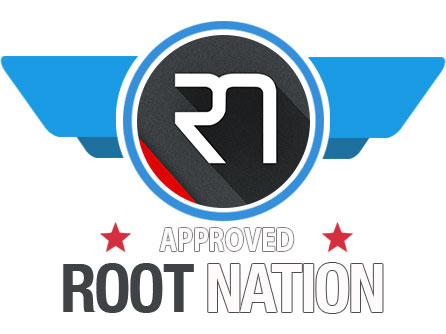 Subscribe to our accounts: