In this review, we take a look at an interesting mid-range phone from Motorola (the Lenovo company), which is relatively inexpensive and offers excellent performance for most users, as well as 5G. The Moto G 5G Plus saw the light of day in mid-2020 alongside the regular Moto G 5G. The hardware is what's different here.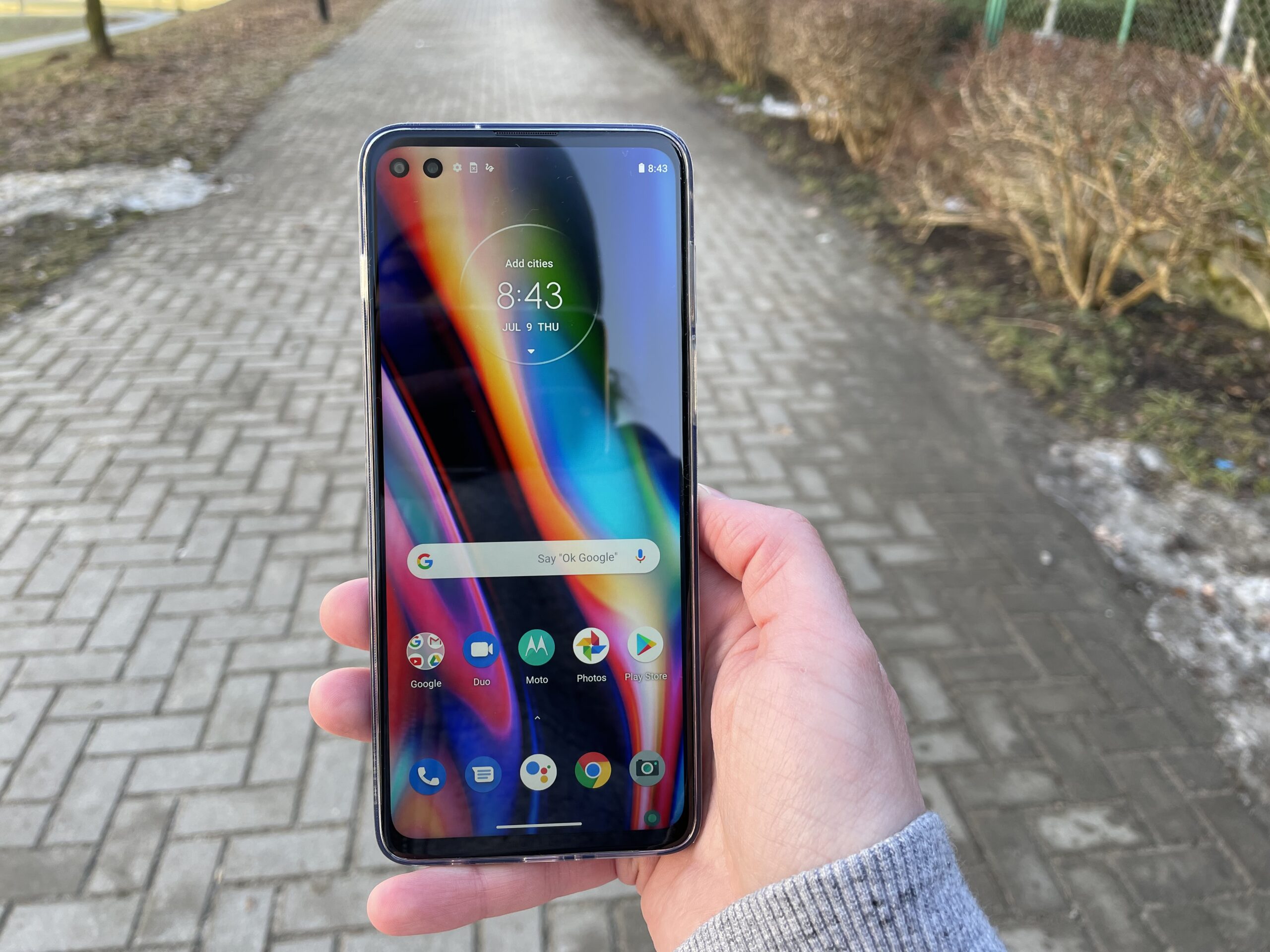 Specifications and price of Moto G 5G Plus
Screen: LTPS, 6.7 inches, 21:9 aspect ratio, 1080×2520 resolution, 90 Hz, HDR10
Processor: Qualcomm Snapdragon 765
Video accelerator: Adreno 620
Memory: 4/6 GB RAM, 64/128 GB ROM, MicroSD card slot up to 1 TB (combined – either a second SIM or memory card)
Battery: 5000 mAh, 20 W fast charging
Main camera: 48 MP, f/1.7, 0.80μm + 5 MP macro lens f/2.2, 1.12μm + 8 MP wide-angle f/2.2, 118°, 1.12μm + 2 MP depth sensor, f/2.2, 1.75μm
Front camera: dual, non-autofocus, 16 MP, f/2.0, 1.00μm + 8 MP, f/2.2, 1.12μm
Communications: LTE, 5G, NFC, Wi-Fi 5 (ac) 2.4 + 5 GHz, Bluetooth 5.1, GPS, GLONASS, BeiDou, Galileo, USB Type-C
OS: Android 10
Dimensions and weight: 168×74×9 mm, 207 g
Price: from $560
Read also: Moto G9 Plus review: A Decent Budget Phone with a Big Screen
What's in the box
In addition to the phone, the box contains a cable, a 20-watt charger, documentation, and a silicone case. I am glad that the manufacturer takes care of the little things.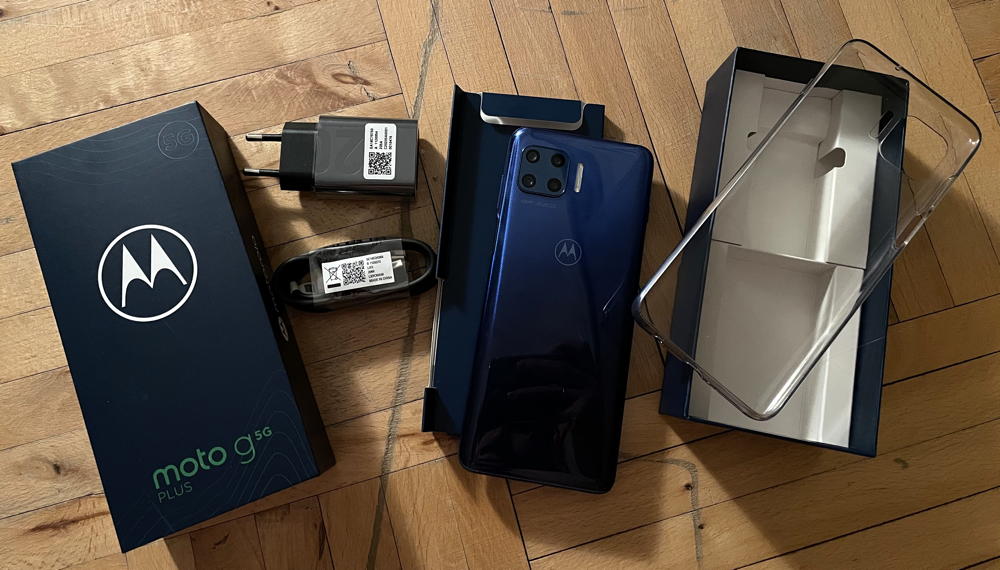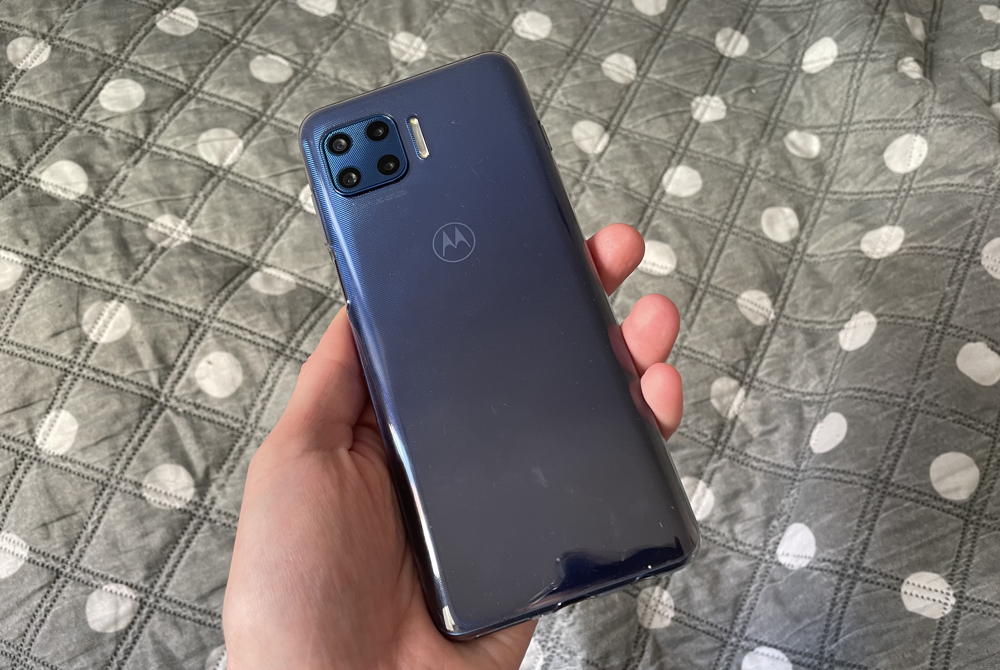 Moto G 5G Plus design
The Motorola Moto G 5G Plus looks great, although it is similar to many other mid-rangers. The body is completely plastic, the frame is made of matte plastic (you can confuse it with metal).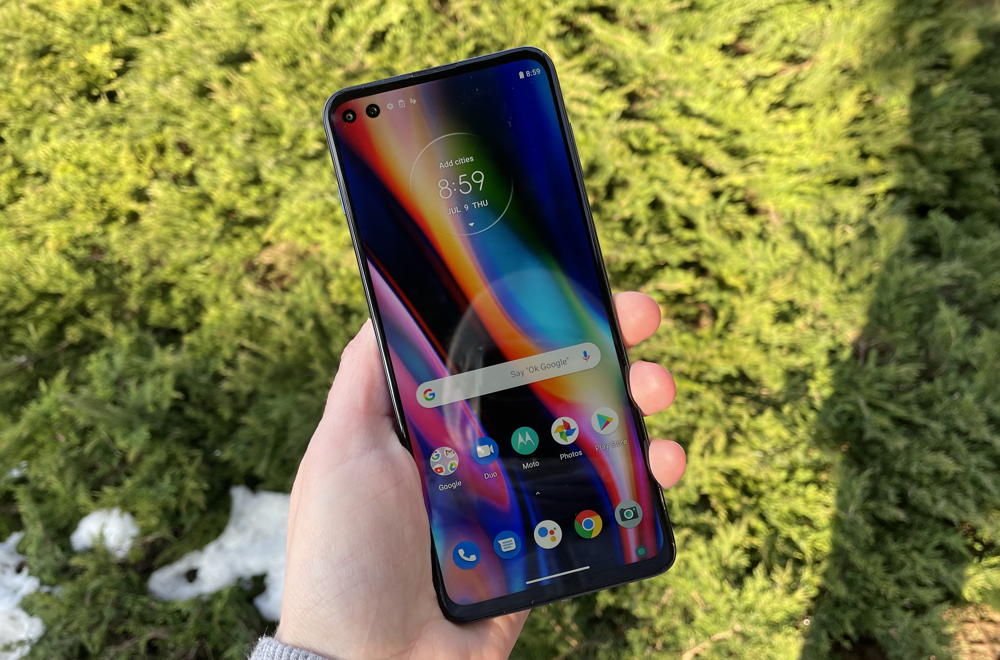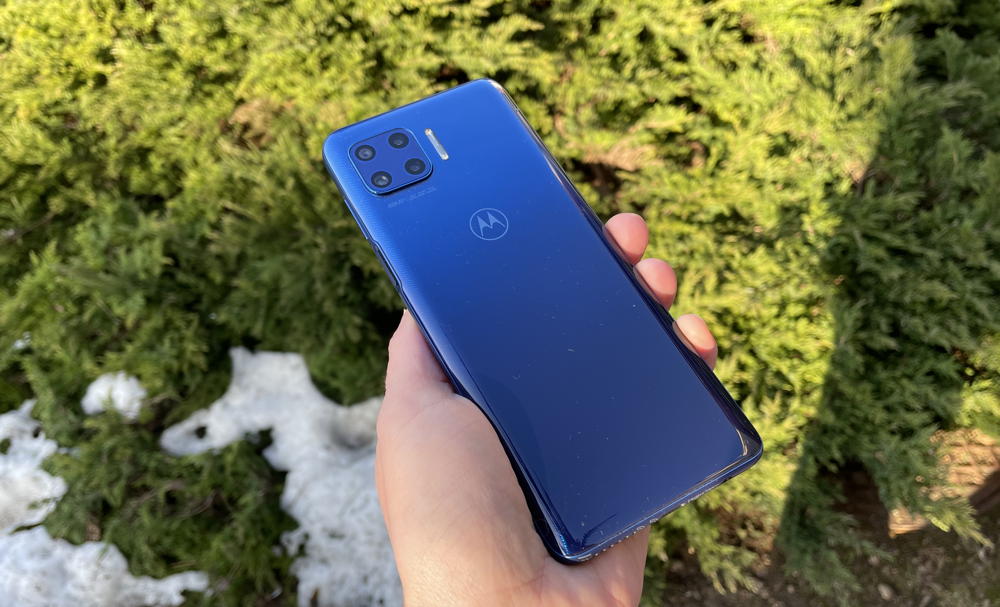 The back panel is glossy, has a nice pattern and shimmers in the light. It's not slippery, collects tons of fingerprints and scratches, but this is not a problem if you use a case.
The device fits perfectly in the hand, despite the large screen. The size is perfect: it is a narrow but long display (21:9 aspect ratio). You can use it with one hand, and thanks to the height, a lot of information fits on the screen.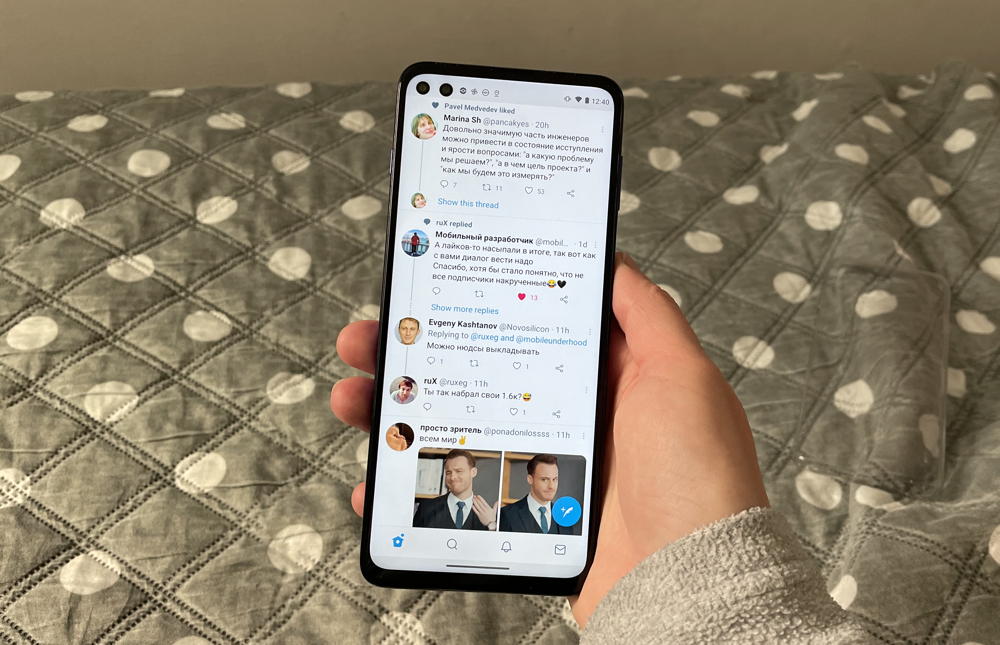 It is a pleasure to flip through Instagram or Twitter, or to use a browser. I recall my experience with the iPhone 11 Pro Max which was huge and wide, and it was torture to operate it with one hand. 12 Pro Max is even worse, as it is large and has rectangular edges. The Moto G 5G Plus is sleek by comparison. The device is not very thin and light, but the thickness and mass are great even for a woman's hand.
On the rear panel there is a raised block of cameras covered with glass. The standard case does not protect this unit in any way, so when the phone is on the table, the glass can get scratched. To the right of the camera block is a dual LED flash.
The front panel is a screen. It's not bezel-less, but it looks okay for a mid-range smartphone.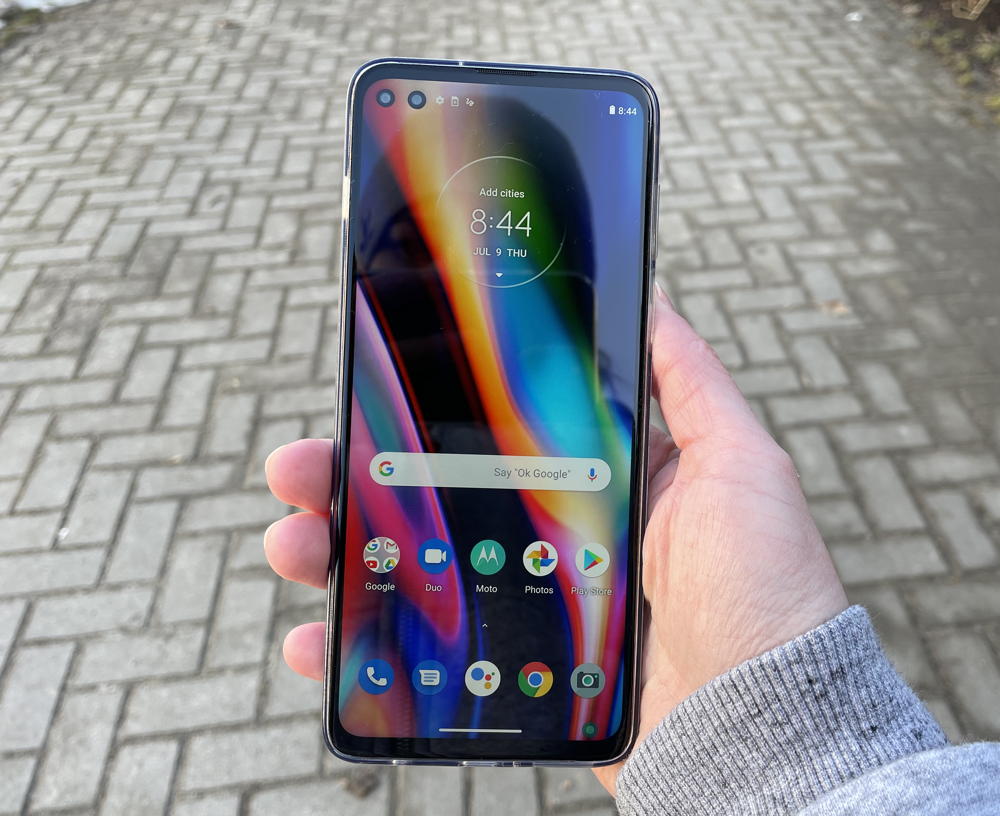 Of course, the two front-facing cameras immediately catch the eye. The decision is controversial, I heard opinions that they should at least be combined, like, for example, in the Samsung Galaxy S10+. I myself do not know which is better – one elongated "hole" in the screen or two single ones. For me, one selfie camera may well be enough. Yes, there is a difference in focal length. And one can take decent selfies, and the other group selfies, if the monopod is not at hand.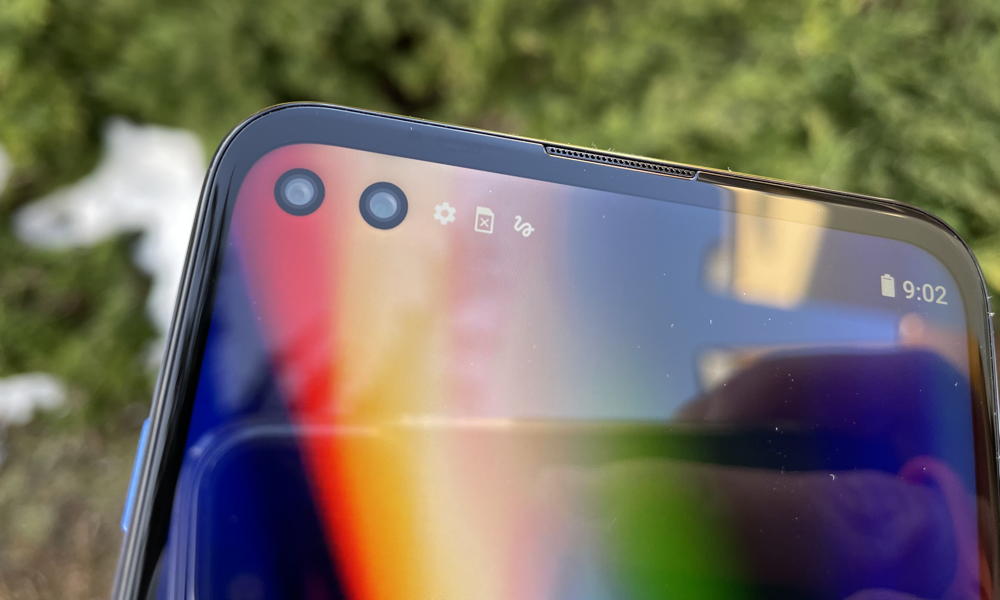 Due to the fact that two front cameras take up a lot of space in the corner, most apps have a strip at the top. Although in the settings you can choose which should run in full screen mode. This does not always work: for example, Instagram does not launch like that, but many games do.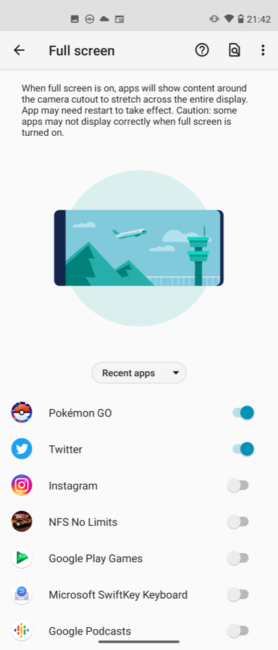 On the left side of the smartphone there is a separate button for calling the Google Assistant. You cannot reassign it, but you can disable it in the settings. Nearby is a tray for SIM cards and a memory card.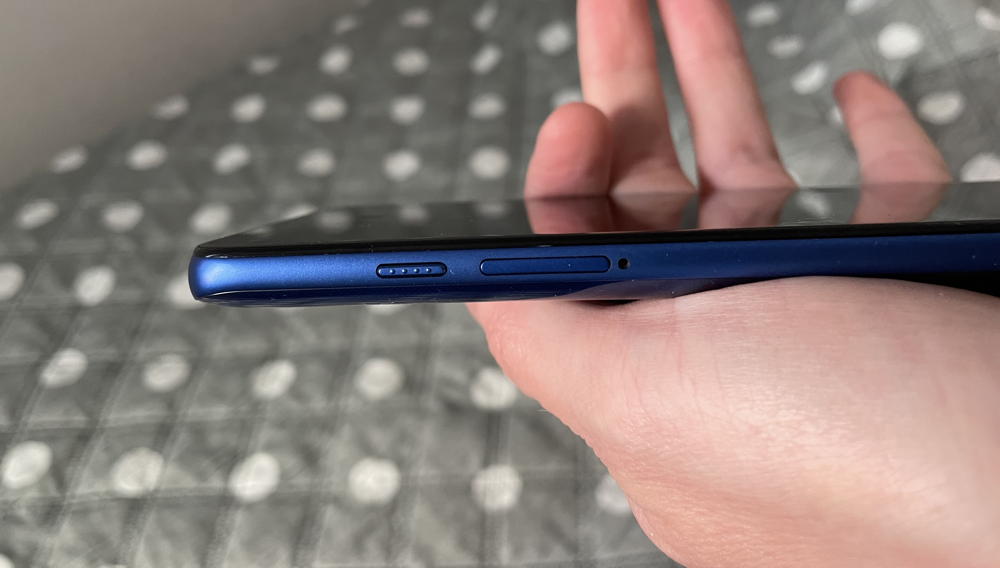 On the right side there is a conveniently located volume rocker and a power/lock button. The latter contains a fingerprint sensor. I have already come across such a solution in the Moto G9 Plus. At first it seemed that the Moto G 5G Plus had a sensor key recessed too much into the body, but after a couple of days of use I stopped noticing it. When you pick up the phone, your thumb rests on the fingerprint sensor, and unlocking is quick and error-free.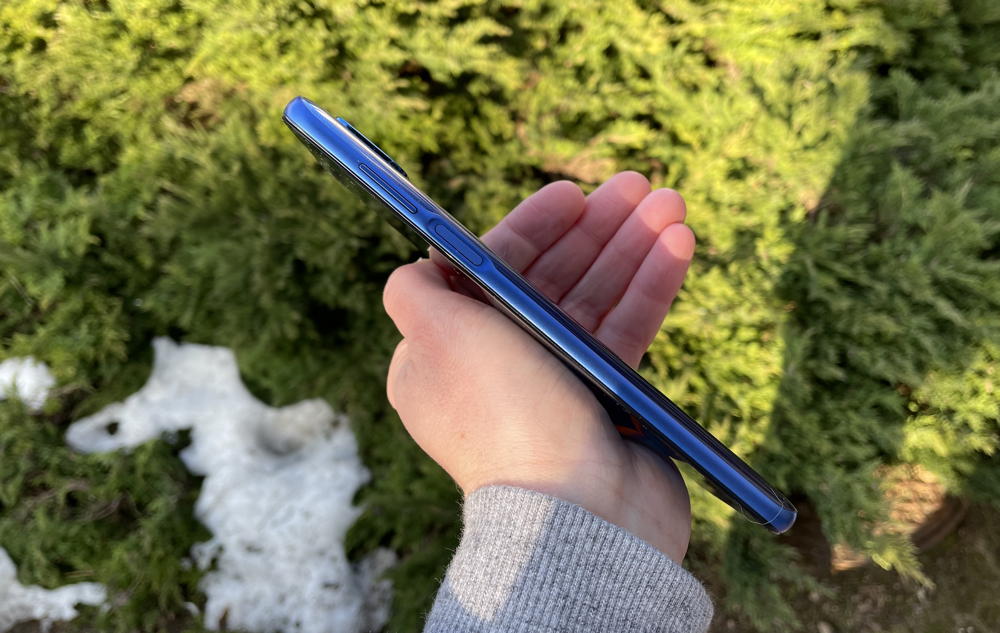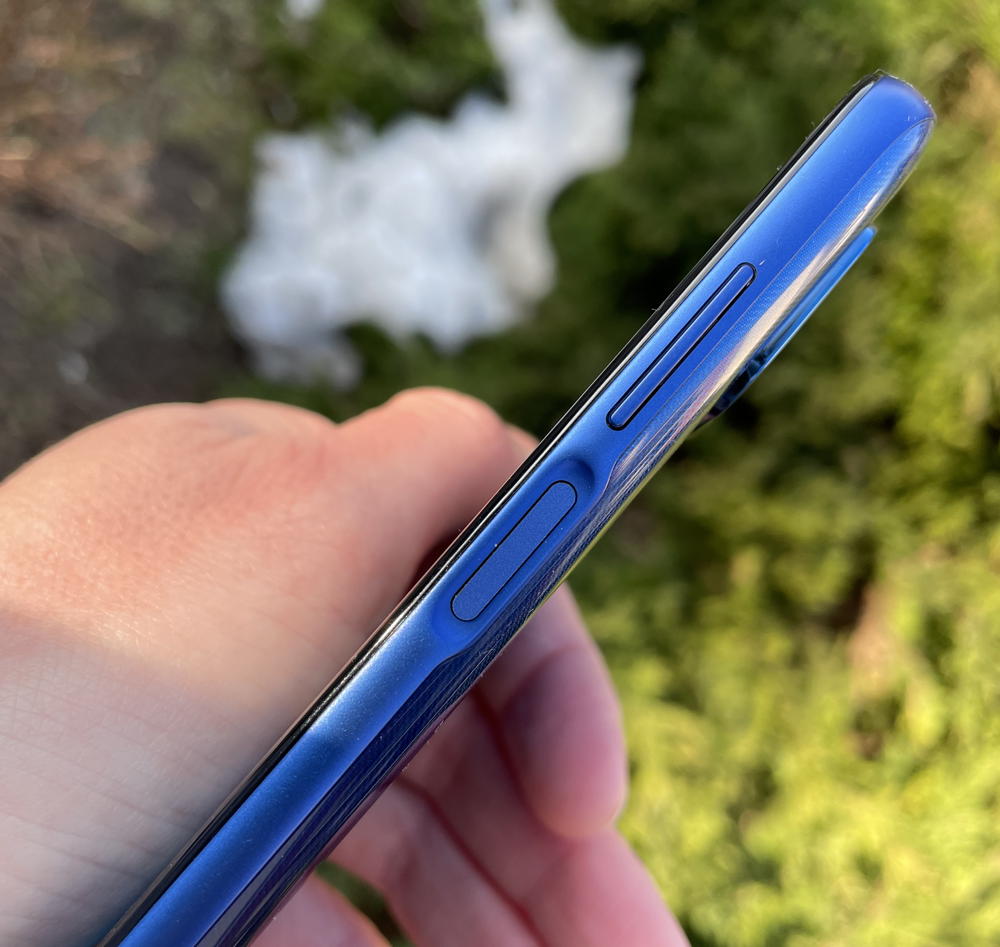 There is also a trick – double-tapping the lock key (not pressing, but only touching) brings up a customizable menu with icons for quick launch.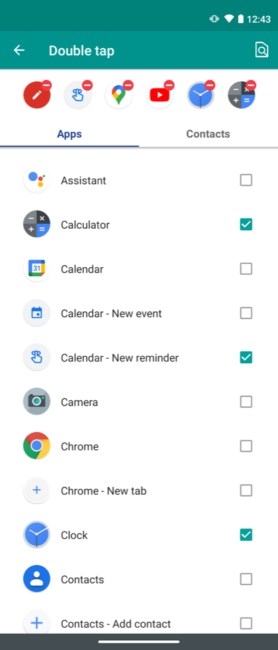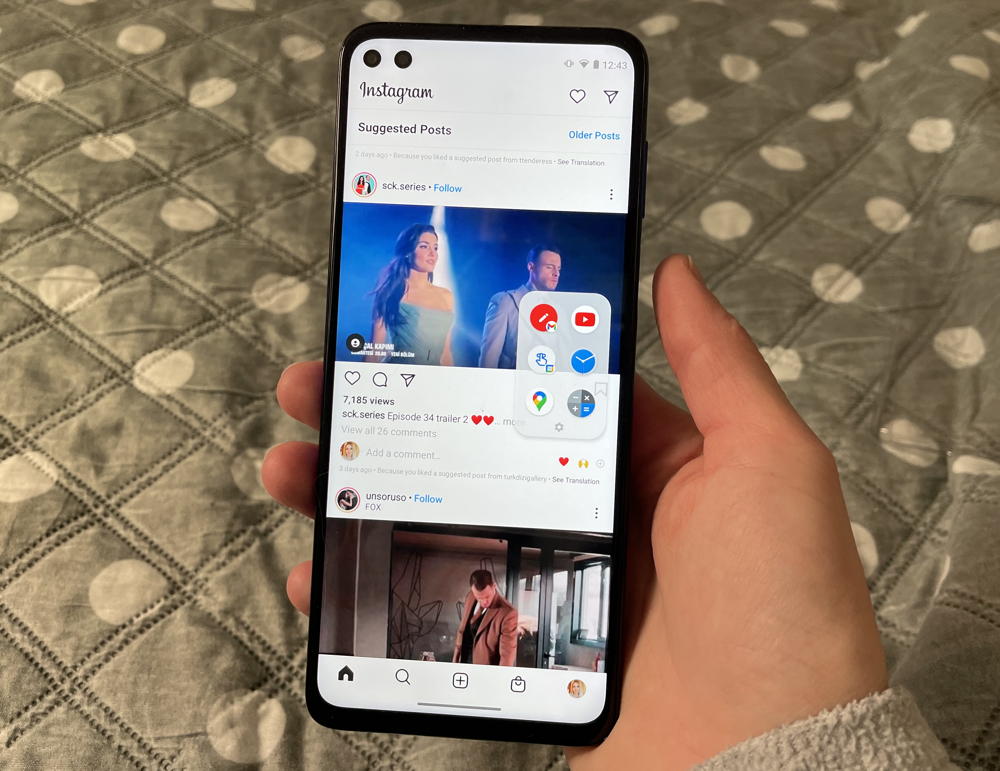 At the top of the smartphone there is a microphone that acts as a noise suppressor when recording video. On the bottom is a microphone, a speaker, Type-C charging connector, as well as a 3.5 mm headphone output. The latter has become a rarity, so it's good that Lenovo/Moto haven't abandoned the minijack.
There's only one color of Moto G 5G Plus – Surfing Blue. As already noted, with a pleasant visual texture.
It's worth noting that 5G Plus has a hydrophobic coating. The smartphone does not have an IP-level water protection, but it is not afraid of water drops or rain.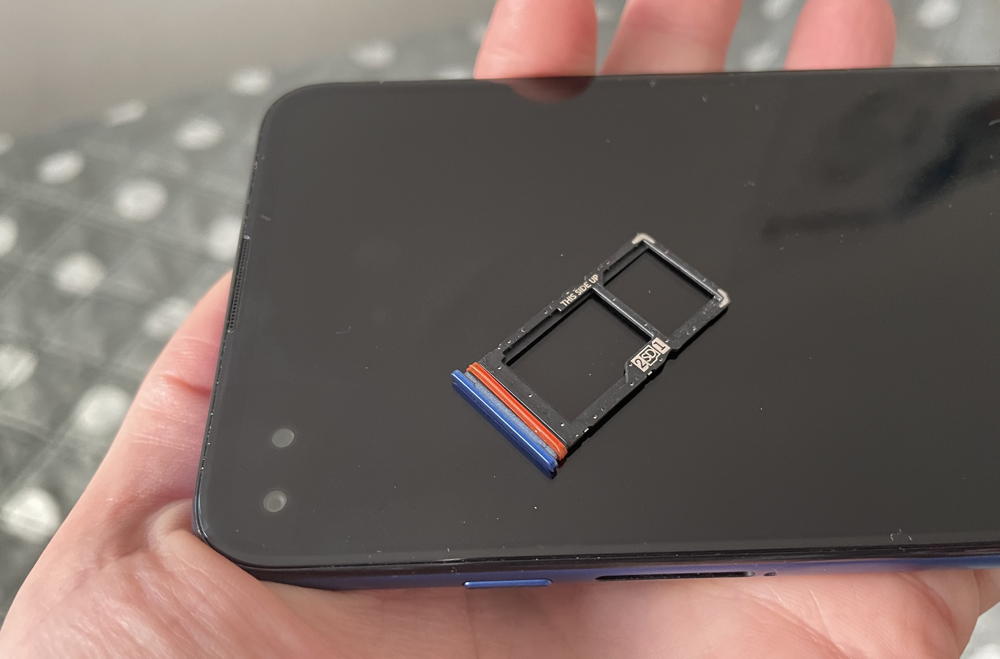 Screen
The LTPS display is similar to that of the Moto G9 Plus, which I wrote about earlier. It could have been OLED, but nevertheless the color reproduction is excellent, there is support for HDR10, good black depth, viewing angles, high brightness, excellent contrast. Due to the elongated screen, the resolution is FullHD+, or 1080×2520 pixels. Also encouraging is the increased refresh rate (90 Hz). The picture is smoother and there is even a feeling that the smartphone works faster in comparison with the 60 Hz colleagues.
Automatic brightness works fine. There is an option to adjust the color temperature. The screen looks good outside, although the image fades a little.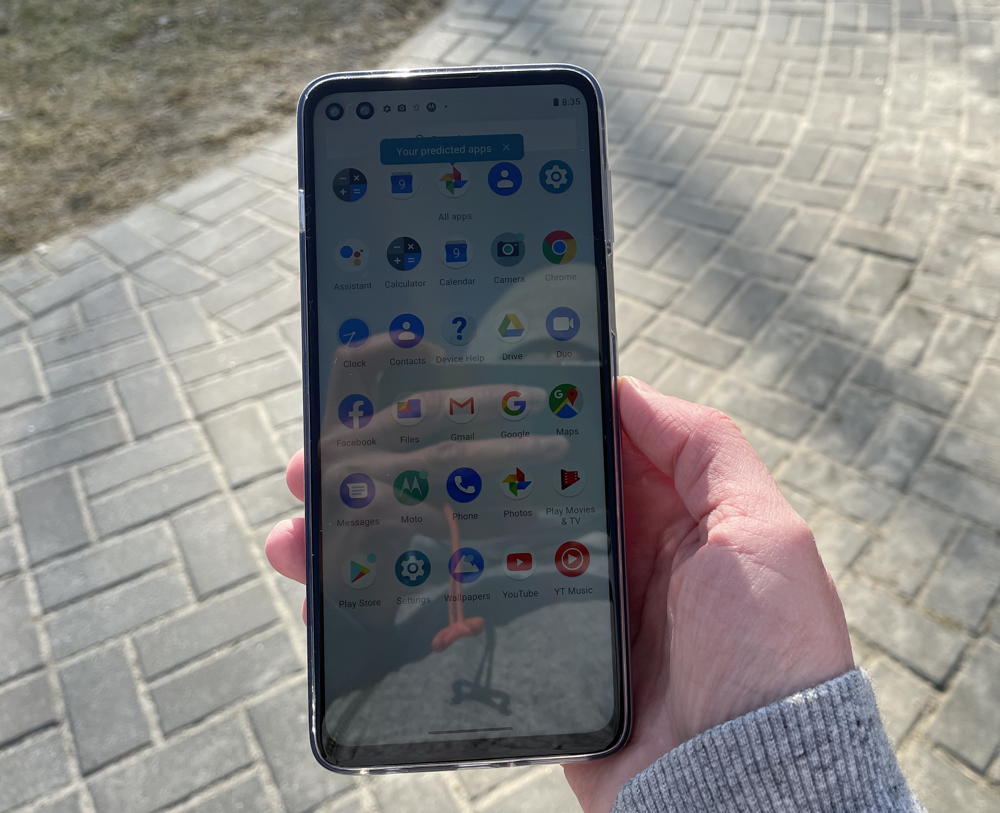 Hardware and performance
In this respect, everything is fine with the Moto G 5G Plus. Inside there's a 8-core Qualcomm Snapdragon 765 sub-flagship level chipset, as well as Adreno 620. Everything is fast and fluid, both in basic tasks, and even in the most demanding games (albeit not always with maximum graphics). Serious tasks make the smartphone heat up, but not much. The Moto G 5G Plus is powerful enough for most users.
I tested the 6/128 GB version, but the 4/64 GB version is also fast according to reviews. The memory is fast – UFS 2.1. The presence of a microSD card slot is also pleasing.
Read also: OPPO A53 smartphone review: Good battery and tons of compromises
Moto G 5G Plus cameras
As usual for mid-range Motorolas, everything is fine here. Yes, there are models that shoot better, but they also cost more. This model is probably the best you can get for this kind of money. In good lighting, everything is clear, with excellent color rendition. When it's dark, you might get blurry pictures, but still tolerable.
PICTURES FROM THE MAIN MODULE IN FULL RESOLUTION
Shooting in the dark is also NICE – good processing, little noise, enough light, although the clarity could be better.
There is a special night mode, but if you turn it on, photos in the dark look unnatural. Here's a comparison:
The main lens is 48 megapixel, with 5 megapixel macro lens, 8 megapixel wide-angle plus a ToF sensor (not for shooting, but for determining the depth of space, for blurring the background and AR applications).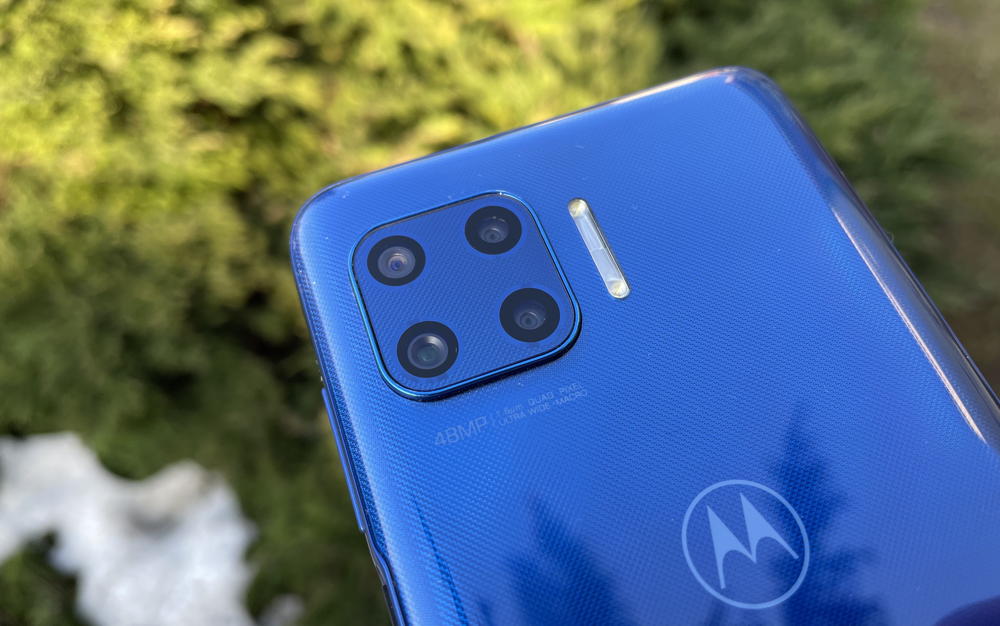 As in the case of the Moto G9 Plus, I see no point in a low-resolution macro module. It only works in very good lighting. Personally, I like the photos taken from a short distance from the main module, when the background is beautifully blurred. Below, the left photo is a regular module, the right one is macro.
The wide-angle module is useful when you need to shoot something that does not fit well into a regular lens. Detail is lost, noise appears, but it has its uses. Comparison:
EXAMPLES OF PHOTOS FROM WIDE ANGLE LENS
The video quality is good, but not perfect, the picture twitches in places. See for yourself.
The camera UI is standard for Moto. Modest, clear, convenient.
I've already talked about the front-facing cameras in detail. There are two of them – 16 and 8 megapixels, normal and with a wide viewing angle. The difference in focal length is noticeable (not all phones with two front cameras have this), it is quite possible to take a selfie with a group of people. The left photo is from the regular module, the right photo from the wide-angle one.
When shooting with the selfie camera, a gray circle pulsates around the camera that is currently being used.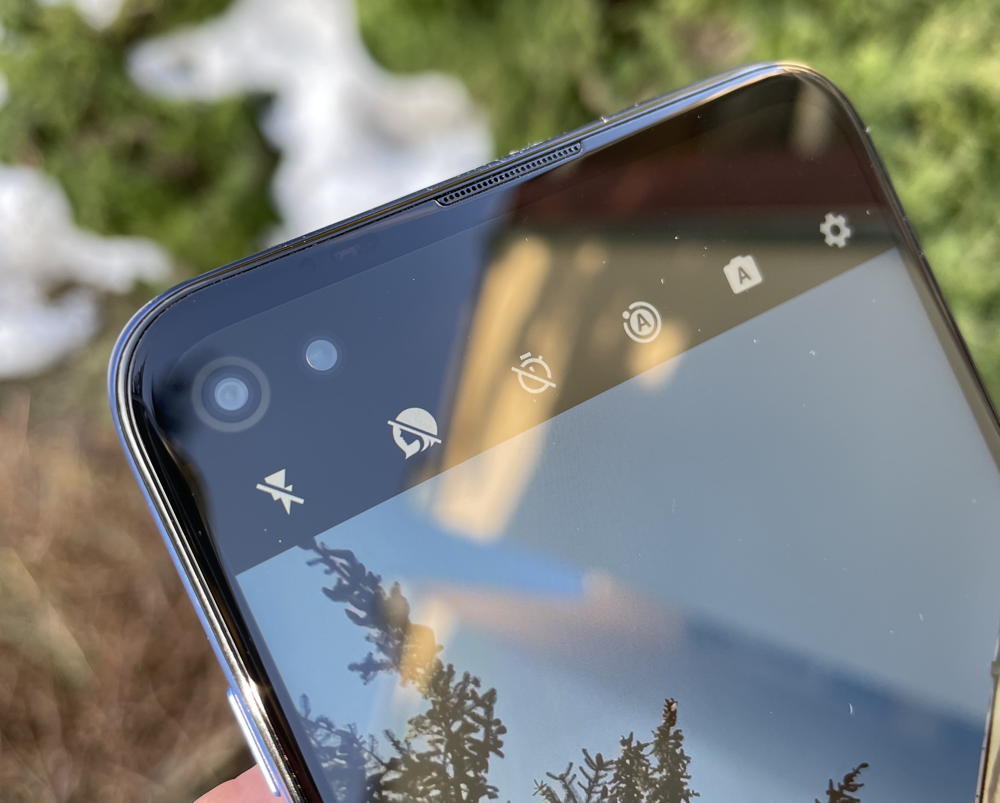 Read also: Realme 7 5G review: Mid-Ranger with 5G support
Comms
Everything is standard: dual-band Wi-Fi (802.11ac), Bluetooth 5.1, NFC for payments, and, of course, 5G. A wide frequency range is supported (n1/n3/n5/n7/n8/n28/n38/n41/n66/n77/n78), so that you'll get fast Internet with every carrier, at least in Europe.
Sound
The main speaker is monaural, loud and clear. The sound quality is good in the headphones. As already noted, the 3.5 mm jack is here, which means you can also use wired headphones. The system has a built-in equalizer that allows you to customize the sound to your liking.
Read also: Samsung Galaxy S21+ review: Standard Plus or Ultra Minus?

Software
The traditional advantage of Moto is a nimble pure Android without any shells.
Of the features, there are Moto Functions, which are customizable in a separate app. We are talking about gesture control and other features (for example, for gamers). Some of these functions, as for me, are useless, some may be useful to someone.
You can run applications in a separate window during the game. But the choice is very limited.
There are also neat live wallpapers.
The Android version installed on the Moto G 5G Plus is 10. The update to 11 was promised, but at the time of writing the review was not yet available.
Read also: Samsung Galaxy M51 review: Snapdragon 730G and 7000 mAh battery
Moto G 5G Plus battery life
The battery has a high capacity of 5000mAh. More than enough for a day. During the test, I charged the device once every couple of days, and used it actively.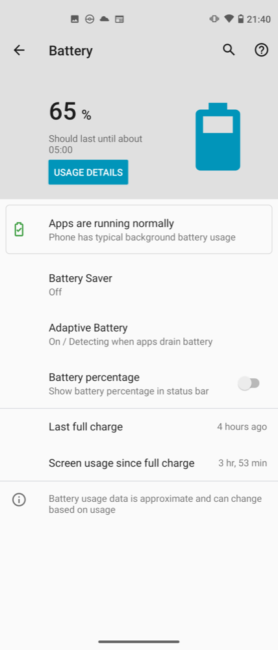 The phone supports 20 watt fast charging. It takes 1 hour 40 minutes to fully charge, half an hour is enough for 40-45%, 15 minutes for 25%.
Overall, the Moto G 5G Plus offers from 12 to 17 hours of screen time, depending on the task. And this is at maximum brightness! You can play a 3D game for 7-7.5 hours without a break. It is a tenacious smartphone.
Verdict 
The Moto G 5G Plus is not a budget model, and the price of $560 (and or even $640 in the case of the 6/128 version) puts it more in the middle range. It really is a great mid-ranger though. It has everything you need – a convenient form factor, a large 90 Hz display, a smart processor, decent cameras with an optimal set of lenses and a good night mode, 5G, and pure Android. If possible, it is better to choose the option with 6 GB of RAM (about $90 more expensive than usual).
Of course, there are many competitors for this price. Basically, these are the Chinese devices like the OPPO Reno 4 Lite, which Yuri Svitlik wrote about, realme 7 Pro (Dmitry Koval tested it in detail), and Xiaomi Mi 10t Lite 5G. They cost a little less, offer 8 GB of RAM, equally great cameras, capacious batteries, and often AMOLED screens. But the processors are not always of the same level as the Snapdragon 765. What to choose  everyone decides for themselves. In any case, the Motorola brand has a lot of fans, Lenovo is doing a good job so far.
Subscribe to our accounts: