We recently tested the Motorola Moto G100, a new sub-flagship that went on sale in Europe in early April. The device is not cheap, but offers interesting features and good performance. As usual, it was accompanied by a more affordable Motorola Moto G50. The device also received support for 5G, a good screen with a refresh rate of 90 Hz and a 5000 mAh battery. Of course, there are some simplifications, because the smartphone costs half the price (starting at 220 EUR).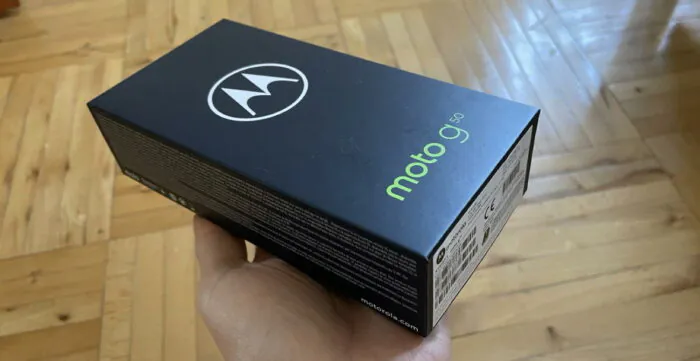 Motorola Moto G50 full specifications
Screen: IPS, 6.5 inches, aspect ratio 20:9, resolution 1600×720, 90 Hz refresh
Processor: Qualcomm Snapdragon 480
Video accelerator: Adreno 619
Memory: 4 GB of RAM, 64 GB of ROM, slot for microSD memory cards up to 1 TB (combined – either a second SIM or a memory card)
Battery: 5000mAh, 10W charging
Main camera: 48 MP, 1.6 μm, f/1.7, Quad Pixel technology + 5 MP macro lens 1.12 μm, f/2.4 + 2 MP depth sensor 1.75 μm, f/2.4
Front-facing camera: 13 MP, 1.12 µm, f/2.2
Communications: LTE, 5G, NFC, Wi-Fi 802.11 a/b/g/n/ac 2.4 + 5 GHz, Bluetooth 5.0, GPS (A-GPS, LTEPP, SUPL, GLONASS, Galileo), USB Type-C , FM radio
OS: Android 11
Dimensions and weight: 164.90 x 74.90 x 8.95 mm, 192 g
Price: from 220 EUR
What's in the box
There are no surprises here: inside we have the phone itself, a USB-C cable, a 10-watt charger (while the phone supports 15 Watt fast charging), and a SIM eject tool. The G100 had a 20-watt charger plus a special cable for connecting to a monitor and operating in desktop mode, but of course there is no point expecting such features from a budget device.
There is also a cover in the box. True, the simplest one – thin, with minimal bumpers above the screen. It does not protect the optics of the rear cameras at all, moreover, it will quickly turn yellow (it has started already). But it's better than nothing. If you wish, you can additionally buy yourself whatever you want.
Read also: Moto G100 Review: Not a Computer, But It's Close
Moto G50 design
Compared to the G100, the smartphone is slightly more compact. But it's not miniature either. However, in the world of today's smartphones, diminutiveness is rare. And personally, I like this trend – it is more convenient to perceive the content from a large display. And the Moto G50 fits comfortably in the palm of your hand. But, it should be noted, I'm used to large smartphones, and to many G50 will still seem a bit big. Inside there's the 5000 mAh battery.
Before us is an inexpensive smartphone with quite an ordinary design The body is plastic, the back panel is smooth and glossy, quite a fingerprint magnet.
There are no unusual colors either – blue and gray shimmer in the light, but offer nothing special.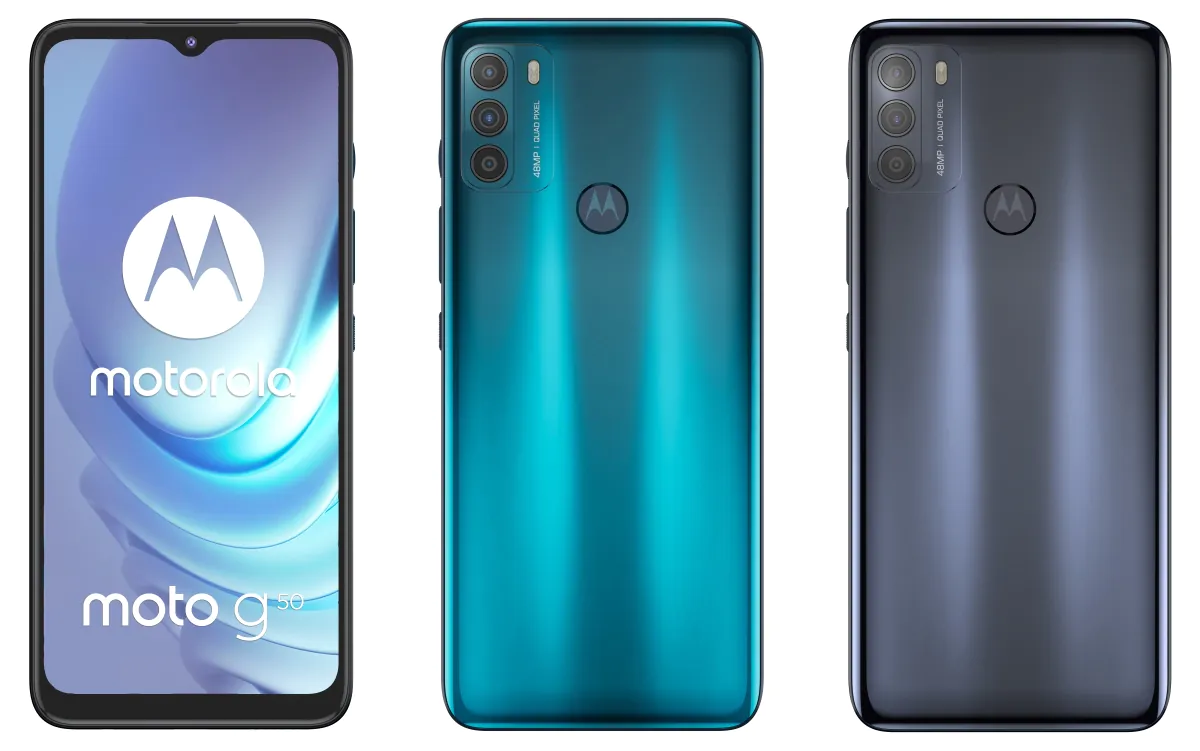 The front panel has a drop-shaped notch, which is perhaps an outdated solution, even in the world of inexpensive smartphones. However, the nitpicking is purely cosmetic. The G50 may not look the most modern, but still the "drop" does not interfere with anything. Even the models with holes for front-facing cameras in the corner rarely use the free space, except in games.
The bezels of the screen are relatively wide, including the notch. But taking into account the cost of the phone, this should not be attributed to the disadvantages.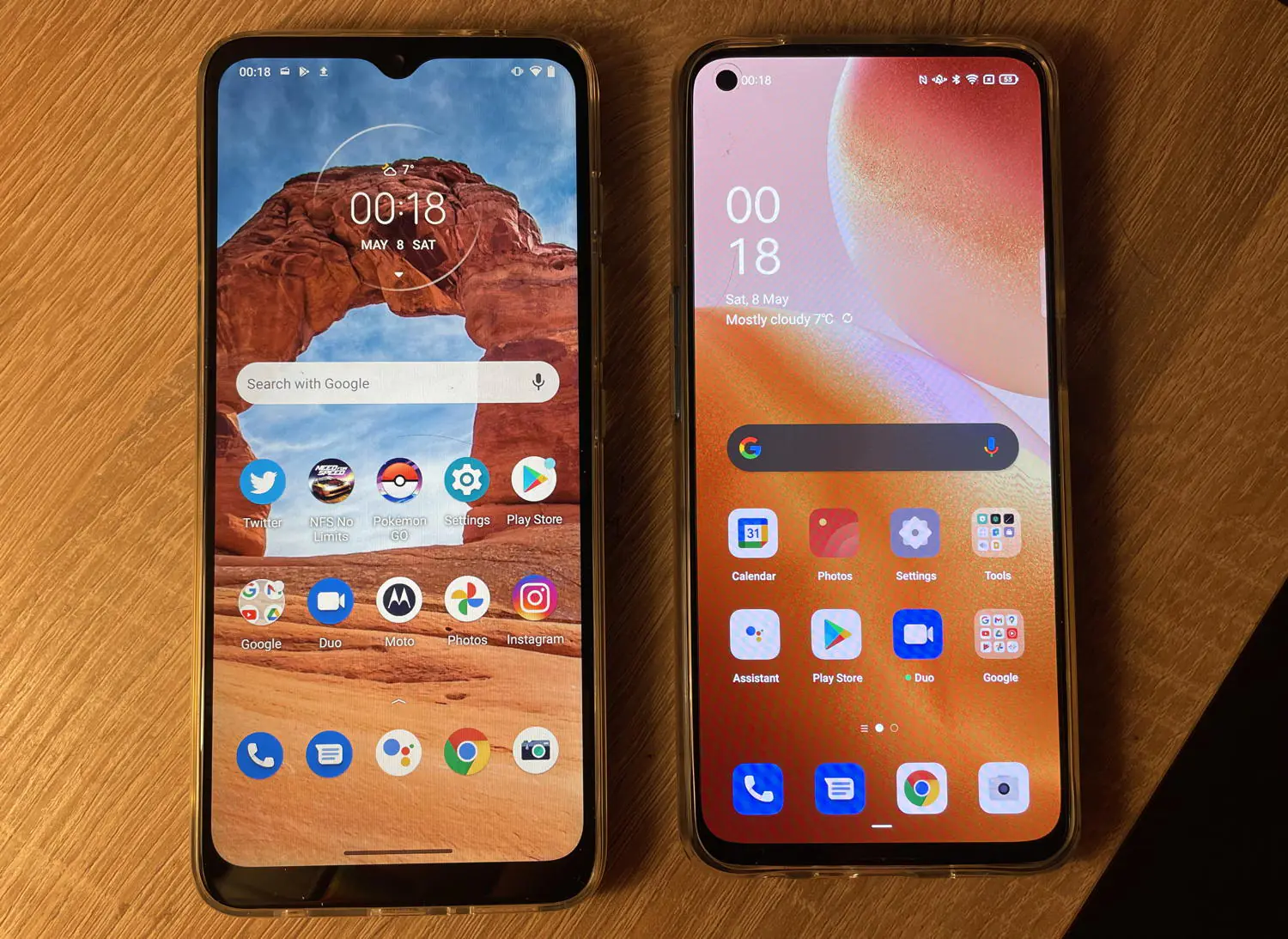 The fingerprint sensor here is another budget feature. More expensive Motorolas (including G100) have the scanners on the edge of the device, which is an excellent solution. The G50 has a good old round sensor on the back panel. It is conveniently located, and when you take the device in your hands, the index finger rests on it automatically. And the regular protective cover helps with this. The sensor does isn't terrible quick, but I am spoiled by flagship smartphones.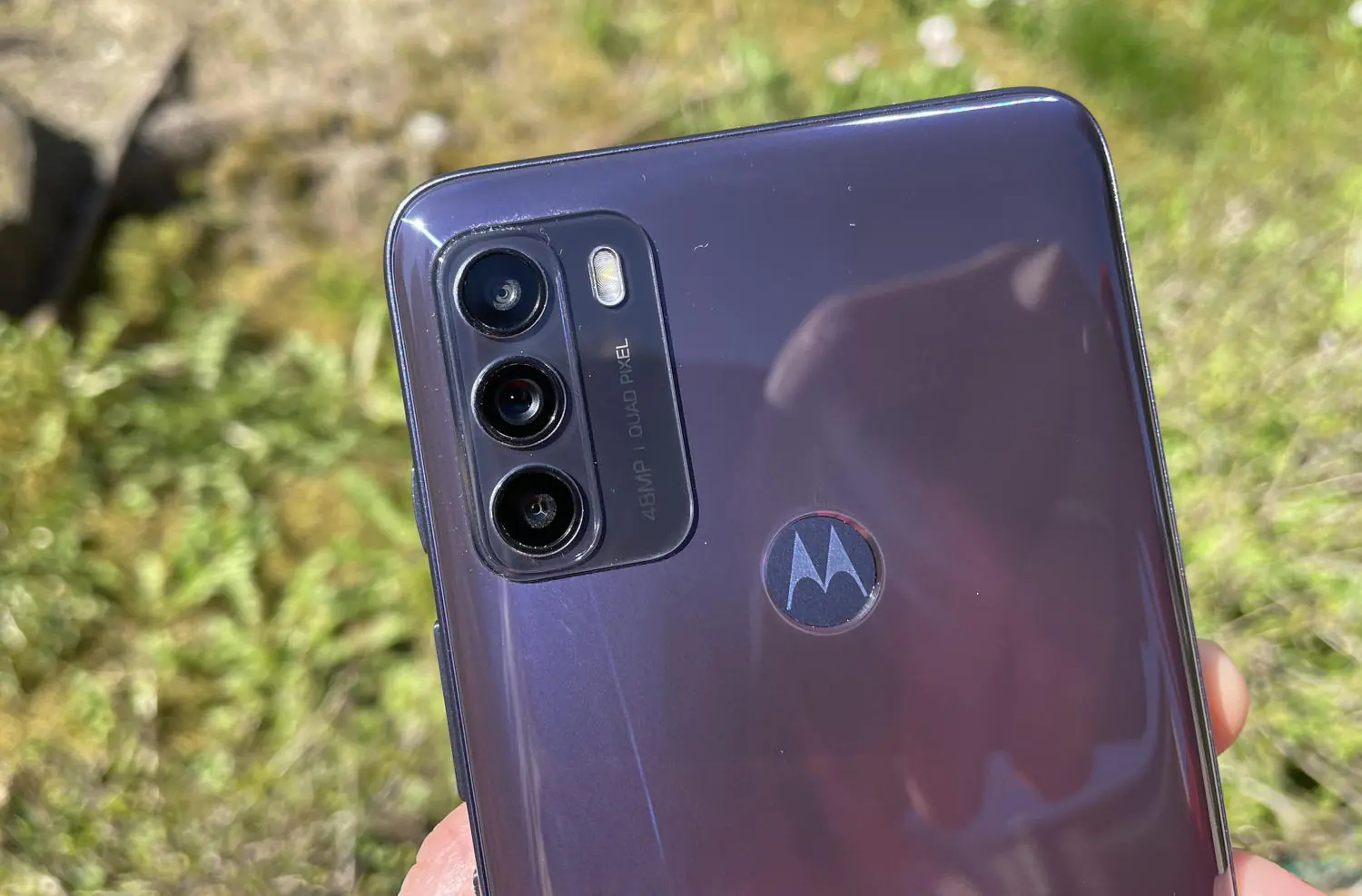 On the left side of the smartphone is only a slot for SIM-cards and memory cards. On the right is a separate Google Assistant key (you cannot reassign it, but you can disable it in the settings), a double volume rocker and a power/lock button. In my opinion, all three keys are too close together, and I could not immediately find the volume control. Also, the power button could be larger. But in general, nothing critical, a matter of habit.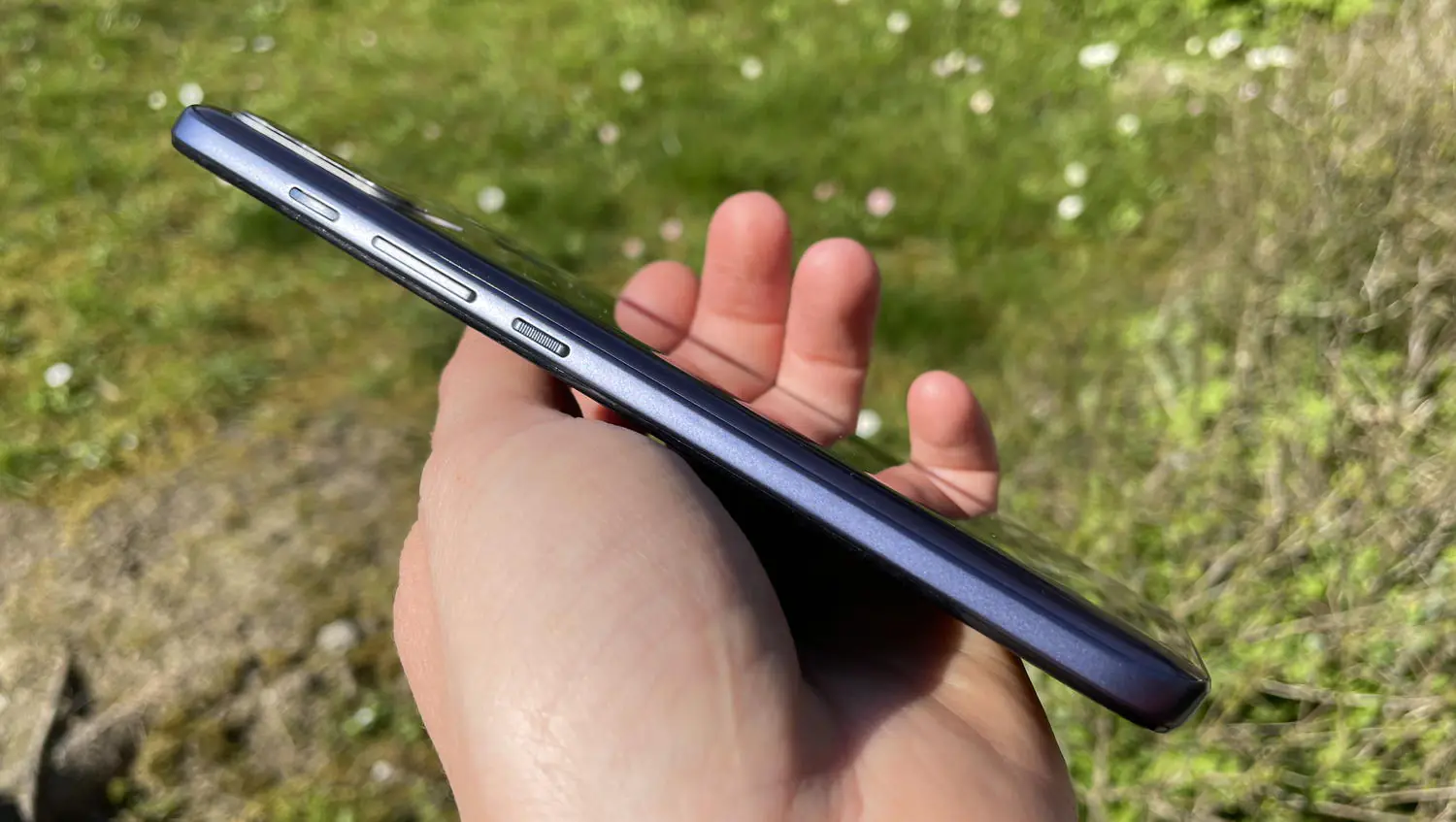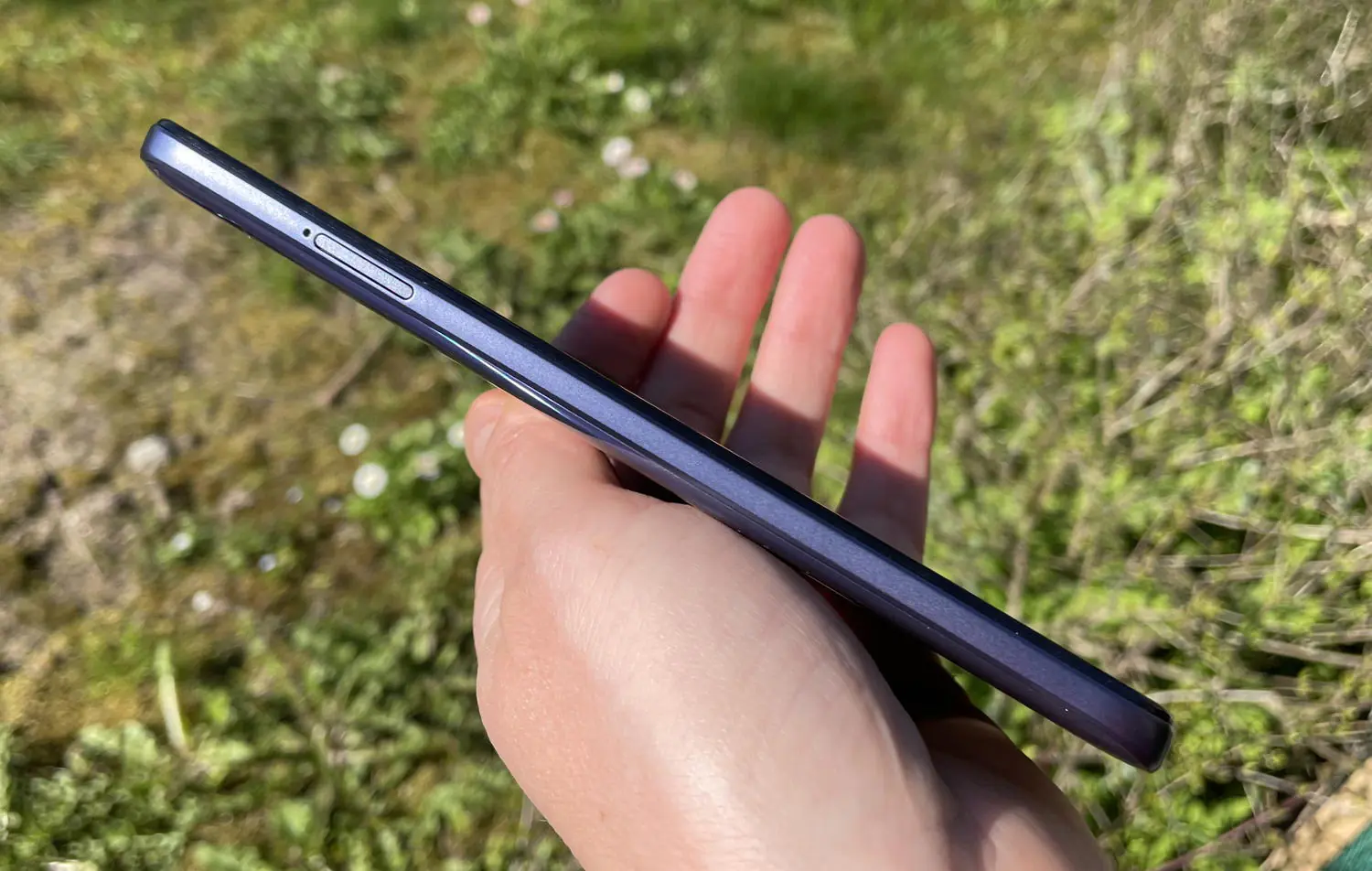 At the top of the smartphone there is a microphone that acts as a noise suppressor. On the bottom is another microphone, a speaker, Type-C charging connector, as well as a 3.5 mm headphone output (it's good that not all smartphone companies refuse to add it).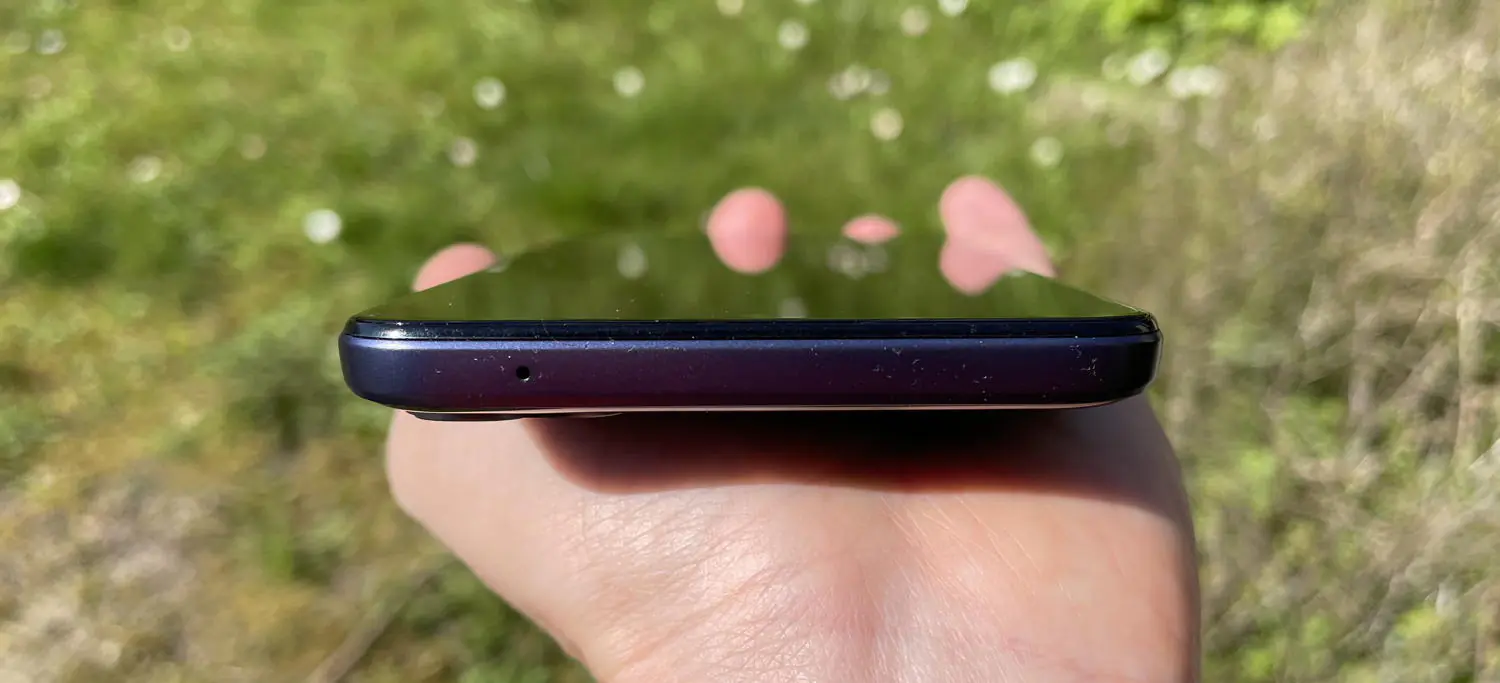 Overall, I like the way the Moto G50 looks. The smartphone is nice, the camera unit is nicely implemented, the build quality is perfect.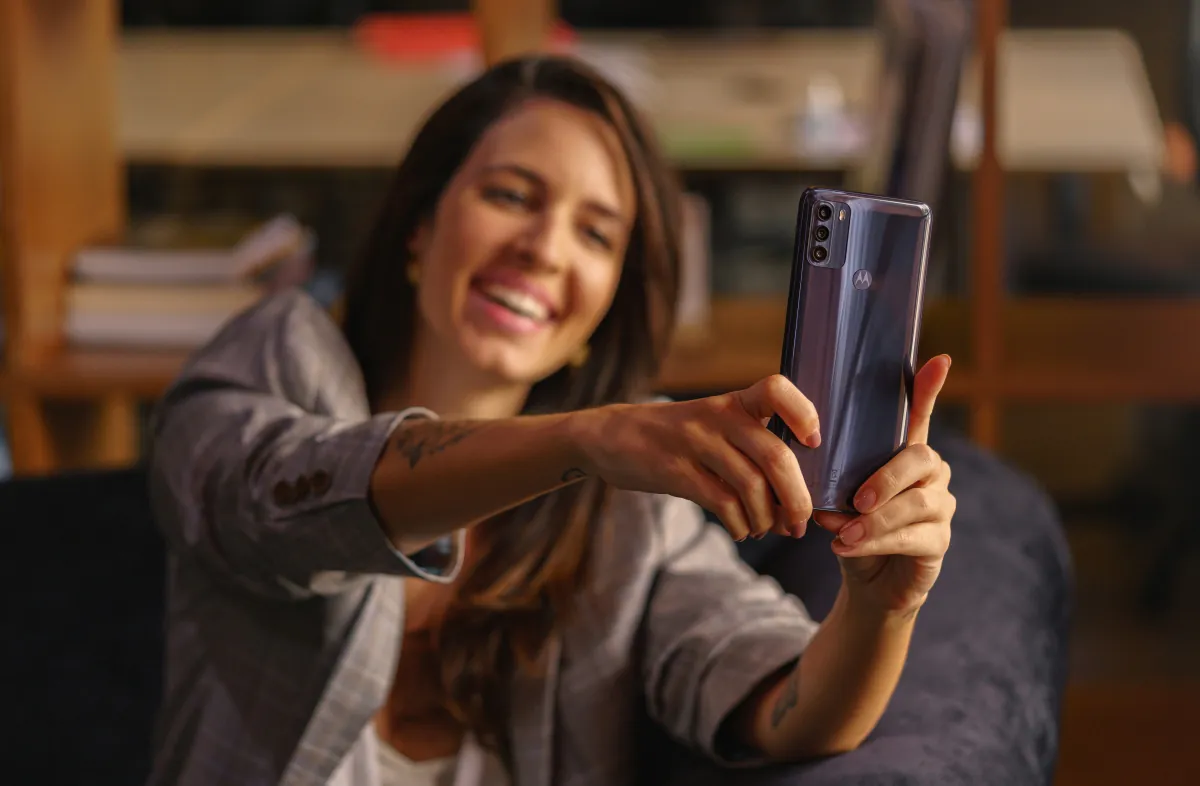 Moto G50 case has a hydrophobic shell, it is not afraid of drops of water, as well as rain (protection level IP52).
Read also: Moto G 5G Plus review – A Bargain from Motorola
Screen
The display is like other models in the Moto G series, and by that I mean IPS. If we compare it with the G100 again, the resolution and color rendition are not so good, but more than okay for this price. The colors are pleasant, there is no graininess, good viewing angles, brightness and contrast. The depth of black could have been better.

You also get 90 Hz for $250 – not unheard of, but still a rarity in this segment. The picture is smoother and the smartphone feels faster in comparison with the 60 Hz models. There are three modes of operation – automatic (the phone changes modes depending on the app and charge level), 60 Hz or 90 Hz.
Automatic brightness change works without misfires. There is an option for adjusting the color temperature (removes cold colors in the evening), as well as three options for the saturation. The display fades in the sun, but remains more or less legible.
Read also: Moto G Pro review: who needs a cheap Motorola with a stylus?
The hardware and performance of the Moto G50
Before us is an inexpensive model, so the hardware is appropriate. It's the entry-level Qualcomm Snapdragon 480 platform, and yet it supports 5G networks.
The amount of RAM is 4 GB (I would like at least 6 GB, but no such luck). There's 64 GB of storage; once again, more would not hurt. However, there is a slot for memory cards up to 1 TB, but a hybrid one, which means you have to choose either two SIM cards, or a SIM+microSD card.
As for performance… yes, the model is inexpensive, the chipset is for mid-range phones, but… there is nothing to complain about! It can be hard to adjust to a cheaper device after I am done with a flagsghip, but this time… no problems.
I tested the G50 right after the powerful G100 based on the sub-flagship Snapdragon 870 processor. As usual, I installed the necessary apps and began using it. And not once did I feel like I seriously downgraded. Yes, the device is not as fast if you compare it head-on, but it's not slow either. In basic tasks, everything is fast, demanding games run fine, although not with the best graphics and with delays from time to time. But the main thing: this inexpensive device is comfortable to use. What else do you need?
Read also: Moto G9 Plus review: A Decent Budget Phone with a Big Screen
Moto G50 cameras

The camera block consists of three lenses. The main module is 48 MP with Quad Pixel technology, when 4 pixels are combined into one for better quality, that is, we get 12 MP images at the output. There is also a 5MP macro lens and a 2MP depth sensor to blur the background. Personally, I prefer wide-angle cameras to macro options, it seems to me that they have a wider field of application. Or at least a telephoto lens, to bring objects closer without losing quality.
Again, taking into account the cost, we can say that the images are of high quality. If the lighting is good, then everything is clear, juicy, I would even say not worse than what the G100 produced. If the illumination is weak, at least ordinary room lighting, then the clarity is significantly reduced, noise appears, the color rendition gets worse, moving objects (for example, pets) can't get into focus.
Night shots depend on the amount of light. If there is very little of it, then the lens cannot cope and produces very noisy and indistinct images. If there is more light (illuminated road, courtyard, shops with bright signs), then the situation is a little better, but still far from ideal.
SEE ALL PHOTOS FROM THE MOTO G50 IN THE ORIGINAL RESOLUTION
There is a night shooting mode, but, like in other Moto smartphones, the photo is too highlighted, and as a result, the photos look unnatural. And the quality becomes even worse. Look at the comparison, on the left is the normal mode, on the right is the night mode. The quality drop is not very noticeable in the thumbnails, but in the original resolution you will immediately see it.
Macro lens is another story. It must be understood that a macro lens is suitable for photographing from a minimum distance (about a centimeter). It cannot be used, for example, to bring objects closer (not to be confused with a telephoto lens), and ordinary shots with a macro lens will be blurry. But it can shoot closer than the base lens (which just won't focus). Whether all this is necessary is another question.
Yes, you can get sharp close-up shots with delicately blurred backgrounds, but they will have low resolution and not the best color reproduction. Plus, to take a clear photo, you have to try very hard, keep the phone level without shaking, the breeze should not blow on the subject, and so on. Few people even care. I repeat that, in my opinion, instead of a macro, an ultra-wide-angle lens would come in handy. It is more useful – you can shoot landscapes or rooms that do not usually fit. Or at least a telephoto lens for getting closer to objects.
In addition, the main lens also takes good close-up photos (albeit not from such a short distance).
The video quality is ok considering the cost. But again, in low light, things are much worse. The resolution is FHD (30 or 60 fps) or HD (120 fps) (when using video stabilization only 30 fps). There's also macro video, slow motion video, and hyperlapse.
View a sample video from the Motorola Moto G50 camera
The front-facing camera is weak, the clarity and color rendition are not up to par even in excellent lighting, the G100 was better in this regard. An interesting feature – the camera understands gestures.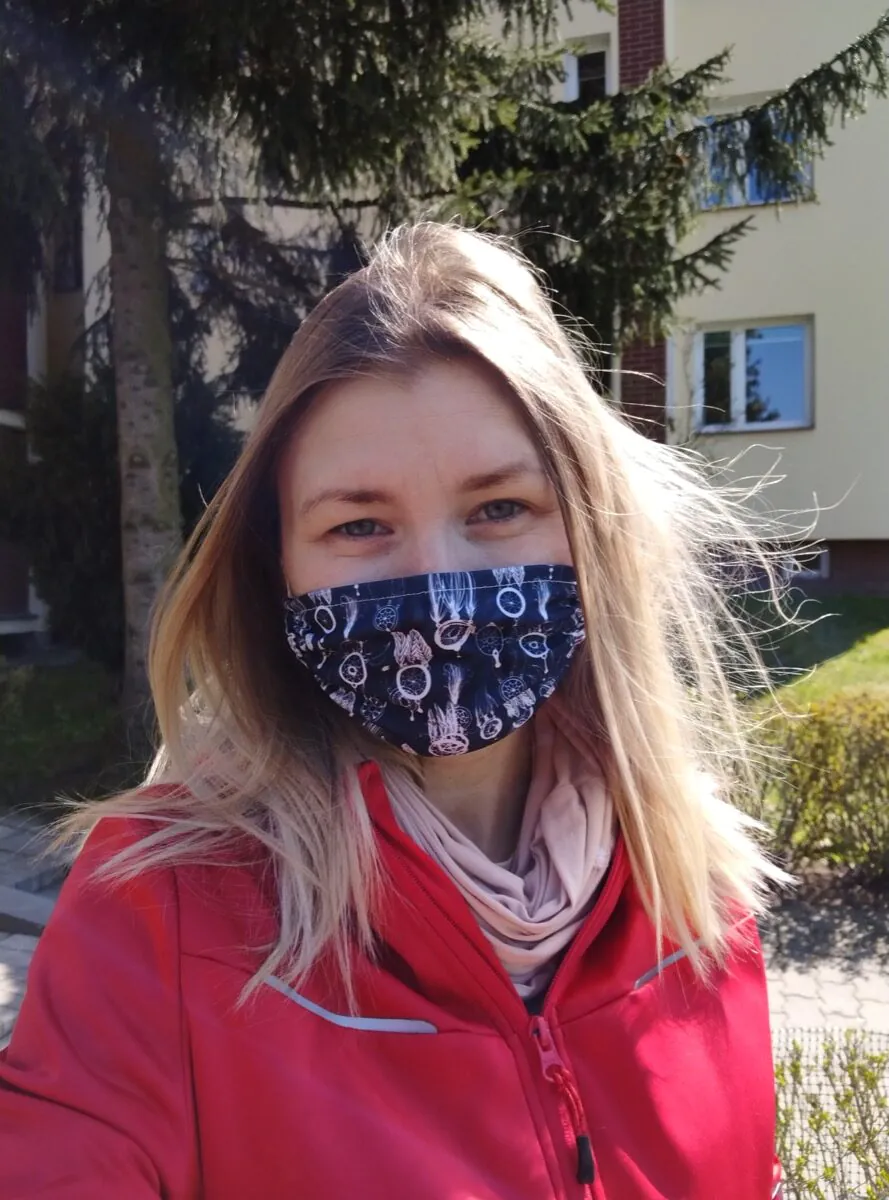 The camera UI is standard for Moto. Quite convenient.
In addition to standard modes, there is also "selective color" (leaves one color in the photo), panorama, "live" photos, filters in real time, PRO-mode with RAW support.
Data transfer
The list of features includes 802.11 a/b/g/n/ac 2.4 + 5 GHz, Bluetooth 5.0, NFC, 5G, GPS, GLONASS, Galileo. There are no issues with the modules.
Curiously, according to Qualcomm, their Snapdragon 480 platform offers chip-level Wi-Fi 6 support. However, Motorola only officially speaks of support for the previous standard. Either this is a mistake, or another special feature (the G100 supported Wi-Fi 6). In any case, I don't have a new router, so I couldn't check.
Read also:
Moto G50 sound
The main speaker is monaural and loud. The sound quality is good in the headphones. The presence of a 3.5 mm jack is encouraging, and you can use wired headphones if you want to. The system has an equalizer that allows you to customize the sound to your liking.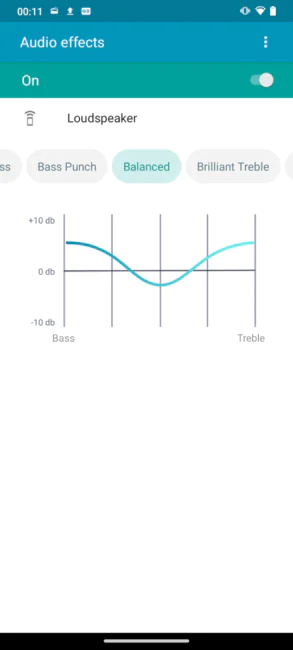 Read also: OPPO A53 smartphone review: Good battery and tons of compromises 
Software
The Moto G50 runs on fresh Android 11 out of the box. The traditional advantage of Moto is a nimble "pure" Android without any shells.
Add-ons include Moto Functions, customizable in a separate app. We are talking about gesture control, splitting the screen and other features (for example, an active display, launching a flashlight with a shake or a starting a camera by twisting your wrist).
Read also: Realme 7 5G review: Mid-Ranger with 5G support
Moto G50 battery life
The smartphone's battery has a capacity of 5000 mAh, which is already the gold standard for Moto devices. Compared to the G100, the G50 has a lower resolution display and a less powerful processor, so it is more economical in relation to battery life. During the test, I charged the device every 2-3 days, while using it actively (browsing, social networks, games, calls).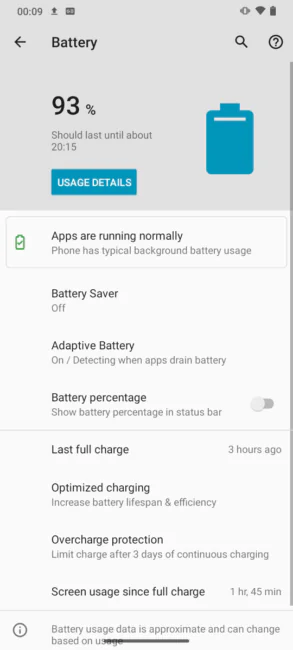 In general, the Moto G50 promises from 8 to 17 hours of work, depending on the task. And this is at high brightness and with an adaptive screen refresh mode.
The phone supports 15 watt fast charging. But, as already mentioned, only a 10-watt one is included, so don't expect super speeds. It takes 2.5 hours to fully charge, which is a lot by today's standards. However, you can always get a more powerful charger.
Read also: Samsung Galaxy A32 review: 90Hz display and improved camera
Verdict and alternatives
This is one of the most affordable 5G phones. This is its killer feature. But if 5G is irrelevant for you, all is left is a typical mid-ranger with 90 Hz screen and a very tenacious 5000 mAh battery. Everything else is average – the quality of photo, and the screen resolution, and the amount of memory. And teardrop notch in the screen, a fingerprint sensor on the rear panel, and "slow" fast charging make it seem downright out of date.
The Moto G50 has a lot of competitors. Take the Moto G30, for example. One might assume that it is weaker than the G50, but no – the processor is more powerful, there is more memory. Only there is no 5G, but the price is even slightly lower. There is also the excellent Redmi Note 8 Pro for the same price, but with more memory, a better processor and cameras, and a Full HD screen. OPPO A91 is very similar to it. You can also pay $20-30 more and buy the Poco X3 with the Snapdragon 732G chipset. As an option there's also the realme 8 with a Super AMOLED display, excellent cameras and a powerful MediaTek Helio G95 chipset. But, of course, they all lack 5G. And with 5G, there is the Realme 7 5G – somewhat more expensive, but with better specs.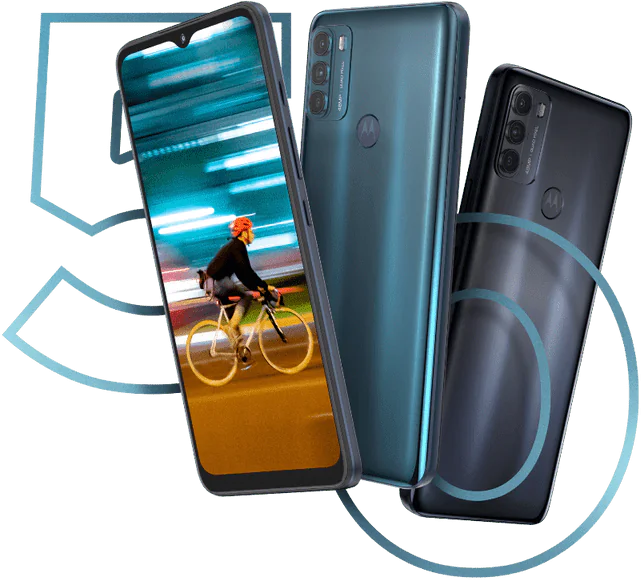 To summarize, if you want a budget smartphone with 5G, then the Moto G50 is probably the most affordable choice today. The device works relatively quickly, shoots reasonably, looks good, is equipped with a pleasant 90 Hz display and up-to-date Android 11 out of the box without any shells and bloatware. But still, if 5G is not important for you, there are many more interesting options.

Subscribe to our accounts: