Samsung is one of those few companies who still release Android tablets. Last year we reviewed a couple of them – an affordable Galaxy Tab A 10.5 and flagship Galaxy Tab S4. Today we speak about the newest device called Samsung Galaxy Tab S5e.
Specifications Samsung Galaxy Tab S5e
Display: 10.5″, Super AMOLED, 2560×1600 pixels, aspect ratio 16:10
Chipset: Qualcomm Snapdragon 670, 8-core, 2 Kryo 360 Gold cores with a frequency of 2 GHz, 6 Kryo 360 Silver cores with a frequency of 1.7 GHz
Graphics accelerator: Adreno 615
RAM: 4/6 GB
Storage: 64/128 GB
Support for microSD memory cards: up to 512 GB
Wireless networks: Wi-Fi 802.11 a/b/g/n/ac, Bluetooth 5.0 (A2DP, LE), GPS (A-GPS, GLONASS, BDS, GALILEO)
Main camera: 13 Mp, f/2.0, 26 mm, 1/4.0″, 1.12µm, AF
Front camera: 8 megapixel f/2.0, 26 mm, 1/3.4″, 1.12µm
Battery: 7040 mAh
OS: Android 9.0 Pie with One UI 1.1 shell
Dimensions: 245 × 160 × 5.5 mm
Weight: 400 g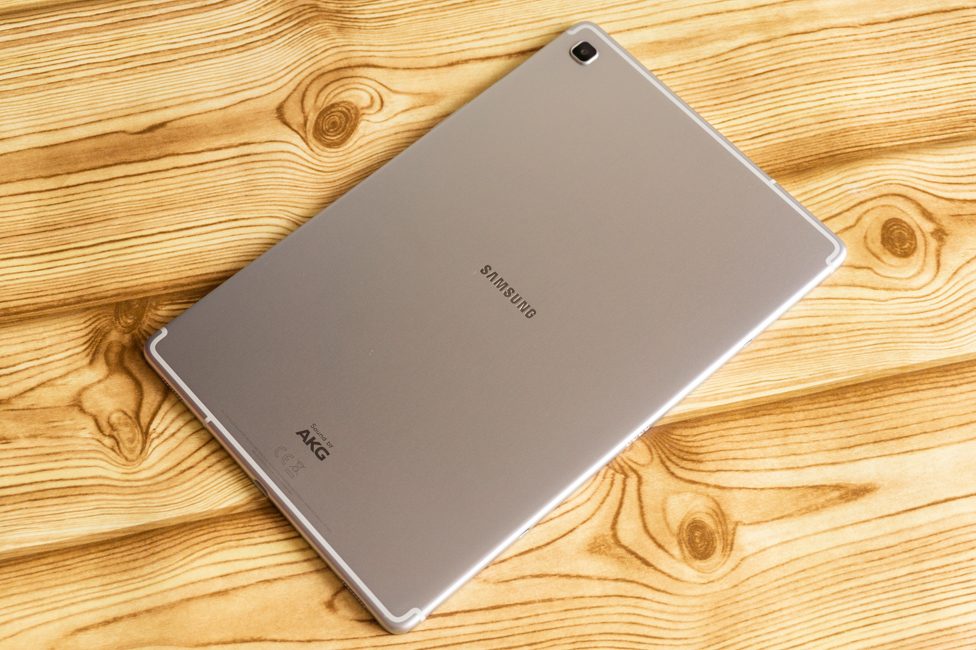 Price and positioning
Samsung Galaxy Tab S5e costs about $595. This is the recommended price for the version without LTE-module (SM-T720) in the 4/64 GB modification. The more expensive tablet with LTE (SM-T725) is $706. I have this version for testing.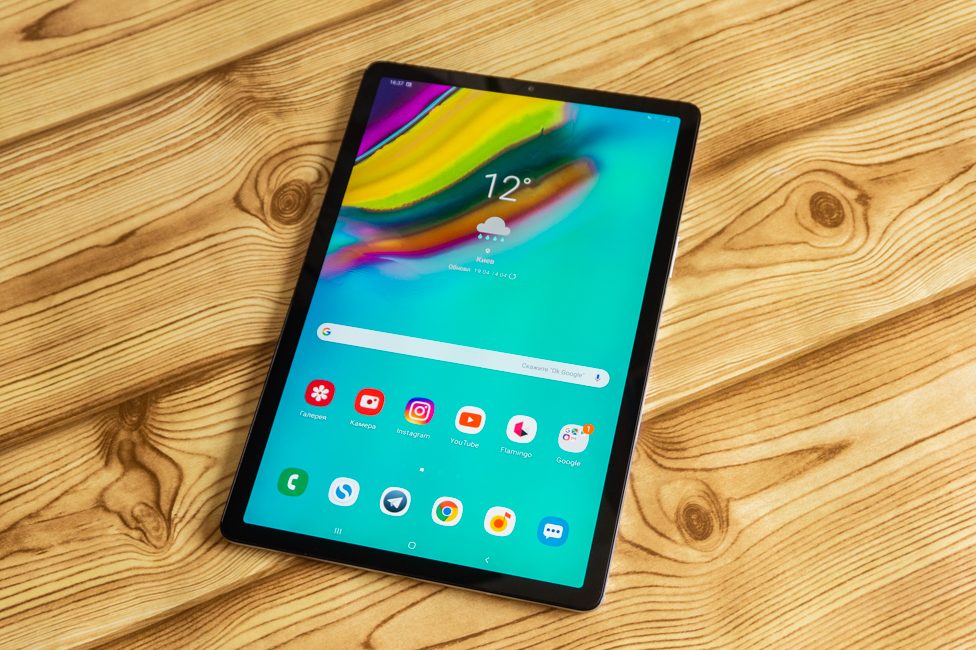 I would also like to note that judging by the naming we have almost a flagship. If you draw an analogy with smartphones, then it is something like Galaxy S10e. The ending in the title is at least the same. Although there's still no "true" flagship Galaxy Tab S5 yet.
Design, materials and build quality
Samsung Galaxy Tab S5e is quite an attractive tablet. No inscriptions or logos in front. Bezels on all sides are the same, very thin. The front panel is covered by the flat glass without any rounding. This simplifies the appearance a bit, of course, but I see nothing wrong with that.
The body is all-metal, there are antenna output strips at the top and bottom that flow to the edges. The shape is rounded and there are no sharp edges here.
In addition, this material will be much more practical than the glass behind. The tablet is very pleasant to the touch. It's all metal – plastic with matte soft-touch coating would feel completely different. Tab S5e feels premium.
Our test sample is silver. In total there can be three colors of the case and besides this silver one there are also black and golden variants. However, in front of all cases there is a black front panel.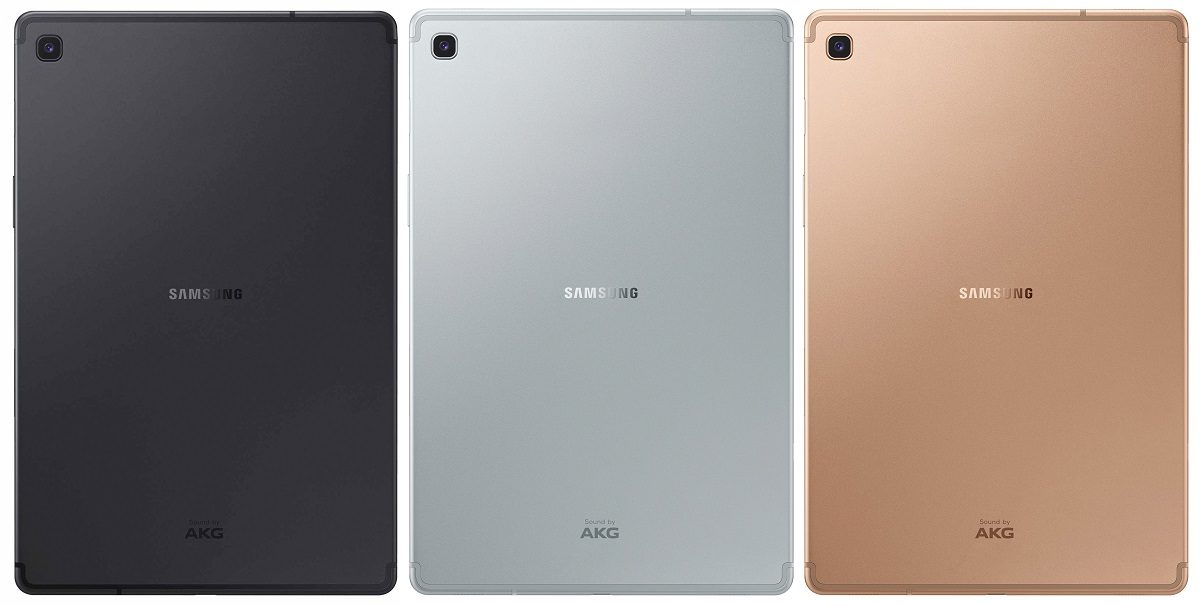 The build quality is perfect, the tablet feels very reliable. The glass in front has a good oleophobic coating.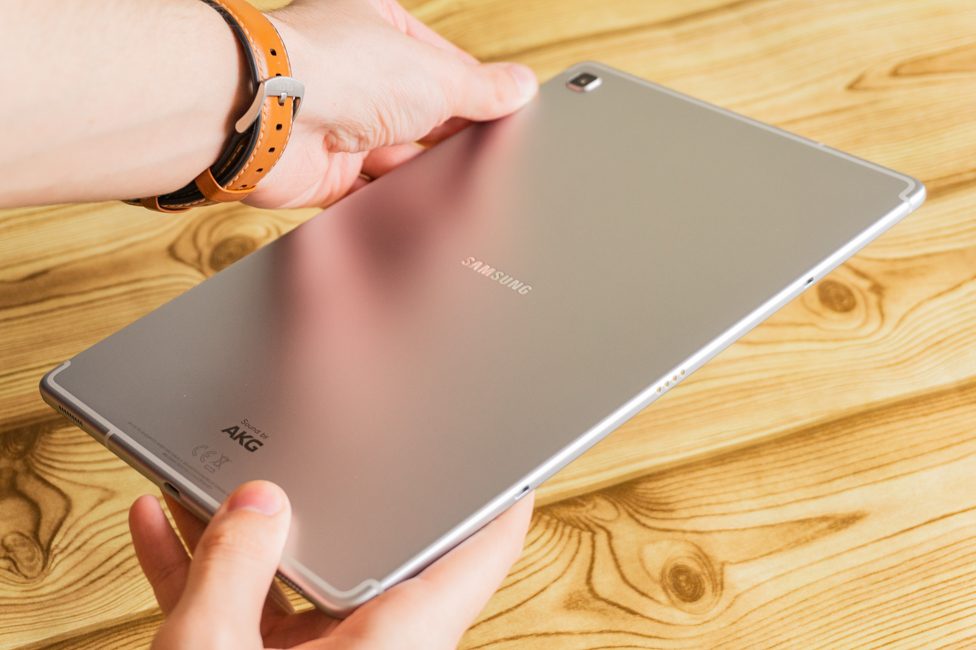 Elements' configuration
In the center above the screen is the front camera and the light sensor. No distracting logos.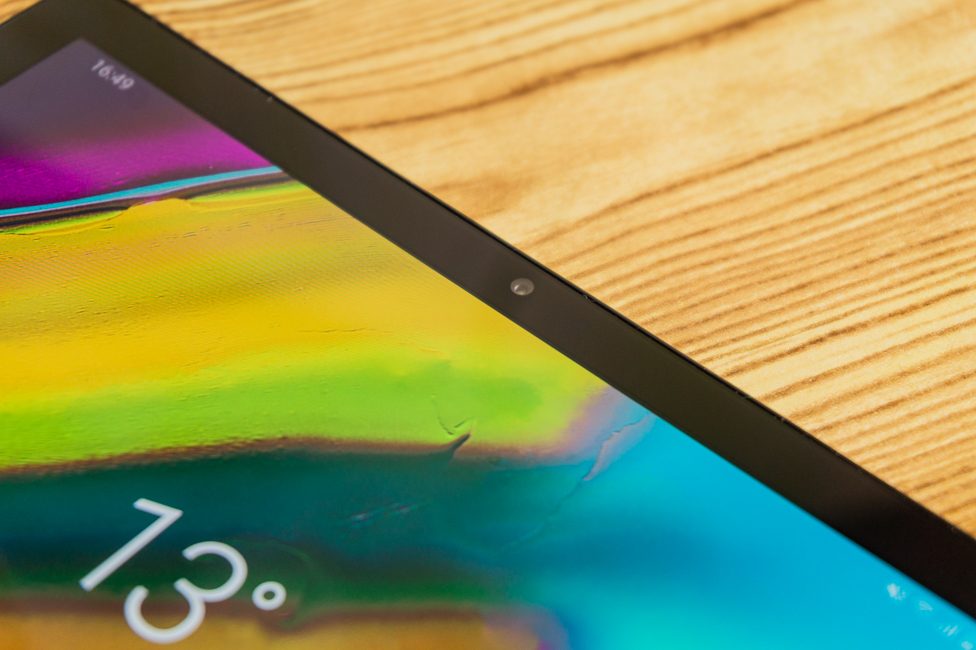 On the right side there is a power button, combined with a fingerprint scanner, just like in Samsung Galaxy S10e. Below is a paired volume button, microphone and card slot (or cards). In our case there are two of them: for nanoSIM and microSD memory cards. But in Tab S5e version with Wi-Fi there is no slot for a carrier card.
On the left side in the middle there are four magnetic contacts for connecting the keyboard cover with small slots on the sides for a more secure fit.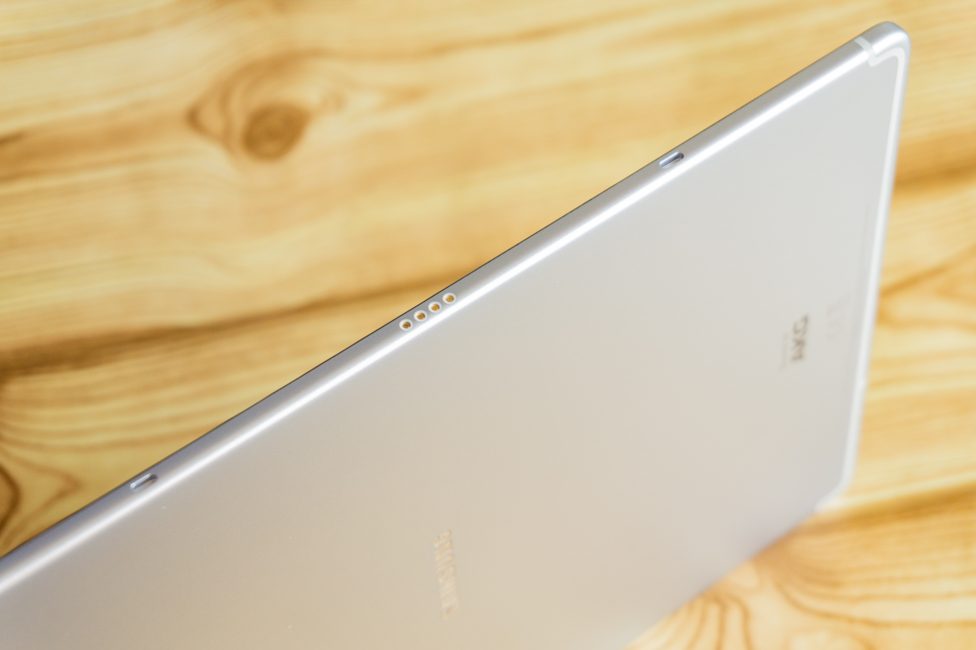 The Type-C port is centered on the bottom, and there are speakers with speakers on each side. On the upper side there are similarly located speakers and an additional microphone.
Behind in the upper left corner is a camera eye overlooking the body. In the center we have the Samsung logo. At the bottom there is an AKG logo and some other inscriptions.
Ergonomics
As I already said, Samsung Galaxy Tab S5e is pleasant to hold because of the metal case. But besides, it boasts record thickness – only 5.5 mm! This is probably the thinnest tablet ever. iPad Pro 11, though not by much, is thicker – 5.9 mm. Plus, the weight is 400 grams for a 10.5-inch device, too, which makes it quite comfortable. In terms of dimensions, Tab S5e has everything in order.
Using the tablet in a vertical orientation, you can easily press the volume button or unlock it with the fingerprint scanner. In a horizontal position, it is important to ensure that these elements are on top – it is easier to use them.
Bezels around the display are perfectly thin, and no false touches occur. Despite the protruding camera unit, Samsung managed to achieve an almost complete absence of gadget swaying when the screen is tapped, if you use it on a flat solid surface.
Some of the speakers in landscape orientation can be slightly muffled when blocked by palms. This happens if you hold it by the lower end. You can move to the center, but the grip won't be as firm.
Samsung Galaxy Tab S5e Display
Samsung Galaxy Tab S5e is equipped with a relatively large 10.5-inch screen. Super AMOLED. The display resolution is WQXGA or 2560 × 1600 pixels, aspect ratio – 16:10, density – 288 ppi.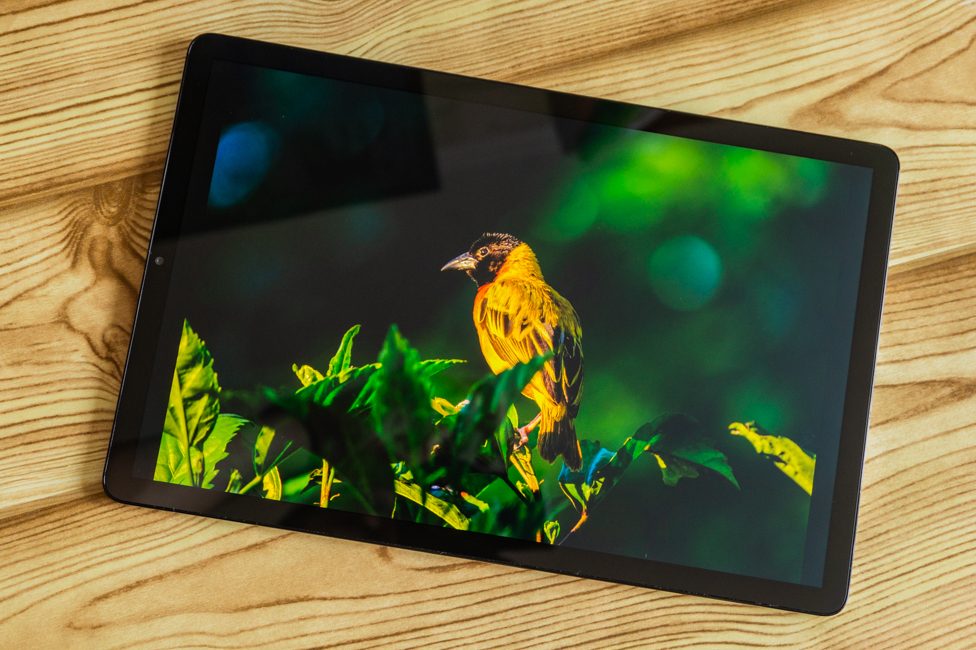 The screen here is wonderful. The parameters generally accepted for such matrices are appropriate here: a rich and contrasting picture with a deep black color. Viewing angles are excellent. The stock of brightness is very large – you can use the tablet on the street.
White shows green and pink shades at certain angles. But the clarity of the screen is magnificent – the pixels are imperceptible, the text looks great and small objects in the applications are also clear.
The display has enough settings. Starting from four color profiles with white balance adjustment in adaptive color mode and ending with a blue light filter.
In short, this is an excellent screen that's perfect for browsing, watching videos, playing games and performing any other tasks.
Samsung Galaxy Tab S5e performance
The computational ability of the Samsung Galaxy Tab S5e is assigned to a fairly fresh mid-level chip – Qualcomm Snapdragon 670. It is made according to the 10-nm process technology and consists of 8 cores. These are two Kryo 360 Gold with a frequency of 2 GHz and six Kryo 360 Silver cores with a frequency of 1.7 GHz. Adreno 615 handles graphics. In synthetics, we get very good numbers.
Our sample has 4 GB of RAM, which today is enough for a comfortable use. And since this is a tablet, multitasking or the simultaneous use of several applications is important. And here the more RAM – the better. In terms of the number of applications held in RAM, I had a dozen of them simultaneously running. Had I opened another one, it would have rebooted.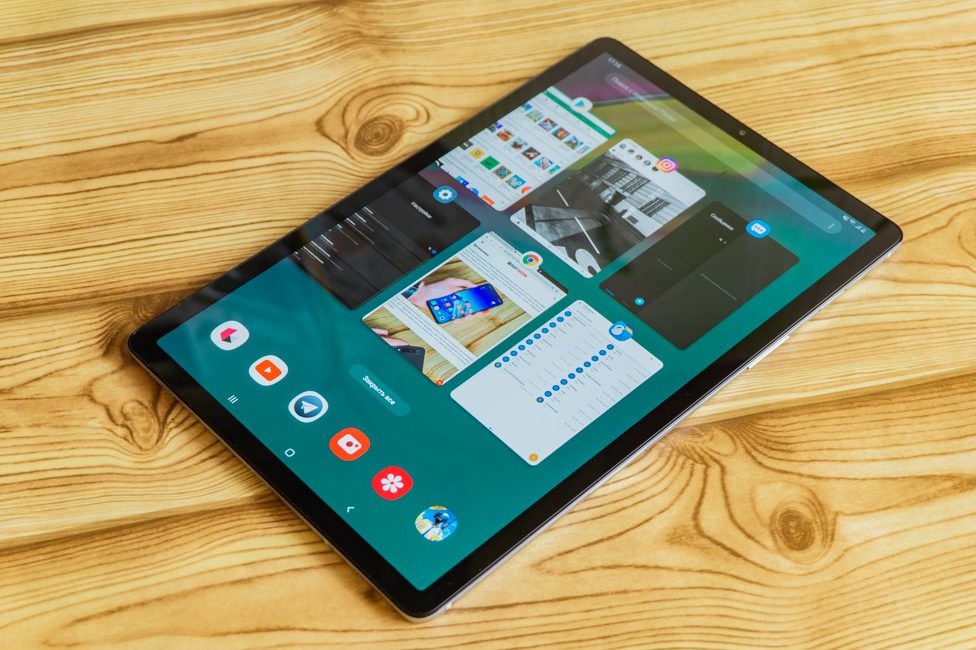 From a 64 GB drive, the user is has 50.65 GB. In principle, enough. Moreover, there is a slot for expanding storage with microSD memory cards up to 512 GB.
In aggregate, such hardware should demonstrate the smooth, fast and smooth operation of the entire system and apps. However, in the current state it is not perfect. The animations of opening and folding applications slow down a little, but the applications themselves, as they say, fly. This nuance can be attributed to raw software of the test sample.
As I already said, apps work very fast. As do most of the games. Even the heaviest of the games run great. PUBG Mobile runs on high graphics, but in the parameters it allows you to select only the maximum (not ultra). And in general, it is quite comfortable to play on the maximum settings. The same applies to other games – most work on high settings.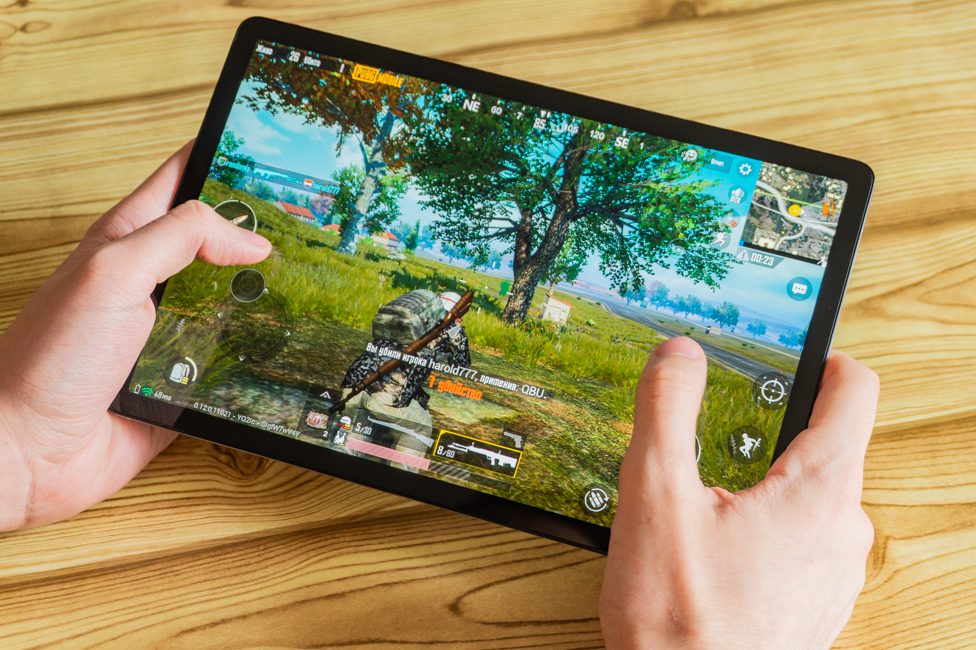 But there are some games like Fortnite. It allows only for the low settings and supports low resolution. I don't want to play like that at all. It's just not adapted for big screens.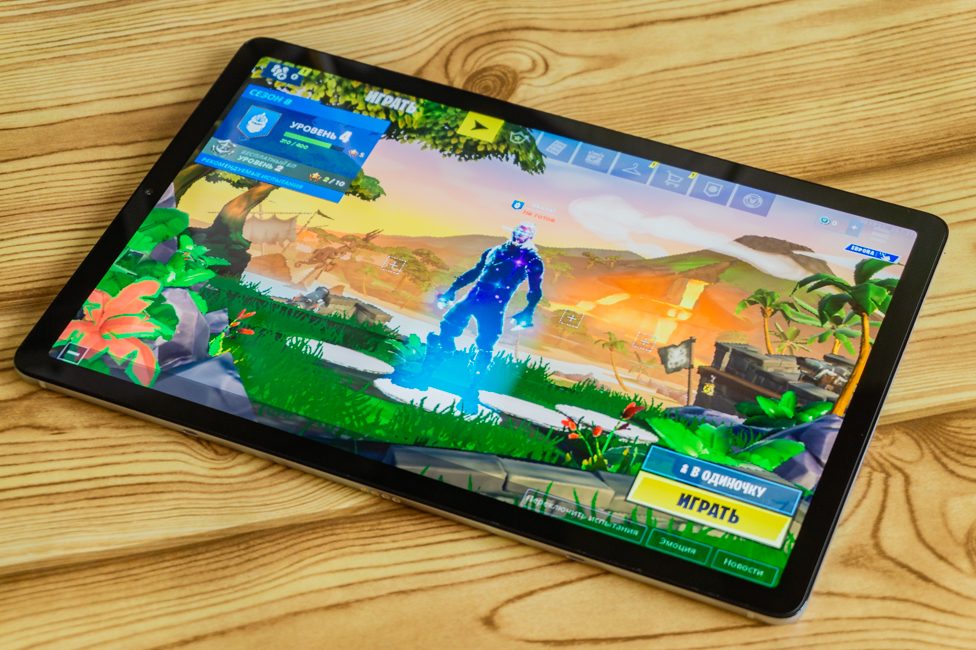 Cameras
The tablet has a 13 megapixel main camera with f/2.0 aperture, a focal length of 26 mm, a sensor size of 1/4.0″, and 1.12 µm pixels. There is an autofocus.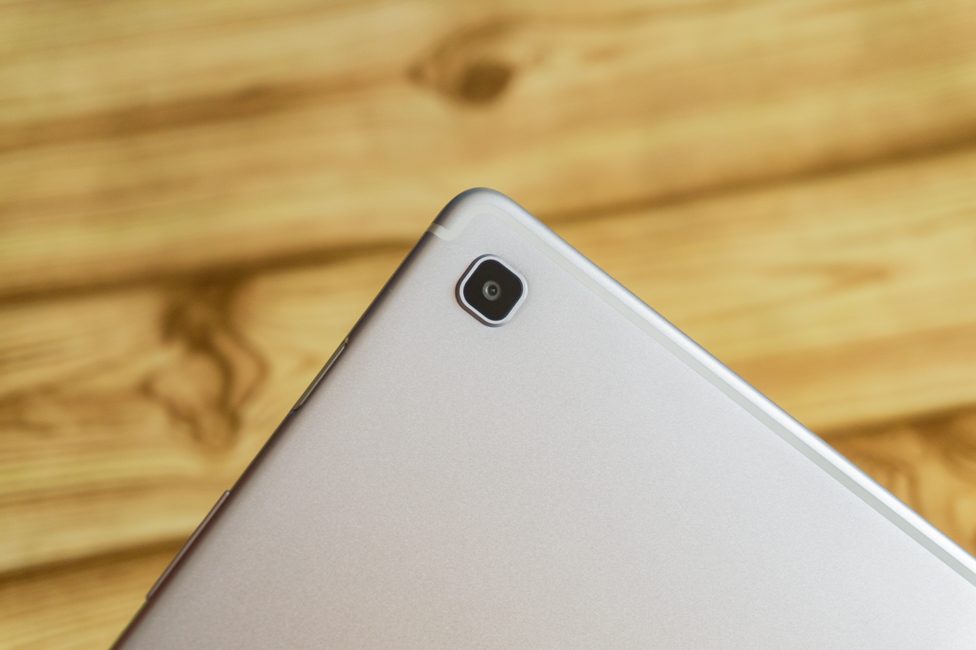 And this is probably the last thing worth paying attention to when choosing a tablet. Even if a camera might be very useful in a tablet. You might need to take a picture of a document, if you do not have a smartphone at hand. However, this camera is not serious. It's there and you can use it. That's about it.
PHOTO EXAMPLES IN FULL RESOLUTION
For some reason, Samsung put a double-zoom button on the camera screen, as if there were two cameras. There is a "Living Focus" feature; it's also not clear who wants to make portrait photos with blurring the background on the tablet. Frame optimization with scene definition has been added.
Video can be recorded in UHD and 30 fps, even with electronic stabilization. The quality is normal, for a tablet.
The front camera is 8 megapixel f/2.0 (26 mm, 1/3.4″, 1.12µm). For its tasks, it's more than enough. It can even blur the background.
The camera application is standard for One UI shell. Some things were modified for tablets: the shutter button can move depending on the orientation of the device. There are panoramas, manual mode and hyperlaps.
Unlock Methods
There are two of them. First, a traditional fingerprint scanner on the right side, which is combined with the power key and face recognition. This method is reliable, but may not always work the first time. Because of this situation, in the context of large tablets, it's not as comfortable as with a smartphone.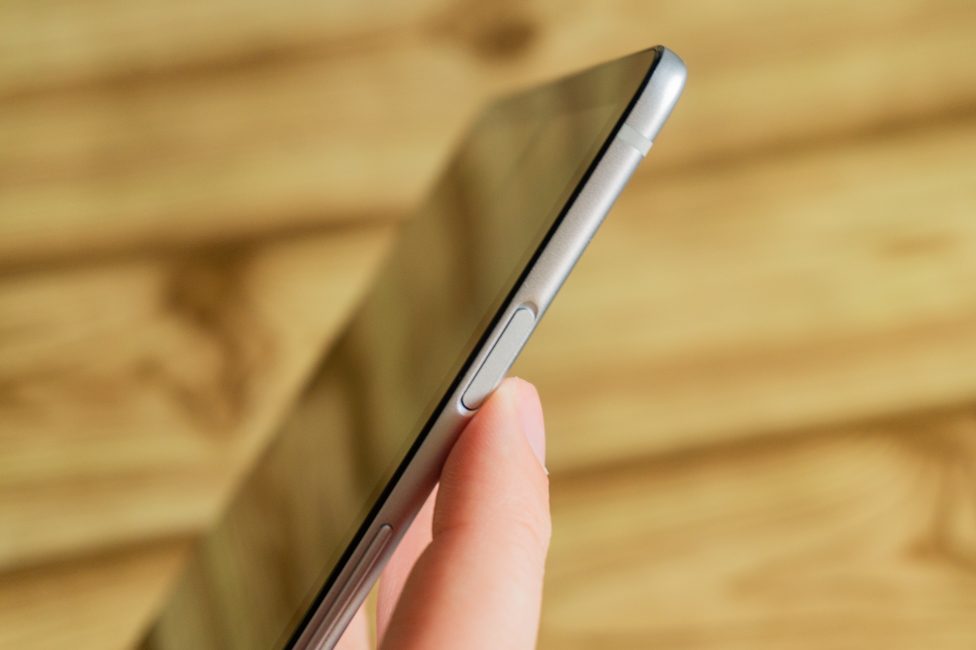 It is also important to enter a finger in the system several times and capture a large area of ​​it. After such manipulations, you can safely count on increased accuracy and faster times.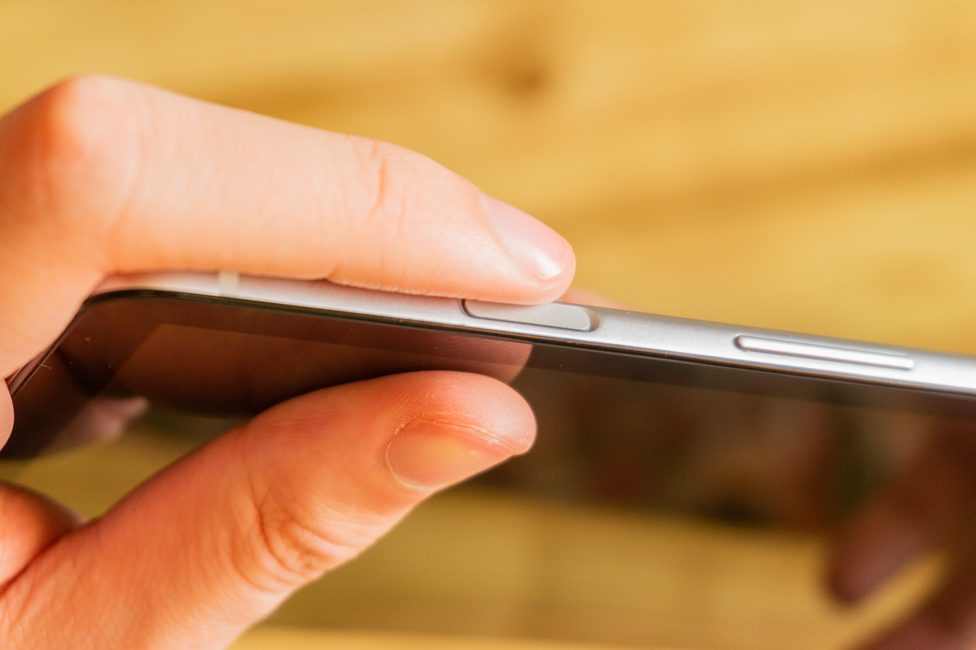 The face is not scanned as quickly, and during the initial setup I had a feeling that the software needs work. For example, the camera may not immediately "see" the face or ask to bring the tablet closer to it. Then it will say that the face is not recognized. This method is hardly perfect.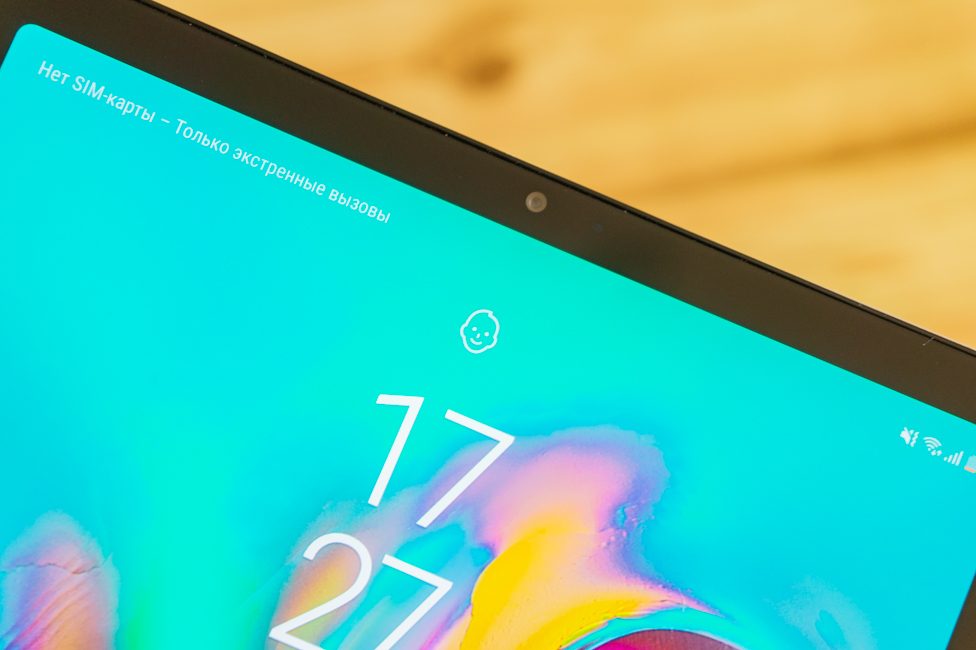 Samsung Galaxy Tab S5e battery life
Despite such a thin case, the manufacturer managed to fit inside Samsung Galaxy Tab S5e a 7040 mAh battery. It is always very difficult to describe the battery life of such devices, because there are many factors that can affect it. Every user will get different results.
Let's open the battery usage statistics and take a look: the tablet was last charged more than 4 days ago, and the current charge is 31%, the screen worked for more than 5 hours. During these 4 I used it sporadically. Lots of time in the browser, a little more in games, a little video and music. I will say this – a day or two is not enough to deplete the charge. It can be assumed that it will not last a whole day in some resource-demanding game, but this is not certain. I cannot afford to check this.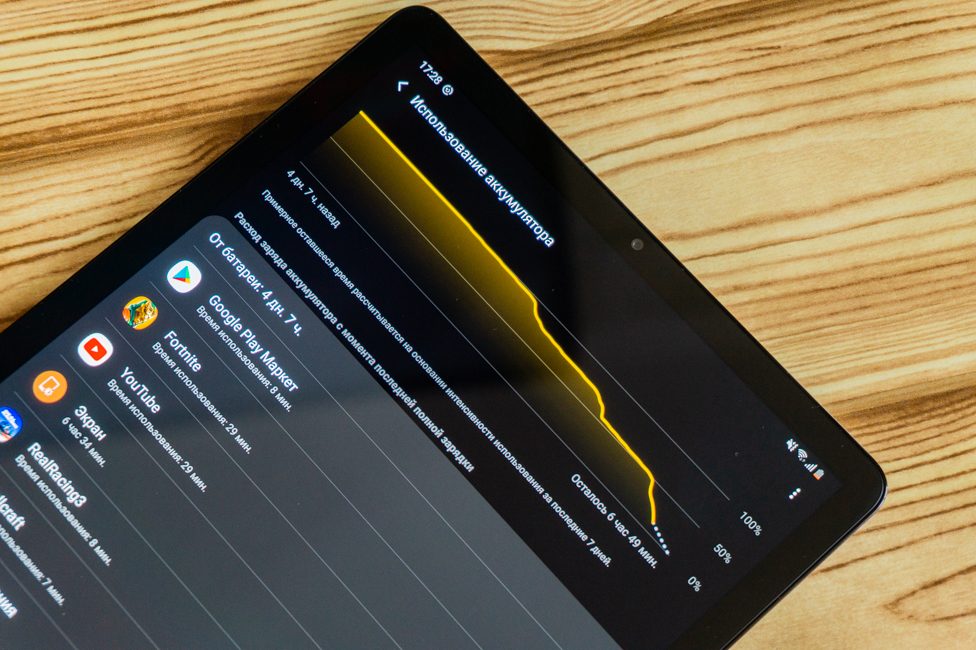 Samsung website talks about watching videos for 15 hours and working on the Internet for up to 9 hours. In general, everything depends on the person. The tablet lasts for several days with moderate use.
Sound and communication
Samsung Galaxy Tab S5e has a very good sound. Its sound system consists of four speakers, which were developed by specialists from the world-renowned AKG. And you can tell: the sound is very loud, high-quality, rich and not flat at all. Overall, it is excellent.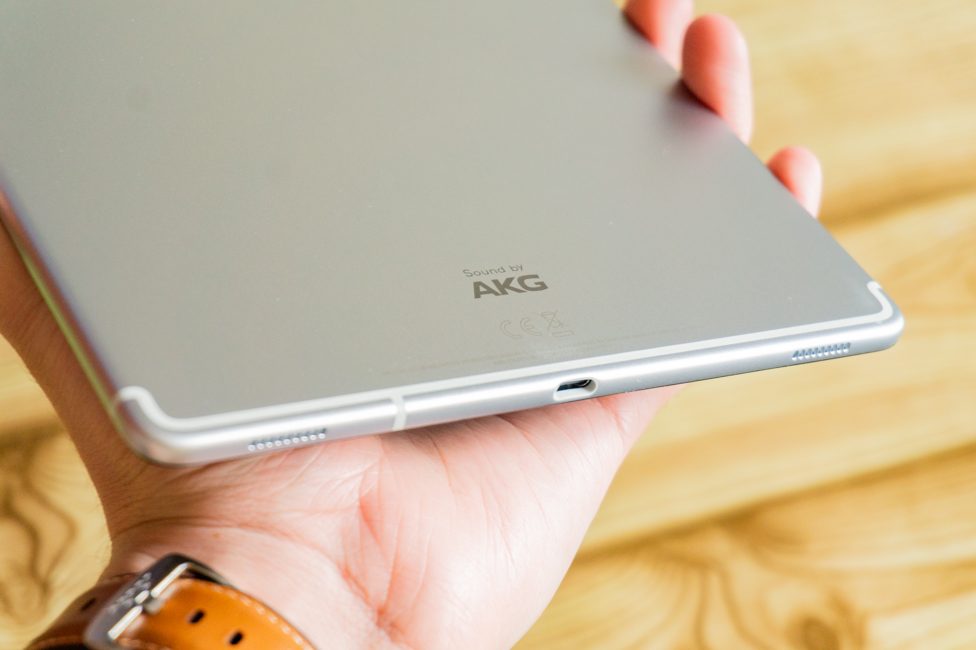 But what can be frustrating is the lack of a 3.5 mm jack for connecting wired headphones. It is not yet clear whether the adapter will be included, but the fact alone is upsetting. Although with the wireless headphones the tablet sounds great too. Dolby Atmos effects are supported and there is an equalizer.
Wireless networks are supported in all their diversity: dual-band Wi-Fi 802.11 a/b/g/n/ac, Bluetooth 5.0 (A2DP, LE) and GPS (A-GPS, GLONASS, BDS, GALILEO). Everything works as advertised. In the LTE version of the tablet, you can insert a SIM card and use the mobile internet on the go, send or receive SMS messages and even call if necessary.
Firmware and software
Samsung Galaxy Tab S5e runs on Android 9.0 Pie with the updated shell of the manufacturer – One UI 1.1. In truth, the shell philosophy is more understandable for smartphones than a niche product like a tablet.
But there is one important feature in this matter – the DeX-mode, which works without additional accessories and the need to connect to an external monitor. All you need to do is activate it from the curtain or in the settings.
It gives a more convenient and understandable multi-windowing and, in general, resembles an "adult" desktop OS. But the touch control for this is not very good, I would like to use some kind of a keyboard.
Verdict
Samsung Galaxy Tab S5e is a thin premium tablet with great display, good hardware and juicy sound. It will handle most of the tasks you'll throw at it and will run games and multimedia without breaking a sweat.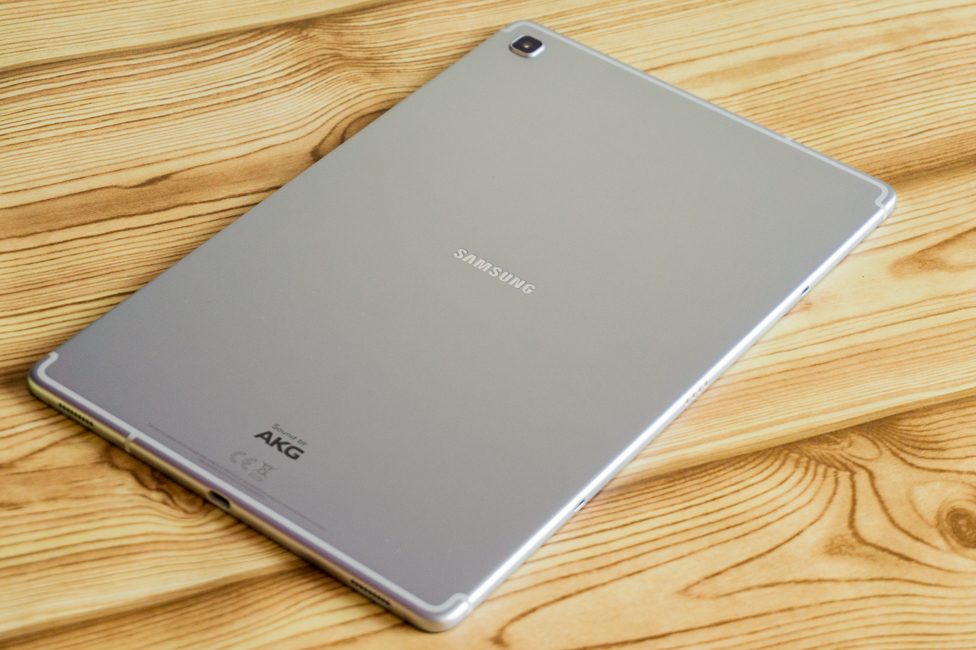 I loved the DeX functionality without additional devices. If you need an Android-tablet in 2019, Samsung Galaxy Tab S5e will suit you just fine.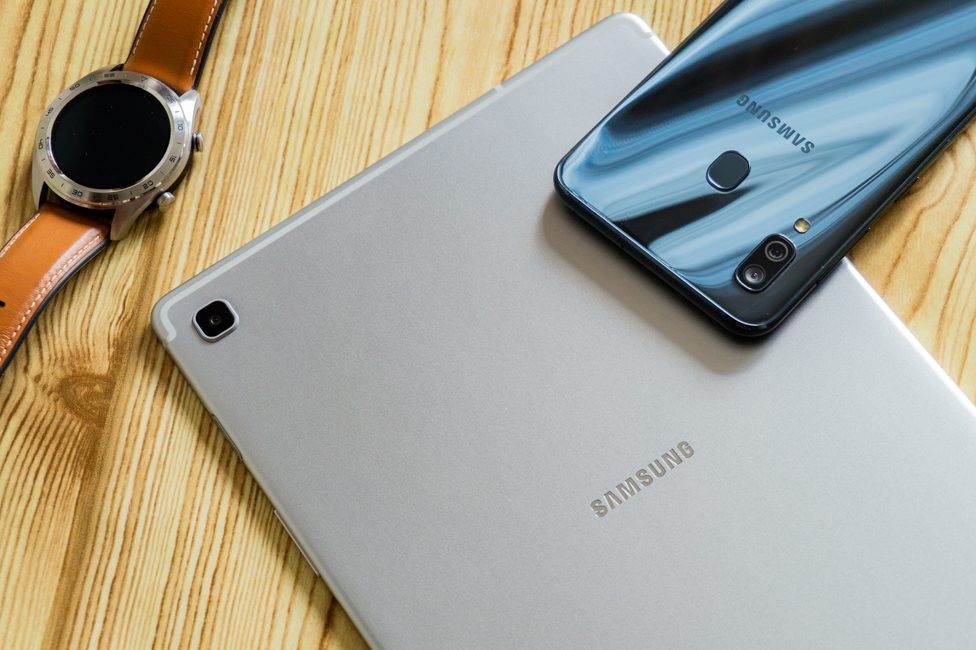 Subscribe to our accounts in social networks: