At the end of October, Huawei held an event at which it showed two new smartphones, lipstick-shaped earbuds, as well as Huawei Watch GT 3 smartwatches. As it is easy to guess, the latter has replaced last year's Huawei Watch GT 2/GT 2 Pro model. And it is also a slightly more affordable and simplified version of the flagship Huawei Watch 3, which was presented in the summer. The watch is not yet available for sale, it will appear in Europe on November 21, and in some places not earlier than December. However, we were lucky to test it earlier.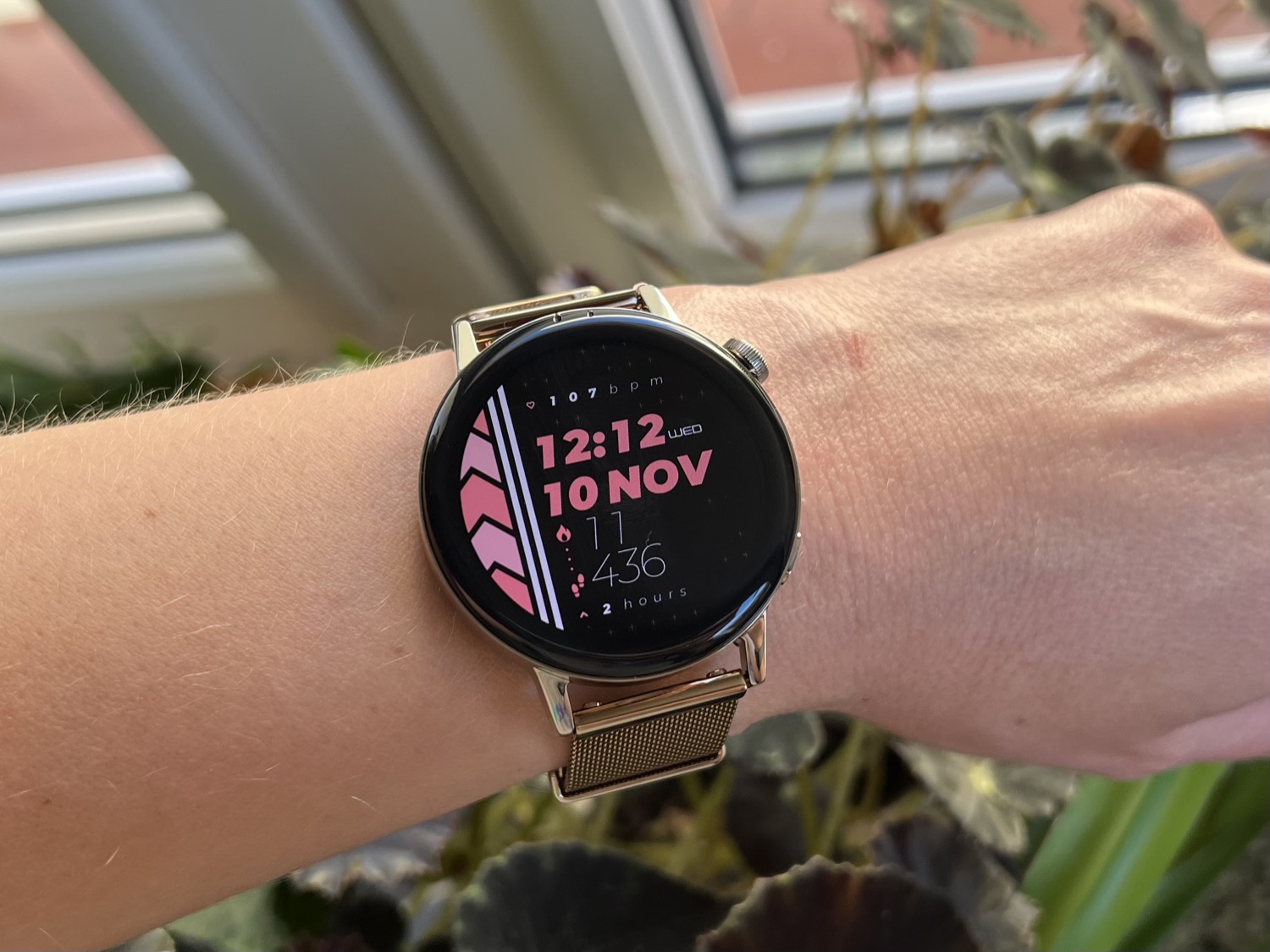 Full specifications of the Huawei Watch GT 3
Screen
46 mm: 1.43 inches AMOLED, 326 ppi,466×466

42 mm: 1.32 inches AMOLED, 352 ppi,

466×466

Dimensions and weight
46 mm: 45.9×45.9×11.0 mm42.6 g without strap

Suitable for wrist: 140-210 mm

42 mm: 42.3×42.3×10.2 mm

35 g without strap

Suitable for wrist: 130-190 mm

Colors, materials
46 mmColor: Black/Steel

Material: stainless steel and plastic

Straps: black fluoroelastomer, brown leather, steel.

42 mm

Color: Black/Gold

Material: stainless steel and plastic

Straps: black fluoroelastomer, white leather, gold Milalese loop

Battery
46 mm: Up to 14 days of normal use, 8 days of intensive use.42 mm: Up to 7 days of normal use, 4 days of intensive use.

Wireless charging in both versions.

Processor
ARM Cortex-M (no specs)
RAM
32 MB
Drive
4 GB
Audio
SpeakerMicrophone
Data transfer
GNSSGPS, GLONASS, Galileo, Beidou и QZSS

Bluetooth

Sensors
AccelerometerGyroscope

Geomagnetic sensor

Optical heart rate sensor

Air pressure

Temperature

Protection
5ATM (immersion up to 50 m)
OS
ОС Harmony
Compatibility
Harmony OS 2 and aboveAndroid 6.0 and above

iOS 9.0 and above
Read also: Huawei Watch 3 Pro review: premium smartwatch running HarmonyOS
Positioning and price
The Huawei Watch GT 3 replaced last year's Huawei Watch GT 2. It's design has changed slightly (the button + crown instead of two crowns, and the crown now actually moves and allows you to control the interface like the Digital Crown wheel in Apple Watch), the screen size has grown slightly, LiteOS has been replaced with more advanced HarmonyOS, sensors have become better, GPS is more accurate.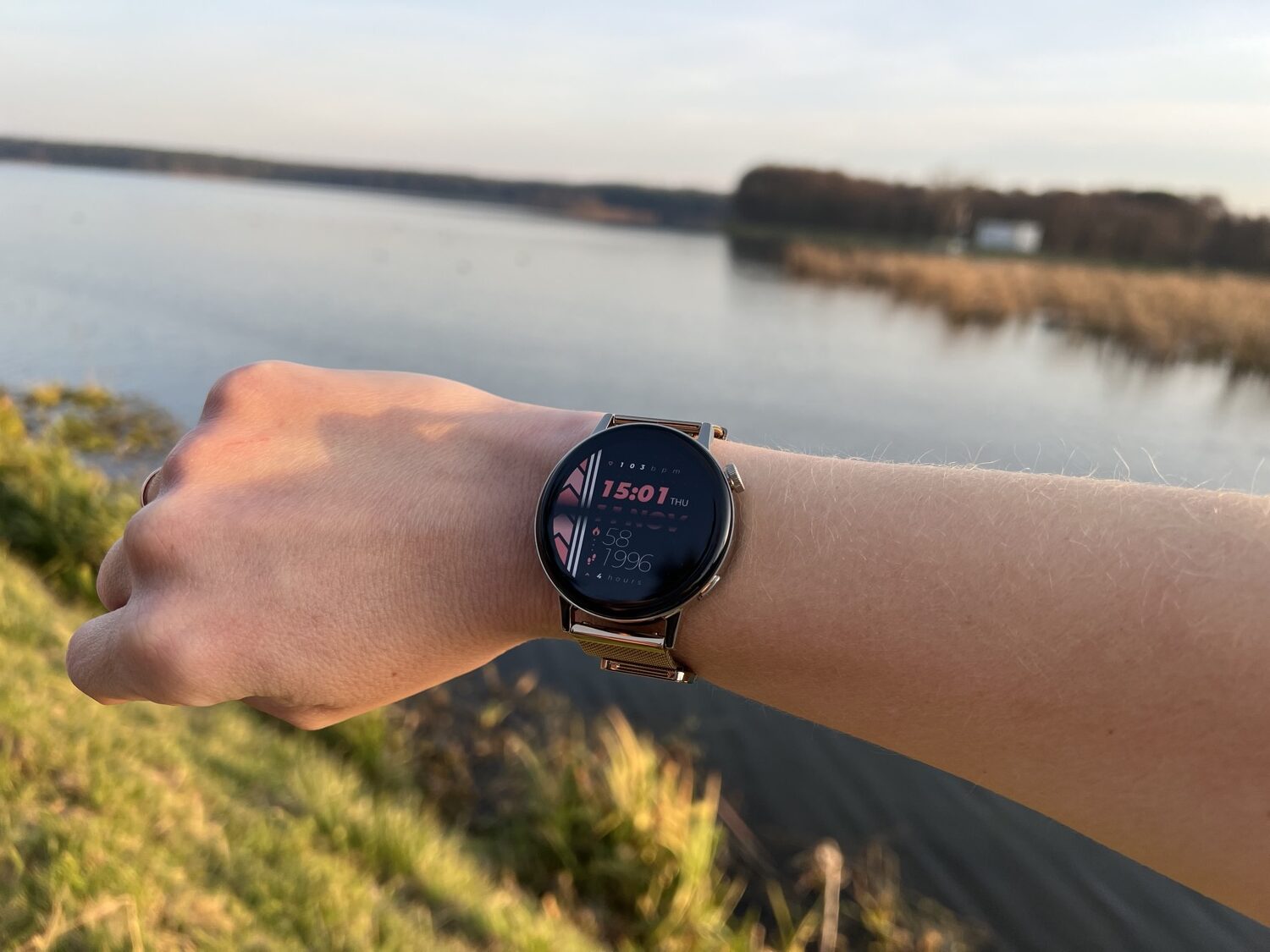 If we compare with the more expensive Huawei Watch 3 presented relatively recently (from $370), then the Watch GT3 has a lot of simplifications. Instead of ceramics, there is plastic on the back panel, there is no eSIM support (you can talk on the phone, but the watch must be connected to your smartphone via Bluetooth), significantly less RAM, some functions have been removed. But the Watch GT 3 has better battery life. In the case of Huawei Watch 3, it is 3-5 days, here it's 7-14 days (if we take into account the older 46 mm model).
The Huawei Watch GT 3 is available in different versions, the starting price is $270. And here are all the options with official European prices:
Huawei Watch GT 3 (42 mm):
Active edition (black case, black fluoroelastomer strap), €229
Elegant edition (gold case, white leather strap), €249
Elegant edition (gold case, gold metal Milanese loop), €299
Huawei Watch GT 3 (46 mm)
Active edition (black case, black fluoroelastomer strap), €249
Classic edition (silver case, brown leather strap), €269
Elite edition (silver case, stainless steel strap), €329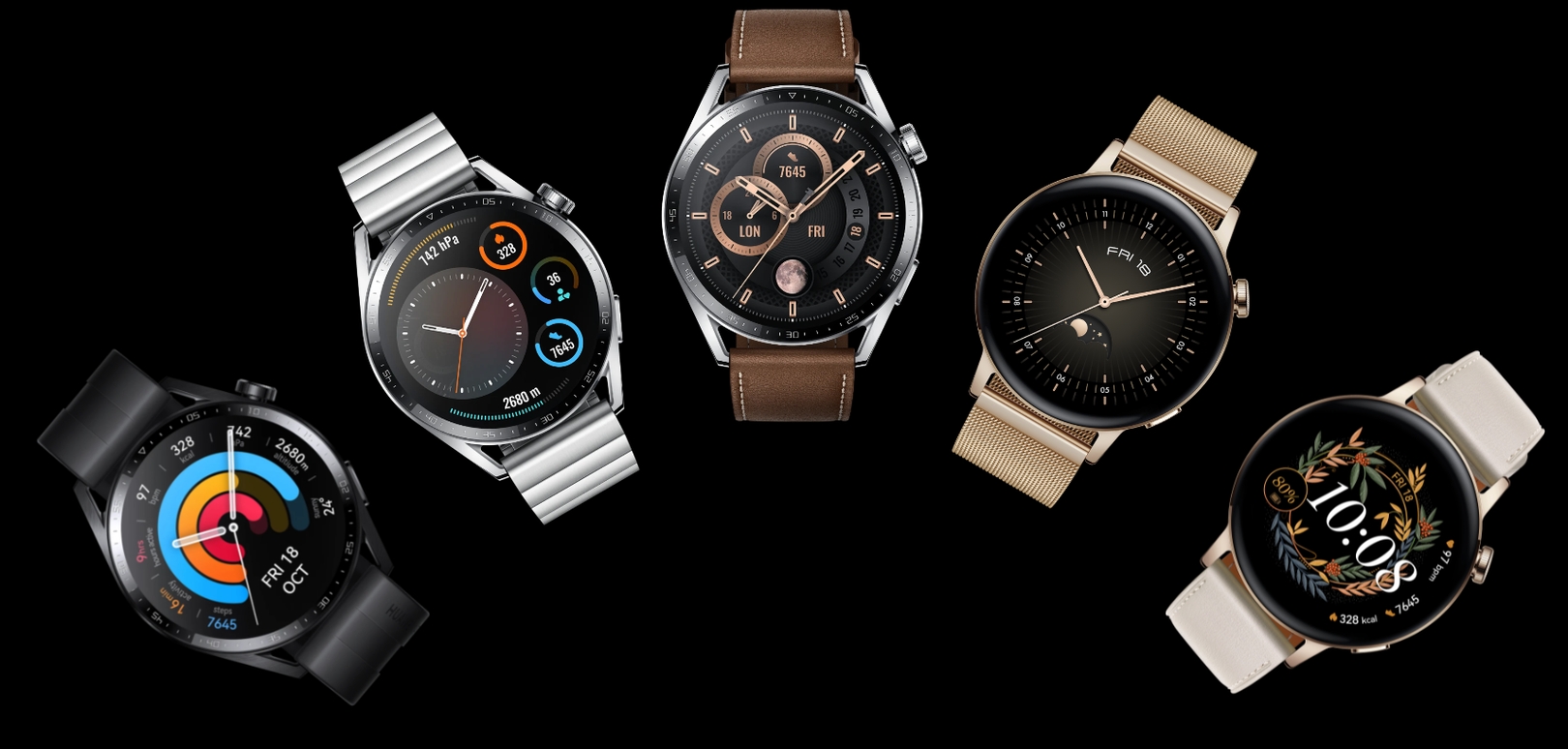 Read also: Huawei Watch GT 2 Pro smartwatch review: Live It Like a Pro
What's in the box
Each watch model comes in a box with golden inscriptions. Inside, too, everything is classy, you immediately realize that you have purchased a premium-level device.
Inside is the watch, brief instructions, and awireless platform. There is no charger included, but you can use any from your smartphone.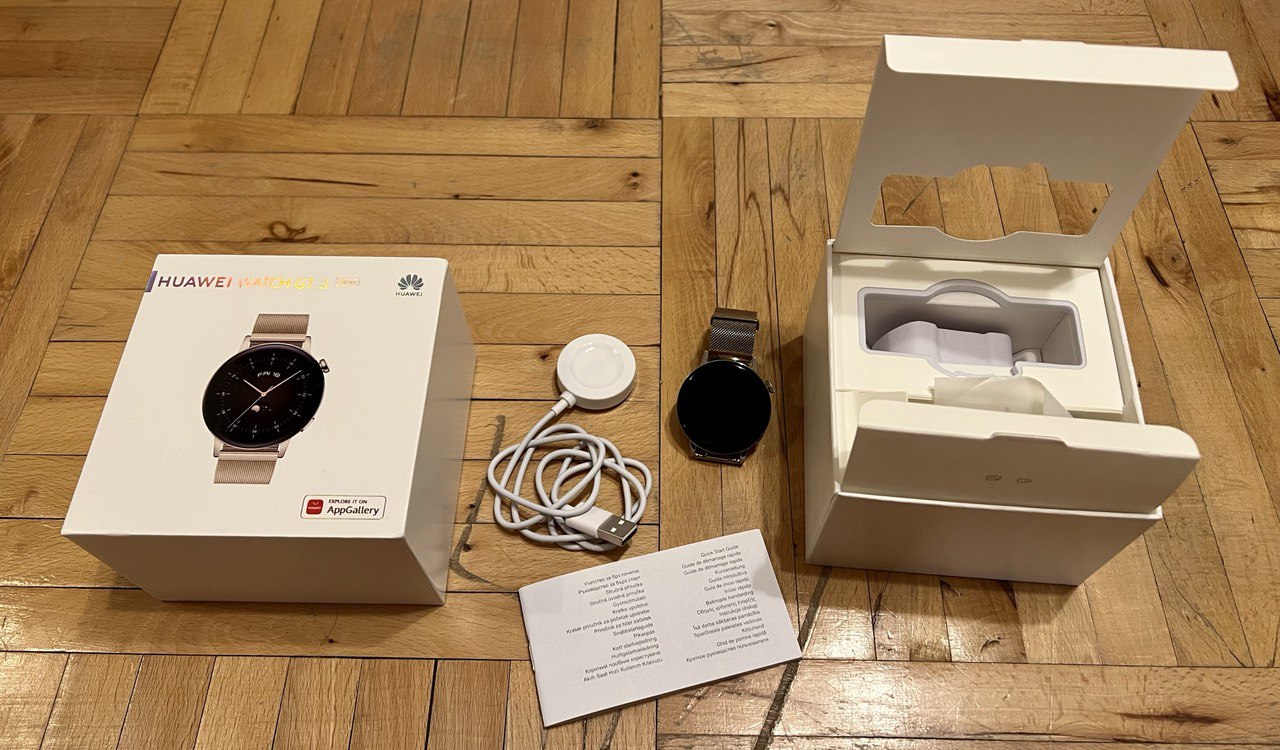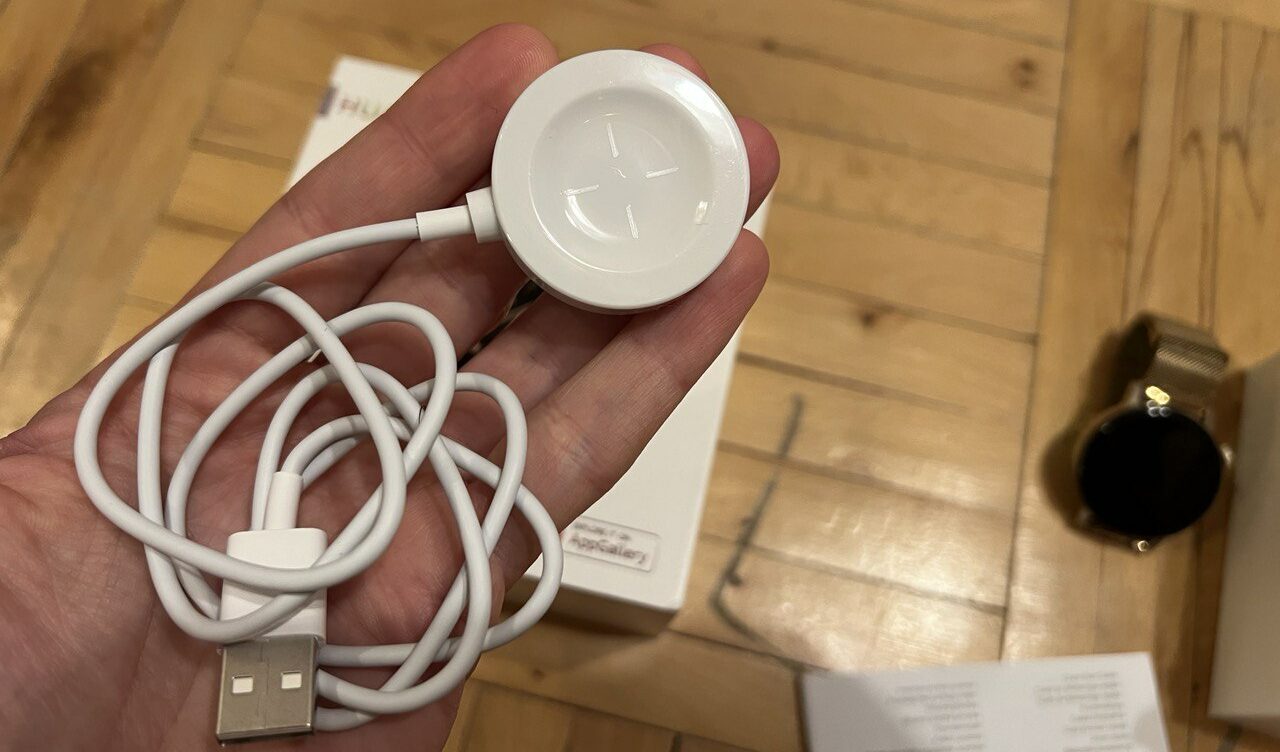 Design
As you can see, we tested an elegant version in a gold case with a gold band (thin weave, flexible). Obviously, this design was created with women in mind. The same can be said about the model with a white leather strap. But the option with a black strap made of polymer material is also suitable for men if they do not want too big a watch.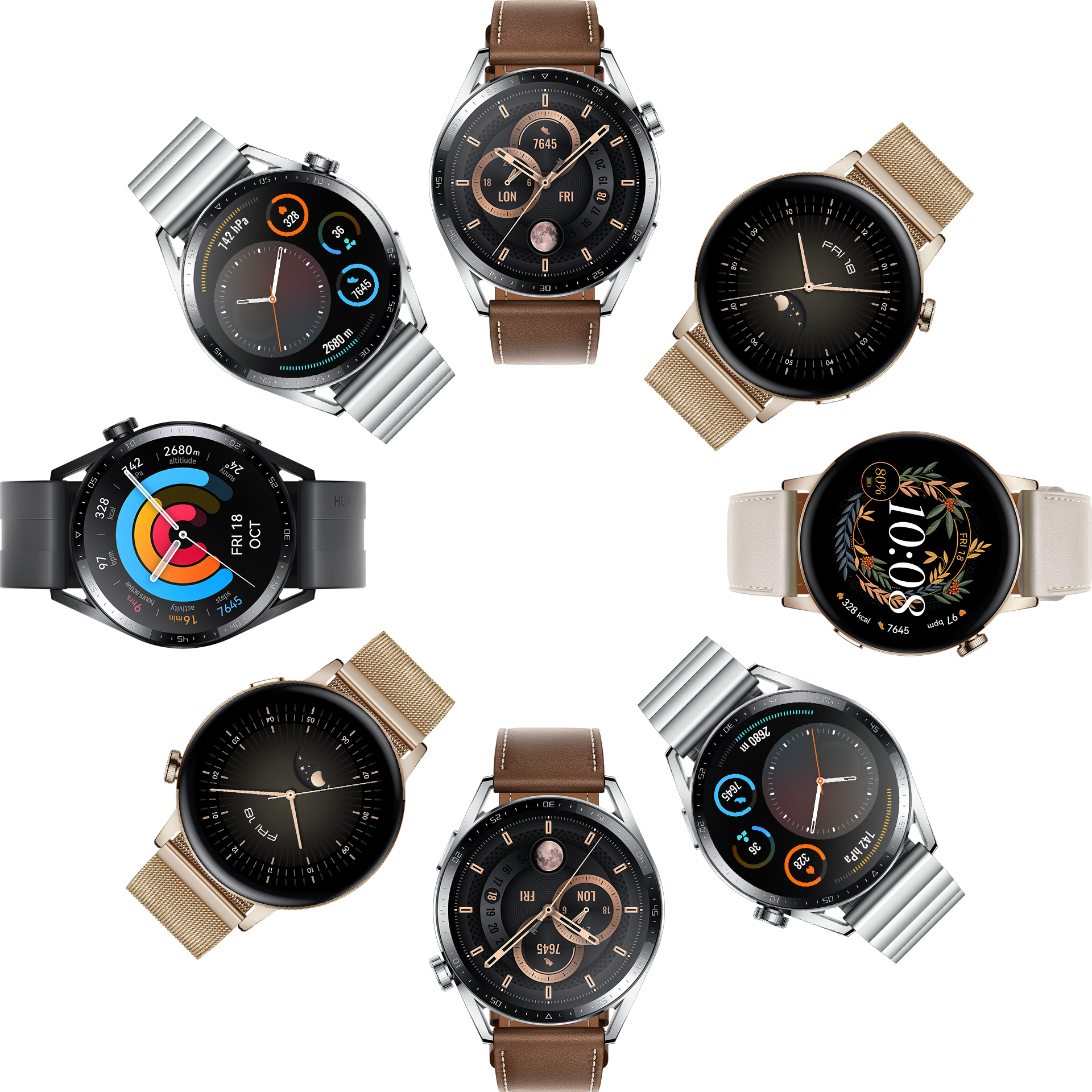 And our model is also one of the most expensive — about 340 dollars.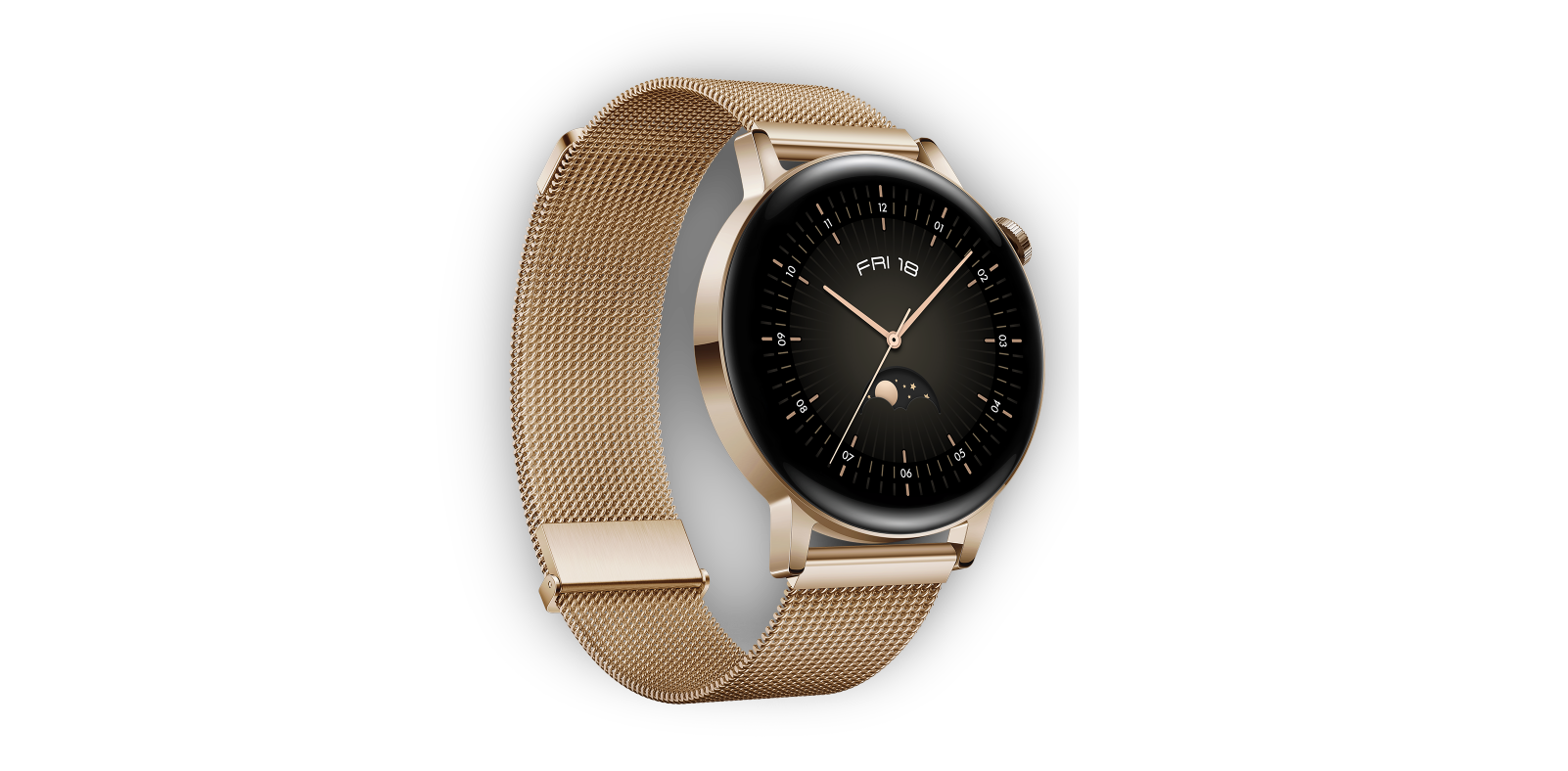 If we are talking about different modifications, then I note that the 46 mm option is definitely for men. Even a 42 mm watch is too large enough for a woman's hand.  46 mm will look huge. And it is a millimeter thicker and a little heavier. Actually, for this reason, there is no gold in the 46 mm version — the case is black or "steel" (silver), the strap is polymer, leather or metal. Leather, by the way, is natural, calfskin.

The design is also slightly different. In the 46 mm model, the edges of the screen are beveled, the divisions of seconds are applied to them. The 42 mm model has a smoothly rounded screen without any markings.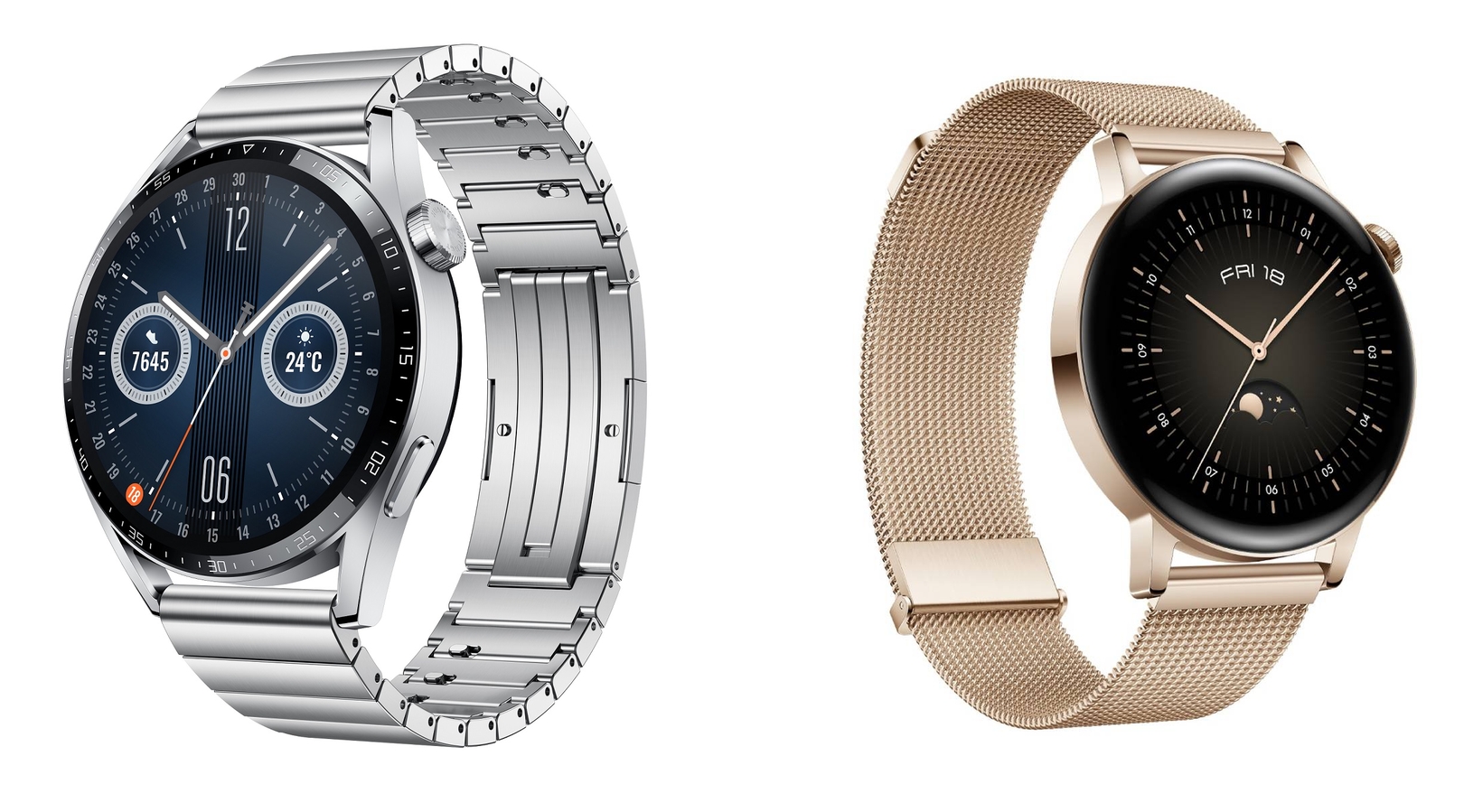 Inside, every model is the same – memory, processor, software and so on. Except for the battery: a larger 46 mm case made it possible to install a more capable battery.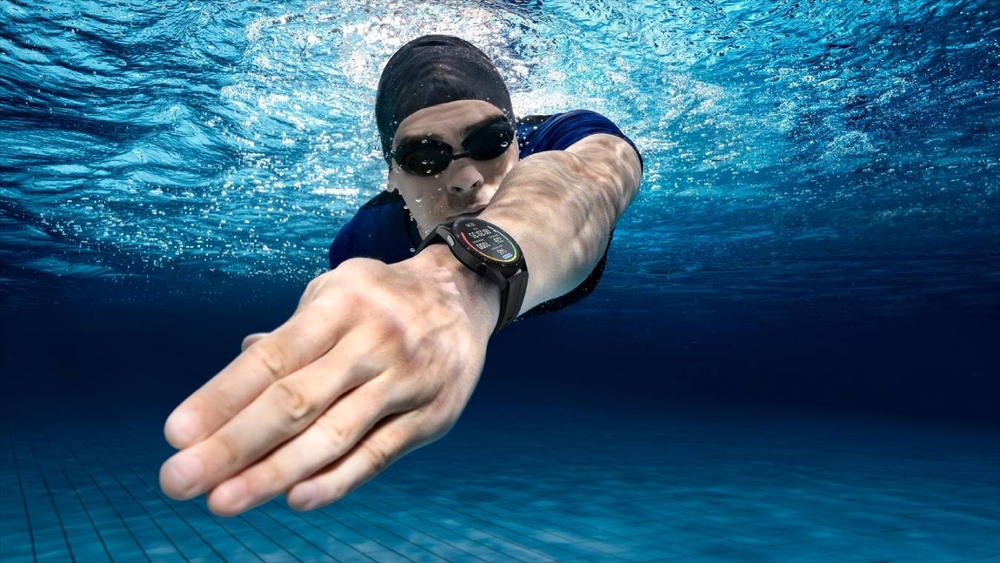 In this review we will get acquainted with the Huawei Watch GT 3 42 mm model in the Elegant gold case with a stylish gold strap.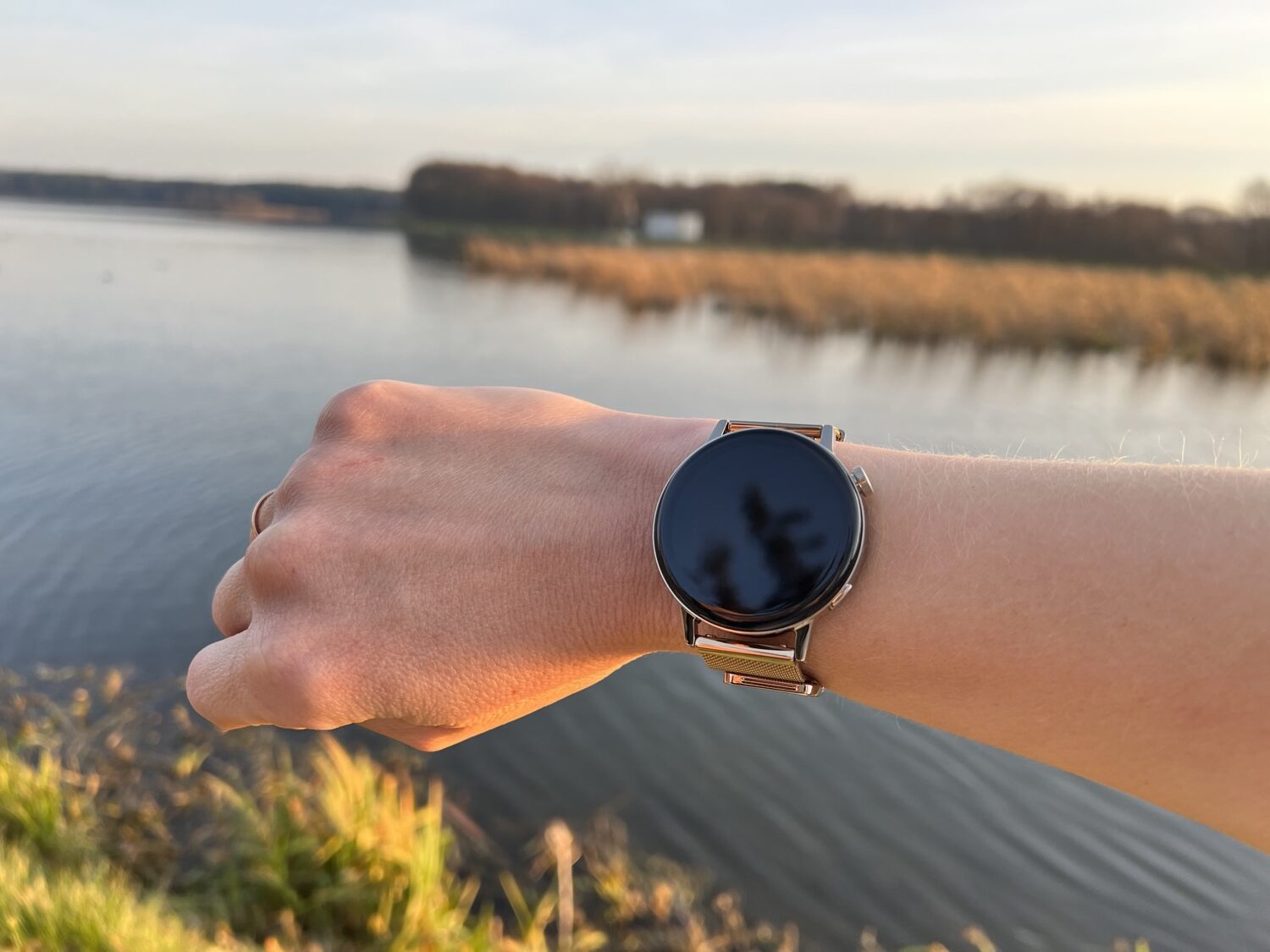 The watch looks very beautiful. You can see that this is an expensive gadget that inherits the traditions of classic watches. I love my Apple Watch, but I can't help but admit that next to Huawei Watch GT 3 it looks like a children's toy.
Yes, of course, there is an Apple Watch in a gold case and you can buy the same Milanese loop, but the effect will be lost because of the form factor.
As I noted, the watch is large. Even in the "lady's" 42 mm size. So if you don't like big watches, it's not for you. I even had a discussion with people on social networks, and someone poked fun at me saying that the Watch GT 3 is huge and does not look right on my hand. I don't agree. Big watches are in fashion now. Also this isn't just a watch, its a smart gadget that benefits from a larger screen.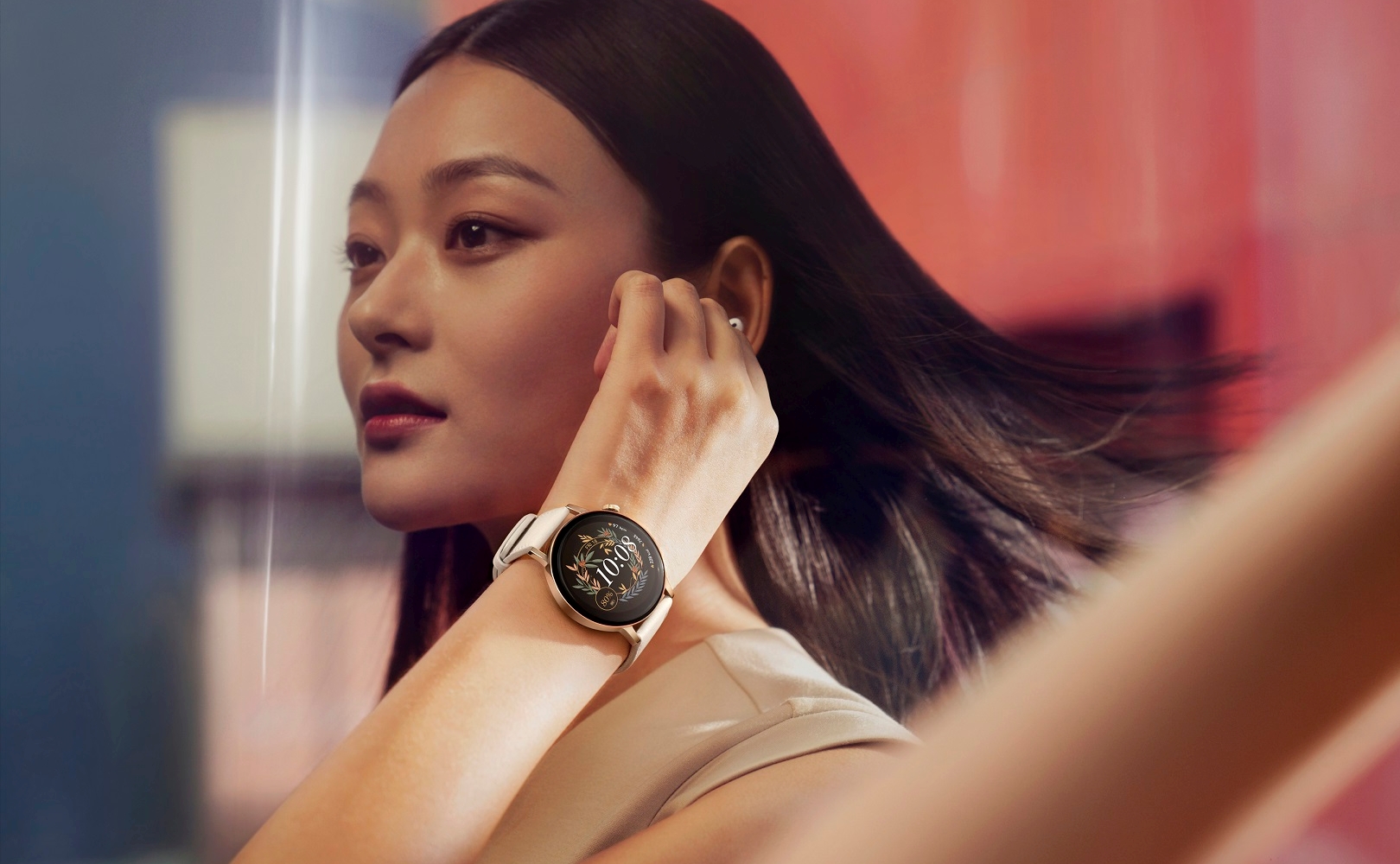 Anyway, I had no problems with the size. The watch is also not particularly thick (there are much larger analogues) and is light enough.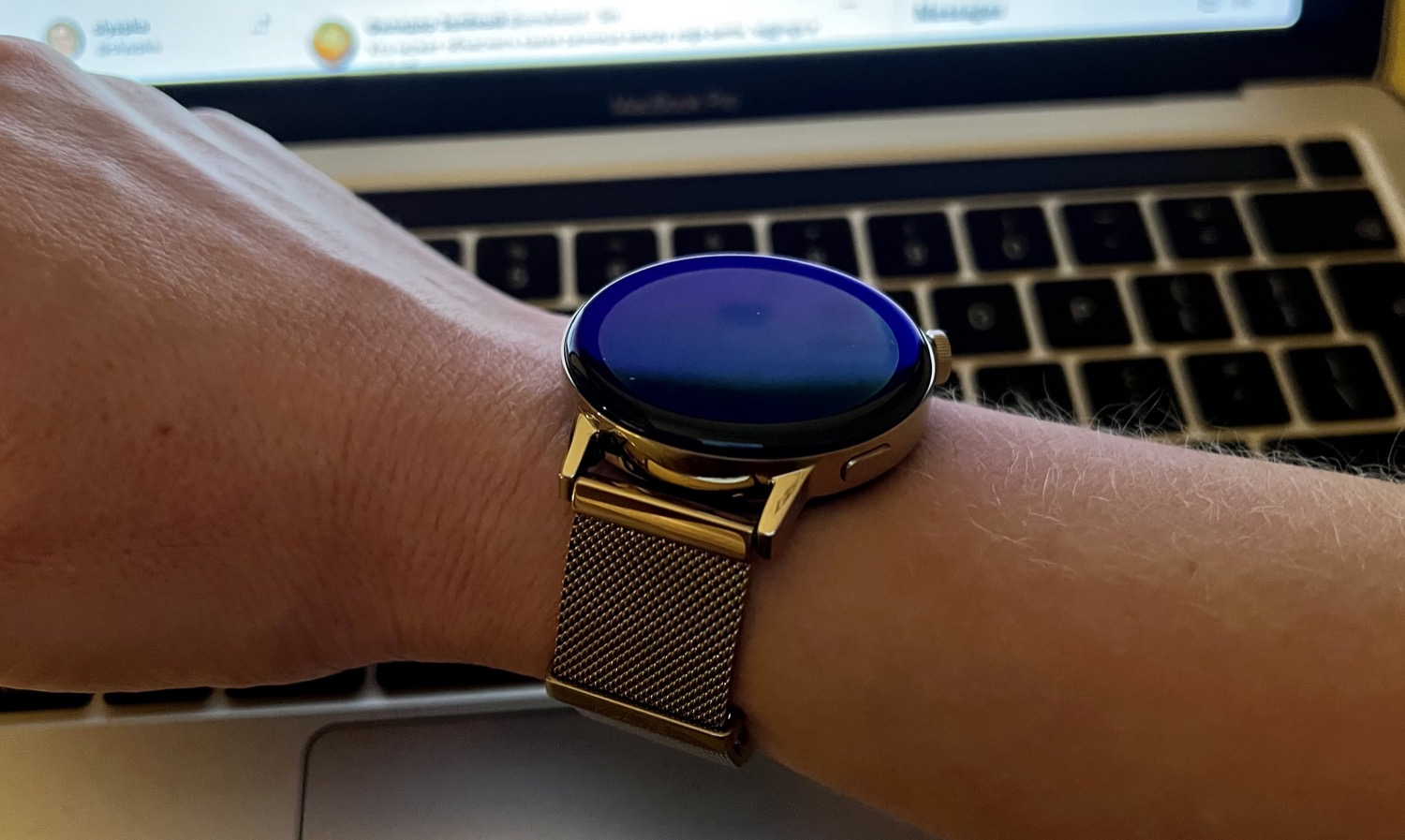 I'll add that Watch GT 3 seems to me a much more convenient option for fitness and sports. The flagship Watch 3 is perhaps too massive (both in terms of size and weight), although it depends on your taste.
The watch case is steel, glossy. If you look closely, you can see fingerprints on it.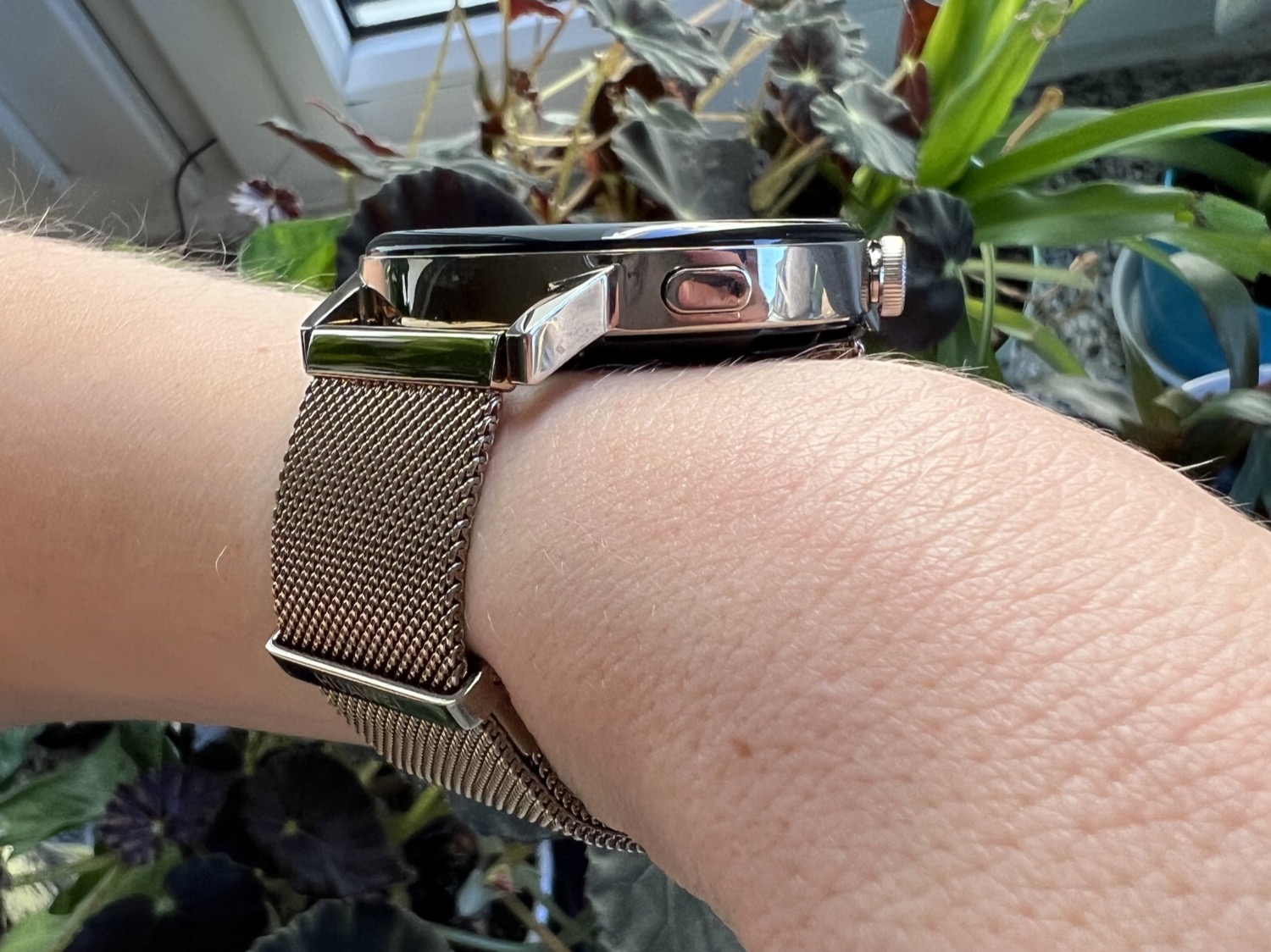 The watch is protected from moisture according to the 5ATM standard, you can swim and even dive 50 meters with it. After training in the pool, you should launch the speaker cleaning mode.
The screen is covered with glass with, as the manufacturer specifies, a high degree of transparency. This is not sapphire crystal, like in the Watch 3, but, according to Huawei, it's scratch-proof. The glass is really high quality. Fingerprints on it are invisible. No scratches appear, but I made sure of that myself. I don't know how the glass will handle itself after intense use. Especially since the beveled edges of the display are not protected in any way. My Apple Watch 5, for example, is very susceptible to scratches. But Huawei Watch GT 3 seems to have more reliable glass.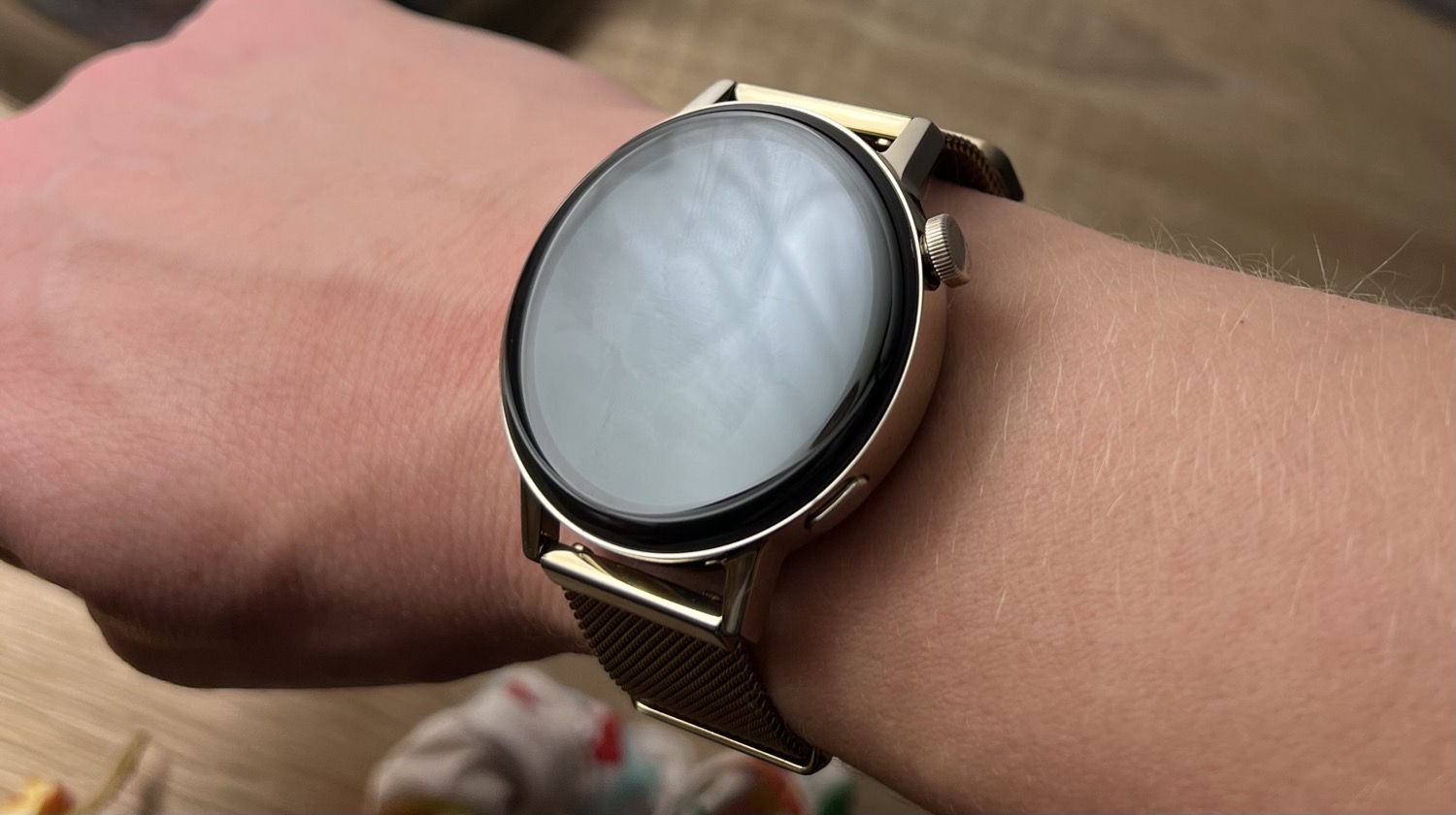 There are two control keys. One is in the form of a crown, the other in the form of a button. And, as in the case of Huawei Watch 3, this is not a crown-looking button, but a full wheel. You can scroll it to control the watch. This happens with a slight haptic feedback. If I didn't have an Apple Watch, I would probably admire it, but it's been implemented there for centuries. And, to be honest, Apple watches have a clearer response, vibration feedback is more pleasant. However, it's quite usable here. And the crown is a very convenient feature. It's good to have it here.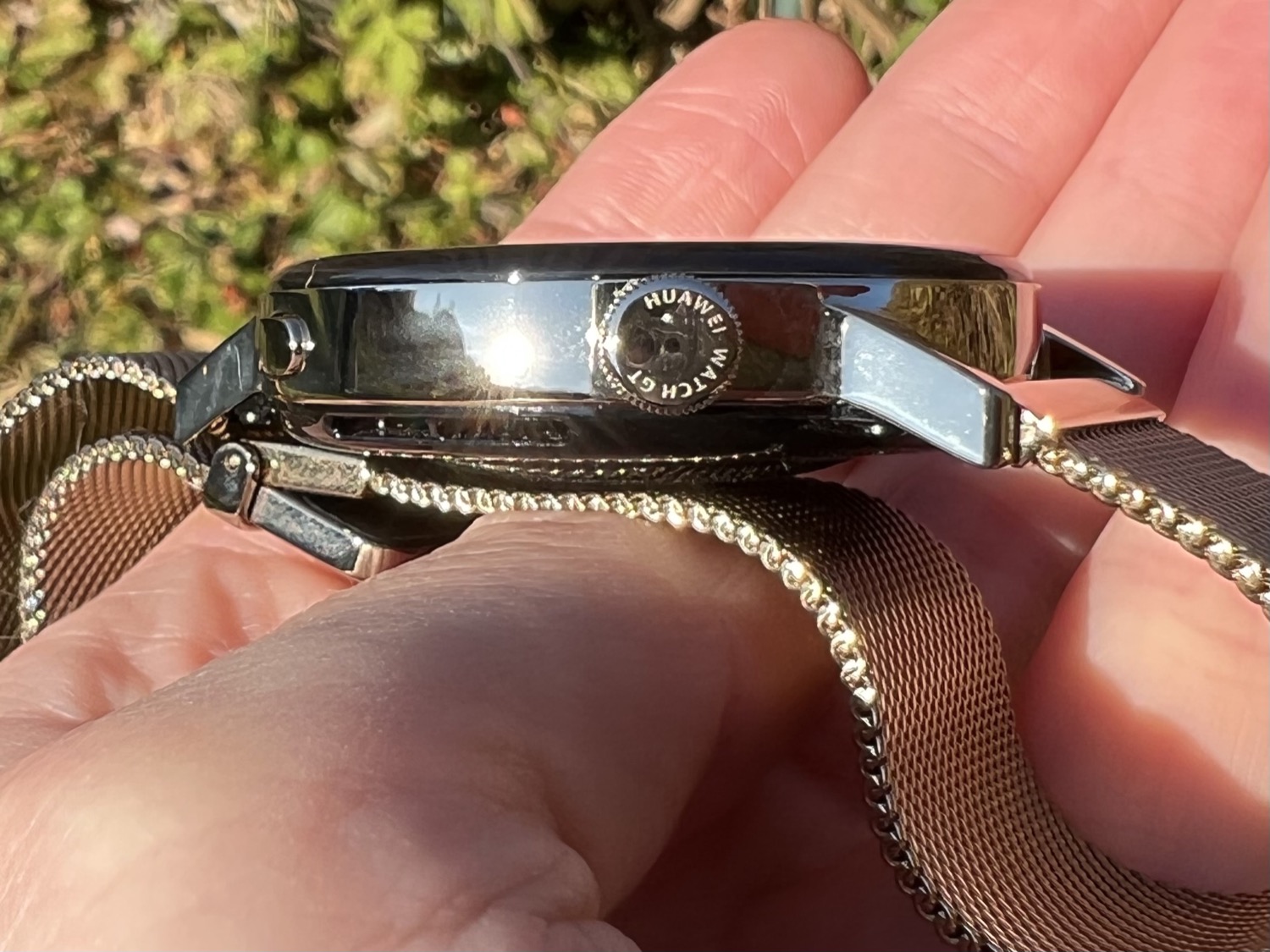 I'll add that single pressing of the crown returns to the home screen. The Huawei Watch 3 has a double-click option to call the last running applications, but Watch GT 3 does not have this feature, as there is no multitasking.
The second button is flatter, the travel is tighter. When you click by default, it opens the training menu, but you can reconfigure it to another action.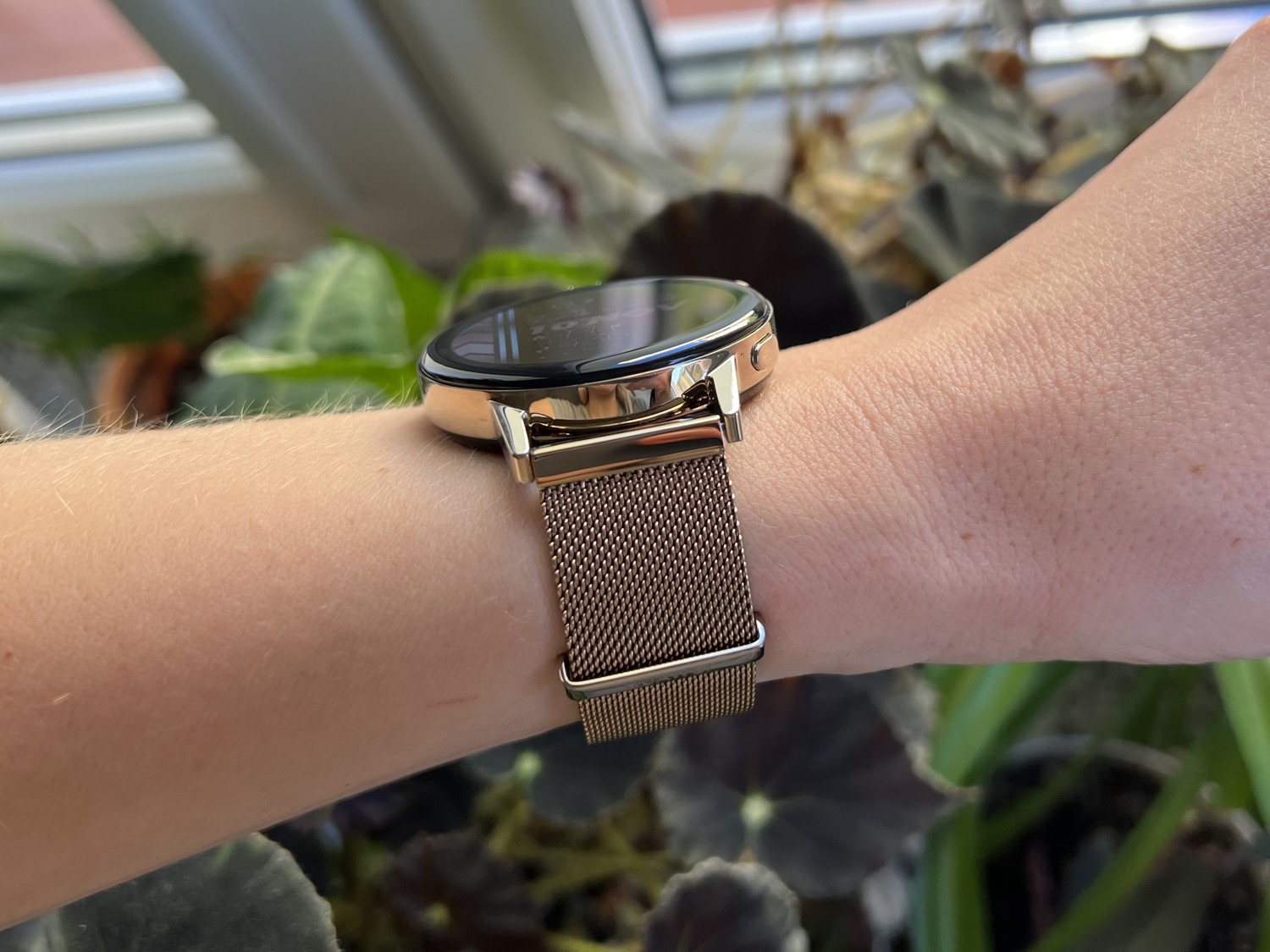 The lower part of the watch is plastic, attached to the case with four screws. On the one hand, it's a downgrade compared to ceramics in Watch 3, on the other hand, what's the difference? You can hardly see this side anyway. Although, it should be noted, it gets noticeably dirty. In the middle of the panel there is a large heart rate sensor.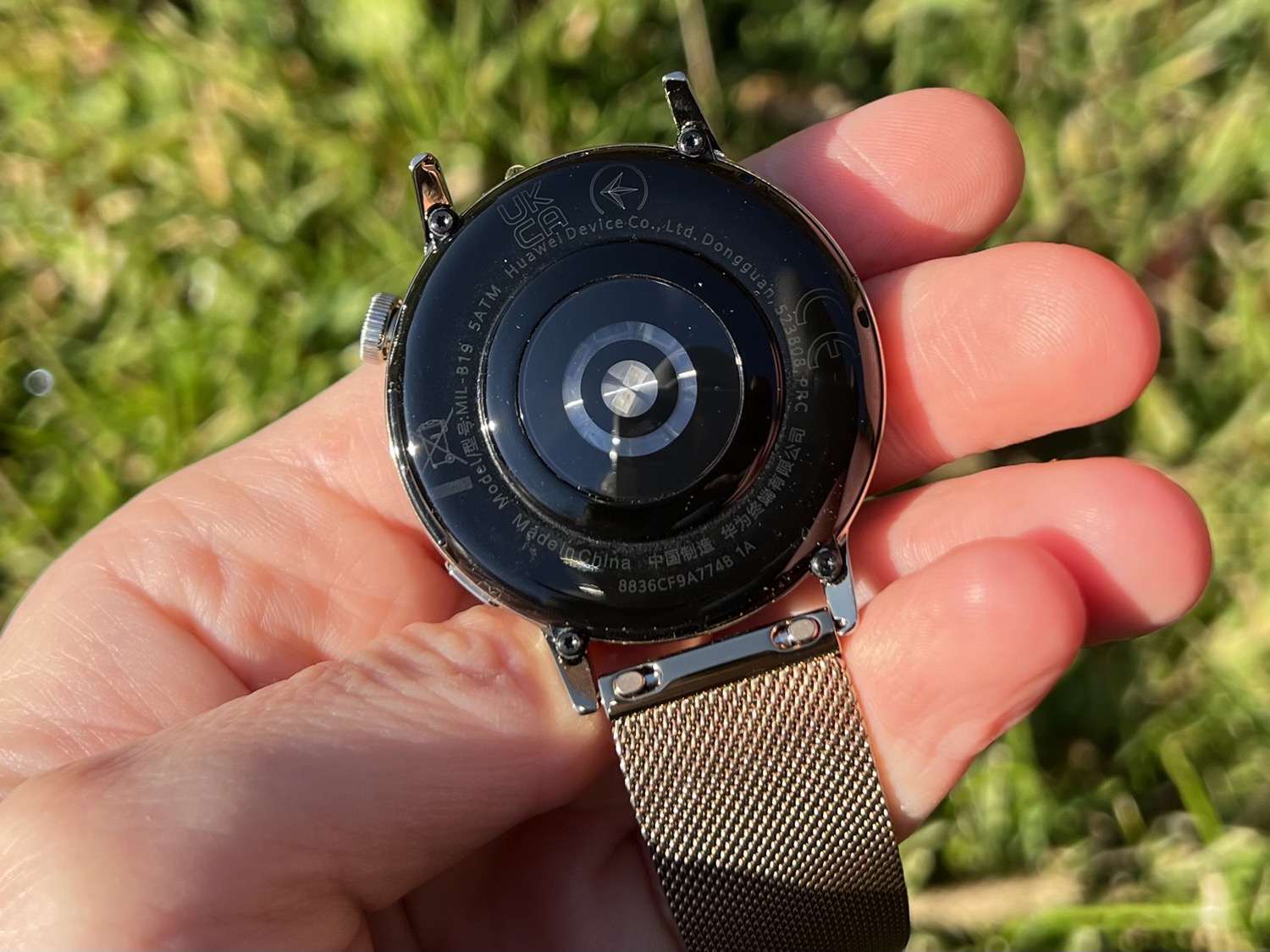 On the beveled side on the left there is a speaker hole (high-quality and loud, but not for listening to music, of course), on the other hand are the microphone holes.
Let's look at the strap. This is a Milanese loop, the quality is high. It's fixed with a magnetic "rivet".

However, such a band is heavy, it must be understood. In addition, personally, I wouldn't buy myself a Milanese loop. First of all, it's not my style. It makes sense if you're wearing business suits or evening dresses. And I am casual. Secondly, I train every day, and run three times a week. A rigid metal band with this lifestyle is not an option. It's not practical and sometimes even painful to use it.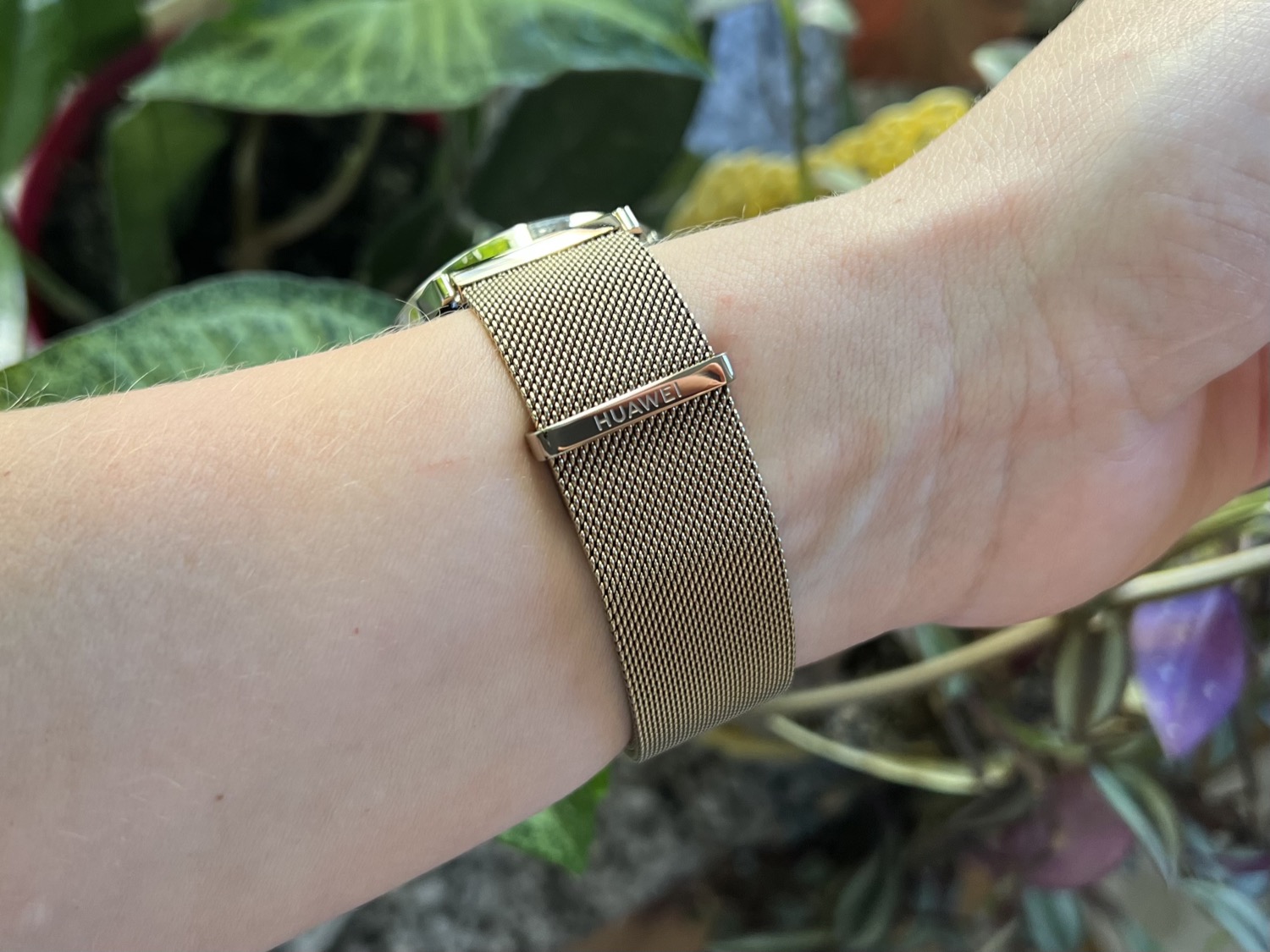 The bands are, of course, replaceable. Their standard size is 20 or 22 mm (42 and 46 mm watch sizes, respectively), so you can find spare ones on AliExpress or anywhere else. The main thing is that the mounts are compatible (telescopic), and can be found in watches from Samsung and Xiaomi. You can, for example, wear a Milanese loop to business meetings, and have something light and soft for training.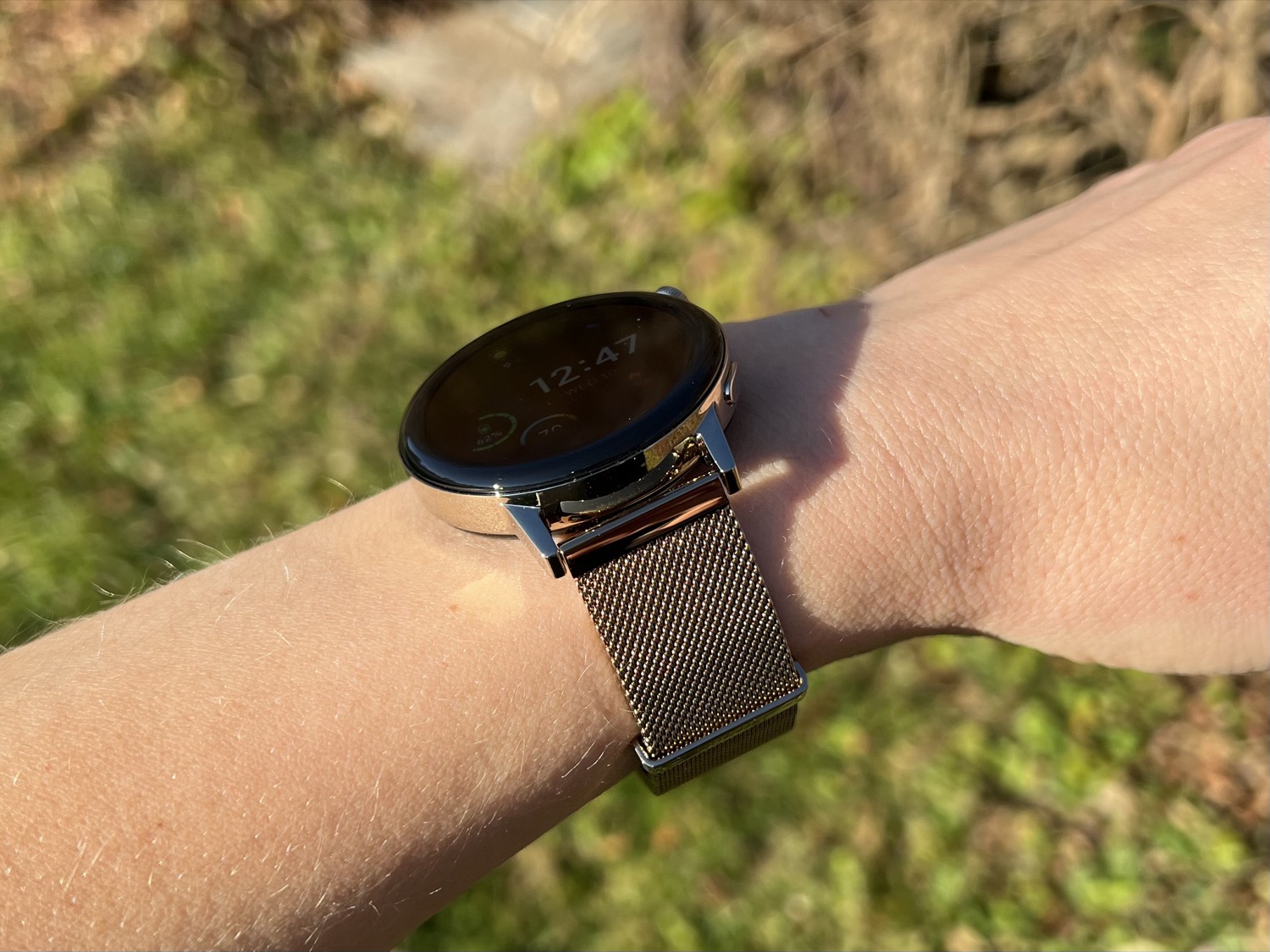 It's easy to remove the strap – you need to pull the "lever" with your nail. In the case of a Milanese loop there are two "levers" on each side.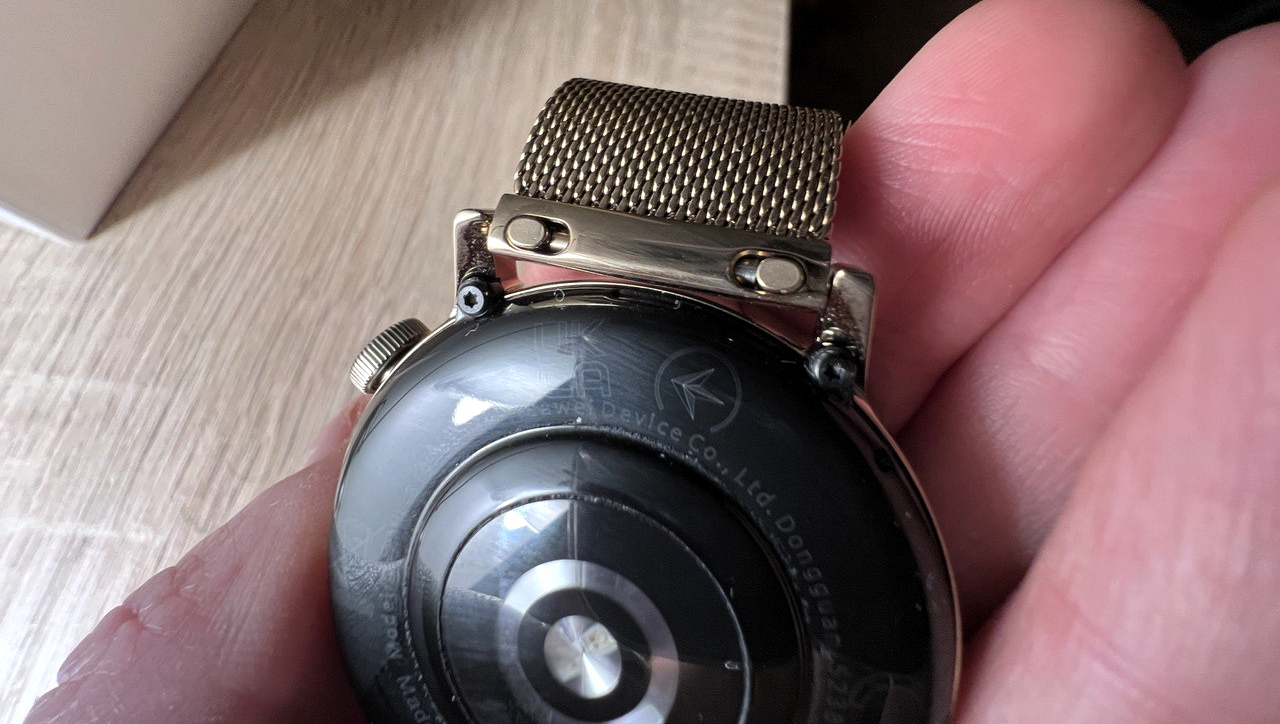 Read also: ASUS ZenBook 13 OLED (UX325) review: Versatile OLED Ultrabook
Screen
The display is the same as that of the flagship Watch 3. The bezels are relatively small. The matrix is AMOLED. The size is 1.32 or 1.43 inches, the resolution in both cases is 466×466 pixels. The brightness is high – up to 800 nits, so you will see the image even under bright sunlight. Auto-brightness works.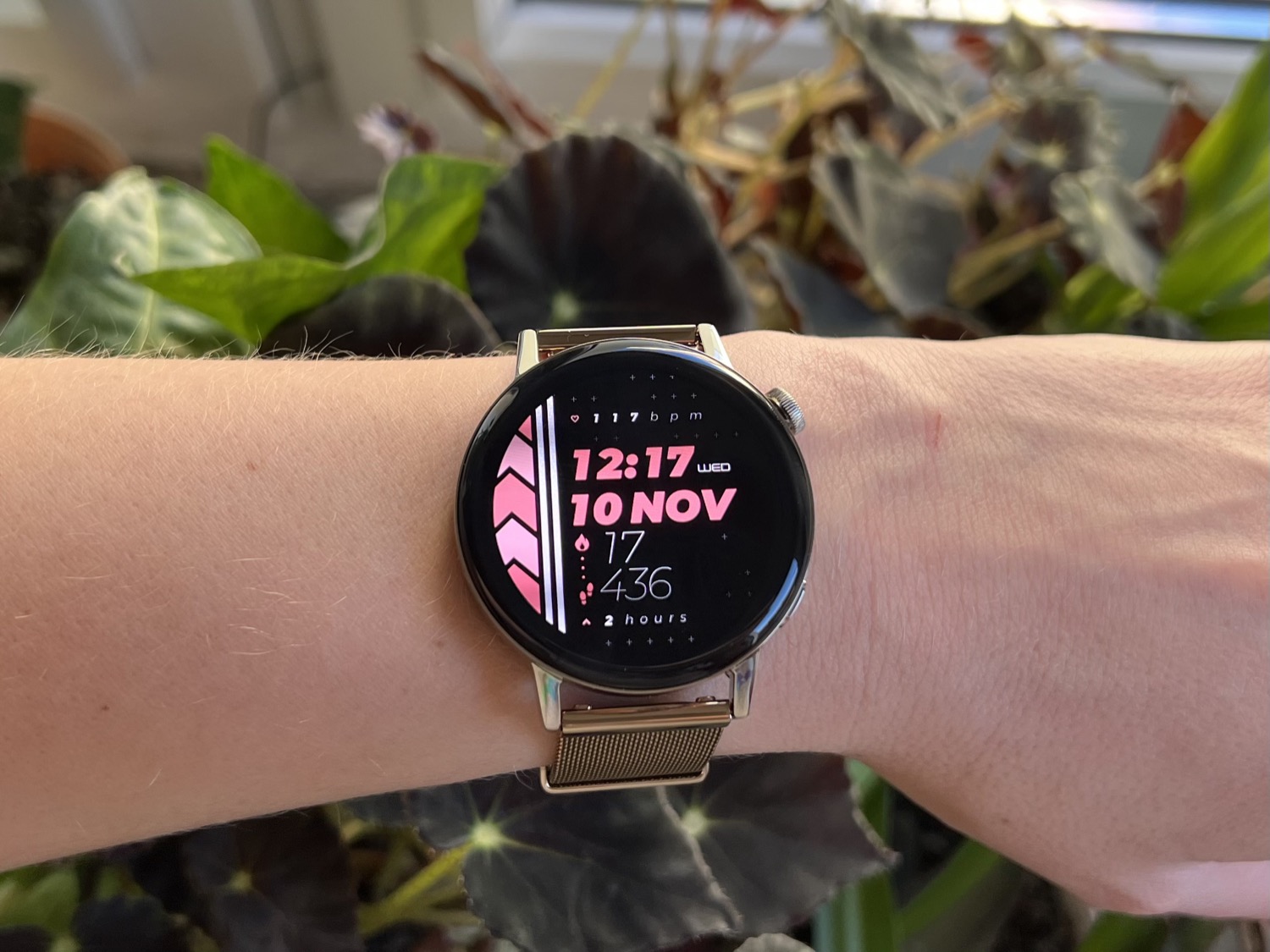 Combined with very "clean" glass, the Huawei Watch GT 3 display provides excellent image quality. The colors are bright and perfectly reproduced, black is deep and saturated.
Just like in the Huawei Watch 3, you get a nice Always-on-Display mode (AOD, when the watch faces adapt to the always active screen). Of course, it consumes battery, but it is more convenient for someone.
For some reason, I didn't find the way to tap on the screen to activate it,. You need to rotate your wrist yourself so that the display turns on. Only when the AoD is active, the display can be activated with a single touch. In any case, the Watch GT 3 can still be "woken up" by pressing any of the keys.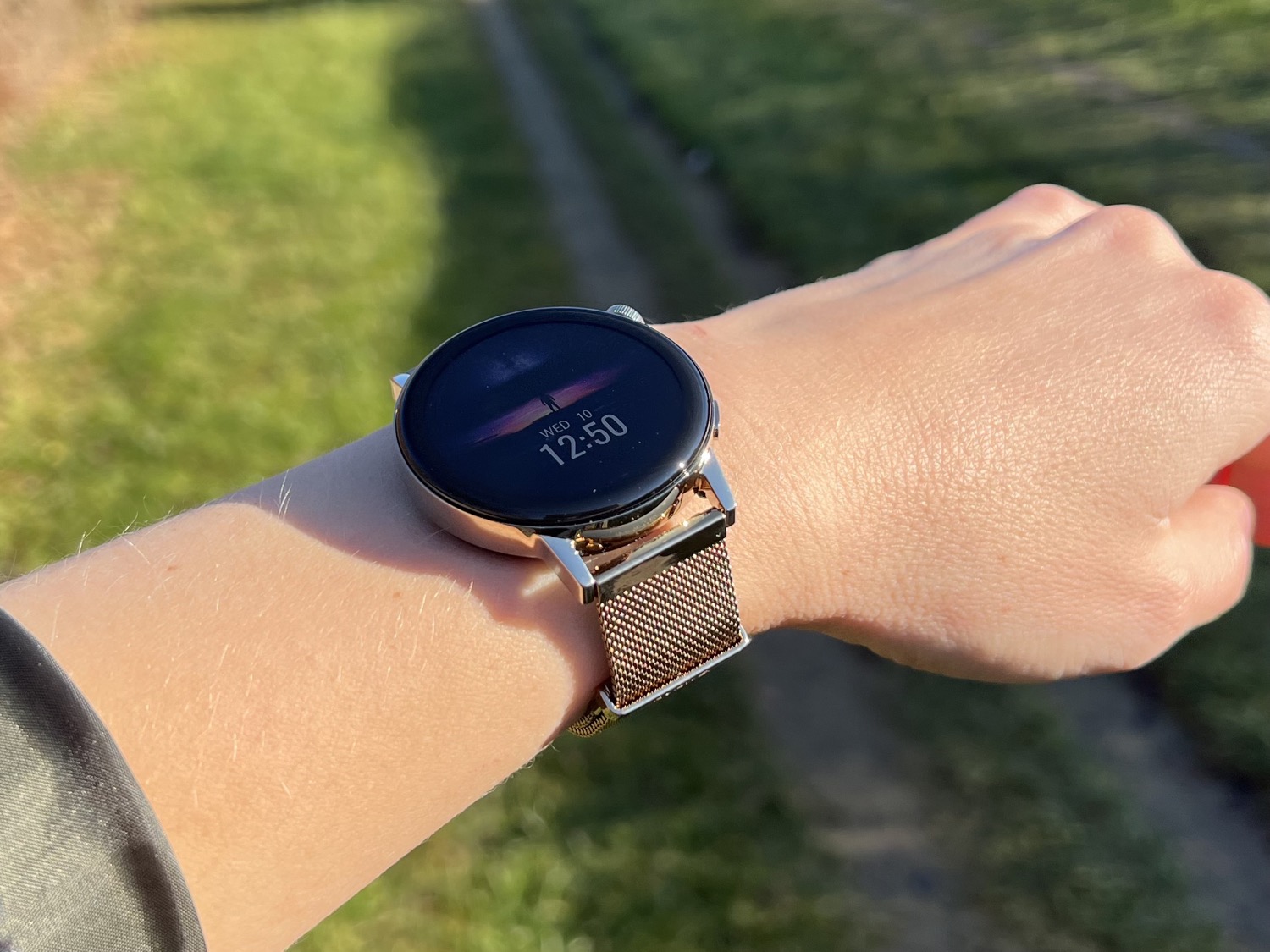 What's inside
The Huawei Watch GT 3 works on a chipset with ARM Cortex-M architecture. Its characteristics are not specified by the manufacturer. I believe that if it was a powerful processor, the company would have said so.
The amount of RAM remained the same as in the Watch GT 2 Pro model – 32 MB. Yes, it is MB, by current standards, that is ridiculous (in Huawei Watch 3, for comparison, there's 2 GB of RAM). This is the bare minimum.
I won't say that the watch is very fast, but it's not slow either. Although you can notice delays in the main menu and the list of apps. The watch is somewhat jerky, not smooth. However, according to reviews, the GT 2 Pro model suffered the same way. Not very critical, but for such money you can do better.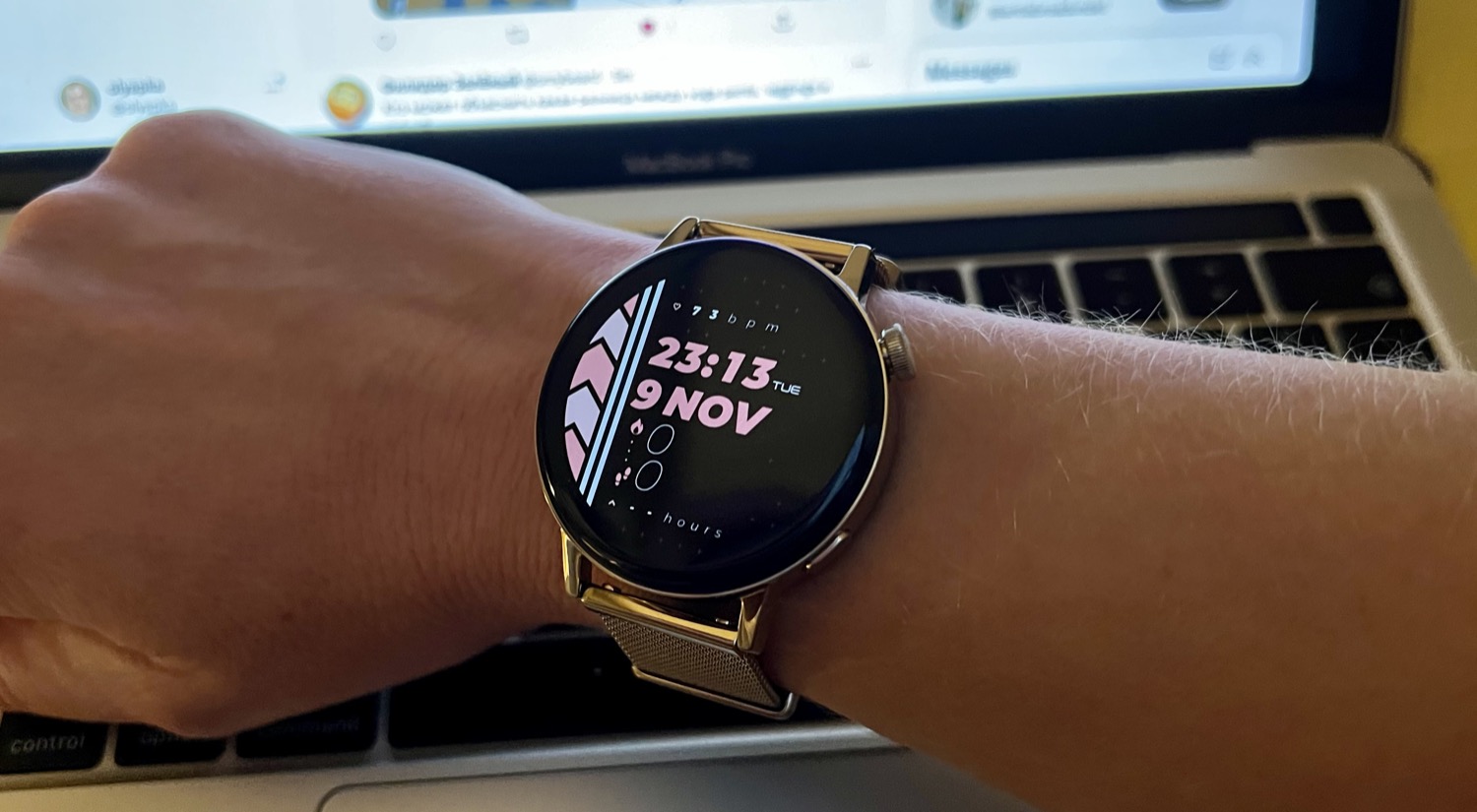 There's 4 GB of storage (Huawei Watch 3 has 16 GB). Personally, it's not a problem for me, I don't even go out of the house without a phone, so I don't upload my music library to my watch.
As for the sensors, the updated TruSeen 5+ sensor on the back of the gadget is a significant change. The number of sensors has doubled compared to the GT 2 Pro, and an additional light sensor has also been added for better heart rate reading. There is an option for continuous monitoring of SpO2 (blood oxygen content) during the day.
The Huawei Watch GT 3 supports Bluetooth 5.2, but Wi-Fi is not available. You need to use the phone for that. eSIM is also not available, you will not be able to use the watch as a standalone phone. But it's an okay hands-free headset sinc the speaker is loud, the microphone is of high quality, contacts and a list of recent calls are available right from the watch.
You can also connect wireless headphones to your watch to talk or listen to music. By the way, music can be transferred directly from your smartphone using the Health application.
There is an NFC, but, alas, it is useless – it is not yet possible to use the watch for contactless payment. You can use this module to communicate with the manufacturer's devices using Huawei Share OneHop function. Which allows, for example, to send a photo to a watch. However, this is possible only between devices connected via Bluetooth.
Huawei Health app
Pairing is possible only through the Huawei Health application. With this app you can update your device, install additional software, change watch faces, activate sleep tracking, enable constant heart rate/SpO2 monitoring, set an alarm clock or enable alerts for individual apps, etc. Of course, the app is primarily designed to track sports activity.
Huawei Health utility with Watch 3 GT works in the same way as with Watch 3 and older models, there is almost nothing new. I will only note that since I tested the watch in the pre-sale version, the app was installed from a third-party source, in the beta version. In the final version, it will look a little different. It is best to download the app from Huawei, since Google Play versions are updated extremely rarely due to problems between Google and Huawei.
The first tab contains all the most important information collected from the watch. During the tests, I used the OPPO Reno6 Pro smartphone. Synchronization of notifications and the number of steps took place without complications, although sometimes sending activity measurement results took quite a long time. And sometimes notifications were delayed.
Other tabs of the Health program have clock settings. They are very modest. The advantage is the ability to set up notifications from each smartphone application, as well as a large selection of watch faces. The last tab contains additional settings and measurement results.
In addition to the above-mentioned delays in the transmission of results, there weren't any problems. It's a pity that, introducing a new generation of watches, the manufacturer did not dare to make a real change and add additional settings and, for example, synchronization with Strava.
Read also: Xiaomi Mi Smart Band 6 review: A new fitness tracker with SpO2 Sensor
Software and watch faces
Like the premium Huawei Watch 3, Watch GT 3 runs on the new HarmonyOS, version 2.1. But to be honest, visually, the system is difficult to distinguish from LiteOS, which was used in the previous generation of watches. Given the much less powerful hardware, the operating system on the Watch GT 3 is clearly simplified. That's why the watch lasts longer. As I mentioned, there is no multitasking. There are also some features missing, such as hand washing recognition. I can't compare in detail, as the Huawei Watch 3 is not at my disposal. In any case, it feels like Huawei Watch GT 3 uses the same LiteOS, only with a different name.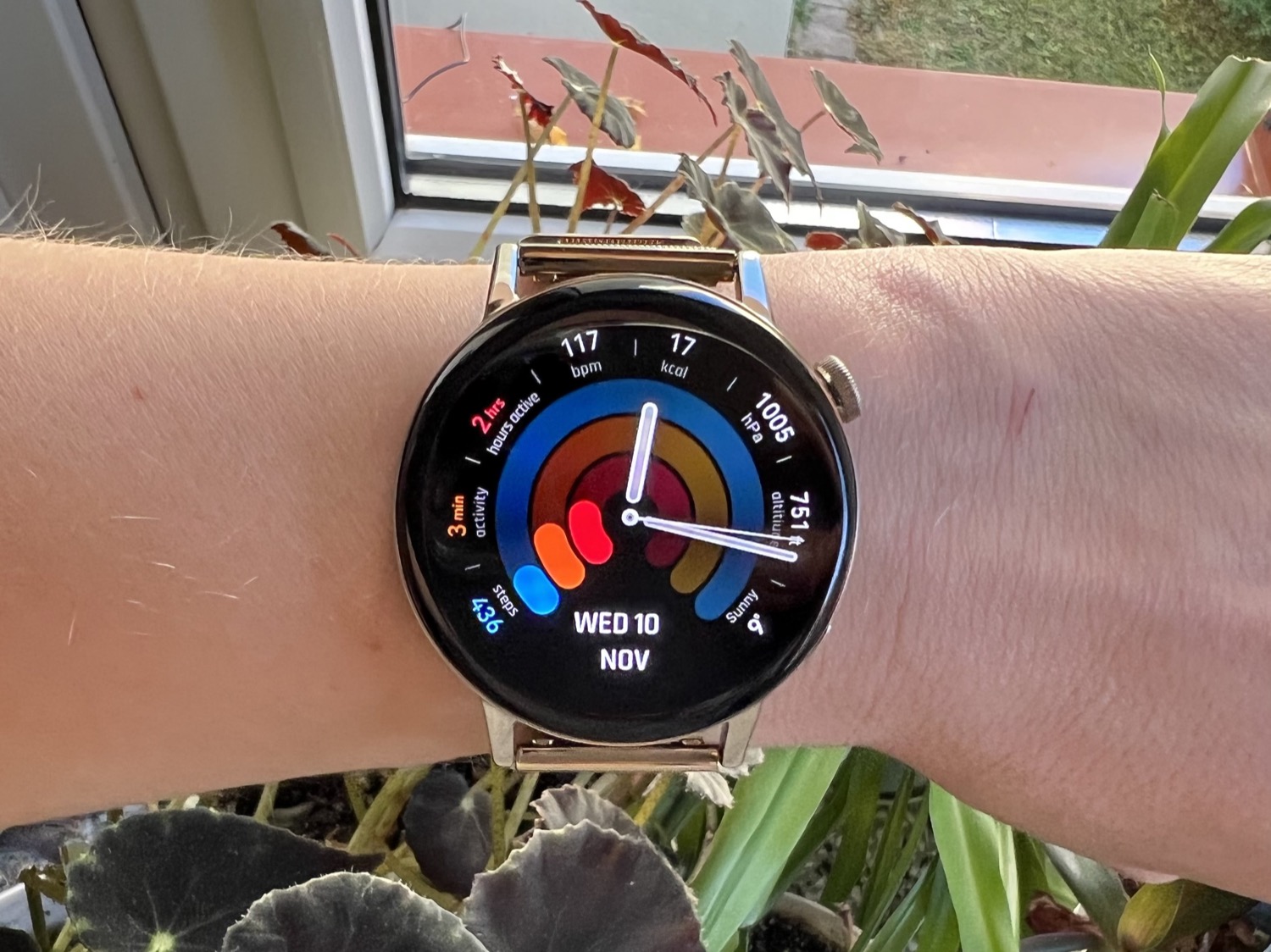 The operation is simple, even a beginner who buys a Huawei watch for the first time will not have difficulties. To change the watch face, you need to press and hold your finger on the active home screen. Swipe to the right opens the weather screen and the Music app.
Swipes to the left show information about pulse, blood oxygen level, pie chart of activity, weather again, moon phases, sleep quality info. These screens can be reconfigured – you remove unnecessary ones, and add others.
Swipe down on the main screen calls a curtain with settings. There are 6 icons here – launching settings, clearing the speaker (from water), searching for the phone (the phone starts yelling "I'm here" with a Chinese accent in an very creepy voice, please be ready), activating the "do not disturb" mode, launching the "alarm clock" app, activating the "Screen on" option (mentioned it above, the screen stays turned on for the selected time).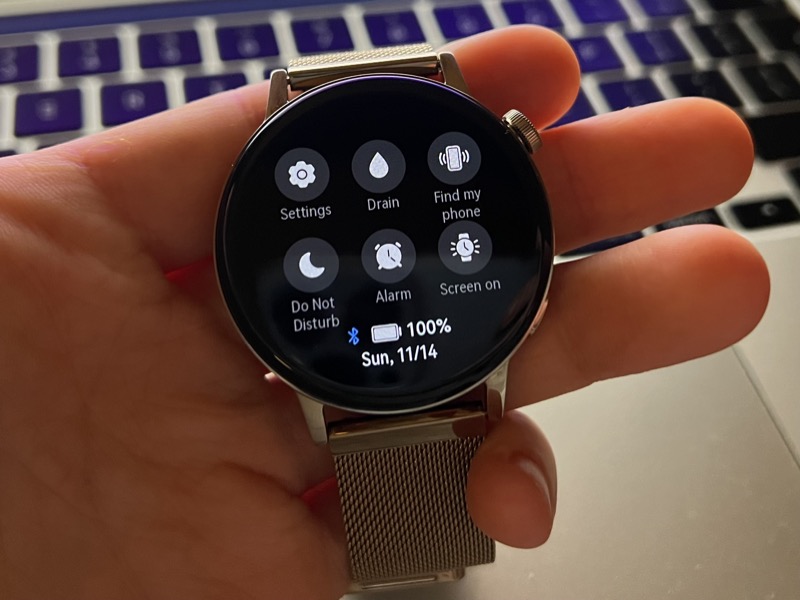 Swipe up for new notifications.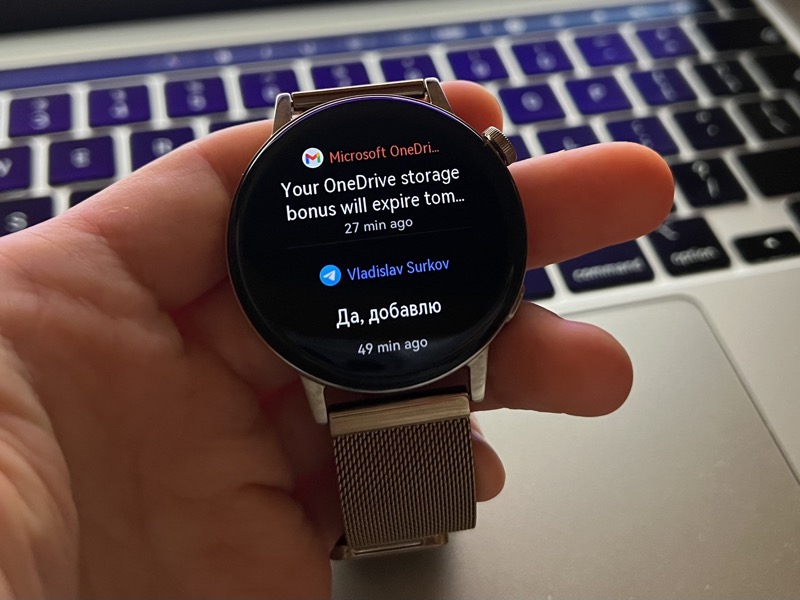 The app menu can be summoned with the crown. By default, the icons are placed on a grid like in Apple Watch (but the animation is not as smooth), but if you are uncomfortable using the watch in this way, I advise you to change it.
HarmonyOS is a seemingly full-fledged OS that should be on par with WearOS or WatchOS. But it still lags behind. For example, the work with notifications is truncated. Some apps can read the almost full text of notifications (max 360 symbols), some (for example, Gmail) do not. You can only reply to SMS. There are also no emojis support, all you'll see are stars instead.
Another sign of a full-fledged smart watch is the ability to install third-party apps. Yes, there is AppGallery, however, not on the watch itself, but in the Huawei Health application, but there's almost nothing there. Here's the WHOLE list, four screens in total:
Anyway, it's not serious yet.
The menu with apps includes applications for training and activity analysis, in addition there are such options: phone, contacts, music, pulse, sleep, SpO2 measurement, stress level measurement, skin temperature, breathing exercises, weather, phone search, stopwatch, timer, compass, barometer, notebook, flashlight, settings.
A new application that appeared only with the GT 3 series called Healthy Living. This is a personal health assistant that regularly reminds you of healthy habits and useful routines – drinking water, taking medicine, regular training. First of all, you need to choose the problem you want to work on (stress, excess weight, insomnia, frequent colds, etc. By the way, this can't be done on the watch, you need a phone again. As a result, the app will form a list of actions for a healthy lifestyle for you. You will receive reminders about them and will even be able to compete with other participants (additional motivation), and receive awards. Cool idea!
The watch itself has 10 watch faces available. Those are stylish and neat, many with a variety of information, there are also minimalistic ones. Some of them are customizable (you can replace elements on the screen), some are not.
Watch faces can also be animated and interactive (consist of short video sequences or photos).
You can only add new ones using the application. There are both paid and free, the choice is huge. So huge that you will have to look for pearls among the garbage. I used to have a Huawei watch (on the Android Wear platform), in general, nothing has changed since then. Most watch faces are awkward and tasteless. And many are still adapted to lower resolution. But still, some choice is better than none.
Starting with the Watch 3 model, Huawei has expanded the capabilities of the watch faces. Now, which is good news, there is a real AoD mode. Previously, there were only two standard AoD screens to choose from, but now there's some choice at last.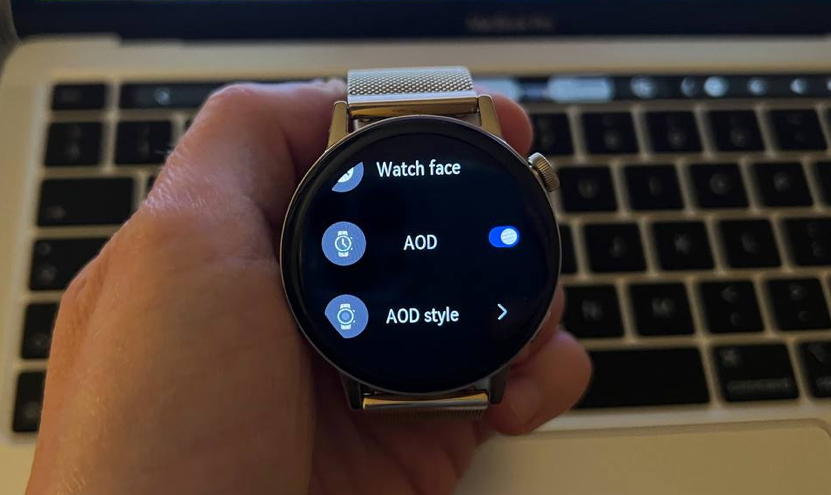 By the way, not all watch faces are compatible with AoD, but most are.
There is also a slightly strange "Screen on" option. In the settings, you can select its duration (from 5 to 20 minutes). You can find it in the settings, and for the selected time period the watch will work without dimming. Not the best option for battery life. You can turn off this mode by closing the display with your palm of your hand.
Read also: Huawei MateView monitor review: Good looks, and what else?
Actual use
Activity monitoring
Like the pro model, the Watch GT 3 offers more than 100 training modes: 18 professional and more than 85 additional. In addition, it is possible to create personalized training plans in the Huawei Health application based on the analysis of the user's physical condition. In general, there's everything you need.
Among the available exercises, I can remember, for example, outdoor running, walking, hiking, swimming outdoors or in the pool, cycling outdoors or on the simulator. The Huawei Watch GT 3 will also be useful in the gym when practicing martial arts and other sports, even the most unusual, such as jazz dance, darts or kendo. Automatic exercise recognition works for the 6 most common types of exercises – indoor walking, outdoor walking, indoor running, outdoor running, elliptical and rowing simulator classes.
For each sports workout, you can choose the goal you want to achieve (time, duration, calories burned), but you don't have to choose. The "Coach" is able to give you instructions during trailing, by voice. Based on your progress, the recommendations may change. If the pace changes during training, the watch reacts accordingly. Several times I tracked training on both Huawei Watch and Apple Watch at the same time, the results differed slightly. The Watch GT 3 has no problems counting the number of steps, or making heart rate measurements.
Outdoor training is tracked better than last year's version, as there's a dual-band GPS. You can now also install Huawei's own Petal Maps app on the watch. And, for example, during a run, build a return route (if you suddenly ran away very far), to find your way back.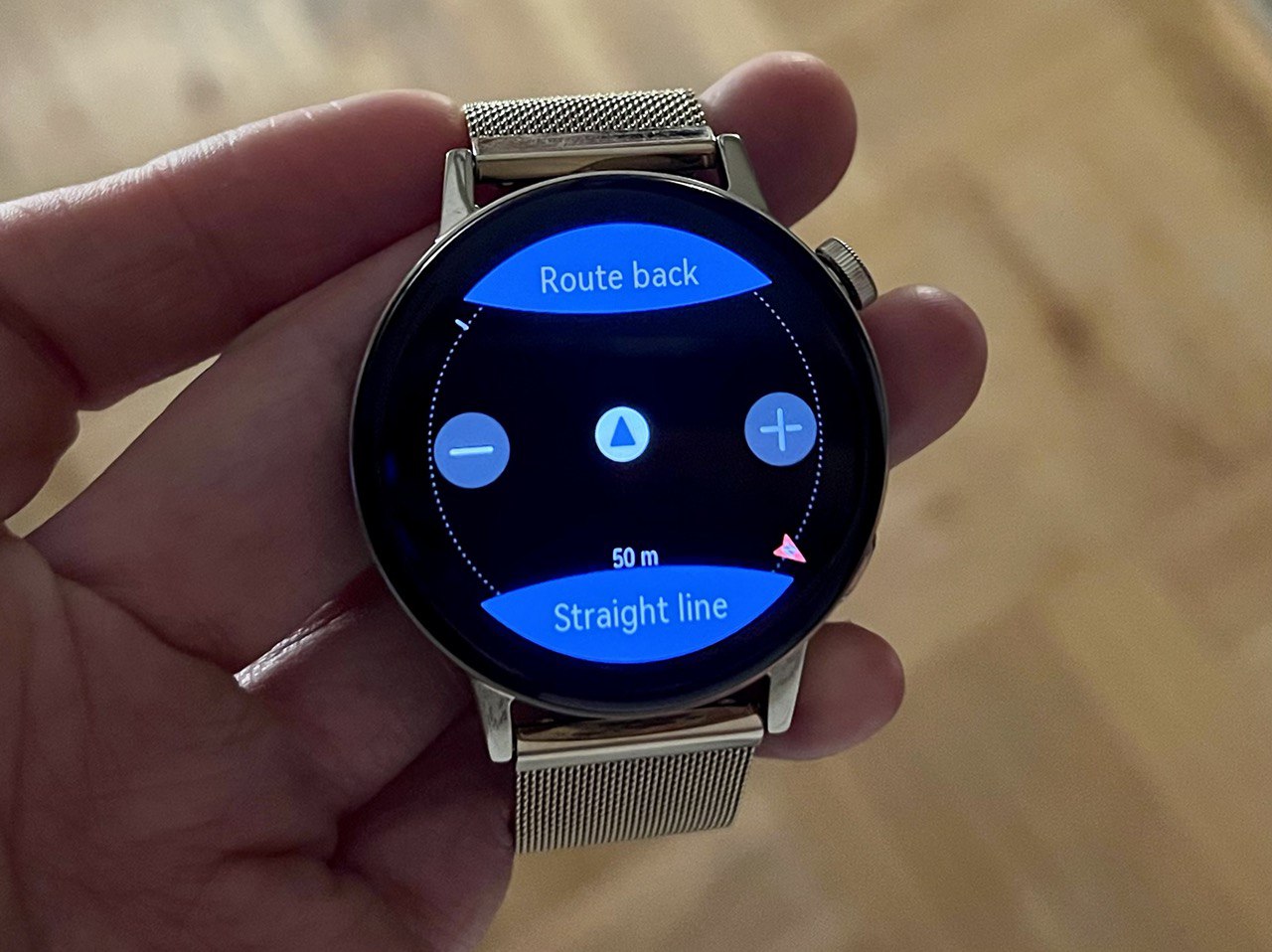 During outdoor training, the Watch GT 3 provides the abundance of data: pace, distance, duration, steps, rhythm, calories, altitude, training load, and in the case of running training, you can even compete with a virtual sparring partner. A very useful solution, also known from other Huawei watches, is a ring around the watch face, reflecting the colors of the achieved heart rate zones – warming up, hot, aerobic, anaerobic and extreme zones. Thanks to this, you can assess the progress of the workout and control its intensity. At the end of the workout, you get several summery screens.
You should not compare the Watch 3 Pro with typical Garmin or Polar sports watches. This is a watch both for sports and for everyday use – with convenient software, the ability to install software, and notifications from the phone.
Monitoring the state of the body
Huawei smart watches are equipped with various health monitoring functions. The built-in heart rate sensor provides constant pulse monitoring, you can also activate a constant measurement of blood oxygen saturation, as well as skin temperature — these three parameters are visible on widgets, and the watch also draws graphs for a cursory analysis of changes.
In addition, the Huawei Watch GT3 provides automatic measurement of sleep parameters (phases and so on) and stress levels (determined based on the characteristics of the heartbeat).
Pulse measurement works well both during rest, sleep and training. On the other hand, a constant analysis of blood oxygen saturation is less effective. Hand movements make the results inaccurate. So I would advise you to measure this indicator manually. The results look quite reliable, but, of course, a smartwatch is not a medical device. If you feel bad, go to the doctor.
Measuring skin temperature is a relatively new function for smartwatches. Just remember that this is a measurement of skin temperature, and not body temperature with a medical thermometer. Usually in a healthy person, the normal skin temperature varies from 31° to 35°. The manufacturer notes that the normal value varies in the range of 32-34 °C. However, these results are also influenced by external factors and the way the watch is worn, so my results varied from 28 to 35°. That is, the usefulness of this solution is questionable.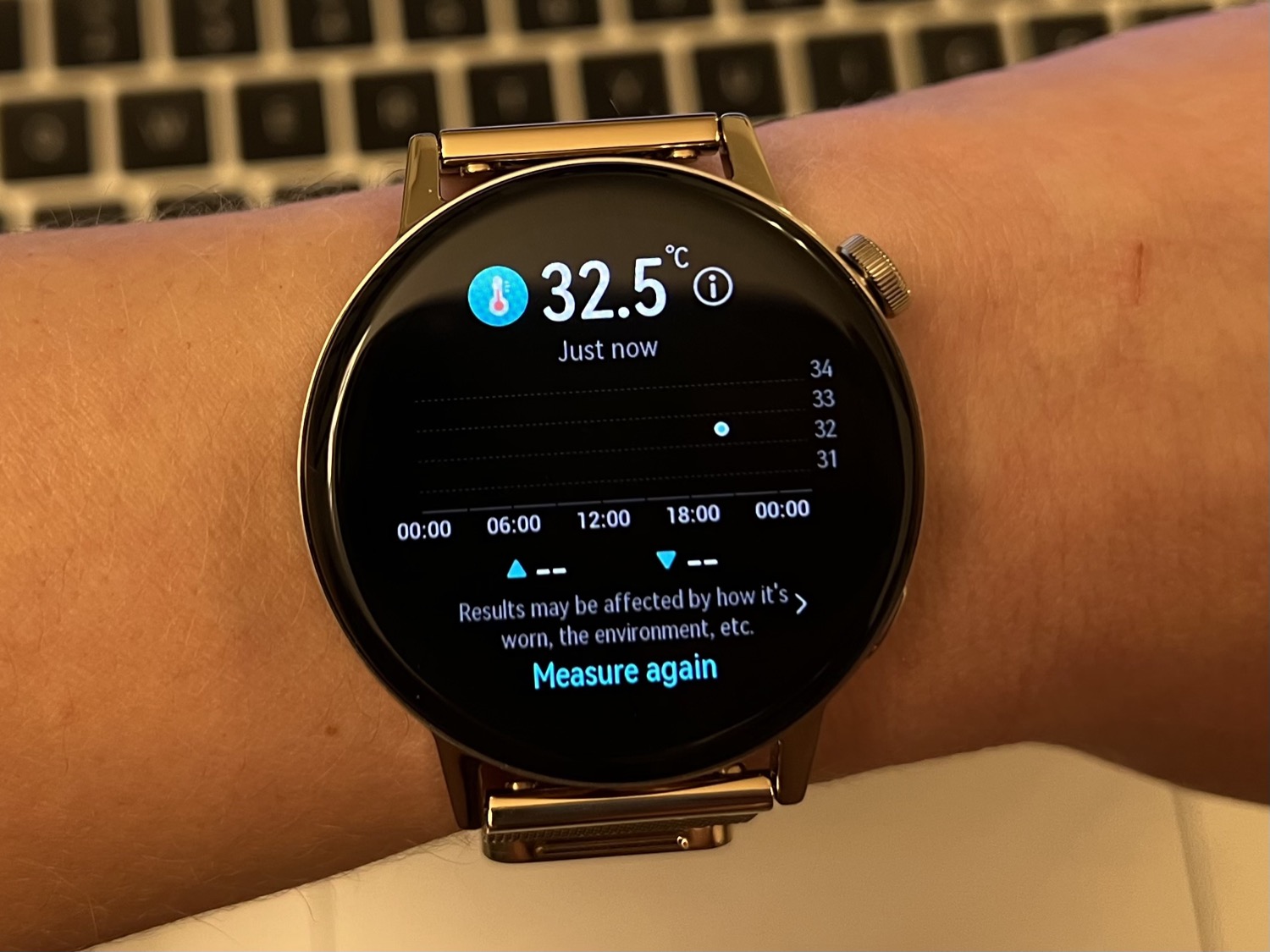 Battery life
Huawei gives the following data:
46 mm version: up to 14 days of normal use, 8 days of intensive use
42 mm version: up to 7 days of normal use, 4 days of intensive use
At the same time, the manufacturer does not give a specific description of what is "normal" and what is "intensive". But, I suppose, it all depends on the number of workouts, their type (with GPS or not), the frequency of use of the active display, the number of notifications, the brightness of the screen, the operation of sensors (constantly or not), sleep tracking, and so on.
I am writing this text after 6 days of using the Huawei Watch GT 3 42 mm, and the charge has just almost come to an end. Even 4 days of intensive use  is very good for a smartwatch. I charge my Apple Watch every night, otherwise they may not last until the next evening.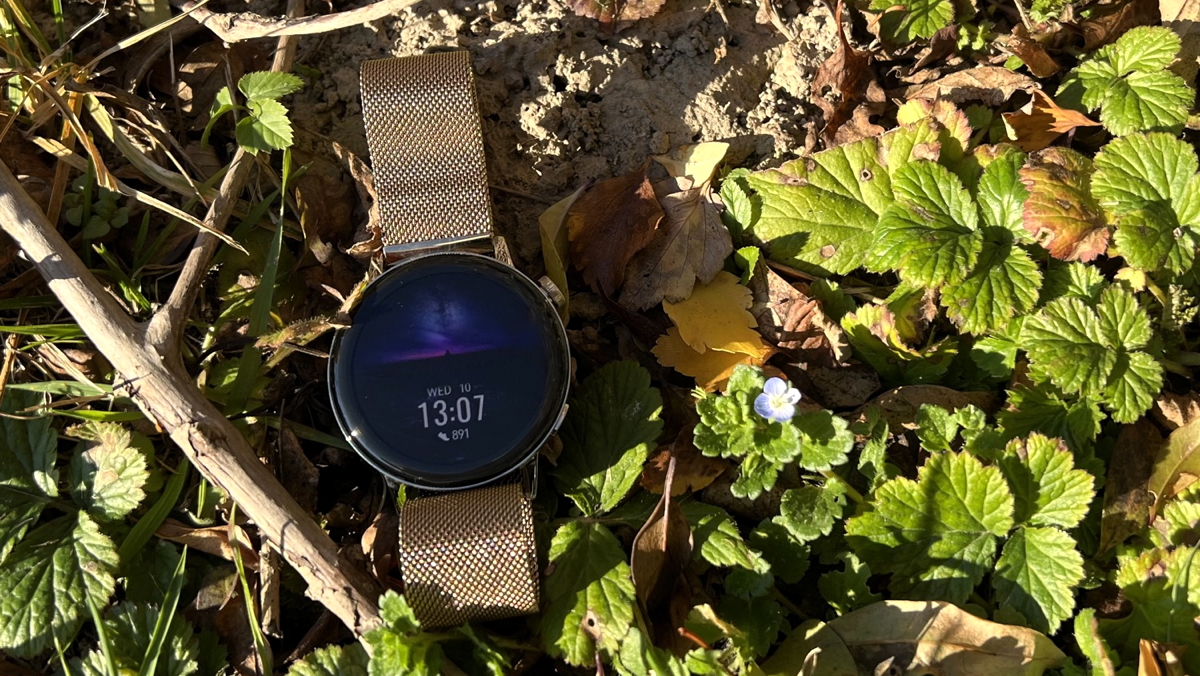 That's mostly because the Apple Watch is more smart and less limited in terms of software. In addition, the Huawei Watch GT 3 is more stripped down even compared to the Watch 3 (there is no multitasking, the hardware is weaker), so they work longer. Of course, fitness trackers (even in the watch format) can work for 2-3 weeks, but compared to them, the Watch GT3 still has more functions and better sensors.
Charging is not particularly fast: in 10 minutes you can get 20% of the charge, in half an hour about 50%. It will take about 1 hour and 20 minutes to fully charge. The watch is charged from a plastic charger. You can also use a smartphone with reverse wireless charging support (flagships from Samsung and Huawei).
Read also: Huawei MatePad 11 review: Testing the first HarmonyOS tablet
Verdict
The Huawei Watch GT 3 is a stylish smartwatch for those who use Android smartphones. Necessary clarification: Huawei Health app exists for iOS, but the functionality is limited. And Apple Watch is ideal for iPhones, if you are ready to spend a considerable amount on a smartwatch. But for owners of Google phones, Huawei watches are an interesting choice.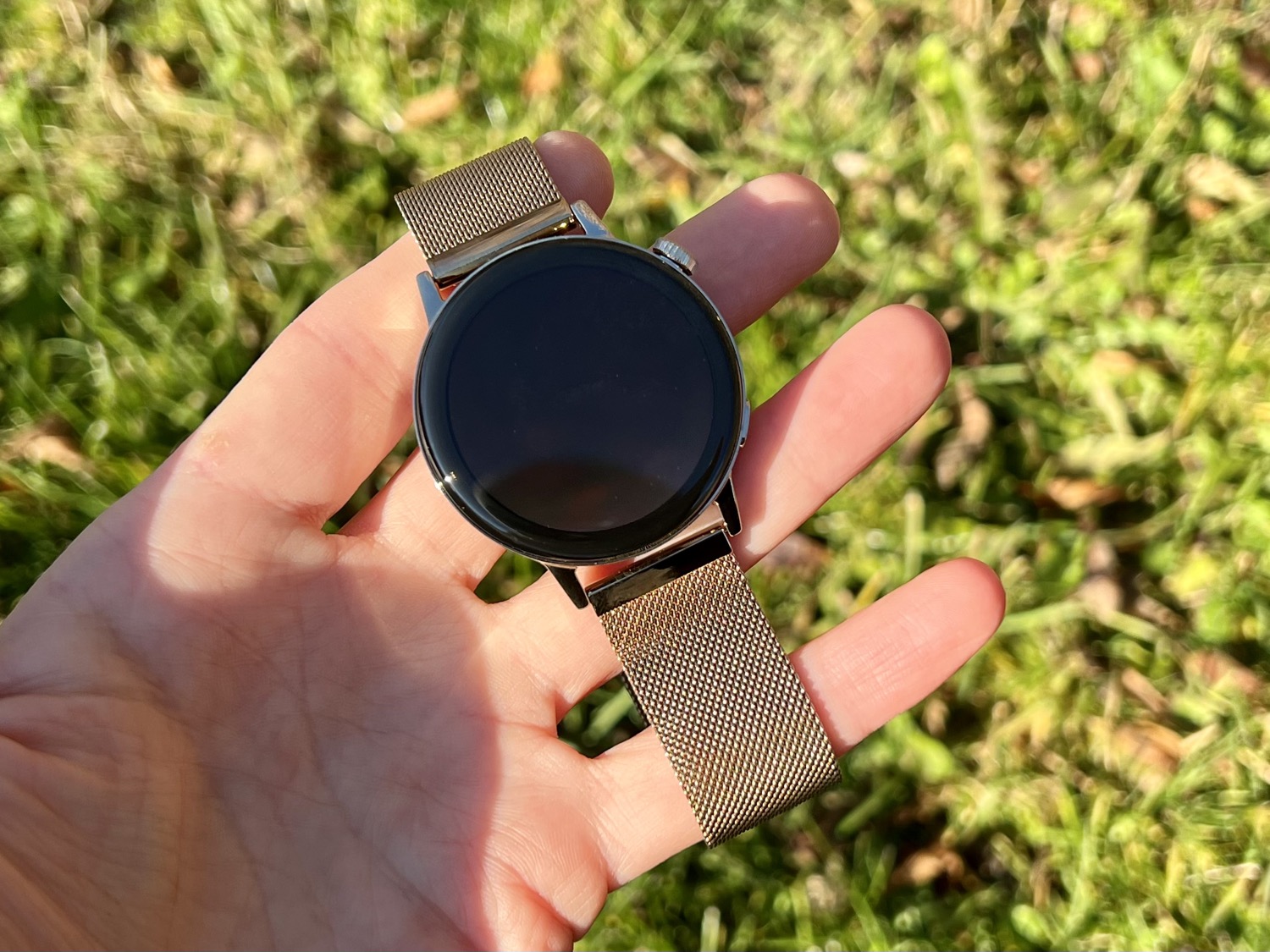 It has a a premium design, a great display, advanced sensors for tracking activity, various smart training modes, tracking SpO2 levels and skin temperature, high-quality sleep monitoring, the ability to answer calls from the watch, no problems with receiving notifications from any apps, and good battery life.
Among the shortcomings are the inability to use NFC to pay in stores (yet?), not the smoothest OS, small number of apps, limited opportunities to export training data, limited capabilities of the software itself (for example, there is no way to respond to notifications, not all notifications can be read in their entirety), few settings on the watch itself.
And, of course, the Huawei Watch GT 3 is expensive, considering its limited feature list. But you also pay for the design and quality of execution. Personally, I advise you to take the most affordable option with a polymer strap. It is best suited for active people, and leather and metal are not for training. Additional bands can be purchased separately.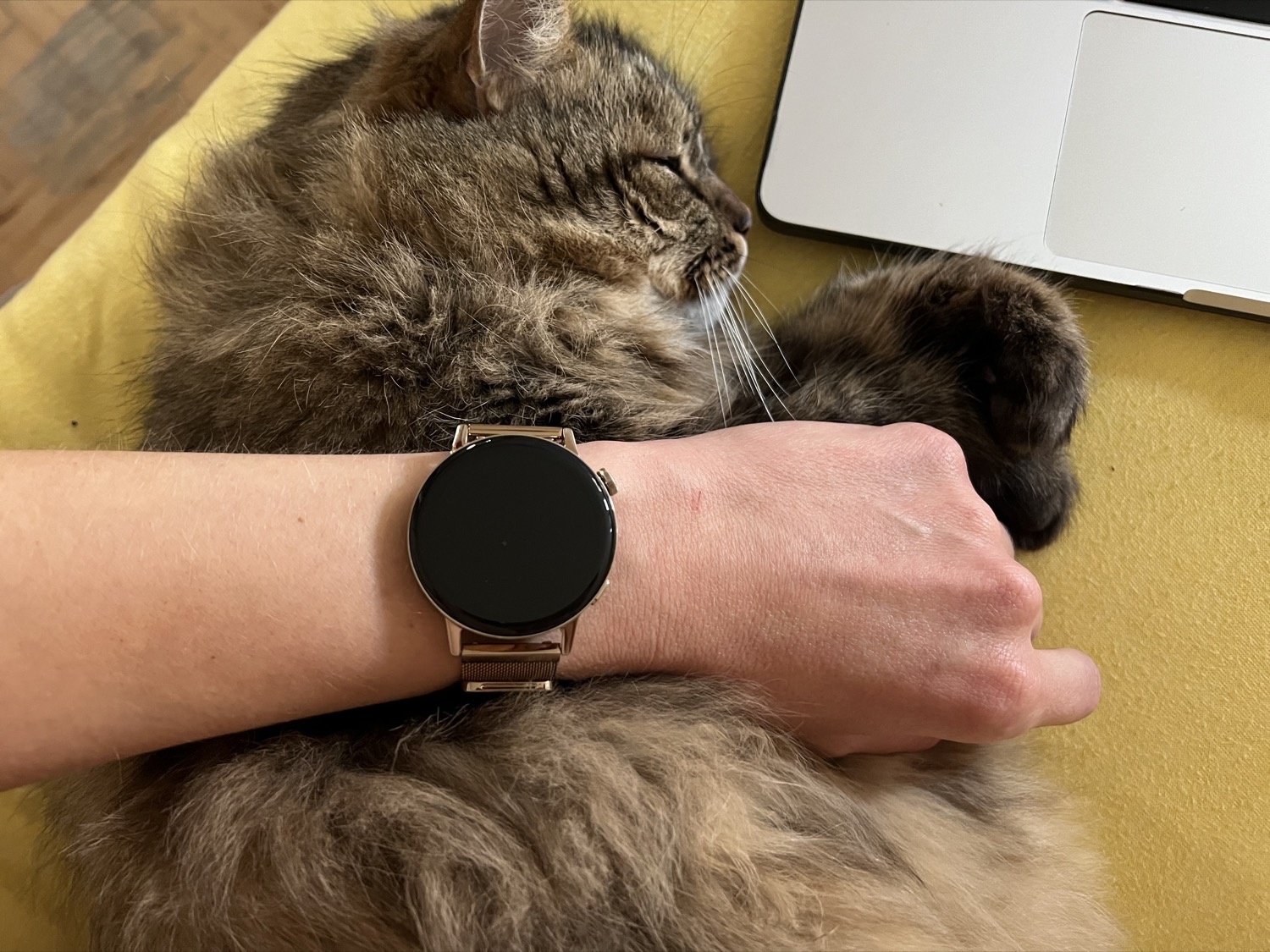 The main competitors of Huawei watches are Samsung Galaxy Watch. In particular, the Galaxy Watch 4, which is slightly cheaper and run on the more advanced WearOS with a large selection of high-quality third-party software. But in terms of battery life, it's worse than the Watch GT 3.
It is also quite possible to buy last year's Huawei Watch GT 2 Pro, which now cost more than twice as much. The hardware is the same there, the software is very similar, but the sensors are not so advanced, and the display is smaller.
You can also pay for the more advanced Huawei Watch 3 with eSIM, better case materials, slightly more advanced software and worse battery, as well as even more massive dimensions.
I won't be comparing it with the Apple Watch, because if you have Android, it is useless for you. With more sporty gadgets like Garmin, I won't either. They may be good for athletes, but, in my personal opinion, they have poor software.
Personally, I really liked the Huawei Watch GT 3 (both in design and in terms of available features), although the cost can be a problem.
Read also: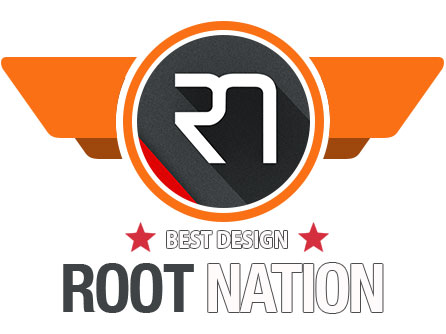 Subscribe to our accounts: