ASUS has introduced its new line of high-performance laptops: Zenbook Pro and Zenbook S 2022. The series includes both transformers and dual-screen laptops.
"ASUS continues to offer innovations to take everyone's creativity to the next level," said Rex Lee, ASUS Chief Marketing Officer and APAC General Manager. "Thanks to our users, ASUS has become the No. 1 global laptop brand with the NVIDIA Studio platform." ASUS is working with NVIDIA to deliver all the benefits of NVIDIA Studio for the new Zenbook Pro laptops.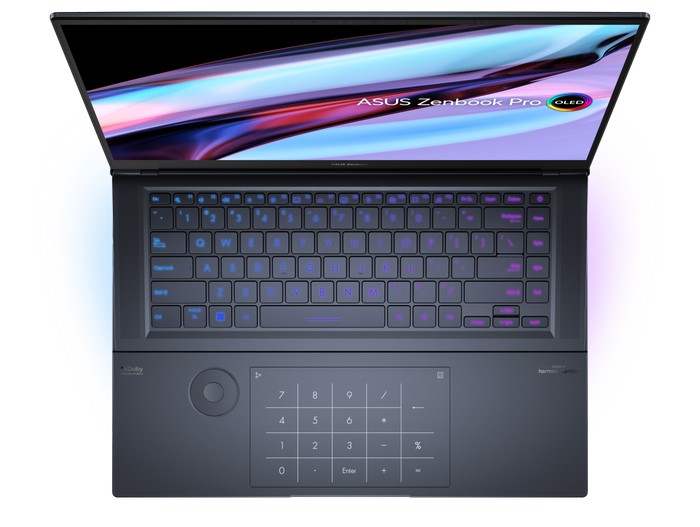 The series of premium laptops Zenbook Pro and Zenbook S 2022 have a completely new look: elegant, modern, with interesting details, such as a "diamond" chamfer on the edges and a new cover with ASUS monogram.
Both Zenbook Pro and Zenbook S use 12th-generation Intel Core H-Series or AMD Ryzen 6000 H-Series processors. The maximum TDP, depending on the model, is 140 watts. It is provided in the entire range of devices with advanced cooling solutions, including ASUS IceCool, IceCool Plus and IceCool Pro. In addition, the Zenbook Pro 16X OLED (UX7602) and Zenbook Pro 14 Duo OLED (UX8402) are equipped with AAS Ultra – an innovative mechanism that automatically raises the optional ScreenPad Plus touch screen or ASUS ErgoSense keyboard for more efficient cooling and improved ergonomics.
The flagship model in the new series is the Zenbook Pro 16X OLE, which is available in a compact all-metal body weighing 2.4 kg. Its panels are made on a software-controlled milling machine and made of high-strength 6000 series aluminum alloy used in the aerospace industry. This laptop is only 16.9 mm thick.
Zenbook Pro 16X OLED with NVIDIA Studio certification is equipped with a modern processor (up to 12th generation Intel Core i9 12900H ) and NVIDIA GeForce RTX 3060 GPU for the laptops. The high-capacity battery (96 W/h) guarantees up to 10 hours of battery life.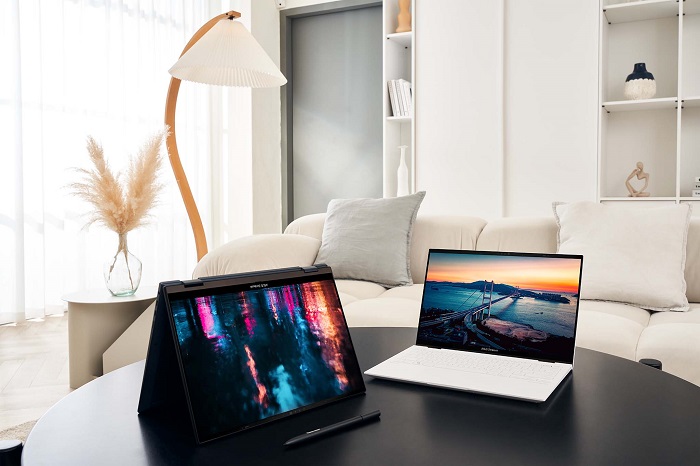 The Zenbook Pro 16X OLED received a 16-inch OLED HDR display with a 16:10 aspect ratio, 4K resolution, 60Hz refresh rate, and a maximum brightness of 550 cd/m². Among other innovative and improved features, we will note the brand new ASUS White-RGB intelligent backlight system, which provides an interactive indication, such as power status or performance; ASUS Dial rotary controller for precise control in creative programs and an enlarged touchpad with tactile feedback.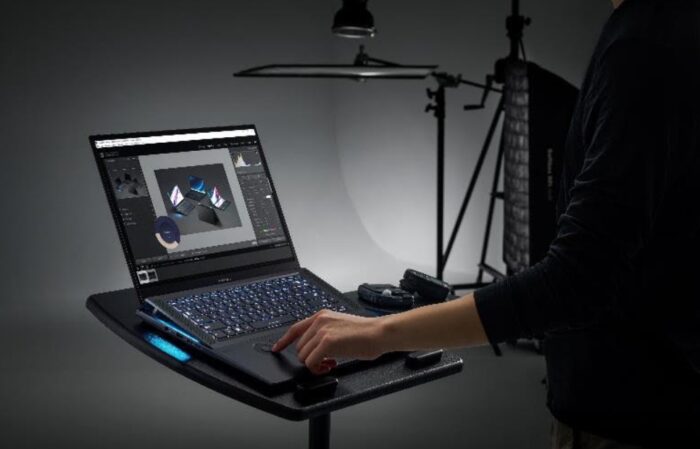 The new Zenbook Pro 14 Duo OLED is a powerful and compact dual-screen laptop that is also the world's first 14.5-inch laptop to feature an 2.8K OLED display with a refresh rate of 120Hz. It has a 12.7-inch optional ScreenPad Plus touchscreen that tilts automatically thanks to the AAS Ultra mechanism, which improves cooling efficiency and ergonomics.
Zenbook Pro 14 Duo OLED is certified according to the requirements of Intel Evo. The flagship processor (up to the 12-generation Intel Core i9-12900H) and NVIDIA GeForce RTX 3050 Ti graphics card for laptops is accompanied by a high-performance cooling system ASUS IceCool Plus, which guarantees a total TDP of up to 85 watts.
Studio-class graphics is shown on an OLED HDR touchscreen display (2.8K, 16:10) with a refresh rate of 120 Hz, a peak brightness of 500 cd/m² and support for Dolby Vision technology.
In addition to the flagship 14.5- and 16-inch models, the Zenbook Pro series also includes the new 15.6-inch Zenbook Pro 15 Flip OLED (UP6502) transformer laptop and Zenbook Pro 17 (UM6702), the first 17.3″ Zenbook. The Zenbook Pro series offers users maximum power in a compact and elegant form factor.
Intel Evo certified, the Zenbook Pro 15 Flip OLED is the world's first laptop with a 15.6-inch touchscreen OLED display in the 2.8K 120Hz category. In the maximum configuration, it is also equipped with a 12-generation Intel Core i7 processor and a brand new discrete Intel Arc A370M graphics card. Zenbook Pro 17 is equipped with a large 17.3-inch IPS touchscreen with a thin frame (NanoEdge), 2.5K resolution, 165 Hz refresh rate, support for Dolby Vision technology and PANTONE Validated certification. Its high productivity in the maximum configuration is provided by the AMD Ryzen 9 6900HX processor and the NVIDIA GeForce RTX 3050 video card.
The Zenbook S series of ultra-thin and light laptops also received two new 13.3-inch models: the Zenbook S 13 Flip OLED laptop and the "traditional" Zenbook S 13 OLED, the world's lightest 13.3-inch laptop with an OLED screen. Zenbook S 13 Flip OLED is 14.9 mm thick and weighs only 1.1 kg, and is based on the 12-generation Intel Core i7 processor in the maximum configuration. A 67-watt battery, three ultra-fast Thunderbolt 4 USB-C ports and a microSD card reader make it the perfect portable companion.
Zenbook S 13 Flip OLED meets the requirements of Intel Evo certification in terms of specifications and additional features such as response speed, instant wake-up time, battery life, fast charging and intelligent features for collaboration.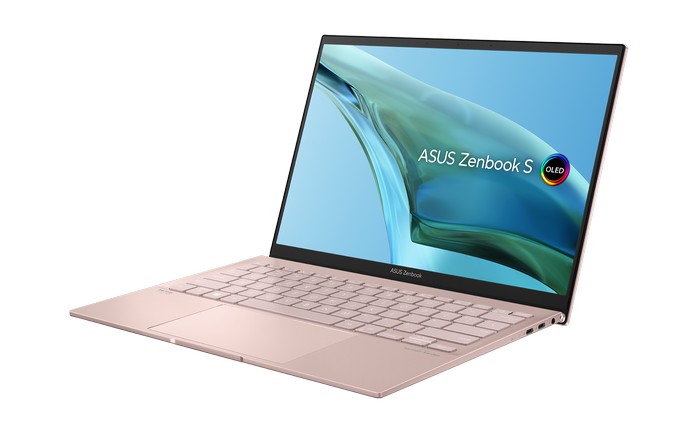 The surprisingly lightweight Zenbook S 13 OLED has received in the maximum configuration AMD Ryzen 7 6800U processor and the AMD Radeon 680M video card, which fits in an extremely thin 14.9 mm thick magnesium-aluminum alloy body that weighs only 1 kg. It is available in four new colors – blue (Ponder Blue), turquoise (Aqua Celadon), beige (Vestige Beige) and white (Refined White). The notebook is equipped with a full set of interfaces, including USB 3.2 Gen 2 Type-C, and supports USB-C Easy Charge technology for charging from almost any power supply with a USB-C connector. The battery life of the device is up to 19 hours.
You can also help Ukraine fight with Russian occupants via Savelife or via an official page of the National Bank of Ukraine.
Read also: