The well-known Chinese smartphone manufacturer Cubot has organised a Mega Deal promotion in honour of the world premiere of the rugged KingKong Star smartphone, stylish Note 50 and rugged TAB KingKong tablet. From 7 August, 10:00 Kyiv time, until 09:59 on 12 August, the company offers to purchase the new products in its official AliExpress store at very favourable prices.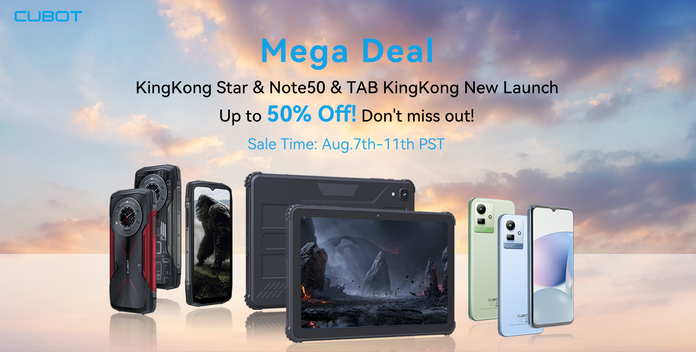 Durable and reliable, KingKong Star smartphone will be a great companion for adventurers and active lifestyle enthusiasts. It features a 6.78″ display with 2K FHD+ resolution, as well as an 8-core MediaTek Dimensity 700 processor, 12GB of RAM with the ability to borrow up to 12GB of unused permanent memory, and 256GB of flash storage expandable up to 1TB. But the most interesting features are the additional screen on the back and 5G support, which is the first time it has appeared in a ruggedised smartphone from the manufacturer.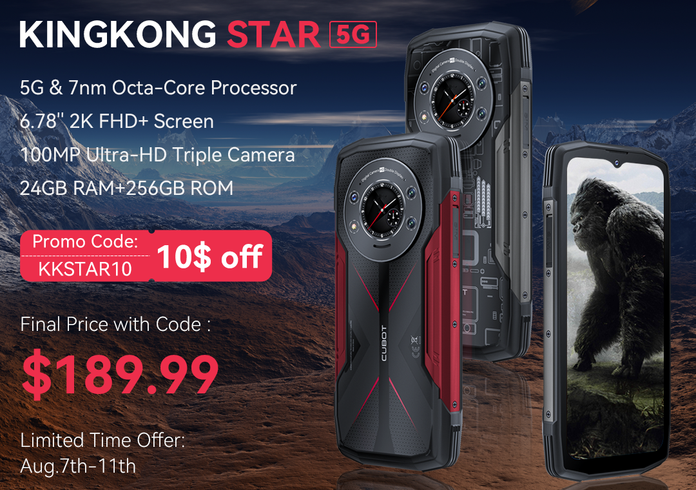 The KingKong Star is IP68/IP69K waterproof and dustproof, and features a triple camera setup that includes a 100MP Ultra HD primary sensor, a 24MP night vision camera, and a 5MP macro camera. So KingKong Star promises not only to withstand all the adventures, but also to capture them.
The second new product is the stylish Cubot Note 50 smartphone, available in black, purple, blue and green. It is equipped with a Unisoc T606 processor combined with 8 GB of RAM and 256 GB of flash memory. The front of the device has a 6.56″ IPS screen, while the rear features a 50-megapixel camera and a 2-megapixel macro lens. It also comes with a 5200mAh battery, so you can enjoy unlimited video and call time.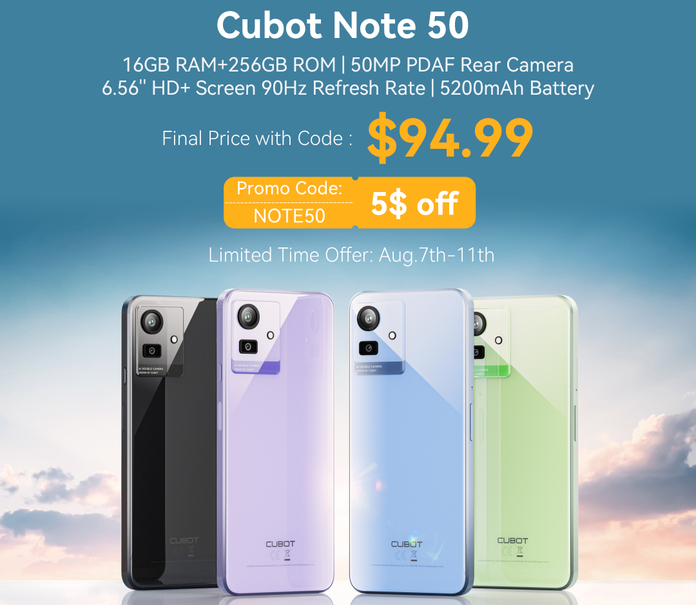 The TAB KingKong is a rugged tablet with IP68 and IP69K certifications that ensure the device is protected from dust and water. Its MediaTek MT8788 octa-core processor and 8GB of RAM with the option to borrow up to 8GB of unused permanent memory ensure continuous performance for any task. The tablet features a 10.1-inch FHD+ IPS display, a 10,600 mAh battery and a 16-megapixel front-facing camera.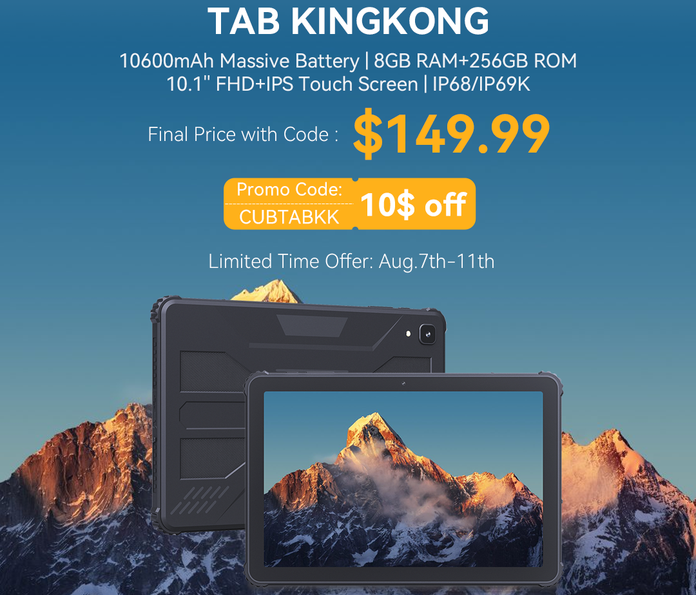 The Cubot Mega Deal is more than just a regular sale. From 7 to 12 August, you can buy KingKong Star, Note50, or KingKong TAB at extremely favourable prices in the manufacturer's store on AliExpress. In addition, using a promo code will provide an additional discount. The promo code KKSTAR10 for the KingKong Star smartphone will provide a $10 discount, so the final price with the code will be $189.99. The promo code for the Note 50 is NOTE50, which can be used to get a $5 discount and purchase the smartphone for $94.99. And the TAB KingKong tablet can be purchased for $149.99 with the promo code CUBTABKK for a $10 discount.
Read also: