Adobe has begun testing a free version of Photoshop online and plans to open the service to anyone to attract more users to use the app.
The company is currently testing a free version in Canada, where users can access Photoshop through a free Adobe account. Adobe plans to eventually close some features that will be exclusive to paid subscribers. However, there will be plenty of free tools, that Adobe considers the main features of Photoshop.
Adobe first released a web version of Photoshop in October, introducing a simplified version of the app that can be used for basic editing. Layers and basic editing tools were migrated, but the service did not have a complete set of basic features of the app. Instead, Adobe saw it primarily as a tool for collaboration – an opportunity for the artist to share images with other people to connect, leave notes, make a few small changes and pass it back.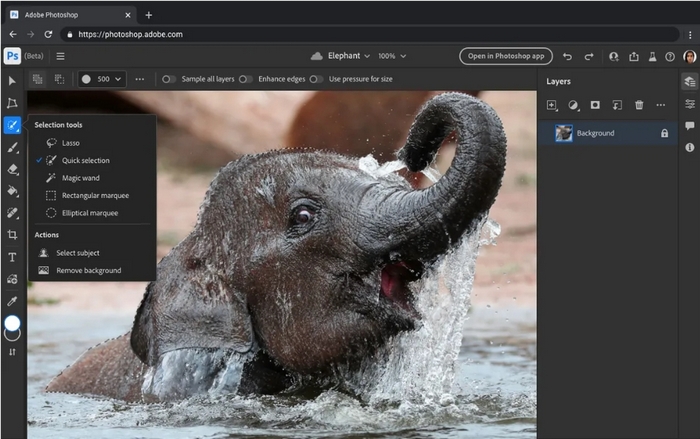 Over the past few months, Adobe has made several updates to the service, and also began to open it not only for collaboration. Earlier someone should send you a document from the desktop app, to use the service, but now any Photoshop user can log in and start a new document directly from the web.
The goal of Adobe is to use the web version of Photoshop to make the program more accessible and potentially attract users who want to pay for the full version in the future. The company has followed a similar path with a number of its mobile applications, including Fresco and Express.
Adobe has not announced the release date of the free version. Meanwhile, the company continues to update the web version of Photoshop, adding new tools and the ability to convert Smart Objects. The web version also supports mobile devices for viewing and commenting on images.
https://youtu.be/B16g-Edkvx0
Adobe has also introduced a new artificial intelligence neurofilter that will appear in Photoshop. The new Photo Recovery filter can take a yellowed photo and automatically clean scratches and restore some color. Combined with the existing Adobe Colorize filter to add color to black-and-white photos, these two filters can quickly revive an old photo, even if the end result looks a bit cartoonish.
You can also help Ukraine fight with Russian occupants via Savelife or via an official page of the National Bank of Ukraine.
Read also: