The alignment of NASA's James Webb Space Telescope has been completed. After a full inspection, it was confirmed that the observatory is able to produce clear, well-focused images with each of the four powerful onboard scientific tools. After completing the seventh and final phase of the telescope setup, the team held a series of key decision-making meetings and unanimously agreed that Webb was ready to move on to the next and final series of preparations, known as the commissioning of scientific tools. This process will take about two months before scientific work begins in the summer.
The optical characteristics of the telescope still exceed the most optimistic forecasts of the engineers. Webb mirrors now direct fully focused light collected from space into each instrument, and each instrument successfully captures images with the light delivered to them. The image quality transmitted to all instruments is "limited by diffraction", which means that the sharpness of the details that can be seen is as good as is physically possible, given the size of the telescope. From now on, the only changes in the mirrors will be very small, periodic adjustments of the segments of the main mirror.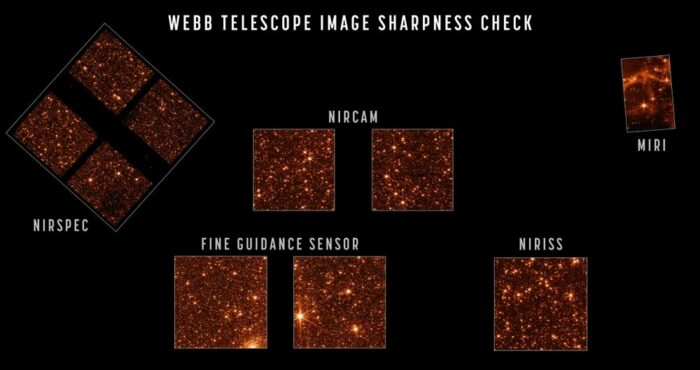 "With the completion of telescope alignment and half a lifetime's worth of effort, my role on the James Webb Space Telescope mission has come to an end," said Scott Acton, Webb wavefront sensing and controls scientist, Ball Aerospace. "These images have profoundly changed the way I see the universe. We are surrounded by a symphony of creation; there are galaxies everywhere. It is my hope that everyone in the world can see them."
Now the Webb team will focus on putting scientific devices into operation. Each device is a complex set of detectors equipped with unique lenses, masks, filters and specialized equipment that helps it perform the scientific tasks for which it was designed. The specialized characteristics of these tools will be adjusted and will work in different combinations at the commissioning stage to fully confirm their readiness for science. Following the official completion of the telescope alignment, key personnel involved in commissioning each instrument arrived at the Mission Operations Center at the Space Telescope Science Institute in Baltimore, and some of the staff involved in adjusting the telescope completed their duties.
Although the alignment of the telescope has been completed, some steps to calibrate the telescope still remain: as part of the commissioning of the telescope's scientific instrument, it will be ordered to point to different areas of the sky where the total amount of solar radiation entering the observatory will change to confirm thermal stability. In addition, current maintenance observations every two days will monitor the alignment of the mirrors and, if necessary, make adjustments so that the mirrors remain in their aligned places.
You can also help Ukraine fight with Russian occupants via Savelife or via an official page of the National Bank of Ukraine.
Read also: