Recently, Sony, known for the development and production of various digital components and commercial products, created a new company. Sony Space Communications Corporation (SSC) will focus on developing and manufacturing of optical communication devices for space companies.
There are currently about 12,000 satellites in space. This number will increase in the future. The amount of data used in orbit is also increasing every year. However, the number of available radio waves is also not infinite.
Low-Earth Orbit (LEO) satellites must communicate with the earth. That is why a large real-time communication infrastructure is needed. This is a serious problem because satellites must pass directly over ground stations to contact them. There is another problem. Small satellites require licensing of radio waves to achieve low power consumption.
To solve these problems, SSC plans to develop small optical devices. They will provide related services by connecting microsatellites in low Earth orbit using laser beams.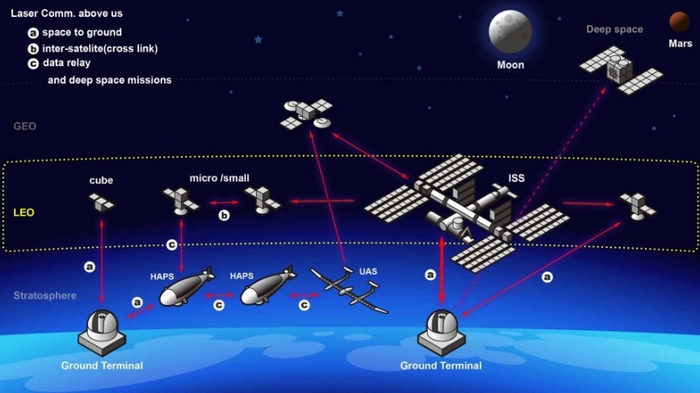 These optical communication devices are designed for companies engaged in satellite business or satellite development research in the development of satellites. SSC optical communication devices will provide high-speed communication between small satellites. This is physically difficult to achieve with traditional radio communication devices. Because the latter requires large antennas and high power output.
In addition, by creating an optical communication network not only between satellites and the Earth but also between satellites in orbit, SSC seeks to provide real-time communication from anywhere on Earth with any satellite in space. In addition, SSC optical communication devices are also easier to manufacture and operate than traditional radio frequency communication devices. The reason is that the new optical switching does not require special licenses, such as radio communication.
According to Sony, SSC is designed to promote the widespread use of space optical communications and increase the comfort of human life by expanding social and economic activities.
In fact, Sony has been working on this project for a long time. We can even say that Sony does not use new optical technology. The company has been using it for many years to develop and manufacture CD players and other products. This technology will help the Japanese giant to create optical devices that are "ultra-compact, lightweight, mass-produced and able to withstand harsh space conditions." Optical communication devices will contribute to the faster development of the industry, bringing space technologies to a new level.
You can also help Ukraine fight with Russian occupants via Savelife or via an official page of the National Bank of Ukraine.