Universal power banks have become an everyday gadget familiar to everyone. They solve the problem of dead batteries, but convenience is always in question because people are increasingly looking at specialized devices. It's nice when such accessories perform not only the task of recharging – like Jmate P4 Portable Charging Case for Juul electronic cigarette.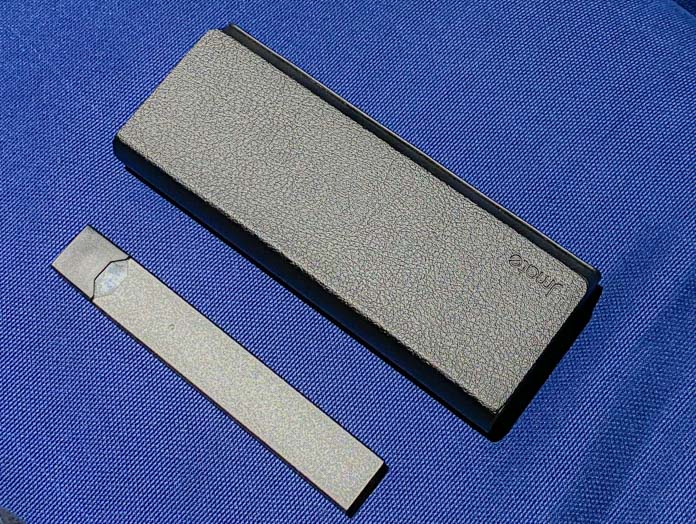 External design
The manufacturer settled on black, matte plastic. The outer part of Jmate P4 is covered with leather on four sides (at least the manufacturer assures that it is leather).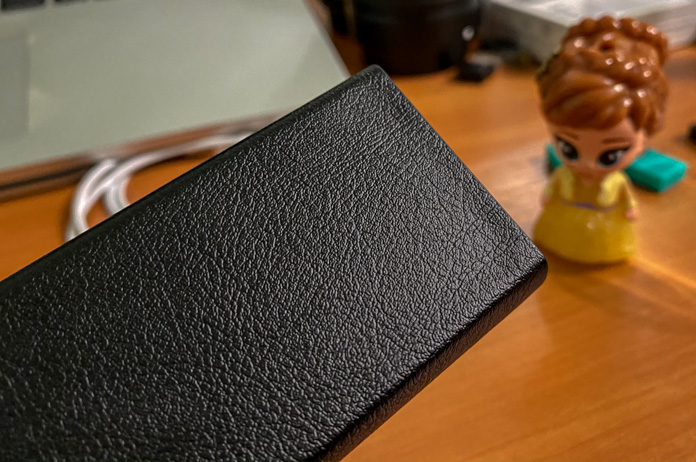 The characteristic relief feels expensive, at least externally. The logo is embossed on the front side, it looks neat.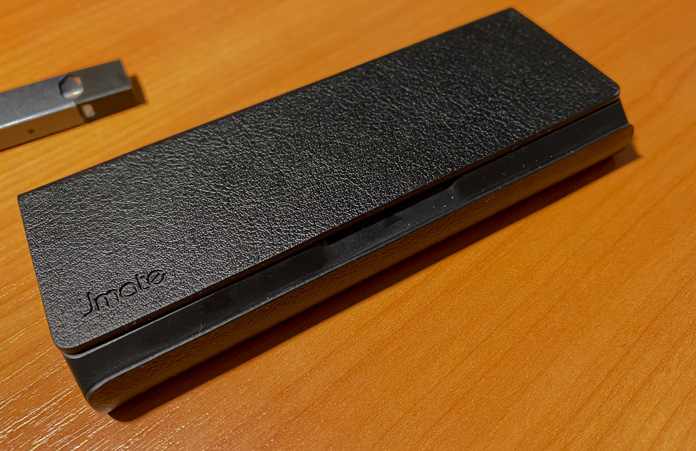 The upper side contains basic marks and marking of the battery capacity on one side, the power port and charge indication are located on the opposite side.
Diodes are installed deep, there are no diffusers, just four wells. Also, the bulbs in the test sample differ in light temperature. That's where you see why the device costs so little.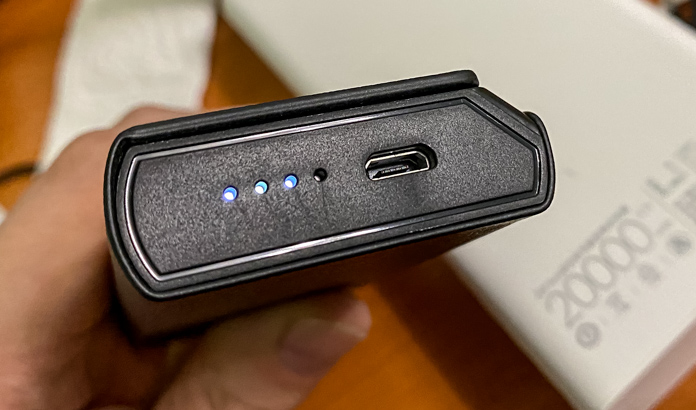 Long "leather" sides have a slight bend, like the spine of a book. Comfortable to hold in hands, and rough casing also increases grip. The material encircles almost the entire case, interrupting on the rib with the slot for convenient opening.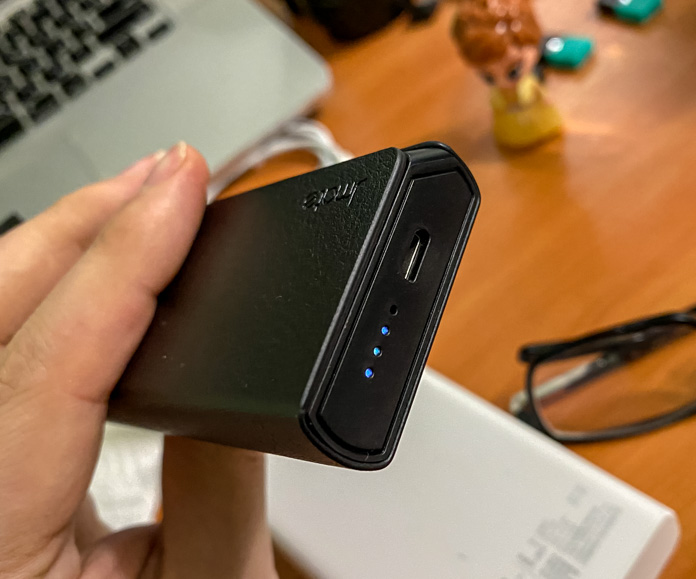 It feels kinda cheap, like an inexpensive notebook. But it is soft, which will save the smartphone screen from scratches.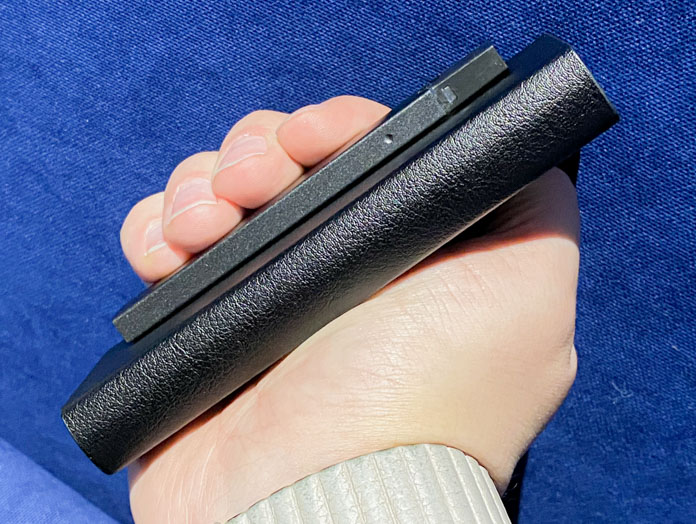 Inside
Behind the lid there are three recesses: for Juul and two slots for the pods. Moreover, the device itself is supposed to be stored together with the third capsule installed.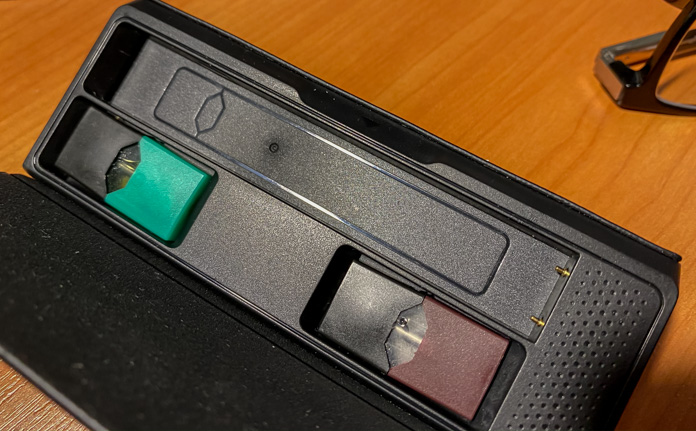 Pleasant appearance was slightly spoiled by a careless engraving depicting a diode. Otherwise, everything looks nice, even false holes at the base to dilute the emptiness of the plastic.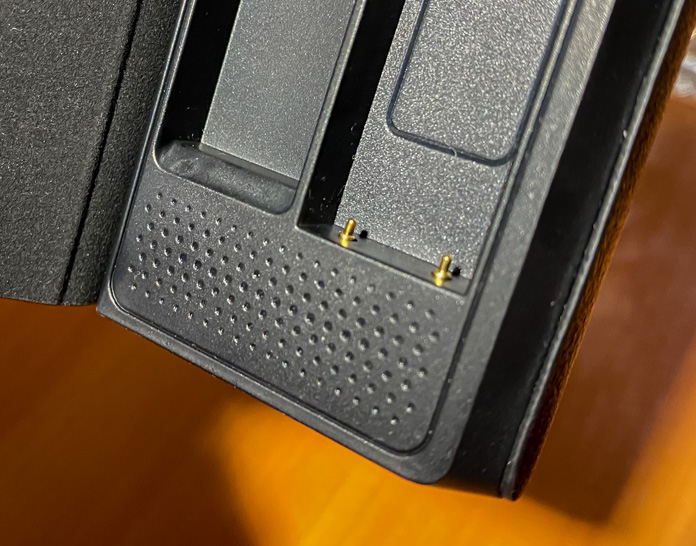 The gadget cover is fixed with two magnets at the top and bottom. They are weak, but that's no problem: the case will not open even with strong shaking, but you can easily open it with one hand. By the way, the reclining part inside is covered with a soft cloth, which eliminates the possibility of small scratches on the electronic cigarette even when dropped.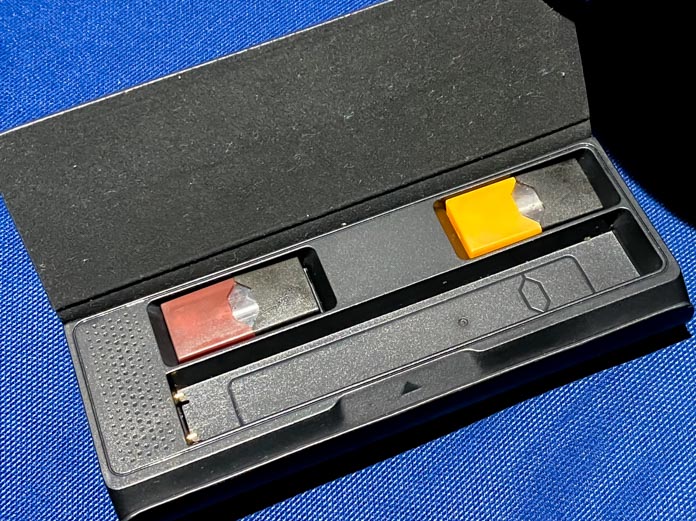 Charging contacts stick out a lot. This – paired with magnets at the base of the groove – further increases the likelihood that the device will continue to charge, regardless of the conditions of transportation.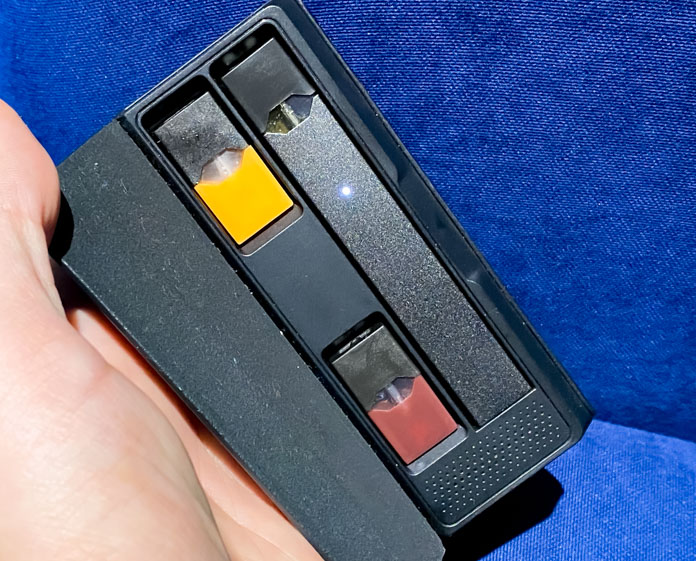 The pods are not fixed additionally, but the slots for them are similar in size, which reduces noise during transportation. You can hear them rattling inside, buy only it you shake them yourself. But opening the case vertically is not worth it – the pods sometimes fall out.
Read also: Big comparison of tobacco heating devices: IQOS and glo vs Pod-systems: Logic Compact, JUUL, Joint
Features and Functions
The manufacturer claims a battery capacity of 1200 mAh and promises four full Juul charges. The eight-month-old device, which pretty much has lost the capacity of its batteries, was able to charge five times. The freshly opened one charged three times in three days. While charging, the case does not heat up.
Jmate P4 Portable Charging Case itself charges in 1 hour 15 minutes. Comfortable, but we have to use microUSB. I prefer Type-C. The bundled cord fits neatly into the slot for Juul – it is convenient for transportation, but the other equipment will have to be taken separately.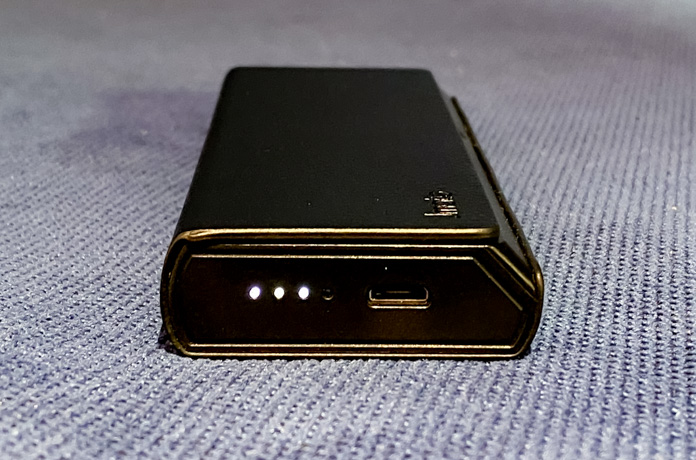 The charge indication works according to the same logic as in power banks with four diodes, one for certain level: 25%, 50%, 75% and 100%. If Juul is installed and charging, the lights are on. Since the case is for transporting, the location of the diodes outside is not a disadvantage: you can immediately see that the process is in progress.
The mass of 67 g is barely felt, but the physical dimensions are still much larger than Juul itself. Jmate P4 Portable Charging Case will fit in most standard pockets. If you're wearing an evening dress without a clutch or a business suit, it is better to do without a case.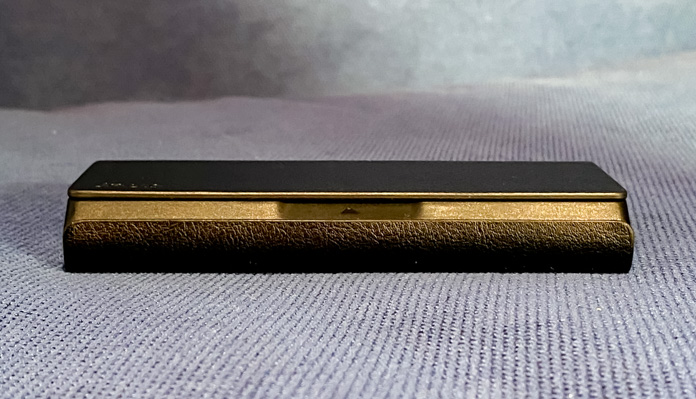 The manufacturer offers a single color. The lack of brighter options complicates the search in a stuffed bag.
Read also: jouz 20 review – Tobacco heating device
Who is it for?
A portable case with a battery will be useful for long walks or excursions. It is also suitable when working on your feet when it is inconvenient to hold a power bank with an e-cigarette sticking out. It will be handy for delivery men, as an example.
A series of business meetings, cinema or theater, followed by a visit to the restaurant. Picnics. Irregular use. When you don't want to think about charging. There are a lot of applications.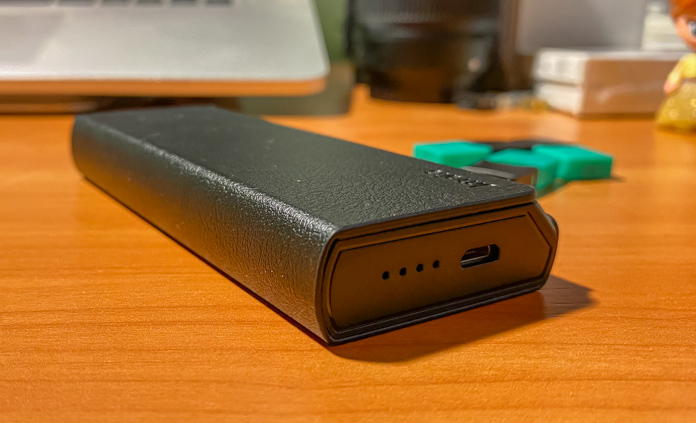 A separate class are people who work in conditions of increased pollution. Builders will not find crumb of cement in the mouthpiece, and it won't get in the way during work.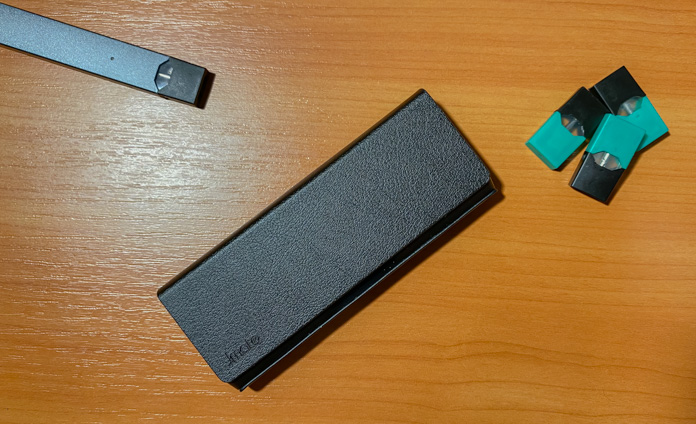 But Juul itself is characterized by minimal dimensions that you do not want to increase, even to the detriment of convenience. You won't likely use Jmate every day.
Read also: Glo review – Tobacco heating device
Verdict
The accessory is convenient, even stylish, but you can surely see why it costs so little. It's useful, and it'll make a good gift for practical people.
Jmate P4 Portable Charging Case helps in certain situations. But it's hard to complete with existing power banks.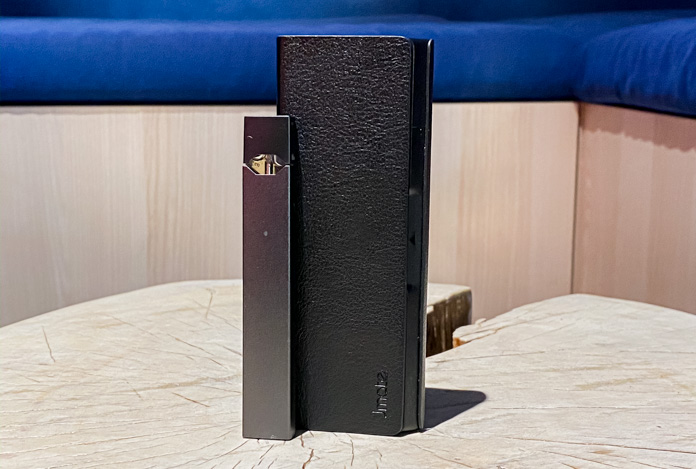 But there are moments when universal charger is not needed or takes a lot of space, and that's when it will definitely be more convenient to have a gadget specially designed for Juul. Fans of organizing everything will also appreciate this device.
If you feel the need for such an accessory, then Jmate P4 will be an excellent choice, as it is one of the most compact power bank cases for Juul.
Subscribe to our accounts: