I always feel a pang of excitement whenever I get my purchases from China. As it turns out, buying from Taiwan is no less exciting. Especially when it's Silicon Power Velox V85 480GB solid-state drive.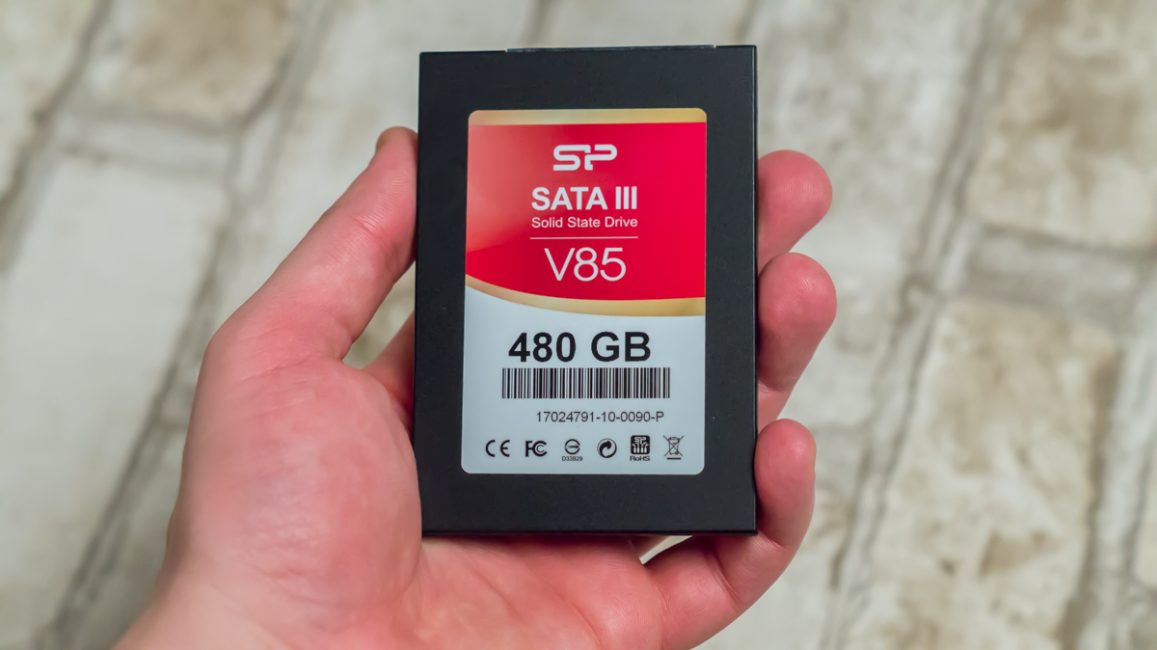 Silicon Power Velox V85 480GB
In the arsenal of the company, the V series is a default choice, starting with the V50. Velox V85 is the newest representative, incorporating everything best from previous generations. In contrast, for example, with V80, the "eighty-fifth" has an adequate thickness and can be housed even in laptops.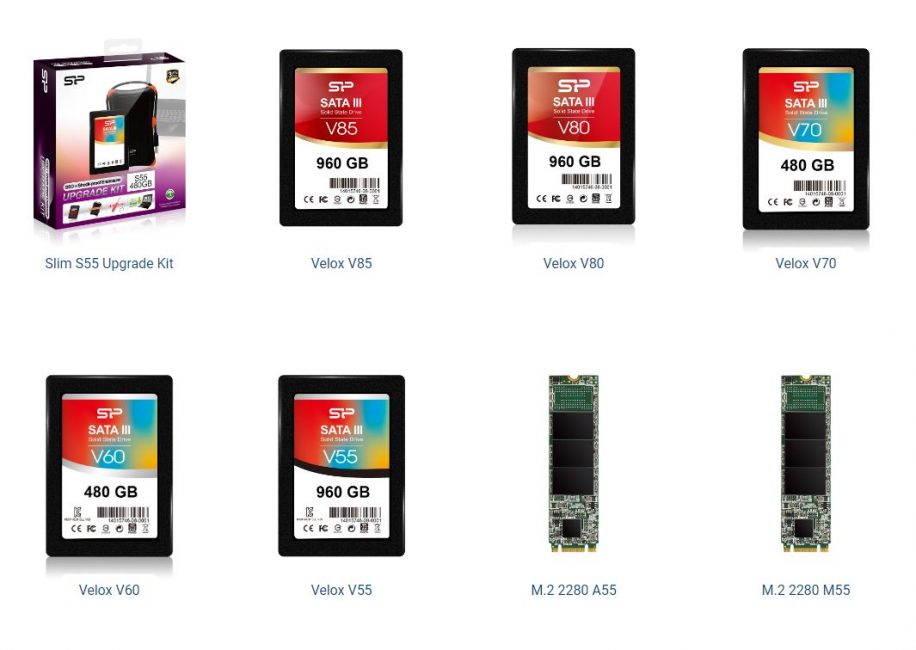 What in the box and design
SSD is packed in, well, the box – wherever else? Its contents are modest, but adequate: the black drive case itself, the mounting bracket for the 3.5″ slot, two sets of screws – for attaching the SSD to the bracket and for fixing the bracket in the PC case, and the manual.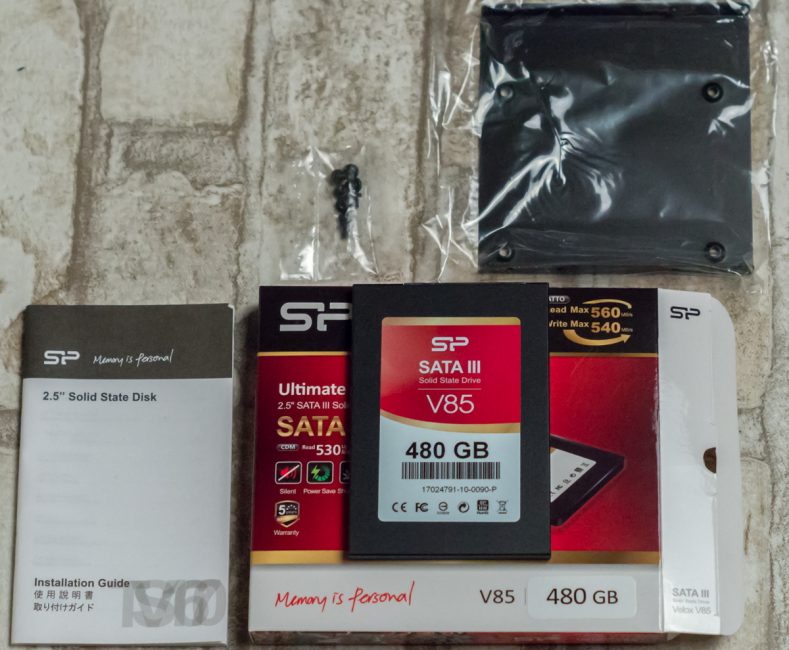 The drive's body consists of black matte metal, which is pleasantly cold, and does not slip out during installation. Above there is a sticker with information, below are only four holes for the screws. SATA connectors for data transmission and power are in front. On both sides are the second set of screws, so that the drive can be installed in the bracket in any position.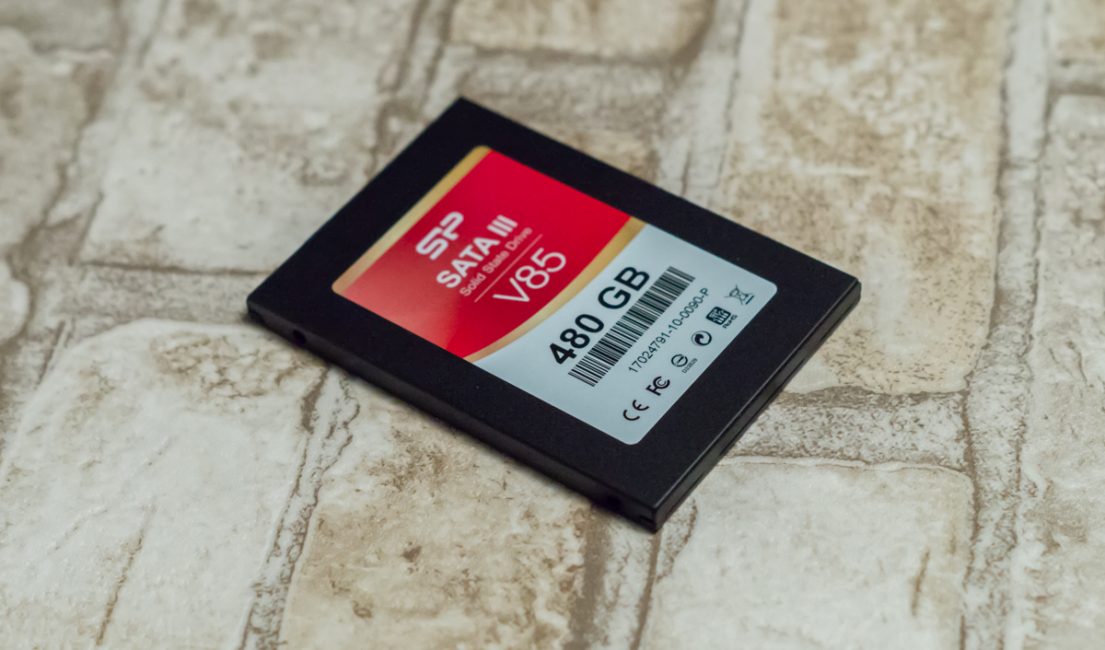 Silicon Power Velox V85 480GB is 100 mm in length, 69.85 mm in width and 7 mm thick. The thickness of the drive differs from the 9-mm V80, which did not fit into most of the laptops. This has severely limited the field of application: even the oldest laptops come to life after the new dose of SSD.
The V85 is available in 480 GB (SP480GBSS3V85S25) and 960 GB (SP960GBSS3V85S25) versions. The drive can weigh up to 63 grams. The interface is obviously SATAIII. Controller Phison 10, 15-nm chips – Toshiba MLC. The read and write speeds are up to 560 MB/s and 540 MB/s respectively. IOPS with 4K randomization; adequate 87K in the 480 GB version. The average time between failures is 2 000 000 hours. The drive can withstand vibrations with a force of 20 G and shocks up to 1500 G. I can't confirm the last two parameters, and I'll take the word for it. However, SSD has 5 years of warranty.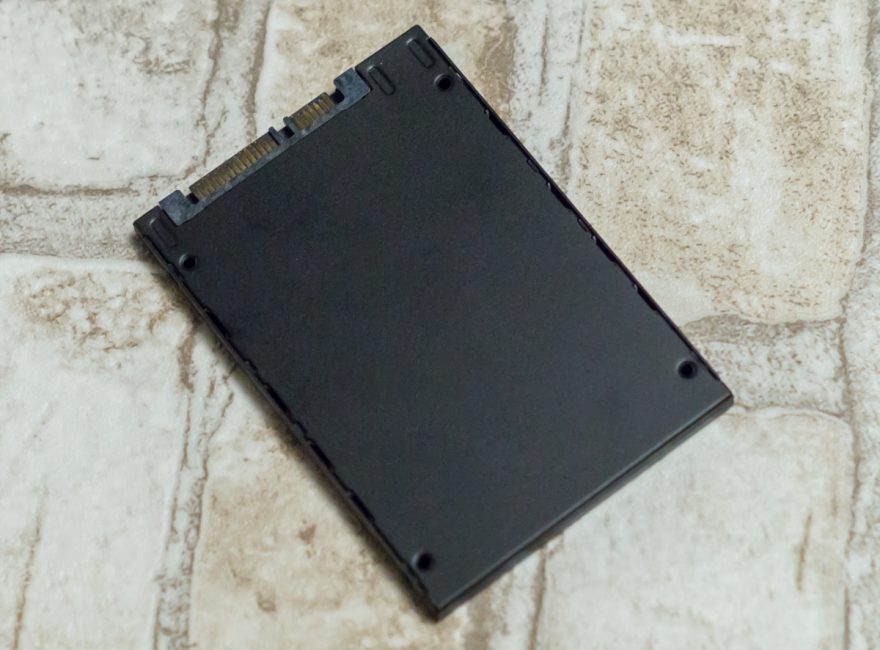 The drive supports TRIM, SMART self-diagnosis, Garbage Collector technology, is ready for NCQ and RAID, and also supports ECC.
Software
Like any other self-respecting drive manufacturer, Silicon Power has developed several applications for work. Unfortunately, in order to download the software you first have to register.
That's not all! Instead of licence agreement I get installer template, telling me how to add licence agreement! I had no idea what to do next. I couldn't even change the installation folder – I mean the installer told me I could, but there was nothing except for the text. What can be funnier? I'll tell you what: this is version 2.1.11.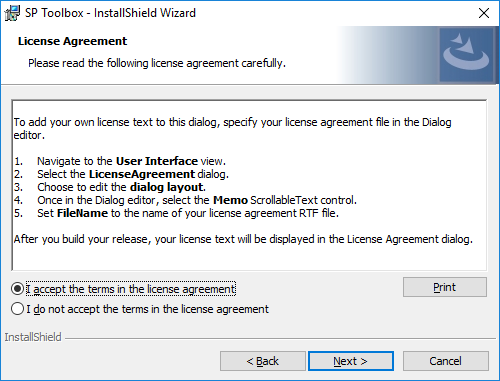 The program offers fewer abilities than counterparts from competitors. But I do not think that it was originally created be the best app for backups. This is more of a diagnostic program with test errors, SMART monitoring, checking the speed and temperature. Of course, for SP Toolbox to work you need to connect the SSD from Silicon Power.
Read also: Far Cry 5 review – The Lovable Mess
Benchmarks and games launch speeds
After creating a simple NTFS-volume, you are left with 447.13 GB of free space. The working speed through the SP Toolbox with a cluster of 1 GB and a triple run showed 541.34 MB/s for reading, 504.61 MB/s for writing, and 4K read/write speed of  43.69/40.96 MB/s.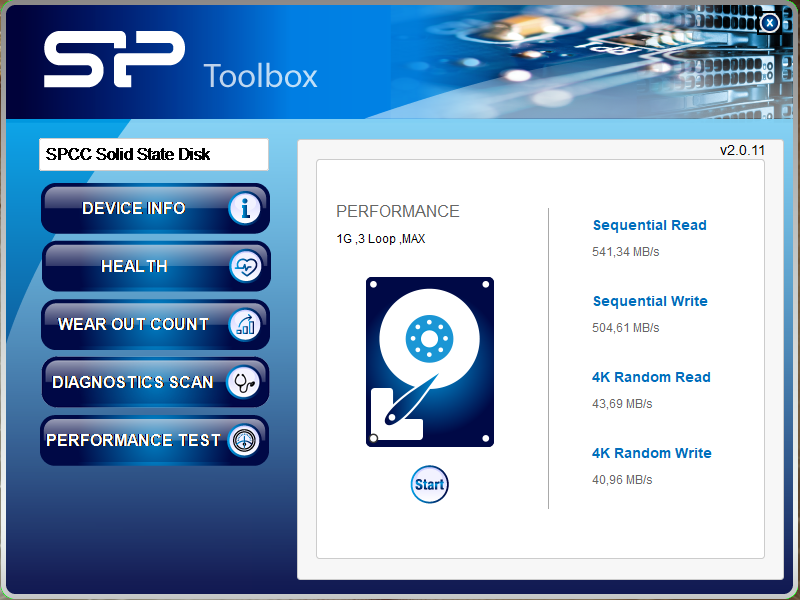 AS SSD got the following results (overloaded Goodram CX300 for comparison):
Tests of Silicon Power Velox V85 480GB in CrystalDiskMark (when installed on Windows 10) got the following results:
Launching a freshly installed Windows 10 takes 11 seconds from the BIOS screen to the desktop screen. Launching games is also significantly faster – Fallout 4 from HDD launched in 1 minute 6 seconds, but with Silicon Power V85 it took just 15 seconds! With GTA V the situation is a bit worse: 1:04 from HDD and 0:39 from SSD.
Temperature: through AIDA64 and SP Toolbox we get stable 30 degrees Celsius even after 9 full runs in CrystalDiskMark. Which, by the way, this time (after complete cleaning) showed such results: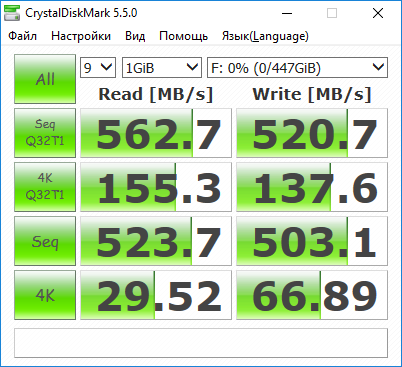 Verdict
Silicon Power Velox V85 480GB offers everything you might want from solid-state drives. It is the pinnacle of evolution of this lineup – the best from the best. Root Nation wholeheartedly recommends.