There are some special apps for the most comfortable connection between a smartphone and a personal computer. They allow you to manage files remotely, broadcast the screen, back up data, and perform other functions. In fact, with the help of such applications, you can fully control your mobile device from your PC. We would like to recommend AirDroid to all users — a cross-platform utility with a clear interface and a set of useful options for remote control of a smartphone. More about everything applicable is in this review.
AirDroid: what is it and what is it for?
AirDroid is a device manager based on Android, that also allows you to work with iOS. There are two main management packages: for personal use and for business, which differ from each other in tariff plans and a set of functions. Here is a summary of the current value of each product:
AirDroid Personal – $3.99 per month
AirDroid Cast – $2.49 per month
AirDroid Remote Support – $2.49 per month
AirDroid Business – $12.00 to $33.00 per month
The main functions of this program are broadcasting the display of a mobile device and the ability to manage files stored on it. To use the utility, you need to install it on your desktop and smartphone, previously synchronized devices. Users have access to both versions of the program: a free basic version and a premium one for a reasonable amount. This is a huge plus AirDroid in comparison with the most of competitors who offer their products at inflated prices. There are versions of the program for the web, that is, browser-based, and also for PCs on Windows and Mac operating systems. Accordingly, it is supported by smartphones based on iOS and Android.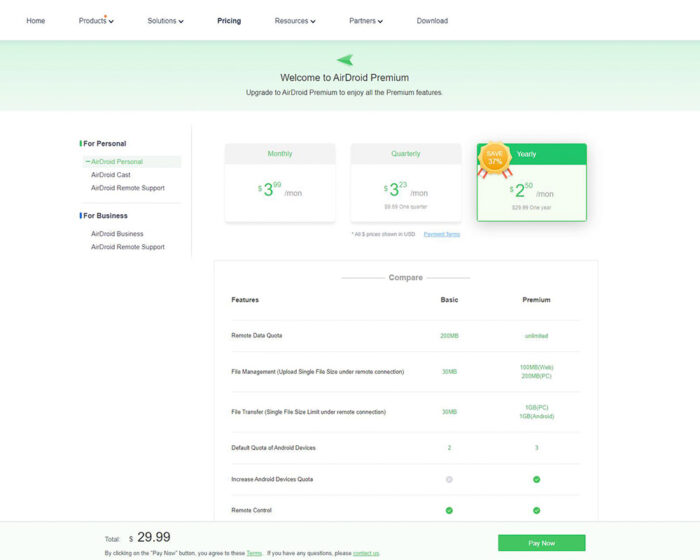 Top features of AirDroid
Let's take a quick look at what the AirDroid program can do and what opportunities it opens up for users:
Free 200 MB of space for deleted data.

Downloading data via remote access.

Transfer files and multimedia from smartphone to desktop or laptop.

Manage the data contained on the phone, namely: access to contacts, view calls, messages, and more.

Work with audio, including listening to ambient sounds from a mobile device (however, this process will be one-way).

View notifications received on your smartphone.
In simple terms, AirDroid gives you full control over your mobile device through your PC. This is convenient because you no longer need to look for a cable to connect the device to the computer for its remote control.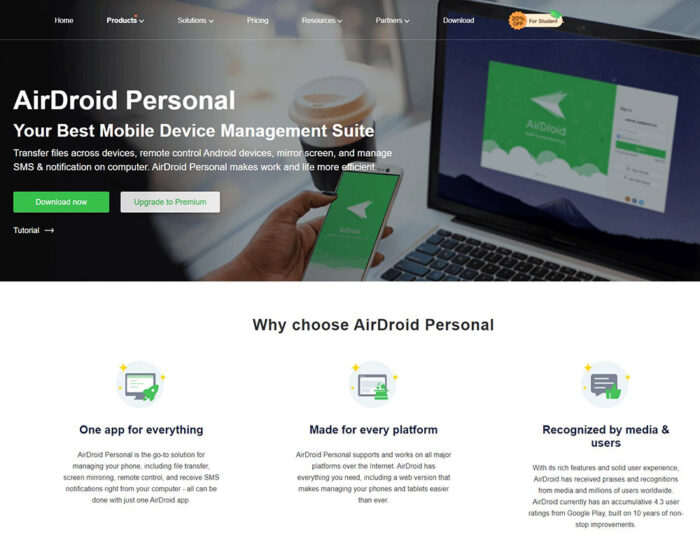 AirDroid user interface
This program looks concise and understandable, which means it will not be difficult for a new user to figure out how to work with it. After installing and creating a personal profile, the main page will display the user data and the amount, available for deleted data.
The side menu contains tab buttons, which are the main tools, namely:
Data transfer
File folder
Remote control
Notifications
Messages
Challenges
Contacts
If the user wants to edit his data, in the same menu he will find a gear that is directly responsible for the utility settings. Perhaps, this is all that can be said about the interface. As you can see, it is quite simple and can be easily figured out in just a minute.
Transferring data via AirDroid
With the file manager, you can transfer data and media from your smartphone to your computer and vice versa without a direct connection. It means you do not need a USB cable and other things which complicate and delay the process. It comes in handy when your phone's memory is full and you need to free up some space. Or vice versa, the user wants to send an image, composition, or any other file from the desktop to the smartphone. To do this, just scan the QR code located on the main page of this program. The main thing is that AirDroid is installed both on the PC and on the smartphone.
Smartphone screen mirroring
Suppose the user needs to open the display of his smartphone on the computer, but how to do this? Just open it via AirDroid. The program, like a mirror, will demonstrate what is happening on the screen of a mobile device. To do this, there is a button in the side menu, that looks like "binoculars", which is responsible for the remote control of the device. Depending on the version of the program purchased and installed, you should select one of the available options. If you are using the free option, you should select a partition without root rights to show and record the screen.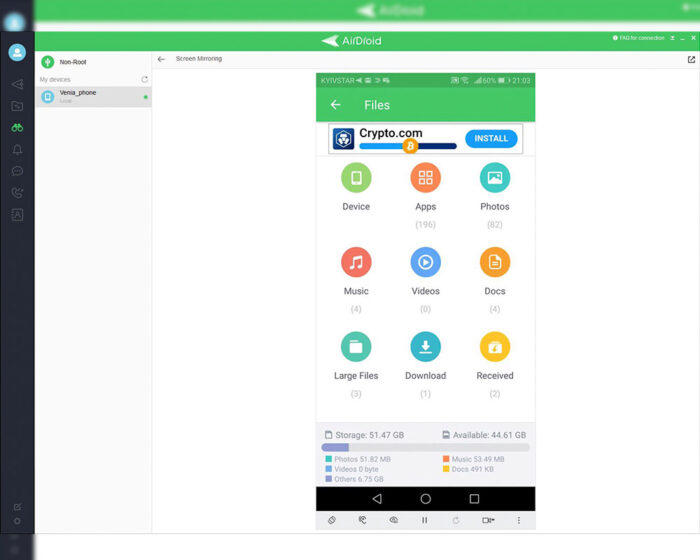 Backup
AirDroid is able to backup files. This feature is useful in order to not lose the data stored on the mobile, when it is formatted, restored, or transferred to a new smartphone. The program will backup the entire phone, including media files, SMS, and contacts, so it will be difficult to delete anything from it without the possibility of recovery. To make a copy, select the required device from the program menu and press the "backup" button. Then everything will run automatically.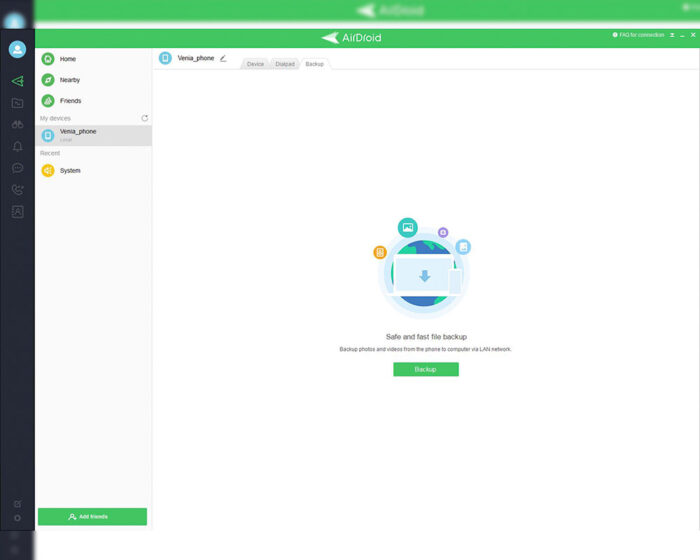 Conclusion
As we have found out, with AirDroid you can quickly connect your smartphone to a personal computer for file transferring, screen sharing, and data management. It's easy and, most importantly, safe to do with the program. This software has been tested by many users who mostly give positive feedback. The only thing that can be confusing is that different versions of the program perform strictly specific functions. This means that when purchasing the Personal AirDroid, it can only be used individually. This means that for collective or corporate use it is necessary to purchase the Business package. Also, it's possible, someone may not have enough space, namely, the allocated 200 MB. But you should remember that you can always buy a service package with advanced features at a reasonable price. AirDroid is an easy-to-use, convenient and intuitive smartphone remote control program that will make the task of data management much easier.