Most recently, I realized that my wired AirPods stopped working, which necessitated the purchase of new headphones. It's not like I have a lot of money, besides, buying wired headphones in our time is completely irrelevant, so I decided to find a "middle ground" – high-quality wireless headphones, but inexpensive.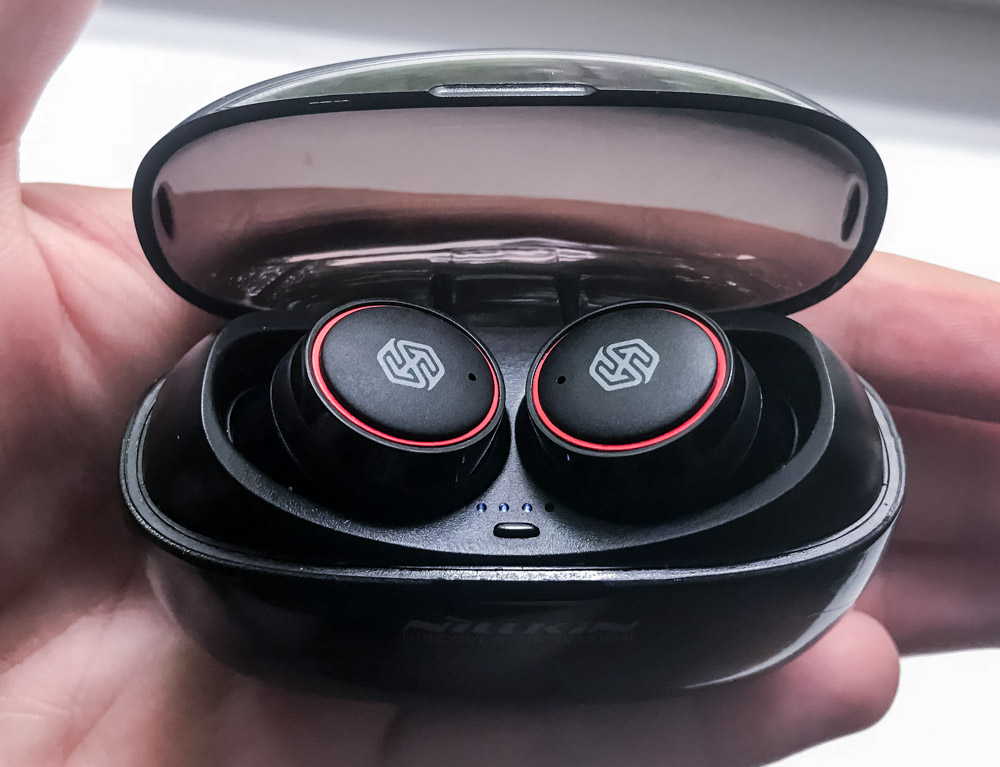 And now, after several hours of Internet surfing, I found and bought them. So, get acquainted – Nillkin Liberty E1 TWS – a True Wireless Earphones headset, almost like Apple's AirPods, but it fits perfectly into my budget ($ 40-50). But what exactly hooked me and why these headphones are worthy of your attention in a similar situation, I will tell in this review. Go!
Nillkin Liberty E1 specs
To get started, let's go over the characteristics in order to understand what we will deal with.
Headphone Type: Vacuum In-Ear
Function: True Wireless Stereo (TWS)
Headset availability: Yes – microphone in each insert
Mount: In Ear
Drivers: Dynamic 8 mm
Body color: Black with red or gold accents
Waterproof: IPX4
Weight: 4 g – headphones, 77 g – charging case
Built-in battery: inserts – 2×50 mAh, case – 1500 mAh
Charging Port: microUSB
Wireless: Bluetooth 5.0
Connection Profiles: HSP, HFP, A2DP, AVRCP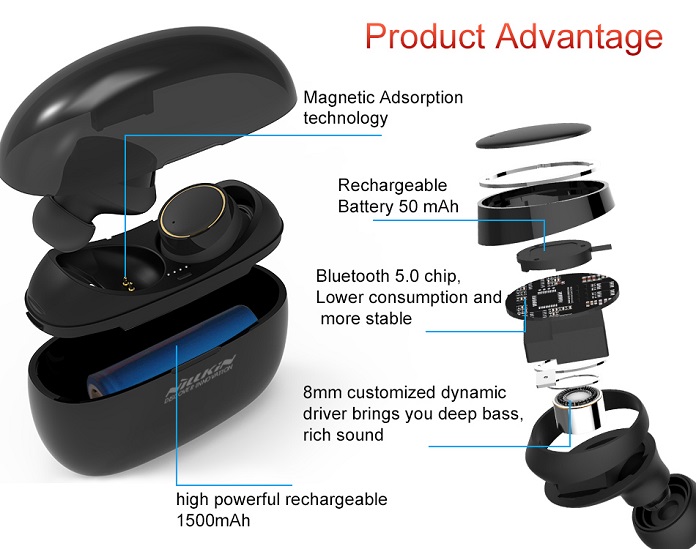 Positioning and price
Nillkin Liberty E1 is an affordable option: in local retail it can be purchased for about $48. However, on AliExpress in the Nilkin company store you can buy it at a price almost 2 times cheaper – for $28. When compared with competitors, Nillkin headphones are cheaper than Galaxy Buds by more than 2 times and almost 4 times cheaper than official Apple AirPods 2. Considering the declared functions and capabilities it seems like are a very attractive option. Let's test it in practice!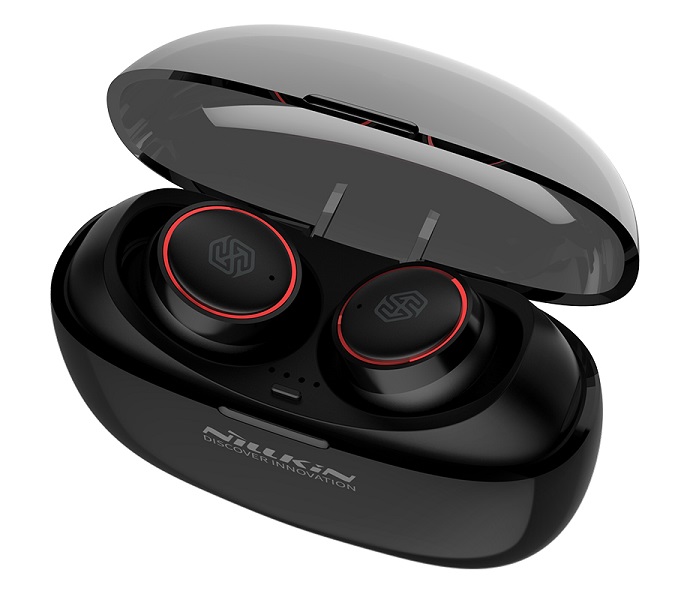 Where tu buy Nillkin Liberty E1
What's in the box
So, in the box we find: the headphones themselves in the charging case, the USB-A/microUSB cable, an instruction manual, a warranty card, and of course the traditional 3 sets of interchangeable ear pads (one of them is already installed on the earbuds).
Design, materials, build quality
When you first use the headphones, it's very pleasing. A compact, easy-to-fit treasure chest and miniature drop-shaped inlays with a smooth transition into a small oval, encrusted with a red (in my case) rim, complemented by an LED indicator, a microphone hole and decorated with the Nillkin logo. Simplicity and style.
The headphones are made of high-quality matte plastic. The charging case is sturdy, but it's glossy plastic, so abrasions and scratches over time are a given. The case cover is translucent, fixed in the closed state with a simple latch, you can open it simply by pulling the cover up. The phones are fixed in the nests using a magnet.
The product is pleasant to the touch, and the build quality is excellent. A glossy case is the only minus.
Control
The outer areas of each of the headphone are actually large mechanical buttons. With their help, you can control playback: play, pause, switch tracks back and forth, as well as answer incoming phone calls. Please note – the buttons are mechanical, not touch. For some, this may be an advantage, for someone – a disadvantage. The choice is yours.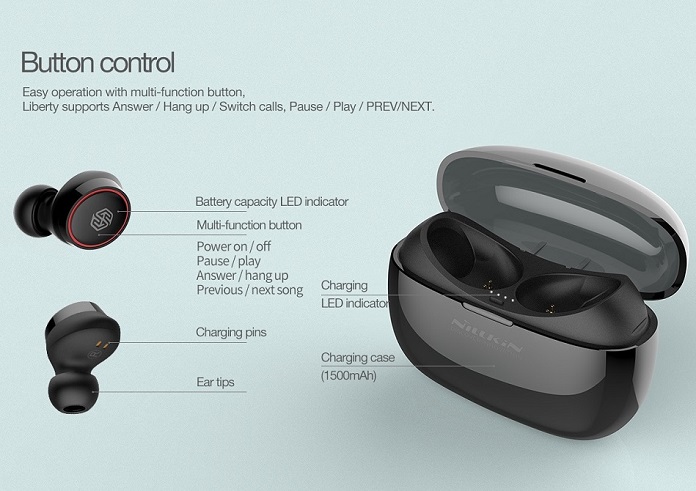 Ergonomics
How do they sit in the ears? Great, isolating you as much as possible from surrounding sounds (even in the subway). Of course, in order to achieve perfect sound insulation, it is important to choose the right size nozzles from the bundled options. If it doesn't work out, find third-party ear cushions that match your ear canal.
As for the bundled nozzles, together with the Nillkin Liberty E1 we get only 3 pairs of different sizes. Personally, the middle ones seemed like the best fit and I am quite pleased with their sound insulation. A small life hack: when you put the earbuds in your ears, try twisting them around the axis a bit so that the tips rest against the wall of the ear canal. Thus, you can achieve a deeper fit, better sealing and more dynamic sound of the headset.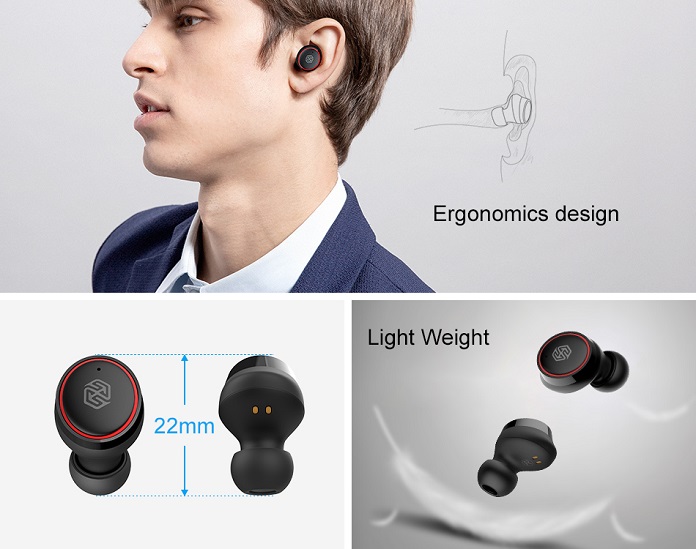 I also want to note the ergonomic shape of the earbuds, which copies the bends of the auricle, and therefore provides maximum comfort. In addition, thanks to their compact dimensions, they almost do not protrude from the ears. Therefore, if you decide to lie on your side this should not cause you any discomfort.
Sound
And now to the most important quality of any headphones. I should immediately warn you that these headphones are not for audiophiles, but rather for those who desperately need really good sound at a reasonable price.
The Bluetooth 5.0 protocol and SBC codec are responsible for the wireless connection of the headphones to the source device. When connected to the iPhone, the sound is pleasant, without noticeable distortion. In general, the sound is as clean and balanced. All frequencies are present, bass is deep. In general, the sound is good for its price.
Headset function
If everything is clear with sound, then with a microphone everything is a little more complicated. You can hear an echo and extraneous sounds. So, if you are planning to use the headset for constant communication, then think twice.
In addition, if during an incoming call you decide to answer not by pressing the headset button, but from the phone, then after the end of the conversation the headphones will lose all sound. In this case, you will need to put them in the charging case, and then get them out and then they will automatically connect to the smartphone. Perhaps this is the feature of the Nillkin Liberty E1 working with the iPhone, because this was not observed with the Android smartphone and after the end of the conversation the music automatically continued playing from the interrupted moment.
Nillkin Liberty E1 can be used as a mono headset, but with some reservations. So, if you put the right earphone in the case, then the left one will stop working. At the same time, when you first put the left one this does not happen.
Battery life
When fully charged, the headphones work for at least 3 hours with music playback mode, as announced by the manufacturers. Add to this a charging case with a capacity of 1500 mAh, which will be equivalent to 6-7 full charges of the headphones, and we certainly get a good deal.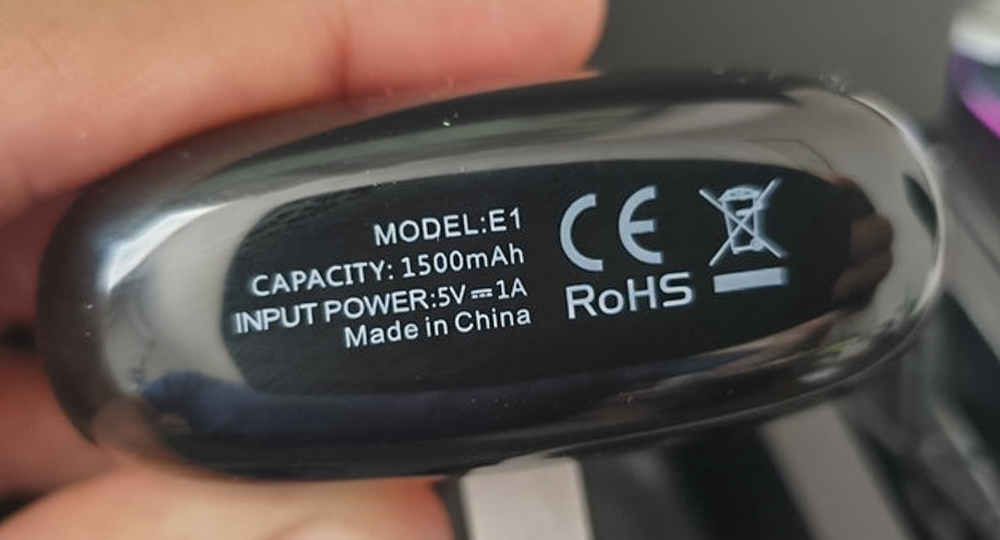 Connection quality
As for communication via Bluetooth, I can highlight its high degree of reliability. Moreover, the headset maintains a reliable connection even through one concrete wall. Surprisingly, there were no breaks even in crowded places where the frequency channel is clogged with connections.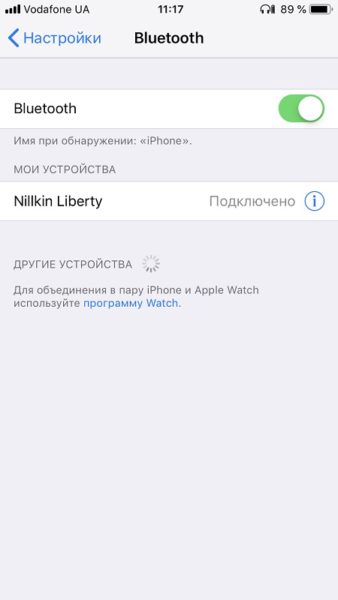 Verdict
So, Nillkin Liberty E1 is not AirPods (unexpectedly) at all. And not even Galaxy Buds, although there are some similarities. I tested the headphones for a month and from time to time I learned something new about them. I'll start with the positive aspects of this device. The first is the design and shape of the headphones. They are compact, quality made and perfectly fit in the ears. The second is the sound. You don't need any additional efforts (software, equalizer settings, etc.) to squeeze the maximum out of these headphones – just plug them in, put them in your ears and go ahead.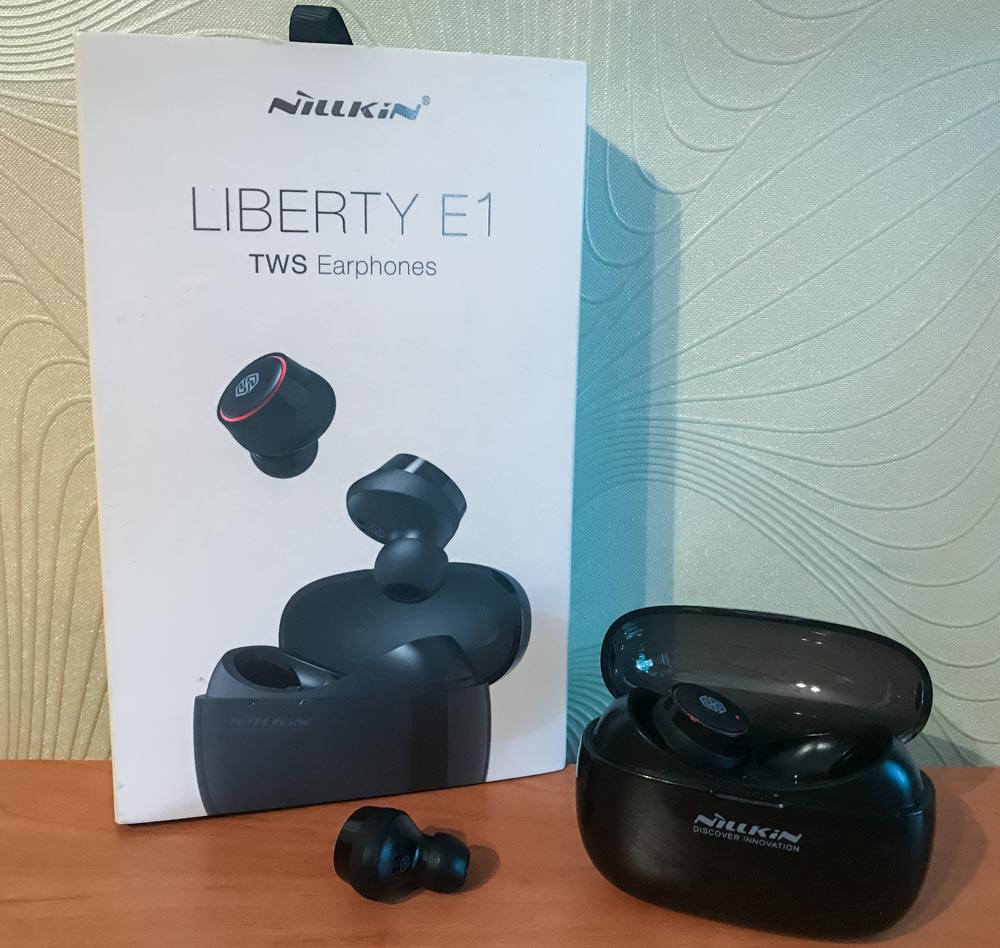 But it is worth adding a spoonful of tar to a barrel of honey. The first thing that catches your eye is a glossy case, which, regardless of your desire and the level of frugality, will be scratched on the first day. If you plan to carry it in your pocket, and even if you do not plan to, it will be scratched in any case. Another problem is if you answer the call not with the headphone button, but from the phone (as for me it's not a bug, but a feature – editor's note), then the sound disappears. In this case, you have to get the case, put the earbuds there, take it out again and only after that they start working with the smartphone again (although it is worth noting that this does not happen every time, but still). But if you do not want to carry out such manipulations every time, especially if you talk on the phone often, you should accustom yourself to answering a call from the headset.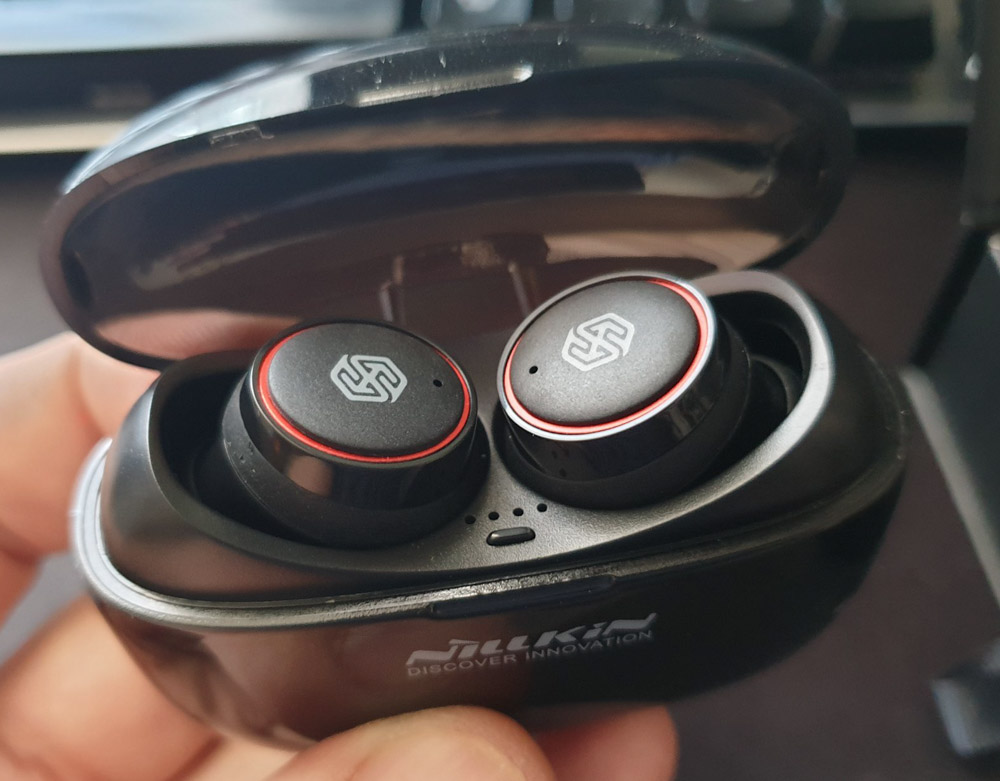 Despite the shortcomings found, the positive aspects of the Nillkin Liberty E1 more than cover them. Therefore, I definitely recommend paying your attention to this model if you are looking for an affordable option.
Where tu buy Nillkin Liberty E1
Subscribe to our accounts: