A flawless ultrabook – what is it? Every person has his own ideas. Some will point to MacBooks, and some – to Windows devices from ASUS and Lenovo. Personally, I've always though Lenovo's Yoda series were the best. Always – until I saw Dell XPS 13, which is possibly the best ultrabook in existence.
Dell XPS 13 (2018) design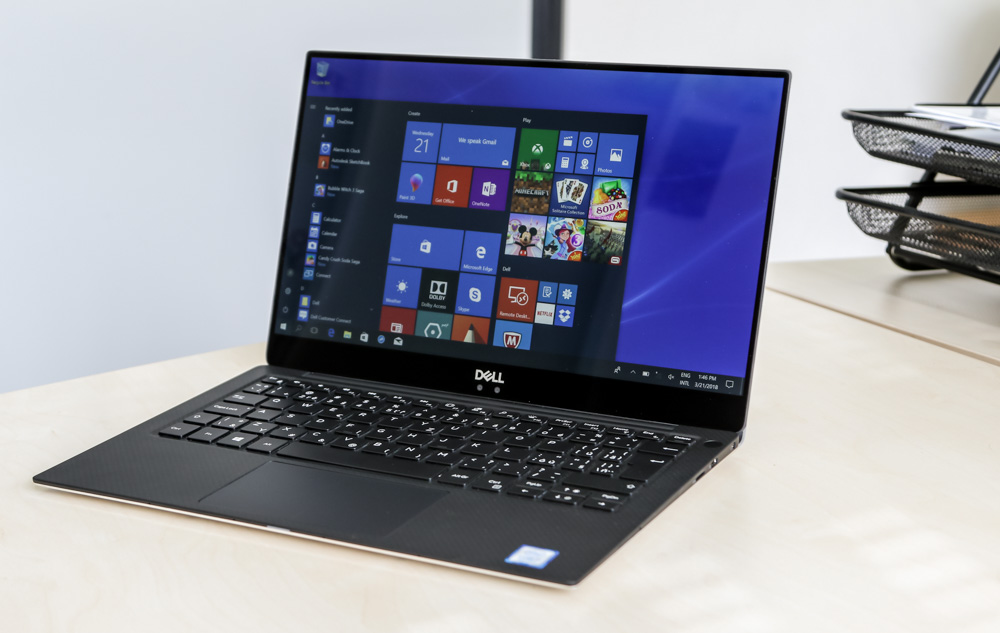 In 2015, when the first Dell XPS came out, it astounded everyone with its design. For a 13-inch laptop, it was very small and had little to no bezels around the display. It was the first laptop with such slim bezels.
Three years passed and some might say that models from 2015 and 2018 are almost indistinguishable. But the difference is in small things: Dell XPS 13 (2018) has lost a lot of "weight": it's a couple of millimeters slimmer and 50 grams lighter.
Everything else stayed the same: design is dominated by strict and cold aluminum above and below, in tandem with black fiberglass inside. The latter replaced the usual plastic and carbon.
Fiberglass is a lot like carbon – the same lightness and durability. So why change? No, not because some designer got bored – it was a practical decision.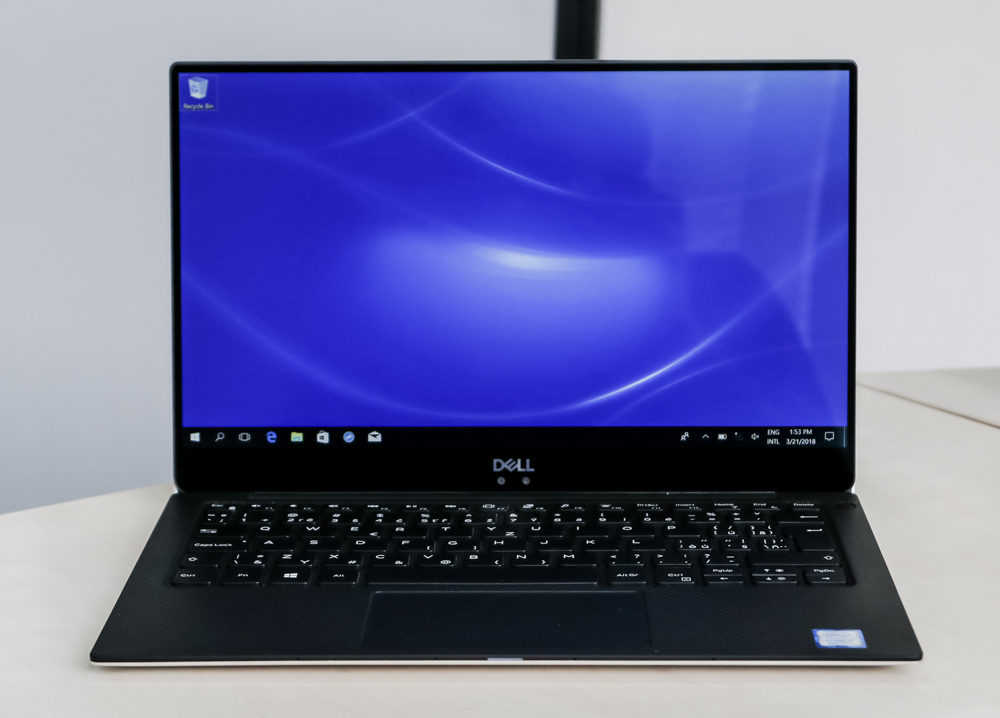 The main difference in design is in the body color. Now Dell XPS 13 comes not only in classical grey, but also in rose gold with white surface, and the thing is, white carbon collects fingerprints a lot faster than white fiberglass. Hence the change. So fear not: Dell XPS 13 won't lose its face.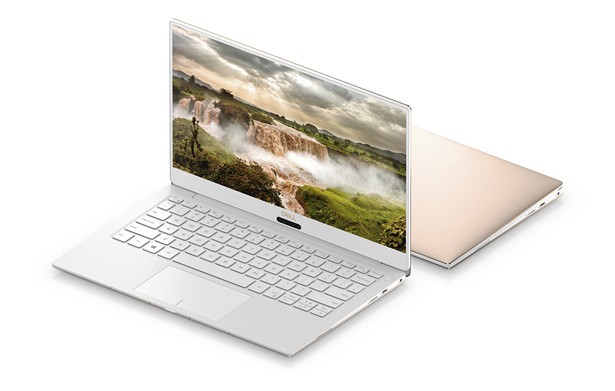 But that's not all – the biggest change is bigger than that. I'm talking about minimization and universalization which are very important in new gadgets, no matter if it's a smartphone, a laptop, a TV or a tablet. USB Type-C was created with that in mind, and Dell decided to follow Apple's suit and remove all ports except for Type-C and combined audio jack.
Until Dell XPS 13 (2018) I've never used a laptop without most of the ports, and after two weeks there was no discomfort at all. The laptop can be charged via the three available ports. Two ports on the left are fully compatible with Thunderbolt, and there's a port on the right that's compatible with DisplayPort.
In addition, on the left we have Kensington lock, a button for battery charge check, a battery indicator and a speaker.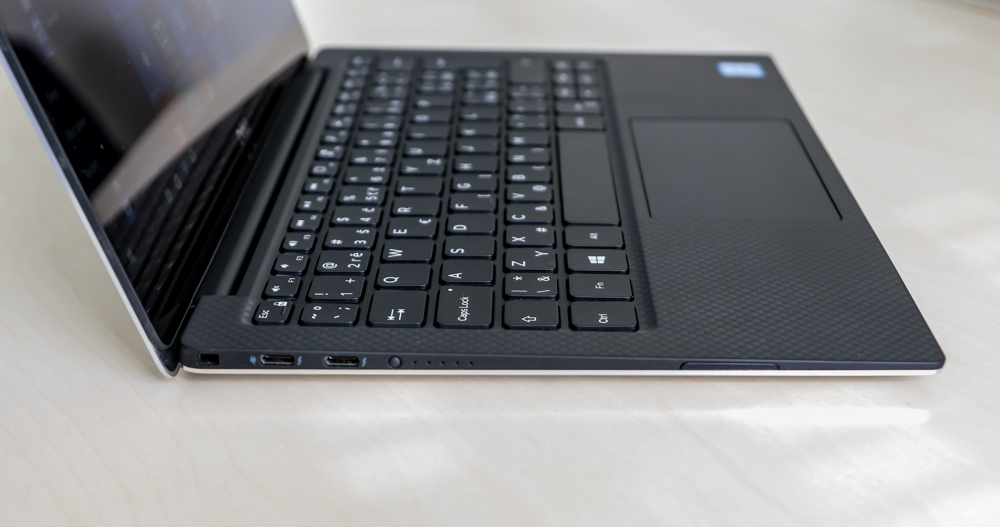 On the right there's a combined audio jack, one USB Type-C, a MicroSD slot and a speaker. Underneath is an oblong LED; it shows red when the battery is drained and white when it's charged.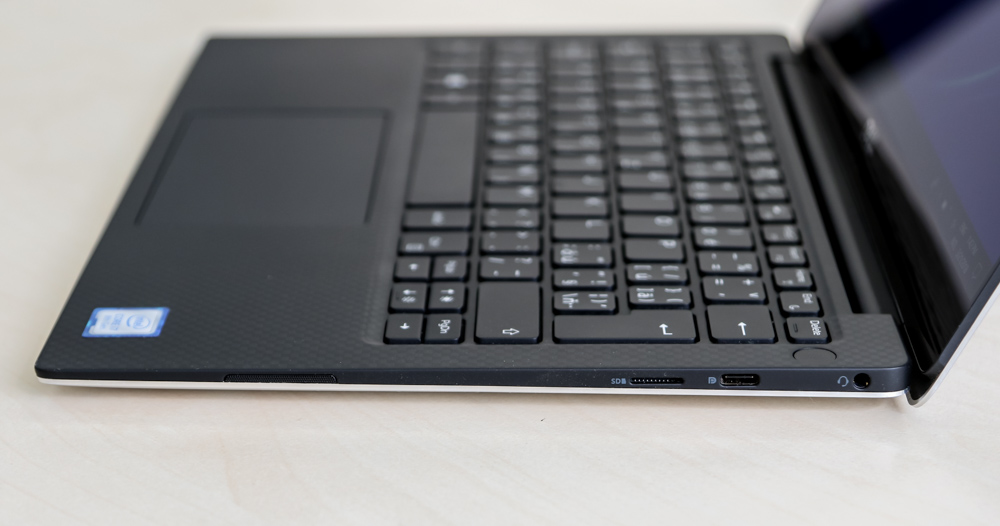 And a bit more on the topic of other ports. Dell is aware that the market is going through a phase when a lot of accessories stull require classic USB. Therefore, they supplement buyers with an adapter.
Display
Display is one of the best qualities of Dell XPS 13. It was true three years ago and it still is true. The dimensions stayed the same – 13,3 inches, the same IPS matrix.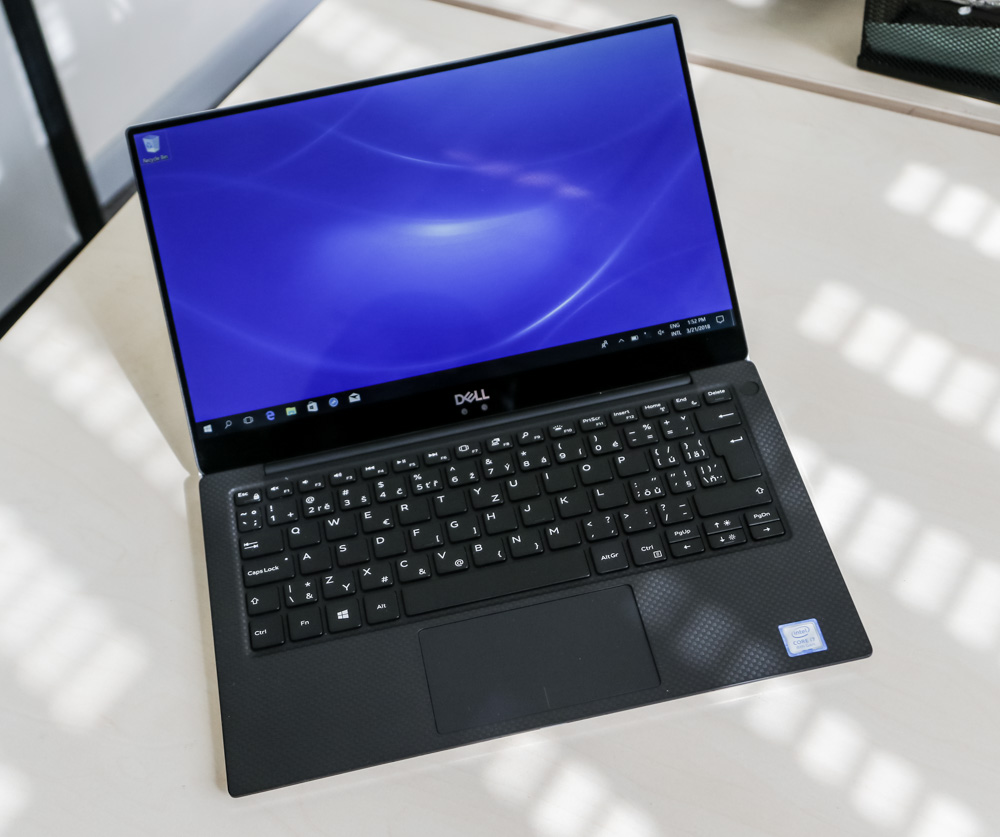 Dell XPS 13 (2018) can have either a 4K Ultra HD display or Full HD. 4K always comes with a sensor display, but with Full HD it differs. We tested the optimal Full HD model.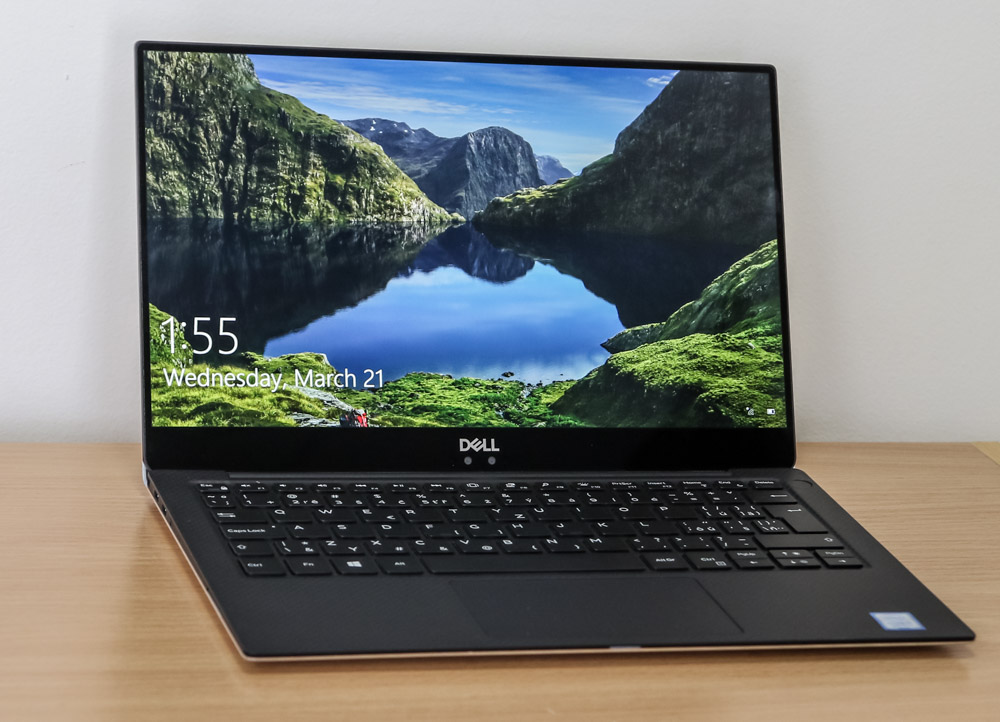 Another good thing about Dell XPS 13 (2018) is that there's no air gap between the matrix and the sensor. What I mean is that the display is very good. Good, saturated and natural colors and juicy picture. Thanks to anti-reflective coating, you can use the laptop wherever you want looking at it from any angle.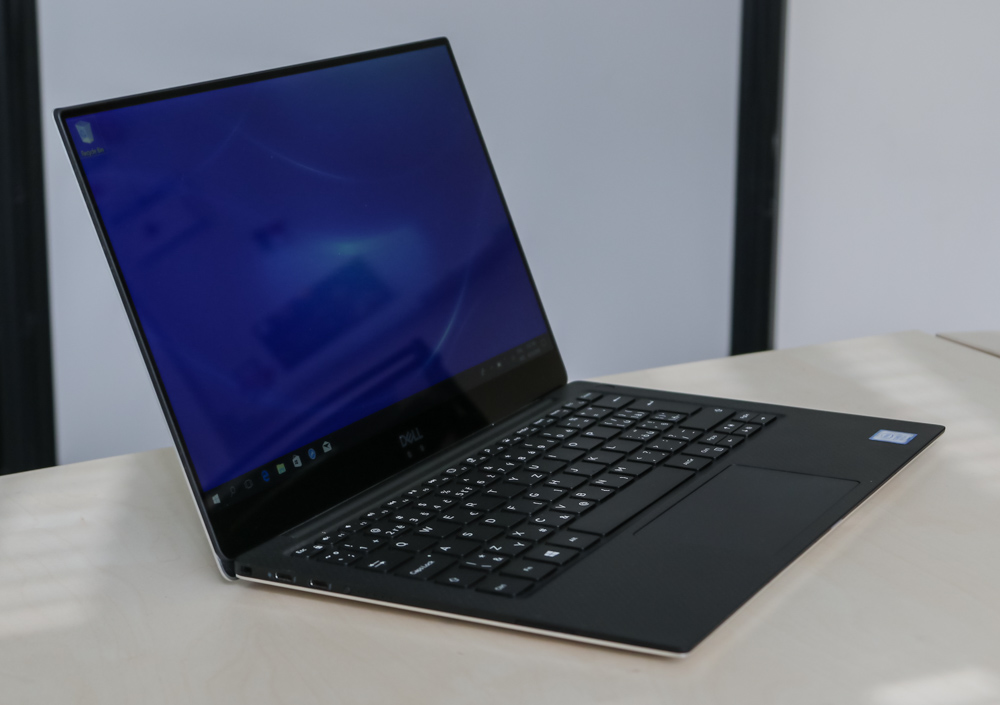 Security and scanners
We used to think that smartphones are usually a lot safer than notebook computers, but that is not the case with Dell XPS 13 (2018) which will give almost any smartphone a run for their money.
First is a fingerprint scanner, integrated into the power button, hidden in the top right corner. It's comfy to use and the scanner is fast and makes no mistakes.
But I seriously doubt that you'll even use the fingerprint scanner, and the reason is Intel Real Sense 3D cameras. These can be found below the screen, near the web cameras. Thanks to infrared 3D cameras, Dell XPS 13 (2018) can recognize your face during any time of day. Just open the laptop and it'll identify you immediately.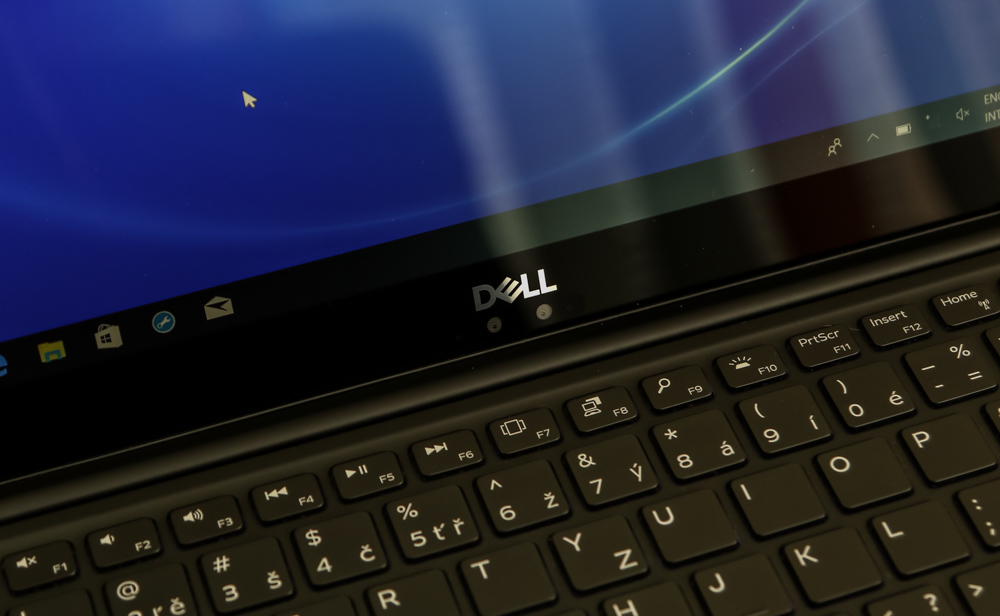 Keyboard and touchpad

 
The touchpad hasn't really changed: the size is the same, and so is quality. It's fast, responsive and supports gestures.
Keyboard, on the other hand, has its pros and cons. Let's start with pros: it's comfy to use, and there is little travel per keystroke. The keys are silent with two-level backlight, which is always a plus.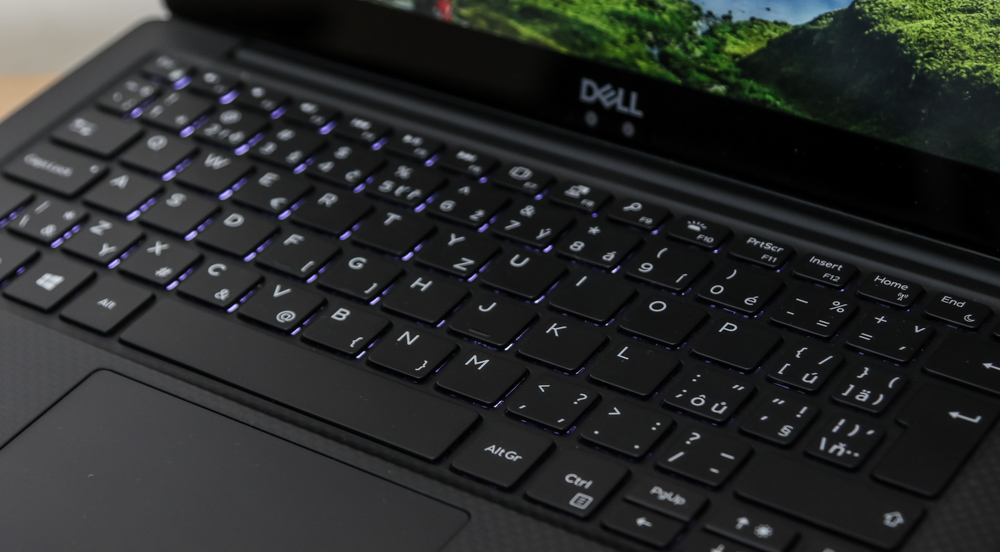 Now, to cons, even if I am nitpicking. We tested the model with European keyboard, more precisely – with the Czech layout.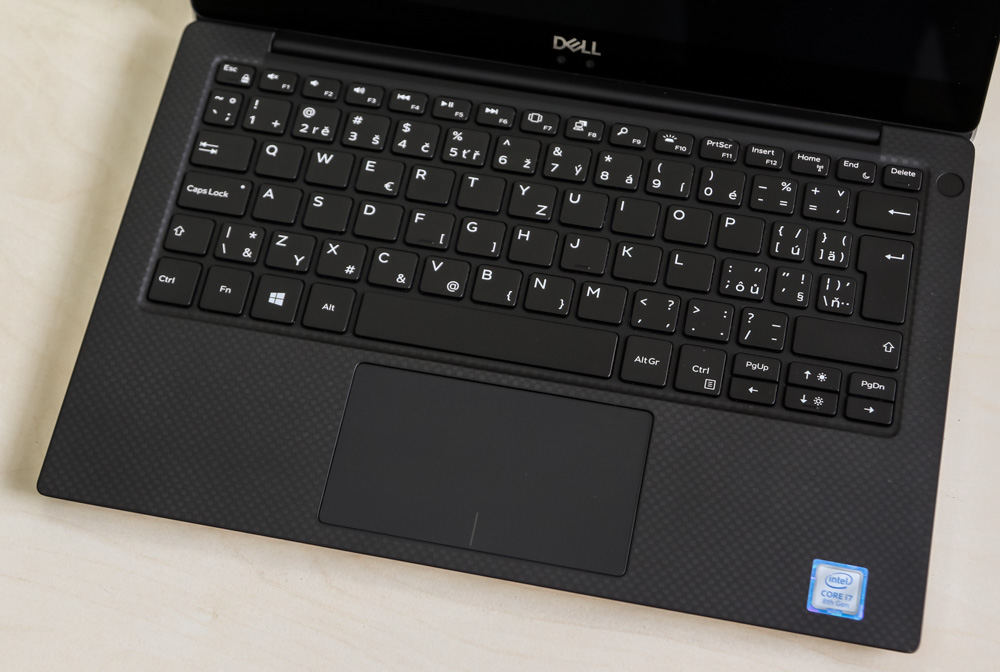 In comparison with "usual" layout, the left Shift is shorter, the Enter is short and two storied, and punctuation marks are in different places. Overall, it feels like all keys are slightly shifted sideways or all have the wrong size. Two weeks and I still can't get used to it. I often push the wrong keys, which makes typing almost impossible.
Equipment and performance
The number of different versions of the XPS 13 (2018) can impress any automaker. Just think about it: we already have two different color variations. These two colors have 3 different display options. And that's not all! You can choose from four different processors from Intel – i5-8250U, i5-8350U, i7-8550U and i7-8650U. In addition, there are several options for RAM – 4 or 8 GB, running at 1866 MHz and 16 GB with a frequency of 2133 MHz.
In the simplest bundles, the main drive is 128 GB SSD, in more advanced versions it's PCIe drive with 256/512 GB or 1 TB.
We tested the model with i7-8550U processor, 16 gigabytes of RAM and a 512-gigabyte drive. This is the optimal configuration out of all available.
If you want the easy verdict, then I can just say that the laptop is excellent. Even with the modest hardware, I had no problems in terms of speed or performance.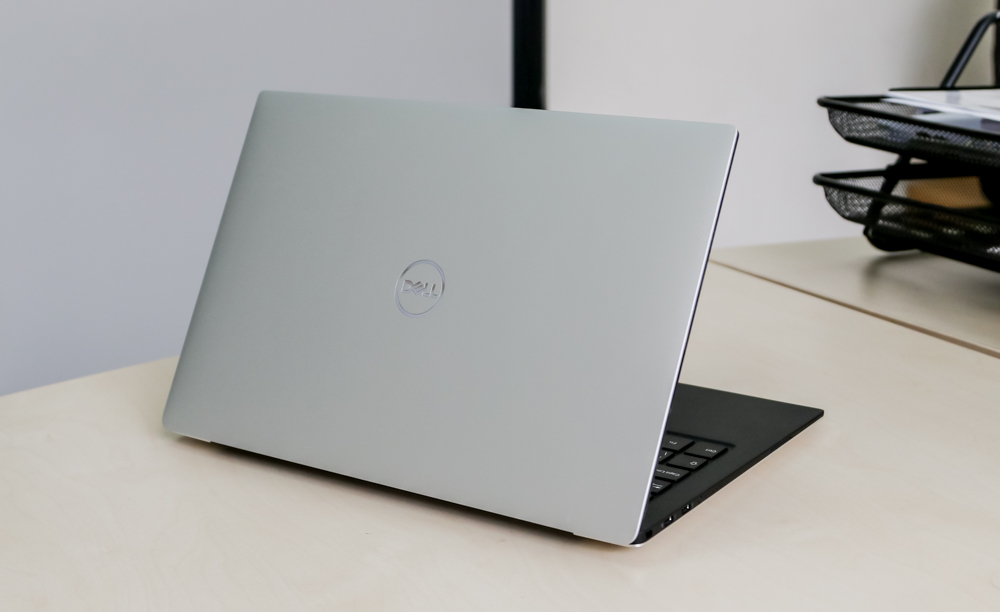 Browsing, working with documents, processing photos – all these tasks are easy for the laptop. And the lack of a discrete card did not prevent me from playing games on this non-gaming laptop. Not on the highest settings, of course.
The performance of Dell XPS 13 (2018) depends on how you set it up. Or rather, it depends on the mode you can choose via Dell Power Manager utility. In the Thermal Manager tab, you can select the operating mode of the processor and the cooling system. There are four modes to choose from: optimal, ultra-productive, and quiet and cold.
Battery life
In terms of battery life Dell XPS 13 (2018) isn't any different from anything else. The battery is not removable, 52WHr. While constantly working and using browser, I got about 9-10 hours of it. Not bad for such a thin and elegant ultrabook.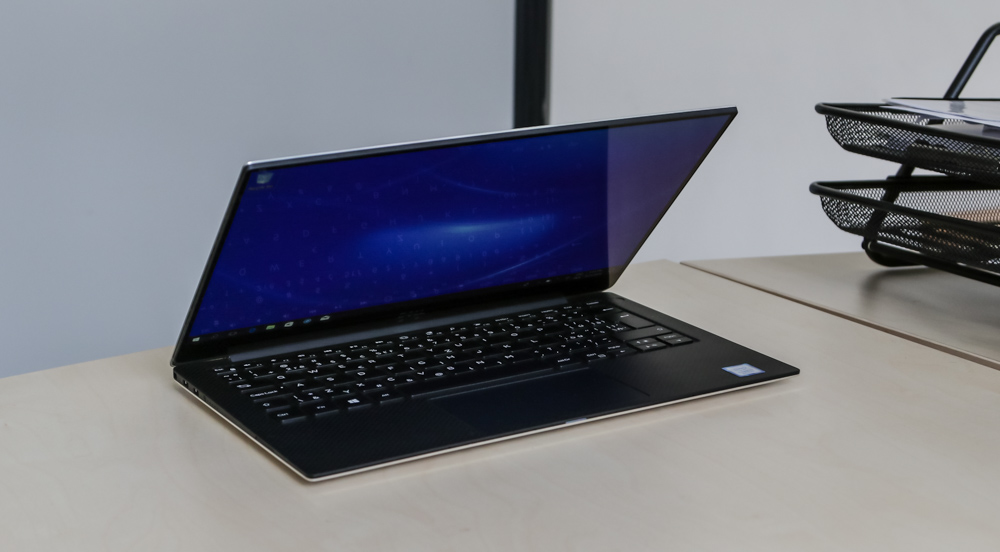 The charging device is very small, but Dell XPS 13 (2018) is so reliable that I never even though about taking it with me.
Verdict
Dell XPS 13 (2018) is a great ultrabook with fantastic screen. Thin, light and powerful, it is simply flawless for its class.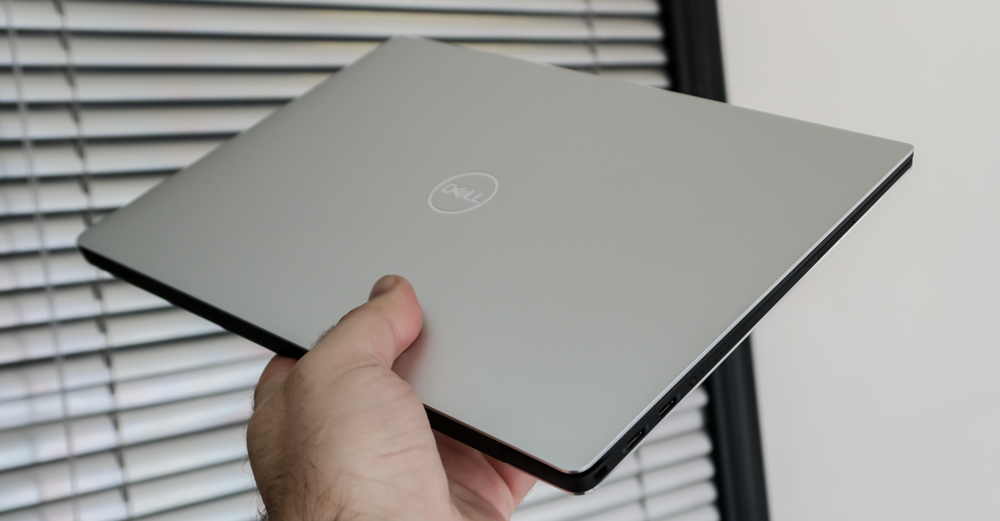 The main attraction here are the design, carefully selected premium materials and excellent build quality, which create the necessary wow effect. And the plethora of configurations will let each buyer to choose exactly the option that is suitable for them.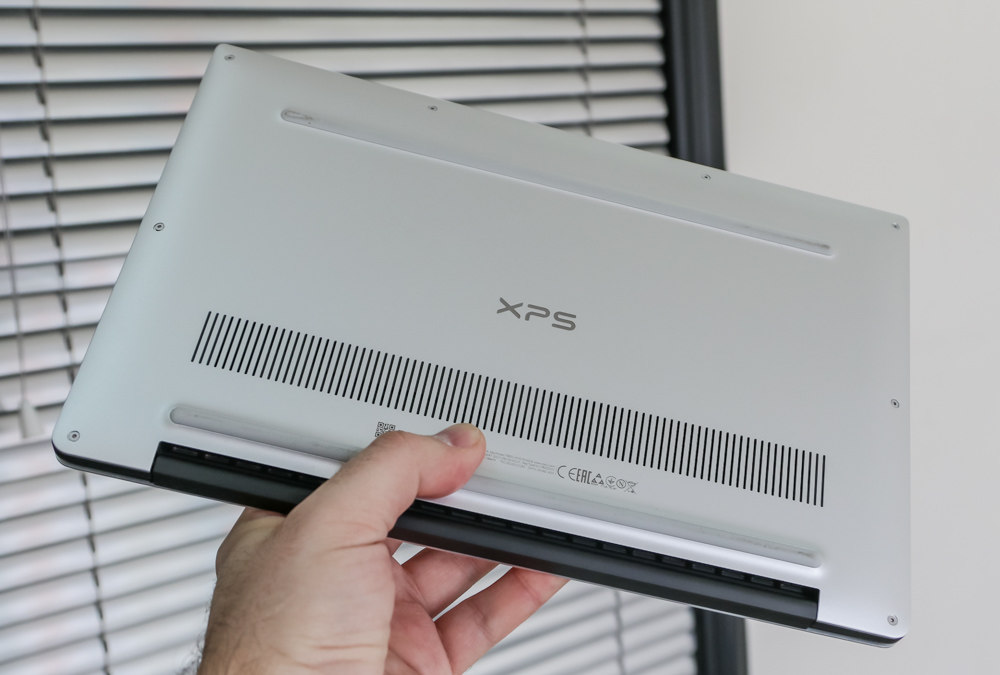 I couldn't find anything wrong with it. Unusual keyboard layout I don't take into account, because it is a matter of habit. Therefore, Dell XPS 13 (2018) receives a well-deserved award for the best ultrabook of early 2018.