The tendency for the installation of high-capacity batteries in the smart phone picked up the first Chinese brands B and C, who attracted naive buyers with high figures as 4000-6000 mAh. It was obvious that numbers are higher than real capacity, but customers liked the idea of a smartphone that is able to survive a few days without charging. Actually, A-brands were the last in this. Just reall Huawei's Mate7 or solutions from Lenovo. LG has also decided not to stand aside and introduced a budget LG X Power, with 4100 mAh power battery.
Specifications of LG X Power
| | |
| --- | --- |
| OS | Android 6.0.1 |
| SIM-card | nanoSIM |
| Display | 5.3, IPS, 1280×720 pixels, 277 рpi |
| CPU | MediaTek MT6735 + GPU Mali T720, 4 cores, frequency 1,3 GHz |
| RAM | 2 GB |
| Flash memory | 16 GB + microSD up to 2 TB |
| Camera | main: 13 Mp, front: 5 Mp |
| Wireless | 802.11 b/g/n, Bluetooth 4.2 |
| Battery capacity | Li-Ion, 4100 mAh (nonremovable) |
| Size | 74,9×148,9×7,9 mm |
| Weight | 139 g |
Beautiful or practical?
LG X Power demonstrates the developers' try to balance between style and practicality. In favor of the first says glossy front panel and frame of dark blue color, the presence of silver edging.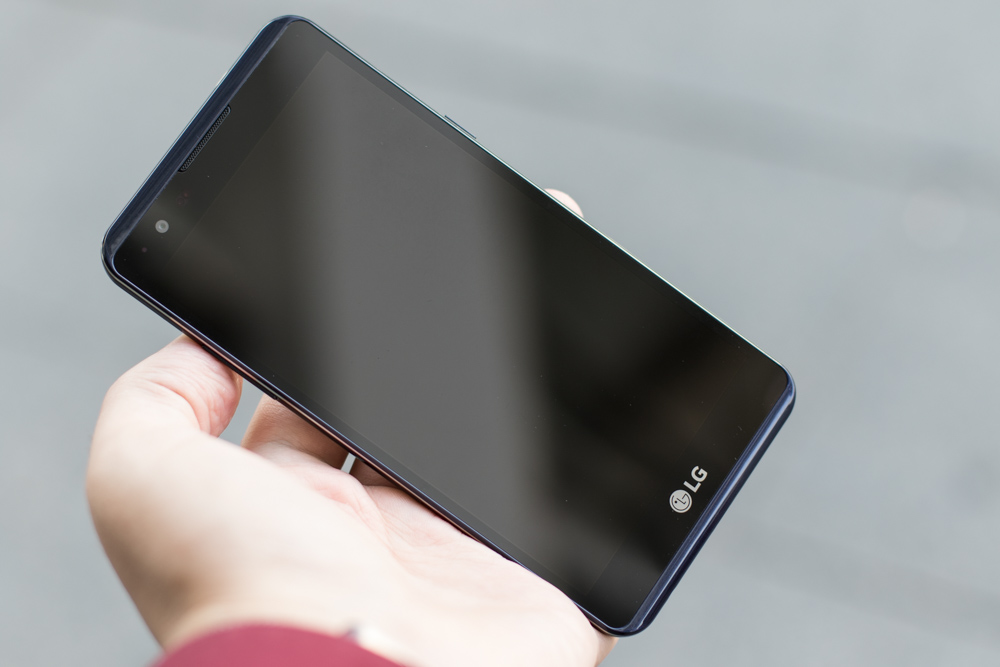 The back cover is rubberized plastic with a corrugated surface makes practical smartphone. You can not be afraid to put your smartphone on concrete or asphalt, accidentally rub against the table or casually throw in a bag. The worst thing that can happen to LG X Power – the emergence of two or three small scratches on the front glass.
Location of controls is the classical, the power button is located on the right side, the volume buttons on the left. Just like in my old LG Nexus 4. It is a mistery why buttons are not located on the back of phone. Personally I would have liked this decision more.
Under the volume buttons is a slot for a couple nanoSIM or a single nanoSIM and memory card. Headphone jack is in the right place – on the bottom, next to the microUSB. Loudspeaker in LG X Power is located on the rear side, it is loud enough to avoid missing a call even in a noisy street.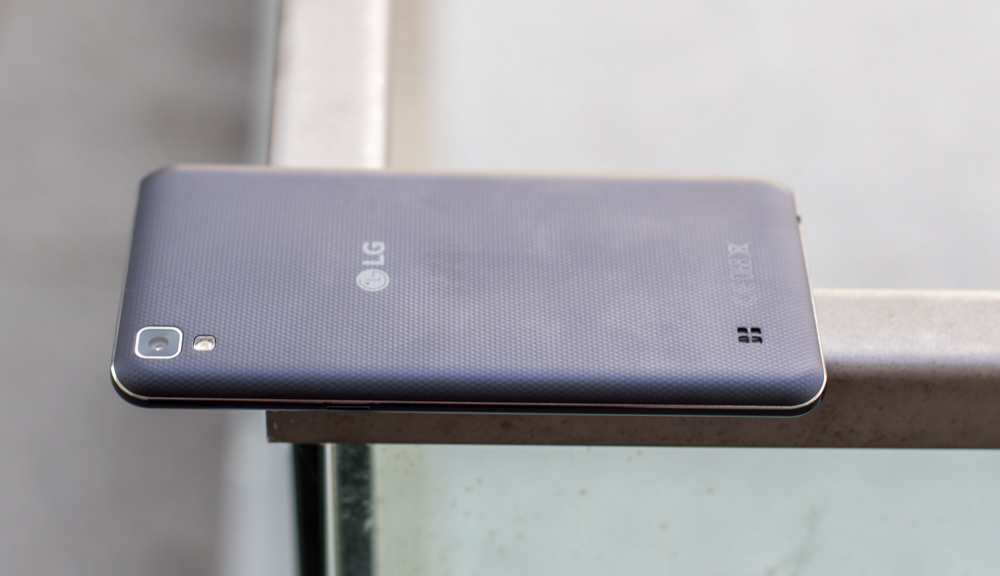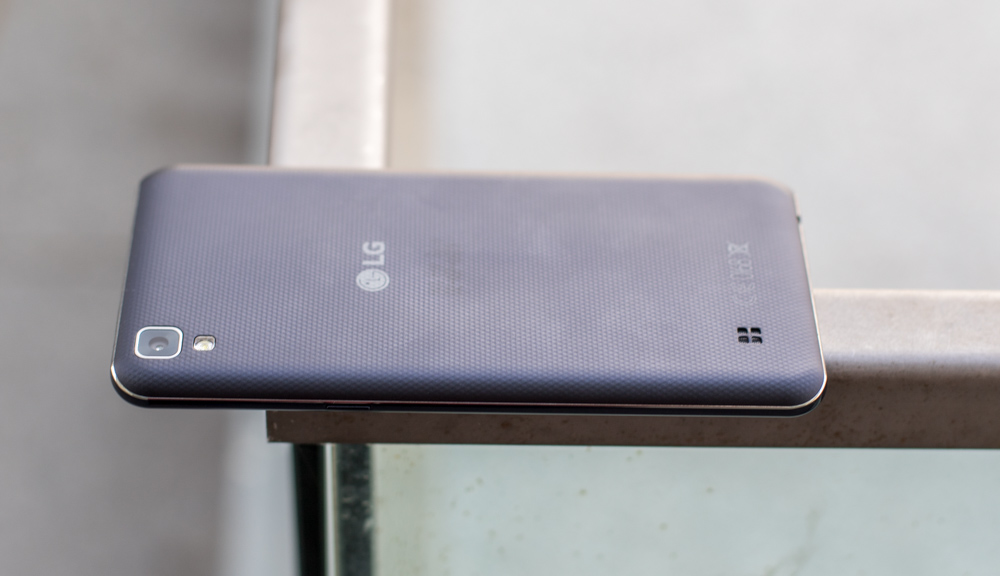 Notification LED is located left to the front camera
Is it convenient to use the device with one hand? No, we have more phablet than just a smartphone.  5.3 inch display offhand not seem like much, but in the matter of ergonomics frame above and below the display play a role. This is not a disadvantage – rather a feature that should take into account the future owner.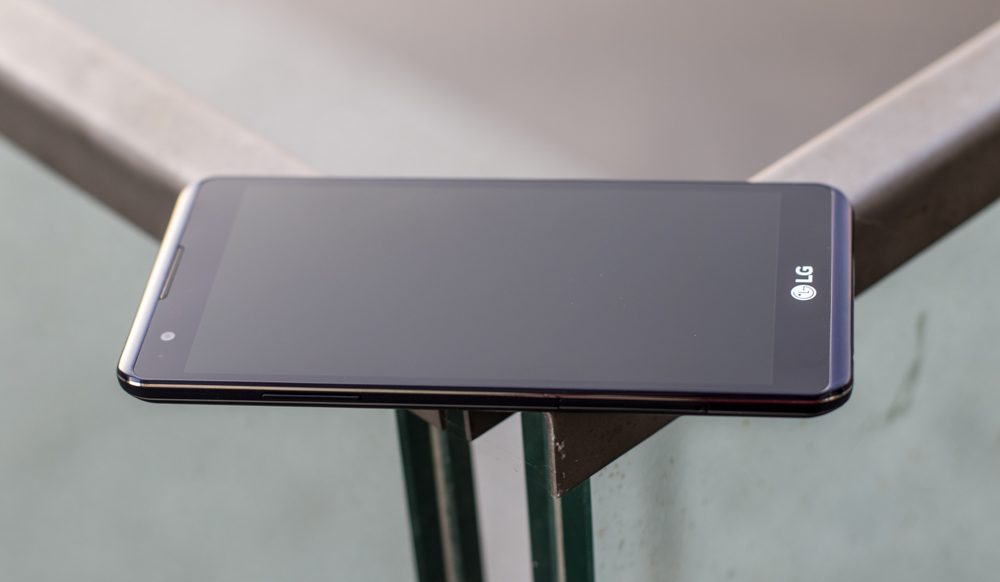 The smartphone is available in blue, gold, black and white colors.
What about display?
5.3 inch HD IPS-matrix of average quality. Colour reproduction slightly distorted, on closer inspection pixel grid is clearly visible. Automatic brightness adjustment and sometimes act up late. On the other hand, if there is nothing to compare, or you used a simple device, the display is LG X Power suit you a little more than full. From the pleasant moments I should note good oleophobic screen coating, as well as the presence of software "reading mode", which increases the color temperature and is good for reading in the dark.
As the flagship model, LG X Power can be unlocked and locked by the double tap on the screen, which is very comfortable with such size of the screen.
Doesit make good pictures?
The cameras in budget smartphones are rarely able to surprise. And this time is not an exception.
The main camera has a sensor at 13 megapixels, it starts quickly (1.5 seconds), focuses quickly and shows good results in daylight. But it can fade some details of an image while making a picture with artificial light, also noises can appear.
The front camera has a resolution of 5 megapixels and an artificial flash as a bright luminous screen that really helps. But the picture quality is quite mediocre.
Hardware and software
LG X Power is based on released last year, but still actual MediaTek MT6735. CPU provides a serviceable and quick functioning of all subsystems, fast working applications and minimal level of heating. In games, the situation is worse. Need For Speed is playable in general, but slow loading between races and periodic lagging of the game interface are little annoying. But something mediocre like Pixel Kingdom or The East New World are performing pretty good.
Device has 2 GB of RAM and 16 GB of flash memory. If somebody think there isnot enough memory, there is slot for MicroSD.
Summarizing the above, LG X Power is not suitable only inveterate gamers, for other users performance is at high level.
Device is powered by Android 6.0.1 with the original firmware. Let us remind that in the last editions of the LG interface, the user can select only desktop without a separate application menu.
Battery, pearl of the device
Finally we come to the main trump of LG X Power – its battery with capacity of 4100 mAh. The smartphone works confidently 2 days of active use, and often even more, at about 7-9 hours of active screen. By active using I mean always synchronized six social network accounts, three of mailboxes, 2-3 hours of music, 2 hours talking and about an hour of video every day. By the way, I always listen to music through a Bluetooth-headset.
For 2 hours of calls over a wireless headset LG X Power loses only 4% of charge.
Smartphone reminded me of those wonderful days of the past when you could take your phone with a 25% charge on a morning stroll and confidently walk with him till the evening without worrying about charging. Even when the indicator signals a low battery, a couple of hours in the reserve is guaranteed. And that's cool.
Conclusions
LG X Power costs $ 200 and it is quite rational price tag for the device with a capacious battery from A-brand. The smartphone will interest those who do not recognize the Chinese phones of different colors and species, and prefer to use a smartphone for work and communication for a few days away from the power supply.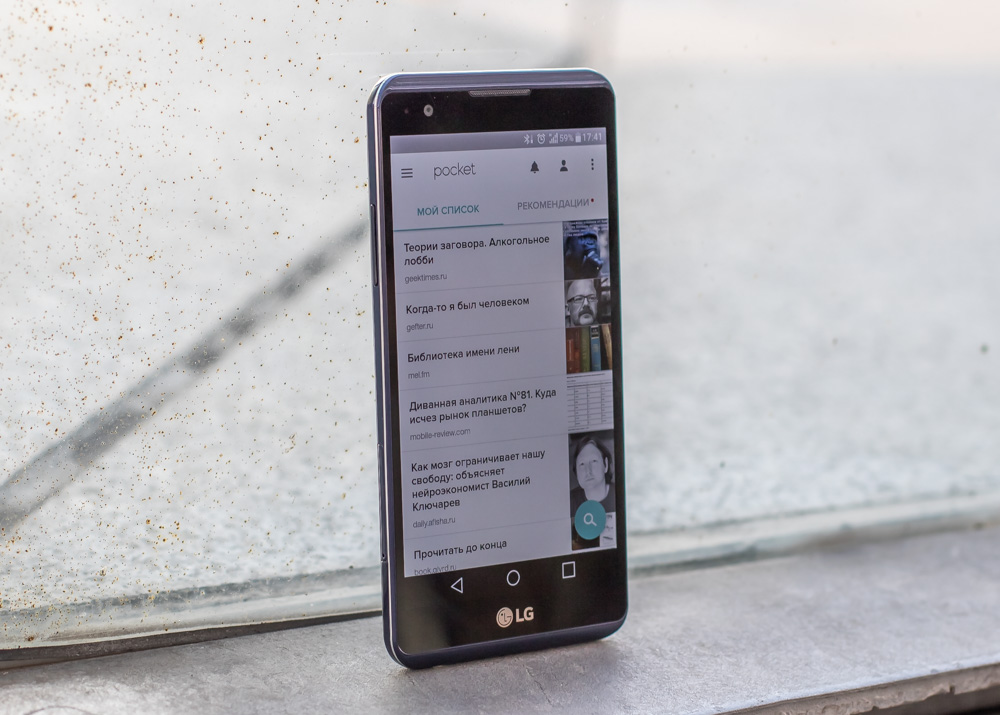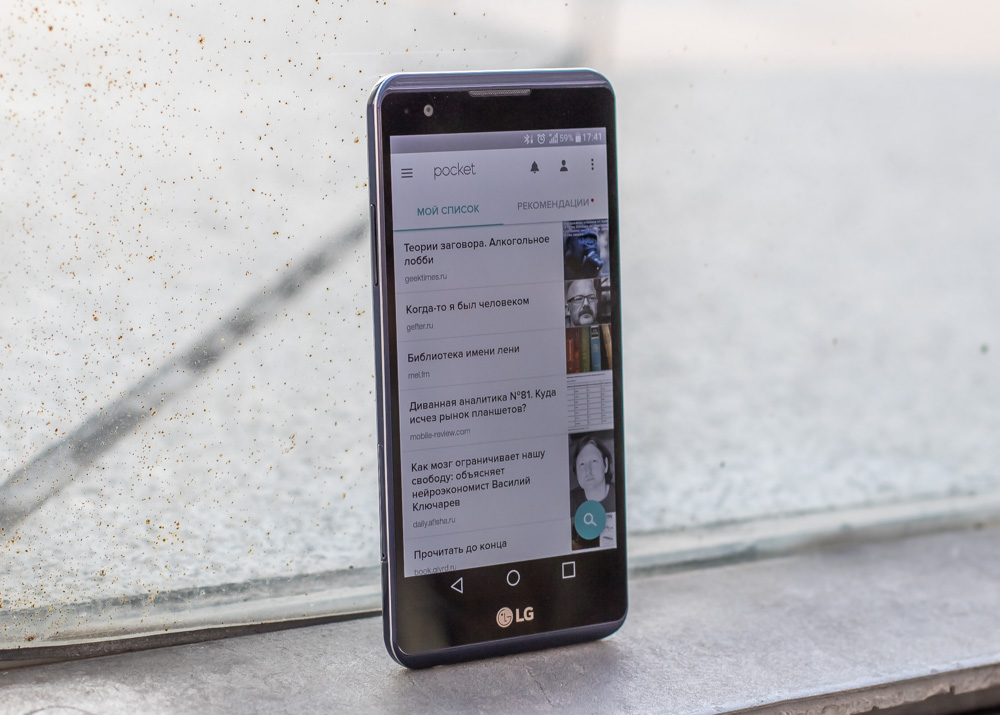 Prices
Other models cold be displayed, if this is not in the catalog for your region.
[socialmart-widget id="IWiijFTY" search="LG X Power"]
[freemarket model="LG X Power"]
[ava model="LG X Power"]