Cheap smartphones are not usually taken into account, like, there is nothing interesting in them and only people with low incomes would buy it. I beg to differ with this statement, and such an attitude to such smartphones. The second device for communication and social networks, the unit for a child, which is difficult to break, or just the main communication tool for undemanding users – that's real cases of use of devices that cost up to one hundred of dollars.
TP-Link Neffos Y5L
It is believed that cheap devices are boring and ar not worthy of attention. But no, there are some interesting representatives among them. Today I will talk about five nice "features" of the smartphone TP-Link Neffos Y5L, which is already available in retail for $ 75-80.
1. Convient to use with one hand
Unfortunately, compact smartphones are now almost gone. Manufacturers are oriented on the diagonal of 5 inches and above, and the era of small devices is about to end. TP-Link Neffos Y5L is one of those devices that still allow you to fully enjoy the feeling of forgotten when the gadget is convenient to use without the help of a second hand, and the thumb can easily reach to any edge of the display.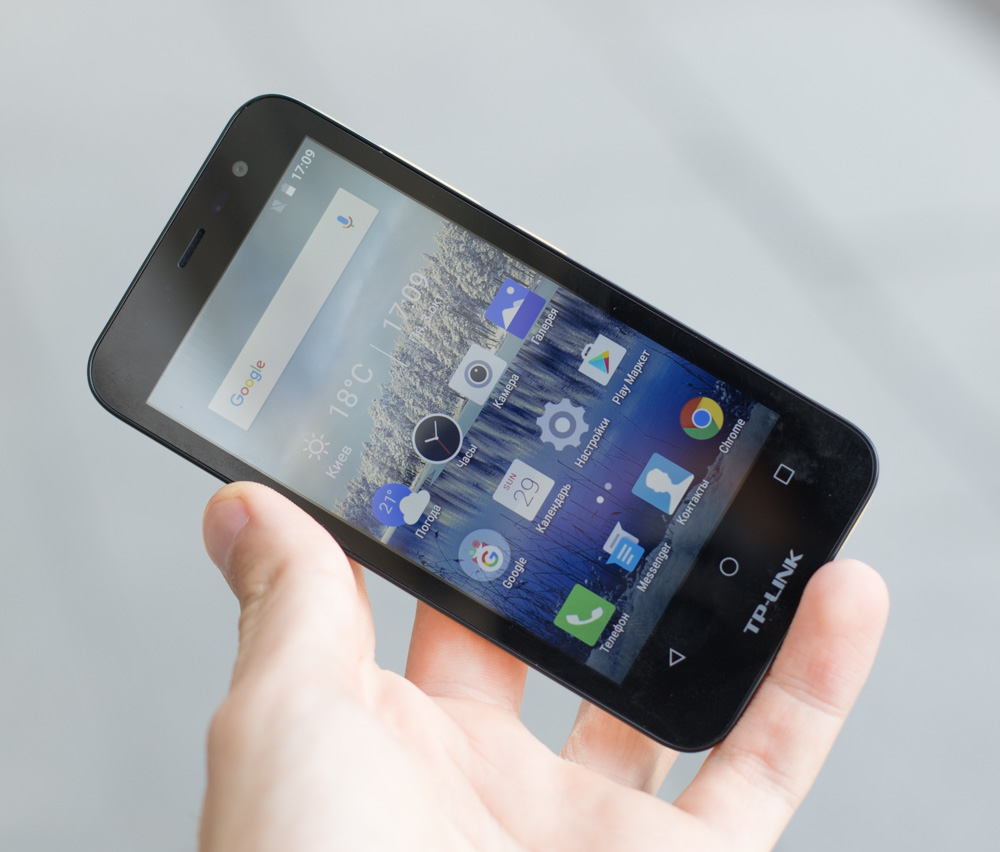 2. Dismountable design
In addition to gigantization, another scourge of our time – is the desire of manufacturers to turn any smartphone into a kind of monolithic tin can, which can not be opened without a special key. Do you want to replace the battery, or perhaps another part? You are welcome to pay generously to a service center employee.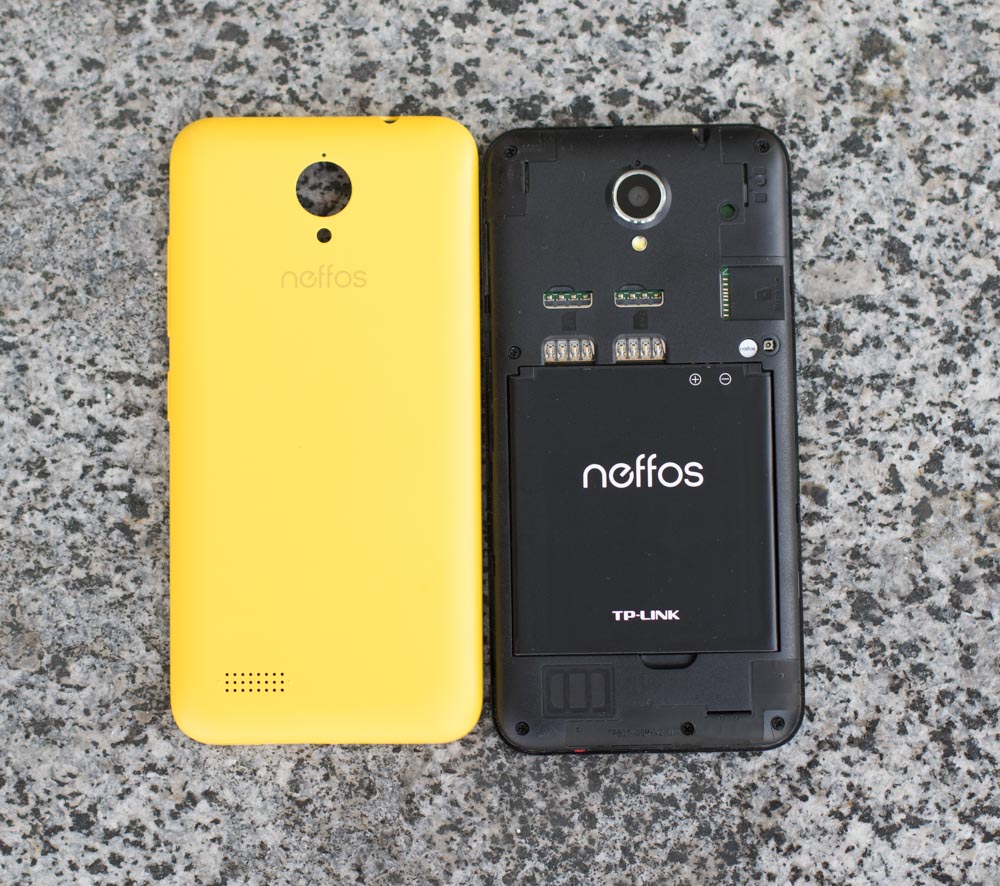 TP-Link Neffos Y5L deprived of such a problem. The back cover can be easily removed to gain access to the replaceable battery and fastening screws, which, if necessary, could be easily turned out using a small cross-shaped screwdriver.
3. Replaceable cover
When a new iPhone or Samsung Galaxy falls to the ground, the owner of the device is guaranteed receives a heart attack and a considerable bill for replacement housing. When the TP-Link Neffos Y5L falls to the ground, you can just buy a spare cover in the nearest shop and get a completely new smartphone appearance.
Caps for TP-Link Neffos Y5L made in the form of trays, as in the good old Nokia Microsoft? Lumia, so in addition to direct the body part it also contains new buttons. Replacement panels are in black, white and yellow colors. The last one is perfect for young people. In addition to the style element, yellow panel also has a practical sense – the smartphone is more visible and easier to find among other things. A matte surface is a good protection from scratches and fingerprints.
4. Dual SIM + microSD
Most manufacturers tend to stick label "DUAL SIM" on their phones, and proudly show it to the consumer. In fact it turns out that one slot is really for SIM cards, and the second – combined with a slot for memory cards. Thus, especially if the smartphone has too small internal storage, the consumer has to choose between a second number for connection and lots of memory for storing files.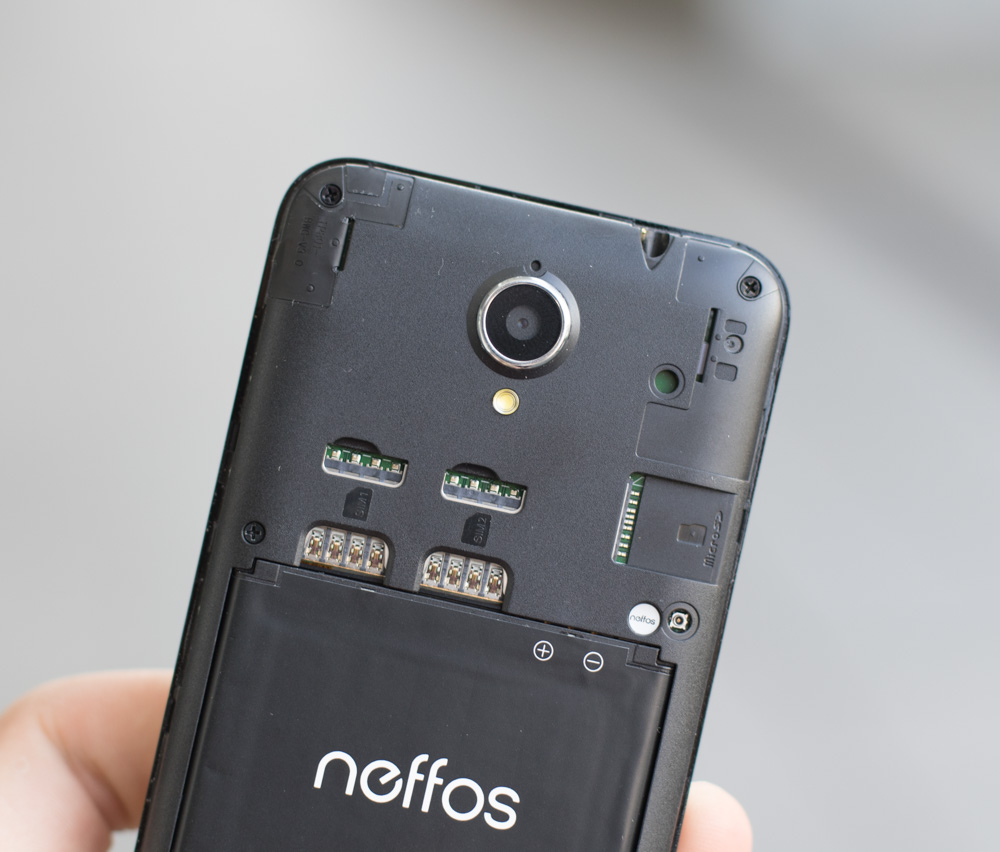 TP-Link Neffos Y5L fairly offers supporting for two micro SIM-cards and a separate slot for microSD memory cards. So – no compromise in this issue!
5. The fresh version of Android and a nice firmware
Unlike the nameless Chinese cheap smartphones, TP-Link Neffos Y5L boasts not only a fresh version of Android 6.0.1, but also proprietary firmware. The latter is done very carefully, with an emphasis on simplicity and modesty. It does not have too bright colors, bizarre icons, redrawn panels and recycle bins for obscure applications.
We have substantially pure Android with easy launcher without a separate application menu. Of the additional "goodies" here are installed phone manager, file manager, voice recorder, flashlight, weather app. And of course, there are all Google services "out of the box".
Prices
Other models could be displayed, if this is not in the catalog for your region.
[socialmart-widget id="IWiijFTY" search="TP-Link Neffos Y5L"]
[freemarket model="TP-Link Neffos Y5L"]
[ava model="TP-Link Neffos Y5L"]