At the beginning of 2023, Motorola expanded the budget segment of the Moto G series with a new model – the Moto G13 with a 6.5-inch HD+ IPS display, Mediatek Helio G85 processor, 5000 mAh battery, 90Hz display refresh rate, and a nice design. And all this for a price of about $135. So let's take a closer look at what we get for this price, how the Moto G13 differs from other Moto G series smartphones that premiered in 2023, and whether this smartphone is worth the price.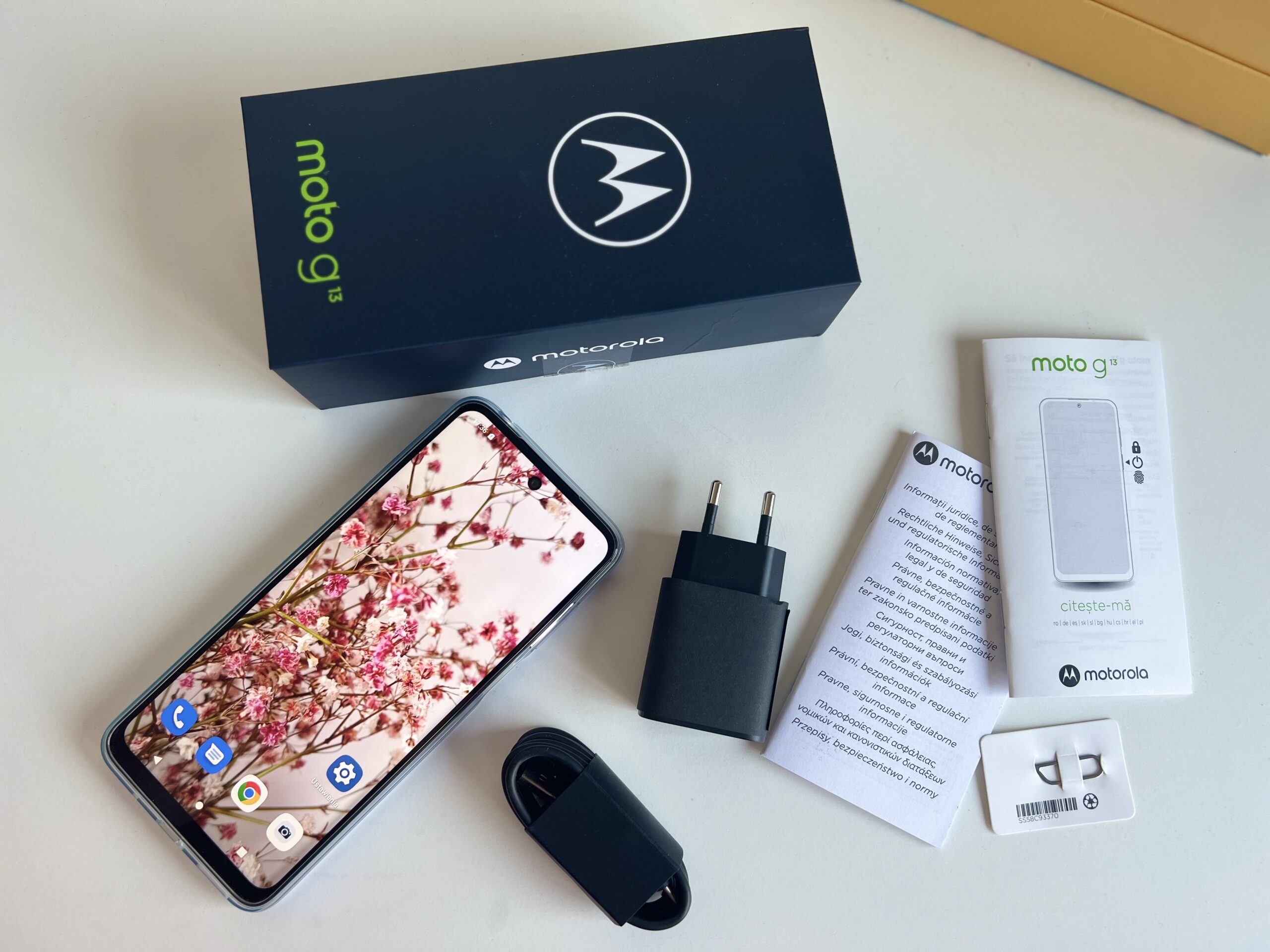 Technical specifications of the Motorola Moto G13
Display: 6.5″, IPS LCD, 1600×720, 270 ppi, 90 Hz
Processor: MediaTek Helio G85, octa-core, 2×2.0 GHz + 6×1.8 GHz
Graphics chip: Mali G52-MC2
RAM: 4 GB
STORAGE: 128 GB expandable up to 512 GB
Main cameras:
50 Мп

2 megapixel macro camera
2 megapixel depth sensor

Front camera: 8 megapixels
Video recording: rear camera – 1080p at 30 fps, front camera – 1080p at 30 fps
Battery: 5000 mAh
Connectivity: 4G (LTE), Bluetooth 5.1, NFC, Wi-Fi. Satellite navigation system: GPS, GLONASS, GALILEO
Connectors: USB Type-C – 1 pc, card reader – 1 pc, nanoSIM card slot – 2 pc, headphone jack – 1 pc
Optional: Fingerprint scanner, dust and water protection (IP52), two SIM cards, 24 months warranty (from the manufacturer)
Weight: 170 g
Positioning and price of Motorola Moto G13
Motorola is one of the few companies that produces high-quality devices at affordable prices. This year, it also decided to expand its line of budget phones.
Motorola has announced new devices in the Moto G family: Moto G73 5G, Moto G53 5G, Moto G23 and Moto G13. We have already tested all these devices, and now it's the turn of the Moto G13.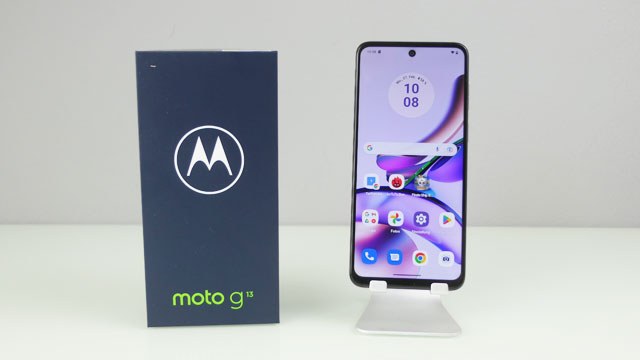 If you are not a fan of Motorola devices, it can be difficult to choose one smartphone. Each model in the series has common features – a beautiful design, a thin and sleek body, and a large screen. You can compare Moto G13, G23, and G53 here. Judging by the table, the G13 is almost the same as the G23, but it doesn't have a wide-angle module and fast charging.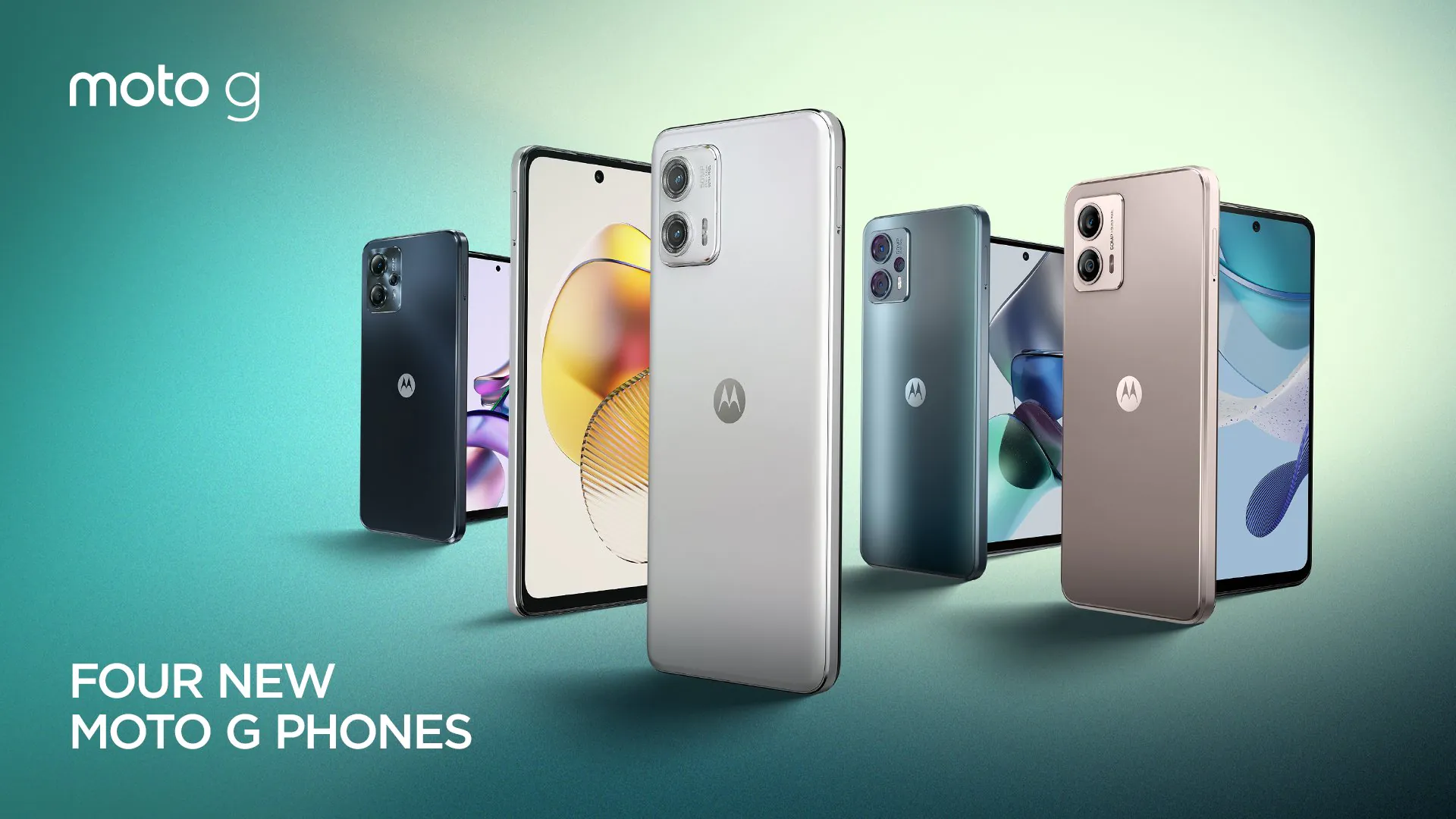 Motorola Moto G13 should be the perfect product for those who do not want to spend more than $135. At the moment, its price in most electronics stores is only $128. But is it adequate for this device? Will we be able to get good equipment for an average of $135, taking into account the recent price increase? Let me remind you that we were not very happy with the slightly more expensive G23.
Read also: Motorola Moto G23 Review: Too many simplifications
Package contents
With the updated series, Motorola relies on eco-friendly packaging. No plastic bags, only biodegradable cardboard. In the compact package you will find the phone itself, a 10W charger, a cable, a SIM slot opener, a case and documentation. The case is made of silicone and plastic, which increases the protection of the smartphone in case of a sideways fall, and fits very well in the hand.
Чохол прозорий, тому є вірогідність, що швидко пожовтіє. Проте це найпростіший і безкоштовний аксесуар, тож доповнення цілком приємне.
Design, materials and build quality
Thoughtful, simple, clean and classic design – this is how you can describe the devices that Moto produces every year. It may seem boring to some, but it fits perfectly with modern trends. On the front we have a 6.5-inch screen with a selfie camera notch, with relatively narrow bezels, except for the bottom one, which remains quite wide… but the screen looks identical to the Moto G23 (or even the even more expensive G53).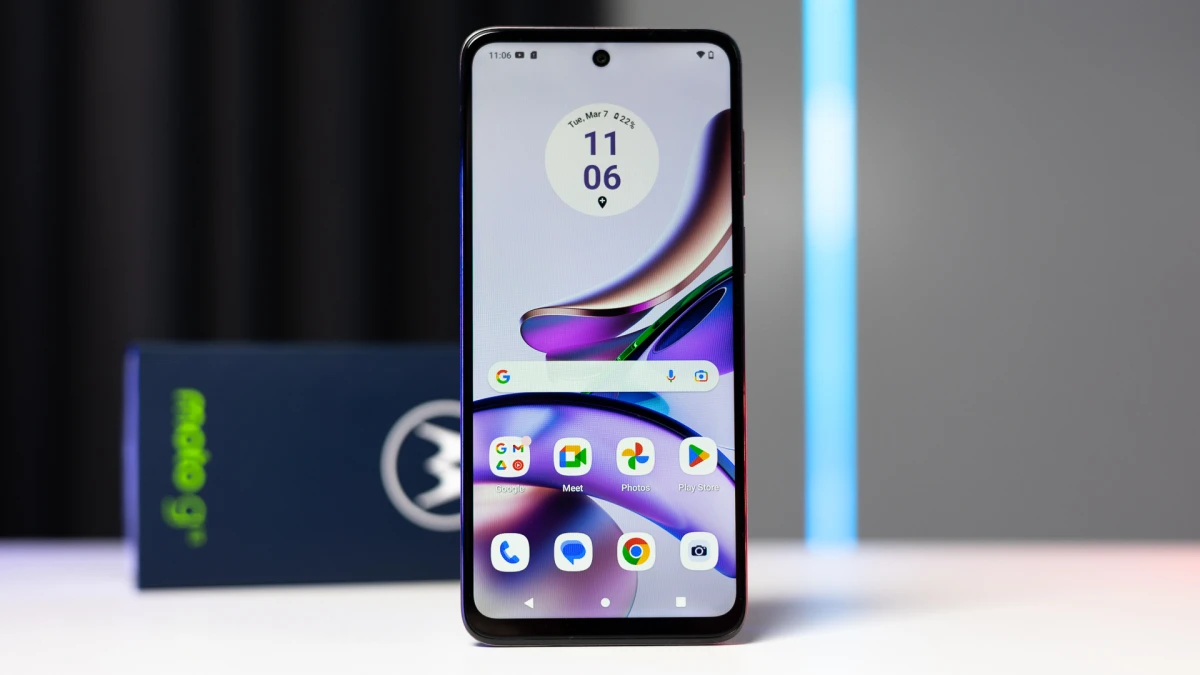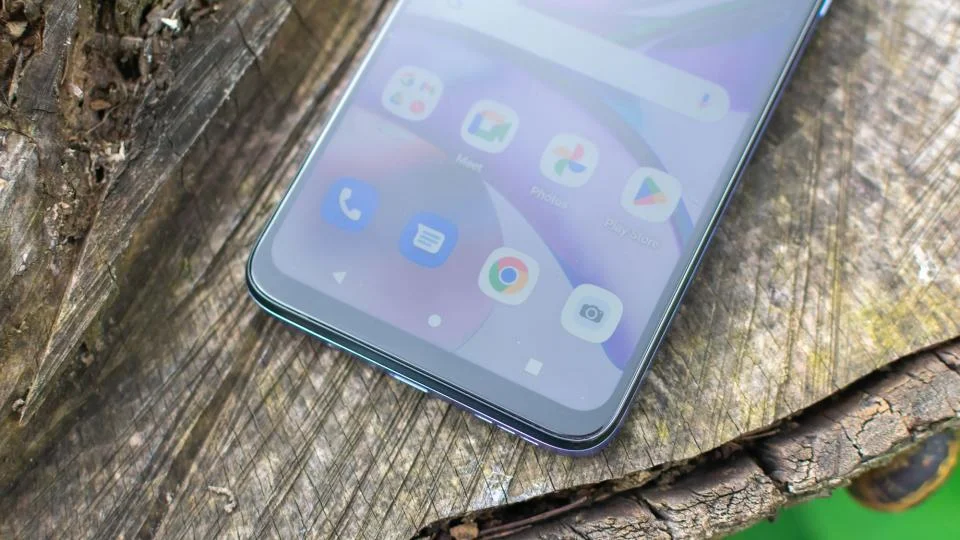 The materials are typical for budget phones. The body of Moto G13 is made of plastic. The build quality seems pretty good.
Flat bezels are now at the peak of popularity. The back panel looks good thanks to the refraction of light from the camera module. The matte finish looks premium and attracts fewer fingerprints. For greater contrast, a glossy camera island has been added. The device certainly looks much more expensive than most phones in this price range.
It is important that there is no feeling of "cheapness" here, as is often the case with products of this class. In general, Moto G13 looks attractive, I would even say stunning. The back panel gives a ray effect when light falls on it. There are three colours to choose from: black, rose gold and blue lavender. I have not seen the latter in person, but it is also quite beautiful.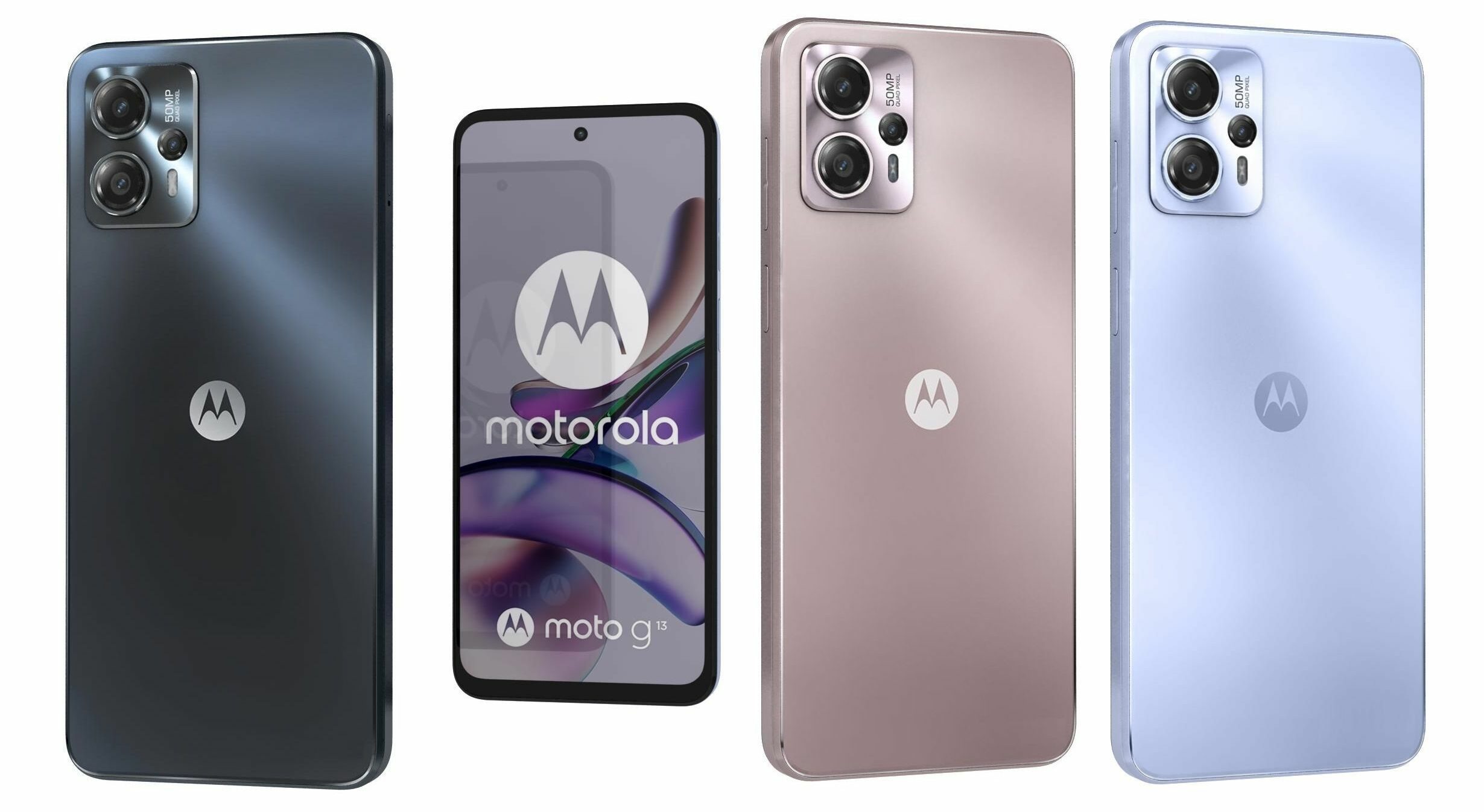 Motorola Moto G13 has dimensions of 163.0×75.0×8.2 mm and weighs 170 g. The smartphone is not too big and is comfortable to hold in your hand.
The layout of the elements is impeccable. Interestingly, there is a 3.5 mm headphone jack on the top, and the earpiece speaker with Dolby Atmos support, USB-C input and microphone are on the bottom. On the left is a triple SIM card slot (two SIM + microSD). On the right are the standard volume buttons, and below them is the power/lock button with an integrated fingerprint scanner. The buttons are located at a convenient height. The fingerprint scanner is extremely sensitive and accurate, unlocking the phone instantly. The same can be said about the face recognition function, although it is less secure.
The smartphone is IP52 certified, which should protect it from dust and water splashes. Essentially, this means that the Moto G13 has limited protection against dust and water, so you should use it with care and attention.
Read also: Moto G53 5G smartphone review: Motorola, wtf?
Screen
The Moto G13's IPS display has a resolution of 1600×720 pixels (HD+), which is unpleasantly surprising in this price category, since displays with Full HD+ resolution have already become commonplace even in the ultra-budget segment. This is noticeable in the image quality, especially in terms of sharpness, brightness and clarity. On the other hand, this will definitely have a positive effect on battery life, but more on that later.
The automatic brightness control seemed a little weak, as if there was always not enough brightness by one level, but the screen is quite readable, everything is fine – adequate to the expected standard in relation to the price.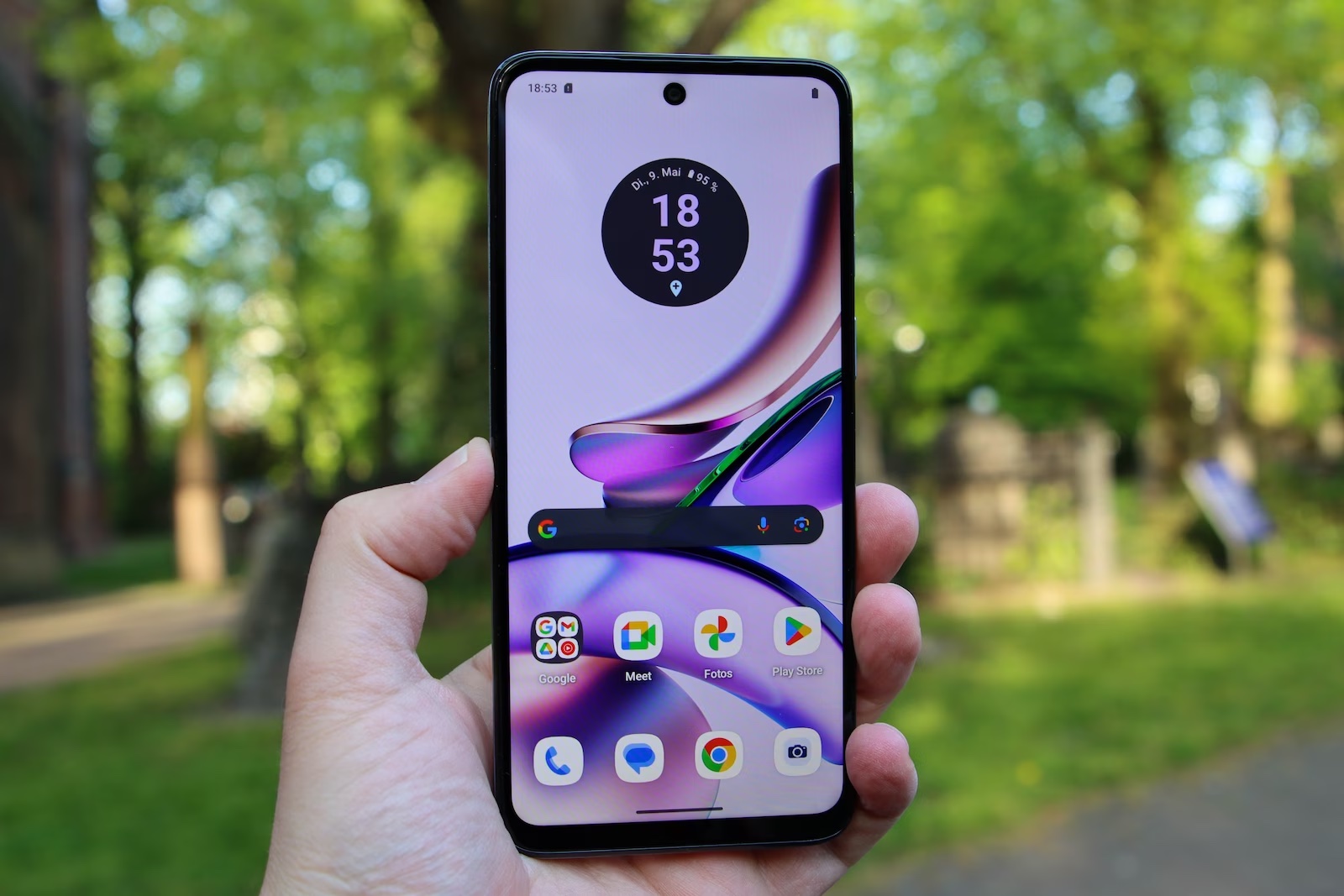 The screen supports Widevine L1, which means you can stream videos from Amazon Prime and Netflix in HD. You can also stream videos on YouTube in up to 4K resolution, even though your device has an HD screen.
You can set the screen to 60 Hz, 90 Hz, or select automatic mode, which adjusts the refresh rate according to the specifics of the application.
Performance of the Motorola Moto G13
The MediaTek Helio G85 was originally designed for upper-mid-range smartphones, but now it's apparently become so much cheaper that Motorola can install it in budget phones. In fact, the SoC delivers good performance in its price range. Yes, it's not the most powerful chipset in its class, but it's not the weakest either. Combined with 4GB of LPDDR4X RAM and the well-optimised MyUX shell on Android 13, the Moto G13 delivers great everyday performance (relative to the price). It's a shame that the permanent memory (128 GB) is of the eMMC type, which is the slowest type, but at this price, it's expected.
Navigating menus and browsing the web seemed smooth, with the worst that could happen being that switching between apps sometimes took a second. Stuttering only appears in more demanding applications and complex games.
Let's take a look at the test results:
3DMark Wild Life Stress Test: best –191, lowest – 176
3DMark Wild Life Extreme: 189
3DMark Wild Life: 749
The Motorola Moto G13 is only available in a 4/128 GB version. It's a budget device, so it doesn't have the option to add virtual RAM, and the fixed storage can be expanded using a microSD card up to 512 GB.
Read also: Motorola Edge 40 Pro review: Moto in the game
Cameras
The camera unit consists of three lenses: A 50-megapixel main lens and two 2-megapixel lenses: a macro sensor and an auxiliary depth sensor. The front-facing 8-megapixel camera is designed for selfies and video calls. There is no wide-angle camera, but this is the case with all budget phones so far. For example, this was the case with the Infinix Hot 20 5G we recently tested.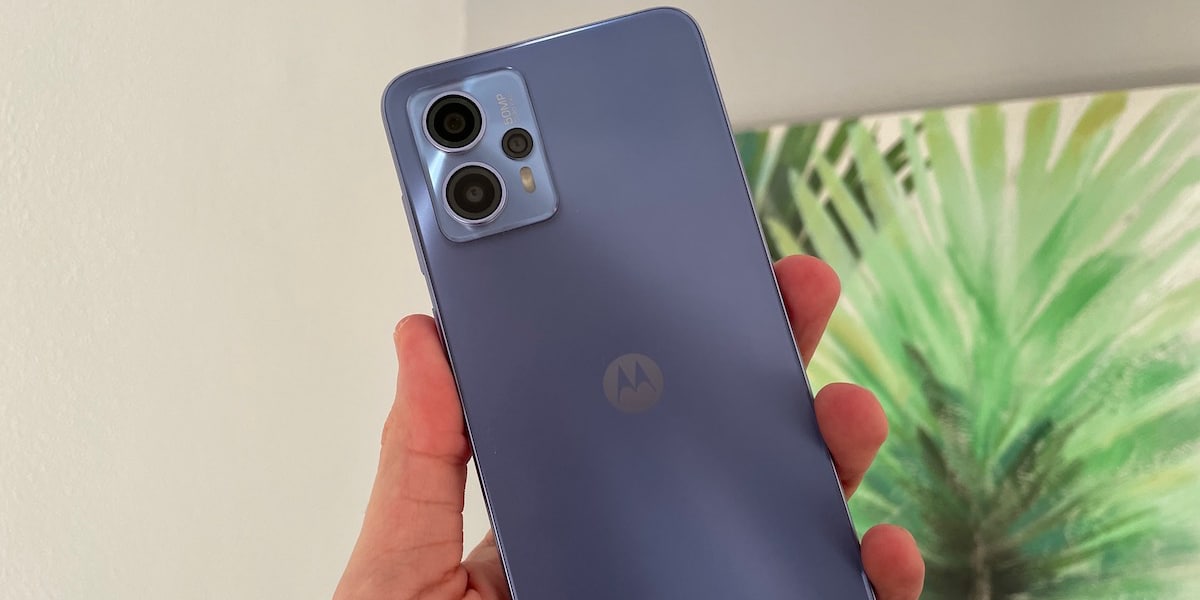 Moto G 13 offers us a choice of modes: Normal, Portrait, Panorama, 50MP, Dual Shooting, Slow Motion, Pro, Time Lapse and Night Mode.
The camera needs some time to take a picture, and it's worth remembering that. Photos are detailed, sharp and pleasantly bright. As soon as the light level drops a little, the pictures lose their quality, although they still have quite natural colours.
Night mode is a big misunderstanding, it's definitely not a device for shooting in the dark, it's only for basic photography.
The zoom is also very poor, but this is not surprising in this price category.
The macro module is more of a quantity thing. The pictures are of poor quality.
For selfies, the 8-megapixel sensor is used, and the photos have good detail and convey a natural skin tone. However, the definition of contours could be better.
The video quality is normal for this price category, there are times when the image is out of focus or objects are blurred, but it depends on the movement. Video is recorded in 1080p 30 frames per second, there are no other options.
In general, Motorola has shown that a device with a low cost can also take quite good photos (in sufficient light).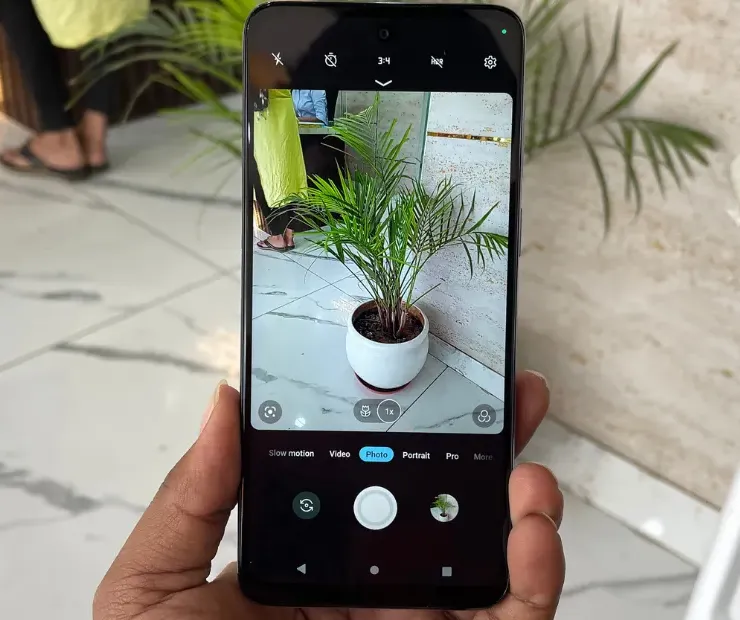 Read also: Motorola ThinkPhone review: top business class smartphone
Battery life of the Motorola Moto G13
The device has a 5000 mAh battery, which is found in almost every other smartphone at the moment. It comes with the simplest 10W charging, no longer supported. Charging is a nightmare. We're used to fast charging in about an hour or even less, and Moto G13 takes up to 3 hours to fully charge with the bundled charger! So we'll have to go back to the days when smartphones were charged at night.
As for the operating time, this is a huge plus for this model! The battery lasts for two days, and for an undemanding user – even for three. Of course, this is affected by the low-resolution display. In addition, this is not a phone for demanding games or applications. You won't be able to drain it quickly when using media, Instagram or YouTube.
Sound
The speakers are stereo – and this is an undoubted plus for a budget model. One of them is located on the lower end of the case, the second one serves as a loudspeaker. The sound is generally good, not distorted, but the music sounds a little muffled. The speakers are not particularly loud either.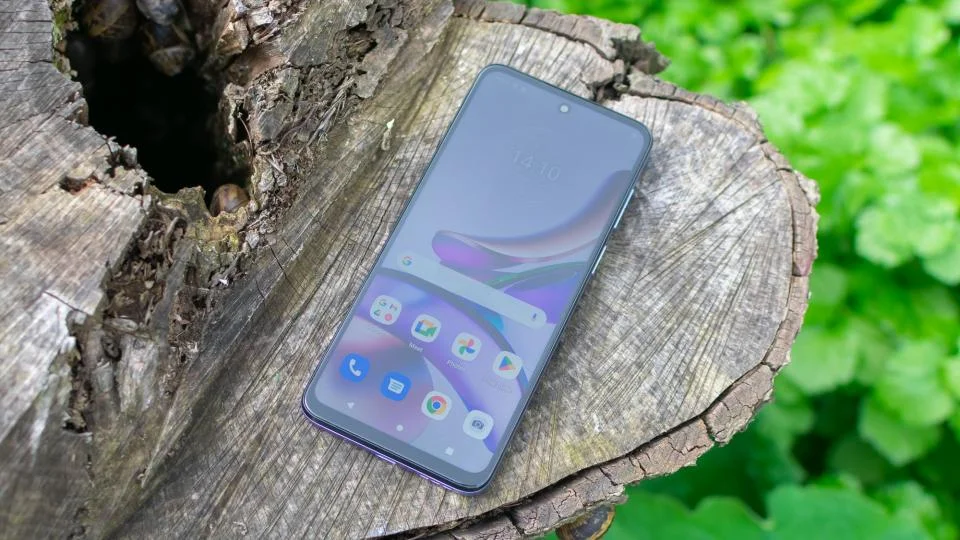 On the top edge of the smartphone is a 3.5 mm audio jack that can be used to connect headphones or speakers. It would be great if the declared Dolby Atmos technology was indicative of sound quality, but, unfortunately, it is not. Although – again – at a low price it is understandable.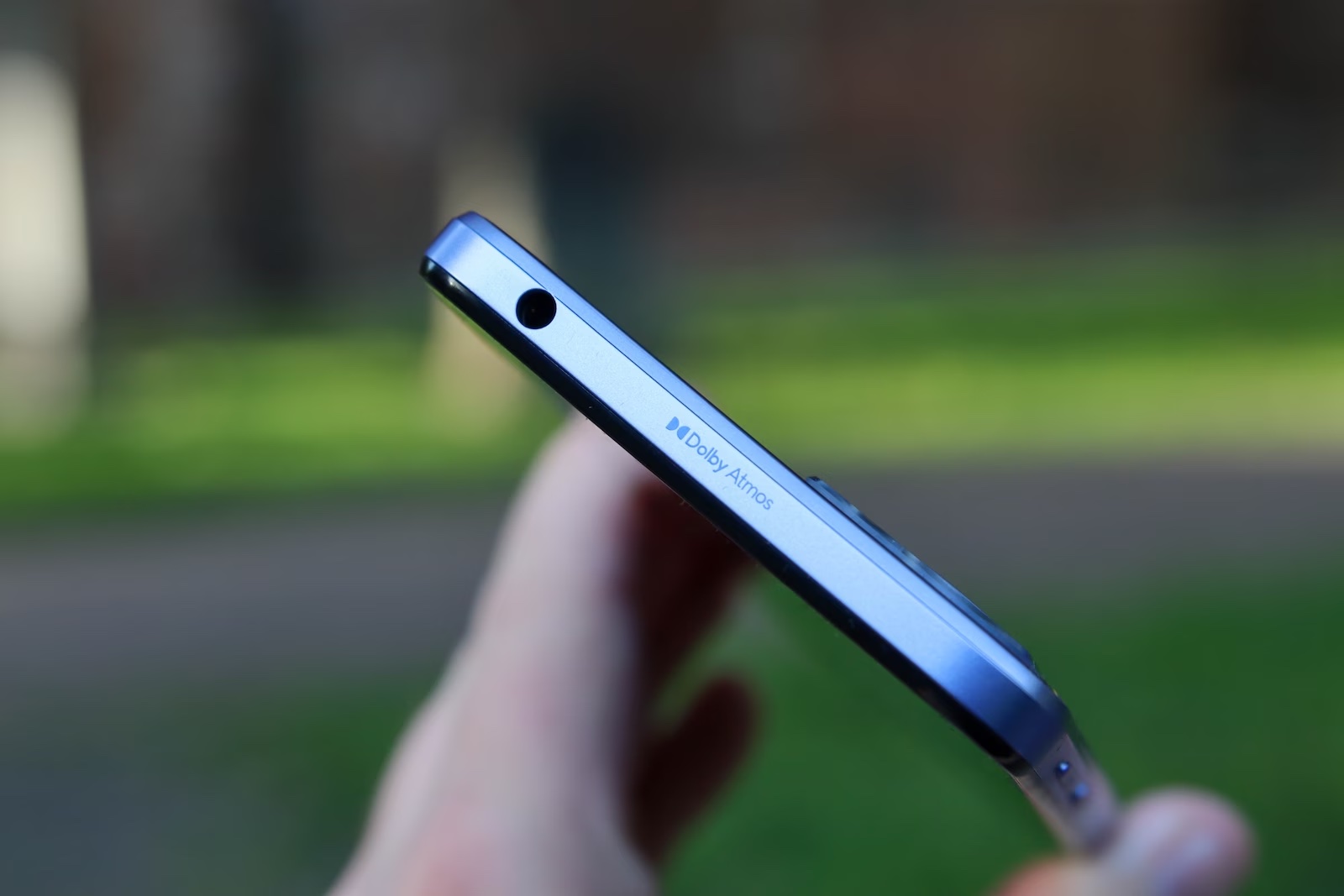 There is a Dolby Atmos option, and we have ready-made presets – music, films, games, podcasts, custom (equaliser). By default, the phone adjusts the sound mode itself using AI.
Read also: Motorola Moto G72 Review: Once Again a Strong Midranger!
Software
Motorola Moto G13 runs on Android 13. The traditional Moto advantage is a flexible, "clean", perfectly optimised Android without a shell.
Here we have a simple, uncluttered interface. What I like most about Motorola phones is that there is no unnecessary software on them. There are no unnecessary pre-installed applications (except for the useful Moto settings). Here are some screenshots (I should add that I have custom icons installed).
Android 13 lets you personalise your phone even further. The Material You graphic style lets you customise apps by colour, theme and language. Even the media player will match your music tastes. You can control your device with simple gestures.
This year, most of the Moto G series models (G13, G23) unfortunately do not have the Moto app with useful features and settings. Fortunately, some Moto features remain. In particular, the settings include options such as double-tapping on the fingerprint scanner to launch the selected application, double-shaking the smartphone to activate the flashlight (a well-known Moto feature), taking a screenshot with three fingers, and turning the wrist to activate the camera. But these are not all gestures, there are more on older models (G53, G73).
There are no advanced themes and interface settings, no split-screen mode, no attentive display (stays active when you look at it), no game mode, no Extra Dim function to reduce the screen brightness at night. There's not even a function to add RAM at the expense of permanent memory, which is now available in every budget device! It's a shame to see that Moto is saving on software this year.
Read also: Comparison Of Moto G52 And Moto G62 5G: So Similar And So Different
Conclusions
The Moto G13 may not be perfect, but for $135, it's a very good choice. The main advantages are mega-high battery life, good cameras (main and front), a 90Hz display, well-optimised software for smooth operation, and a good modern design.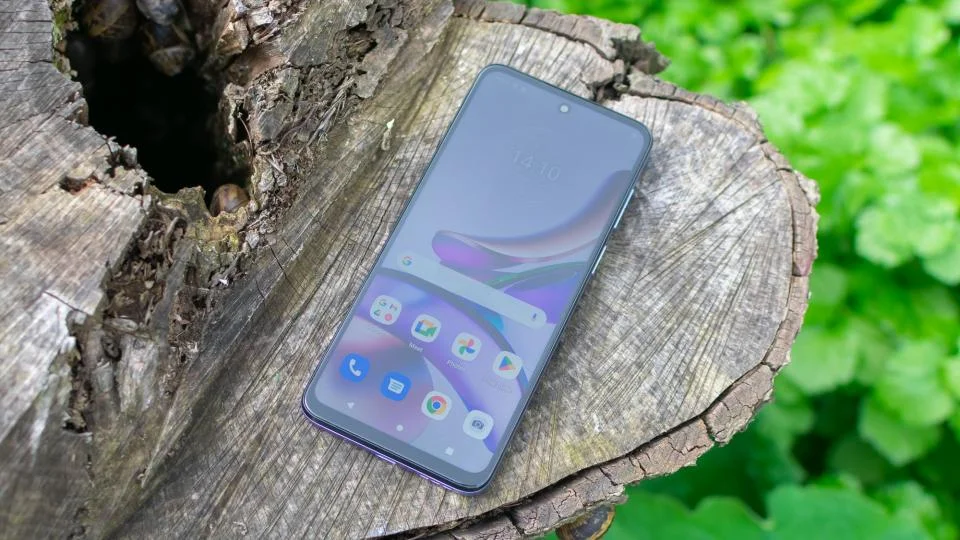 It should be emphasised that this is a model for undemanding users. It is far from a flagship or even a flagship killer. But this budget phone is certainly capable of performing most basic tasks. Who is it suitable for? Of course, for children and the elderly who do not have special requirements for a phone, as it performs basic functions – no more. It's also a good option for those who want to save money without overpaying for a smartphone, for those looking for an additional phone, or for primary school students.
Advantages of the Moto G13
Good value for money
Good camera, but only in good light
Excellent battery life
User-friendly interface
Screen with a refresh rate of 90 Hz
Up-to-date design
Disadvantages of the Moto G13
No ultra-wide-angle camera
Poor night shots
Low screen resolution
Charging is too slow
Simplified Moto software
Read also: