In the last years the market for tablets has become oversaturated and, thus, stale. The demand is falling. For a long time, Samsung Galaxy Tab S2 has been the most powerful Android tablet – and it was released in 2015! It's 2017, and iPad Pro has no rivals at all. It was that thought that prompted Samsung engineers to get back in the game and kill two birds with one stone. That's the story of Samsung Galaxy Tab S3 – the most powerful and stunning iPad killer.
Samsung Galaxy Tab S3 design and materials
For a flagship tablet flagship design! It'd be weird otherwise. There's something about Samsung Galaxy Tab S3 that reminds me of Galaxy S7 and A series of 2016.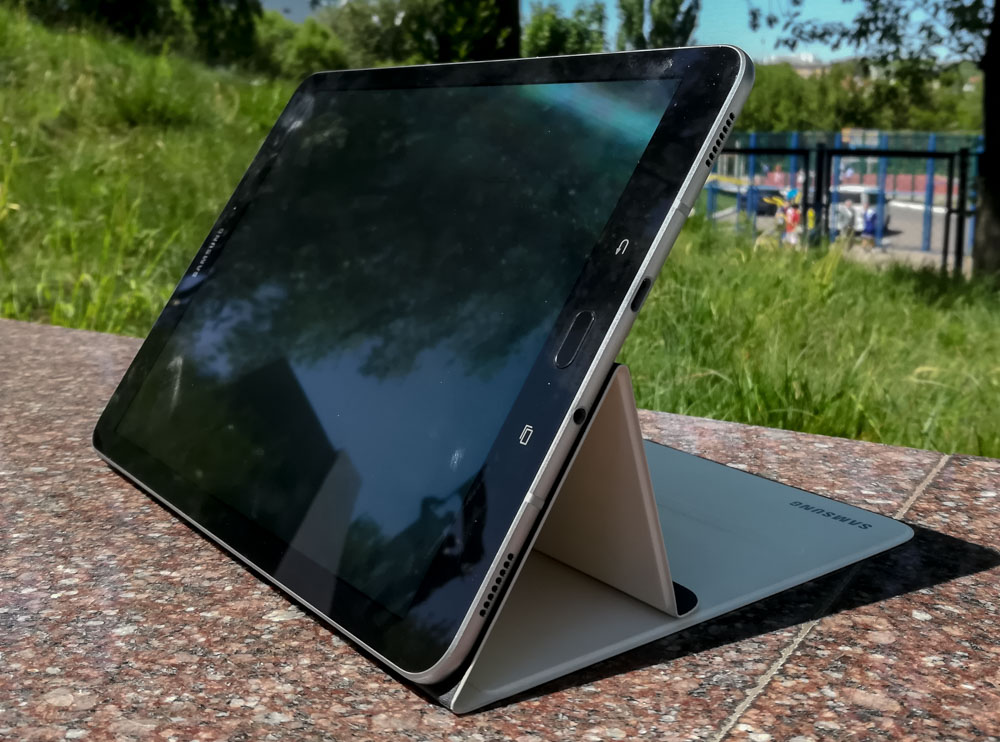 Glass and metal are the main ingredients. The front and back plates are covered with glass and not ordinary glass at that; Samsung Galaxy Tab S3 uses 4th generation hardened Corning Gorilla Glass. The bezel is made of aluminum.
In terms of colors there are two options: black and grey. The front panel is always black, though. We got the multicolored gray and black model.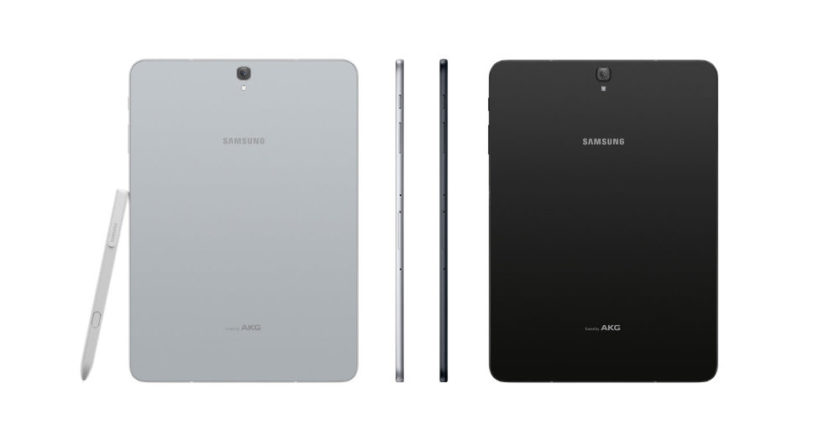 Sides are loaded with slots and buttons, which is a bit unusual for Samsung's devices. On the right there's a power button and a dual volume button. A bit lower there's a MicroSD slot a SIM slot. And as a bonus two mics.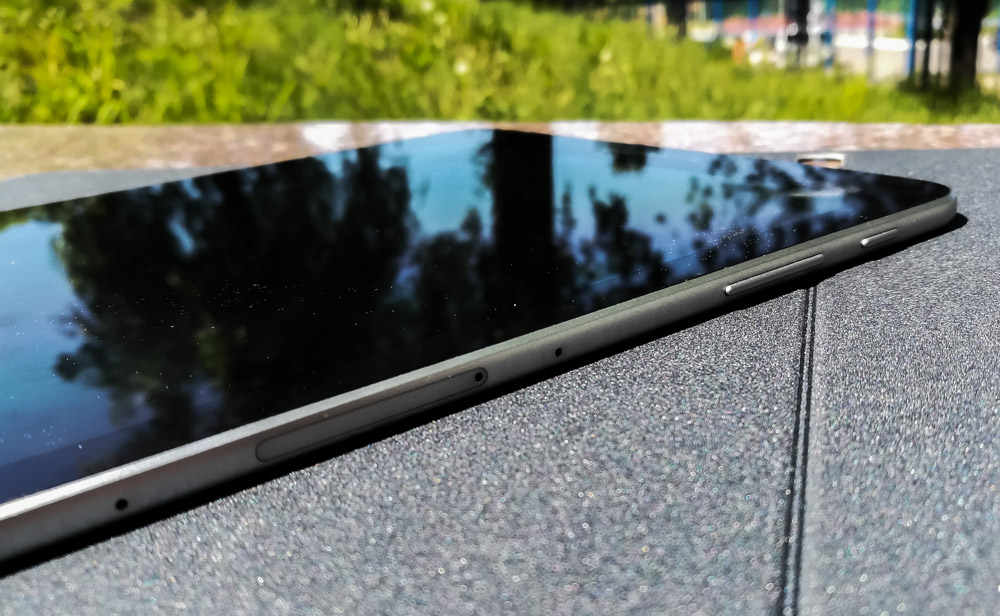 On the upper side there are two speakers. On the right there's a keyboard connector. On the lower side there are another two speakers, audio jack and USB type C port for charging and syncing.
The front side is pretty standard: Samsung logo under the screen and three buttons: hard Home button with fingerprint scanner and two sensor buttons for Running Apps and Back. On the back there's usual stuff: a camera, a flashlight and other "useful" texts.
Display
The display in Galaxy Tab S3 is normal for Samsung, but unusual for Android tablets. As before, the ratio here is 4:3, the size is also the same – 9,7 inches with 2048 x 1536 resolution.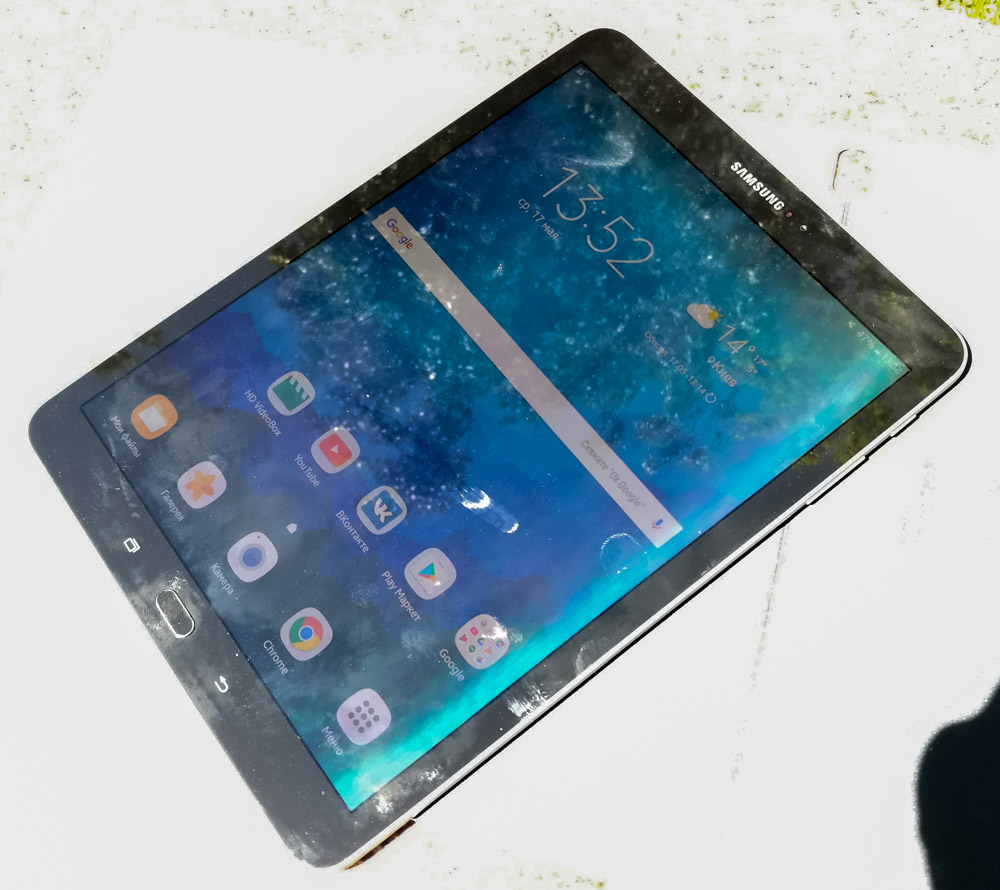 It is AMOLED, of course. The colors and contrasts are great, and everything is adjustable. It's possible to choose one of the four modes and manually fine-tune the balance of white.
Another noticeable feature is the blue color filter. I've been using the filter in Samsung Galaxy Tab S3 a lot. When activated, it makes the picture warmer, which is great for resting your eyes while using the tablet in the dark. The feature can be turned on manually or you can set up a special timer.
UI
Samsung Galaxy Tab S3 uses Android 7.0 with a brand shell. The shell is convenient, fast and concise. The version is much better, especially in terms of animation. You can choose icon styles: there's a usual style and a special style by Samsung.
The curtain was reworked: now there are eight icons. Pull it down and you'll see the whole list. Settings have also changed and have different sections.
S Pen stylus
Samsung Galaxy Tab S3 is the first tablet with S Pen support. There are almost no differences in terms of functionality compared to Galaxy Note, only now the stylus doesn't not go in the device; instead it attaches with the help of a magnet. Not a very safe way to secure a stylus: it's very easy to lose it. The stylus is also bigger and more comfortable to hold in hand.
The stylus has a button for context menu, which can also be opened via the icon on the screen. The icon only appears when the stylus in near the screen. The menu helps to create notes, show all notes, select a part of the screen and save the picture to the file; you make a screenshot, look up for a translation of a word, open a protected folder and add any app to quick access.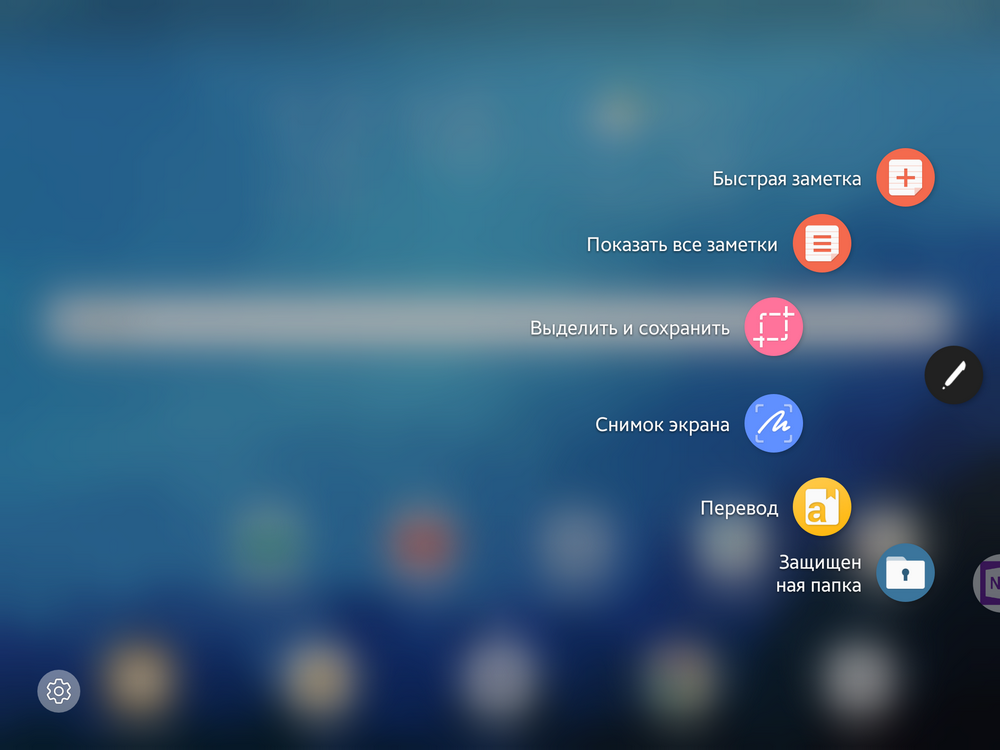 What does it all mean? Notes are great if you need to quickly create a reminder, handwrite or sketch something. You can create a note even if the screen is off. Just take the stylus and start writing.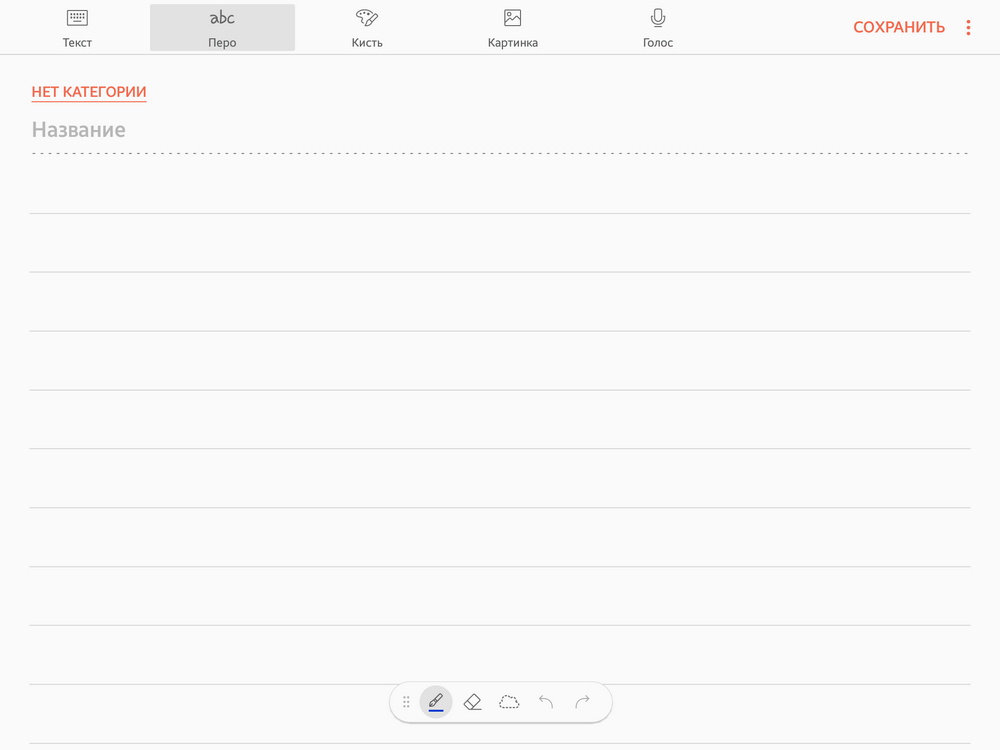 Selecting and saving. This option allows to select a part of the screen and interact with it. The screenshot feature is pretty self-explanatory. You can edit or mark the picture in any way you like.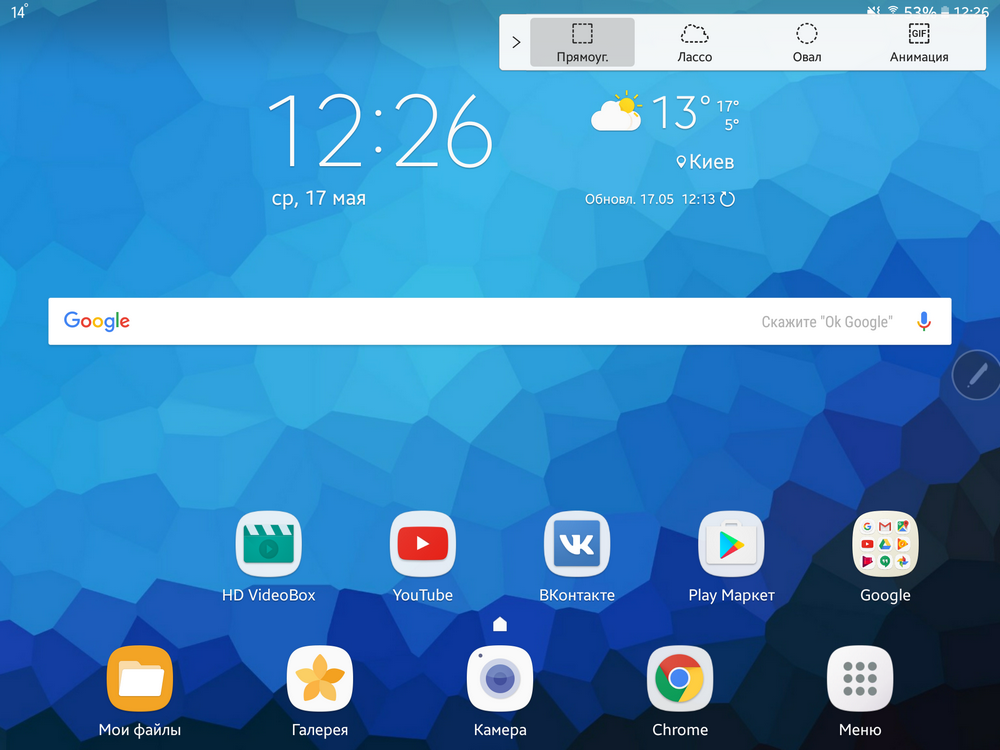 I especially liked the translation tool. Select the language and touch the word. The tablet won't only show the translation, but will also pronounce the word in any language.
For full usage of S Pen it's advisable to open Samsung Notes, which completely replaces the standard real-life notebook. Do anything you'd do in a real notebook: handwrite, make sketches, etc. Don't like it somehow? Google Play is waiting for you.
Performance
Samsung Galaxy Tab S3 is powerful – no problems with specs at all. In the heart of this beast is a Qualcomm Snapdragon 820 processor, clocking at 1,6 and 2,15 GHz depending on workload. Adreno 530 accelerator is responsible for graphics. Not all all well with storage size, though: 4 GB is RAM is more than enough for even the pickiest of users, but storage size is a big problem: there is only a 32 GB model, which is not nearly enough. You can buy MicroSD cards with size up to 256 GB.
But why no 64 GB version? 32 GB is nothing – at most, it's 2-3 movies in high quality. Surely, you can say "Why download when you can stream it" but there's no streaming in a train or on the road.
In terms of connectivity Samsung Galaxy Tab S3 has LTE, 3G, Wi-Fi, Bluetooth 4.2, GPS and GLONASS.
Samsung Galaxy Tab S3 behaves admirably in tests. AnTuTu shows 137 000 points, Geekbench 4 – 3903 points. CPU tests shows 1801 points and Compute test shows 4742 points. These are flagship numbers.
Games run flawlessly. Asphalt 8 runs on higher settings with no noticeable slowdowns. Dead Triger 2 also works fine.
Sound
Sound here definitely deserves special mention. Samsung Galaxy Tab S3 has four speakers at the corners. Thanks to that, the device outputs rich sound while watching movies and video.
The high sound quality is produced by AKG speakers. The equalizer helps to adjust the sound to your liking. Regulate low and high frequencies, use special features and Adapt Sound app.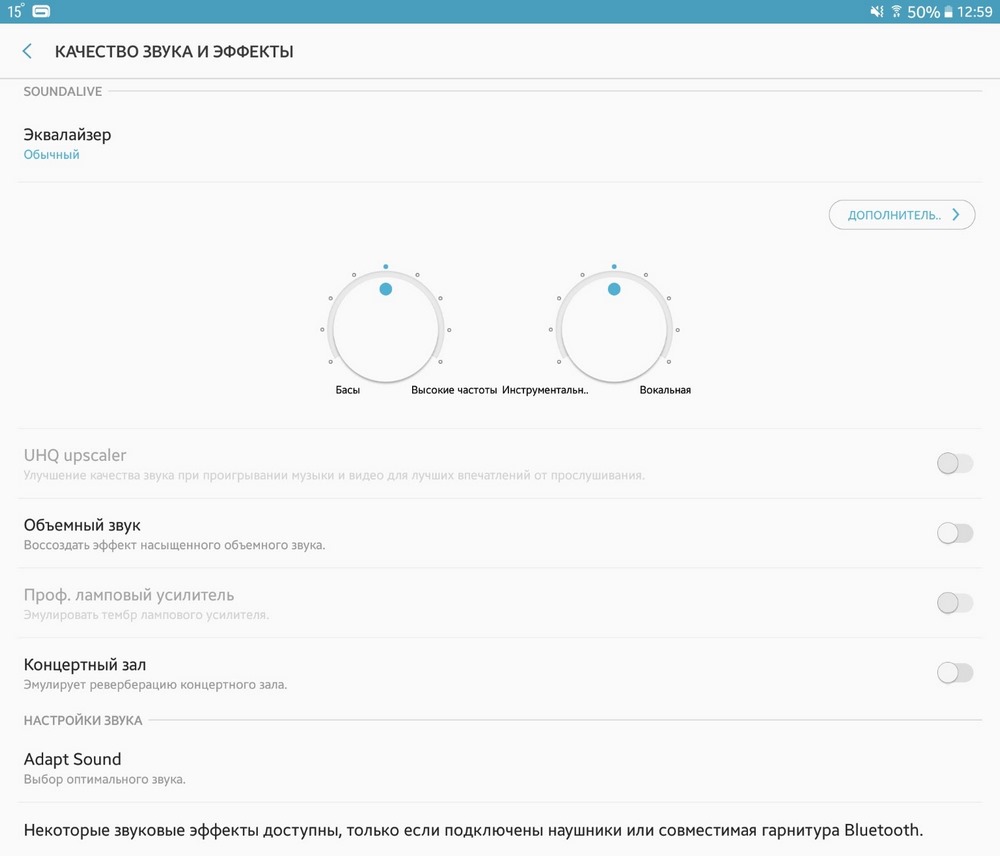 Samsung Galaxy Tab S3 is the first tablet with the sound good enough for me to not use headphones while watching movies. Speakers are that good.
Samsung Galaxy Tab S3 accessories
The first accessory is S Pen, but we already know everything about it.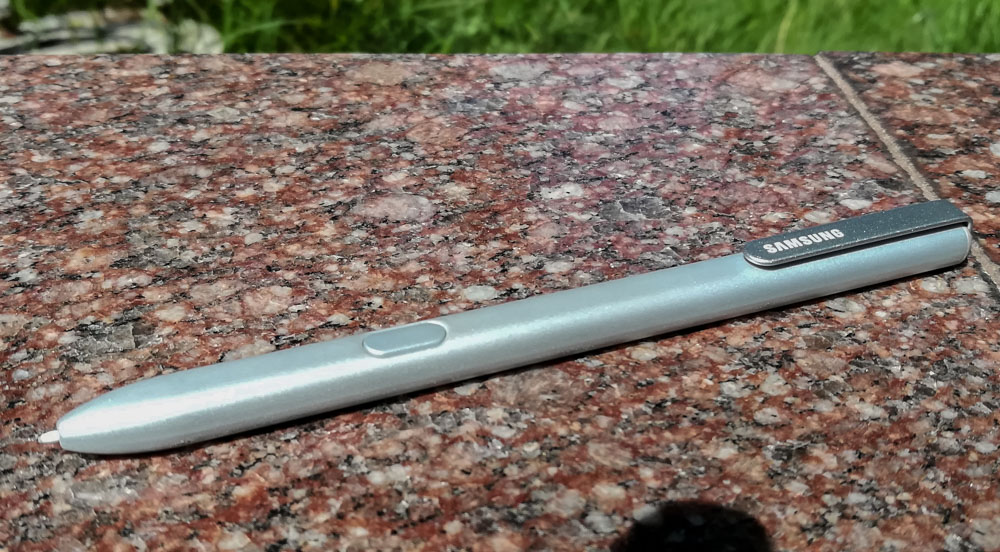 There are two special types of cases: a usual one and a keyboard case. The standard case is nothing special, but it does its job and protects the tablet from scratches. It's very sleek and doesn't add weight or size.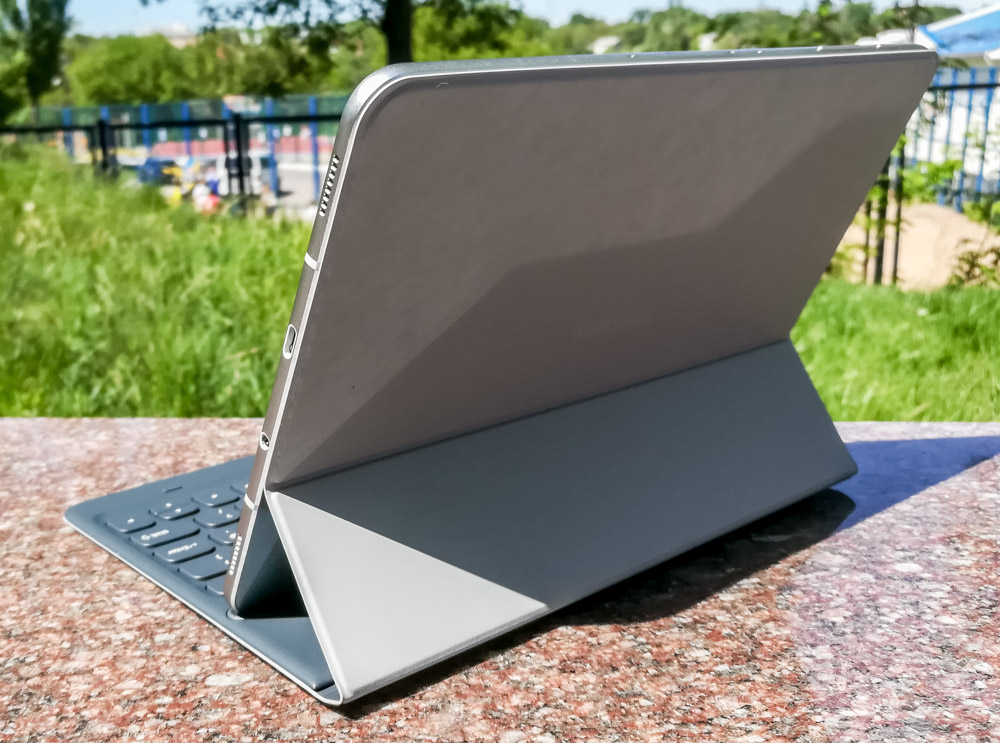 The cloth protects the screen. The tablet attaches to the case with magnets, and it holds very well. Samsung case can transform and has two modes. The only problem is that it's white and, therefore, gets dirty really easy.
The second case is a keyboard. It's great for people in need of a fast typewriter. The keyboard connects via special connector and uses tablet's power, so no need to charge it separately.
The keyboard is small, and it takes time to get used to it. The keys are a lot smaller than on a laptop, so prepare for a bit of a learning curve. After two days, though, you'll type like a pro, thanks to quality build. The case is not very comfortable, though, and has only one work mode.
Battery life
Samsung Galaxy Tab S3 has 600 mAh battery and supports Fast Charge technology. The battery is more than enough for 1 and a half or 2 days of active use. Fast Charge allows to quickly replenish the battery – half an hour would suffice for 100%.
The verdict
Samsung Galaxy Tab S3 is a flagship tablet of the highest quality. It is the best Android tablet and, without any doubt, the main iPad Pro 9.7 rival. Samsung Galaxy Tab S3 us a great device with tons of uses. Visually, the tablet is dashing. Add to that a keyboard and you won't ever need a laptop for your journeys.