Uncharted: The Lost Legacy is a new chapter of the Uncharted saga. It's not really a DLC, but a standalone game with shortened length. At first, Naughty Dog wanted to make it a standard DLC, but after the project started getting bigger and bigger it was decided to make it a separate game. They've already done something like that with The Last of Us: Left Behind, but trust me when I say that Uncharted: The Lost Legacy is a lot bigger than that. It is a separate game – a continuation of Nathan Drake's adventure… but without Drake himself.
Uncharted: The Lost Legacy is a unique game in a lot of ways. This is the first Uncharted game without its main protagonist Nathan Drake. The lovable scoundrel has finally stopped hunting for treasure, but his affiliates – and former rivals – haven't. To finally say goodbye was brave, and the only right thing to do for the studio. The Lost Legacy wasn't created to make a quick buck – it was a test for us. Whether we will accept Uncharted without Drake. Like Indiana Jones movies, the idea to ditch the main hero seems inconceivable. And I was skeptical – as were my colleagues. But we were proven wrong.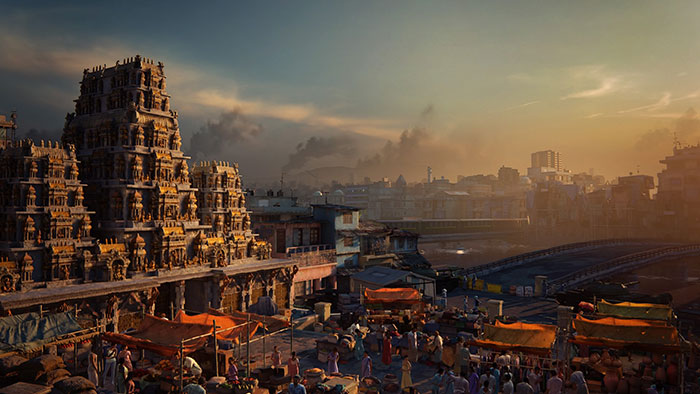 I am not lying: Uncharted: The Lost Legacy was so important that Naughty Dog decided to abandon The Last of Us II for some time. If Uncharted: The Lost Legacy succeeds, there may be Uncharted 5. The developer has already succeeded, and now it's our turn of vote with our wallet. In times when single player games with plots are becoming a rarity, we have to support studios like Naughty Dog.
To sceptics I say: fear not, this game just screams Uncharted. Everything about it is as good as Uncharted 4 – and better. While I will always miss Nathan – one of the best game characters ever – I am open to new characters and stories. I care about the gameplay, about the world. And Naughty Dog are masters of that. Right from the start, the game seems familiar. Huge chases, explosions, a new mad baddie and fantastic undiscovered locations. Gosh, I try not to sound like a fanboy, but sometimes we just have to admit the truth: when Naughty Dog are doing what they do the best, there's just no comparison. The Uncharted: The Lost Legacy is still the familiar territory, but with many new twists to the old formula.
But let's start with our main heroes: Chloe Frazer and Nadine Ross. We've met them before. Both of them knew Nathan – Chloe was his lover for a time, and Nadine was his foe in the previous game. But Uncharted: The Lost Legacy is not about Nate, although his name does come up from time to time. Both women have history with him, after all. Painful, in a lot of ways.
I was a bit skeptical about those two. Not because they're women, but because generally I'm conservative and associate Uncharted with Drake. But they won me over. Chloe is adorable and is in a lot of ways similar to Drake. She is brave, capable and smart. She wants money, but she also knows about the history and she generally cares about what she does, because hunting for lost cities runs in her family. Like Drake, she dispenses of hundreds of goons, but she doesn't seem like an evil person. Uncharted knows its morale is flawed, but all throughout the game we always fight those who are worse than us. Killing is bad, but at least we shot at radicals and hired goons, right? Nothing new here.
But Chloe is also a person with painful history. For the first time, we see her as a human. She has a rich personality, and the more I saw, the more I liked her.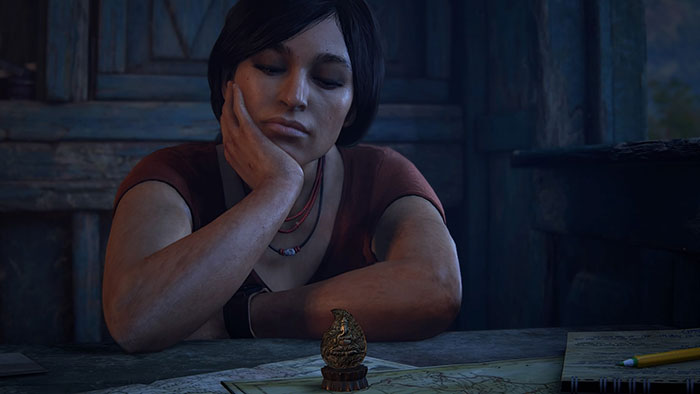 Nadine is harder to like. She's a fighter, a soldier, a person with priorities. She's not here to make friends or admire ancient relics – although she won't resist it for long. She wants their goal – the task of Ganesh – for money. To restore her company, which we helped to wreck in the previous game. That goal makes her harder to like – she is, after all, not very different from the goons we're killing. But she is also a human, admirable in a way. They are different, and that why the duo works.
In the end, I liked both of them. Not only because of their actions and charisma, but also thanks to top notch dialog. Nobody can make dialog as seamless and natural as Naughty Dog. They make it so real, it never sounds like boring exposition. Uncharted: The Lost Legacy reminds us of why games can be better than movies in that regard. With no rush, we get to know our characters by listening to them talk. No soulless walls of texts like in other games. All of that is not new, but I'm happy that even without the talent of Nolan North we get to enjoy the great script.
Uncharted games have always told a story. While the stories themselves were not anything amazing, it's how they were told was spectacular. Uncharted: The Lost Legacy has a plot, but it's nothing unlike we've already experienced. A rebel leader by the name of Asav wants to acquire the tusk of Ganesh for his selfish purposes. We are, too, not running a charity, but Asav also wants to use the tusk as a symbol of his resistance, thus making the war even bloodier. His motives are a lot worse than ours, but the story itself is painfully familiar.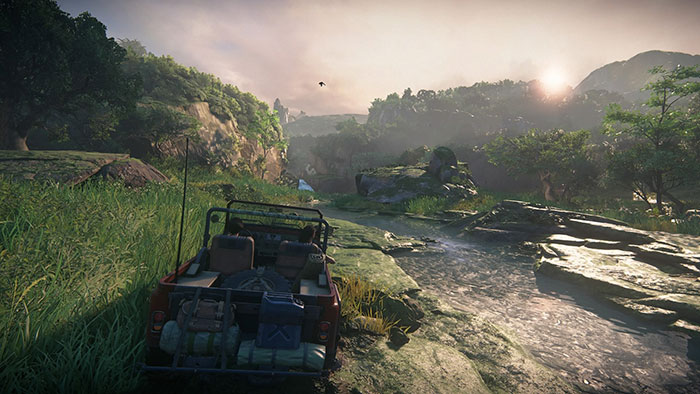 In fact, a lot of things here are familiar. One again, we are better than our adversaries and are first to the treasures. Once again, we have to infiltrate and destroy camps and run away from the whole army. Set pieces all look familiar – as a veteran of the previous games, I was able to anticipate an ambush miles away. All of this screams Naughty Dog, although I was still happy to engage in fighting, enjoying fluid animation and new ways of destruction.
While the story is as predictable and clichéd, as possible, the gameplay has been tweaked. There are new nuances, new little ways to make it more interesting. Like C4, for example. Silenced pistol is a great way to stay hidden. Chloe is also a master thief, which means that she can pick locks and multiply her arsenal of weapons and explosives. Still, the gameplay stays familiar and easy to understand. Uncharted: The Lost Legacy allows to fight silently or all guns blazing, but there's a third option – not to fight at all. It's not always available, but it's there.
There are a lot of puzzles – it felt like The Lost Legacy has more puzzles than Uncharted 4, which is bizarre. Some of them are pretty straightforward, some require serious thinking. I have always been bad at those, and some of the puzzles nearly broke me. Still, I persevered and came out victorious, feeling slightly smarter than before. The puzzles themselves were great – one of the best of the while series. The ingenuity of designers knows no bounds.
The game takes place in India, which look suspiciously like Madagascar from the previous game. It's understandable: considering the game's size, the developers had to take shortcuts. While the pseudo open world looks a lot like what we've seen in Uncharted 4, it's different and it's a lot bigger. That's where you'll spend the majority of your time, looking for artifacts and solving puzzles, occasionally shooting back at those pesky rebels. The game is not really open and the area is relatively small compared to true open world titles, but this level of freedom is Uncharted game feels liberating. Those games have always favored corridors and small locations, but this is something completely new. A way forward for the series, something completely new to keep the games from getting stale. And it works.
I liked the idea of widening the game right from the start, but I haven't expected to like it this much. For the first time, I was actually enthused to hunt for treasure. Not the tusk though – I'm talking about another, secondary treasure for those who want to 100% complete the game. And while I'm no completionist, I was glad to find the treasure, which turned out to be very beneficial for me. I advise to hunt for it before getting closer to the tusk.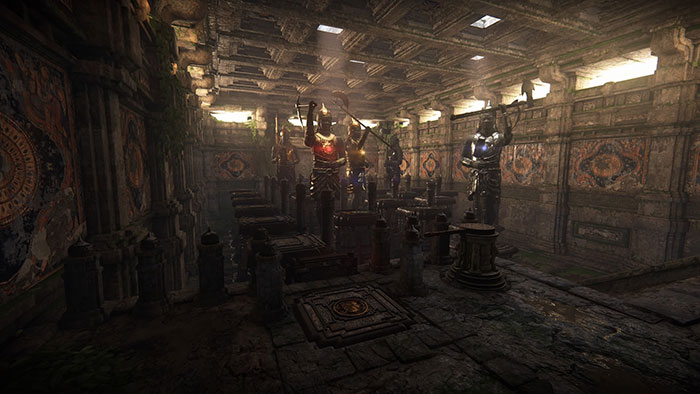 Uncharted: The Lost Legacy feels like a new and improved Uncharted 4 in many ways. While that game benefitted greatly from the story and Drake himself, Uncharted: The Lost Legacy is a bit weaker in that regard. In a lot of ways, it is better, though. Depends on what matters the most to you.
While Uncharted: The Lost Legacy is a smaller game, it is a blockbuster. It weighs 50 GB and feels huge. The world here is spectacular. It feels massive. The game itself looks even better than Uncharted 4 – a feat I previously though impossible. Even after the outstanding Horizon Zero Dawn the studio managed to amaze with graphics. I have never seen a game so beautiful and animations so realistic and smooth. I wanted to take a screenshot like every 2 minutes. The sound design is no less impressive, continuing the high standard of Naughty Dog games. Uncharted: The Lost Legacy sounds wonderful – better, in fact, the most of the films I have on Blu-Ray.
There's a high level of customization so that you'll get the best sound possible based on your configuration. These levels of details make Naughty Dog games simply better. I advise you to turn on your subwoofer and play with surround sound. If not – just use a decent pair of headphones. The sound design is great – as well as voice acting.
When it comes to facial animations, Naughty Dog is king. There, though, it's a bit worse than before. They haven't exactly dropped the ball, but sometimes I felt that it was just harder to animate someone other than Nathan Drake. Used to Drake's handsome features, the creators may have been a little lost with their new protagonists. Both Nadine and Chloe look great, but sometimes something felt… off. Not often, and the game is still better in that regard than anything else. Really, I'm nitpicking.
Optimization is another important question. A lot of gamers got worried after the release of PlayStation 4 Pro which made the base model look a bit obsolete. Thankfully, even with more powerful hardware the developers haven't forgot about those of us with inferior models. Like Horizon Zero Dawn, Uncharted: The Lost Legacy not only looks, but also runs perfectly, with no dips in FPS safe for rare moments when there are a lot of splashes. The picture is sharp and clean, and the game runs silky smooth.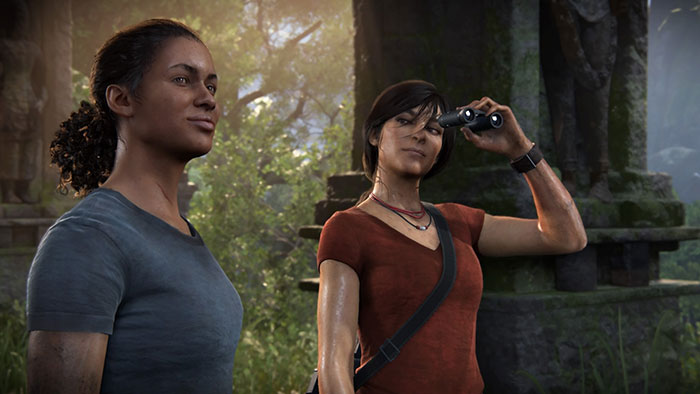 So, what is Uncharted: The Lost Legacy? Is it a very good DLC or a small but independent new episode of the franchise? Is it its swan song or an indicator of better things to come? A new level for the beloved studio or more of the same? I will stay positive. This game is everything a DLC should be – something both similar and completely new. A way to try out new ideas. It might be smaller and cheaper, but it's no less an Uncharted game than anything else with that name. And it is definitely better than Golden Abyss. Nathan Drake is missed and will be for a long time, but his story has ended.
I have no idea whether we'll see Chloe and Nadine again in any capacity, but I would like that very much. At first, I thought of them as only a temporary Nate replacement, but now they can easily be the series' future. Brave, charismatic, funny and realistic. Another victory for Sony, who have added a lot of unique characters to its roster of iconic game personalities. Today is a good day to be a PlayStation gamer. Highly recommended.