The MacPaw team announced that the ClearVPN application received the Hot Company VPN award from Cyber Defense Magazine (CDM), a leading online magazine on information security.
The 10th annual Global InfoSec Awards took place during the RSA 2022 conference on June 6. Cyber Defense Magazine honors InfoSec innovators from around the world: startups, at any stage of their development, and public information security companies (InfoSec).
Launched in 2020, ClearVPN is an easy-to-use VPN solution for users who want to receive any content online without interruption and have reliable protection while roaming the web. It is designed to easily address the needs of ordinary users. Just choose a server – ClearVPN will do it for you in one click, while you will privately and safely enjoy the best version of the Internet. With ClearVPN, user data is protected by AES-256 encryption, advanced protocols, and additional features such as Kill Switch. In addition, ClearVPN has a strict no-logs policy, which means that the application does not collect any information related to the activities of its users: no IP address, browsing history, DNS queries, etc.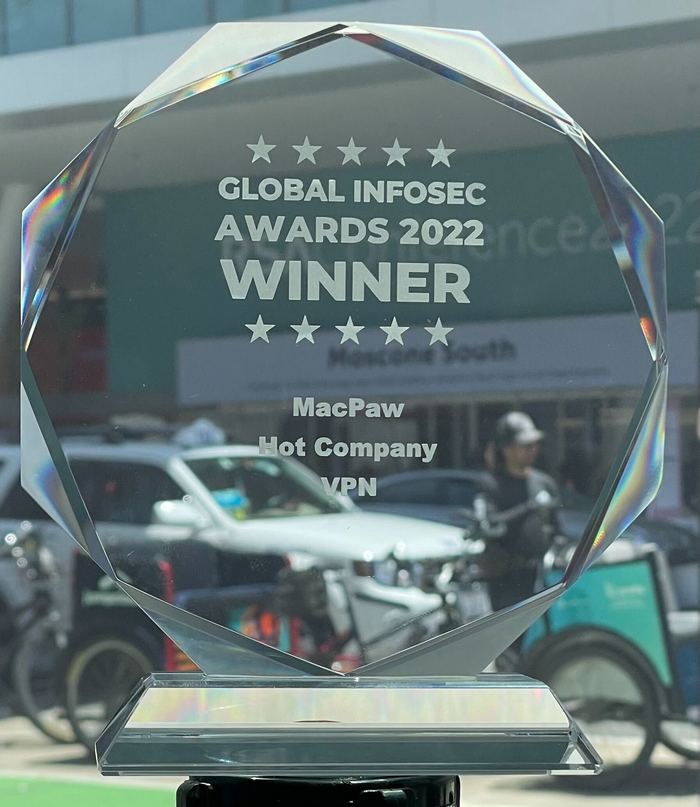 To address any security vulnerabilities while providing a high-speed connection, ClearVPN uses its own protocol in addition to IPSec IKEV2 and OpenVPN. Depending on regional constraints, ClearVPN automatically selects one of the above protocols to optimize the connection while keeping it secure and confidential. Learn more about cybersecurity with the Cybersecurity Checklist.
After Russia's full-scale invasion of Ukraine, MacPaw decided to make ClearVPN free for Ukrainians. Users were able to carry out DDoS attacks on Russian government sites, and, most importantly, now have private access to content that is blocked in the temporarily occupied territories. ClearVPN seeks to help all those who suffer from online censorship and propaganda. The Russian-Ukrainian war has once again proved the importance of free and unrestricted access to the Internet.
You can also help Ukraine fight with Russian occupants via Savelife or via an official page of the National Bank of Ukraine.