Social network for professionals – LinkedIn has added a new feature that allows users to add links to the website in their profiles. After launching this new feature, users with Creator Mode enabled will be able to add a link that will appear at the top of their profiles under their username and description, as well as over subscribers and connections. It is worth noting that LinkedIn users who have decided to disable Creator Mode will not have this innovation.
For those who don't know, Microsoft's Creator Mode allows users to add hashtags to indicate the topics they post the most on, and moves the Favorites and User Activity sections to the top of their profiles so they can display content more clearly. This feature also changes the Connect button to Subscribe to help LinkedIn authors create a subscription.
In a recent statement, Global Head of Community & Creators Andrei Santalo, explained that the ability to add links to a user's profile is aimed to increase the visibility of their business, personal websites, events or portfolio.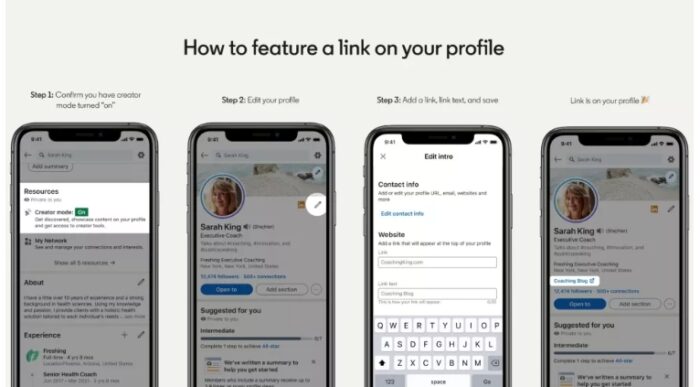 If you already have Creator Mode enabled on the platform to add a link above your profile, you just need to click the edit icon (shown as a pencil) of your introduction, scroll down to the website section, add your URL and link text, and click Save.
While it's not the biggest update for LinkedIn, it provides users with an easy way to generate traffic to their websites from the platform, and anchor text links can be used as a call to action.
Depending on the success of this feature, LinkedIn may decide to extend it to users whose profiles have not been set to Creator Mode. However, enabling Creator Mode costs nothing and can easily be done directly from your profile.
You can also help Ukraine fight with Russian occupants via Savelife or via an official page of the National Bank of Ukraine.
Read also: