The Webby Award is considered as the most prestigious award for Internet projects and Digital media. It was founded by the International Academy of Digital Arts and Sciences (IADAS) in 1996 to celebrate the best digital projects around the world every year. In the community of designers it is also called the "Internet Oscar". This year about 14,000 participants from 77 countries are competing for the award. Among all nominees – only 3 applications from Ukraine.
Therefore, it is especially pleasant that the project of the Ukrainian digital design agency Lazarev. was nominated for this outstanding award in the Professional Services and Promotion category. The stage of voting for the candidates (lasts until April 21), who were included in the shortlists of each of the categories, is underway. We invite you to vote for Ukrainians using the link.
The founder of Lazarev.Agency Kyrylo Lazarev comments: "We worked to create our own website, aiming to convey the professionalism of the team in the processes and attention to the smallest details. And we did it by creating a site with the most interactive blocks and non-standard content. When we decided to apply for the Webby Awards in 2022, we thought that even being shortlisted was an achievement for our agency. But it happened, we are one step away from the final result, and I hope for support of all Ukrainians in our common cause – to show the world that Ukraine is capable of creating world-class products."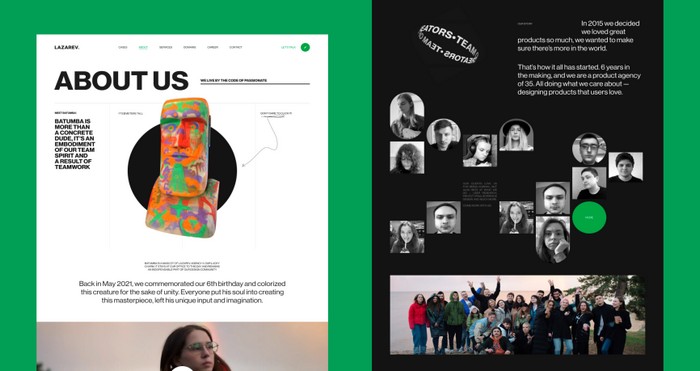 To date, Lazarev.Agency has already donated UAH 1.7 million to support our state. Also, the agency creates volunteer projects for the earliest joint victory. Among them are two sites for charitable foundations, and an announcement of an online fundraising platform for charity will be announced soon.
For Lazarev.Agency this is the first participation – and immediately a nomination for victory – in the Webby Awards. In general, this is almost the first opportunity among Ukrainian creatives to receive such a prestigious global award.
How to vote:
Follow the link to The Webby Awards
Find Lazarev.Agency site and press "VOTE"
Press "SIGN UP TO VOTE" again
Register via Facebook / Twitter (at least via email, then don't forget to confirm your vote via confirmation email)
Done!
You can also help Ukraine fight with Russian occupants via Savelife or via an official page of the National Bank of Ukraine.
Read also: