Despite the double-digit increase in smartwatch shipments in Q1'2022, the global wearables market as a whole showed a decline of 4%, according to Canalys research company.
According to experts, in Q1'22, global wearables shipments were 41.7 million units, compared to 43.3 million units in Q1'21. Almost 77% of the market is occupied by watches, including basic models and their smarter counterparts running full-fledged operating systems with support for third-party apps. Shipments of basic and smartwatches last quarter increased by 15% to 32 million units. In the segment of fitness trackers, on the contrary, a decrease of 37% was registered. Analysts noted that the negative dynamics in this category have not stopped for the sixth consecutive quarter, from October to Q4'20. As a result, shipments of fitness trackers fell below 10 million units for the first time, while at the peak of demand in the fourth quarter of 2019, the figure was close to 28 million units.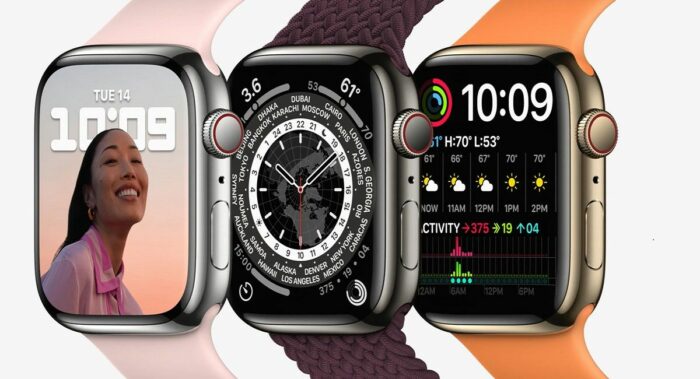 Although the smartwatch partially offset the decline, it was not possible to completely nullify it, which led to a reduction in the market as a whole, the report said.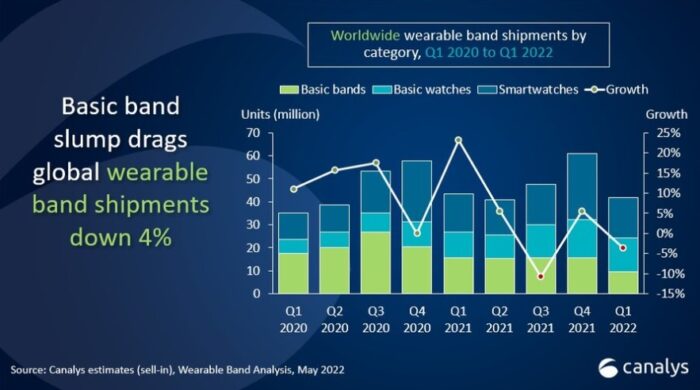 Apple remains the leader in this segment. High sales of the Watch Series 7 boosted its shipments by 21% to 9.2 million units and strengthened the vendor's position last quarter. Despite a 53% increase in Samsung's supply, the company lost second place to Chinese rival Huawei. Shipments of Samsung and Huawei smartwatches are estimated at about 3.4 million units each, but experts believe that the market share of the South Korean company was 10.5% against 10.6% of Huawei. Xiaomi took fourth place, ahead of Garmin. Experts estimated the contribution of these brands to the supply of watches at 5.4% and 5%, respectively.
Despite the difficult market conditions, the demand for advanced smartwatches remains high, as evidenced by the confident performance of Apple, Samsung, and Garmin. While rising global inflation will hamper consumer spending on non-essential goods, many users have become hooked on smartwatches that help them stay healthy and informed. Based on this, experts expect further growth in the category in 2022.
You can also help Ukraine fight with Russian occupants via Savelife or via an official page of the National Bank of Ukraine.