Hard times of war require proper preparations. You aren't really going to conquer the mountains in flip-flops or dive into the ocean with a cocktail straw, are you? For this reason it is worth considering such an important gadget for our defenders as a smart watch. It must be protected, reliable, functional and not for all the money in the world – we are still going to need them for Bayraktars and Javelins. That is why today we are reviewing KOSPET Tank M1, a smart watch with military grade protection for $54.99.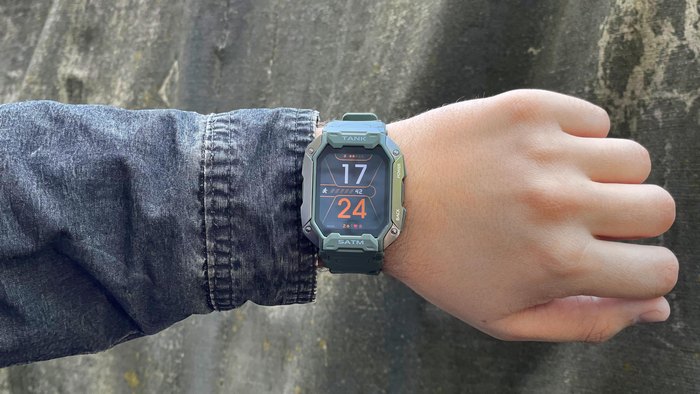 KOSPET is one of the most famous manufacturers of protected smart watches, which has returned with a new smart watch called Tank M1. This novelty has an improved appearance with advanced equipment and functions. It is equipped with a 1.72-inch touch screen with customizable dials, heart rate and sleep monitor, multifunctional sports modes and, more importantly,  5ATM and IP69K water protection. And all this comes at an attractive price. Whether this is worth buying and what it is capable of – we will find out in this review.
Where to buy:
Specifications
KOSPET is known for its affordable products that have better performance than competitors. Well, since they released their first Android KOSPET Hope product in 2019, they've come up with a lot of innovations. Speaking of this new smartwatch Tank M1, this is a unique product that KOSPET offers at a very reasonable price. If you are looking for a military style smart watch, strong and durable – this is exactly what you need. This watch has a very attractive military design, aimed at use in extreme conditions, either hot or cold, as well as in workplaces where you can not wear a regular watch because you will damage it, and of course, the military.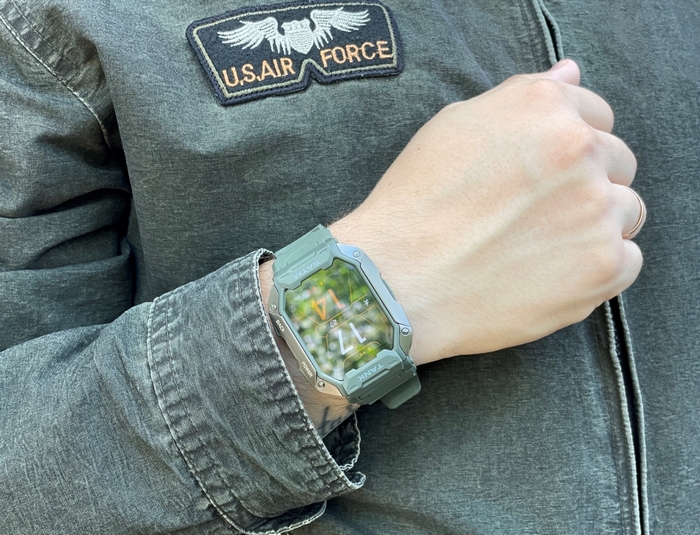 Dimensions: 55×45×10 mm
Weight: 65 g
CPU: RealTek8762DK
Display: 1.72 inch capacitive TFT touchscreen with a resolution of 280 × 320 pixels
Strap material: silicon, 22 mm
Battery: 360 mAh
Charging: USB cable with magnet adapter
Nominal battery life: 15 days (45 days watch only mode)
Smartphone connection: Bluetooth 5.0
In-built sensors: heartbeat sensor, gyroscope, optical heartbeat sensor, optical blood oxygenation sensor
Supported languages: English, German, Korean, Spanish, Japanese, French, Arabic, Russian, Ukrainian, Portuguese, Turkish, Romanian
Heath monitoring functions: monitoring of blood oxygen level, assessment of cardiorespiratory capacity, heart rate measurement, daily activity, pedometer, thermometer
Waterproof protection: 5ATM & IP69K
NFC, GPS : not supported
Exercise functionality: over 20+ exercise modes (running, walking indoors and outdoors, exercises on an elliptical trainer, exercises on a rowing machine, etc.)
Other features: notification and incoming calls, timer, alarm clock, weather, music playback control, phone search, photo shooter, motion reminder, 24-hour heart rate monitoring, auto-lock, water drink reminder, women's cycle reminder.
KOSPET TANK M1 is made of a mixture of durable plastic and steel, and you can choose a black or olive green option (I have the second option, there was an additional strap in the set as a nice bonus). Both sides of the case are made of dark brushed steel of almost black color. The overall width is 55 mm, which gives the watch a noticeable presence on the wrist, as in most smartwatches. However, the width is 45 mm, which is the usual size. The watch is also thick, with high edges that provide excellent screen protection. Despite all this, the TANK M1 weighs only 65 g, less than many other watches.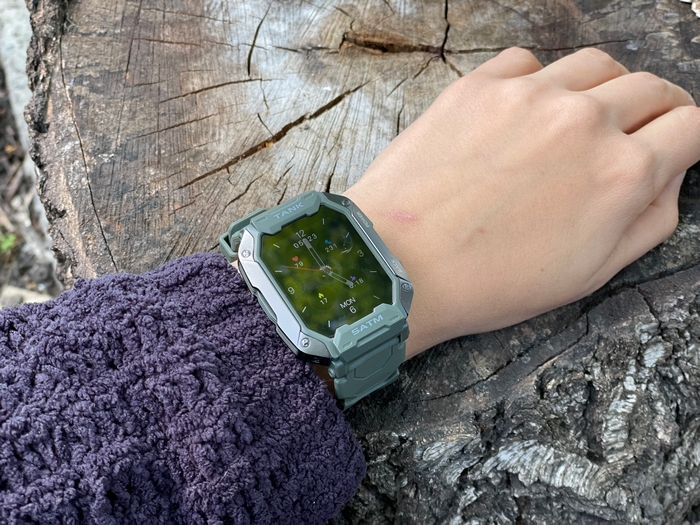 They are a bit bulky for a woman's wrist, but sit well, neat and comfortable, regardless of physique. The design is closer to unisex than to purely masculine.
Delivery set
As for the delivery set, the box itself looks pretty good in terms of packaging, and will fit well as a gift. In front you will immediately see the KOSPET logo, it is not painted, namely embossed on the box with silver color, plays well in the sun. On the back you will find the main features that this Tank M1 offers. The company has done everything possible to make everything look like a premium product, everything fits securely in its pockets and does not slip.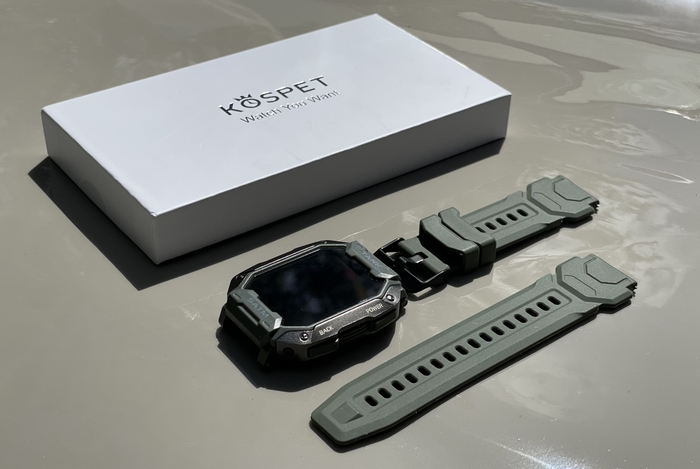 When you open the box, you will find the user manual above, a greeting card with gratitude from KOSPET, a smart watch with a silicone strap, a magnetic cable for charging the device and an additional film to protect the screen. Yes, the Tank M1 already comes with a protective film out of the box, meaning it has everything you need.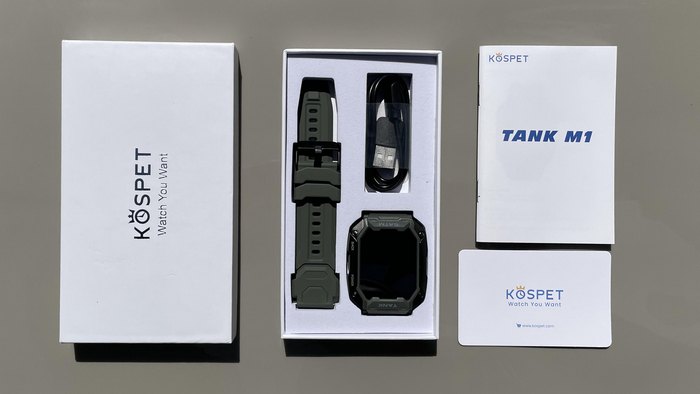 Also, as I said, I had an extra camouflage-style strap that looks much better than a regular strap, but it's up to your taste.
Ergonomics
The KOSPET Tank M1 smartwatch is made of metal and plastic and is equipped with a color capacitive TFT touch screen with a diagonal of 1.72 inches and resolution of 280×320 pixels. The brightness of the screen can be adjusted, and it is very sensual and responds instantly to touch. The screen turns off automatically (auto-lock) after 10 seconds, but you can easily wake it up by waving your wrist or pressing the side button. Automatic locking cannot be turned off, but it can be set from four options (5, 10, 15 and 20 seconds) via the Da Fit program, which we will talk about later.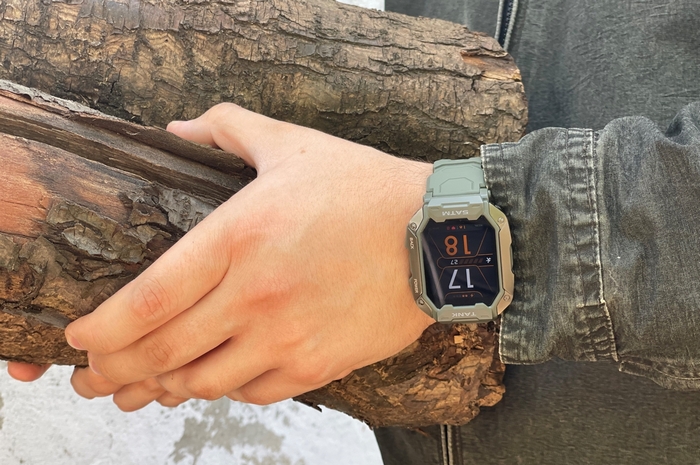 The KOSPET Tank M1 smartwatch is controlled by touch screen gestures and two physical textured plastic buttons (power/back buttons) located on the right side of the watch. Buttons have elastic (not clicking) operation, they are tactile and smooth. By swiping up/down, left/right on the touch screen and pressing the touch buttons for a long time, you can access the clock settings and functions.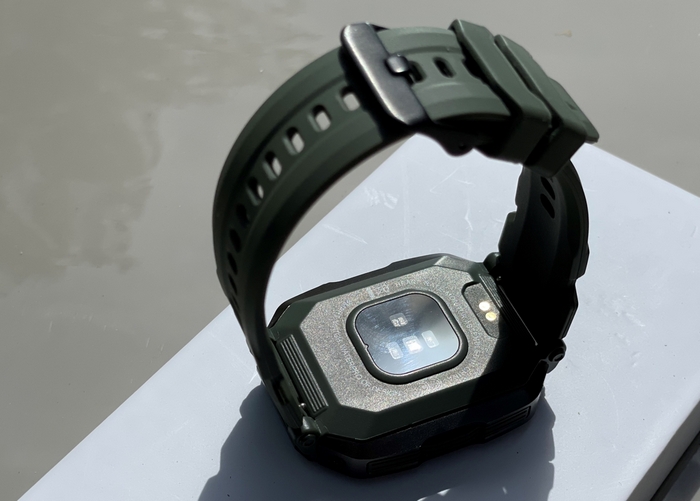 If you turn the smart watch upside down, you can see the sensors grouped in the middle in the glossy part, and what I really liked is that they do not press on the wrist like other smart watches do (as this convexity is less protruding). There is a heart rate sensor (HRS3690) and a pedometer sensor (SC7A20).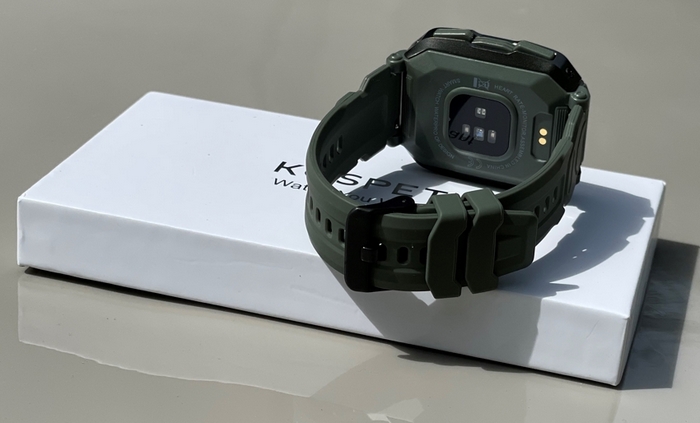 In addition, a smart watch has the ability to determine the amount of oxygen in the blood and blood pressure. This latter feature is a bit strange because it does not require calibration and essentially uses a heart rate sensor to estimate (or assume) blood pressure. So I wouldn't use it as an alternative to proper blood pressure measurement equipment (or any other smartwatch at all as of today).
Battery life
The M1 tank is charged via a cable (64 cm long), which takes 2 hours to charge the 380 mAh internal lithium-polymer battery via a USB port (5 V / 500 mA). The Tank M1 watch does not support fast charging. The Tank M1 charging cable has a USB-A plug connector at one end and a proprietary magnetic 2-pin connector at the other end. The magnetic connection makes it less bulky and attaches to the back of the watch faultlessly, making it easy to use.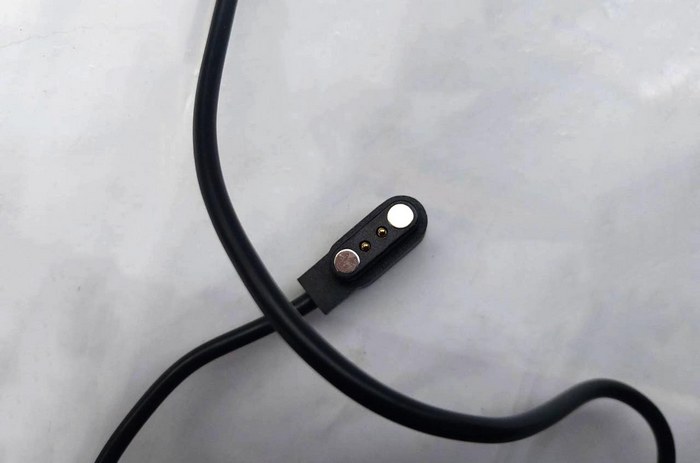 Another advantage of the Tank M1's magnetic charger is that you don't have to worry about the charging port wearing out. The Tank M1 watch does not have it and is therefore more waterproof (5ATM / IP69K) than other smart watches. With an IP69K protection class, the Tank M1 is resistant to dust, heat and high pressure, but we'll talk about that later.
Everyday use
The Tank M1 smartwatch supports wireless communication via Bluetooth, so you can connect the watch to a smartphone (Android 6 + / iOS 9+) via the Da Fit mobile app and access convenient features such as a remote shutter for the camera with which you can take pictures with your phone's camera application. Of course, you can also access notifications from your phone (calls, messages and notifications from different applications) via the watch. By default the watch has 12 standard dials, but you can download much more through the application. Dials are available for download with customizable styles – retro, analog, 3D and digital dials, you can even use live wallpaper or your own photos as the dial background.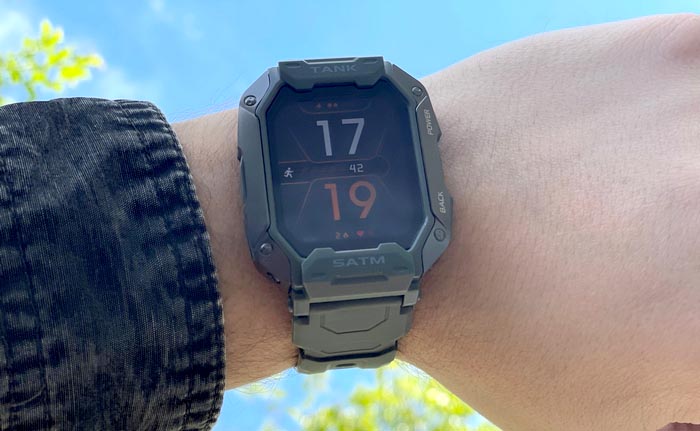 You can access the quick menu by scrolling from the top, which allows you to change the brightness, sound mode, save battery power, view the weather forecast, settings and more. If you swipe from left to right, a split window will appear on the side with the time, date, weather, and most recently opened apps. As for scrolling on the right, you will find widgets to monitor heart rate and sleep, steps, sports modes and more.
You can get to the main menu by clicking the "Back" button, where you will find heart rate and sleep monitoring, steps, settings and other features, including a photo shooter, music player, weather and more.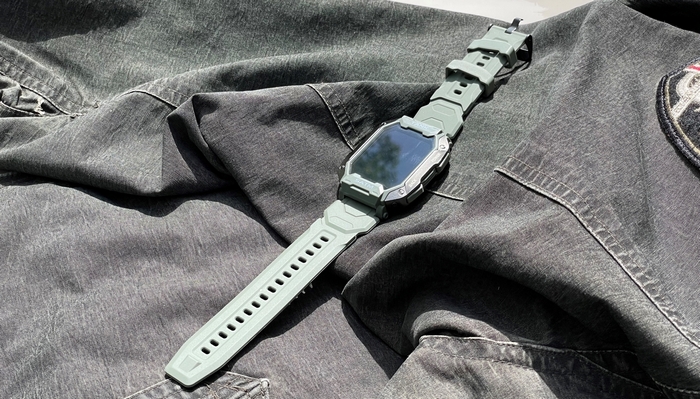 The Kospet Tank M1 smartwatch is equipped with 24 sports modes, including outdoor running, walking, indoor running, cycling, badminton, table tennis, climbing, skipping rope, swimming, yoga, jumping and more. In addition to sports features, you can monitor your heart rate in real time to check if your heart is beating normally, and monitor sleep to measure overall light sleep, deep sleep and wake time to provide you with an analysis of your sleep patterns, monitor blood pressure and measure blood oxygen levels in real time to improve the ability of the cardiovascular system to prevent low oxygen levels in the blood, which causes discomfort in the human body.
Keep in mind that this watch has 128 MB of flash memory and 64 KB of RAM. It cannot run other apps, and you can only install alternate dials. Therefore, if you want to install a GPS app or something, you will not be able to do so.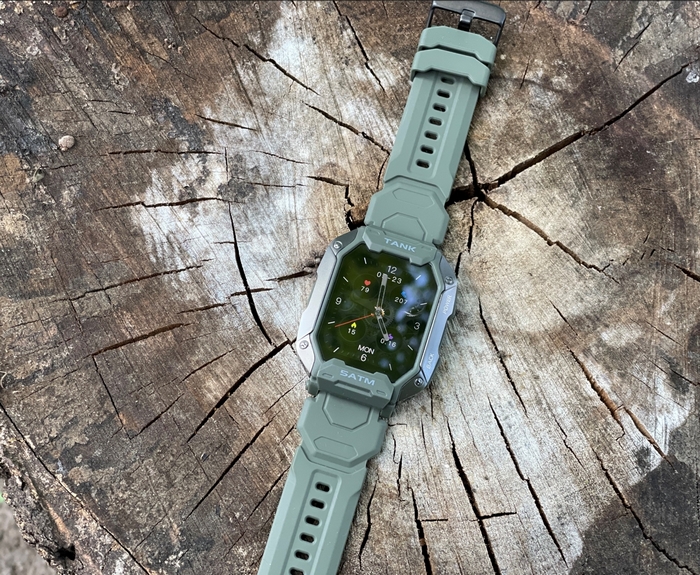 As I said, the KOSPET Tank M1 is protected according to the MIL-STD-810 standard, which makes the company very proud. MIL-STD-810 is a set of standard laboratory test parameters of the United States Military Standard. Testing according to this standard, the latest version, MIL-STD-810G, is required to participate in procurement orders for equipment and components for the US Department of Defense and NATO.
This means that the KOSPET Tank M1 is designed to work in difficult conditions with 5ATM and IP69K protection, which means that you can use them in the shower, as well as when washing your hands or in the rain or swimming, because they can withstand pressure at a depth of 50 m. Their operating temperature is from -40 ° to 55 ° C, and you will not find this in other smartwatch in this price category. However, exposure to salt or hot water can damage them, I advise you to dry the watch after immersing them in water and before use, to make sure that they stay with you as long as possible. They are also resistant to dust and shock, so it is ideal for outdoor sports.
The Tank M1 does not have built-in GPS navigation, but once connected to the phone, it can use the phone's GPS, which is convenient for running outdoors or cycling. Tank M1 does not support emergency call, drop detection, Wi-Fi connection or SIM / e-SIM connection. Instead, the watch has many features for health and well-being, including 24-hour continuous heart rate monitoring, pedometer, tracking physical activity with more than 20 sports modes (running, cycling, etc.), water drinking reminders, lack of activity  reminders and sleep monitoring, which shows a 7-day report on deep and light sleep.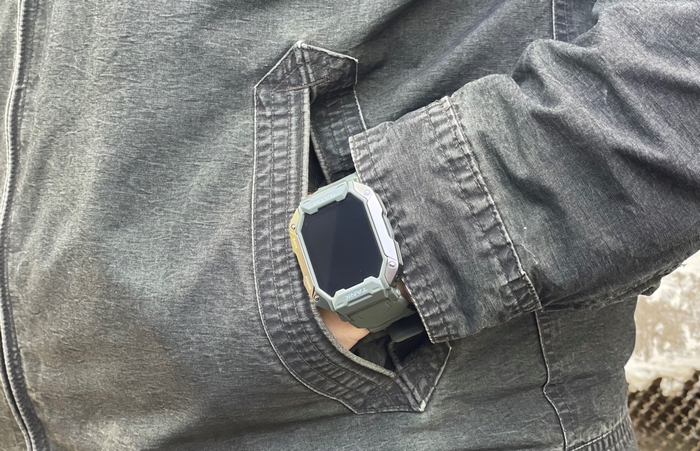 Deep sleep should be at least 15% of the total amount of sleep, which means that if you sleep 7 hours a night, 2 of them should be a phase of deep sleep. The  Da Fit mobile app, which I have mentioned many times, provides more information about sleep, such as fast sleep, waking time, sleep quality score, sleep score, average BPM and sleep pie chart. I did not take them off at night in order  to measure my sleep. The next morning, all data, including light sleep, deep sleep, fast sleep and wake time, were always synchronized with the application. The application gave me an overall assessment having combined these indicators, i guess it is a good tool for constant health monitoring. One thing to keep in mind here: those who have small wrists may find it difficult to wear a watch all night, but you will not be disappointed in terms of accuracy.
There are some functions (such as time / date and alarm clock) that you cannot control directly from the clock and that require the use of the Da Fit mobile application. When connected to the phone, the time and date of the Tank M1 are automatically synchronized. Tank M1 does not have a built-in speaker, but there is a vibrating motor that emits a short signal when activated. It's not very strong, but you certainly won't miss the alert.
KOSPET Tank M1 is really easy to use, with a simple and clear graphical interface and good consistency between menus in terms of design and readability.
Da Fit mobile app
The Da Fit mobile app works well and has a user-friendly interface. You do not need to register an account, in general, Da Fit is a nice addition to the Tank M1, which expands the functionality of the watch. With the Tank M1 watch, you can view a 24-hour heart rate report as well as BPM (beats per minute) during training and show blood pressure (systolic/diastolic) and blood oxygen levels for the last 7 days. But you can view daily, weekly, and monthly continuous heart rate data only through Da Fit. The app can also be linked to Google Fit.
The app is downloaded through the Google Play Store or Apple App Store, so you know it's a safe app.
How to connect Kospet Tank M1 to a smartphone:
The Tank M1 is easy to connect to your phone. After installing and configuring Da Fit, all you need to do is:
Turn on the Bluetooth of the watch and mobile phone
Click 'Add device' in the app settings to connect the watch to the app
Iphones must agree to display app notification messages, Android phones must agree to read all message permissions, such as contact information, and agree to the background work of the app in settings.
When done, the watch syncs with your phone without any hassle, automatically adjusts the time and language, weather and updates the smartwatch software if the updates are available.
Messages are clearly visible and easy to read. You can choose if to receive notifications  from many different popular applications, for example, Facebook, Twitter, WhatsApp, Instagram, Skype, Telegram, Viber and many others. However, answering calls is not part of this watch, you can only send quick answers if you want. But I think it's quite acceptable in this price range. Moreover, you can set up an alarm, the device vibrates with the required intensity. And finally, you have the basic function of a photo shooter for remote photo shooting.
When switching to additional options, you can play with many things and adjust everything to your liking. Here's what you can do:
Seek device: this causes your watch to vibrate to locate the device if it is lost

Time format: Switch between 12-hour and 24-hour time format
Unit system: switching between metric and imperial system
DND: Disable Push notifications for a certain period
Reminders: Set reminders to move or drink water
Music control: control music playback from the watch
Battery saving: Activate to put the watch in battery saving mode
Language: set the desired language (Ukrainian available)
Weather: Sync current weather information with Tank M1
Cycle Tracking: Track your menstrual cycle (for women).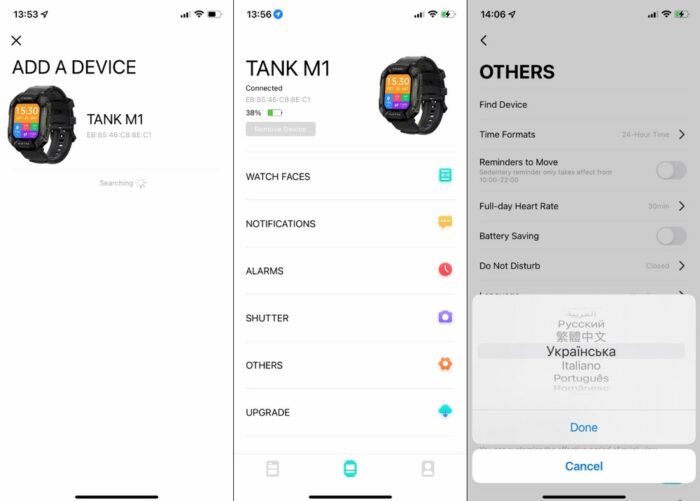 In terms of connectivity, KOSPET Tank M1 uses Bluetooth v5.0, which has coverage, it can reach 10 m if there are several walls between the phone and the smartwatch. Obviously, the device will work without a smartphone connection, but it will not contain any long-term data, and you will not be able to play music, view messages and all the other useful things you can get from a smart watch.
Conclusions
There are many cheap smart watches on the market, but few can match the KOSPET Tank M1 in terms of durability. This watch is designed to serve in the field. It is protected from water by 5 ATM and complies with IP69K and MIL-STD-810G military standards. The manufacturer even claims that it can be run over by a 5-ton truck and it will be fine. Even G-Shock can't do that. This is definitely a specific product with a very specific purpose: if you are looking for a 'combat' watch that can withstand various types of carelessness, then this is the right device for you.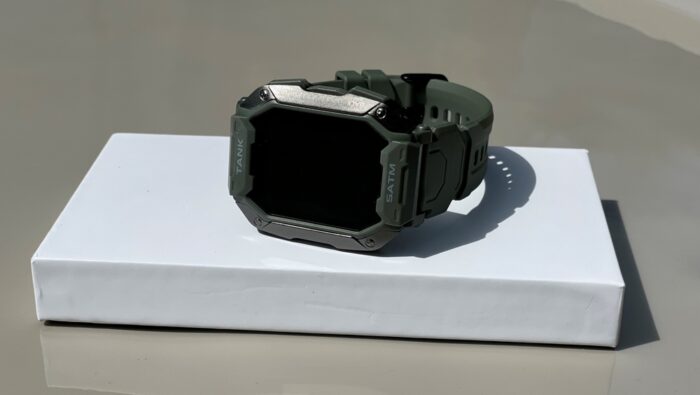 Tank M1 allows you to track sports, heart rate and sleep to give you the idea of your overall health. However, like most smart trackers, the Tank M1's health readings will not be as accurate as specialized devices. The biggest advantages of the Tank M1 are durability, 100% water resistance and long battery life.
The Tank M1 is about sudden blows, dust and water. This is a watch that I can confidently recommend to tourists, construction workers and, most importantly, the military. If you are looking for a watch that can withstand the harsh conditions that go hand in hand with an active lifestyle or work, KOSPET Tank M1 should be at the top of your list.
Manual for smart watch in English.
Where to buy
Read also: Samsung Galaxy Watch4 review: elegant smartwatch running WearOS