You know how it be. Here you are, sitting in your chair, dreaming of a gaming headset. You know, about the one with red backlight, cool positional sound in games, detachable microphones/cables, and even a USB Type-C connector! Preferably inexpensive as well. And then you find out that in faraway China you can find EKSA E900 Pro, the hero of our text today.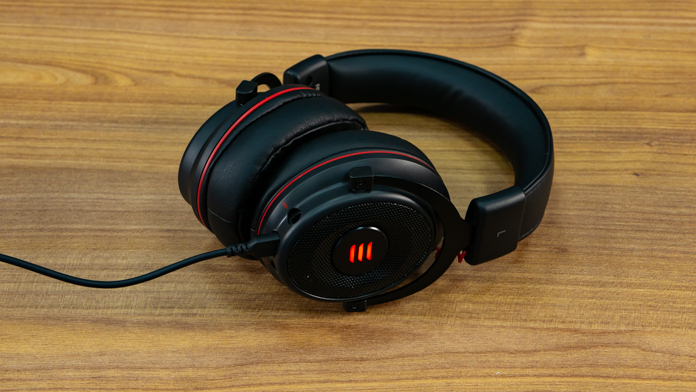 Positioning and price
For a hyper-universal model, EKSA E900 Pro headset costs democratic $50 – if you order it through the manufacturer's official website. Where, incidentally, you'll find the official drivers, which I will discuss later. Prepare to have a hearty laugh in the process.
You think "this is it!", but let's not be hasty, If you are prepared to delve into the depths of AliExpress, you might find the official store there, and there you can buy EKSA E900 Pro 2 times cheaper! It's up to you. Hey, it's even on Amazon, if convenience is what's most important to you.
By the way, on Amazon, this headset is at the top of the sales among gaming headsets for… Mac? That's what happens when the headset is universal and works even with Xbox One and PS4 consoles.
But of course, first read the review to the end, and only then choose whether to buy or not!
Equipment
The box includes, in addition to the gaming accessory itself, a set of cables.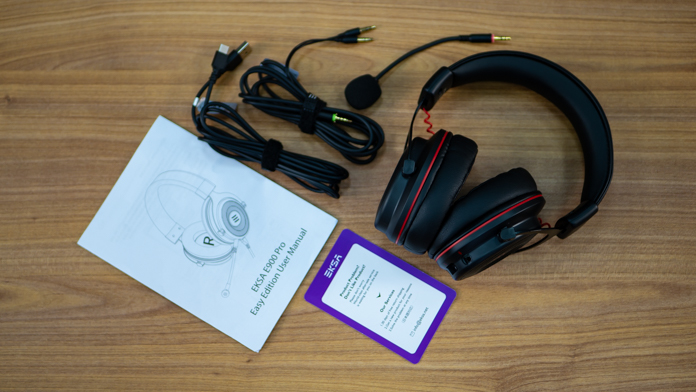 There is a mini-jack, a splitter for audio and microphone channels, as well as a Type-C to Type-A cable, a microphone and a small bag.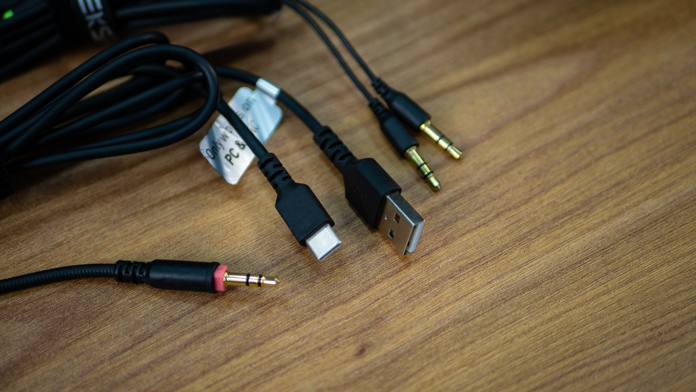 Appearance
Fans of AMD or MSI Gaming X designs, as well as simply black and red aesthetic, will certainly dig the EKSA E900 Pro design.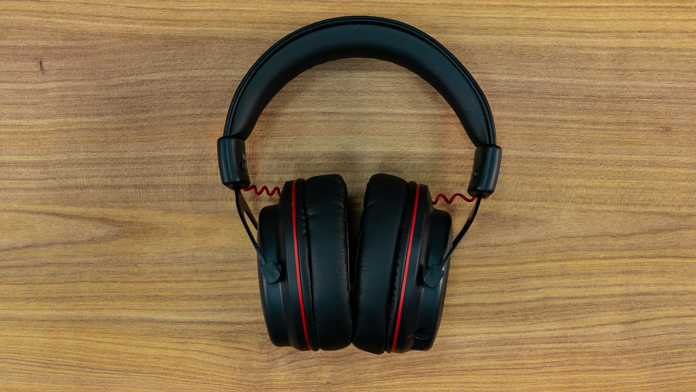 Most of the headset is matte black plastic, without glossy inserts. Only the stripes bordering the area below the ear pads are red – and the curled cables connecting the headphones.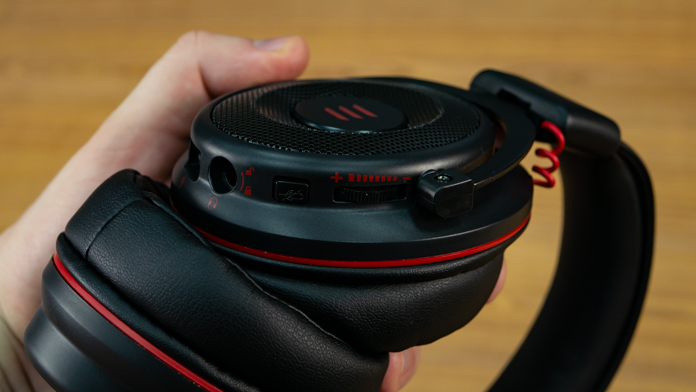 The headband holders are all-metal and very sturdy. On the back of the headphones we have a small metal mesh, exclusively decorative. Like the three strips on the central element.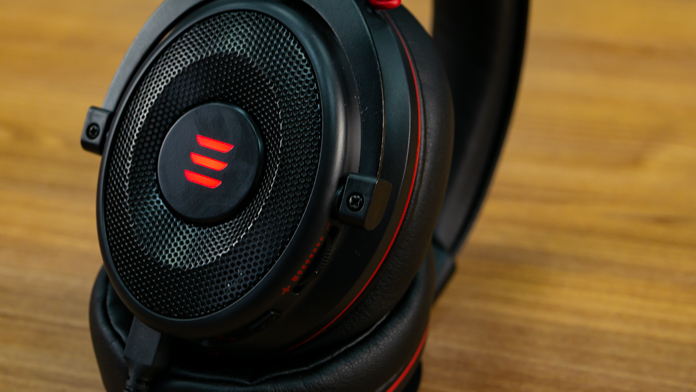 The ear pads are soft, made from recycled leather, as well as the headband cushion.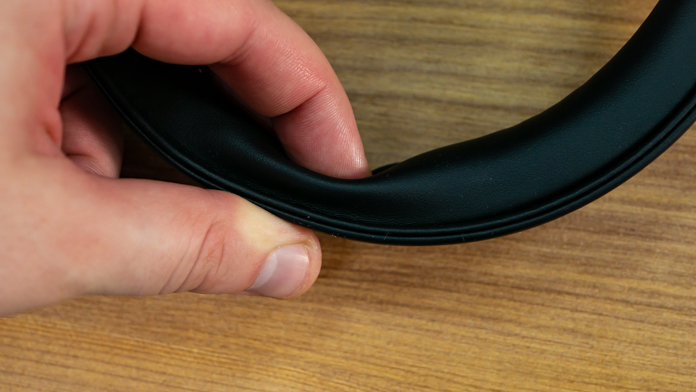 Connectors
I would also like to praise the cables, even if they are pretty ordinary. But the main 3.5 mm cable  is very interesting due to the "latch" on one of the ends, which is inserted into the housing and rotated inside, fixing the cable as reliably as possible.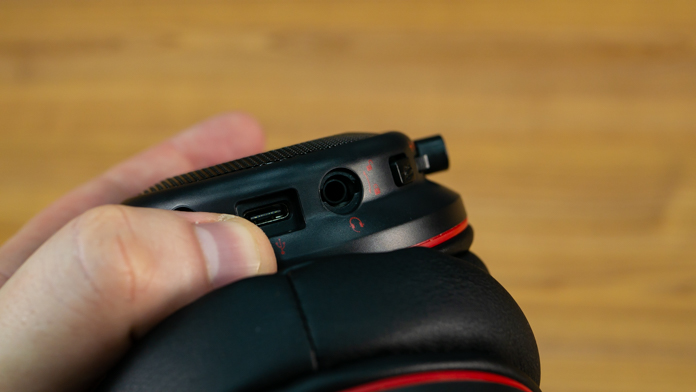 Next to the connector are the Type-C port, a microphone input with a rectangular profile, as well as a microphone mute button and a volume wheel.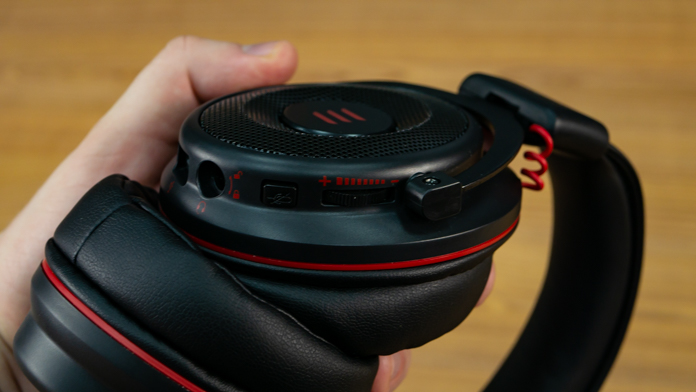 Specifications
The main pride of the headset are 50 mm speakers with 7.1-channel premium quality sound without the need for additional software. E900 Pro was made for gaming. Sensitivity is 118 dB + -3 dB. Impedance id 32 ohms. The frequency range is from 20 to 20,000 Hz.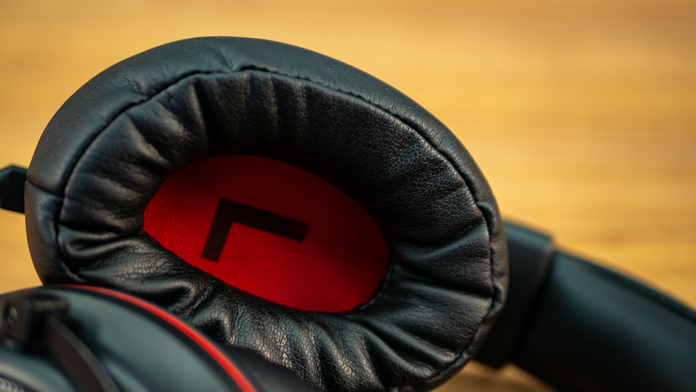 You also get a microphone with noise cancelling, and excellent – it completely silenced the fan that's located three meters from me. And it's good for podcasts as well. The microphone sensitivity is 42 dB (+ -3 dB), the impedance is 2.2 kOhm. After registering the product you get 24 months warranty!
Software
It's a pity that the proprietary software leaves much to be desired. For example, you will find it… on Google Drive, not on the server of the official site. Although the links to drivers and software are located on the brand's website. Secondly, there is an error in the file name.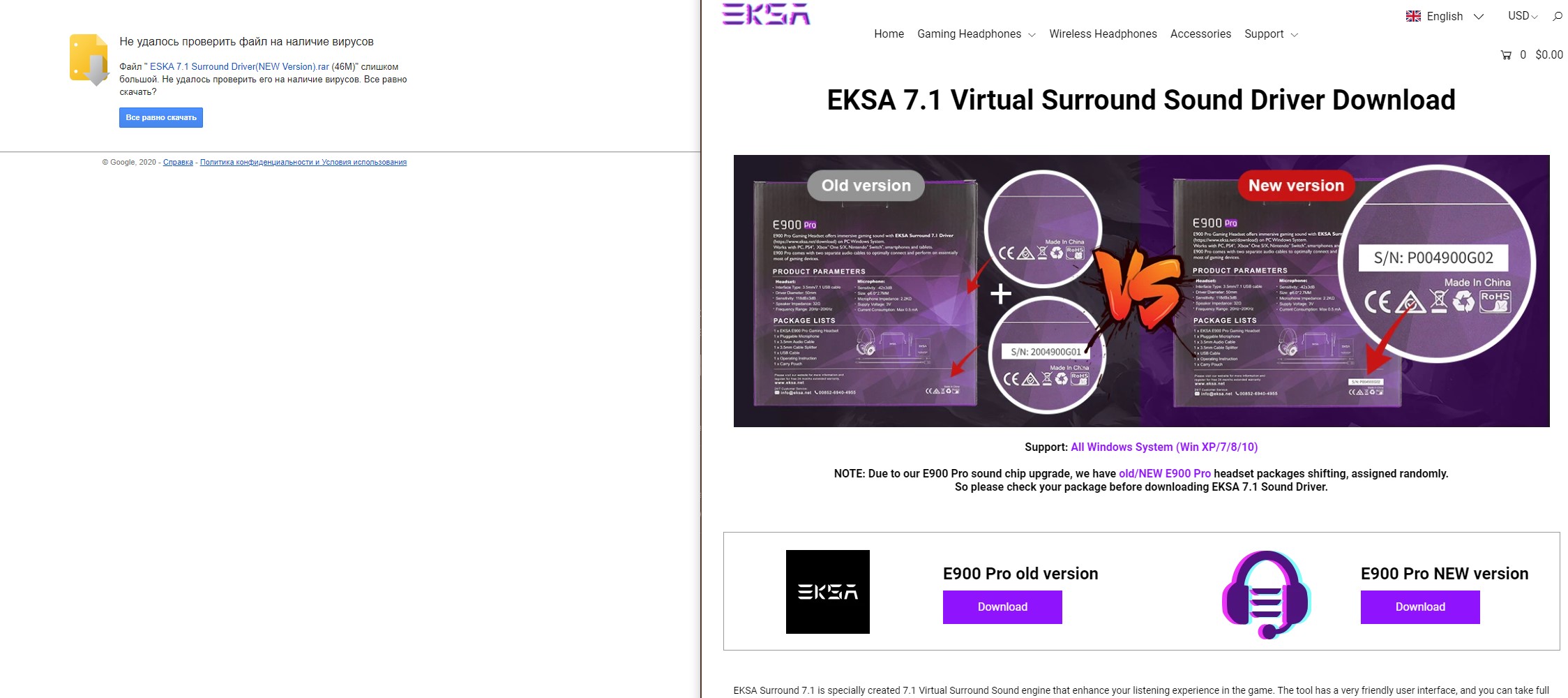 Well, at least there are no viruses.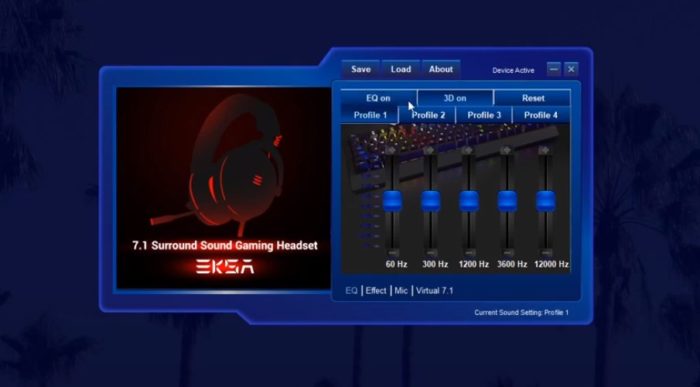 The program is responsible for changing the equalizer, and it has the ability to save several profiles. In general it is very useful. You also can install it only when E900 Pro is connected via USB. That, as we will find out further, is not optimal. If there are any problems during installation, use the video below:
Experience using EKSA E900 Pro
As a headset, EKSA E900 Pro is very, very good, like I said. It is relatively easy to communicate with friends via the voice chat, and noise will not be a hindrance to you at all. In games, everything is also excellent, 360-degree positional sound is present, and I could easily determine the position of enemies.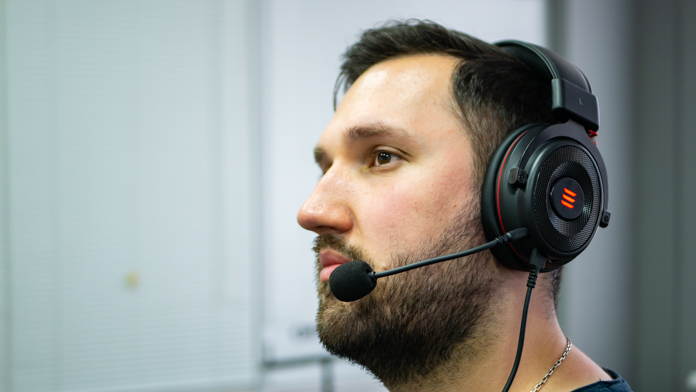 I tested the headset on Cuisine Royale, along with an excellent HyperX Pulsefire Raid gaming mouse. And with such a setup, I easily took first place several times in a row. And, most surprisingly, my ears didn't sweat much during long rounds even in the 30-degree heat.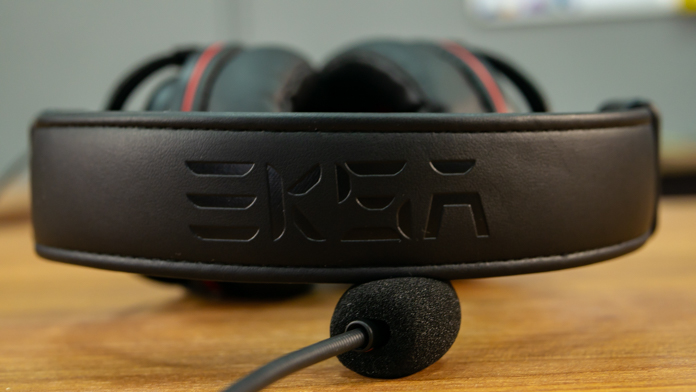 This fact pleased me very much, since all the previous headsets, with the exception of Logitech G630, made me sweat like crazy, and in the summer I could only use vacuum models before that.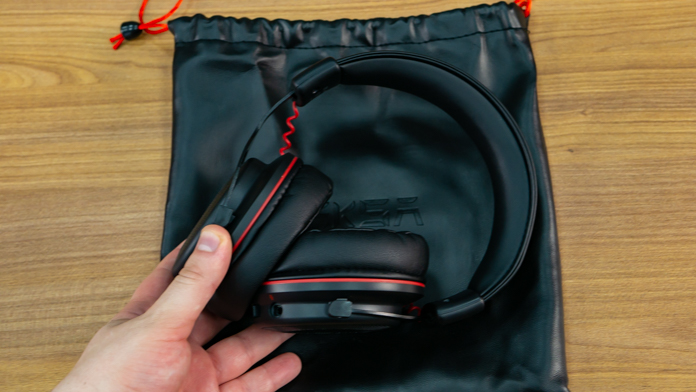 Now, about the music. Obviously, this is not critical for a gaming headset, and the tasks are slightly different. With the reproduction of frequencies E900 Pro copes… with certain issues. The sound is dull, dry and there is not much bass. The vocals have little clarity, there is no expressive surround scene.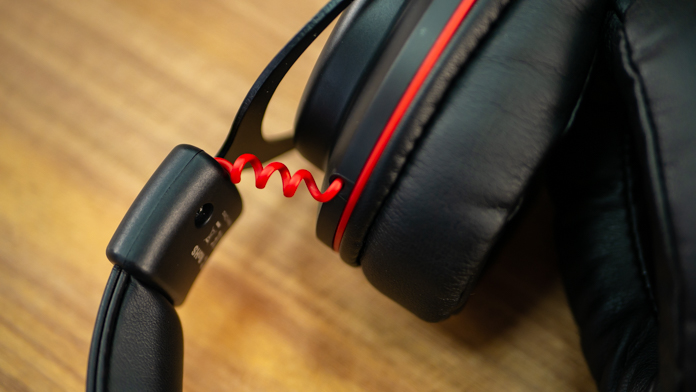 This became obvious if you connect the headset without a sound card, directly to a computer or a smartphone. Through my Orico SC1, the sound is a little better, and even noticeable bass appears. Unfortunately, this is possible only when connected through 3.5 mm… But the backlight in this mode does not work. Type-C only.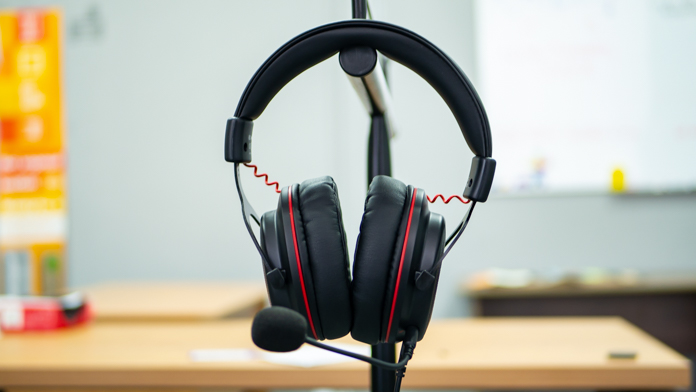 Also, if you connect simultaneously via the first and second cable, the headset will not work. You can experiment with connection settings, but even in this case, instead of one cable, we get two, and of different lengths.
EKSA E900 Pro Verdict
This is a very, very good gaming headset, but if you expect to listen to music, you will be disappointed. But if you plan on gaming, even in the heat, and if you need a Type-C connection, noise isolation and red backlight, then EKSA E900 Pro is for you. And if you want RGB backlighting, then choose E1000.
Where to buy EKSA E900 Pro
Subscribe to our accounts: