When you embark on a new journey, your usual SIM card turns into useless junk. While you're roaming, the usual conveniences like the internet tend to cost a lot, but this problem finally has a solution.
Sure, you can buy local SIM, but that's only logical if you're staying for a long period of time. If you travel a lot, that's hardly an option. Sure, there are travel SIMs as well, but those are not flawless either. You'd have to remove your SIM card and replace it or use a phone with two slots for SIM. Not a very convenient solution for many of us.
What is Flexiroam X?
Guys and gals from Flexiroam decided to end all our problems with the special chip that you attach to your SIM. That way you double the number of your SIMs without replacing anything.
Download Flexiroam X Mobile App from App Store or Play Market and change between your SIM and Flexiroam X at any time. No need to eject SIM every time you go somewhere.
When Flexiroam X is activated, your usual SIM won't work.
Tariffs for each country, which are available at the moment, are listed on the Flexiroam website. More than 100 countries are available, but the company is adding even more all the time. Also there are global tariffs which will work in more than 130 countries.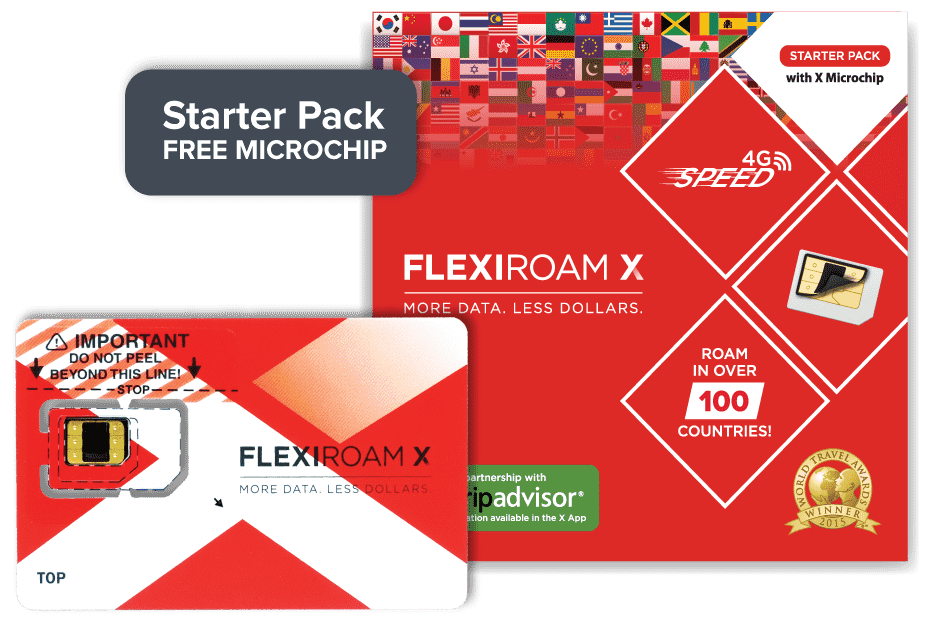 In my start-up package, 100 MB of the global Internet is available for use in many countries. Of course this is a nice bonus, however, this amount of traffic is enough only for checking mail, exchanging texts in messengers and using browser for a little bit. In other words, it's not much, but will do for emergencies. To get more traffic, you need to purchase special package that works in the selected country or a package that works almost everywhere; that way you can use the Internet almost anywhere in the world.
Initially, I wanted to make some kind of comparison with other operators, but I realized that prices are constantly changing, so I recommend you check the roaming prices of your carrier and compare them with the prices on the Flexiroam website.
How to activate it
If you have already done everything described above, namely: purchased a chip, glued it to your SIM card and installed the FLEXIROAM X MOBILE APP application on your smartphone, then you can proceed with setting up this wonderful gizmo.
First of all go to the application and on the main screen at the bottom click on the "Status" tab, and there we press "Switch to Flexiroam X". In the new menu select "FLEXIROAM X-KIT", and then "Switch SIM", where we select our chip and reboot the smartphone.
The next thing we need to do is go to smartphone settings, the "mobile networks" section, turn on Internet roaming, and then enter flexiroam in the line in front of the name in the APN settings, and again enter flexiroam next to APN. That's all for now.
All of this is for an Android device. You can also download applications and watch tutorial videos for both Android and iOS.
Flexiroam X forAndroid:
Flexiroam X for iOS:
After everything is done, open the application and update the start page. If you see a notification that you are connected, then you can use the Internet, if you have available megabytes.
The Flexiroam X is very simple. The chip automatically connects to the local carrier, which provides the best connection and the highest speed at your location. Preference is given to 4G and 3G networks. If you are in a remote area with a bad cellular connection, then expect only 2G-connection.
Verdict
Flexiroam X is a neat contraption. With it, you don't have to buy Travelsim or acquire local SIM. No more disposable cards, no more inconvenience. One SIM becomes two. Overall, a neat way to travel more comfortably – just attach the chip to your SIM and select the most affordable options of connecting to the internet. This very easy and convenient.
In terms of prices everything depends on local carrier. You can look at figures on the official website or in FLEXIROAM X MOBILE APP.