The Ukrainian Armed Forces are getting the French Caesar SPH. Today everything is about them. Modern hostilities require modern armaments. One of these weapons is a self-propelled howitzer, or SPH for short. I'm sure many of you have seen this abbreviation, but did not fully understand what it is. Let's first understand what this type of military equipment is.
Read also: Weapons of Ukrainian Victory: Review of Starstreak MPADS
What is a self-propelled howitzer?
Self-propelled howitzers are self-propelled artillery systems on a wheeled or tracked base. They have a high degree of mobility, and this is their main advantage over towed howitzers. Such artillery systems are used as combat support. They usually fire on targets outside the line of sight. However, if necessary, they can also fire at point-blank range. Self-propelled artillery units have been around for a long time. They are constantly improving and evolving. These armored systems can not only protect the crew from fire, but also inflict an artillery strike on the enemy no less powerful than standard stationary howitzers.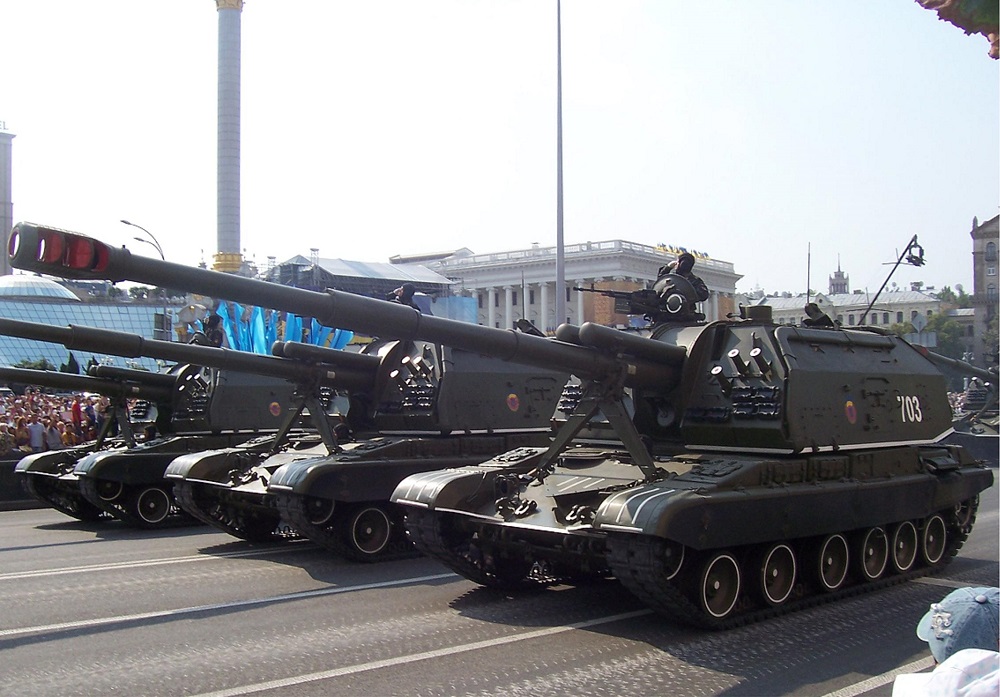 Ukraine will soon receive French modern self-propelled howitzers Caesar. Let's take a closer look at them.
Read also: Russian chemical weapons: Threats and possible consequences
155 mm Caesar artillery system
The Caesar artillery system is a 155 mm self-propelled howitzer developed by Nexter Systems in collaboration with Lohr Industrie in Hangenbieten, France.
The first five artillery systems were ordered by the French army and delivered in June 2003 for technical and operational evaluation. In December 2004, Giat was awarded a contract for 72 Caesar SPH to equip eight French Army ground artillery batteries to replace TRF1 towed howitzers.
Caesar entered production in June 2006. The first vehicle was delivered to the French army in April 2007 for long-term testing.
The first Caesar serial system was delivered to the French army in July 2008. By the end of 2008, seven more such artillery systems of this type had been delivered.
The Caesar was the first truck-based howitzer to be mass-produced. This unusual concept of installing a powerful howitzer on the chassis of a military truck eventually proved successful. Other countries have followed this trend by introducing their own artillery systems installed on trucks.
Design and features of Caesar
The Caesar 6 × 6 artillery system was developed on the basis of the earlier 155 AM F3 gun, which was based on the chassis of the AMX-13 light tank.
Caesar SPH is equipped with all the systems necessary for independent work, a cabin to protect a crew of six from shrapnel and small arms, an initial stockpile of 16 shells, as well as devices for navigation, aiming, ballistic calculations and command. The system was specifically designed to provide fire support for rapid deployment forces.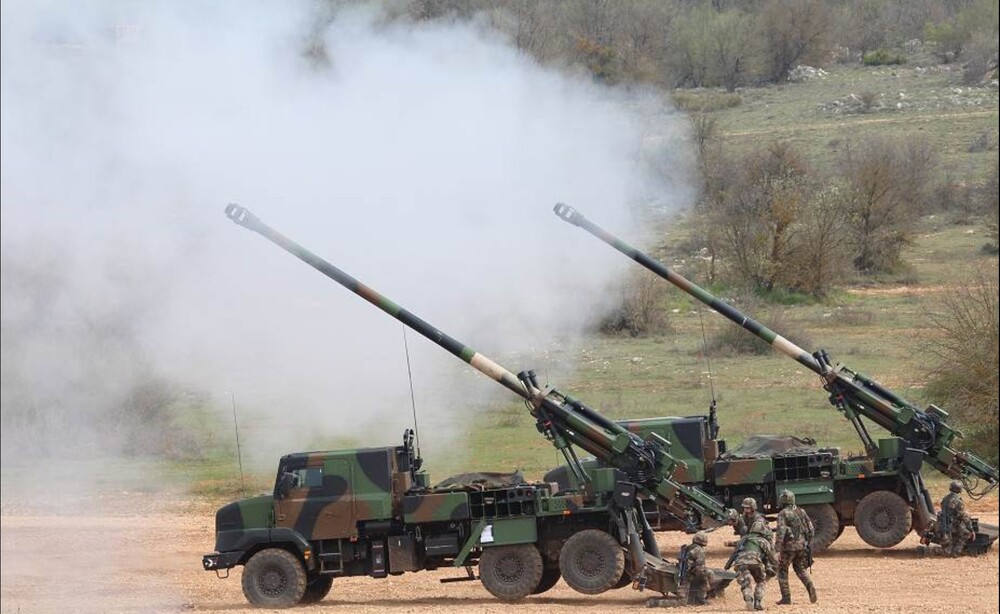 The Caesar 6×6 artillery system has a combat weight of less than 18 tons. Dimensions – length 10 m, height 3.7 m and width 2.55 m. The system can be operated by 4-5 people.
The combat weight of the updated Caesar 8 × 8 system is 32 tons. This howitzer system is 12.3 m long, 3.1 m high and 2.8 m wide. This system requires a crew of five.
Read also: All about the General Atomics MQ-9 Reaper
Armament of Caesar SPH
The French self-propelled artillery is equipped with a 155-mm barrel 52 calibers long and can support a rate of fire of six to eight shots per minute in long-range fire, or three shots in 15 seconds in high-speed fire. It has a computerized FAST-Hit fire control system, developed jointly by Nexter and EADS Defense Electronics, and the Intertechnique ROB4 radar system.
The ammunition compartment received an automatic hydraulic projectile stacking system, and the loading system is semi-automatic.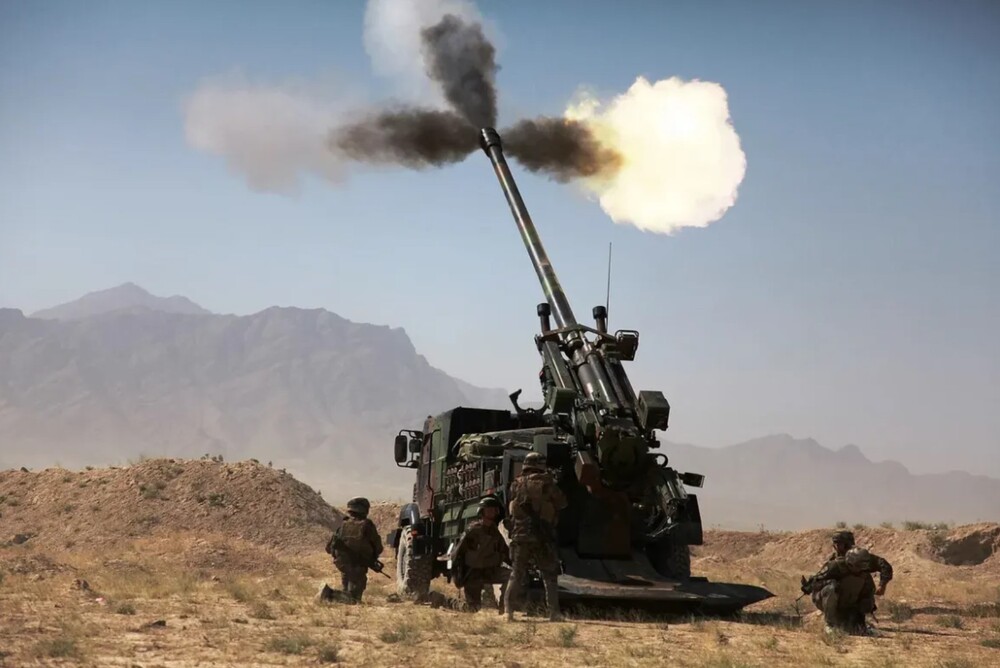 The first projectile is automatically delivered to the barrel and can be fired in less than a minute. The configuration of the weapon system and the presence of hydraulic drives make it possible to fire in about 30 seconds after the first shot.
The updated system of eight Caesar self-propelled artillery vehicles can fire more than 1 ton of shells, 1,500 bombs or 48 smart anti-tank munitions in less than 40 minutes in less than a minute.
Read also: Silent killers of modern warfare: most dangerous military UAVs
Ammunition
Caesar is capable of using NATO's entire 155-caliber ammunition arsenal and allows it to fire against protected and unprotected targets, create barriers to block enemy armored forces, passes in minefields and barricades, and obscure or illuminate areas. The self-propelled unit can fire conventional high-explosive fragmentation or new generation projectiles that provide increased accuracy and ultimate efficiency.
The Ogre projectile, which is mass-produced for the French army, is an anti-tank and fragmentation projectile designed for use against relatively vulnerable areas, such as command posts, artillery batteries, light armored vehicles or logistics facilities. The Ogre ammunition consists of 63 bombs, each equipped with a self-destruct mechanism. Bombs can pierce armor over 90 mm. A volley of six Ogre shells fires 378 bombs, which could cover an area of 3 hectares at a distance of 35 km.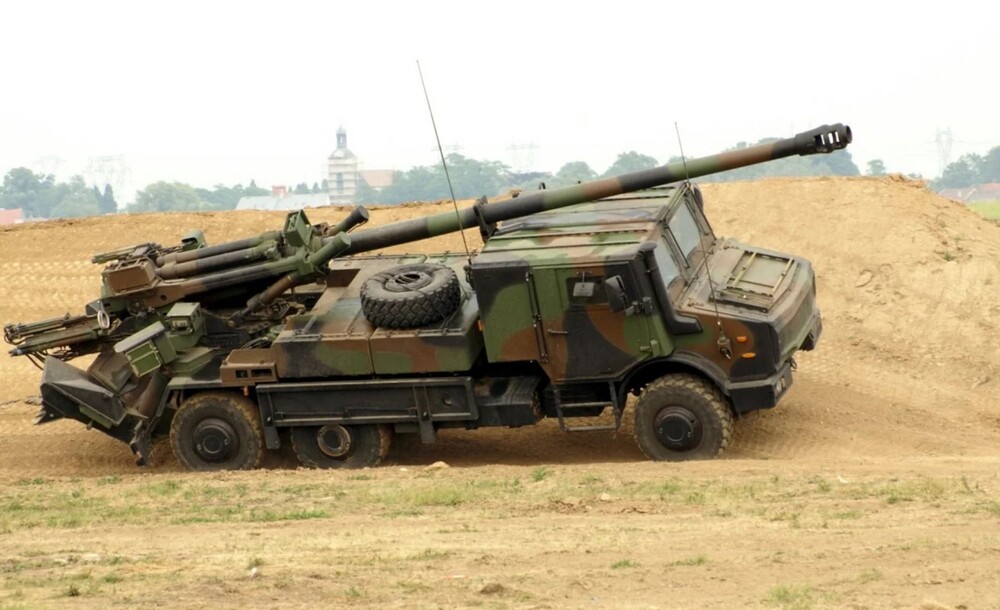 Guided projectiles with smart submunitions can be launched against tanks and other types of medium and heavy armored vehicles. They are developed by Nexter Ammunition and Intertechnique from France and Bofors from Sweden.
The guided projectile carries two smart anti-tank submunitions at a distance of up to 34 km. The projectile flight profile from the top allows you to direct the warhead of an explosive penetrator on the roof of the tank, which is usually more vulnerable than much better protected sides and front. Base shells provide an increased firing range by filling the vacuum and reducing the turbulence behind the projectile without losing accuracy. The maximum range of projectiles with an extended range full-barrel base (ERFB-BB) is up to 42 km.
Read also: Switchblade: American kamikaze drones to protect Ukraine
Fire control system
The self-propelled howitzer of  the French army is integrated with the  Thales Land and Joint Systems Atlas C4I (command, control, communication and intelligence) artillery system. The system provides on-board terminals to communicate and control the firing sequence in real time, including sending requests for fire support and transmitting firing orders according to the type of target, type of ammunition and availability of a gun.
The Caesar weapon system has autonomous capabilities thanks to an inertial navigation system and a ballistic computer.
The  onboard SAGEM Sigma 30 navigation system and the Global Positioning System (GPS) eliminates the need for topographic groups and goniometers.
Read also: 'Neptunes' knocked out 'Moskva' cruiser: All about these anti-ship cruise missiles
Chassis and specifications of 155 mm Caesar artillery system
The prototypes of Caesar used a Daimler-Benz Unimog 6×6 series chassis ordered by Saudi Arabia. The systems produced for France and Thailand are installed on Renault Trucks Defense Sherpa 5 6×6. Sherpa 5 has a capacity of 5 tons.
The Caesar 8×8 howitzers of the Danish Armed Forces are mounted on the four-axle chassis of a Tatra Force truck. The system uses a Tatra Trucks transmission in its basic configuration. All-wheel drive chassis is equipped with air suspension on all axles.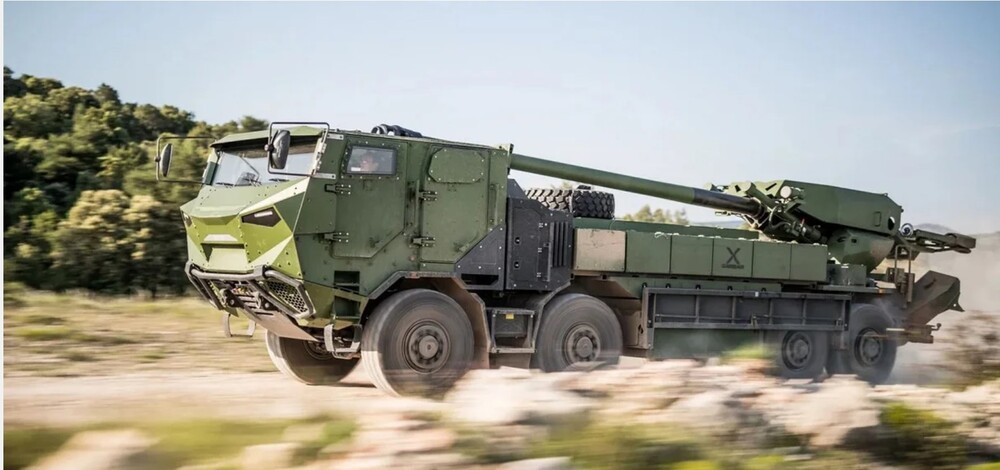 Caesar has a range of 600 km without additional refueling and a top speed of 100 km/h. The centralized system of distribution of pressure on soil gives the maximum speed of 50 km/h on soft terrain. The system has a six-cylinder diesel engine that develops 240 hp and a power-to-weight ratio of 13.6 hp/t.
Ceasar can be transported in the cargo hold of the C-130 Hercules aircraft. It can also be transported on A-400, IL-76 and C-17 aircraft.
Read also: Weapons of Ukrainian victory: The military praise the Piorun MPADS
Живучість артилерійської системи Caesar
Interestingly, the Ceasar ACS can make 6 shots at once and fire for 2 minutes, ensuring increased survivability. The protected cab can also be covered with an additional set of armor up to 2 level of protection STANAG 4569.
Specifications of CAESAR
Weight: 17.7 t (6×6), 28.7-30.2 t (8×8)
Довжина: 10 m (6×6), 12.3 m (8×8)
Ширина: 2.55 m (6×6), 2.8 m (8×8)
Висота: 3.7 m (6×6), 3.1 m (8×8)
Crew: 5-6 people
Caliber: 155 mm
Barrel length: 52 calibers
Firing range: 42 km (basic shells), 50 km (with rocket drive)
Top speed: 100 km/h (on road), 50 km/h (off road)
A very interesting and modern system of  Caesar SPH will certainly help our Armed Forces in the fight against the occupants, it will allow even more effective destruction of manpower and armored vehicles of the invaders. And this will bring our Victory closer. Burn the orcs in hell! Everything will be Ukraine! Glory to Ukraine! Death to enemies! Ukraine above all!
You can also help Ukraine fight with Russian occupants via Savelife or via an official page of the National Bank of Ukraine.
Read also: Weapons of Ukrainian victory: ATGM Stugna-P – Russian tanks are in trouble