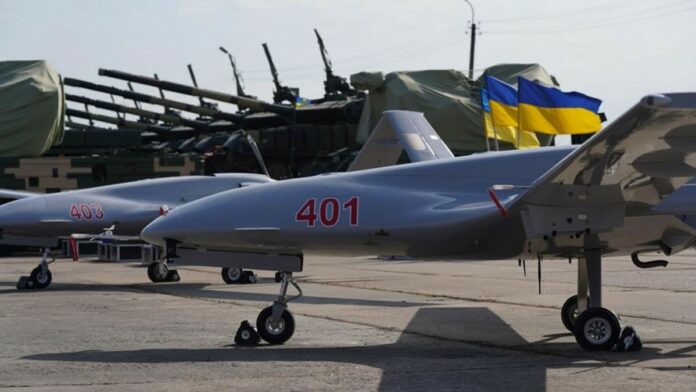 The war in Ukraine has proven that modern drones have a significant impact on the course of hostilities. It seems that their importance on the modern battlefield will continue to grow. Today we will talk about the most dangerous military UAVs in the world. An unmanned aerial vehicle, or UAV, is a combat drone that is capable of carrying aircraft munitions, such as missiles, anti-tank guided missiles and bombs, and is used for reconnaissance, target detection and tracking. These drones are usually controlled in real time, but they can also operate with varying degrees of autonomy.
Many countries use one or more types of unmanned aerial vehicles for surveillance and communications, and some even have combat drones. UAVs can now perform most air combat operations, utilizing air-to-ground missiles, laser-guided bombs, or even experimental air-to-air systems. Such capabilities of drones raise the question of how long manned military aircraft will last before becoming history.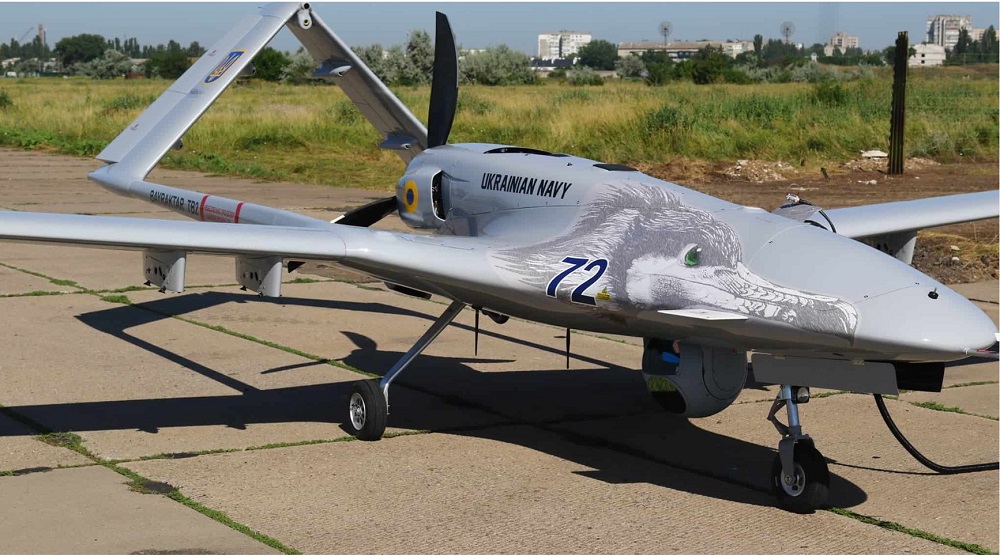 In recent years, the world's largest armies have put more and more emphasis on unmanned combat vehicles, which are gradually becoming the most dangerous and effective weapons on the modern battlefield.
In this article, we will focus only on the most powerful combat drones that are already in the service of the military, or are still being developed. Of course, the Ukrainian Armed Forces so far can only dream of such powerful combat drones, but dreams tend to come true. So, let's get started.
Baykar Bayraktar TB2
Of course, I want to start my story with a hero that is already known not only all over Ukraine, but also the whole world. As you might have guessed, this is Baykar Bayraktar TB2. This Turkish-made drone has proven itself in the war with the orcs, it has already destroyed a lot of equipment of the invaders. It is even said to have played an important role in the glorious sinking of the 'Moskva' cruiser.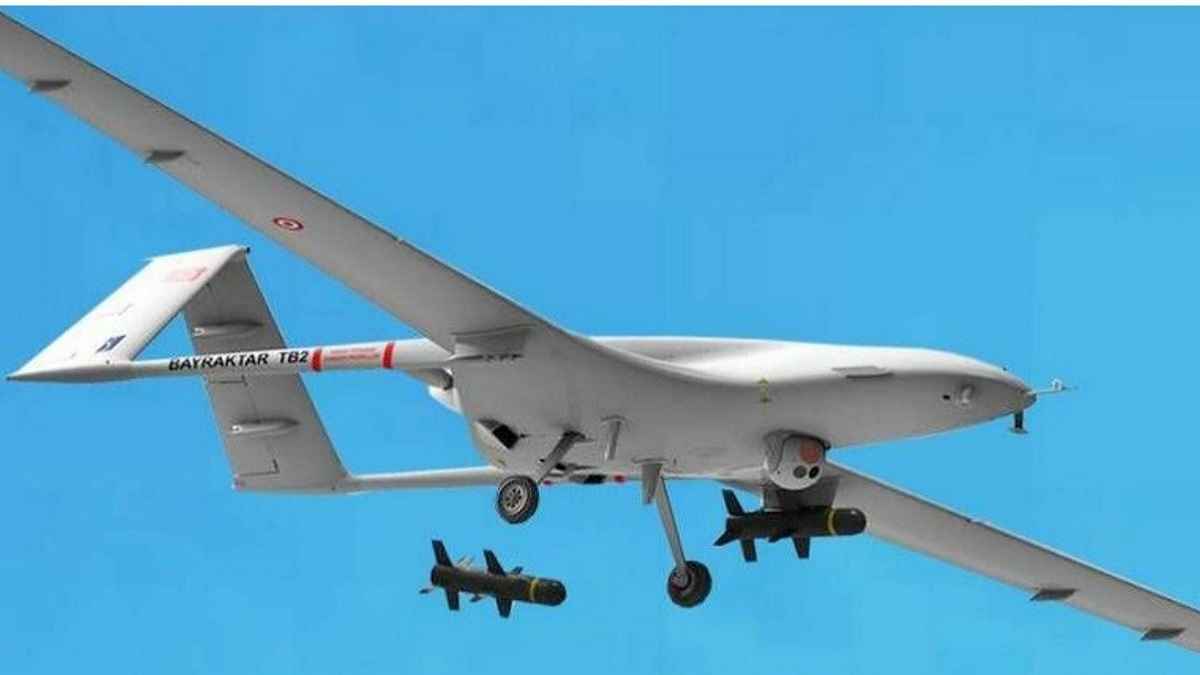 The Bayraktar TB2 is considered a MALE-class unmanned aerial vehicle capable of performing Intelligence, Surveillance and Reconnaissance (ISR) and combat missions with use of guided weapons. The Bayraktar tactical UAV was developed by a joint venture between Baykar Makina and Kale Group. This drone is a perfect system for reconnaissance missions and combat operations.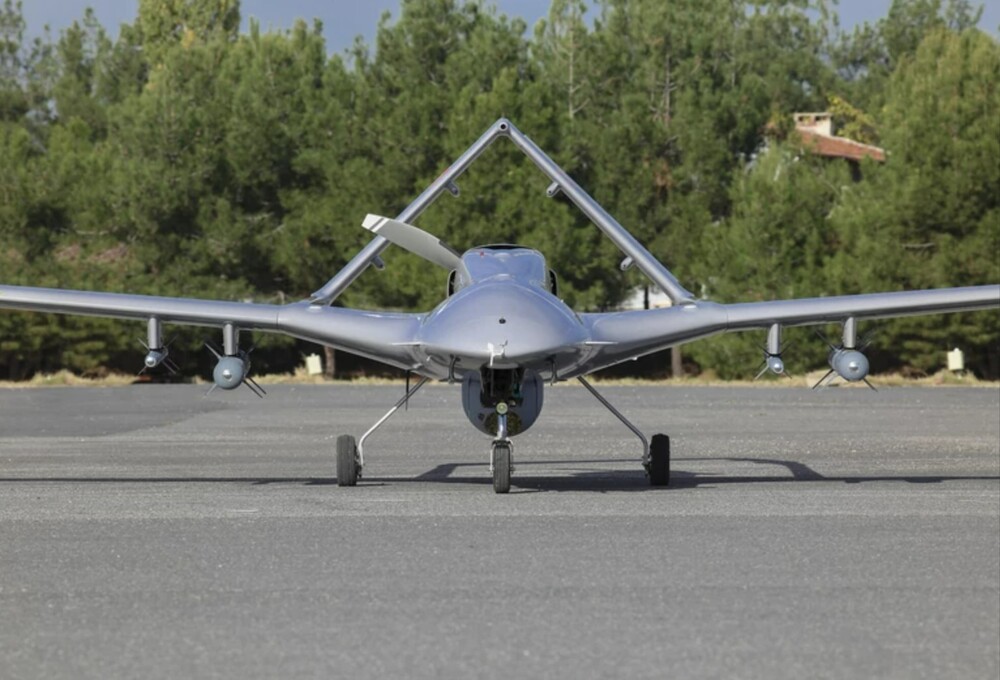 Bayraktar TB2 has a monocoque design integrated with an inverted V-shaped design. The fuselage is made of carbon fiber, Kevlar and hybrid composites, while the connecting segments are made of aluminum parts. The engine is located between the tail beams.
Each Bayraktar TB2 system consists of six aircraft, two ground control stations (GCS), three ground data terminals (GDT), two remote video terminals (RVT) and ground support equipment.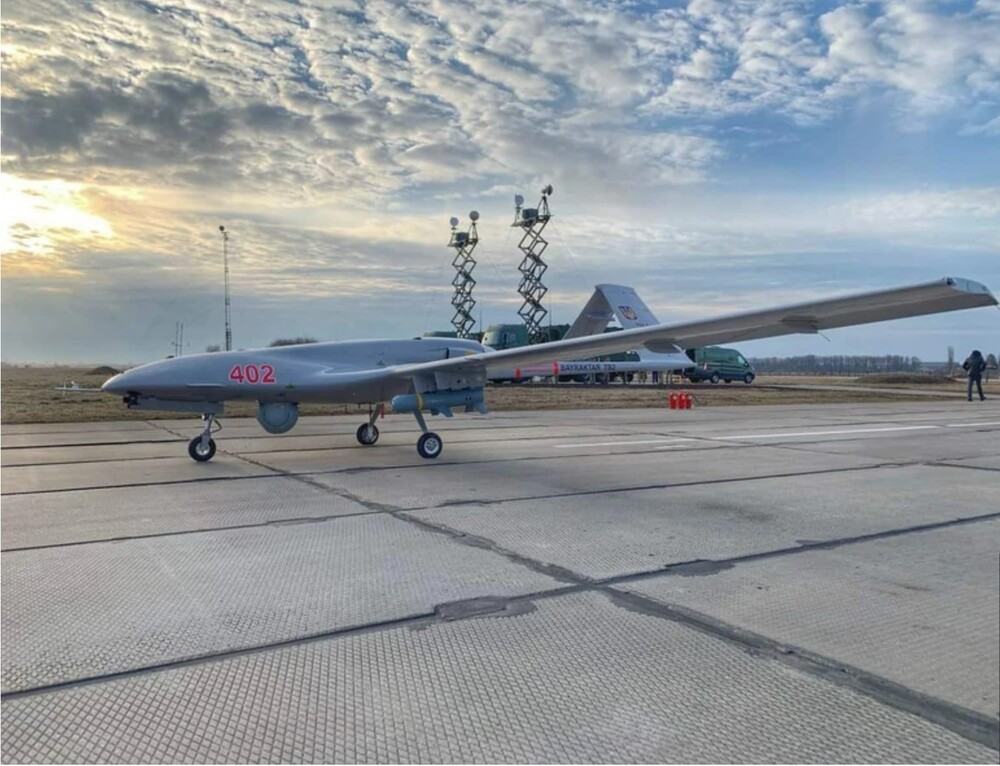 The drone has a length of 6.5 m, a wingspan of 12 m and a maximum takeoff weight of 650 kg. It is capable of carrying a load of 150 kg and working both day and night.
Ukrainian Bayraktar in the morning sank 2 Russian patrol boats "Raptor" of the Black Sea Fleet. It happened near the famous Zmeinyi island.#BayraktarTB2#Ukraine️ #UkraineRussianWar #UkrainianArmy pic.twitter.com/sxrmTTdtFY

— Root Nation EN (@RootNationEN) May 2, 2022
If you are interested in learning more about this legendary drone, we have a detailed review of it.
Read also: Invasion of Ukraine: Bayraktar TB2 strike UAV review
General Atomics MQ-1 Predator
This is the first real killer drone. It was developed in 1994 by the American  corporation General Atomics. Its creation was the beginning of a real revolution in the world of combat drones. The ability to carry out remote attacks, which saves the lives of personnel, rapid and 'anonymous' destruction of targets, of course, was appreciated the US military, who first used Predator to destroy Taliban firing emplacements in Afghanistan. After 2002, these drones had also been used against convoys and soldiers from Iraq, Yemen, Somalia and Pakistan. The drone is in service not only in the US Army, but also in the Italian, British and Pakistani armies.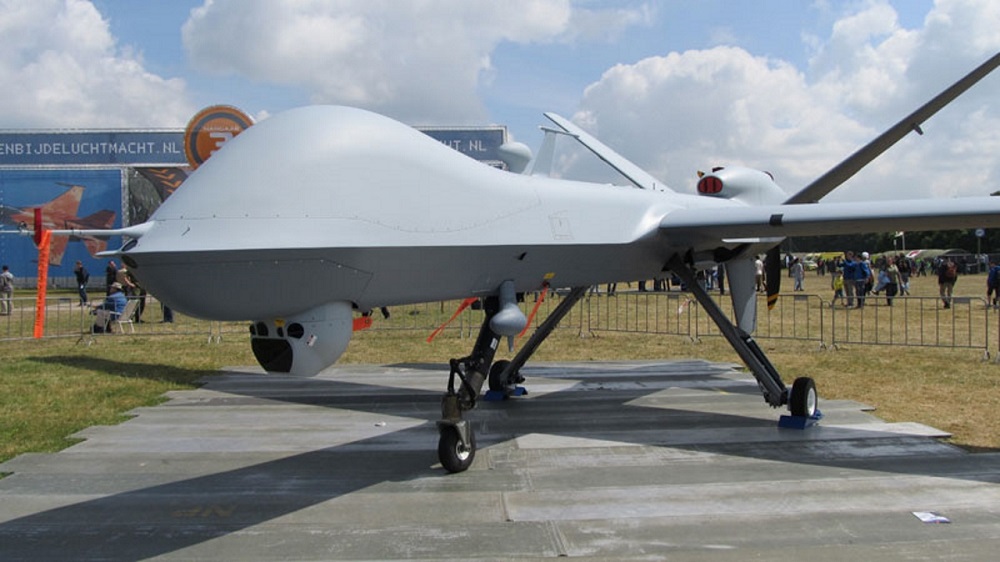 A typical Predator configuration includes four aircraft, one ground-based control system, and one Trojan Spirit II data distribution terminal. The Predator is 8.2 m (27 ft) long and 14.9 m (49 ft) wide. The system operates at an altitude of 7620 m (25,000 feet) and at a range of 740.8 km.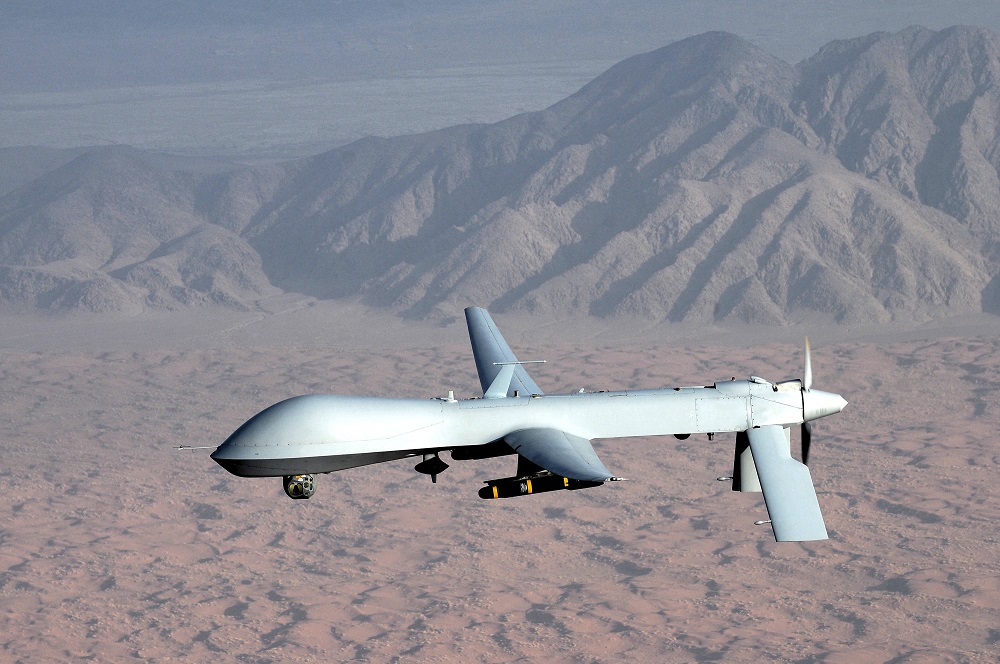 The Predator can be in the air for more than 40 hours and has a cruising speed of more than 129.6 km/h. The drone is equipped with UHF and VHF radio relay lines, the C-band direct line of sight, which has a range of 277.8 km, as well as UHF satellite data channels and Ku-bands.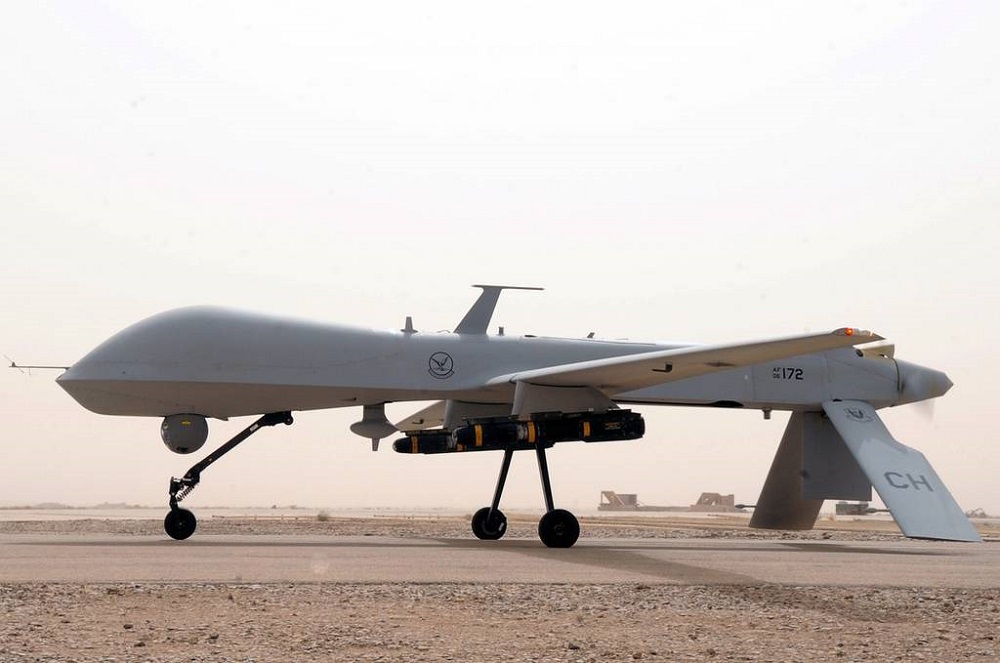 The multi-purpose long-range MQ-1 Predator UAV is armed with AGM-114 Hellfire missiles.
Read also: Switchblade: American kamikaze drones to protect Ukraine
General Atomics MQ-9 Reaper
The improved Predator model was named the MQ-9 Reaper, and quickly proved its name. It was first used in 2007 in Afghanistan, destroying a rebel car. A month after this event, the MQ-9 Reaper already had several dozen units of destroyed equipment, and when it began to be used not only by the Americans, but also by the British, Italians and French, this number increased significantly. The drone is very often used in reconnaissance missions, but it carries almost 1.5 tons of weapons not by chance.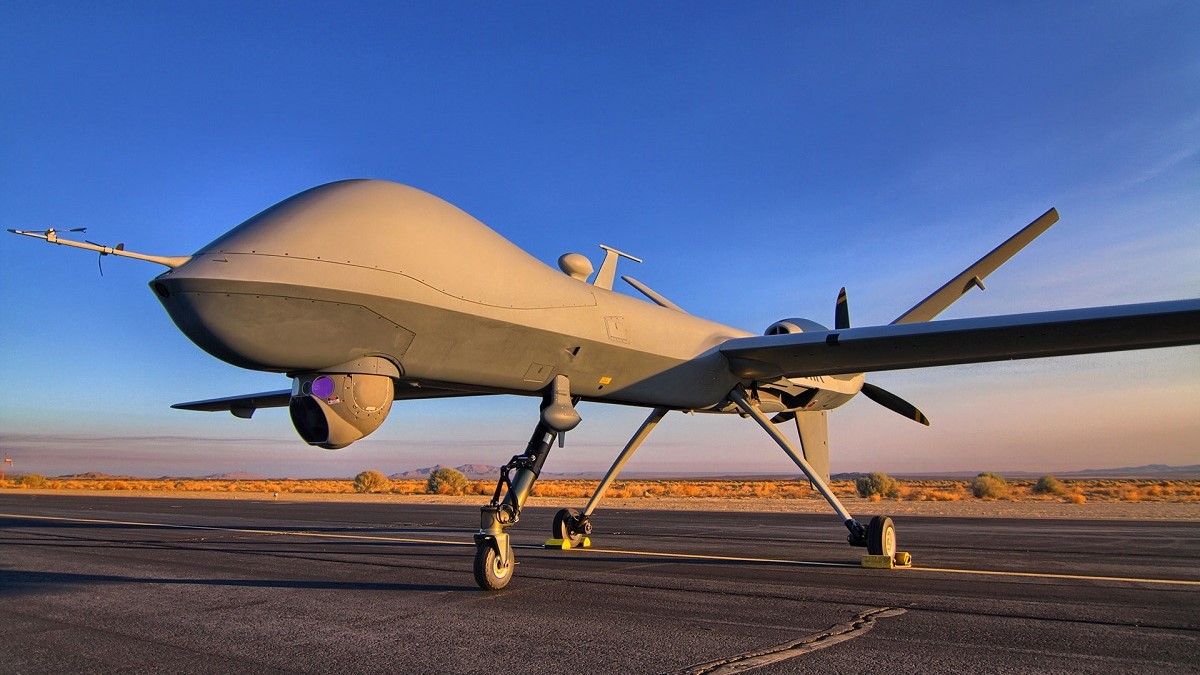 Although it is not the most technologically advanced drone by modern standards, it is one of the most powerful and widespread in the world. With many updates, millions of hours of operation, the Reaper has become a billboard for modern drone warfare.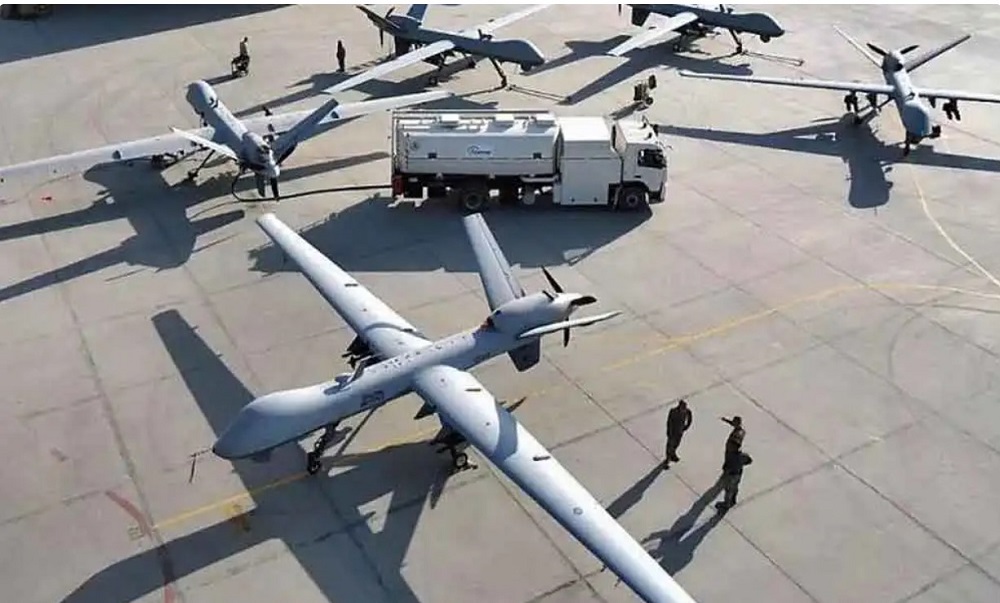 We wrote in great detail about the General Atomics MQ-9 Reaper in a separate review, so I will not discuss it here for long.
Read also: All about the General Atomics MQ-9 Reaper
IAI Eitan (Heron TP)
This drone, developed in Israel, is one of the most 'classified', despite the fact that it first took up to the air in 2004. It was created by Israel Aerospace Industries (a division of Malat) and is an updated version of IAI Heron. Yes, it first became known in 2004, but only in 2006 did the developers announce that the drone would soon make its first flight. And only at the end of 2007 it was finally presented to the general public.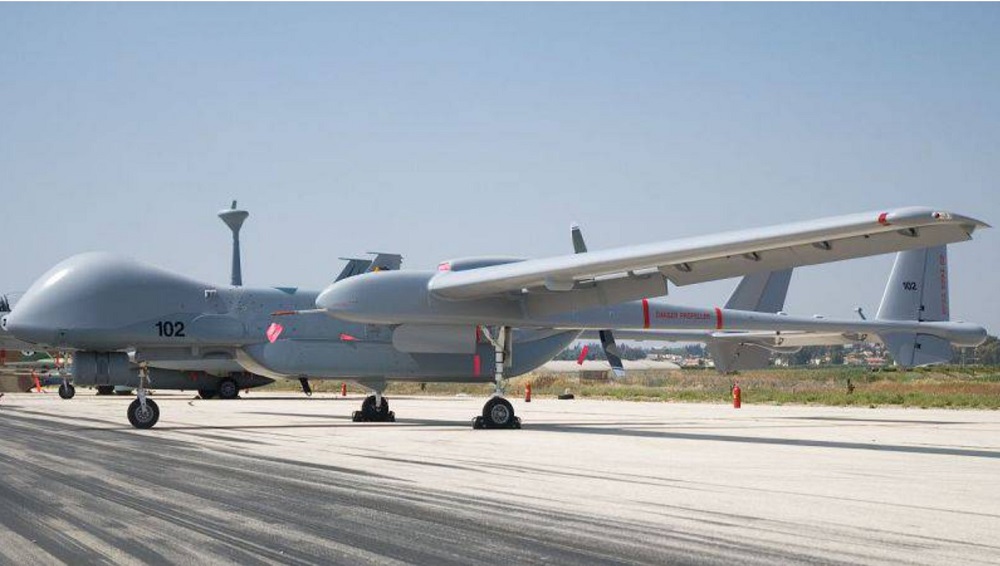 IAI Eitan can be used for surveillance, target detection or reconnaissance, and is capable of performing combat tasks such as missile defense and long-range strategic strikes. In addition, the drone is equipped with a mid-air refueling system.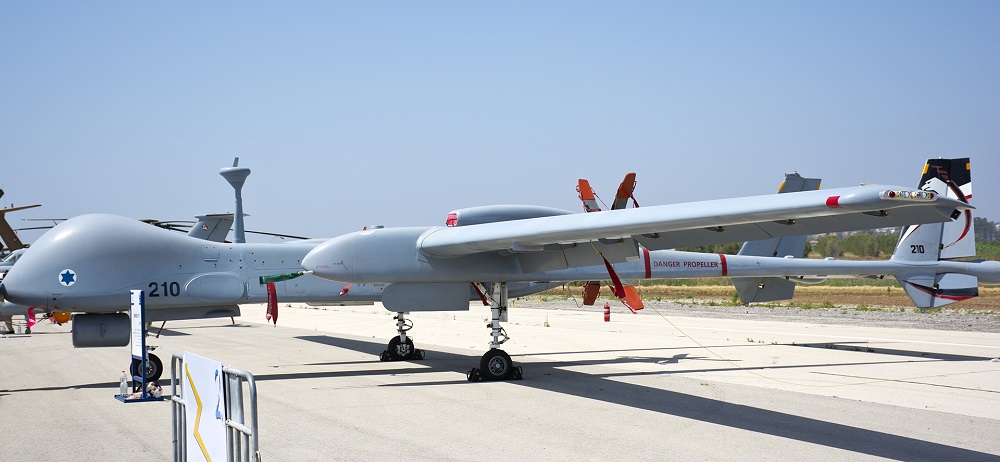 Its large size (13 × 26 meters) and payload (2-4.6 tons) allow it to carry not only missiles and bombs, but also kamikaze strike drones. Of the few known operations involving the IAI Eitan is the 2009 raid on the Gaza Strip, in which an Iraqi convoy was destroyed, and the highly controversial attack in the same area in 2014, when drone operators mistakenly fired on Joudeh family.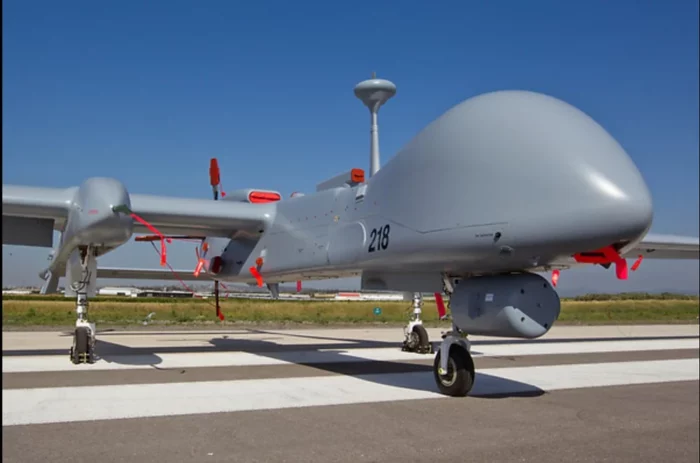 The carrying capacity of the drone is 2700 kg, the maximum take-off weight is 5400 kg. The length of the aircraft is 13 m, the wingspan is 26 m. The combat unmanned aerial vehicle can develop a maximum speed of 407 km/h and has an operating range of about 7400 km. IAI Eitan is capable of staying in air for 30 hours (or even a little more) with an operating ceiling of about 14,000 m. It is powered by Pratt & Whitney Canada PT6-67A engines.
Read also: Weapons of Ukrainian victory: Anti-aircraft weapons that protect our skies
CASC Rainbow CH-4 UAV
Of course, our list also includes Chinese military technology. The Rainbow-4 (or Cai Hong-4 UAV) model, created by CASC, is not the only model in the company's portfolio, but it can definitely be called the most recognizable.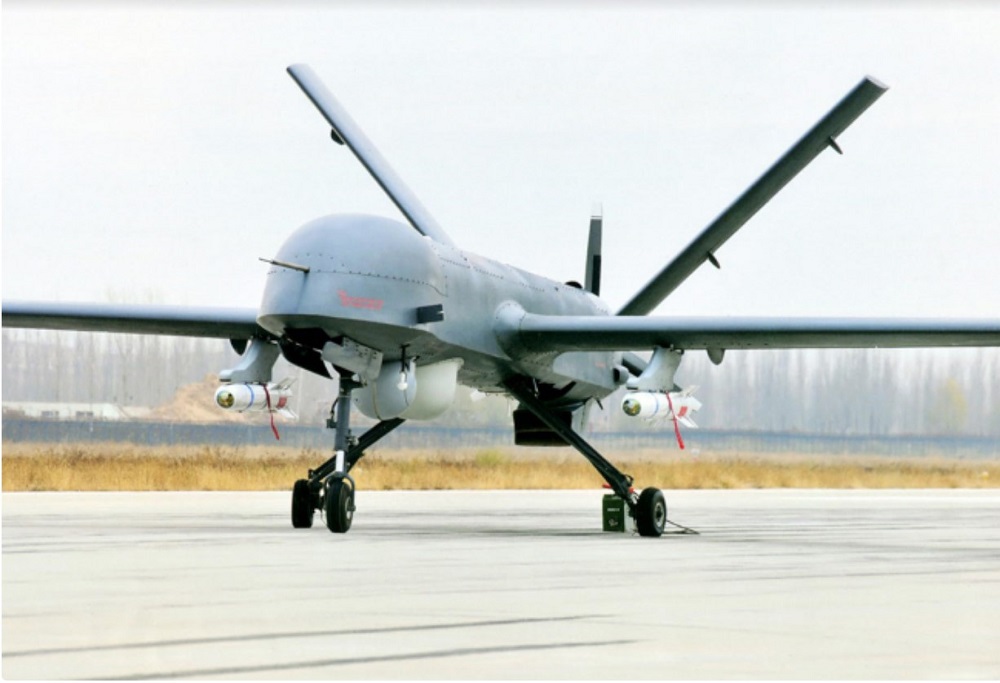 It was specially designed for high-altitude missions over land and sea. In addition, it can fire its weapons from a distance of up to 5,000 meters. The Rainbow CH-4 UAV has a retractable mast with an electro-optical sensor and a data transmission channel to the ground control station. The drone boasts a modern remote control station with direct visibility and satellite communications. Control is carried out by two persons.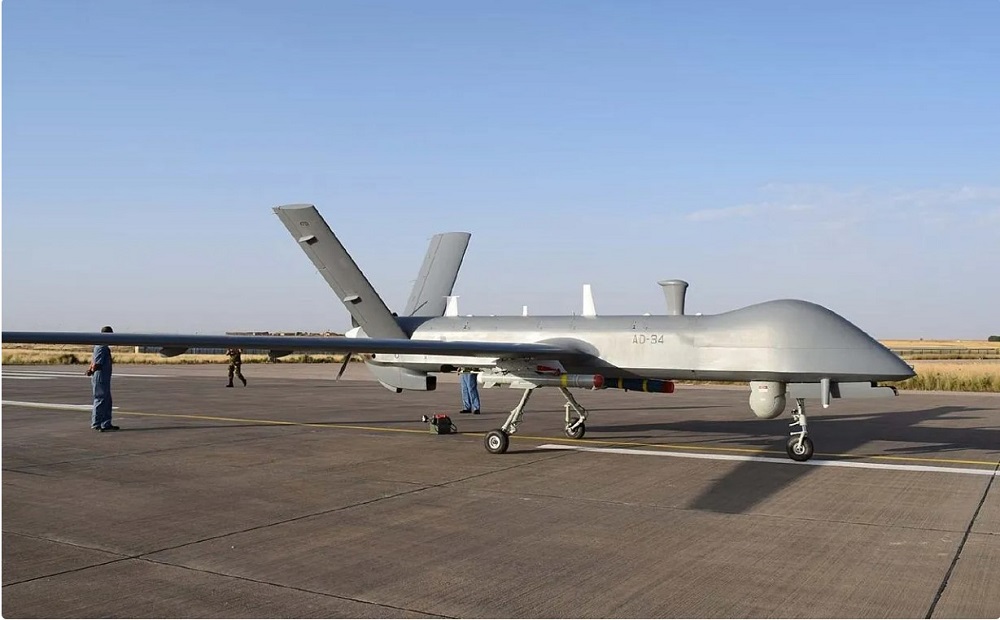 The Rainbow CH-4 drone is capable of firing an air-to-ground missile from an elevation of 5,000 meters (~ 16,400 feet), so it can stay out of the effective range of most enemy air defense systems. This also allows the CH-4 UAV to fire from a position that provides a wider field of view.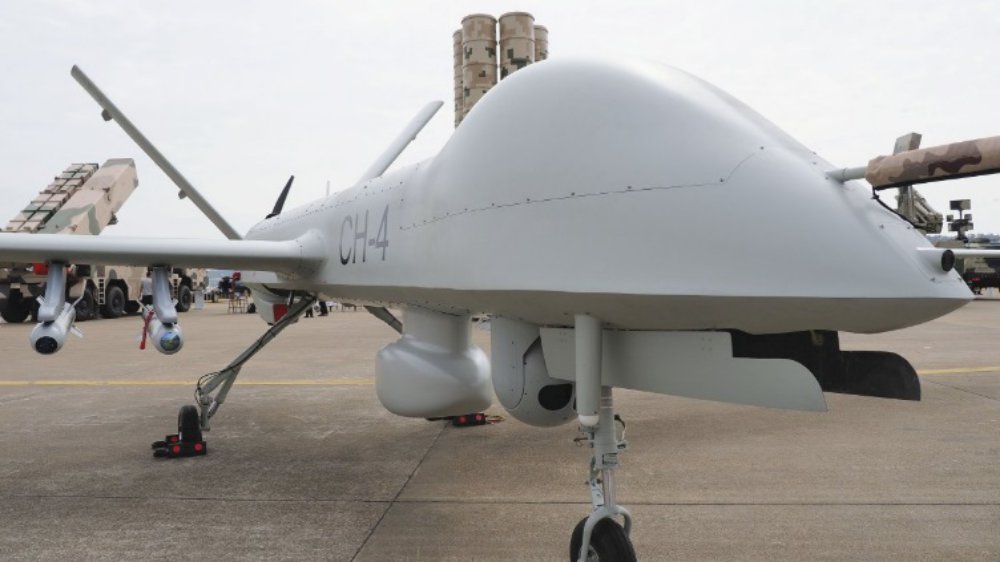 Unlike other drones on this list, it is not used by US, Israeli or European troops. Instead, the Chinese are selling them to… Iraqis, Egyptians, Nigerians, Pakistanis and Saudi Arabians. The Iraqi military has already tested Chinese drones in combat against ISIS forces, while the Saudis have deployed their part of air forces against Hussite insurgents. CASC is even in talks with the Kingdom of Saudi Arabia to mass-produce drones in this oil-rich country.
Read also: Weapons of Ukrainian victory: ATGM Javelin FGM-148 – ruthless to enemy tanks
Elbit Hermes 900
Another creation of Israeli engineers that can 'boast' of real combat experience and is of great interest to armies around the world. The Elbit Hermes 900 is a tactical medium-altitude long-range unmanned aerial vehicle designed primarily to enable the Israeli Defense Forces (IDF) to conduct intelligence, surveillance and target recognition (ISTAR) operations.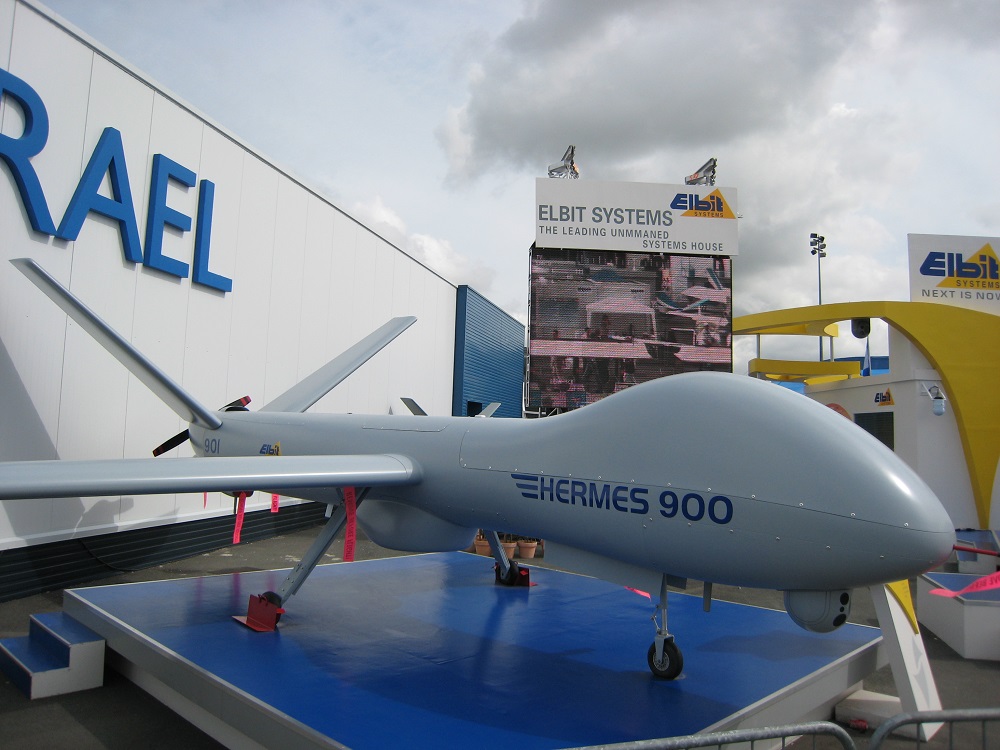 The Hermes 900 is a larger, better and more sophisticated version of the Hermes 450, famous for its successful air strikes on the Gaza Strip in 2008-2009. A newer version saw its use for the same purposes recently, in the summer of 2014. After nearly two months of attacks, it is estimated that some 2,300 Palestinian Hamas militants were killed. The actual number killed by this drone is unknown, but the 'battle-tested' status has provided Israelis with new contracts with Brazil and Switzerland.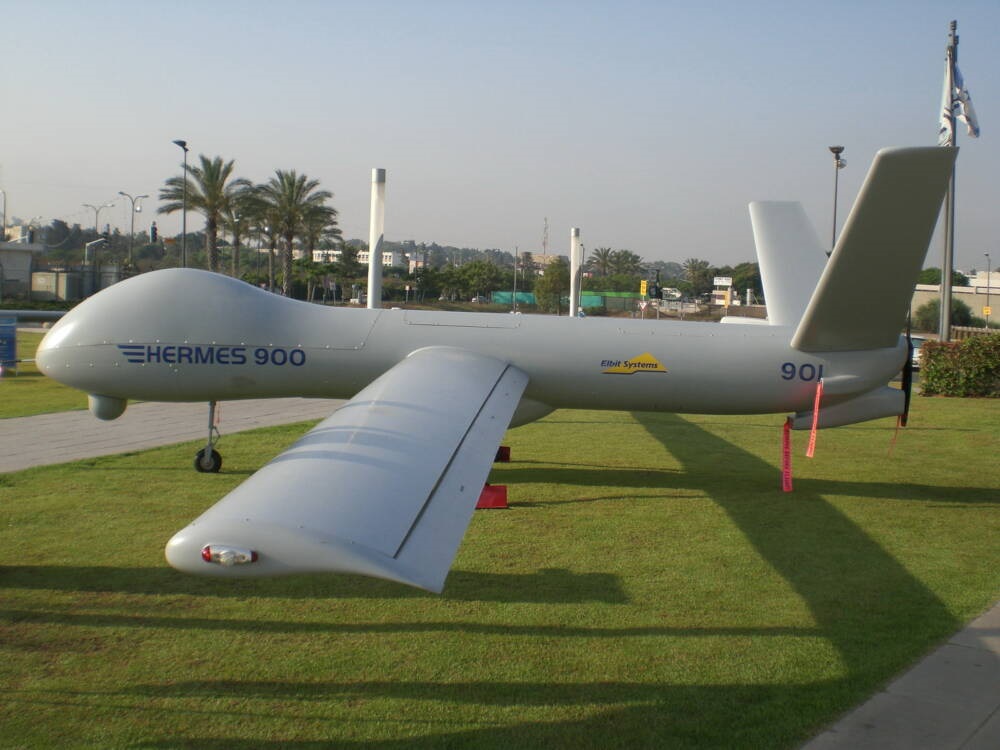 The Hermes 900 UAV was designed to provide maximum endurance. In addition, flight efficiency and reduced fuel consumption were increased. Operations with the integrated satellite communication terminal out of line of sight may be performed from the nose of the aircraft.
The UAV has a length of 8.3 m, a wingspan of 15 m and a payload of 350 kg. It boasts an internal 2.5 m payload compartment and external wing anchorages that support adjustments to suit different customer requirements.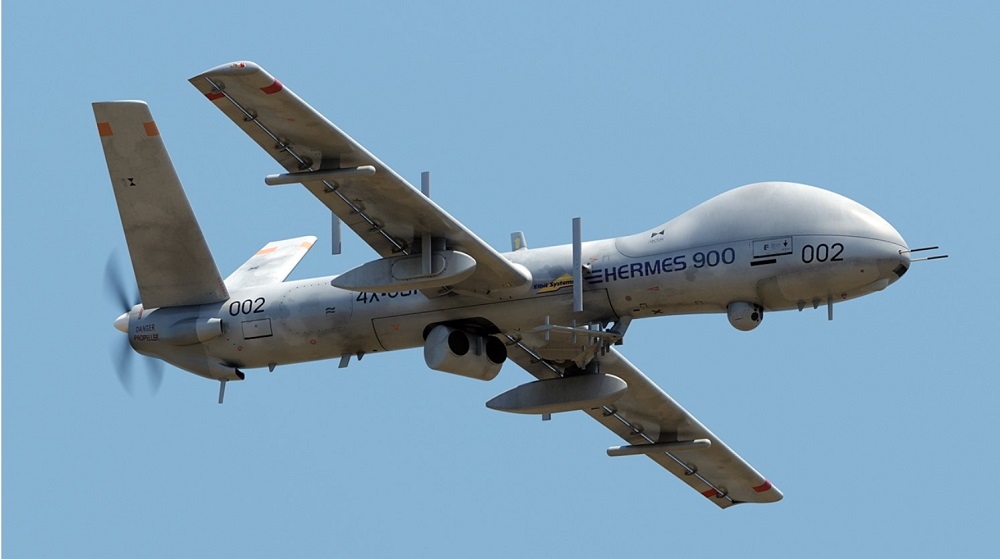 The Hermes 900 UAV is equipped with one Rotax 914 turbo engine. Manufactured by the leading Austrian aircraft engine supplier BRP-Rotax, the engine has the output of 74.6 kW.
The Hermes 900 drone can fly at a maximum altitude of 33,000 feet. The maximum and cruising speeds of the aircraft are 222 km/h and 103 km/h, respectively. The maximum flight time of the drone is about 40 hours, and the maximum takeoff weight is 1180 kg.
Read also: Weapons of Ukrainian victory: FIM-92 Stinger MPADS
General Atomics MQ-20 Avenger
General Atomics Avenger is an advanced military drone in service with the US Army. It was first launched in 2009. It is a next-generation jet-engine unmanned aircraft system (UAS) designed and manufactured by General Atomics Aeronautical Systems (GA-ASI) to provide enhanced rapid response and improved combat capability for the US Air Force and Allied forces.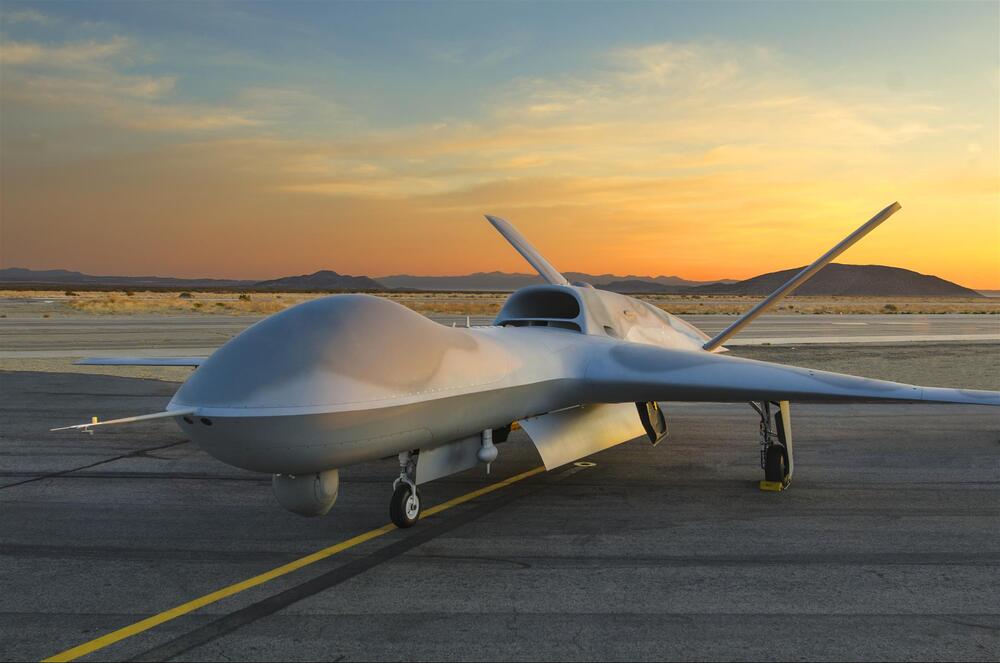 The unmanned aircraft system has a length of 13 m and a wingspan of 20 m. The maximum takeoff weight of the UAS is 8,255 kg, and the fuel capacity is 3,583 kg. Internal and total carrying capacity make 1588 kg and 2948 kg accordingly. The UAS jet engine is equipped with a hybrid electric/mechanical anti-lock braking system.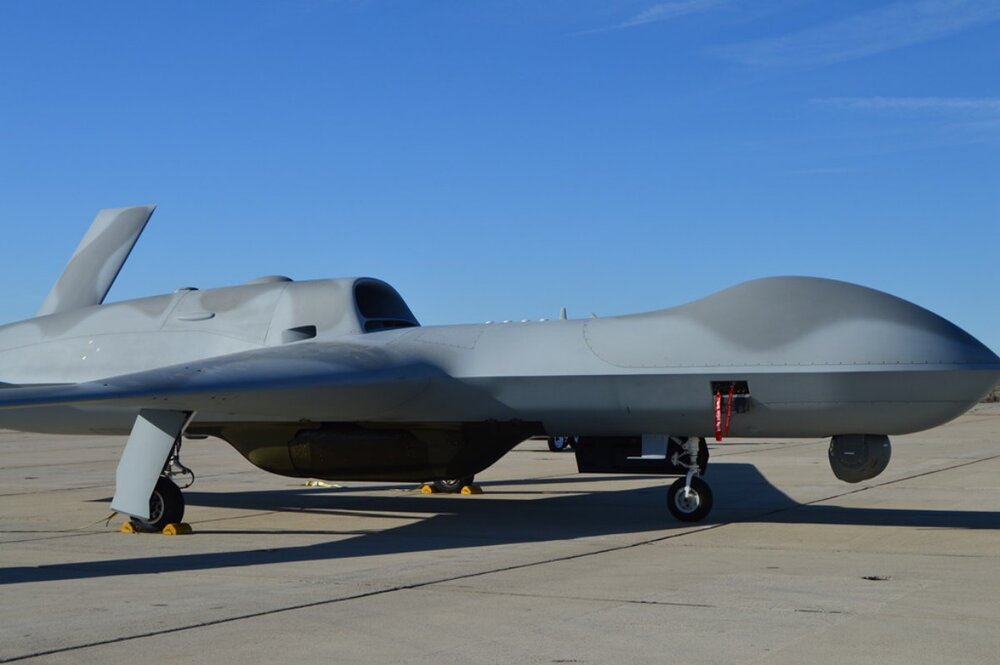 The MQ-20 Avenger can be equipped with a variety of combat-proven weapons, including AGM-114 Hellfire ground-to-air anti-tank missiles, 250-pound GBU-39 small-diameter bombs, and GBU-12/GBU-49 Paveway II laser-guided bombs weighing 500 pounds, GBU-16 bombs with laser guidance weighing 1000 pounds and GBU-48 bombs with precision guidance. It can also carry GBU-31, GBU-32 and GBU-38 Joint Direct Attack Ammunition (JDAM) guided bombs. This list of weapons is really impressive.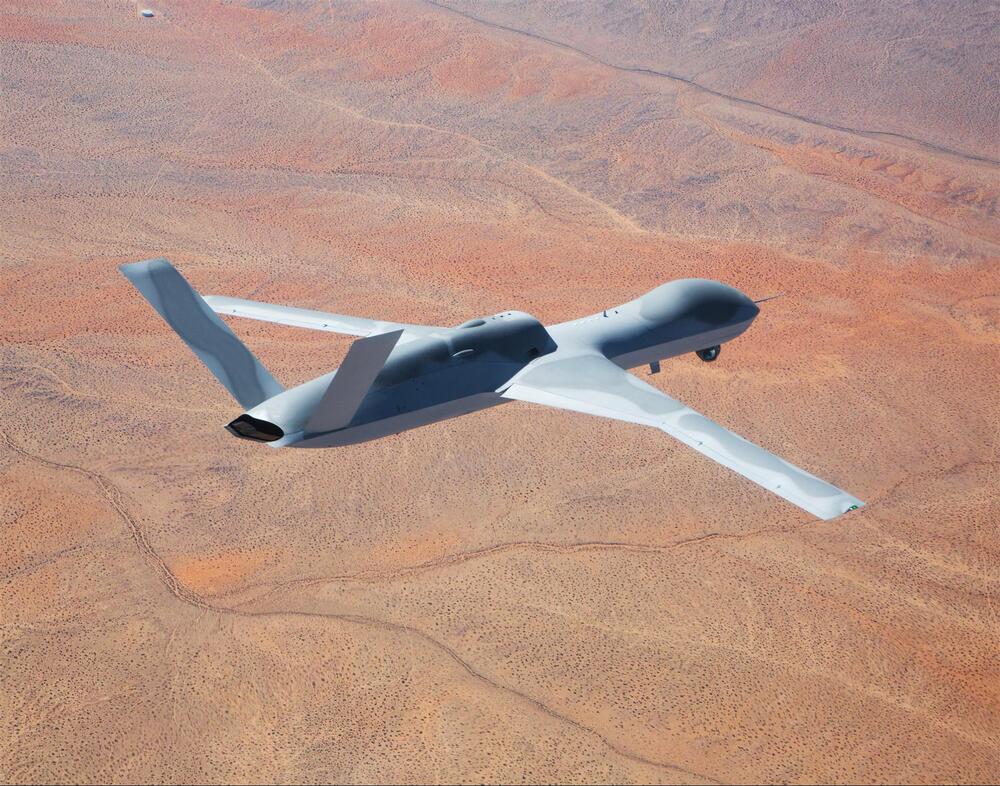 The manufacturer has also equipped the Avenger with means that reduce its visibility to enemy radars, which, combined with its combat capabilities, makes it one of the most dangerous military drones in the world. This invisible 'Avenger' inflicts real terror on the enemy.
Read also: Weapons of Ukrainian Victory: Review of Starstreak MPADS
Yabhon United 40
The Yabhon United 40 is a multi-purpose drone that serves mainly in the Algerian army and is manufactured by the United Arab Emirates. In addition to military operations, the drone can also perform reconnaissance and humanitarian tasks.
The Yabhon United 40 UAV was unveiled at the 2011 Dubai Air Show and demonstrated at the International Defense Exhibition and Conference (IDEX) in Abu Dhabi in February 2013. The first flight took place in March 2013.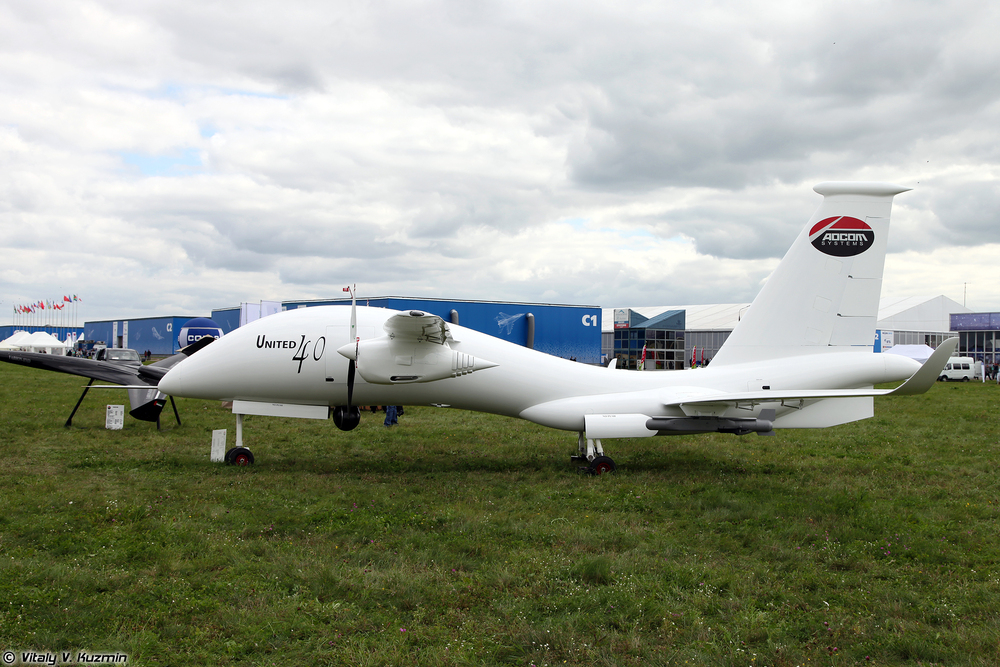 The United 40 UAV has a curved double longitudinal design with a tandem wing configuration. It is equipped with a retractable tricycle gear for safe takeoff and landing.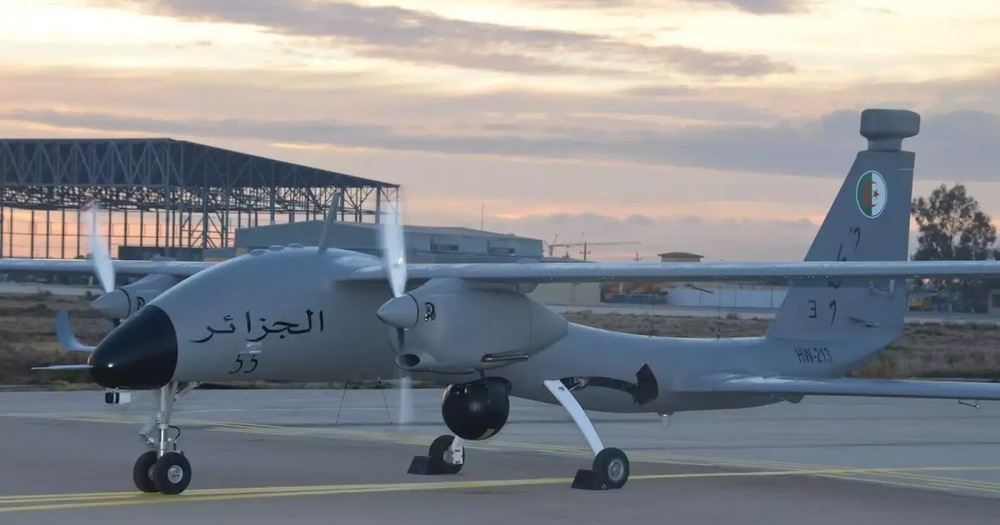 The drone has a length of 11.13 m, a height of 4.38 m and a wingspan of 20 m. The curb weight and maximum take-off weight of the aircraft are 520 kg and 1500 kg, respectively. The total lifting area is 24.3 square and the fuel tank capacity is 900 liters.
Yabhon United 40 can be equipped with Yabhon-Namrod air-to-ground missiles in a rotary launcher, Yabhon Thunder cruise missiles, Finmeccanica torpedoes, and guided bombs.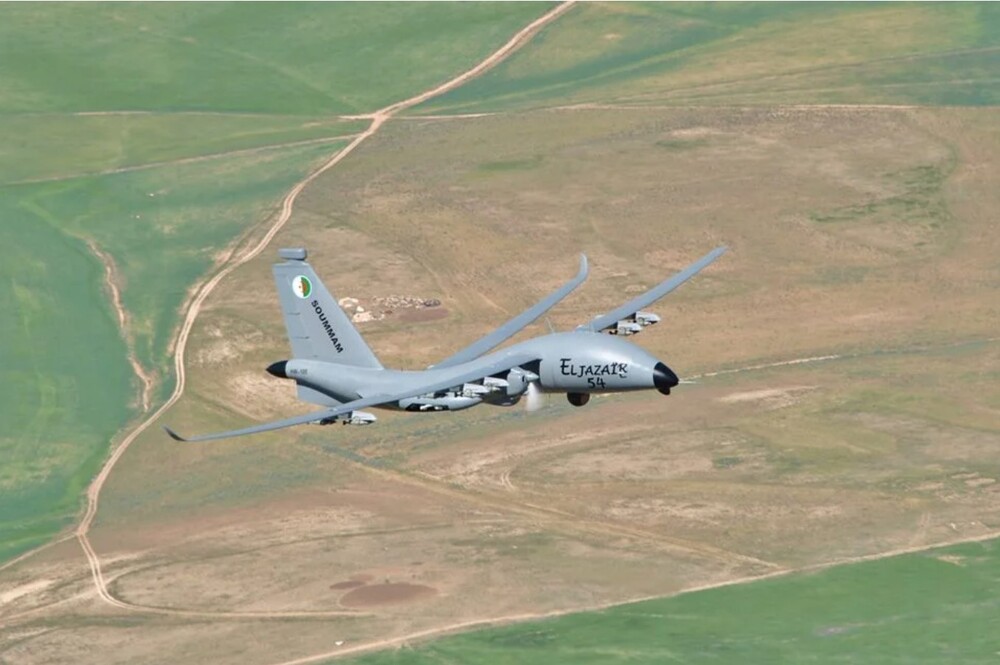 The drone is equipped with a hybrid turbine-electric power plant, which combines a four-stroke four-cylinder Rotax 914 UL engine with liquid/air cooling with turbocharging, and provides an output of 115 hp.
Read also: 'Neptunes' knocked out 'Moskva' cruiser: All about these anti-ship cruise missiles
EADS Barracuda
It is not easy to get to the realm of stealth combat drones with a jet engine: little is known about them and even less can be learned. EADS Barracuda was developed by Airbus in competition with other European drone programs. This is a very interesting drone, although it has a shorter flight range and endurance compared to competitors. EADS Barracuda is a jet drone designed for air reconnaissance and combat missions.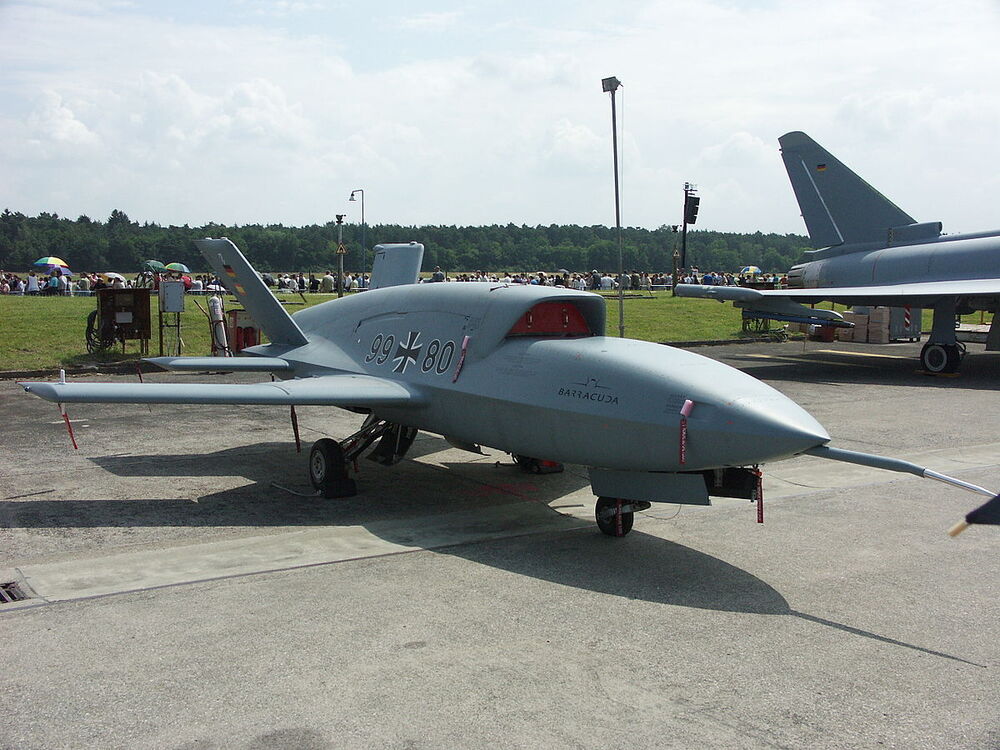 Unmanned aerial vehicle is made entirely of carbon fiber, including arrow-shaped wings. It has a length of 8.25 m and a wingspan of 7.22 m, a maximum takeoff weight of 3250 kg. The unusual shape of the arrow-shaped horizontal tail and outward-sloping fins makes it different from other drones in this class. Outwardly, it is more like a plane, but smaller in size. The drone is designed to carry 300 kg of high-precision ammunition in the inner compartment, which opens almost instantly, leaving no chances for the enemy.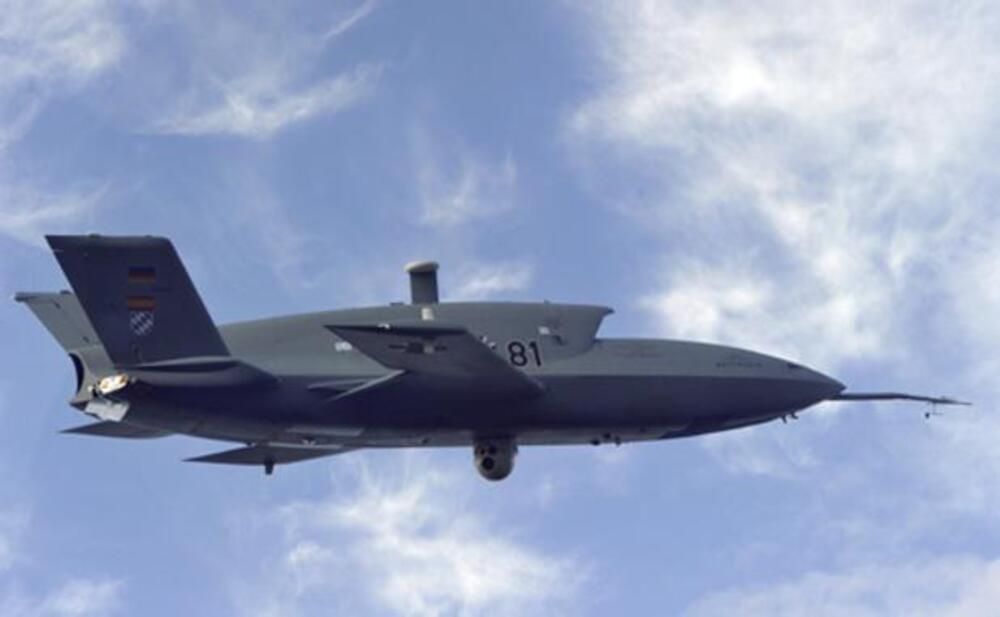 Barracuda's reliability and safety are ensured by a triplex flight and navigation control system. The installed avionics system has an open modular configuration that allows the installation of new sensors and communication equipment. The flight control computer is provided by MTU and the navigation system is manufactured by Thales.
Payload systems include infrared and other electro-optical sensors, can be equipped with laser targets, high-precision emitter location (ELS) and synthetic aperture radar (SAR). Barracuda can also carry a variety of weapon systems, from missiles to bombs of various types and purposes. Such a universal soldier for combat and support of ground troops.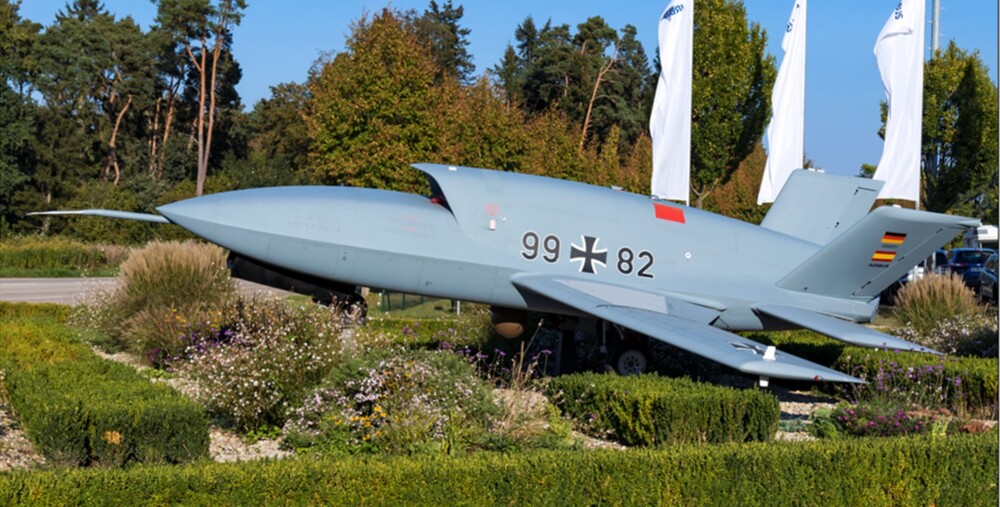 The Barracuda aircraft is equipped with a P&W Canada JT15D-5C turbojet engine that provides 14.2 kN of thrust. The position of the engine air intake as part of the dorsal surface and the profile of the air intake contribute to a low radar signal. This lets the UAV fare better against anti-aircraft missile systems.
Read also: Weapons of Ukrainian victory: The military praise the Piorun MPADS
Sukhoi S-70 Okhotnik-B
Звичайно, цей огляд був би не повним, якби я для контрасту не згадав недолуге створіння з оркостану. Спроби зроби свої безпілотники в росії завжди були невдалими.
Of course, this review would be incomplete if I did not mention the clumsy creation from Russia for contrast. Attempts to make their own drones in Russia have always been unsuccessful.
The first Russian combat 'stealth drone' was a continuation of the previous MiG project called 'Skat'. Although it seems that they really wanted to make a sixth-generation plane, but whether they bit more than they could chew on, or ripped off something poorly, was something in between an airplane and a drone turned out.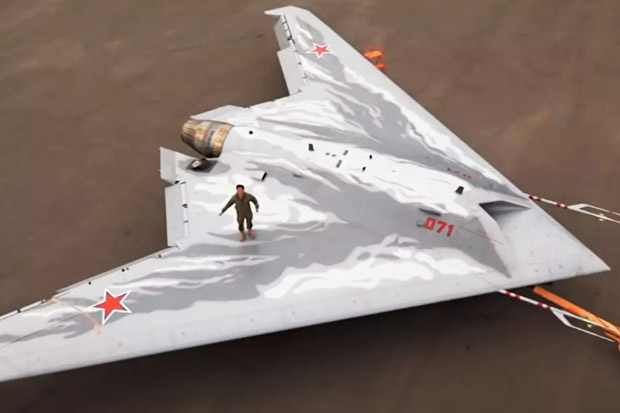 The orcs call it 'strike and reconnaissance unmanned complex', but in fact it is a large combat drone built in a flying wing concept. Although the design of the flying wing has been rejected by all developers in the world.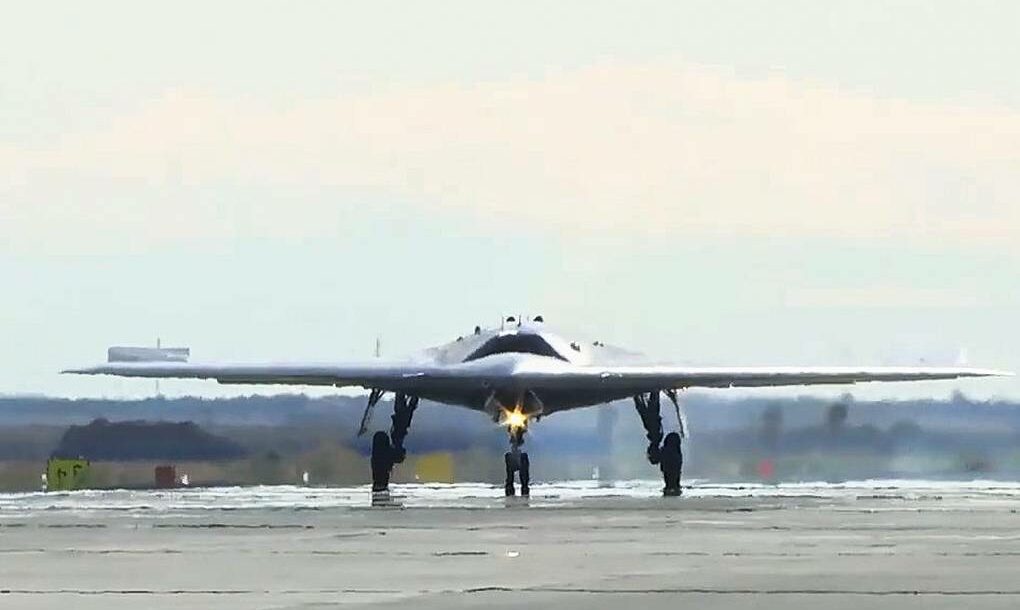 The drone has a conventional AL-31 turbojet engine with an unmodified nozzle. That is, the question is as to whether it is really an stealth drone, or again everything is just on paper. But what distinguishes this UAV from other similar drones is its size: almost four times heavier than a similar aircraft and much larger. If they do not lie, it can carry almost 3 tons of weapons and has a range of 6000 km.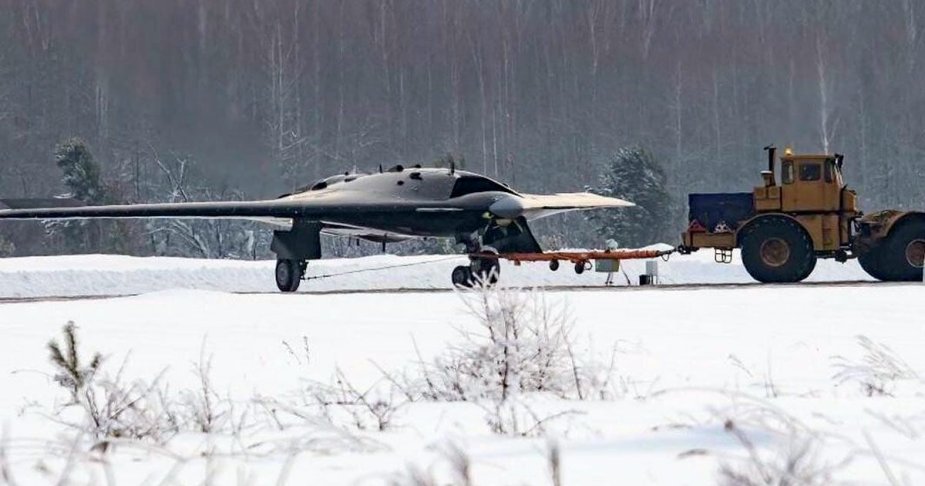 The most interesting thing is that all the tests were not very successful. The Okhotnik is designed to pair with the fifth-generation Su-57 jet fighter, but both have shown that there can be no interaction. During training flights there were always problems,  the drone often failed. It was supposed to be adopted by the Russian Air Force in 2024, but now clearly it won't be, because most of the components were from Western manufacturers. And sanctions do their job. For some reason, I am sure that this clumsy drone will never be used by orcs.
Read also: Russian chemical weapons: Threats and possible consequences
The use of drones in modern warfare has given our military a great advantage. These small and quiet killers are capable of inflicting devastating blows to enemy positions. These are the new realities of modern warfare. Our Armed Forces have already proved many times that they know how to fight in a modern way, using state-of-the-art weapons, including drones. Victory can only be ours, because we are beating the enemy on our land, who came brazenly, and insidiously destroys our cities and villages, kills civilians. But everything will be Ukraine! Glory to Ukraine! Death to enemies!
You can also help Ukraine fight with Russian occupants via Savelife or via an official page of the National Bank of Ukraine.
Read also: Weapons of Ukrainian victory: ATGM Stugna-P – Russian tanks are in trouble