The Armed Forces of Ukraine will soon receive the legendary American M113 armored personnel carriers. Today we will talk about them in detail.
Our Western partners are constantly trying to help Ukraine in the fight against hordes of orcs who brazenly seized our territories, shelling and destroying our cities and villages, killing civilians, looting and bullying Ukrainians. But the enemy receives a decent response and suffers heavy losses in manpower and equipment. And all this thanks to the timely help of Western partners, for which we are all very grateful.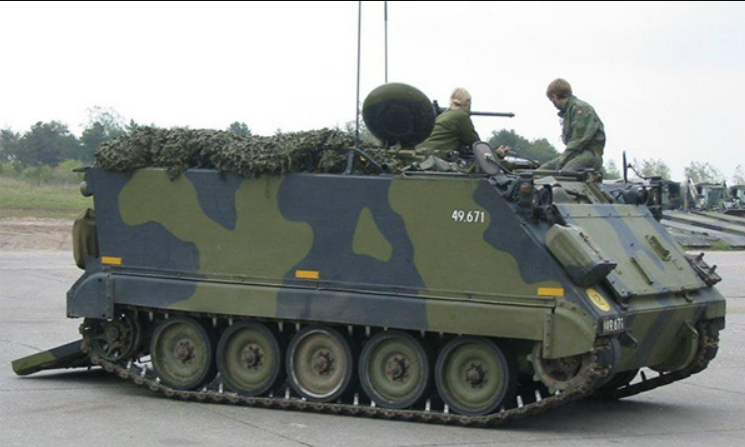 Recently, there was a report that the US Department of Defense and the Danish government have decided to provide Ukraine with modernized models of the legendary M113 armored personnel carrier, which has proven itself well. The statement said that the Indiana National Guard had prepared a number of M113 armored personnel carriers for transfer to the Armed Forces of Ukraine as part of a US initiative to support Ukraine in defending itself against Russian invasion. That is, the number of armored personnel carriers that will be transferred is still unknown, but they will soon be in the service of the Armed Forces.
Let's take a closer look at these legendary armored vehicles.
Read also: Weapons of Ukrainian victory: Anti-aircraft weapons that protect our skies
What is a M113 APC?
The American M113 armored personnel carrier was developed by FMC (Food Machinery Corp.) based on the M59 and M75 armored personnel carriers of the 1950s. Kaiser Aluminum and Chemical produced the aluminum needed to make the M113 armored personnel carriers. The first prototype M113 was made in 1957. The US Army adopted the vehicle in 1960.
Later, in 1994, FMC moved production of the M113 to its new subsidiary, United Defense. But in 2005, United Defense itself was acquired by BAE Systems, which is now producing the legendary M113.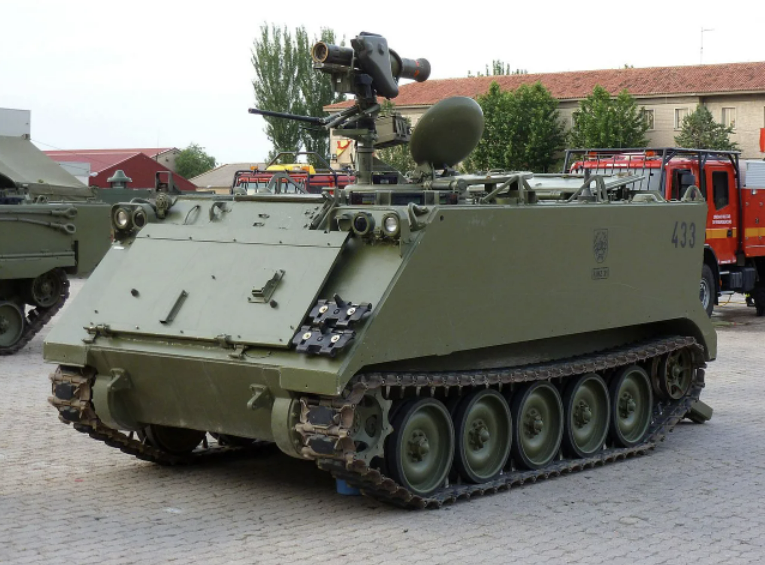 Over 80,000 M113 armored personnel carriers in various modifications were produced until this day. This equipment is in service in more than 44 countries. Most of the M113s used by the US Army have been upgraded to the M113A3 variant. In 2020, BAE Systems completed the development of the first armored multi-purpose vehicle (AMPV), which will replace the M113 armored personnel carriers, which have been in service since the 1960s. In 2018, the company received an initial contract for the supply of up to 450 AMPV for the US Army. However, the M113, which currently serves the US military, is expected to remain in service until 2030.
Read also: Invasion of Ukraine: Bayraktar TB2 strike UAV review
Modifications of M113 APC
The vehicle has more than 40 modifications. Basic variants include M113A1, M113A2, M113A3 and M113 ACAV. The same M113A1 was introduced in 1964. It has a diesel engine with 215 hp (160 kW) and is equipped with a M106 mortar.
The M113A2 variant was manufactured in 1979. It has improved cooling and updated suspension. The upgraded M113A3 was introduced in 1987. It has improved battlefield survival, a more powerful engine, an external fuel tank and better protection than the base model. There are also variants of the M113A3, which are equipped with high-speed digital networks and data transmission systems, which allows you to integrate hardware, software and modular kits, such as M113A3s.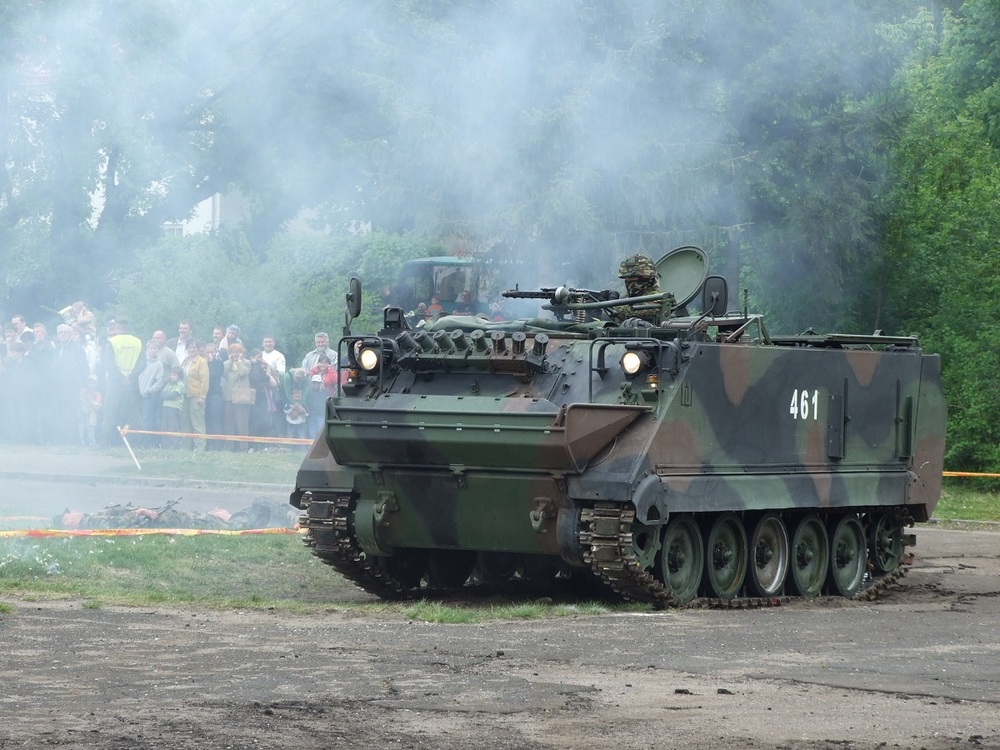 The M113 armored cavalry assault vehicle (ACAV) was introduced during the 1966 Vietnam War. In addition to the standard Browning M2 machine gun, it is equipped with additional 7.62-mm M60 machine guns. It also has additional armor, such as a mine protection kit under the hull.
Read also: All about the General Atomics MQ-9 Reaper
Orders and shipments of М113
It should be noted that the American armored personnel carrier is very popular in various countries around the world. For example, in December 2011, the Brazilian Army signed a contract with BAE Systems to upgrade its 150 M113Bs to the M113A2 Mk1 configuration, and by December 2014, 100 vehicles had received such upgrades.
In June 2011, the US military signed a $ 14.2 million contract to transfer 1,026 repaired M113A2 armored personnel carriers to the Iraqi army. In October 2010, BAE systems received a $ 14 million contract to supply T150F tracks to Australian M113 vehicles.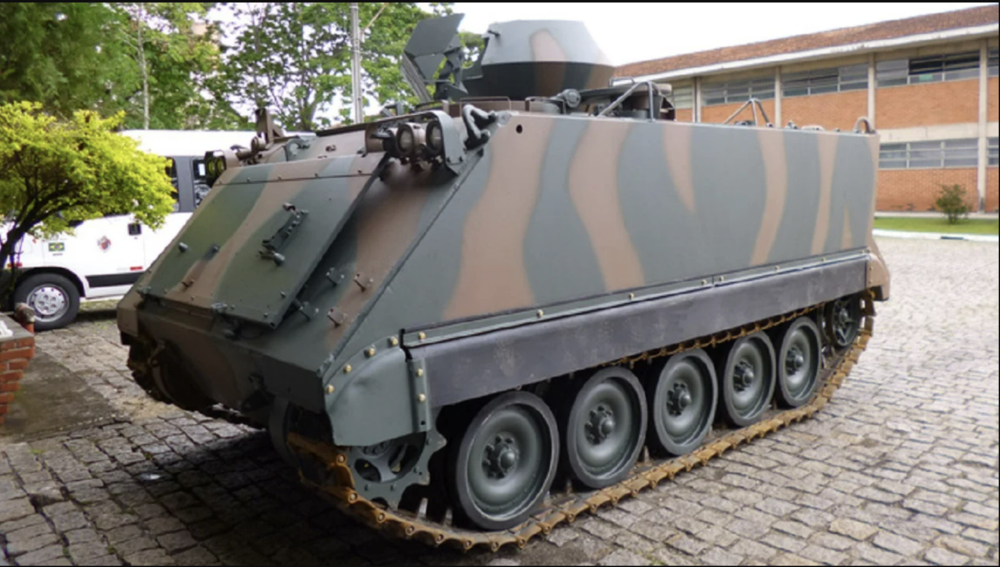 In 2012, the company completed the upgrade of 433 M113A1 vehicles of the Australian Army to AS4 standards, which allowed to extend their service life after 2020. In February 2010, TACOM's US Army Lifecycle Management Command signed a $ 32 million contract to supply 417 M113 armored personnel carriers.
In December 2009, DEW Engineering and Development received a $ 29.4 million contract to provide maintenance and repair services for the Canadian M113. BAE Systems has appointed DEW as the exclusive representative for the sale of M113 maintenance products and services for Canada.
In June 2009, the US Army contracted $ 124.8 million for the M113 upgrade and maintenance. In February 2008, the US Army's TACOM lifecycle management contract signed $ 91.4 million to restart 1,074 M113 vehicles.
In January 2007, BAE Systems received a $ 29.7 million contract to supply 72 sets of power units and other upgrade kits for the Norwegian M113.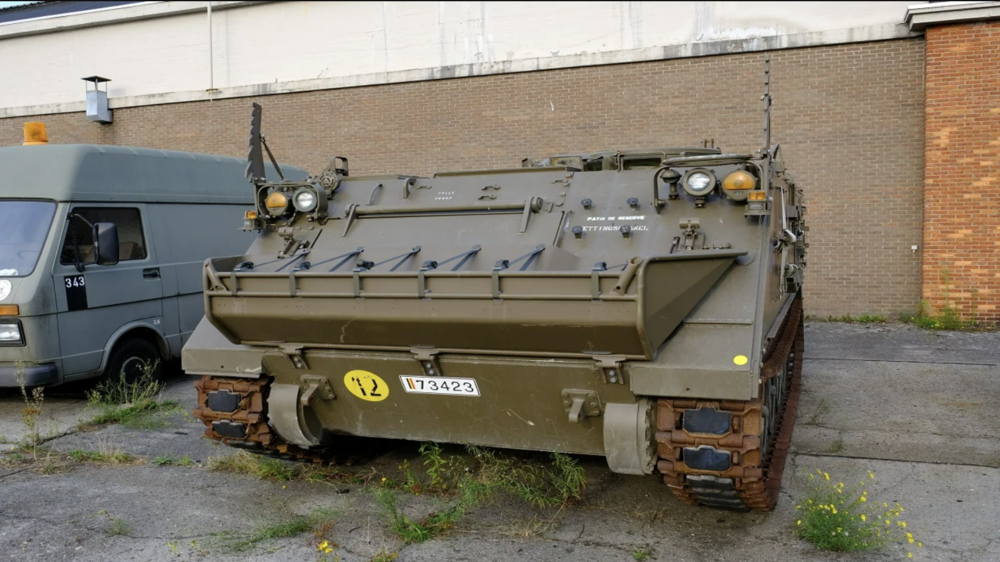 The Iraqi army received 1,026 M113A2 armored personnel carriers from the US Army's surplus reserves. The agreement, signed as part of a program to support US military equipment abroad, includes the maintenance of six divisions of Iraqi armored vehicles.
That is, M113 brought a good income to BAE Systems and became a truly legendary armored personnel carrier. This vehicle faithfully serves the military of 44 countries, and now will serve our Armed Forces. So far, however, it is unknown what modification will appear in Ukraine.
Read also: 'Neptunes' knocked out 'Moskva' cruiser: All about these anti-ship cruise missiles
Design of the M113 APC
The main feature of the M113 is a completely closed hull, the armor of which is made of aluminum alloy 5083 of aviation quality. This was the first serial armored vehicle to use aluminum armor. Up to 40% of car components are made of light alloys. The aluminum hull has much greater rigidity than steel. This has reduced the number of reinforcing structures and created a more comfortable interior.
The armored personnel carrier was specially designed to provide protection not only from light firearms, but also from fragments of artillery shells. M113 was created as an armored personnel carrier, which could transport an infantry unit to the combat zone, quickly disembark fighters, and then retreat to the rear, thus full protection for soldiers in combat conditions was not meant by the concept.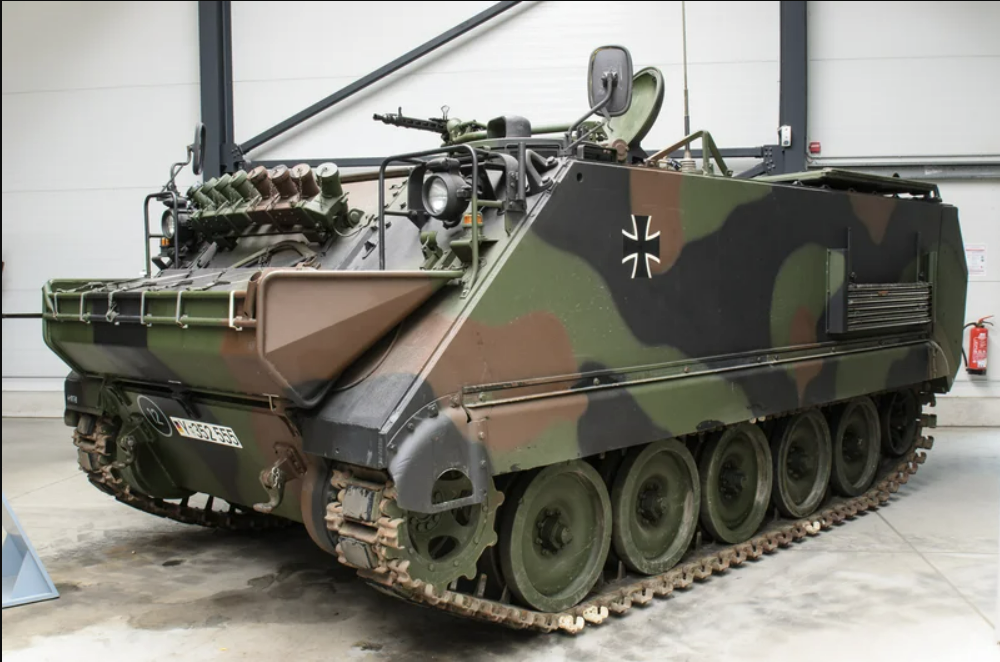 The 12.3-ton armored personnel carrier is 4,863 m long, 2,686 m wide and 2.5 m high. It can accommodate three crew members and 11 troops. Boarding and disembarking the troops takes place through the rear ramp. The ramp is equipped with emergency exit doors. In addition, there is another large hatch mounted on the roof above the landing unit.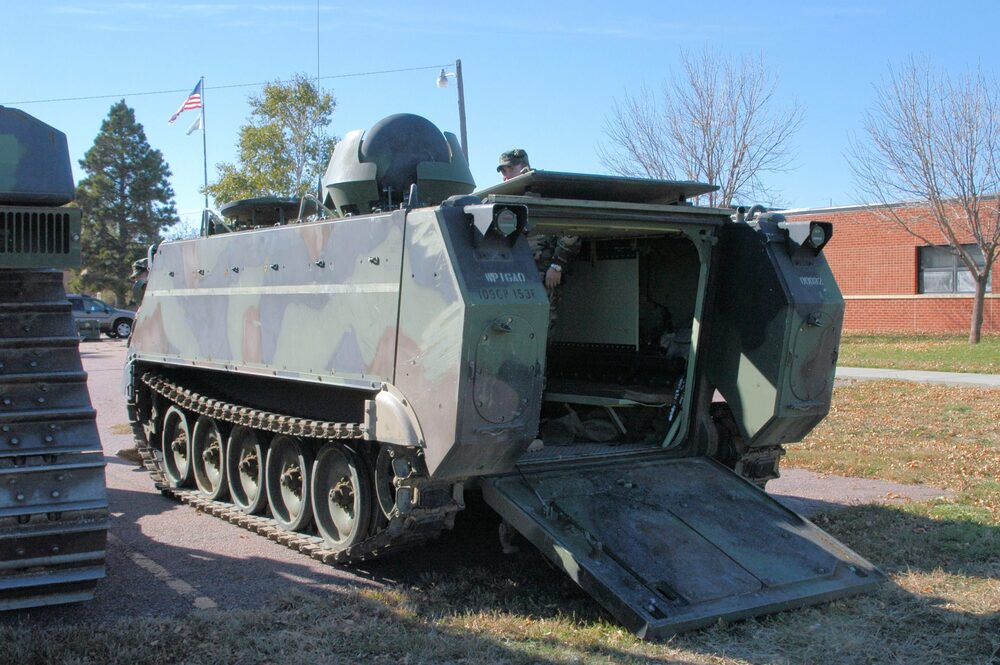 The M113 has an internal design that has become the standard for most modern armored personnel carriers. The engine compartment is in the front of the hull on the right and the driver's compartment шы on the left. The middle and back of the hull are occupied by personnel.
The main weapon of the M113 is a 12.7-mm machine gun mounted above the commander's hatch, used to hit both ground and low-flying air targets, such as helicopters.
Read also: Weapons of Ukrainian victory: The military praise the Piorun MPADS
Armament and equipment of M113 APC
M113 is usually equipped with a single  M2 Browning .50 cal machine gun, which is the main weapon. The armored vehicle can also be equipped with an 40mm MK19 automatic grenade launcher, it can also be a missile launcher, anti-tank weapons, 7.62 mm M60 machine guns and or a gun of 20-105 mm caliber. The M113 APC can also be fitted with the M47 Dragon missile system.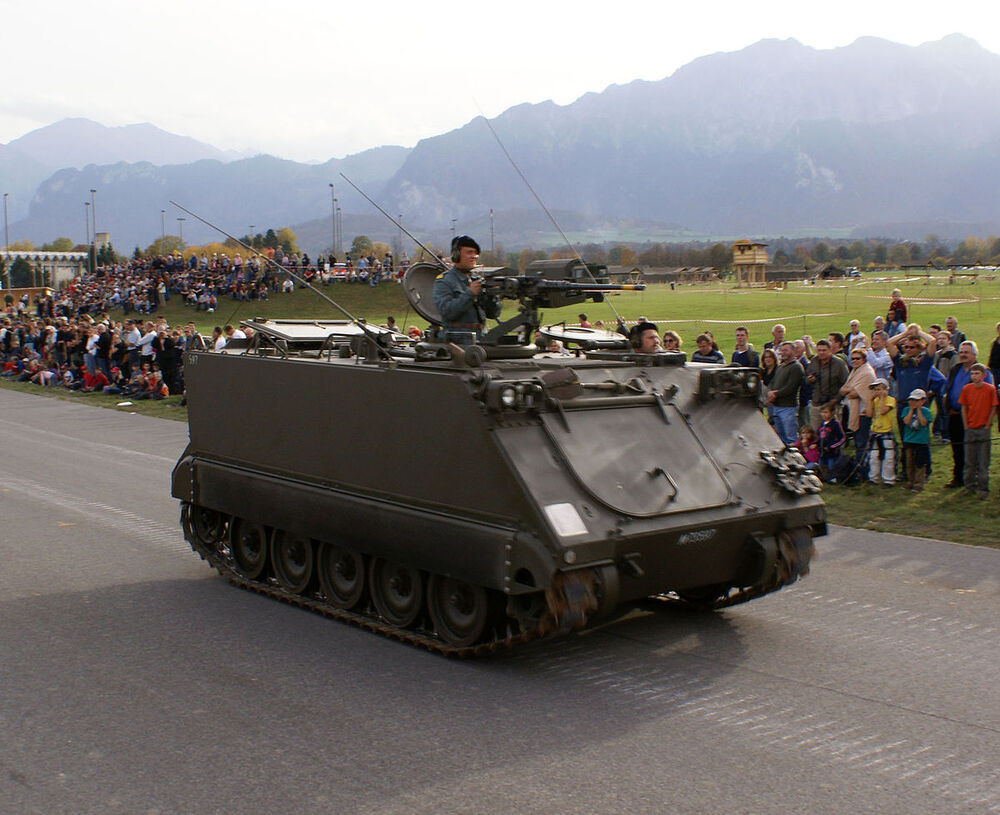 One of the most interesting configurations is the M113A2 Mk1, which can be equipped with various types of combat weapons and provides increased protection of the personnel of the APC.
Read also: Russian chemical weapons: Threats and possible consequences
Engine and mobility of M113
The first batch of M113 was equipped with a Chrysler 75M petrol engine with 209 hp. It worked in conjunction with the General Motors TX-200 manual transmission. But a modified modern version of the American armored personnel carrier M113 is equipped with a two-stroke six-cylinder 6V53 Detroit diesel engine with a three-speed automatic transmission Allison TX100-1. The vehicle has good mobility on sand, snow and swamp.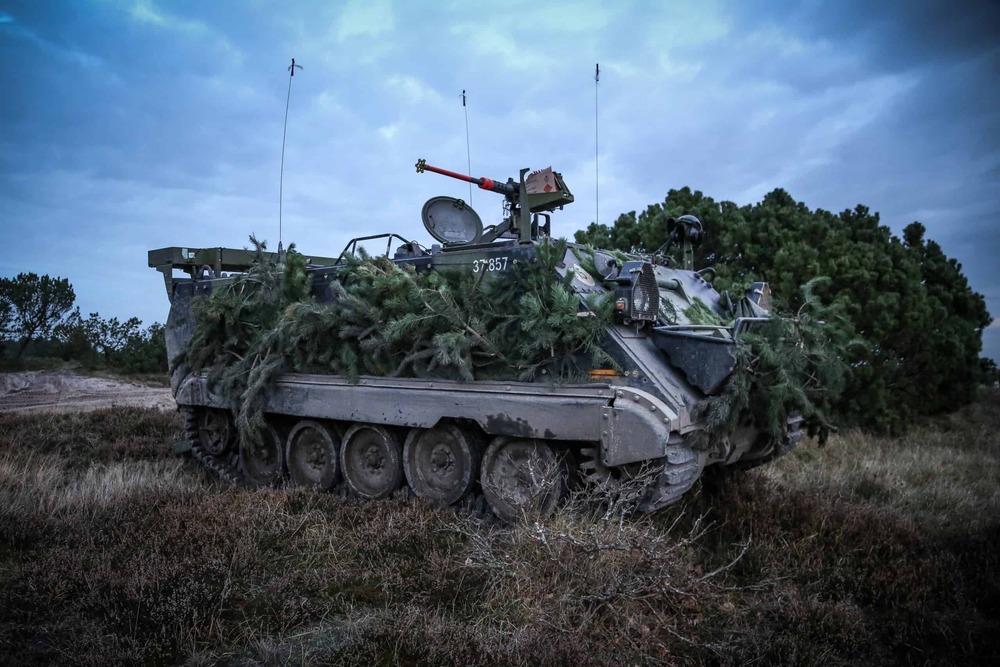 M113 is an amphibian. It is able to provide landing of the troops both on land and in the water. The armored personnel carrier moves in the water with the help of caterpillars. The speed of the M113 armored personnel carrier is 67.6 km/h on land and 5.8 km/h in water.
The relatively low weight makes it easy to transport the M113 APC by cargo plane.
Read also: Weapons of Ukrainian Victory: Australian Bushmaster IMVs
Specifications of M113
Weight: 12,3 t
Length: 4,863 m
Width: 2,686 m
Height: 2,5 m
Crew: 3 people
Capacity: 11 troops
Armor: aluminum, 12-38 mm
Engine: V-shaped 6-cylinder Detroit Diesel 6V53 215 hp
Specific power: 18.8 hp/t
Transmission: Allison XTG-90-2
Suspension: individual torsions
Ground clearance: 410 mm
Cruising range: 320 km
Speed: 67.6 km/h on land and 5.8 km/h in water
Read also: Silent killers of modern warfare: most dangerous military UAVs
What is the best way to use them?
It will be interesting to see how our Armed Forces use the M113. I think it would be best to leave them behind the front line and use for transportation of support personnel such as mechanics and engineers. They can also carry ammunition, food, water and other goods. If they are used on the front line, they should move behind the tanks for better survivability. Anti-tank mines can be a problem for light alloy hulls. The APC can be used as part of a rapid reaction force. Such an armored vehicle could quickly land troops at various points during combat. But light armor cannot withstand tanks and artillery shells in the middle of the battlefield.
Despite its age, the M113 is a desirable addition to the Ukrainian arsenal. They can be used for combat support, evacuation of the wounded or transportation of explosive ordnance. The M113 armored personnel carrier is a classic, and any help is now paramount.
Each such armored personnel carrier brings our Victory closer. And she definitely will! We believe in our Armed Forces! Glory to Ukraine! Death to enemies! Orcs, burn in hell!
Read also: Weapons of Ukrainian Victory: German Gepard Self-Propelled AA Gun
You can also help Ukraine fight with Russian occupants via Savelife or via an official page of the National Bank of Ukraine.
Read also: Weapons of Ukrainian victory: ATGM Stugna-P – Russian tanks are in trouble