The US government has decided to provide Ukraine with unmanned coastal defence vessels. But it is still unknown which ones. In this article we will try to predict possible options.
A few days ago, it became known that the US Department of Defense is going to send unmanned coast guard boats to Ukraine to help fight the Russian navy. At the same time, the Pentagon does not say which ships are being discussed and which missions they will be able to carry out. Perhaps it is an attempt to keep a military secret and a desire to annoy the orcs as much as possible. However, we decided to share our ideas about what these systems might be like and about the possible impact of these boats on the course of hostilities.
Read also: All about the General Atomics MQ-9 Reaper-9
What were we promised?
Let us remind you that on Wednesday, April 13, the White House announced the allocation of additional $ 800 million for military aid to Ukraine. The new package included artillery systems and shells, armored personnel carriers and many other weapons. In particular, Pentagon spokesman John Kirby announced the name and quantity of weapons and military equipment that the United States will bring to Ukraine. Here is a list of them:
155 mm Howitzers M114 – 18 units and 40 thousand shells
AN/TPQ-36 counter-battery radars – 10 units
AN/TPQ-64 Sentinel anti-aircraft radars – 2 units
Switchblade kamikaze drones  – 300 units
Javelins – 500 units
Other anti-tank munitions – 1000 units
HMMWV vehicles – 100 units
M113 tracked APCs  – 200 units
Мi-17 helicopters – 11 units
Unmanned coastal defence vessels
Protective equipment against chemical, biological, radiation and nuclear attacks
Medical equipment
Body armor and helmets – 30 thousand sets
Optical and laser rangefinders – more than 2 thousand units
Explosives and blasting equipment for clearing obstacles
M18А1 Claymore anti-personnel mines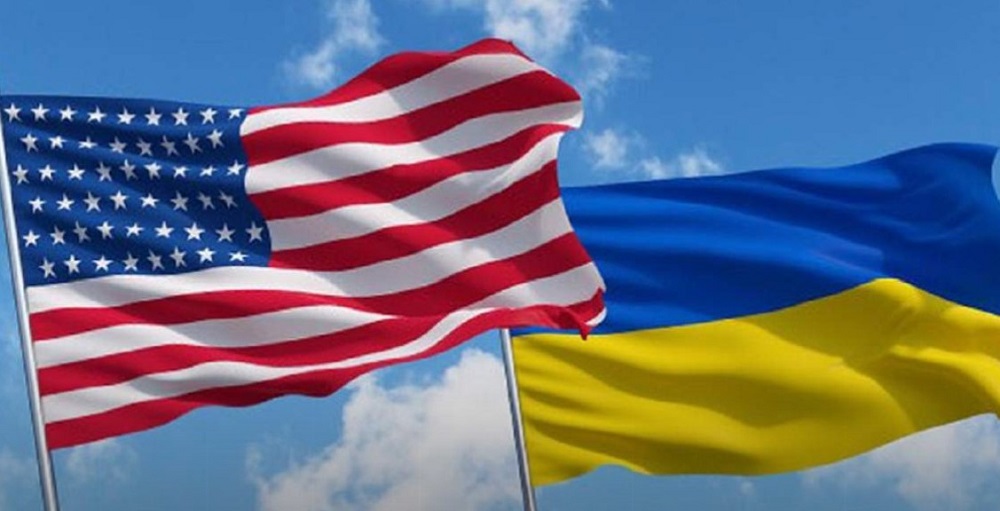 We were interested by unmanned coastal defense vessels. During a special press briefing, John Kirby paid a lot of attention to various positions on this list, but said very little about these unmanned vessels.
'Coastal defense is something that Ukraine has repeatedly said they're interested in,' Pentagon spokesman John Kirby told reporters after the announcement of the weapons package. 'It is particularly an acute need now, as we see the Russians really refocus their efforts on the east and in the south'.
'And of course, when you talk about the east and the south, you're talking about the Sea of Azov in a maritime environment and you're talking about the northern Black Sea. So, these capabilities will be — we hope, helpful in their coastal defense needs,' he added.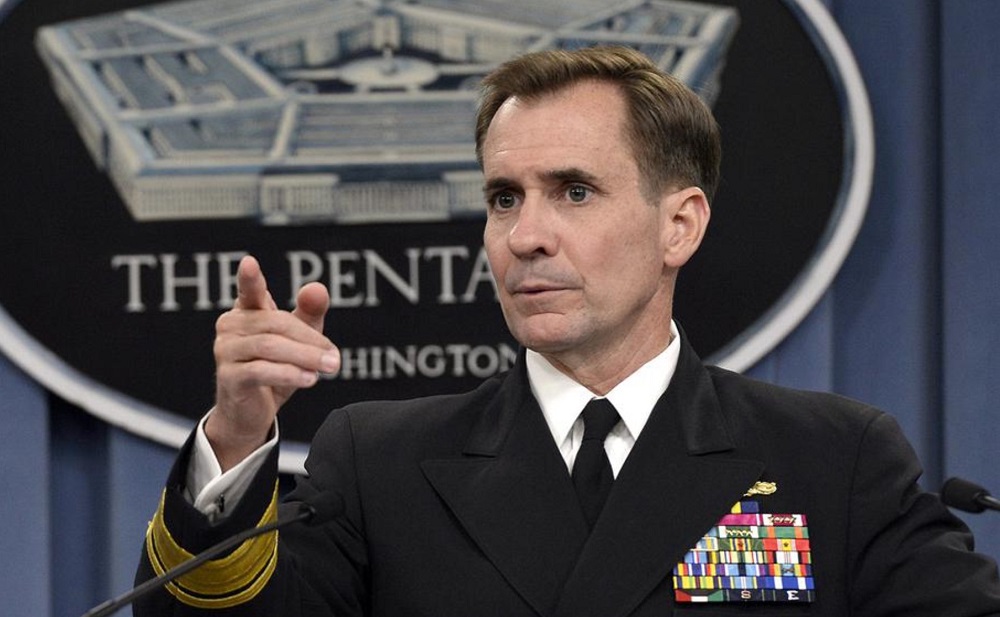 'Even after the loss of the Black Sea Fleet's flagship 'Moskva', the Russians still have 'enough naval capabilities,' Kirby said.
'So, again, they have used the maritime environment to strike inland. They have used the maritime environment to assault the mainland in terms of an amphibious assault. And they have used the maritime environment to intimidate. And in some cases to try to, we think, in some cases try to pin down Ukrainian ground forces near Odesa,' he said.
Indeed, it is difficult not to agree with the Pentagon spokesman. We all remember how the Russians entered the Black Sea with impunity and fired missiles at our cities, threatening from day one to land a naval landing near Odessa. Yes, our military repulsed these attacks and repulsed the enemy, but rocket attacks still continued at regular intervals. I believe that they will continue even after the sinking of the 'Moskva' cruiser.
Let's return to John Kirby's briefing, where journalists tried to get as much information as possible about unmanned coastal defense vessels (USV). 'These unmanned boats can be used for various purposes in coastal defense. I think I will keep which ones secret,' Kirby told reporters, adding that the systems would come from US Navy supplies.
When reporters tried to get more detailed information, Kirby said, 'I'm not going to promise you a newsletter, but I can promise that this deadly thing will work.'
Kirby was later asked if these systems would be used by Ukrainian Navy's on a permanent basis. 'They are designed to help Ukraine with its coastal defense needs. And I think that's enough information so far. I'm not going to go into the specifics of these systems,'  Pentagon spokesman said.
Kirby was also asked whether the ships would arrive under the US Navy prototype program, when they were expected to arrive in Ukrainian waters, and whether they were intended to attack Russian ships.
'As I can get you more information about actual deliveries, we'll do that.  I'm just not in a position to do that.  The authorization just came down yesterday.  And we're working very hard at sourcing these things and getting them on the way to Ukraine as quickly as possible,' he replied. 'I'm not going to talk about the specific capabilities of these USVs.  I've talked about them to the degree that we're going to go,' John Kirby also added.
An anonymous senior US Department of Defense official declined to say more about the system, but said some Ukrainian servicemen have already been trained to use it.
There are many secrets, it is clear. We will try to make some analytical calculations and assumptions, for what purpose we are provided with unmanned coastal defense vessels.
Read also: Invasion of Ukraine: Bayraktar TB2 strike UAV review
Roles and missions of American unmanned coastal defense vessels
Let's start with the most important thing. What role and mission will be performed by these state-of-the-art unmanned vessels in the Ukrainian realities of war?
Unmanned naval systems can perform a variety of functions, from helping to expand surveillance over long distances from the coast, to potential assistance in shelling Russian ships, and clearing Ukraine's territorial waters from mines after Russia leaves.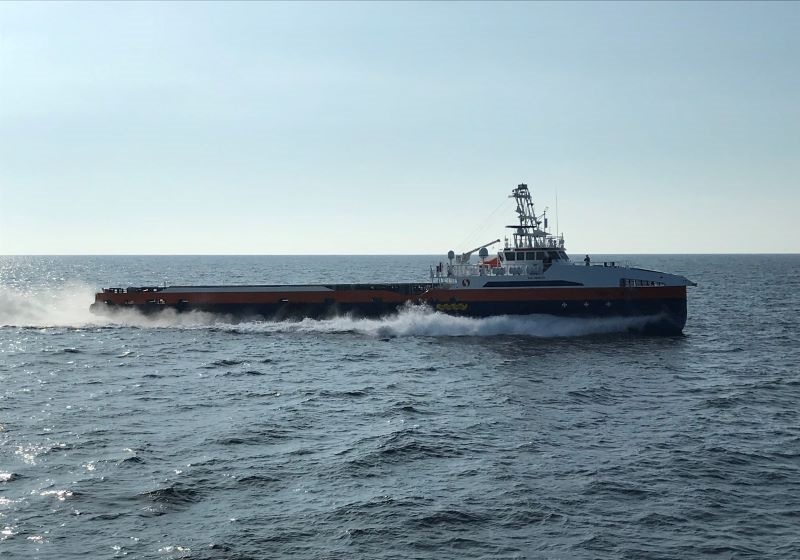 It is also important to understand that the more modern armaments our Navy has, the more opportunities it will have to protect the coast. And this is a double benefit. First, it pushes the Russian fleet away from the coast of our country and protects against missile strikes on cities or troop landings. Second, it releases the Ukrainian ground forces, which are now deployed to protect the coastline, which will allow them to operate elsewhere. For example, those military units deployed near Odessa could be transferred to Kherson and Mykolayiv to resist the occupying group, which sometimes feels impunity here. I'm not talking about Chornobayivka, it's the Ukrainian Bermuda Triangle.
Unmanned coastal defense vessels could potentially also be used for direct attacks on Russian ships. Cruisers, frigates, small missile ships and patrol boats would be good targets for the USV. The occupiers are already frightened after the sinking of the cruiser 'Moskva', and now there are these unmanned boats…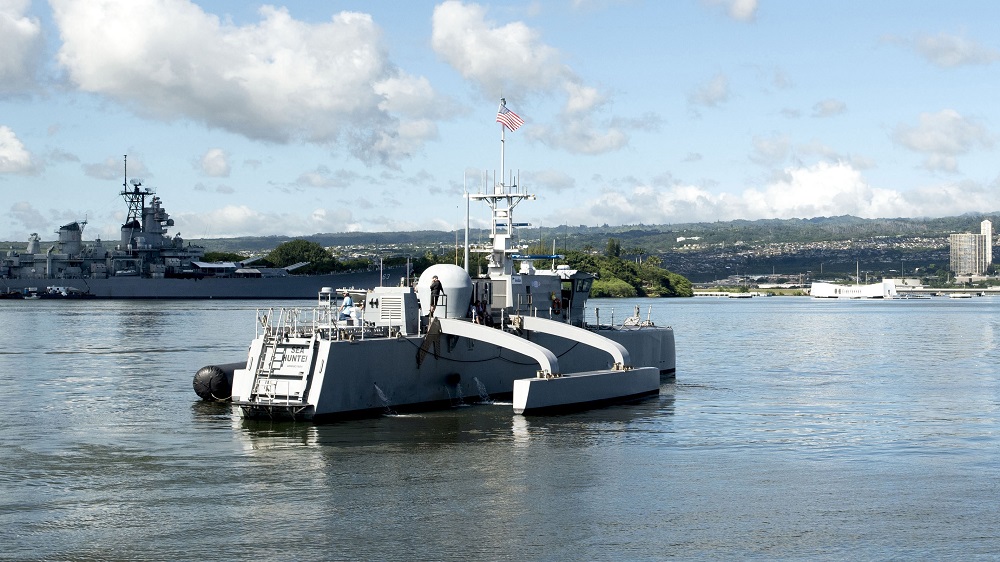 Of course, those boat systems that are sent to Ukraine are probably designed for surveillance and reconnaissance (ISR) and counter-mine action. But I would not be surprised if our defenders, when they start using them, think about how to equip these boats with a deadly payload. That is, our special forces will be able to equip unmanned coastal defense boats as they need, and will be able to use them to attack Russian ships.
Such weapons could potentially include small guided missiles or machine guns and grenade launchers. In addition, the military can simply load boats with explosives and send them directly to Russian ships. I am sure that our Armed Forces will come up with something.
Read also: Weapons of Ukrainian victory: Anti-aircraft weapons that protect our skies
Some possible options
As you have already understood, no one knows exactly which unmanned coastal defense vessels Ukraine will receive. We can only guess what our military will get from their Pentagon counterparts. But let's try to predict which USV models may arrive, or perhaps have already arrived to Ukraine.
Sea Hunter
Let's start with the Sea Hunter class USV.
Even by US military standards, the amount of positive feedback on Sea Hunter, a prototype submarine tracking drone developed by the US Defense Research Agency DARPA, worth $ 20 million, is impressive. It is characterized as 'a highly autonomous unmanned aerial vehicle that can revolutionize US naval operations' and 'a new vision of naval surface warfare.' The drone was developed as part of the Anti-Submarine Warfare Continuous Trail Unmanned Vessel (ASW ACTUV) program.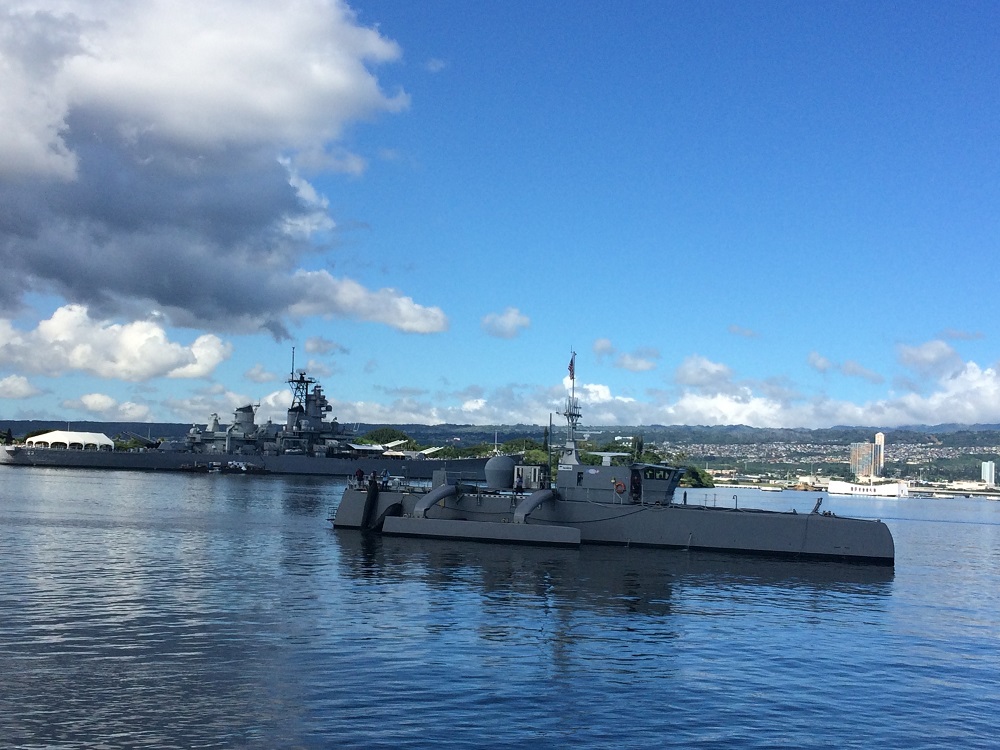 The Class III unmanned vessel has the potential to travel thousands of miles of open ocean for months without any crew on board and with low running costs – estimates range from $ 15,000 to $ 20,000 per day, compared to $ 700,000 per day necessary for the operation of a destroyer. According to DARPA, the Sea Hunter could eventually lead to the creation of a completely new class of ocean-going ships and eliminate the need for large manned warships, transforming ordinary warfare at sea.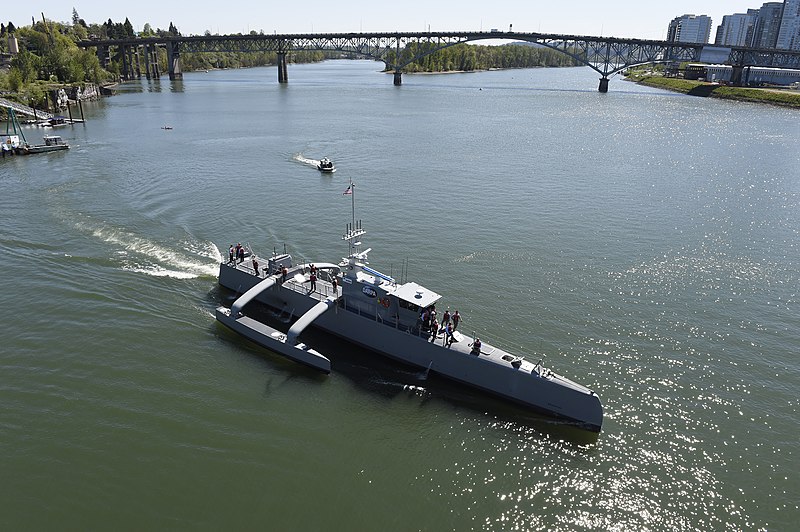 With a length of 132 feet (40 m), and capable of speeds of 27 knots, Sea Hunter is the world's largest propeller-free ship. It is designed as a trimaran. That is, it is a multi-hull vessel consisting of a main hull and two smaller hulls (or 'floats') attached to it by side beams.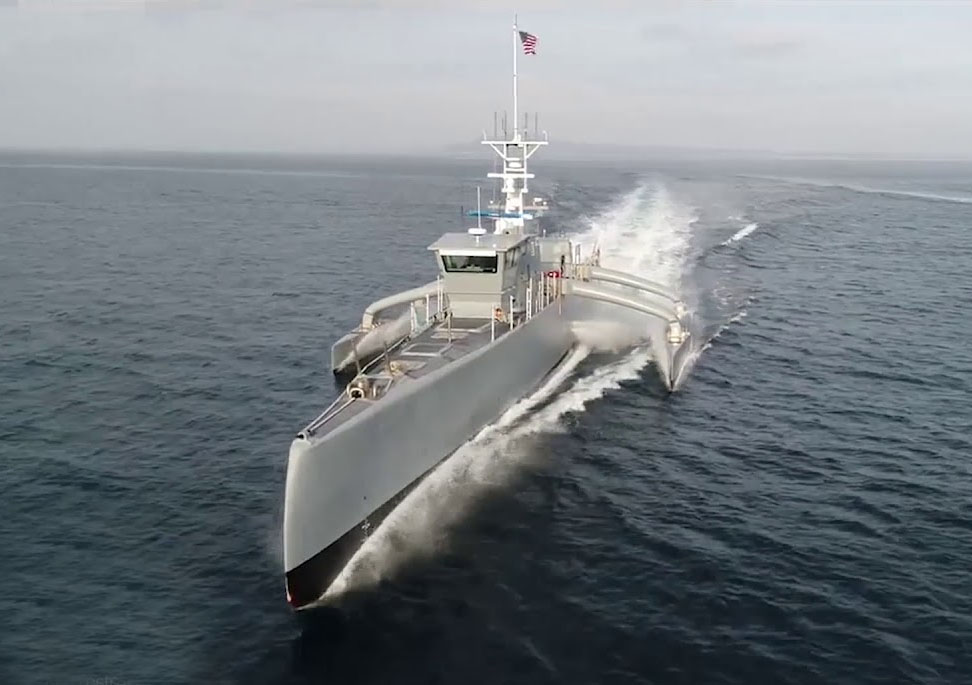 The joint test with the DARPA aerial towing hoist was successful. This means that Sea Hunter can communicate with the fleet and provide the necessary tracking, surveillance and reconnaissance data. It is important that the testing took place in open water, and was accompanied by probing of the ship's autonomous complexes.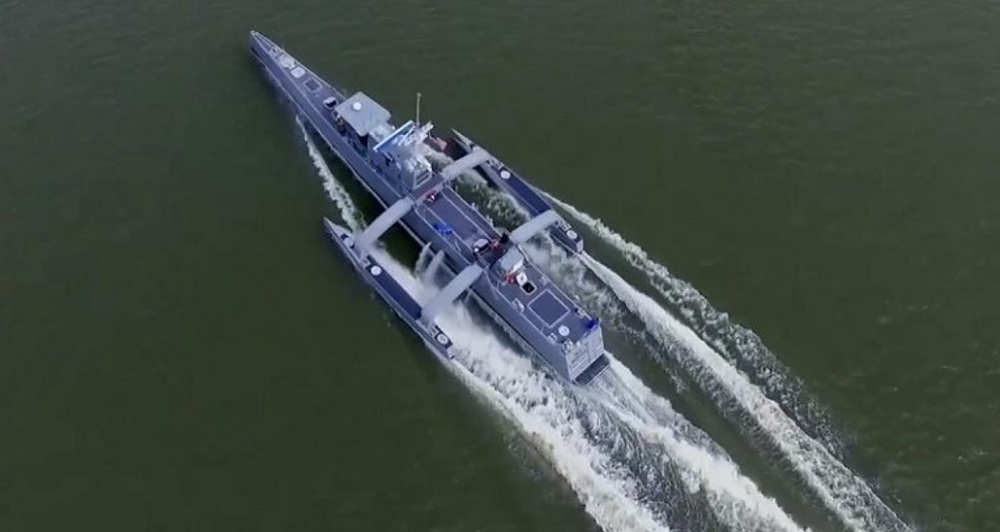 This unmanned boat is able to fight not only surface ships, but also submarines. This would really be an unpleasant surprise for Russian submarines, which feel very safe in the Black Sea.
Read also: Weapons of Ukrainian victory: ATGM Javelin FGM-148 – ruthless to enemy tanks
Fleet class unmanned vessel (CUSV)
The Fleet unmanned vessel (CUSV) is a fourth-generation USV developed by Textron Systems Advanced Systems and AAI Unmanned Aircraft Systems with the support of Maritime Applied Physics Corp (MAPC).
The CUSV can be deployed from Freedom and Independence littoral combat ships (LCS) to perform a range of tasks, including counter-mine warfare, anti-submarine warfare, relay communications, intelligence, surveillance and reconnaissance (ISR), surface combat and  UAV launch and tracking.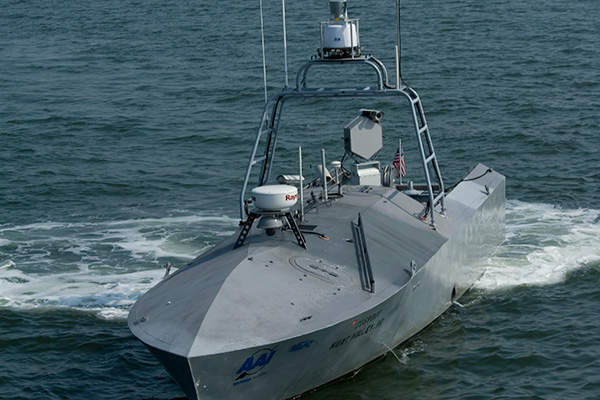 Textron first demonstrated Fleet's improved CUSV autonomy capabilities during the 2011 Trident Warrior exercise. The ship successfully demonstrated unmanned mine detection and clearance capabilities. The second improved unmanned vessel completed a demonstration of capabilities in the waters off New Orleans in April 2012.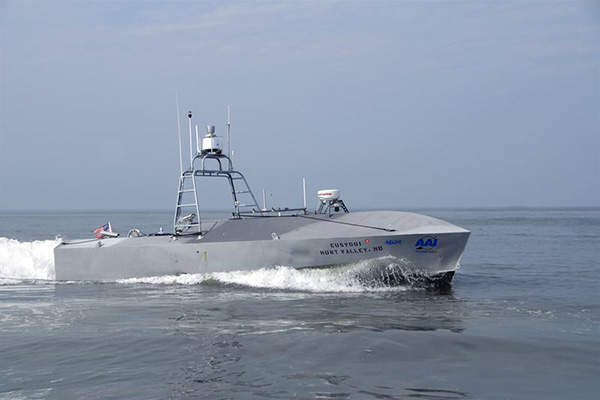 In October 2014, Textron received a $ 33.8 million contract from the US Navy to use CUSV in the Unmanned Influence Sweep System (UISS) program.
The specially designed CUSV has an open modular architecture that includes commercial off-the-shelf (COTS) components. Optimized hull structure provides reduced resistance and increased strength.
The unmanned vessel has the ability to self-repair and provides high maintainability and reliability. It is equipped with an autonomous system of start-up, towing and recovery. The boat is compatible with both LCS configurations: length 39 feet, width 10.25 feet, draft 2.2 feet and towing capacity of 5,000 pounds at a speed of 10 knots.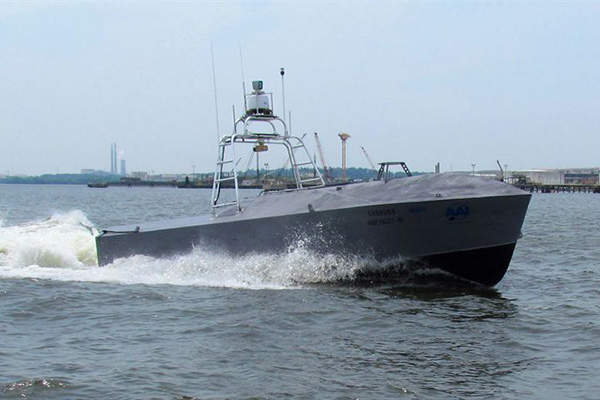 The unmanned naval vessel is equipped with a large universal payload compartment that is 4.3 m (14 ft) long, 1.8 m (6 ft) wide and 1.1 m (3.5 ft) high. The payload compartment can be integrated with a side scan sonar, tracking, surveillance and reconnaissance (ISR) equipment, a mine action module and non-lethal weapons. A camera/radar mast is installed to improve surveillance and target detection.
The CUSV system also includes KVH TracPhone V7 satellite communications, stand-alone marine navigation equipment and retractable antennas. The payload compartment can be readjusted to suit different needs.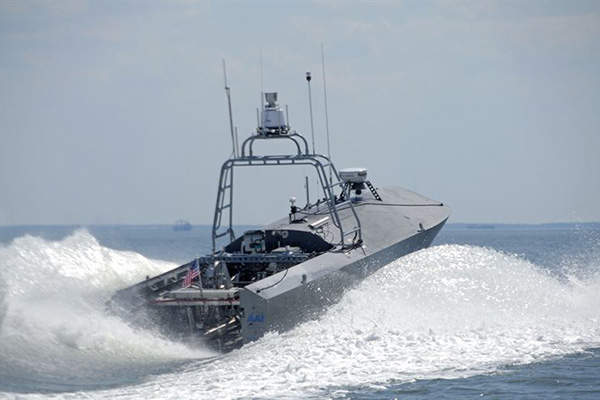 The Fleet CUSV is controlled by a single operator with the General Marine Control and Adjustment System developed by AAI Unmanned Aircraft Systems. The system is compatible with the Harris SeaLancet data channel, which allows data to be transferred between the vessel and the control station.
Improved drives provide the CUSV with a top speed of about 28 knots and a range of 1,200 nautical miles. It is able to perform tasks for more than 24 hours. The drives also provide excellent stability in adverse weather conditions and in storms up to 4 points.
Many analysts agree that this exact unmanned vessel could be delivered to Ukraine. First, it is a vehicle with many functionalities and a variety of payloads with extensive experience on the water. Second, others USVs in the United States are prototypes of various kinds, and it is unlikely that the Pentagon will risk transferring prototypes to Ukraine.
Read also: Weapons of Ukrainian victory: FIM-92 Stinger MPADS
MANTAS T-12
No less interesting option is the unmanned boat Mantas T-12, developed by Maritime Tactical Systems (MARTAC).
These are portable tactical autonomous systems (MANTAS) of the T-series multi-purpose unmanned surface vessels of the new generation (USV). They are designed to carry out naval missions around the world.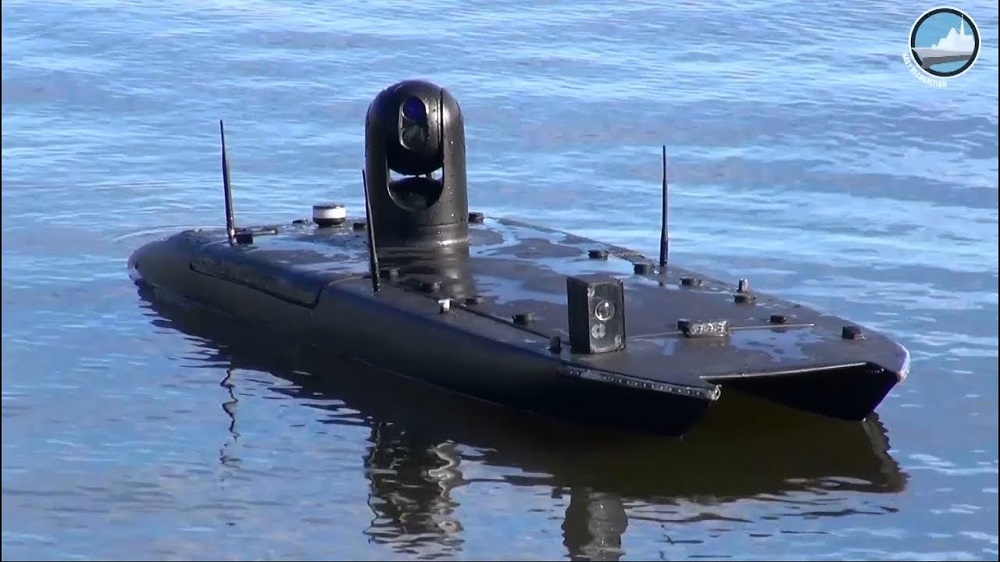 MANTAS USV can perform a variety of operations, such as maritime patrols, search and rescue operations (SARs), surveillance, mine warfare, naval security and training.
The last USV of the T series, MANTAS T-12, was launched in January 2018 during the National Symposium of the Surface Navy Association (SNA) 2018, held in Washington, DC, USA.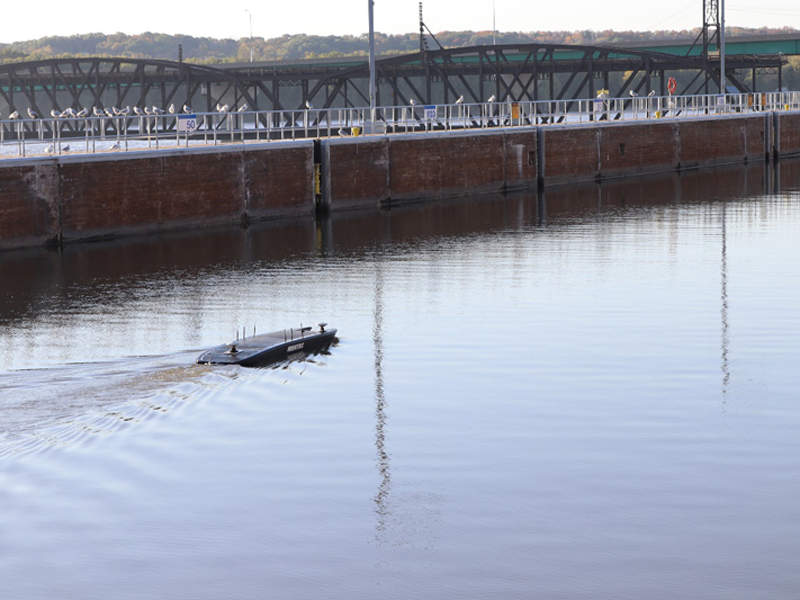 MANTAS USV is available in eight different configurations. Each option offers a variety of options to meet the needs of the Navy. The MANTAS T-12 USV is 361 cm (142 inches) long, 91.5 cm (36 inches) wide and 36 cm (14 inches) high. It has a draft of 18 cm (7 inches), a maximum weight of 95 kg (210 pounds) and can carry a payload of up to 63.5 kg (140 pounds).
The USV of MANTAS T series are developed using advanced design methods. Vessels have high hydrodynamic and aerodynamic characteristics. The hydrodynamic body and smooth profile of the USV allow it to move at higher speeds with excellent maneuverability.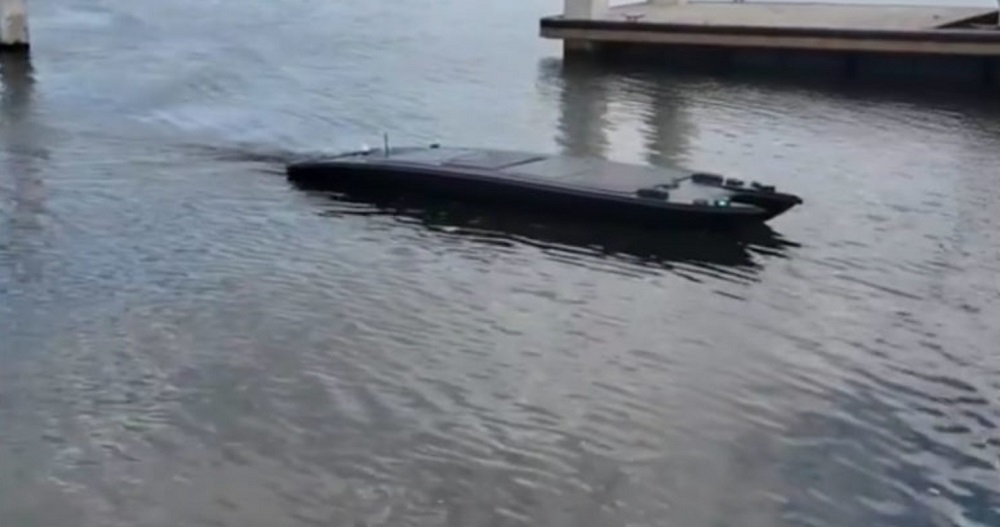 The proven USV design provides high efficiency, reliability, safety and speed in a variety of work environments. It's an affordable solution that's easy to run and restore from anywhere.
USV unmanned work minimizes the need for manpower to perform tasks, reducing potential casualties when working in harsh conditions.
USV MANTAS is controlled by a special ground control station (GCS) via a communication network. GCS manages several USVs simultaneously and can quickly deploy vessels on multiple missions.
The T-12 USV can be equipped with the SeaFlir 230 electro-optical system, the Teledyne Reson T20-P sonar, the Teledyne BlueView M900 front sonar and the Black Hornet nano-unmanned aerial vehicle (UAV) for ISR missions.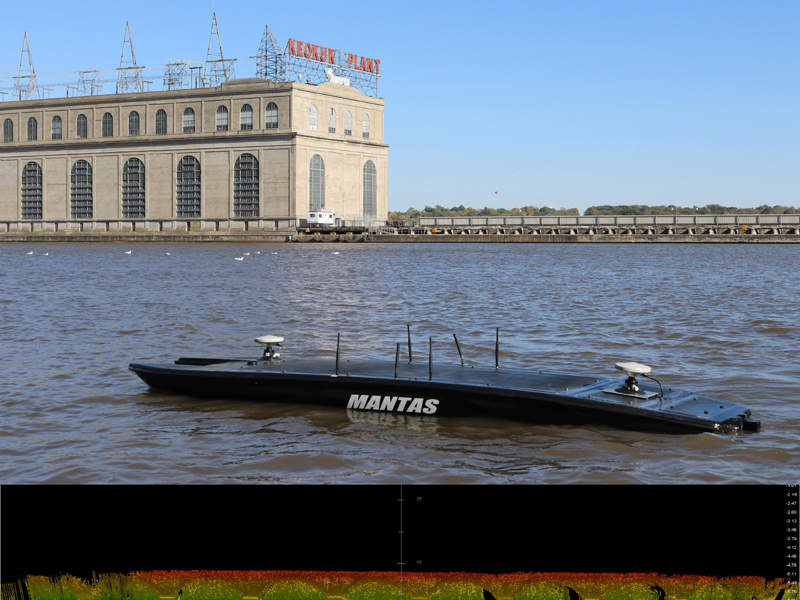 High-definition video sensors on board the USV provide 360° view during missions. The information obtained from the USV can be used to develop the plans needed for further action.
Multi-purpose unmanned naval vessels are powered by a single-propeller or double-propeller electric power unit. The electric motor is powered by high-performance batteries from Oakridge Global Energy Solutions.
MANTAS T-12 can sail at a maximum cruising speed of 45 knots. The maximum range of the USV MANTAS T series ranges from 23 to 60 nautical miles.
Read also: Weapons of Ukrainian Victory: Review of Starstreak MPADS
How can USVs impact the course of war?
It should be understood that the transfer of unmanned coastal defense ships is unlikely to significantly change the balance in the Ukrainian-Russian war. Weapons such as air defense systems and anti-tank weapons are likely to have a greater impact on the course of hostilities.
However, the arrival of unmanned coastal defense vessels in Ukraine will also be very important. This indicates that the United States is beginning to diversify and expand the range of equipment it provides to Ukraine. That is, the supply of technologically more sophisticated equipment, which is currently in service with the US military, is now beginning.
These unmanned surface vessels (USVs) are the latest technology developed by the US Navy for reconnaissance (ISR), surface warfare and mine warfare. Therefore, the fact that they are going to share this with Ukraine is also very important from a psychological point of view, because it means trust and real support in the fight against the Russian invaders.
In addition, the US military can also benefit from the transfer of new technologies. USVs will gain real combat experience, and this is also very important for such developments.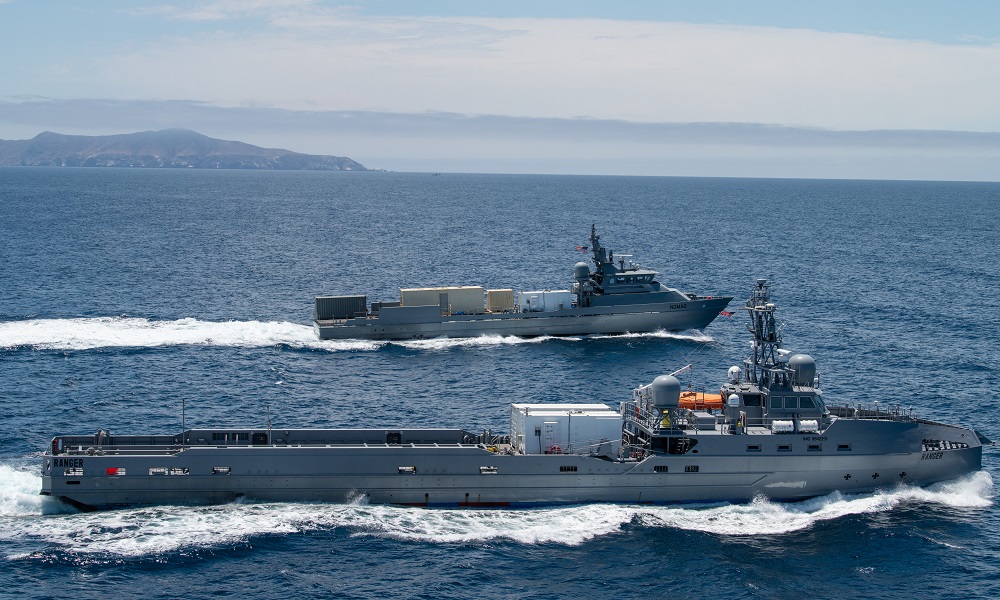 This is a huge advantage for Ukraine in terms of reputation. We are not only given weapons, we are entrusted with their latest developments. We really become partners, not a party that constantly asks.
Unmanned coast vessels will be an important part of protecting our maritime borders. Now orc ships will no longer approach our shores so brazenly and with impunity.
The state-of-the-art weapons from partners and friends are approaching our Victory Day! We will definitely break the backbone of Muscovy's imperial ambitions! Everything will be Ukraine! Glory to Ukraine! Death to enemies!
You can also help Ukraine fight with Russian occupants via Savelife or via an official page of the National Bank of Ukraine.