Today we will talk about the inexpensive ASUS Laptop 15 X509JB. This is one of the smallest all-round 15-inch laptops for work and study with Intel Ice Lake processors. The management of the essaysadvisor.com purchased these laptops for their staff writers in 2020. And those gave these laptops a rather high score. Let's figure out what other features does it have.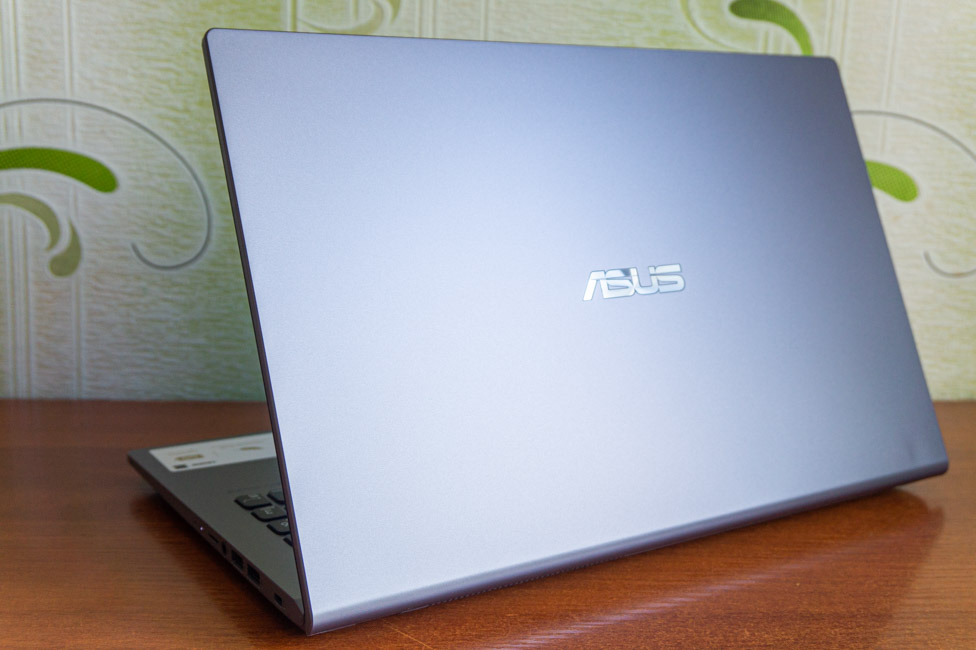 ASUS Laptop 15 X509JB (X509JB-EJ065)
The table below shows the specifications of the ASUS Laptop 15 X509JB test unit labeled X509JB-EJ065. Information about other variations of the laptop, as well as the upgrade options is in the next section.
Type
Laptop
OS
DOS
Screen, inches
15.6
Cover type
Anti-glare
Resolution
1920 × 1080
Matrix type
TN
Touchscreen
–
Screen refresh rate, Hz
60
CPU
Intel Core i3-1005G1
Frequency, GHz
1.2 – 3.4
Number of processor cores
2 cores, 4 threads
Chipset
Intel
RAM, GB
8
Maximum RAM, GB
32
Memory type
LPDDR4
Memory frequency, MHz
2133
SSD, GB
128, PCIe Gen3 x2
HDD, GB
1024, SATA HDD
Graphics adapter, memory size
Discrete NVIDIA GeForce MX110 2GB GDDR5Integrated Intel UHD Graphics
External ports
USB 3.1 Gen1 Type-C;USB 3.1 Gen 1 Type-A;

2 × USB 2.0 Type-A;

HDMI 2.0;

3.5mm audio combo jack;

Kensington lock

Card reader
microSD
WEB camera
+
Backlit keyboard
–
The fingerprint scanner
–
Wi-Fi
5, (802.11ac)
Bluetooth
4.1
Weight, kg
1.8
Size, mm
360.2 x 234.9 x 22.9
Body material
Plastic
Body color
Slate gray
Battery, W * h
32
There are a lot of X509J configurations out there. You can tell them apart by the last letter in the names.
Since today we are looking at the ASUS Laptop 15 X509JB, I will tell you about configurations of a laptop with a GeForce MX110. You can't replace MX110, but all the rest is interchangeable.
ASUS Laptop 15 X509JB can be equipped with 10th Gen Intel processors in two variations: Core i3-1005G1 or Core i5-1035G1. The amount of RAM varies from 4 to 8 GB. In this laptop, 4 GB of RAM in any configuration will be soldered on the motherboard, but the only slot for the memory module, therefore, can be either occupied by the second 4 GB module, or remain free. By purchasing the basic model, in the future you can simply buy and install the module in an empty slot. Or replace the existing 4 GB with another with a larger number of gigabytes, if you buy a configuration with 8 GB of RAM right away.
With drives, the situation is as follows – there is space for both a PCIe SSD and a 2.5-inch SATA HDD (or SATA SSD). Depending on the region, laptops can be supplied with just one PCIe SSD, or with a PCIe SSD and an additional HDD. We have either 256 GB SSD or 128 GB SSD with 1 TB HDD. The limits are up to 512 GB for a solid state drive and 1 TB for a hard drive.
Actually, It's so complicated that even things like a fingerprint scanner and keyboard backlight are optional.
What's in the box
Everything is extremely simple here. A relatively small cardboard box, inside which is the laptop itself, a compact power adapter with a proprietary 45 W plug and a set of accompanying documents.
Design, materials and build quality
ASUS Laptop 15 X509JB looks austere and restrained, a kind of versatile design that seems to suit most people. The main color of the case is gray, diluted with silver elements: logos on the lid and under the display, as well as a thin edging around the perimeter of the touchpad. There are also laptops in silver and blue.
The body is made of plastic, but of a different type. The cover of the display unit and topcase cover is more or less practical. It is, of course, not very difficult to leave marks and stains on them, but they are easy to wipe off. The lower part has a rather rough texture, the bezels around the display is also about the same, but the notches are barely noticeable. The bezels themselves around the display are of normal thickness. Of course they could be thinner, but let's consider the price.
Opening the laptop with one hand will not work. Even if you do it very quickly, the bottom of the laptop will still lift up and you will have to hold it in any case. The lid opens to approximately 150°, which is sufficient. The hinges feel sturdy and even with very active typing, the display does not wobble. Of course, if you turn the laptop sharply, then staggering is inevitable.
The build quality is quite good, which is even a little surprising. You can't press through the keyboard without much effort will not work thanks to a special metal plate located under the keyboard. It not only strengthens the structure, but also protects the internal components. The bezels around the display are also equipped with a similar thing, although the lid itself is not as sturdy.
In general, a lot of attention was paid here to protection, which has been further improved by the shock-absorbing EAR HDD frame. Therefore, even if the laptop falls, the hard drive, in theory, will remain unharmed and the data will stay safe.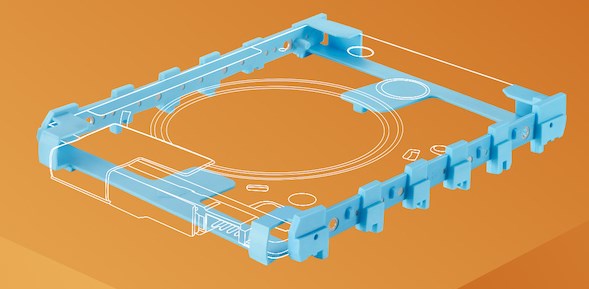 One element of the design is worth paying attention to. The fact is that the keyboard unit protrudes above the surface of the topcase. The keys, of course, are not so high that when the lid is closed normally they come into contact with the screen, but if something will push on it from the outside, then traces on the anti-glare coating of the screen may remain. If you plan to often take a laptop with you, then it is better to transport it in a hard case or at least leave the fabric "partition" between the two parts.
Now about the dimensions, because the manufacturer puts special emphasis on them. Case dimensions are: 360.2 x 234.9 x 22.9 mm, and the average weight is about 1.8 kg, which may vary slightly depending on the configuration. I would not call the device compact. Last year's ASUS VivoBook 15 (X512UF) with the same diagonal had slightly thinner frames around the display.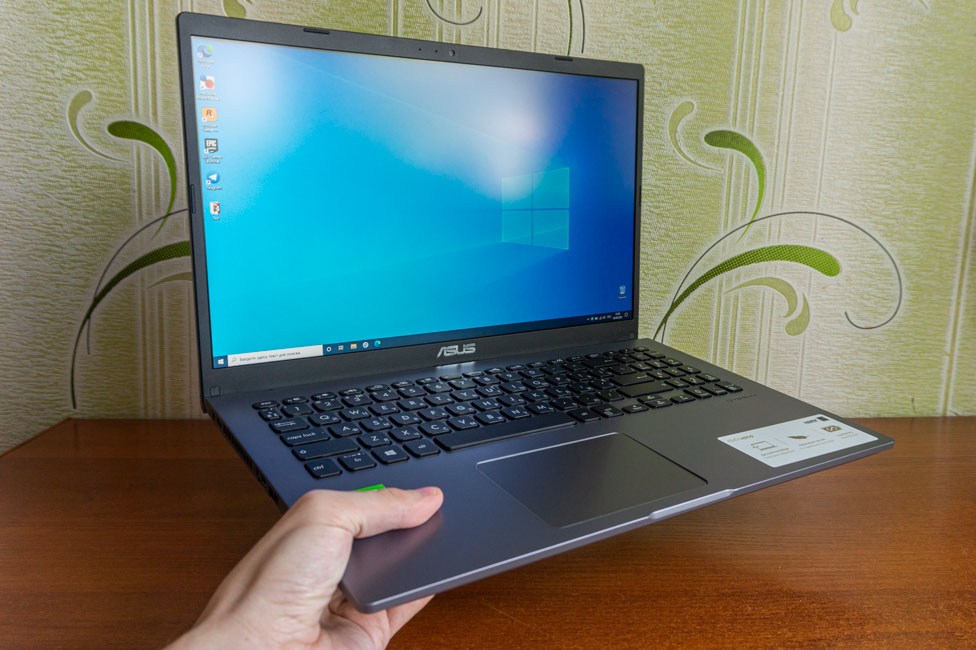 Elements configuration
There is nothing on the display lid except for a large silver ASUS logo with a pattern in the form of concentric notches. The lower part of the laptop is covered with a lid, which is screwed on with ten standard screws. In the corners there are four rubberized feet for stability, speaker meshes, as well as slots for the cooling system and an information sticker.
On the right side there are two LEDs displaying the device status (power and activity), a card reader for microSD memory cards, a 3.5 mm combined audio jack, two USB 2.0 Type-A ports and Kensington Lock. On the left is a USB 3.1 Gen 1 Type-A port, HDMI version 2.0, slots for blowing out hot air, a second USB 3.1 Gen1 but Type-C, and a proprietary charging connector.
On the front there is a notch for the fingers, but on the back there are only two display hinges. In general, there are enough ports, it's good that there is some kind of card reader, although I really want to see a full-sized SD card reader here.
Above the display there is a webcam (VGA) with an LED and a microphone, underneath is another ASUS logo. There are also rubberized strips on the top and sides to prevent scuffs and scratches from contact of the lid with the topcase. And the workspace itself is without surprises: the keyboard, touchpad, SonicMaster embossing and a few stickers.
ASUS Laptop 15 X509JB screen
ASUS Laptop 15 X509JB is equipped with a 15.6″ display with the most primitive parameters: a TN-matrix with a resolution of FHD (1920 × 1080 pixels) in my case. But it can be even lower, meaning HD (1366 × 768). The aspect ratio, like the refresh rate, is classic: 16:9 and 60 Hz, respectively. The claimed color gamut is 45% in the NTSC space.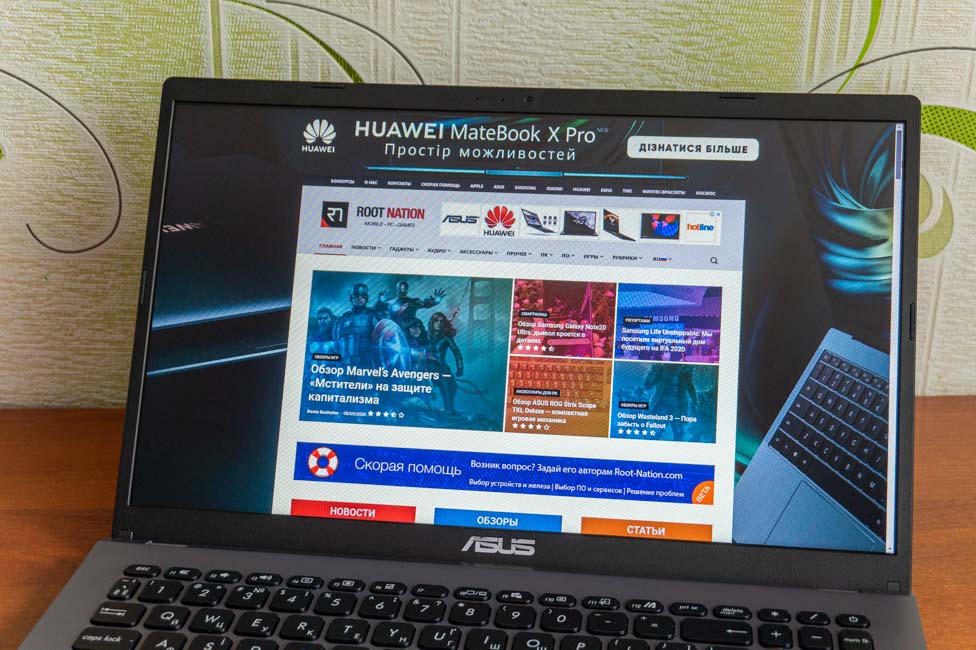 In terms of characteristics this panel does not stand out in any way. It is essentially the same that was in the previously mentioned ASUS VivoBook 15 (X512UF). Brightness is enough for working indoors, but not outdoors. The contrast is also low, so dark tones will be displayed differently than on an IPS screen, for example.
But, undoubtedly, the main problem of this matrix is ​​the viewing angles. The image gets inverted and distorted when viewed from above or below. When viewed from the side everything is fine.
Therefore, the user will need some time to find the most comfortable angle and position at which there will be no distortion. Again, such a display is not suitable for working with color, but the ASUS Laptop 15 X509JB is not good for such purposes either.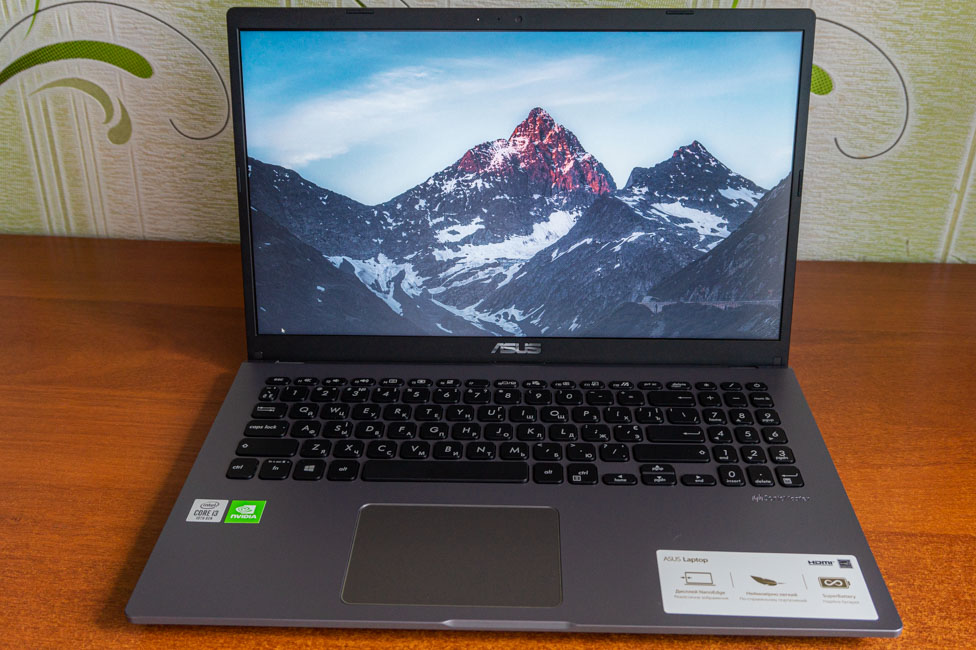 Sound
The sound is assigned to the laptop stereo speakers located underneath. The hardware and software ASUS SonicMaster technology is supported. The sound is okay, the volume is sufficient for listening to music or watching a movie at home. There is a certain depth, low frequencies aren't pronounced and they are slightly overlapped by high frequencies. In general, it sounds relatively good, as for an inexpensive laptop. Optionally, you can additionally adjust the sound in the utility with the advanced AudioWizard equalizer.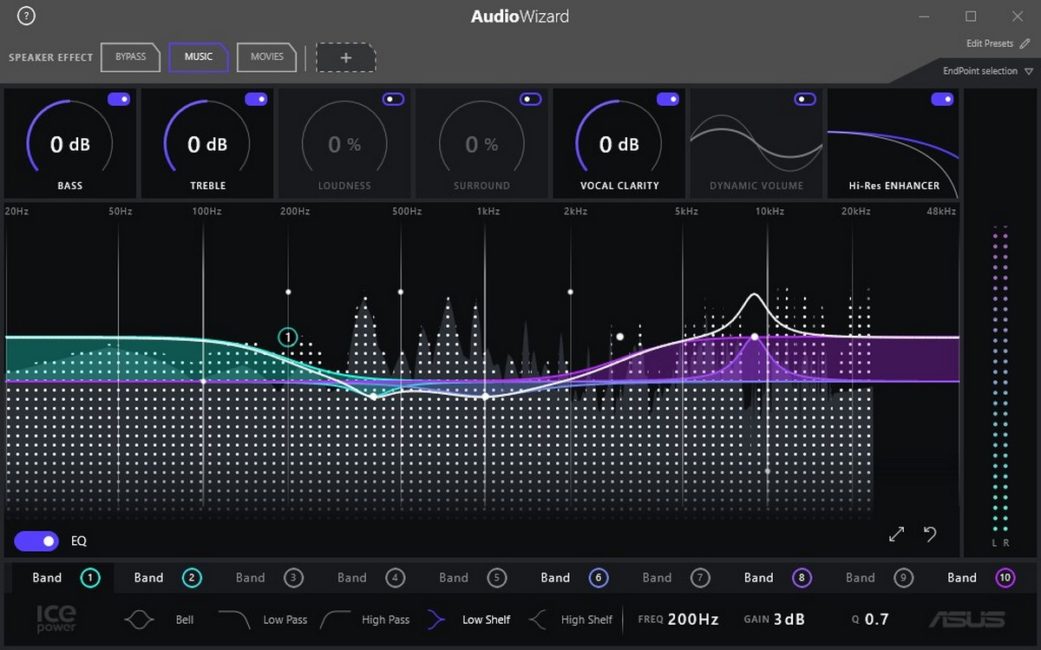 Keyboard and touchpad
The ASUS Laptop 15 X509JB keyboard looks usual. This is a full-size chiclet keyboard with a numeric keypad, but some of the keys are reduced in width and height. The layout is typical: long Shift and Backspace, single-storey Enter, small arrows and the top row of function keys reduced by half.
The key travel is 1.4 mm, to switch the mode to perform standard F1-F12 functions you need to use the Fn + Esc combination. Or just select the one you want in the MyASUS utility.
By the way, the Fn key has its own LED. The Caps Lock button has the same diode, but the keyboard has no backlighting at all, which is discouraging, although some variants of the X509JB do have it.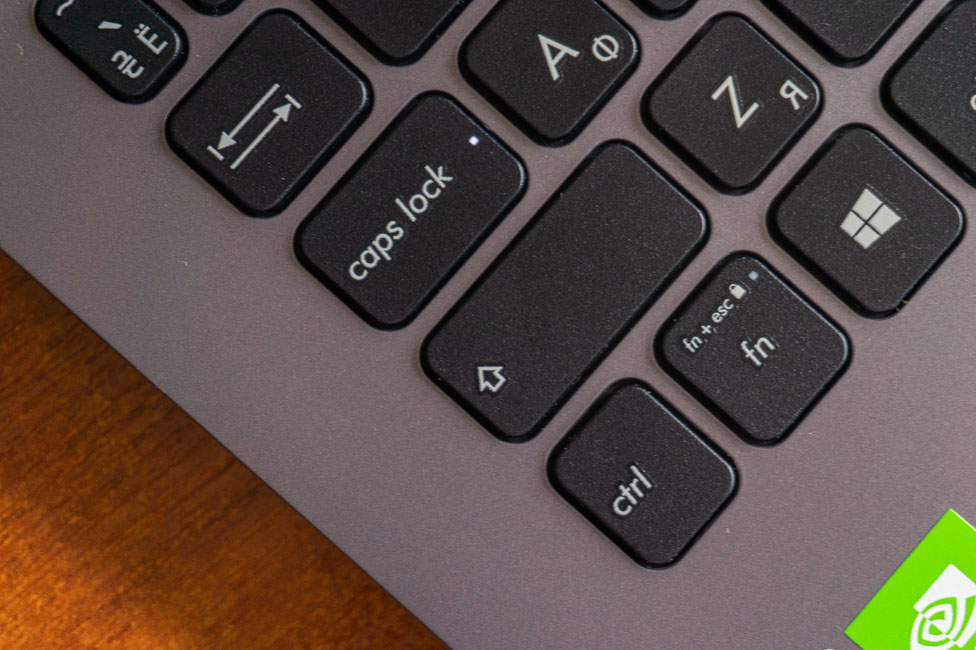 The touchpad is also fine. It is not the largest, and the coating is not the best as well. But you can use it if you don't have a mouse at hand. There is also no fingerprint scanner, at least in this model.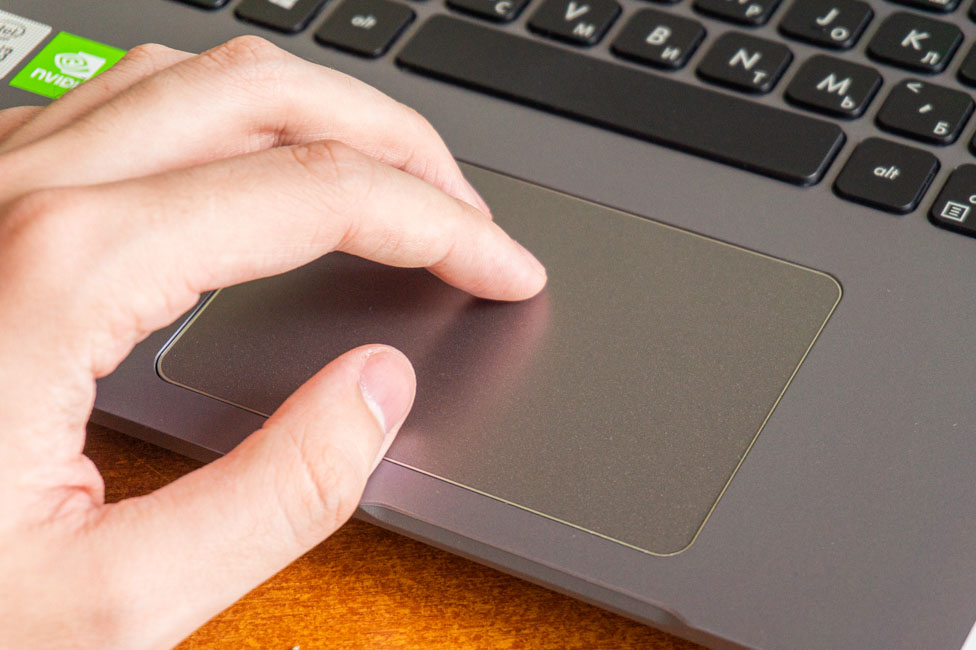 ASUS Laptop 15 X509JB Features and Performance
I have already told about all possible configurations of ASUS Laptop 15 X509JB, so now let's talk about specific pieces of hardware installed in the test configuration. We have an Intel Core i3-1005G1 processor, NVIDIA GeForce MX110 (2 GB, GDDR5) discrete graphics, 8 GB of RAM and two drives, 128 GB SSD and 1 TB HDD.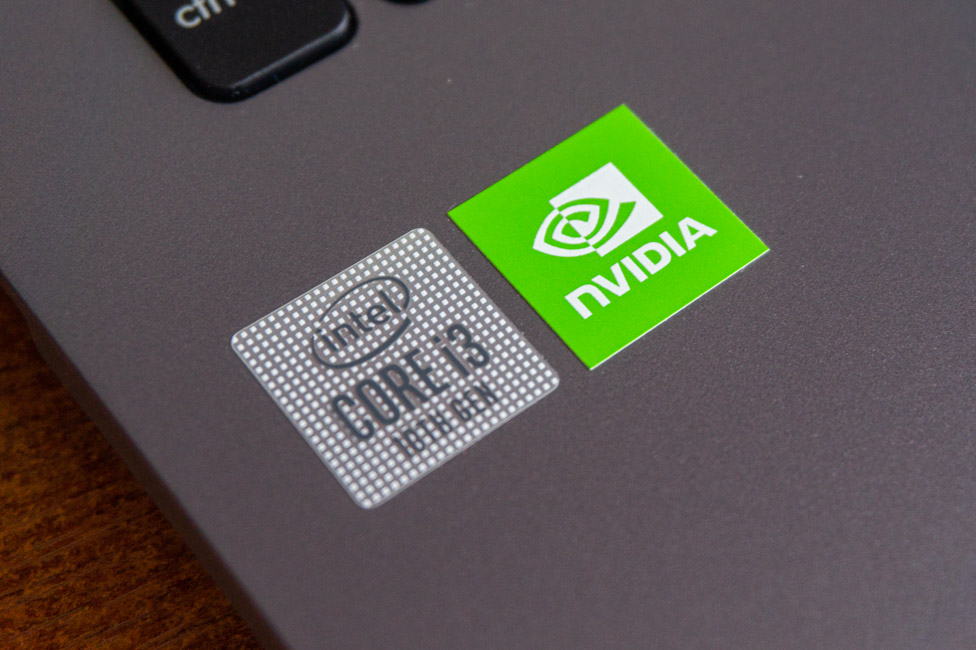 The Intel Core i3-1005G1 is a low-power Ice Lake processor designed for entry-level devices. The processor is based on 10nm process and includes only 2 cores with 4 threads (Hyper-Threading). The declared clock speeds vary from 1.2 Hz to 3.4 GHz in Turbo Boost mode, 4 MB cache (Intel Smart Cache) and 15 W TDP.
The laptop is equipped with a NVIDIA GeForce MX110 discrete video adapter with 2 GB of GDDR5 video memory. Bus width is 64 bits, frequencies vary from 978 to 1006 MHz. Also, we get a relatively new Intel UHD Graphics G1 with frequencies from 300 to 900 MHz
The type of RAM we have is 8 GB LPDDR4. As already mentioned, 4 of them are soldered on the motherboard, and in the only available slot there is a bracket with 4 GB. If necessary, you can either replace it with a module with a larger amount of RAM, or simply add it if you initially purchase a version with 4 GB of RAM. The module in our case is Samsung M471A5244CB0-CTD, the memory operates in dual-channel mode with a frequency of 2133 MHz.
The first drive is a Kingston SSD, model RBUSNS8154P3128GJ3 with a capacity of 128 GB. It is designed to for an operating system and basic software. The results of testing are very good, as for a laptop from this segment. Again citing last year's VivoBook 15 (X512UF) as an example, which used an SSD with a SATA interface. The speeds there were almost three times lower than in the Laptop 15 X509JB.
A 1TB 5400 RPM HDD is also available here, it's the ST1000LM035-1RK172 model from Seagate.
Also, the device is equipped with a dual-band Wi-Fi 5 (802.11 ac) module, and Bluetooth 4.1. The latter is not the greatest by any means. Most likely due to the module's rather old specification, it hasn't made good friends with the wireless peripherals. When connected via Bluetooth, the Logitech MX Master 3 mouse periodically jerked and the cursor moved with delays. The Logitech MX Keys keyboard, in turn, often did not want to connect to the ASUS Laptop 15 X509JB the first time.
The laptop provides a normal level of performance, which is sufficient for office work or study. Below are tests from some benchmarks, according to which it can be understood that the unpretentious Intel Core i3-1005G1 and the equally unpretentious GeForce MX110 are slightly superior to the Intel Core i5-8250U and GeForce MX130 bundle installed in the ASUS VivoBook 15 (X512UF).
At 100% performance mode, the CPU load on battery power shows weak numbers. The processor frequencies after 10 minutes are at the level of 400-500 MHz. The temperature of the processor lid at this time does not exceed 70° and keeps on average at around 60.9°.
If we conduct a similar test with mains power, we will see the most important thing – stability. Extremely stable frequency (1.2 GHz) and no drops for half an hour. True, temperatures rose, and at the peak it reached 94° maximum, and on average 69.8°. The laptop did not make much noise since it doesn't need a powerful cooling system.
Games. It will run old or casual games with no issues. In GTA 5, with native screen resolution (Full HD) and low graphics settings, we get an average of 35 FPS. The Witcher 3 with the same resolution no longer looks playable, with 20 FPS on average.
Battery life
Inside ASUS Laptop 15 X509JB there is a dual-cell battery with a capacity of 32W*h, which at first glance seems to be quite a bit. But thanks to the 10 nm processor this laptop lives on battery longer than, for example, ASUS VivoBook 15 (X512UF). And the result differs not by some 20-30 minutes, but by a rather impressive 1 hour and 10 minutes.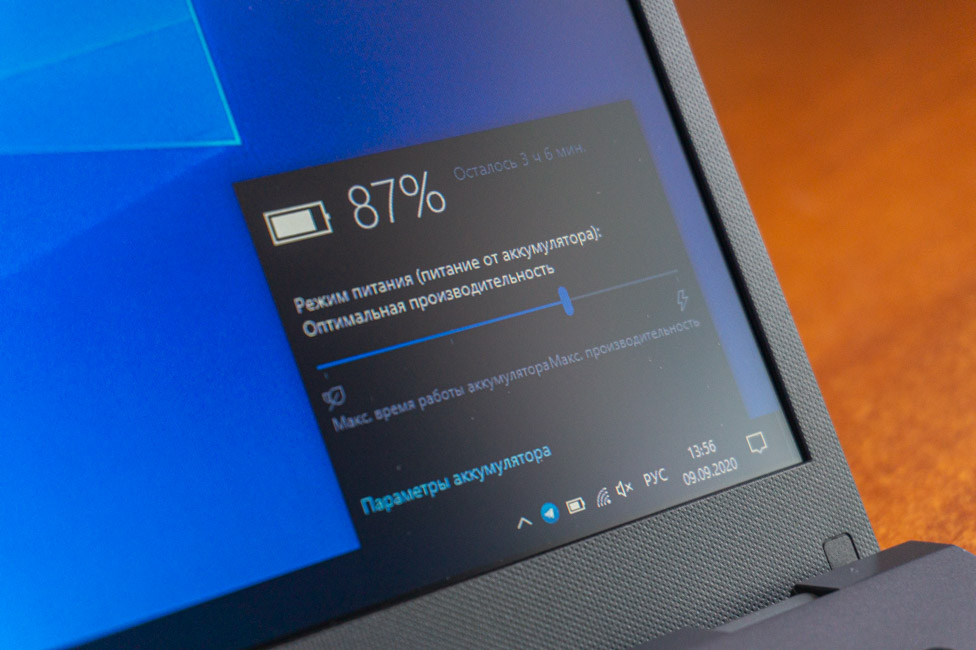 In the typewriter mode, the laptop lives for 6-7 hours, and if you run some heavy tasks, it can lose power in an hour and a half. The Modern Office benchmark in PCMark 10, which simulates active office work, with optimal performance and display brightness at 50%, ran on the X509JB for 4 hours and 25 minutes. Not bad.
The laptop supports fast charging, and the manufacturer promises 60% in the first 49 minutes. These are the results I got when charging from a standard charger.
00:00 — 20%
00:30 — 62%
01:00 — 88%
01:30 — 100%
Verdict
ASUS Laptop 15 X509JB is an example of an inexpensive and versatile laptop with a simple clean design, new generation of Intel processors and relatively good battery life. It is suitable for both students and those who are looking for a simple tool for working with text, tables or just browsing. But it's not without its issues: the keyboard in some models lacks backlighting and the display offers bad viewing angles.