At CES 2020 ASUS revealed the updated gaming laptops of the TUF Gaming series. They replaced both TUF FX505 and FX705. The new flagships are called ASUS TUF Gaming A15 and A17. The names have become simpler, but today I'll tell you how the laptops themselves have changed. Let's take a look at ASUS TUF Gaming A17 model, which is also known as FX706I.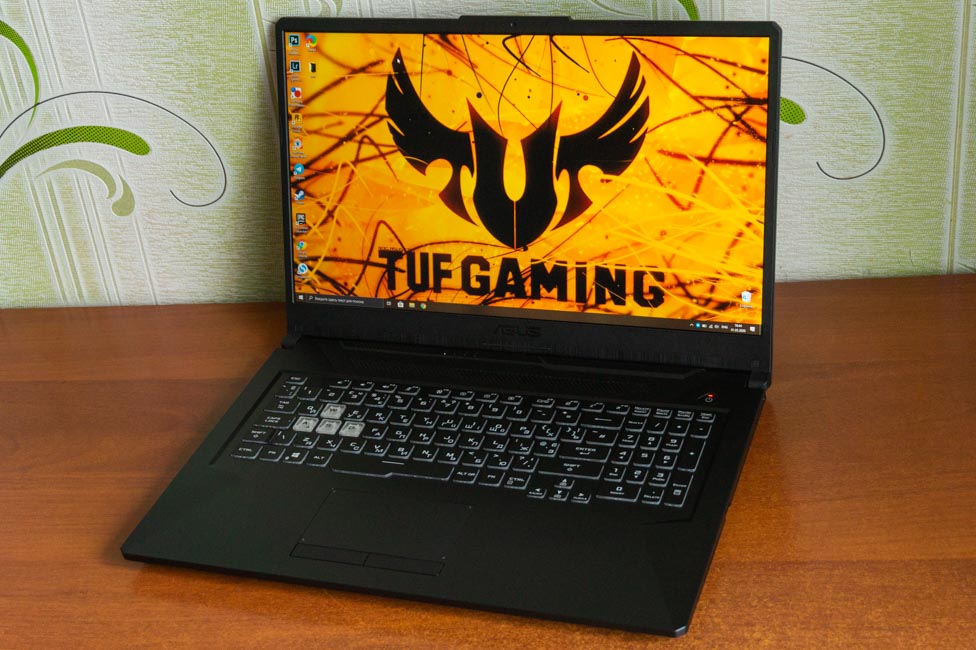 ASUS TUF Gaming A17 FX706I specs
Type

Gaming laptop

OS

Windows 10 Pro

Diagonal, inches

17,3

Coating

Anti-Glare
Resolution

1920×1080

Matrix Type

IPS-level

Touch

–

Screen refresh rate. Hz

120

Processor

AMD Ryzen 7 4800H

Frequency, GHz

2,9 – 4,2

The number of processor cores

8 cores, 16 threads

Chipset

AMD

RAM, GB

32

The maximum amount of RAM, GB

32

Memory Type

DDR4

Memory Frequency, MHz

3200

SSD, GB

1024

HDD, GB

–

Graphics, memory
Discrete NVIDIA GeForce GTX 1650 Ti, 4 GB, GDDR6 + integrated Radeon Graphics

External ports

LAN RJ-45,

HDMI 2.0b, 2×USB 3.2 1Gen Type-A, 1×USB 3.2 2Gen Type-C, 1×USB 2.0 Type-A, 3,5 mm combo audio jack,

Kensington Lock

Card Reader

–

WEB-camera

HD

Keyboard Backlight

+

Fngerprint scanner

–

Wi-Fi

5 (802.11 a/b/g/n/ac (2×2))

Bluetooth

5.0

Weight, kg

2,6

Dimensions, mm

399,2×268,9×23,9

Case Material
Plastic and Aluminum
Color

Black

Battery, W*h

48
ASUS TUF Gaming A17 configurations
Since ASUS TUF Gaming A17 is very fresh, I do not have information about all the available configurations and their markings. Therefore, here I will simply list the variations of hardware that can be installed in A17. Let me remind you that the hardware configuration of my test model is in the table above.
Screens: 17.3″, Full HD, IPS-level with 60 or 120 Hz
AMD processors: Ryzen 5 4600H or Ryzen 7 4800H
Discrete NVIDIA GeForce graphics cards: GTX 1650 (4 GB, GDDR6), GTX 1650 Ti (4 GB, GDDR6) or GTX 1660 Ti (6 GB, GDDR6), RTX 2060 (6 GB, GDDR6)
RAM: DDR4, 3200 MHz to 32 GB
HDDs: without HDD or with 1 TB
SSDs: 256, 512 or 1024 GB
Batteries: 48 or 90 W*H
OS: Windows 10 Home or Windows 10 Pro
I think, looking at the list, some readers may have a question about the battery. After all, you must admit that laptops of the same model with such varying batteries are a rarity.
This indicator is directly related to the HDD. There are versions that come with a terabyte of storage, there are with free places for a 2.5-inch drive, but there are those where there is no disk or space for it. And it is in the latter that a 90 Wh battery is installed.
Since we touched on the topic of hardware, it would be logical to develop it and tell you which components are subject to replacement or upgrade. You can install a big SSD-drive, and GTX 1660 Ti also has a second free M.2 slot. There are two slots for RAM, but the main thing here is that the RAM is not soldered and, again, you can put more. In short, there is the opportunity to make a full upgrade, which is undoubtedly a plus of the laptop.
What's in the box
A sample of ASUS TUF Gaming A17 arrived with a charger, but from the ROG series. It's okay, since it's also 180 watts.
Design, materials and build quality
TUF Gaming series laptops are known for ASUS' unusual approach to design, the essence of which lies in the fact that the manufacturer offers two versions to choose from. And ASUS TUF Gaming A17 was no exception. This laptop is available in Fortress Gray or Bonfire Black design. The main difference is essentially the design of the cover.
My sample is a gray, with an aluminum cover, the TUF logo in the center and decorative cogs in the corners. But the second one has a plastic cover, with bright red edges and visual separation of the brushed metal texture and the usual one. I think it is clear that the second option looks aggressive, in the spirit of gaming laptops.
But these are all the differences, for the rest, the first and second options are identical, and are made in the TUF style with chopped corners, a lot of polished "metal", as well as diagonal, vertical and horizontal lines. Design is recognizable, for sure.
You can't call the frames around the screen thin; the upper area will be thicker than the side ones, but the lower one is almost two fingers thick.
I don't know why, but on the manufacturer's website it is indicated that the surface of the topcase is metal. Of course, I understand that grinding is done very soundly, but plastic is plastic. You have to be realistic, TUF Gaming is a relatively affordable series, and therefore you should not expect premium materials here.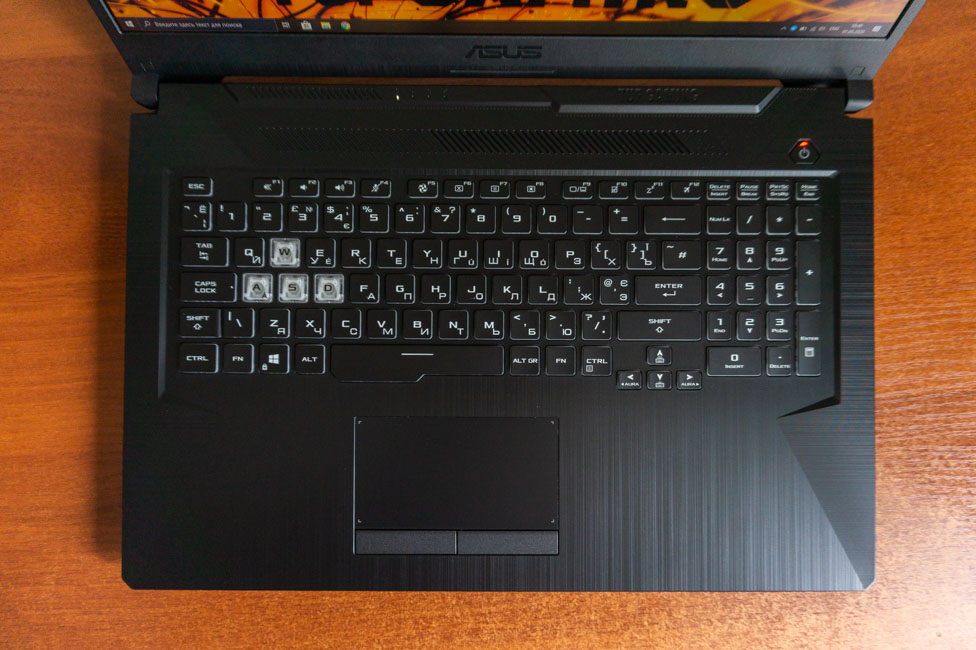 The case is distinguished by high reliability, as usual, and complies with the American military-industrial standard MIL-STD-810H. In practice, everything is not bad, but as always when using plastic, the area with the keyboard bends a little. But I was pleased that the surface (almost) does not collect fingerprints and stains.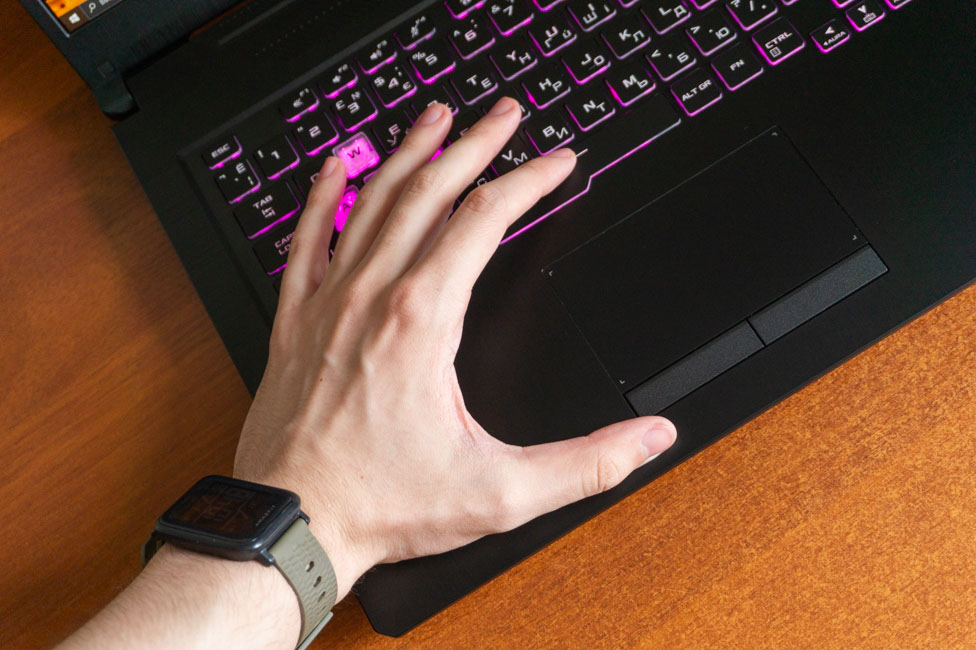 The dimensions of ASUS TUF Gaming A17 are quite normal, as for a powerful laptop with a 17-inch screen, namely: 399.2 × 268.9 × 23.9. Don't expect comfortable work on the go, of course, but if there is an urgent need, you can put it in a backpack. It weighs 2.6 kg.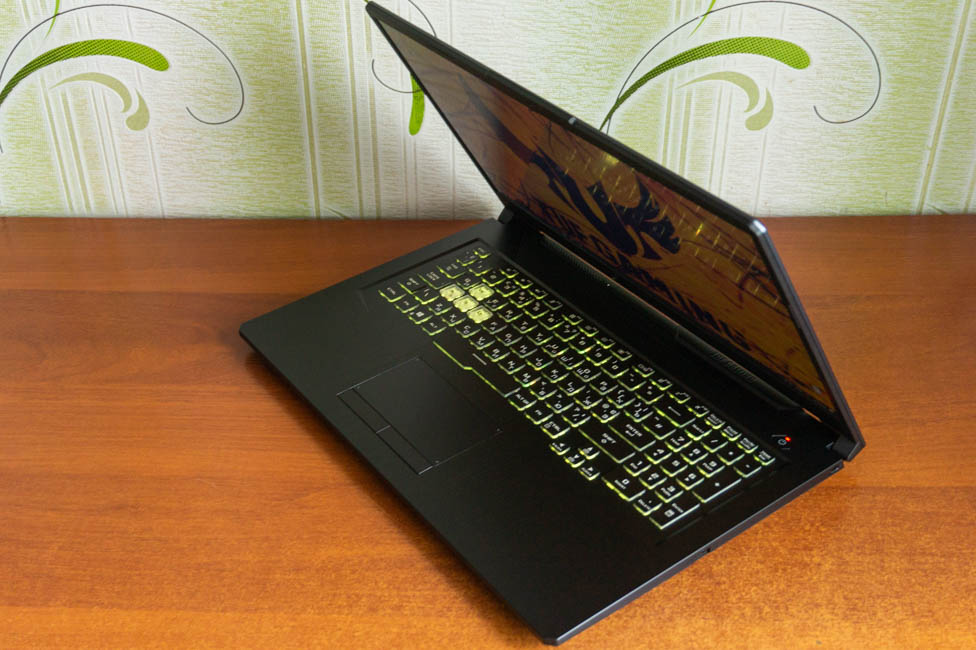 Element configuration
On the cover in the center is the TUF Gaming logo. In the corners there are decorative plastic elements that mimic the screws. The underside looks quite aggressive. The textured cover uses 11 screws, there are 5 rubberized legs for stability, a pair of plastic protruding elements, slots for speakers and in the center a large area of ​​honeycombs, some of which contain slots for cooling internal components.
On the right side is Kensington Lock, a USB 2.0 Type-A port, and on the bevel there is a small cutout with a speaker. The left one is equipped with a second speaker. There's a power connector, RJ-45, an HDMI 2.0b port, a pair of USB 3.2 1Gen Type-A, one USB 3.2 2Gen Type-C with DisplayPort support and a combined 3.5 mm audio jack.
What shows a definite advantage of this arrangement is the concentration of all the main ports on one left side. On the right is the usual USB 2.0, which is ideal for connecting a mouse. And they did hear us: now there is no blowing hot air on the right side, cheers. TUF Gaming FX505GM model had this issue which made it uncomfortable to use a mouse during the game.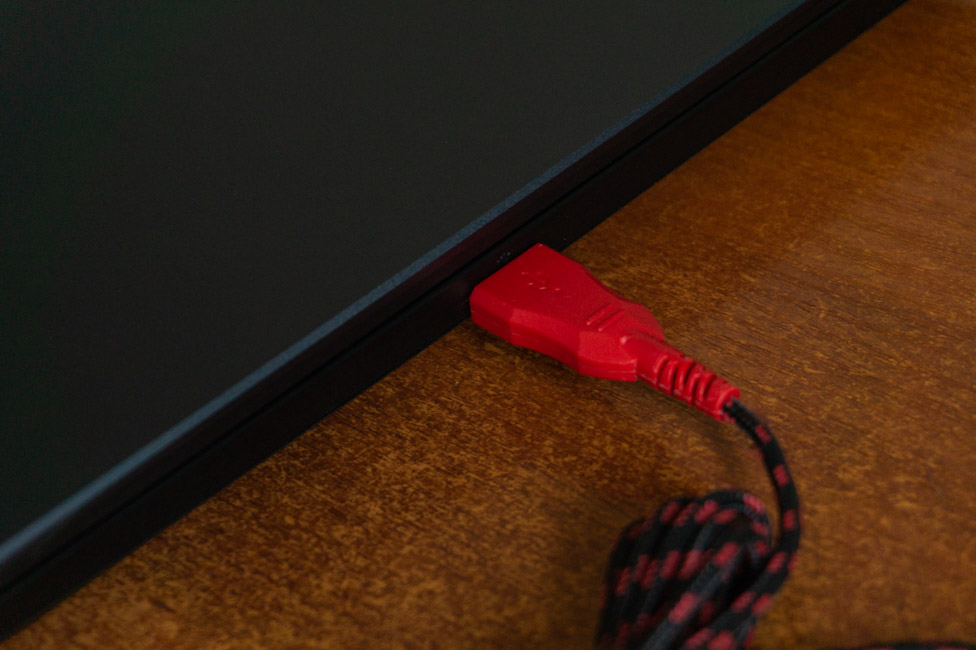 There is a small ledge on the front to help you grab and open the laptop, but due to the rather tight hinges at the back, the laptop opens reluctantly with one hand. In addition to the hinge mechanisms, there are many slots in the back for blowing hot air.
There are rubberized strips around the display, microphones and a camera with an LED on top in the center. At the bottom there is glossy embossing with the ASUS logo.
At the top of the case there is a decorative ledge with embossed TUF Gaming and four LEDs displaying the current status of the device. And this strip is visible even with the lid closed, which allows you to make sure that it is charging or in standby mode without opening the laptop.
Under it there are holes for air intake, and on the right side there is a hexagonal button for powering on the laptop. Further in a small recess is the keyboard unit, under which is a rather large touchpad with two separate keys under it.
Screen
ASUS TUF Gaming A17 comes with a 17-inch display with an 16:9 aspect ratio and a resolution of Full HD (1920×1080). The refresh rate in my configuration was 120 Hz, but more affordable options have 60 Hz panels. There is support for Adaptive Sync is in both cases, as well as 45% coverage of NTSC.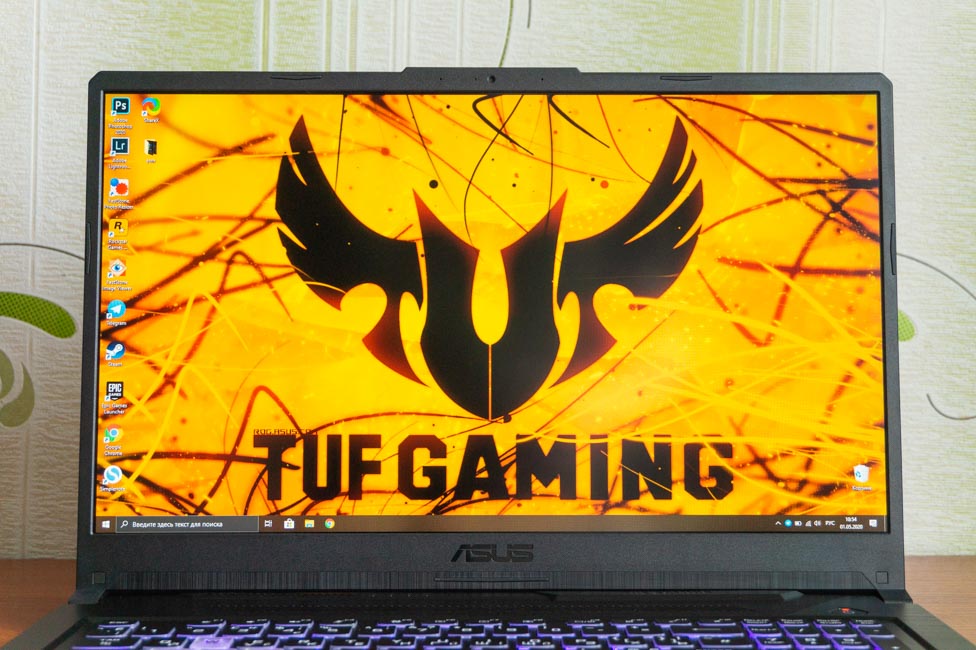 In the specifications you won't find the type of matrix, but in promotional materials it is indicated that it is IPS. I personally think this is an IPS-level display, just like in previous generations. The matrix itself offers wide viewing angles, but the color rendering is as calm and neutral as possible. For everyday tasks, screen saturation will be enough.
But seriously working with color? Probably not. Moreover, you can connect as many as two external monitors via HDMI and Type-C. I tested both connection options with the AOC Q2790PQU/BT, Philips Brilliance 272B7QUPBEB/00, and even with the most appropriate ASUS TUF Gaming VG27A. Everything works as it should.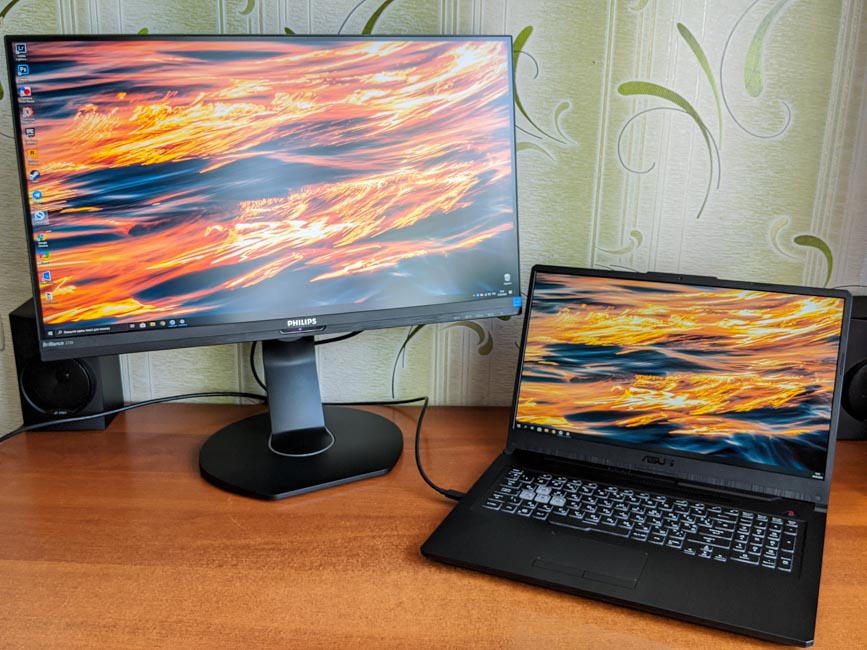 Colors are okay, but brightness, on the other hand, is severely lacking. Of course, it is still enough for indoors, but it's right on the edge. My desktop is located next to the window, and in the afternoon I mostly use the maximum level. Slightly less often reduced to 70, when the weather become cloudy. And this, I remind you, is in the room. On the street, even in good shade, brightness will not be enough.
As for the software, the laptop has a preinstalled utility called TUF GameVisual, where you can select one of the display modes and change the color temperature.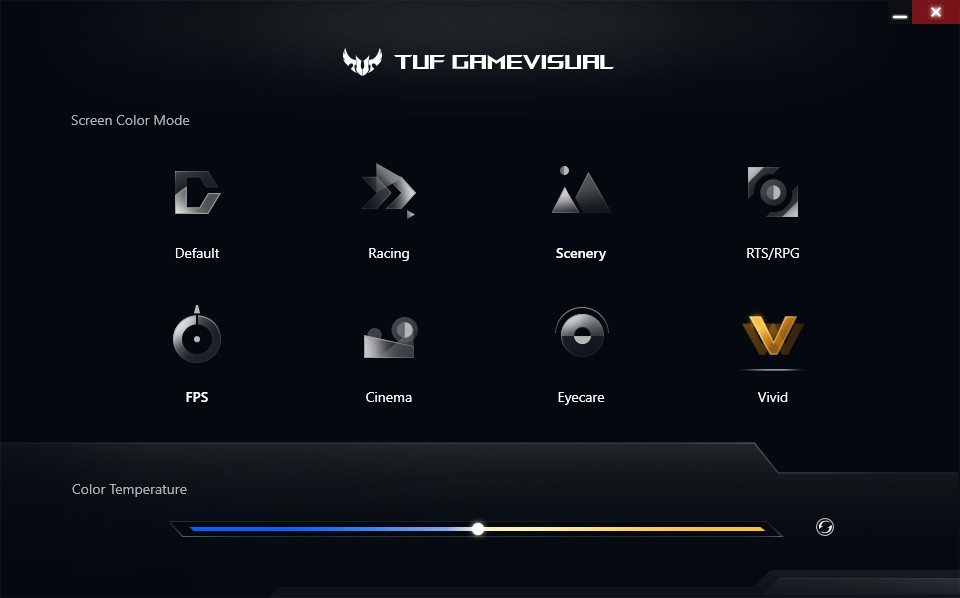 Sound
The laptop has a pair of speakers, which are directed downwards, but the case has additional slots, which positively affects the overall sound quality. The manufacturer notes that, compared to previous models, this one sounds louder by 1.8 times and the bass is 2.7 times more saturated. In terms of volume, I would not say that there is a serious difference, but the low frequencies really got better.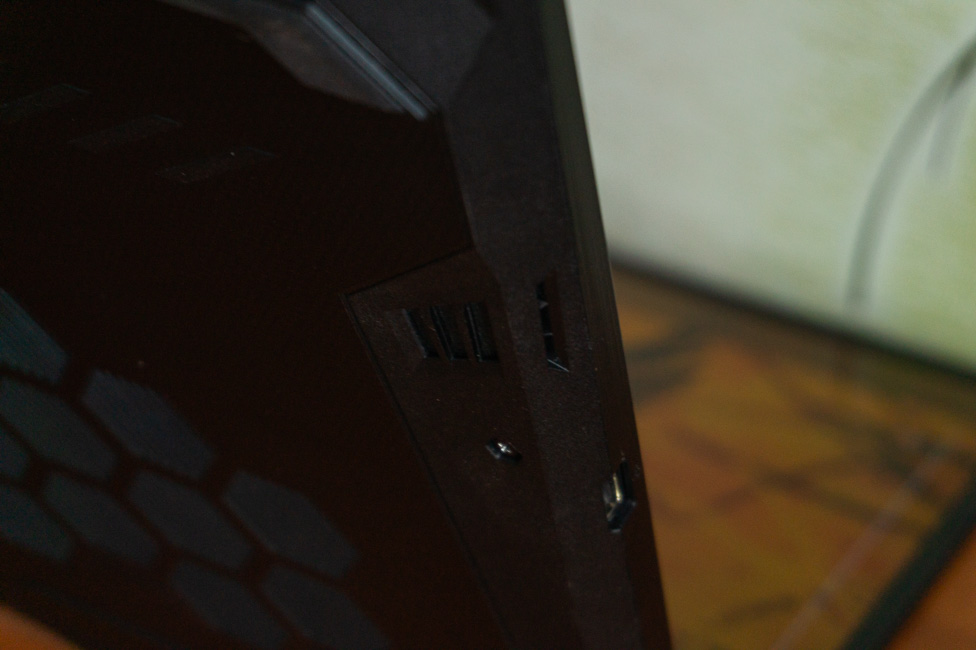 There is an DTS:X Ultra add-on and the corresponding utility is already installed on the laptop; if you turn it off, the sound of the speakers becomes very inexpressive. When you activate any mode, such as auto or music, the sound normalizes and becomes not only louder, but also more voluminous. Although even so, most often I set the volume above 80%, because the speakers are not very loud themselves.
In the utility, of course, there are other presets, with an emphasis on voice, optimization for films and certain genres of games. There is also a graphic equalizer with 10 bands, if none of the presents suit you.
When you connect the headphones, DTS:X Ultra becomes even more useful. There is an opportunity to choose your headphones from a huge list, as well as personalize the sound yourself.
Keyboard and touchpad
The keyboard has not changed and remains the same as in the previous generation of TUF Gaming series laptops. My model is equipped with a slightly different layout, so there are 100 keys, not 99, as there should be in the commercial models. The only difference is that the Shift in the test version is short and supposedly combined with the key, which is usually located above the one-story Enter. If you want to see the normal layout, look at ASUS TUF Gaming FX505GM, it will be the same.
Of course there is a NumPad, but its keys are slightly reduced in width. The top row of function keys is shortened in height, and the most compact are the arrows and buttons above the NumPad. CapsLock has its own LED, by which you can immediately evaluate the status of the mode. The WASD combination is highlighted, and is transparent. There are two FN buttons, left and right, which definitely improves usability.
The keys themselves are concave (0.25 mm). They aren't extraordinary like Logitech MX Keys, but in theory the fingers should not slide off the desired button. In practice, everything is fine too.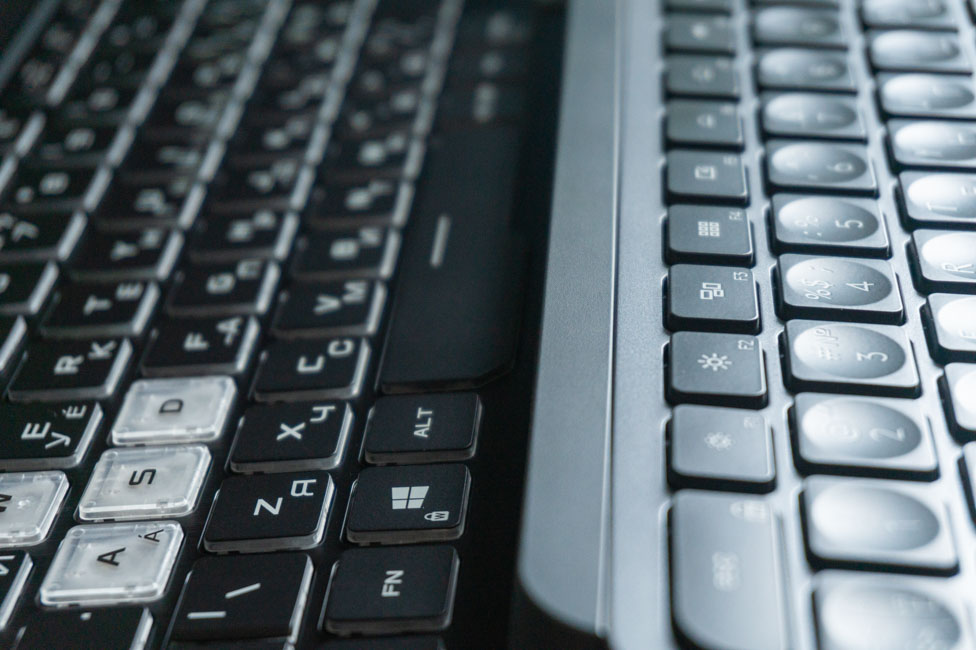 The 1.8 mm stroke is soft, quiet, there is support for Overstroke technology with accelerated key response, and the claimed resource is 20 million keystrokes. I would also like to note the keys are nice to the touch and that the thicker left side of the space bar increases comfort during gameplay.
In general, typing on this keyboard is more than comfortable. Playing as well. You can lock the Win key, so as not to accidentally minimize the game, and control the backlight directly from the keyboard.
And yes, about the backlight. ASUS AURA, RGB technology, has four modes: static, breathing, strobe and color cycle. You can choose a specific color in the Armory Crate utility, there are three brightness levels.
It's hardly even though. Some of the keys are perfectly illuminated around the perimeter, and the others are vice versa, barely lit. Clearly there is still room for improvement.
The touchpad is relatively large, sort of like a glass with a nice finish. A finger glides over it perfectly, the cursor is controlled very accurately, all the usual gestures are supported. Underneath are two separate keys.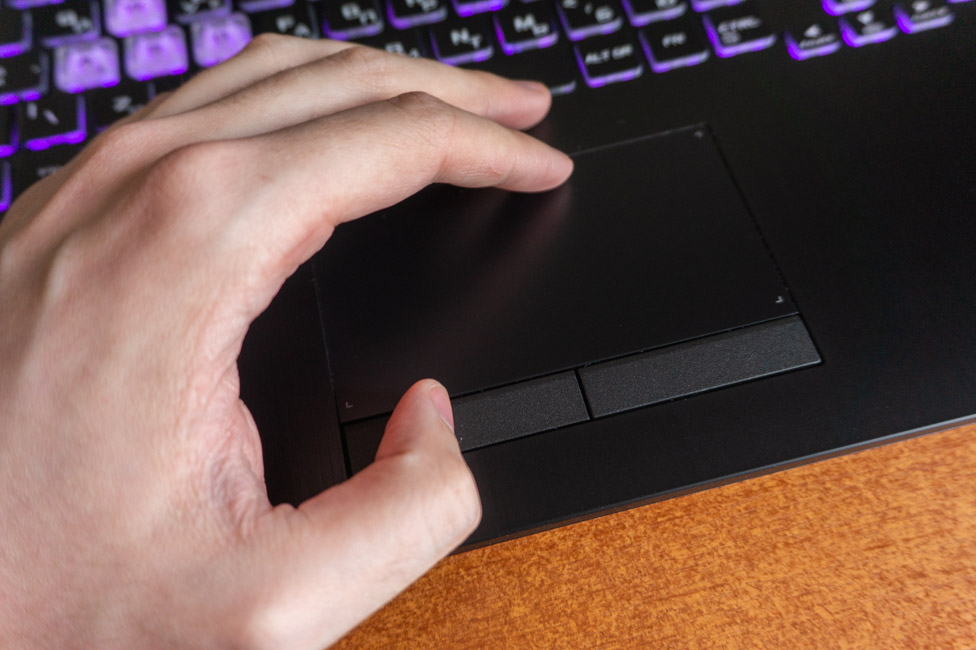 Features and performance of ASUS TUF Gaming A17
I already mentioned possible configurations at the beginning of the review. In the test version, the hardware is as follows: AMD Ryzen 7 4800H processor, NVIDIA GeForce GTX 1650 Ti discrete graphics card, 32 GB of RAM and 1 TB SSD-drive.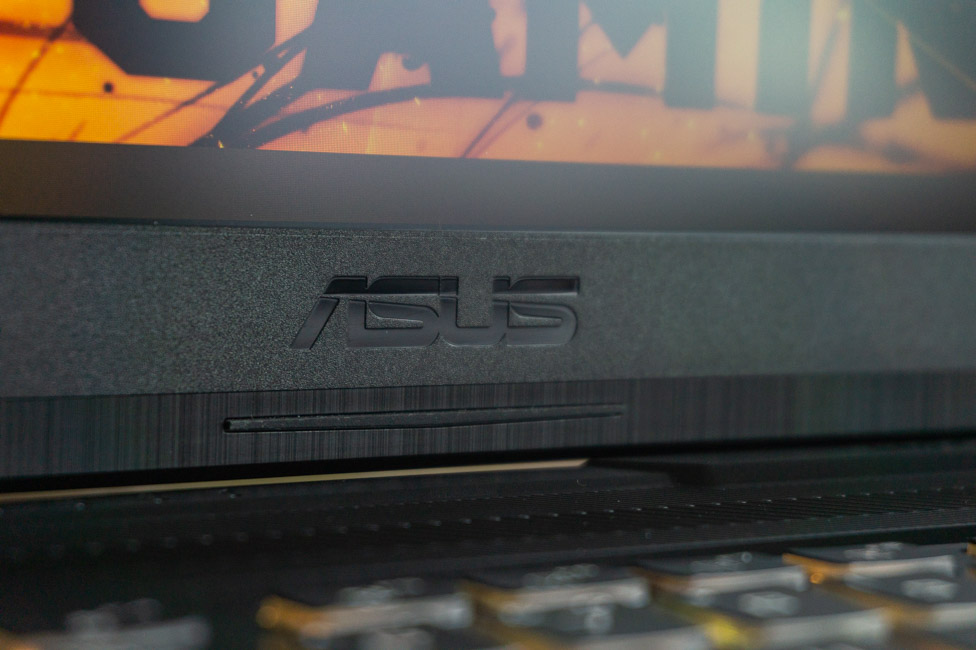 AMD Ryzen 7 4800H is the new product of this year. This is a mobile processor with eight cores based on the Zen 2 architecture, 7-nm. SMT is supported, so we get 16 streams, and the clock frequencies are: base is 2.9 GHz, and maximum is 4.2 GHz. L3 cache is 8 MB, nominal TDP is 45 W.
Integrated processor graphics are presented in the form of AMD Radeon Graphics with 7 cores and a frequency of 1600 MHz. It supports several modern APIs: OpenCL 2.0, OpenGL 4.6, Vulcan and DirectX 12_1.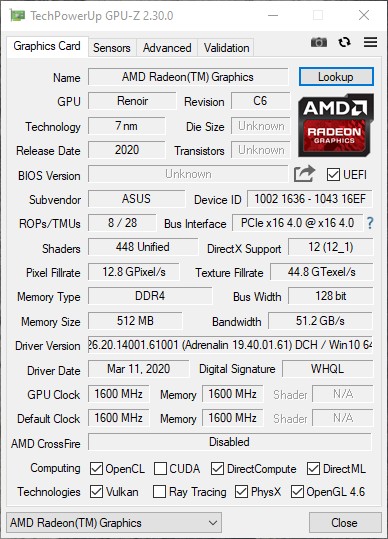 The discrete card is an NVIDIA GeForce GTX 1650 Ti with 4 GB GDDR6 video memory. The bus is 128 bits, with frequencies from 1450 to 1585 MHz. It is based on the Turing architecture. True, without tensor and RT-cores, as in more sophisticated RTX 20xx.
There is 32 GB of RAM, which is more than enough. We're talking DDR4 with 3200 MHz. Of course, it works in two-channel mode. There is simply nothing to complain about. Also, yes, modules: Micron 16ATF2G64HZ-3G2J1 with a capacity of 16 GB each.
The storage capacity is represented by a 1 TB SSD M.2 SSD SSDEKNW010T8 with PCIe 3.0 (x4). Good, fast NVMe.
As I already noted, you can also use HDD for storing data. There is enough space and all the necessary elements are there.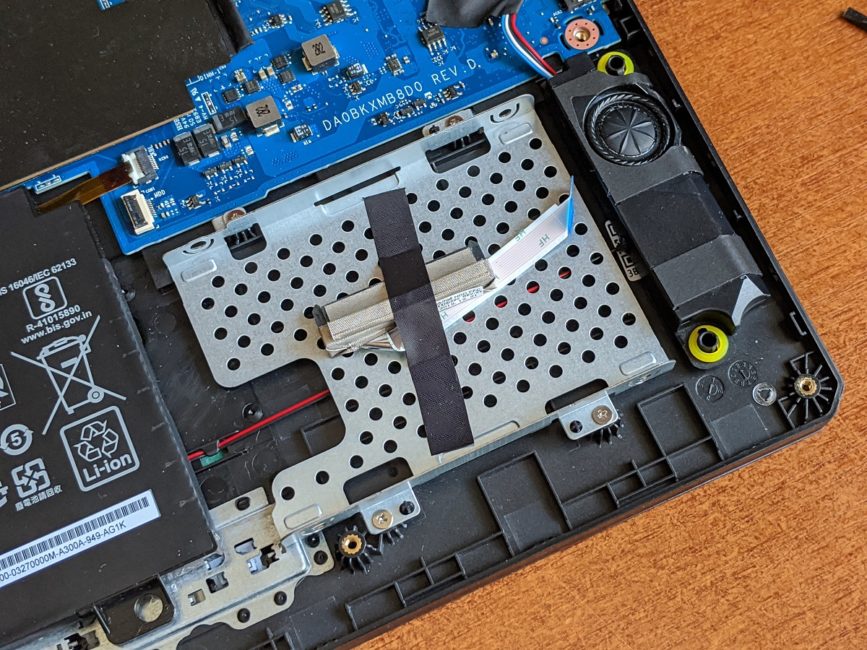 Below are the tests of ASUS TUF Gaming A17 in some benchmarks. On my own, I'll add that in general, such a configuration is enough for most tasks. Processing photos in RAW format, editing video, games.
Cooling system
Control over the cooling system, as before, is given to the user, who with a simple key combination (Fn + F5) can switch the fan modes and CPU frequency. There are three modes in total: quiet, efficient and turbo.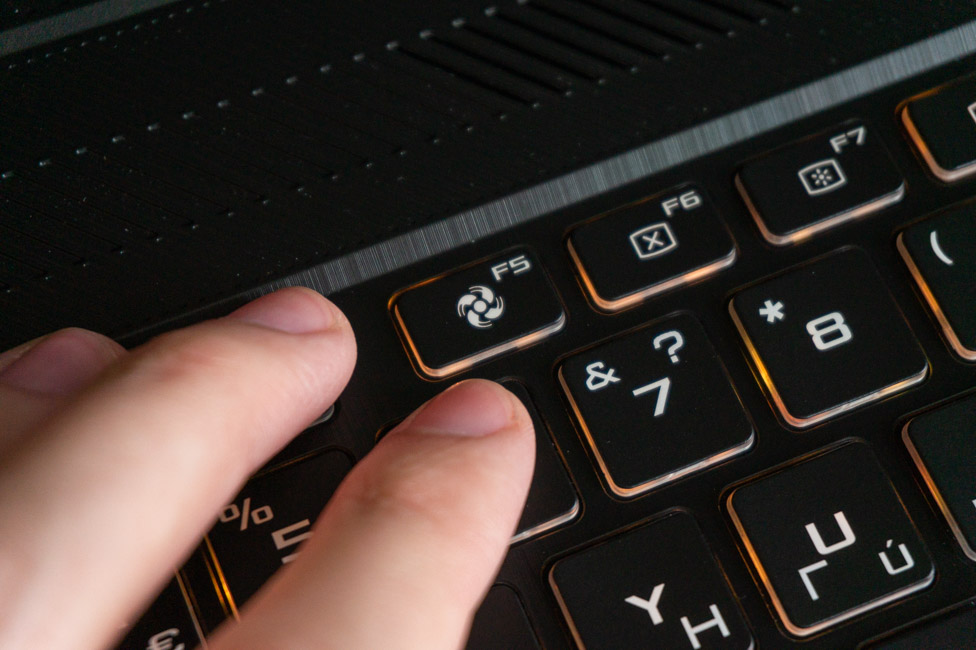 All the tests below I conducted plugged in, because from battery the CPU frequencies are lower. I don't even want to upset you with numbers, I'll just say that there is not even 1 GHz there. Although, of course, in simple tasks everything will be fine.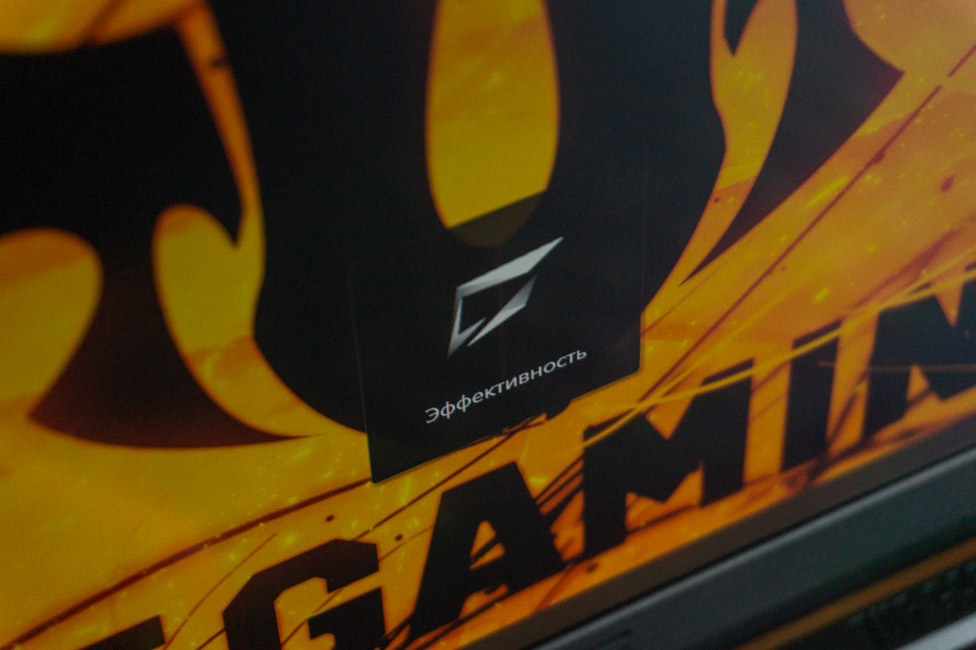 So the first mode is quiet. The stability test was conducted in AIDA64, the frequencies were taken from CPUID in the same place. On average, the processor clock speed was 1.6 GHz, the average temperature of the processor cover is 76.2°. As you know, the fans in this mode were almost inaudible.
The second mode is efficient. Here, the frequencies are stable at 2.7 GHz, but at the same time the temperature rose to serious 88.8° on average. Fans were clearly audible. .
Finally, the third mode is turbo. In this mode, the behavior of the processor was unstable. It could hold 3.2 GHz for a couple of seconds, and then drop to 1.8 GHz, for example. After rising to 2.5 GHz, it varied from 2.3 to 2.7 GHz, and then 3.0 GHz. The average temperature is 94.3°. Active cooling system was accelerated to the maximum and, of course, produced much noise.
Testing ASUS TUF Gaming A17 in games
Finally – a small table with games and an average FPS. All titles ran in native Full HD resolution. Graphic parameters and effects were set to the maximum that was allowed for discrete graphics with four gigabytes of memory.
| | |
| --- | --- |
| Game | Average FPS |
| Counter-Strike: Global Offensive | 186 |
| DiRT Rally 2.0 | 45 |
| DOOM Eternal | 77 |
| GTA 5 | 31 |
| Just Cause 4 | 53 |
| Metro Exodus | 38 |
| Shadow of the Tomb Raider | 37 |
| The Witcher 3: Wild Hunt | 40 |
| Tom Clancy's Ghost Recon: Wildlands | 25 |
What to say? Of course, there is no talk of ultra-settings, but you can expect to use high settings. If you want higher refresh rates, further sacrifices must be made.
ASUS TUF Gaming A17 battery life
As we already found out, a lithium-polymer battery can be both 48 W*h and 90 W*h. Obviously, a laptop with a second will last longer. ASUS promises up to 7.8 hours of web surfing and up to 11.6 hours of video playback. This is for better configuration. There are no official numbers concerning the worse configuration. Oh well…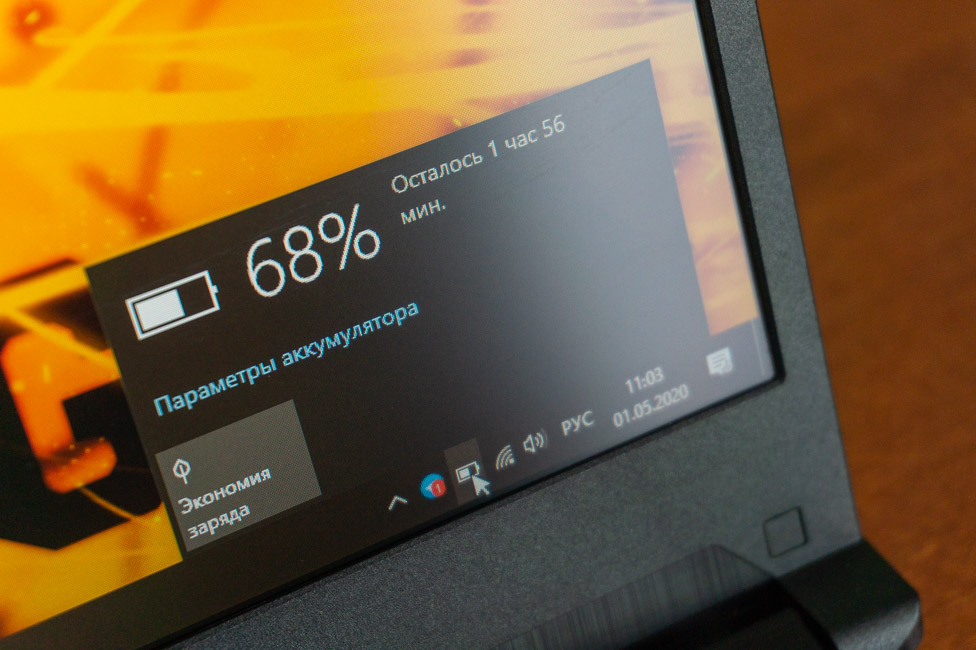 What can I get from a gaming laptop with a 17-inch display in terms of autonomy? Of course, it will not be enough for a whole working day. Even if you use it for surfing the net. In typewriter mode with maximum screen brightness the laptop lasts only three hours. For gaming laptops it's okay, because such devices need power outlets. In the traditional test of battery life with PCMark 10 with 50% brightness ASUS TUF Gaming A17 worked for 3 hours and 9 minutes.
Verdict
ASUS TUF Gaming A17 is an example of a solid 17-inch gaming laptop with excellent options for further upgrades. The design is recognizable, the hardware is up to the task.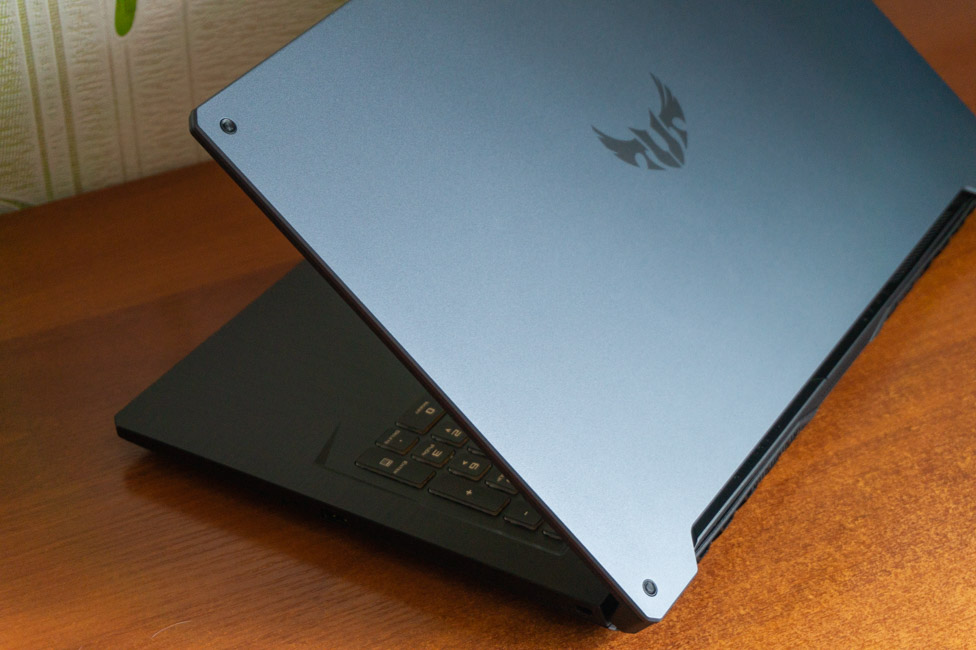 Of the shortcomings, I can only note a small margin of screen brightness and uneven keyboard backlight. But in general, the update is successful.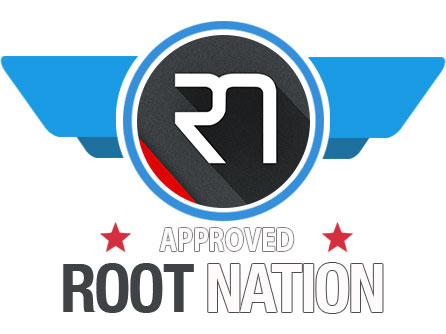 Subscribe to our accounts: