ASUS has managed to firmly gain a foothold in the ultrabook market. Their ZenBook line is wildly popular. Will the new ASUS ZenBook 13 (UX325) continue the series' reputation?
ASUS ZenBook laptops have traditionally been geared towards customers who love sleek and elegant ultrabooks. At the same time, they also offer sufficient performance for working with documents and the Internet, combined with high device mobility. In addition to the classic hardware in the form of an Intel processor and the solid-state SSD-drives, the developers also implement their own innovative elements in laptops, for example, the so-called NumberPad. It's all wrapped in a metal case with a high-quality display and a comfortable keyboard.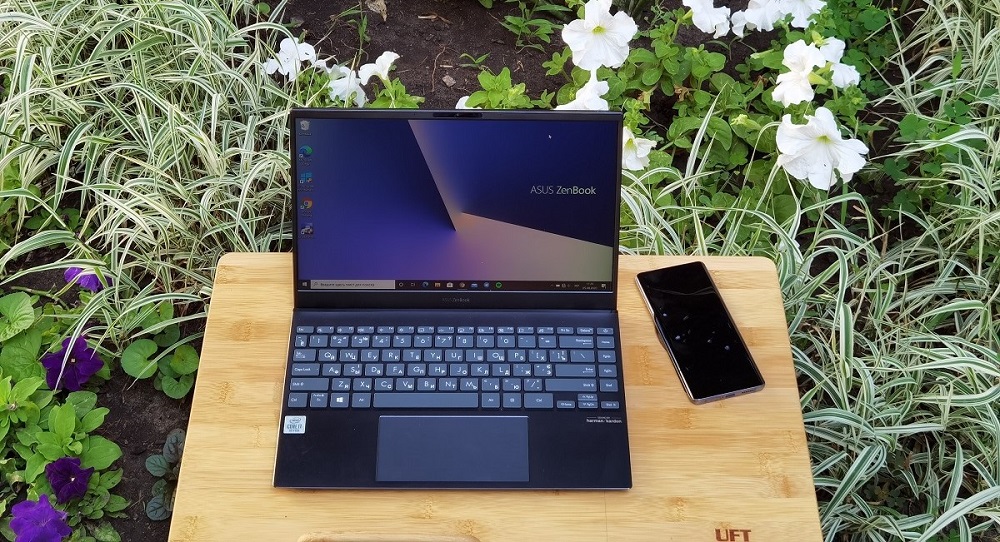 ASUS recently introduced new ultrabooks in the ZenBook series. They are characterized by their mobility, slim design, and the latest 10th Gen Intel processors. Today we will pay attention to the smallest of the presented devices – ZenBook 13 (UX325). But first, as per tradition, let's get acquainted with the full list of technical characteristics of this device.
ASUS ZenBook 13 (UX325): technical characteristics
OS
Windows 10
Processor
Intel Core i7-1065G7, 4 cores, 8 threads, 1.3 GHz (maximum frequency – 3.9 GHz, Turbo boost), 10 nm process (review version)
Intel Core i5-1035G1, 4 cores, 8 threads, 1.0 GHz (maximum frequency – 3.6 GHz, Turbo boost), 10 nm process
Intel Core i3-1005G1, 2 cores, 4 threads, 1.2 GHz (3.4 GHz maximum frequency, Turbo boost), 10 nm process
Video card
Intel Iris Plus Graphics, Integrated (review version)
Intel UHD Graphics Integrated
Screen
IPS, 13.3″ Full-HD (1920×1080), 16:9, matte finish, maximum brightness 400 nits, minimum power consumption 1W (optional, review version), color gamut 72% NTSC, NanoEdge (thin bezels), usable area 88 %, ErgoLift hinge
RAM
16 GB, 3200 MHz, LPDDR4X, max. 32 GB
Hard Drive
1 TB SSD, M2 NVMe PCIE 3.0 x4 (max 2 TB)
or 32 GB Intel Optane H10 + 512 GB QLC NAND
Ports
2x Type-C USB Thunderbolt 3 (Power Delivery, DisplayPort, up to 40 Gbps)
1x Type-A USB 3.1 Gen 2
1x HDMI 1.4, microSD card reader
Wireless interfaces
Wi-Fi 6 802.11ax, Intel AX201 chip, Bluetooth 5.0
Battery
Li-Pol, 67 WHr, support for fast charging
Additional
MIL-STD 810G certified, Harman/Kardon certified audio, 2-channel amplifier, MyASUS app, NumberPad in touchpad (optional)
Size and weight
30,4×20,3×1,39 cм, 1,07 кг
Where to buy:
What separates ASUS ZenBook 13 (UX325) from the others?
Most ASUS ZenBook laptops have fantastic designs. They really set the tone in their class, set separate standards, define fashion trends, which are then picked up by competitors. I really like the models of these series, so I always look forward to something new, surprising, and innovative from them. And every time ASUS pleasantly surprises me.
ASUS offers the UX325 series in several configurations, with varying amounts of RAM (8-32 GB) and storage (up to 2 TB and Intel Optane), three types of Intel Ice Lake processors (i3-1005G1, i5-1035G1 or i7-1065G7) as well as two screen options with a standard 300 nits IPS panel or with an increased brightness of 450 nits.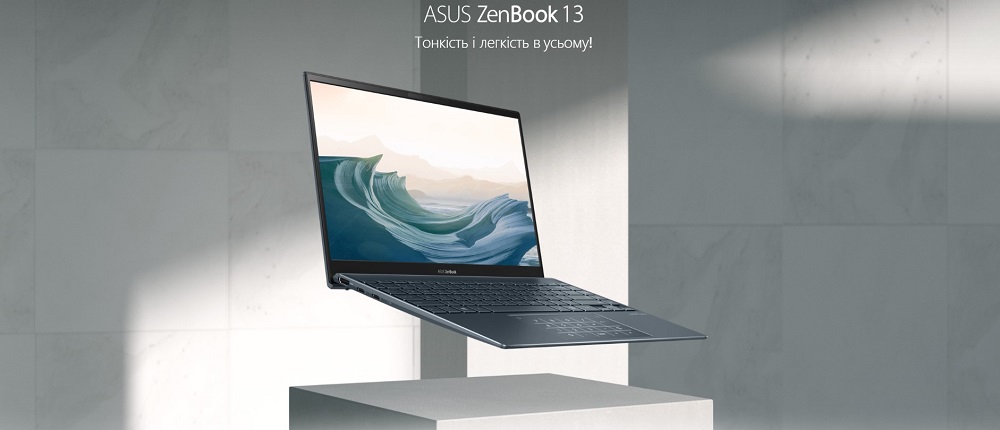 A 13-inch "kid" charmed me from the first minutes. It seemed like a toy, but his device reflects all the features of its predecessors. This is not only a compact ultrabook, but also a powerful work machine that can become a reliable assistant in everyday tasks. The laptop has enough power thanks to the updated 10th Gen Intel IceLake processor. Also, finally, there is support for the Thunderbolt 3 interface, and thanks to USB Type-C, fast charging has become available.
Read also: ASUS ZenBook Pro Duo UX581GV review – Unique Laptop of the Future
What's in the box
First, a few words about the ASUS ZenBook 13 (UX325) bundle. It came to me in an ordinary cardboard box with the brand's design and a small sticker with some information about this model.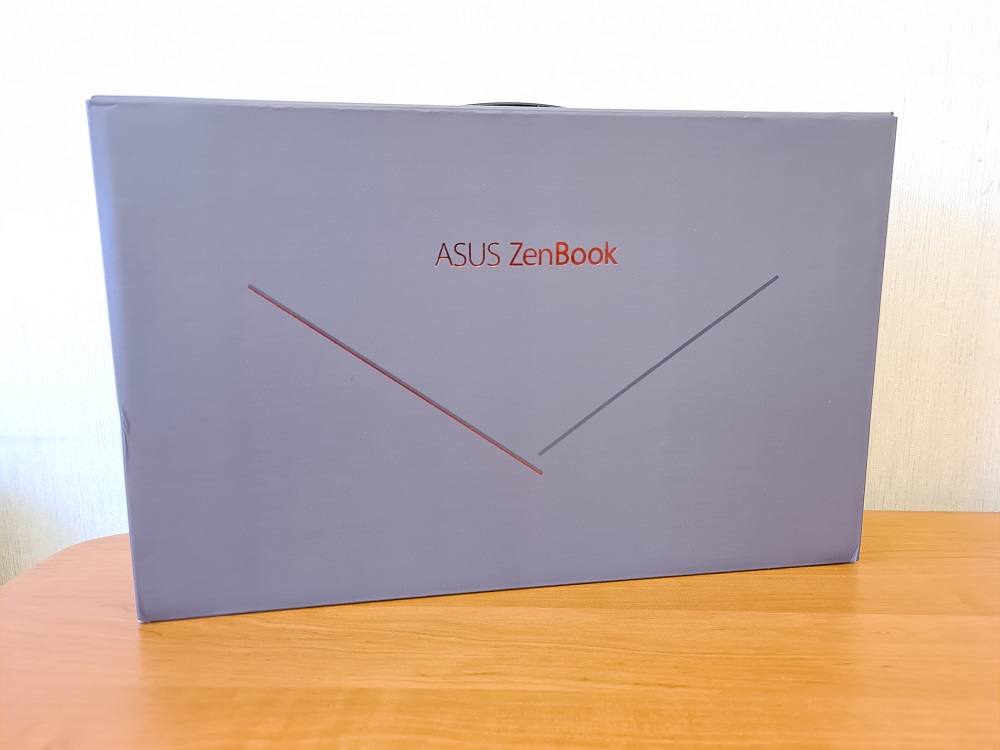 In it, in addition to the ultrabook itself, you will find a USB Type-C charger, several pieces of paper, a warranty card, and a rather interesting adapter from USB Type-C to 3.5 mm audio jack for connecting headphones.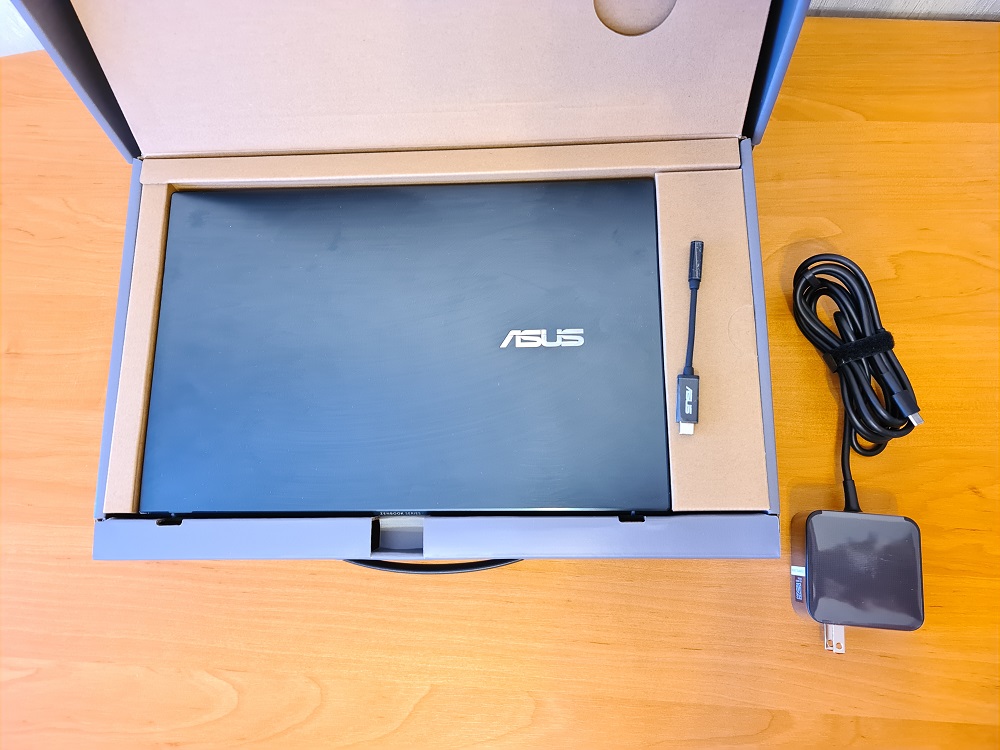 Some bundles also include a laptop sleeve and a Type-C to RJ-45 adapter.
Exquisite design
As for the design, here ASUS decided to follow the proven path. First of all, I would like to note the compact size. The new ZenBook 13 is no bigger than an A4 sheet. How can this tiny thing be a 13-inch laptop? In addition, ASUS ZenBook 13 (UX325) is lightweight: it weights only 1.07 kg, which makes it very comfortable to travel with.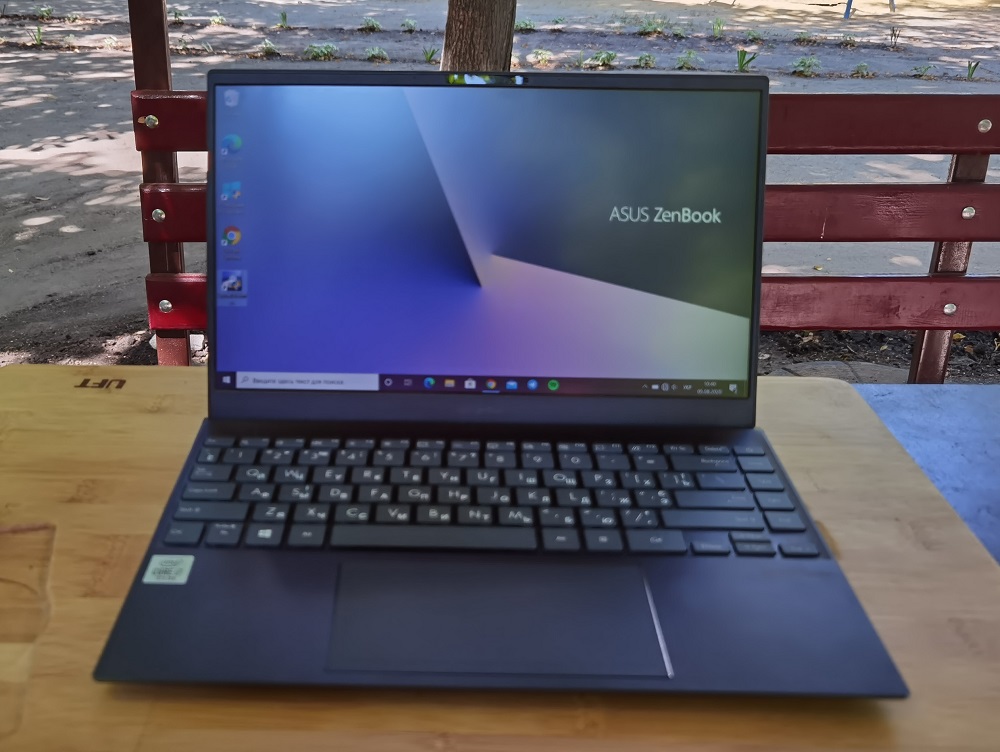 It fits easily into a backpack or even a handbag. The Ultrabook is available in two colors – gray and lilac. Regardless of the configuration, the dimensions of the new products remain unchanged – 30.4 × 20.3 × 1.39 cm.
From the first minutes you realize that you are dealing with a ZenBook ultrabook. The black metal lid is adorned with the signature Zen Concentric motif. The composition is completed with a golden company logo. The photographs cannot convey just how good it all looks.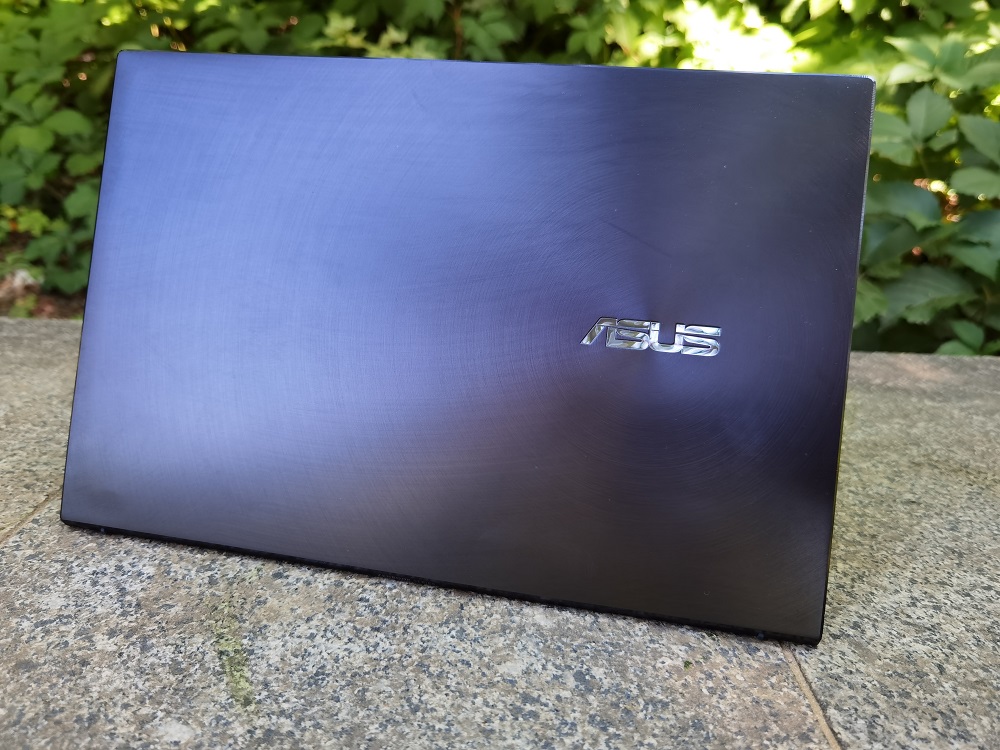 The body of the ultrabook is mainly made of metal – the outer part of the lid, the work surface and the bottom. It is a lightweight yet highly durable aluminum alloy. The cover easily collects fingerprints and dust, although it is easy to wipe them off from the surface. Despite the thinness and lightness of the lid, it is almost impossible to damage it. The entire body is solid and well assembled.
Plus, you should know that the new ZenBook 13 2020 has been rigorously tested and protected to the highest military grade MIL-STD 810G. This means that it has withstood the most severe tests in extreme conditions, has undergone changes in temperature conditions, shaking tests, falls from a height, and other procedures to obtain this certificate.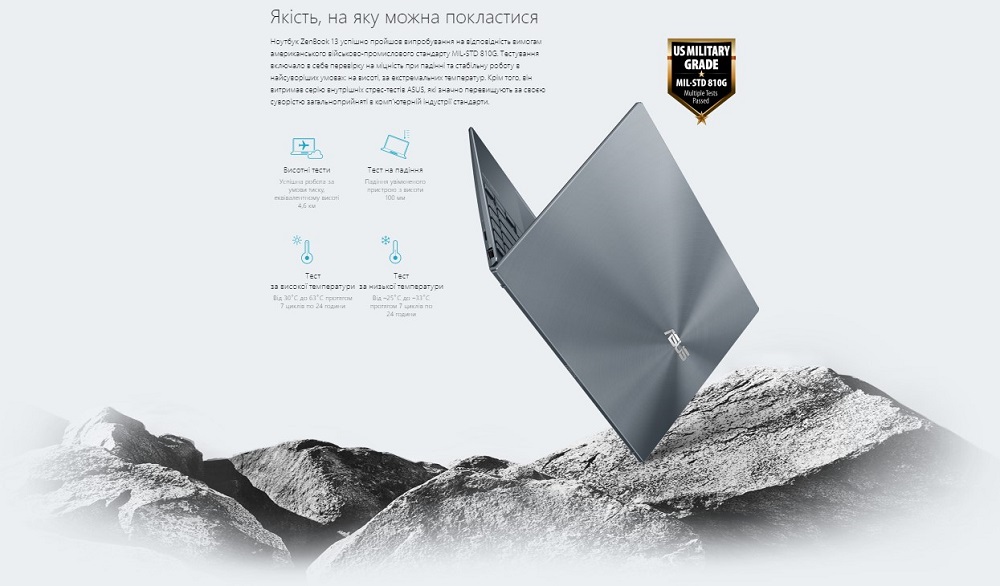 Considering the fact that we are dealing with a 13-inch ultrabook, the choice of ports and connectors here is somewhat limited, but sufficient in my opinion. So on the left side there are two Thunderbolt 3 ports with a data transfer rate of up to 40 Gbps, with the ability to charge the ultrabook with a bundled adapter (there is PowerDellivery support) using any of the ports, and also connect an external monitor. Nearby is a standard HDMI 2.0 port.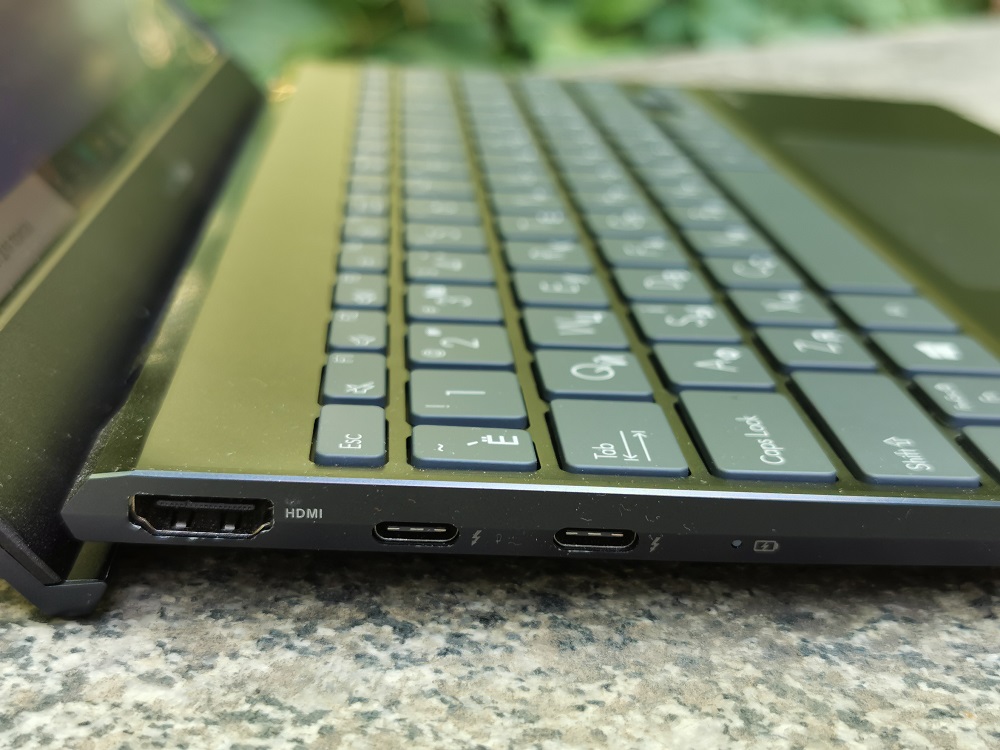 On the right side there is one USB 3.2 Gen 1 Type-A port and a microSD card reader.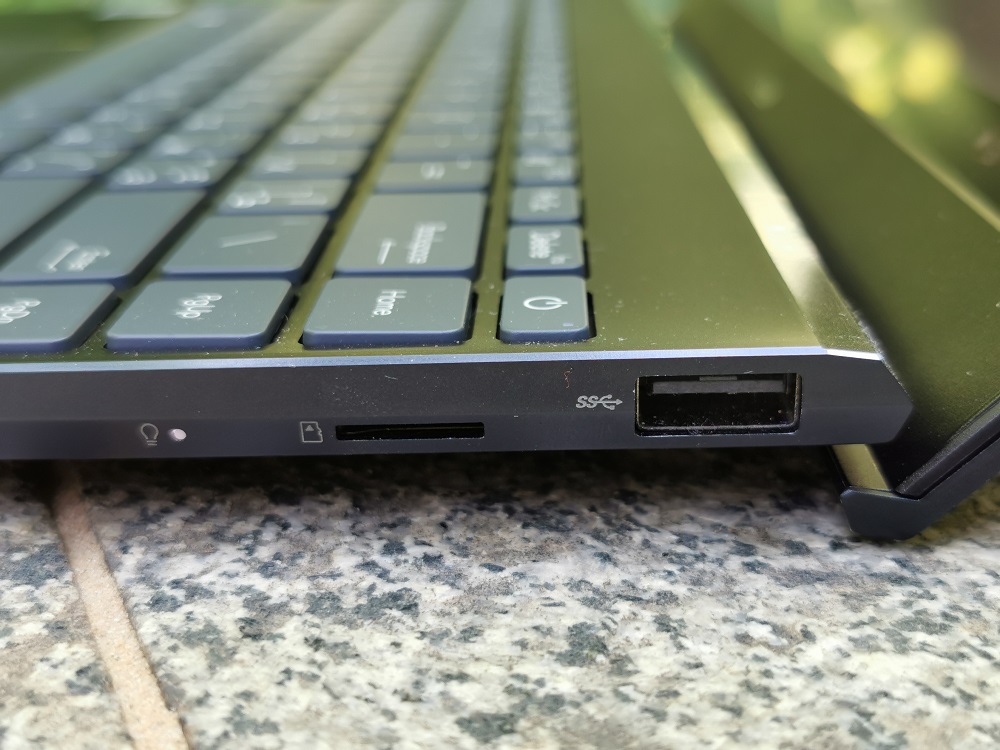 The ZenBook 13 does not have a headphone jack and an Ethernet port, but ASUS includes adapters for connecting wired Internet or audio accessories.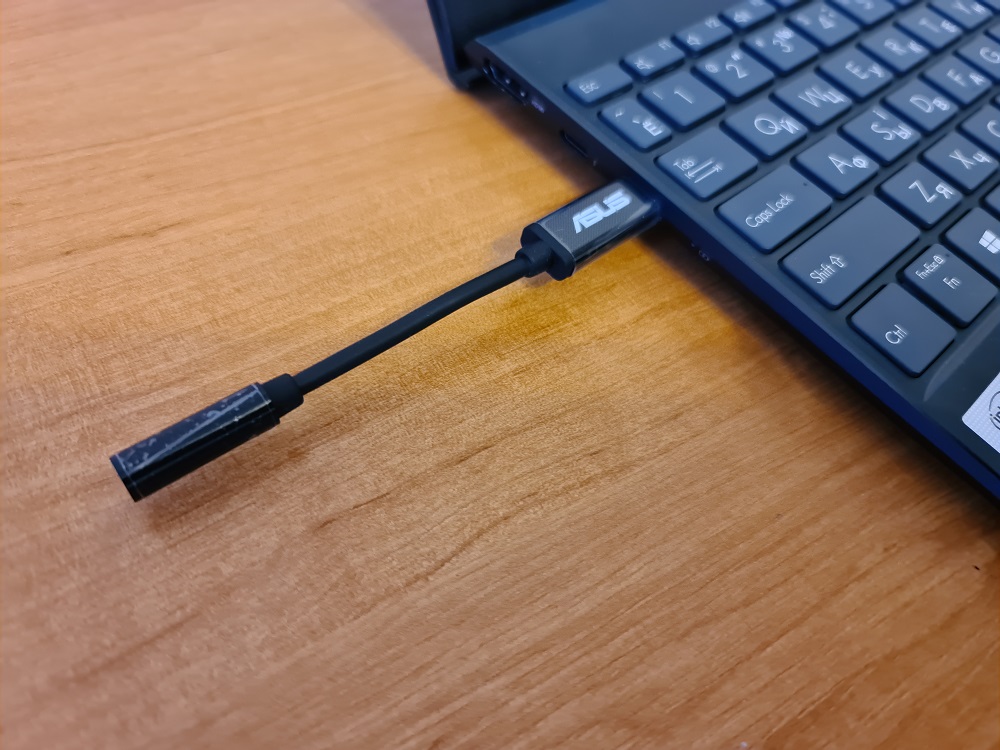 Of course, major wireless networks like Wi-Fi 6 and Bluetooth 5 are also supported by the laptop.
The display lid is easy enough to open with one hand. The front edge of the lid protrudes slightly along its entire length, so it can be conveniently picked up with one finger, ideally in the middle. The hinges are quite elastic and can withstand many openings. The maximum opening angle is 150°.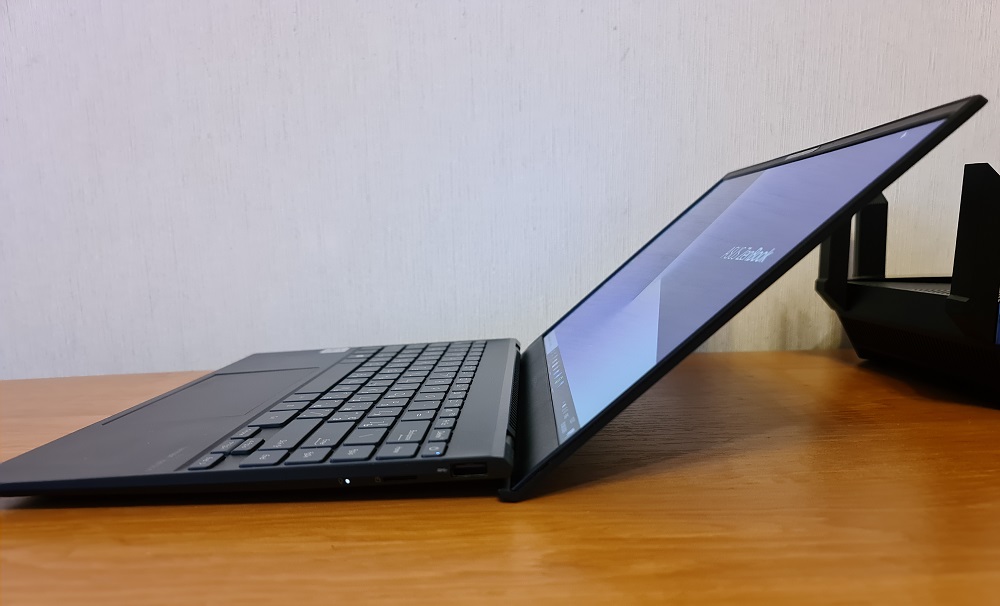 ZenBook 13 features signature ErgoLift Hinge design, which lifts the keyboard case for improved airflow and speaker sound quality.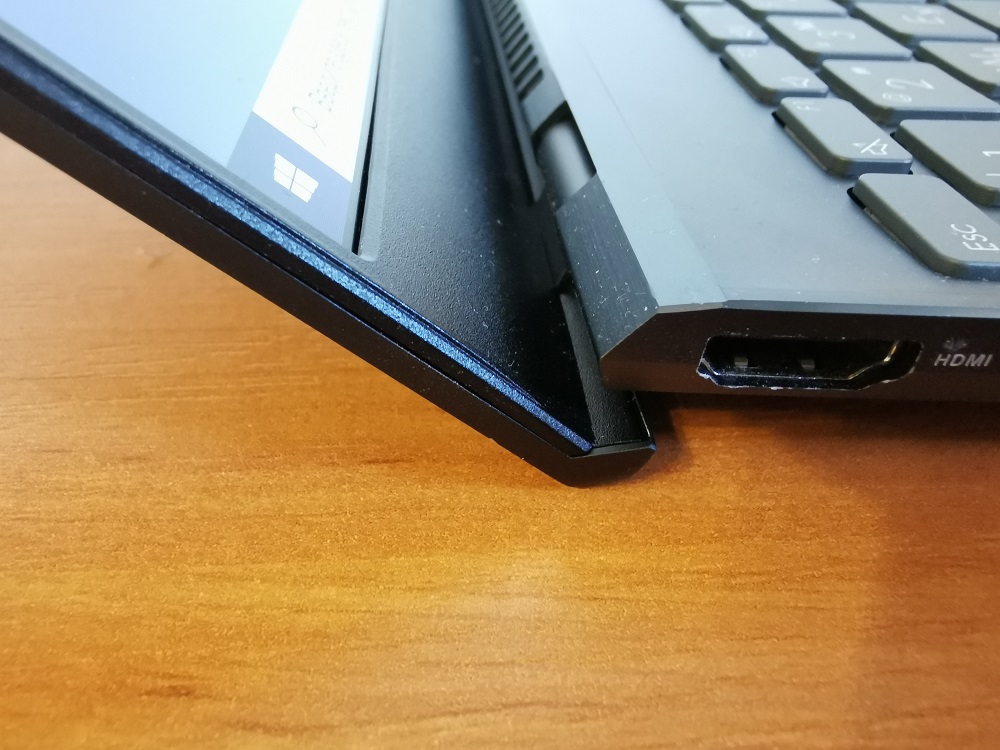 In addition, if you work a lot with your laptop, it will be more convenient than typing on a device that lies on a flat surface.
The laptop firmly lies on any surface thanks to four rubber feet, which are located on the lower part along the edges of the case. You will also see ventilation holes here, which help to efficiently draw air. Closer to the front there are two speakers.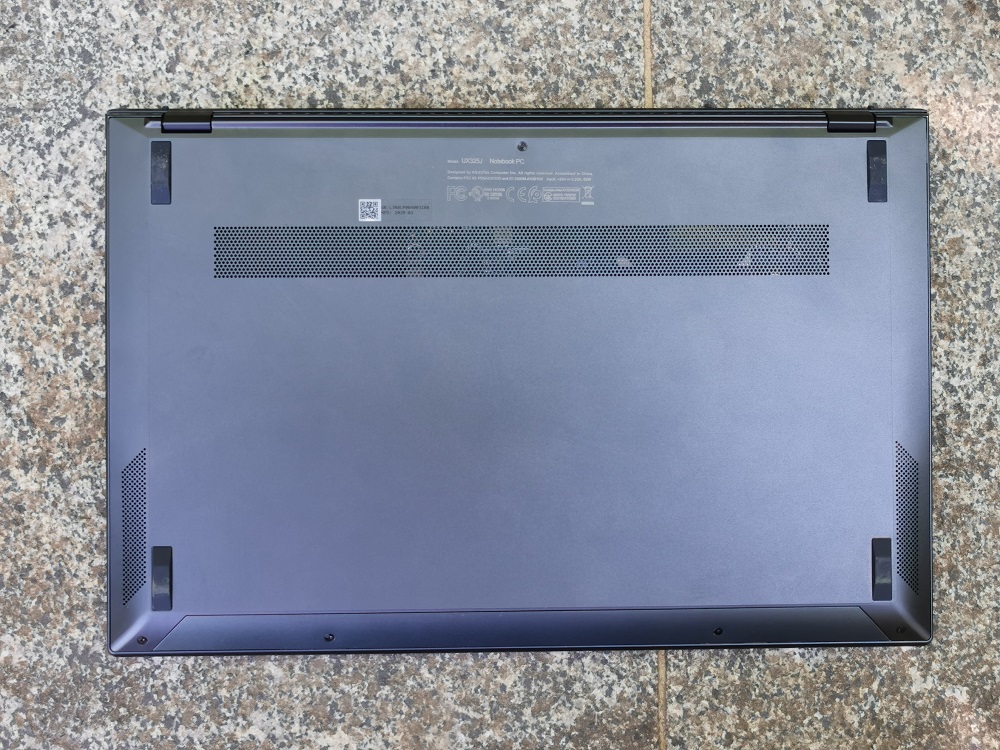 If you remove the back cover, you can see almost all the components of the ultrabook. Most of the space is occupied by a built-in rechargeable battery, with speakers on either side. We also see an M.2 NVMe SSD here, but unfortunately there are no more free slots. A processor, a wireless network module and RAM are soldered on the motherboard, and you will not be able to add an additional RAM.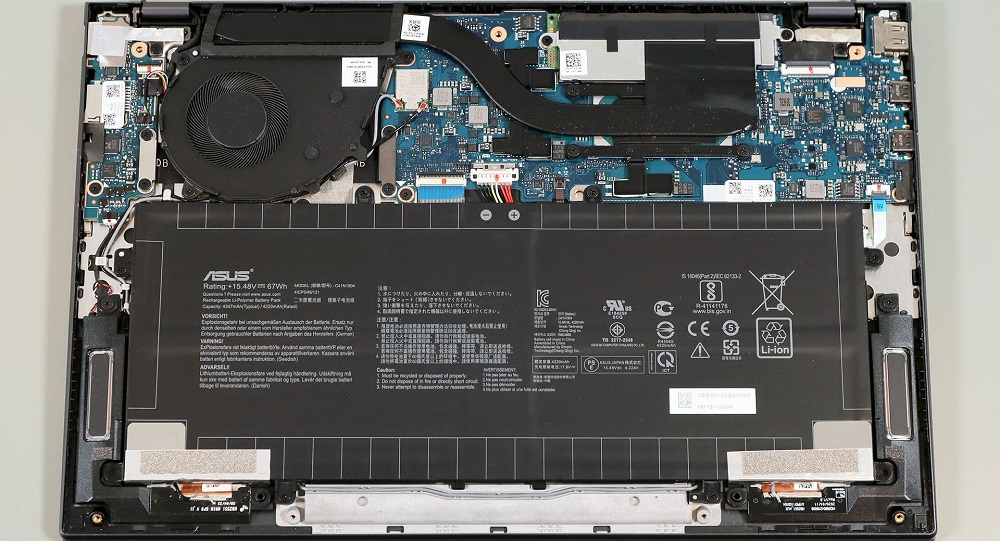 Keyboard and touchpad
The ZenBook series has always had comfortable keyboards. In the new product, it is stretched along the entire length of the working surface. Therefore, the keys have become even larger and more comfortable.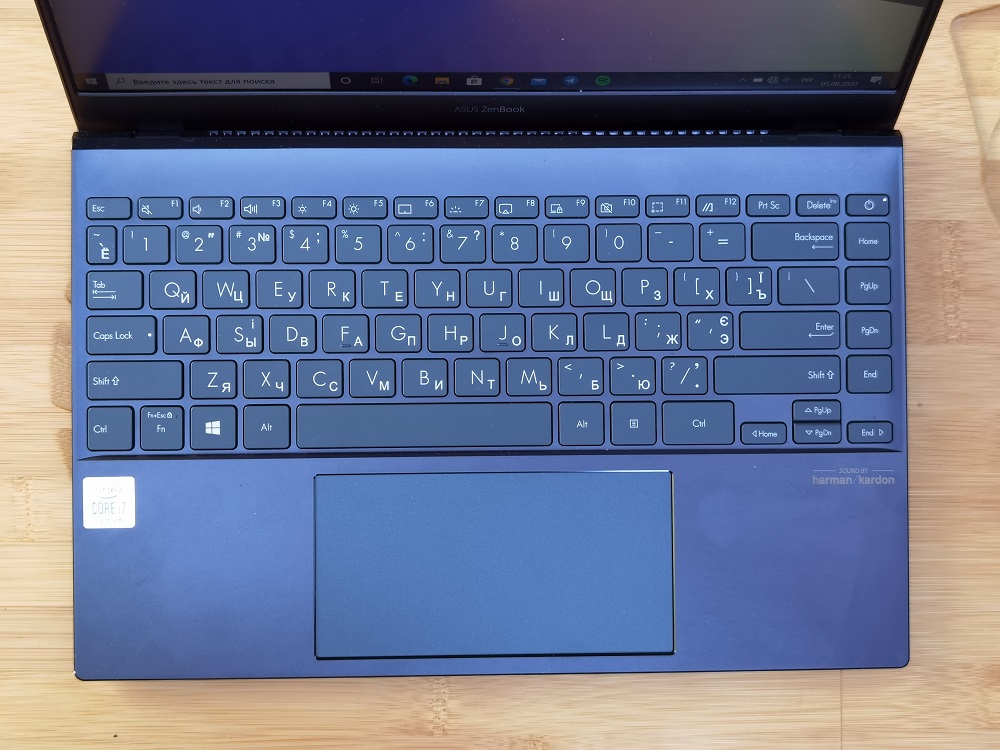 The keyboard is lighter in color than the rest of the laptop, but dark enough to make the letters stand out. This means that the legibility of white characters is always good.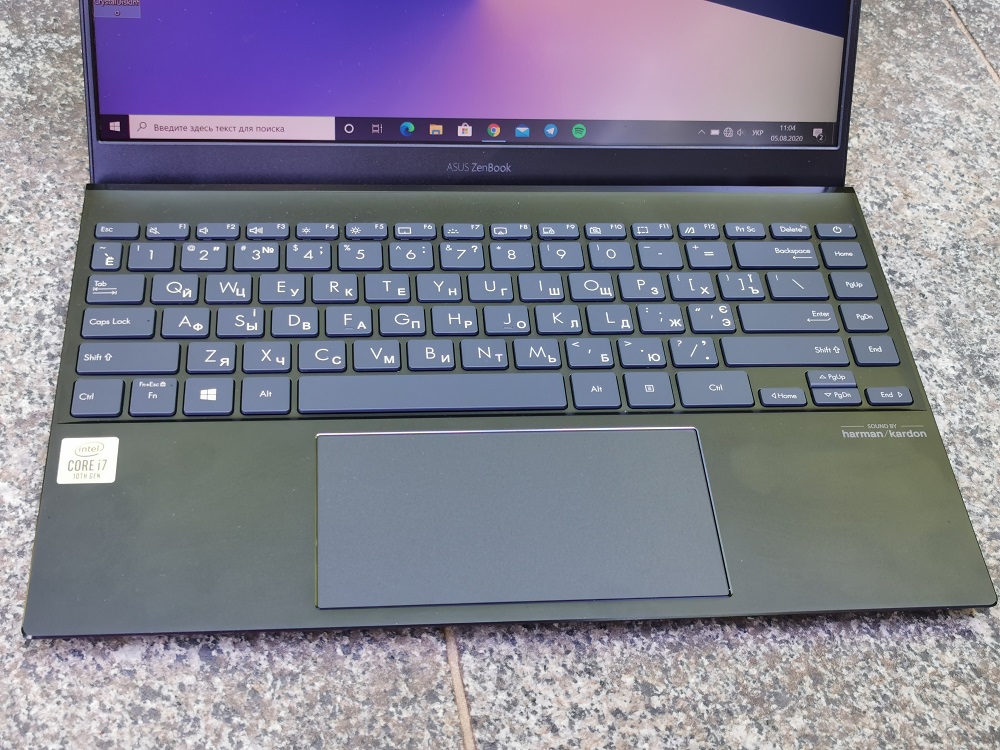 If the light is really low, there is a backlight with three levels of brightness.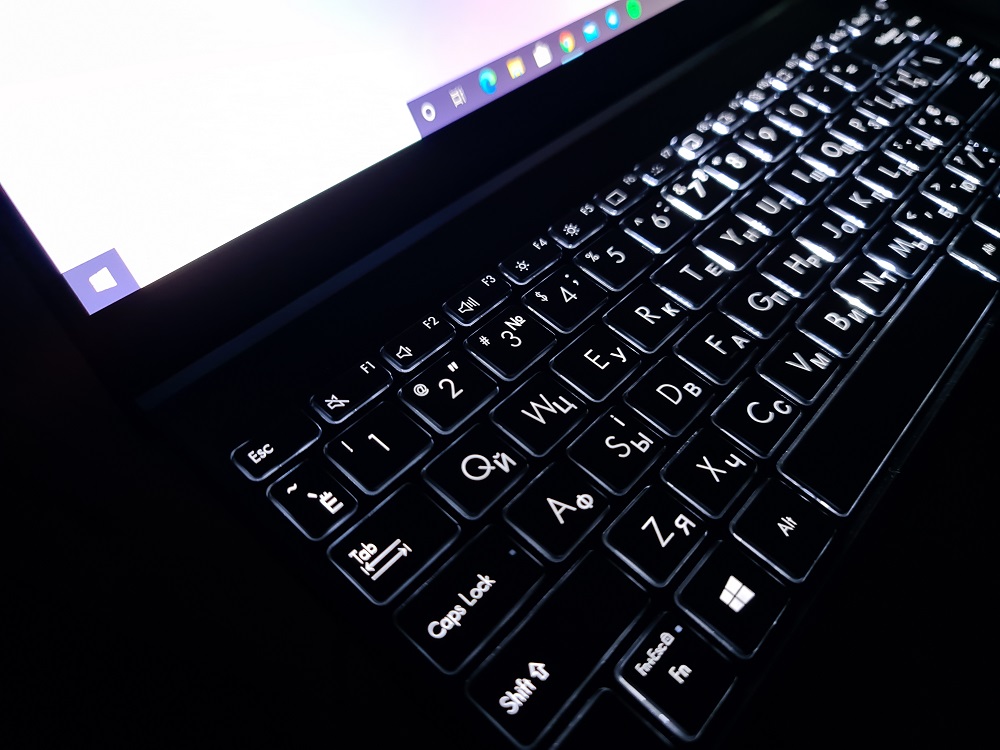 The keys on the laptop are well spaced and offer ample travel (1.4mm). If you've gotten over from a gaming laptop or desktop keyboard, the keyboard may seem a little uncomfortable, but that's only for a short period of time. Overall, I find the keys very comfortable. Typing is very nice.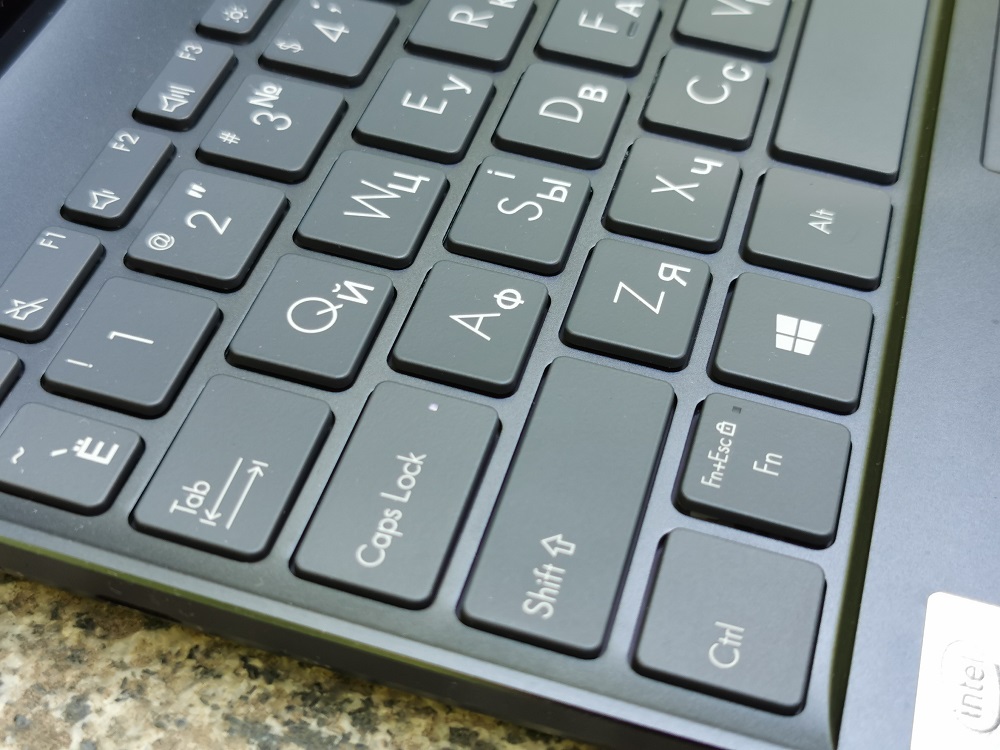 Moreover, the independent function keys on the right (Home, Page Up, Page Down and End) are quite useful. Another useful feature here is the ability to block the Fn key, which allows you to toggle between quick access functions or general functions of the F1 – F12 keys. To do this, simultaneously press the Fn + Esc keys.
However, there are several issues with the arrangement of the keys on the keyboard. First of all, the power button, which is located in the upper right corner. Some may have problems with it. I myself unexpectedly turned the laptop off several times when I confused the power button with the Delete key. It is also unclear why the "Backspace" and "Delete" keys are next to each other, because they can be easily confused when speed typing. But all this does not affect my enjoyment of the ASUS ZenBook 13 (UX325) keyboard. I still consider it one of the most comfortable ultrabooks on the market.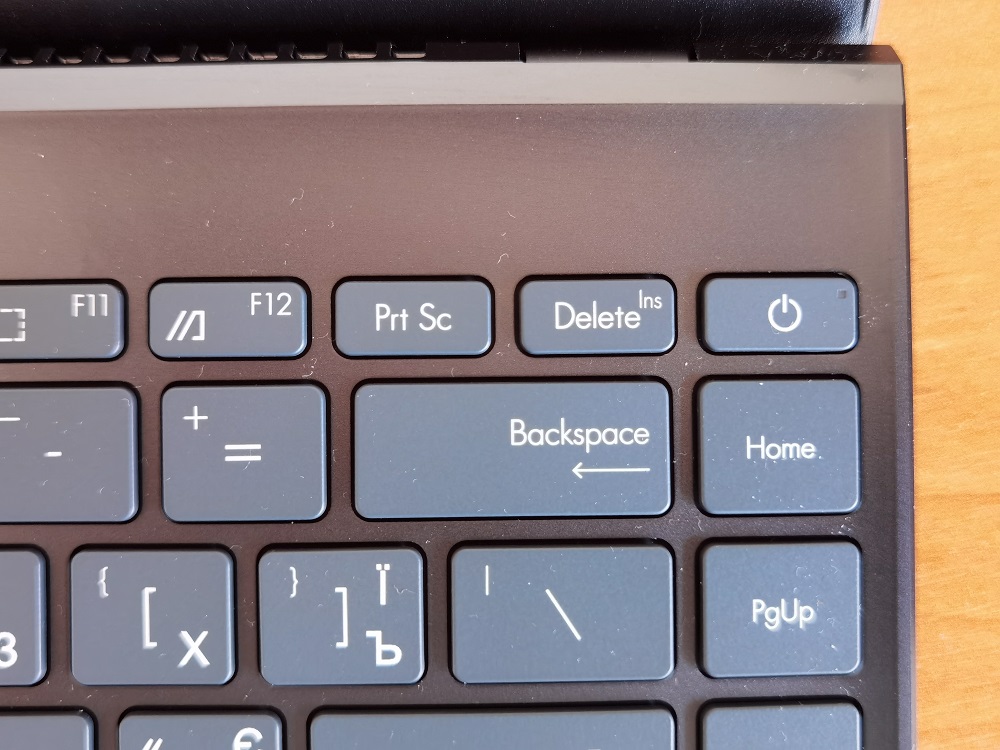 The convenient touchpad is located in the center under the keyboard. It is quite large – 130mm wide and 66mm high, with smooth surface, and support for all gestures available in Windows 10. My model lacked the NumberPad 2.0, which compensates for the lack of a physical numeric keypad in compact laptops. But in the commercial versions it is there and you will definitely like it.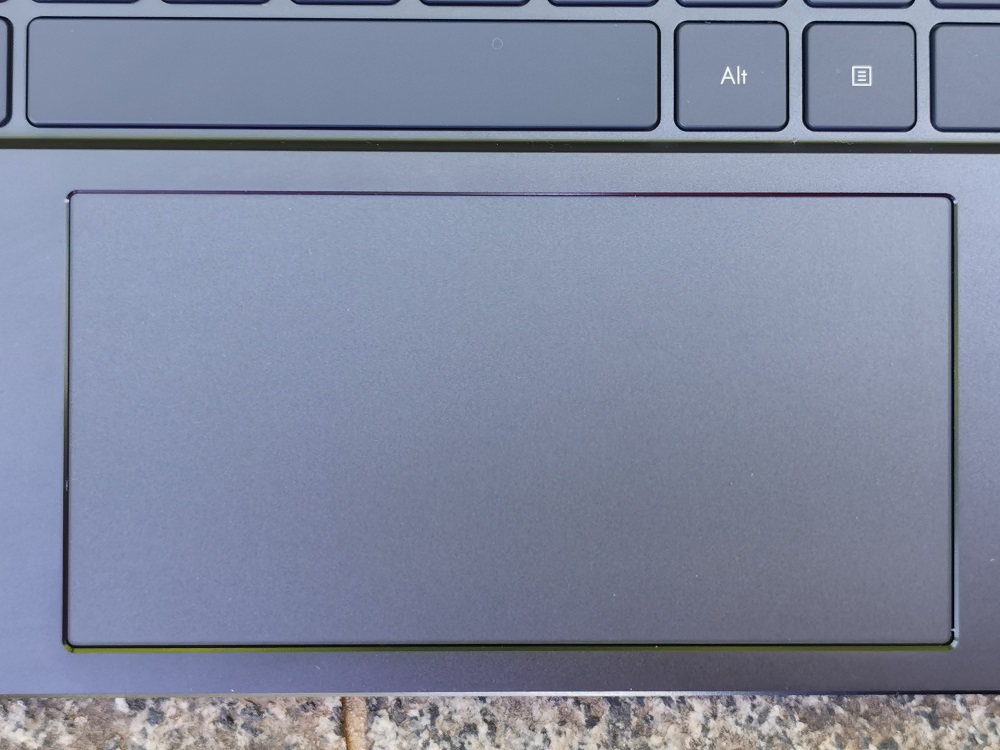 I can't say much about the touch panel. I didn't like the slight delay in response to finger movements, but it is common in many notebooks. The touch sensitivity is optimal. The split keys do not click very hard. The panel itself can be disabled using the F6 or Fn + F6 keys.
Indicators and controls
The main power switch is built into the upper right corner of the keyboard, a solution that I criticize every time I see it. I prefer a separate switch as it cannot be accidentally pressed. At least ASUS is trying to make a distinction between the keys and the power button by making it harder to press and adding a delay. Yet the switch takes up space that could be used more wisely.
There are only 4 indicator diodes on the laptop. All of them are white, except one that's orange. It is on the left, where it indicates that the battery is charging. The other two diodes are in the keys, respectively, one in the power button (it also indicates sleep mode by flashing). Another can be seen in the CapsLock. Another LED is on the right: it indicates that the laptop is on or in sleep mode, almost repeating the LED on the power button. The last diode is located next to the webcam. All diodes glow dimly to interfere as little as possible in the dark.
ASUS ZenBook 13 (UX325): Screen
The new product from ASUS got a 13.3-inch matte IPS-display with a Full HD resolution (1920 × 1080) with a 3 mm NanoEdge frame. The screen offers a peak brightness of 300 nits, averaging around 270 nits. The display isn't quite as bright as the Dell XPS or MacBook Air, but still not nearly as bad considering the price of the ultrabook. According to ASUS, the screen also offers 100% sRGB coverage.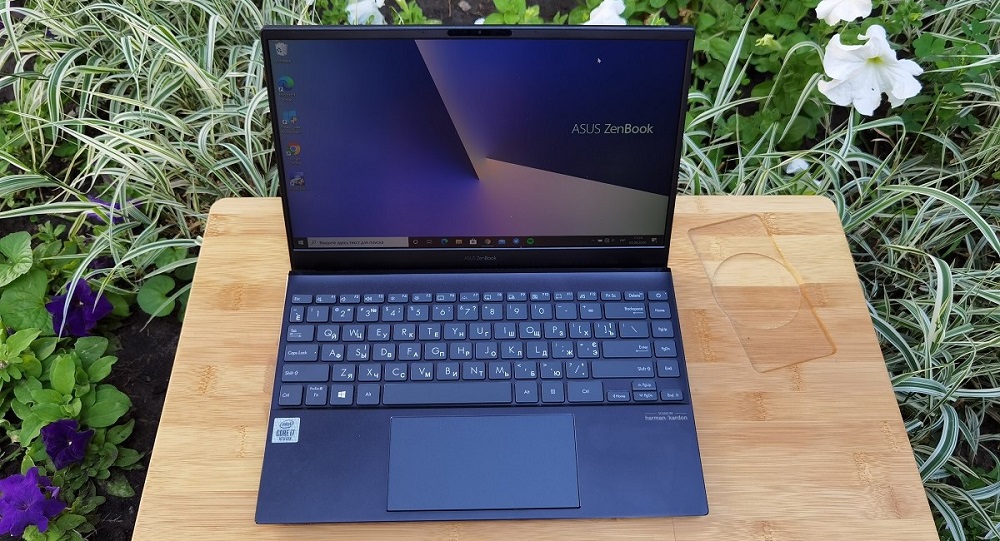 I was pleased with the good viewing angles, sufficient brightness, and almost perfect color accuracy. The image on the screen is quite high quality for this form factor. Black measurement showed a value of 0.298 lumens and 1106:1 contrast. The color fidelity measurement showed an average of a pleasant 0.5 deltaE, more than 1 value was blurred with one color (RGB: 0 – 131.27 – 162.36) with a value of 3.29 deltaE. The image from the display is easy to read, the display itself practically does not glare, so it will be convenient for you to use the ultrabook even in direct sunlight.
In addition, the MyASUS app has the ability to select the desired color temperature.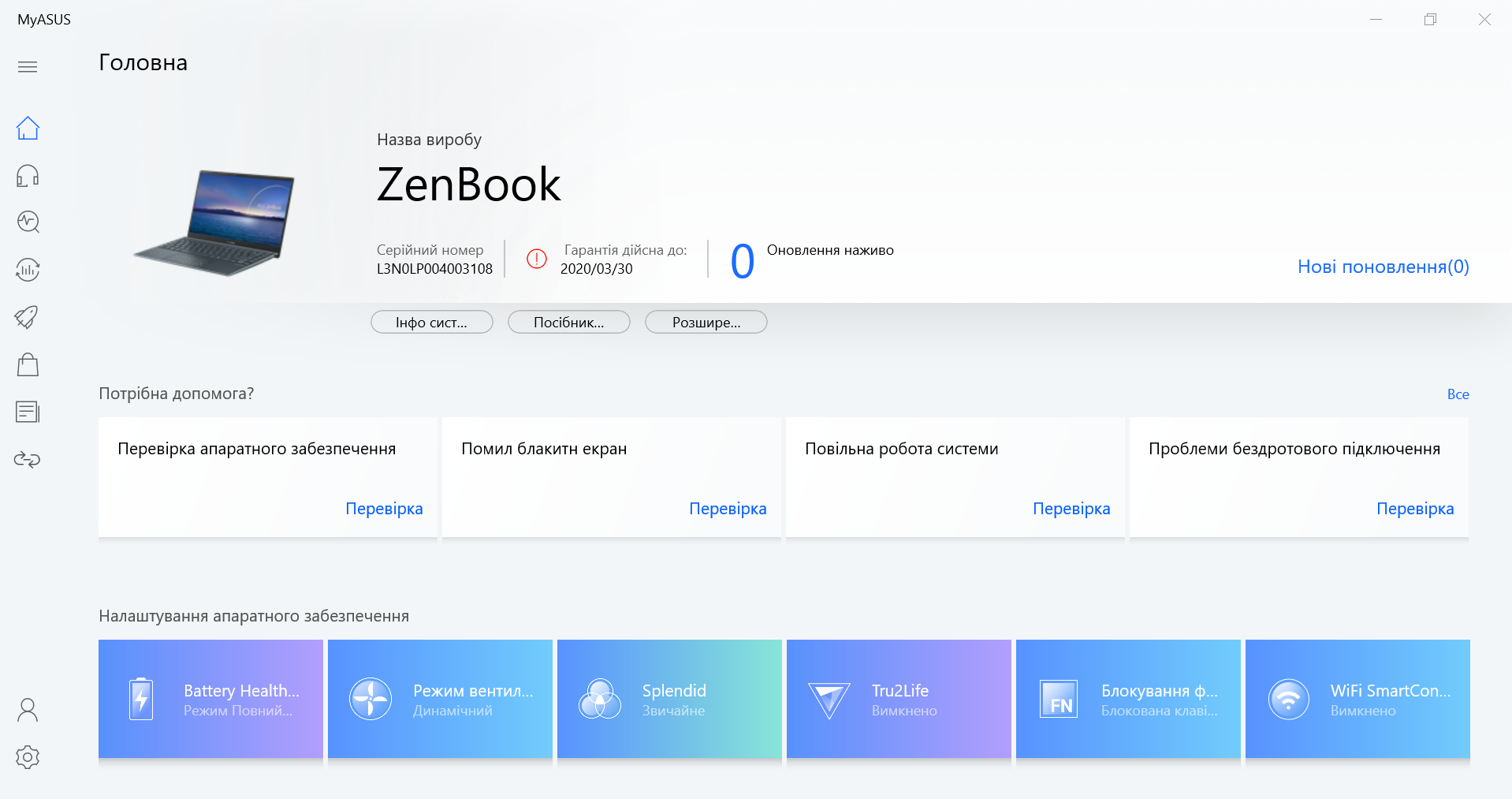 This can dramatically improve the screen image, but don't overdo it.
Speakers and webcam
ASUS has taught us that its premium notebooks have always had great speakers. ASUS ZenBook 13 (UX325) has two of them. The stereo speakers are located on the bottom of the unit. The angled D-panel shape allows the sound to bounce off the desk without distortion and also ensures that it won't be easily drowned out when using the laptop on your lap.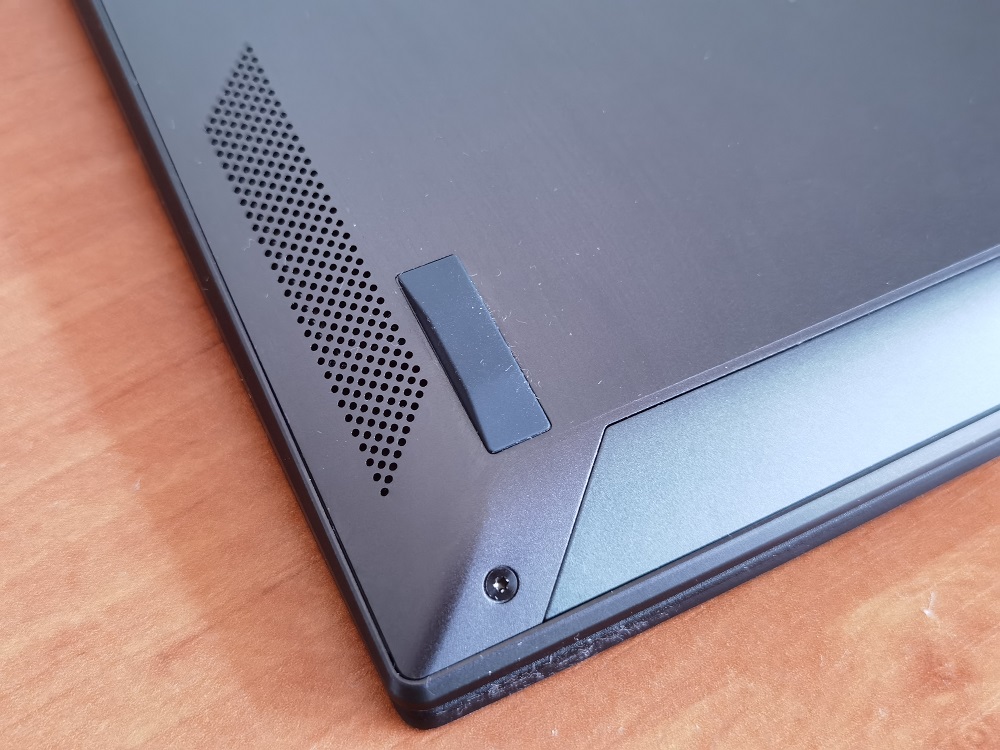 I also didn't notice any vibration at higher volume. It is a collaboration between Harman/Cardon engineers and ASUS developers.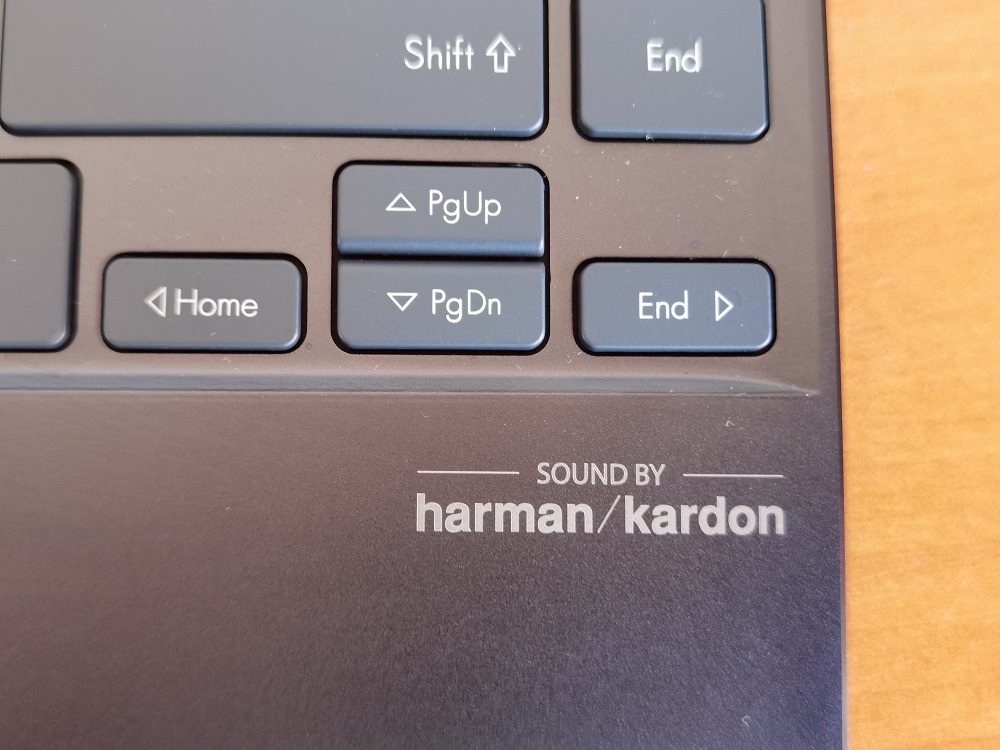 The sound is powerful and clear enough, although some may want to connect a more powerful system or wired headphones. The same adapter from USB Type-C to 3.5 mm will help you. It is also possible to connect wireless headphones, thanks to the support for Bluetooth 5.0.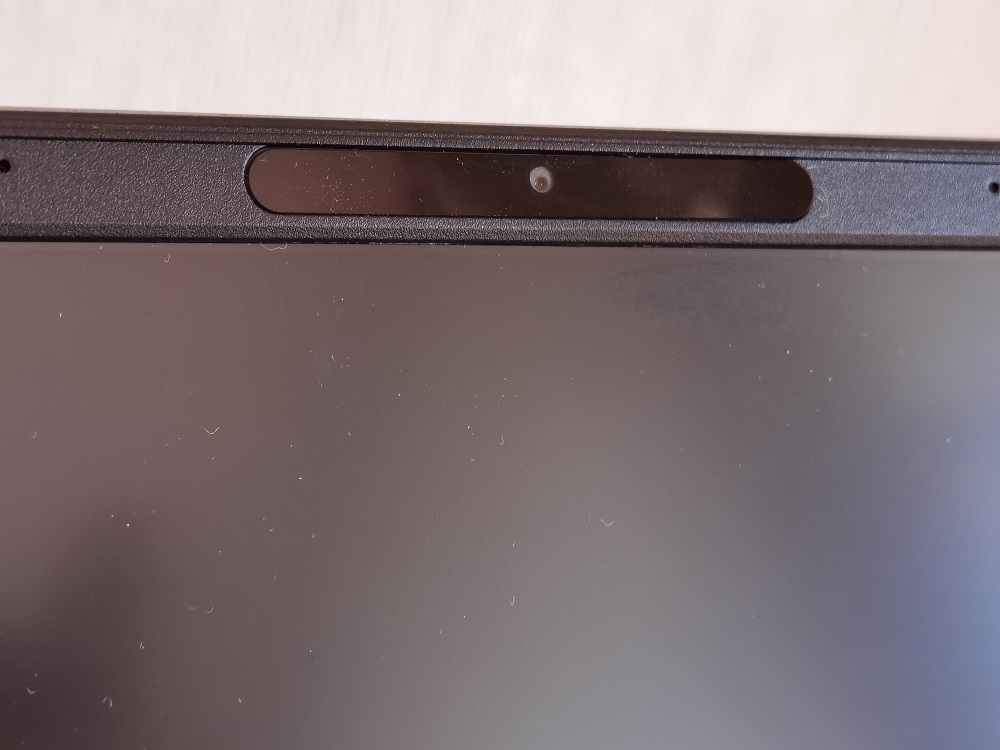 On the top frame there is a built-in webcam, which has been supplemented with IR sensors for face recognition. Yes, it is possible to use the Windows Hello function to unlock the laptop. But the quality of the webcam is again average for the market. The image is grainy and rough. The specified HD 1280 × 720 resolution is the the same quality as 640 × 480, the difference lies only in the aspect ratio and, surprisingly, the color balance.
Equipment and performance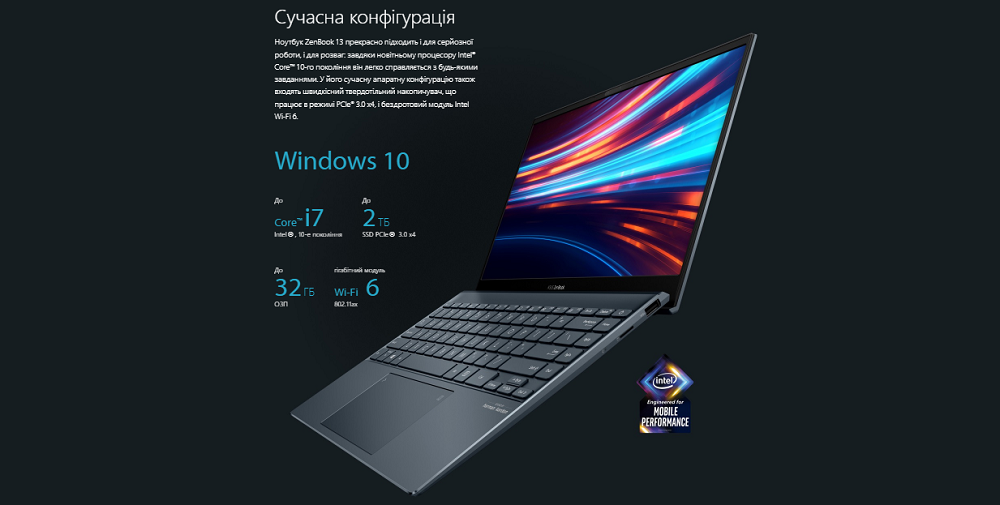 The laptop is equipped with a 10th generation Ice Lake processor, Intel Core i7-1065G7, based on 10nm process. The processor offers 4 cores and 8 processing threads using HT technology. The CPU cycle is 1.3 GHz, automatically increased to 3.9 GHz thanks to TurboBoost. The average TDP consumption of 15 W can be reduced to 12 W, and the main clock frequency to 1 GHz, or, conversely, increased to 25 W at 1.5 GHz. For this model, ASUS opted for a standard 15W TDP setting and a base clock speed of 1.3GHz.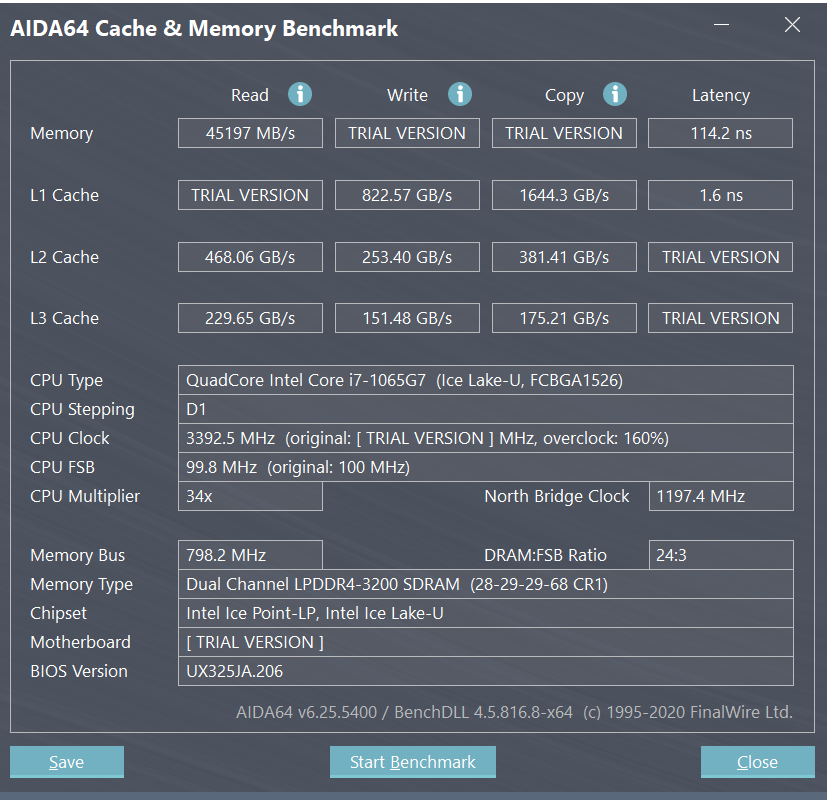 You can purchase a laptop with a Core i5-1035G1 processor. There is also a quad-core chipset, with 8 threads at 1.00 GHz, and in TurboBoost mode, its frequency can reach up to 3.60 GHz. There is also a base model with a Core i3-1005G1 processor on board, which has only 2 cores, 4 threads and an initial clock speed of 1.2 GHz, it reaches 3.40 GHz in TurboBoost mode.
All processors are designed to handle complex multi-threaded programs and take mobile computing to the next level, easily surpassing the capabilities of the previous generation of chips.
Besides the more power, the Core i7 processor also uses Intel Iris Plus Graphics from Intel, which is a huge leap over Intel UHD Graphics, which are paired with the two lower CPUs.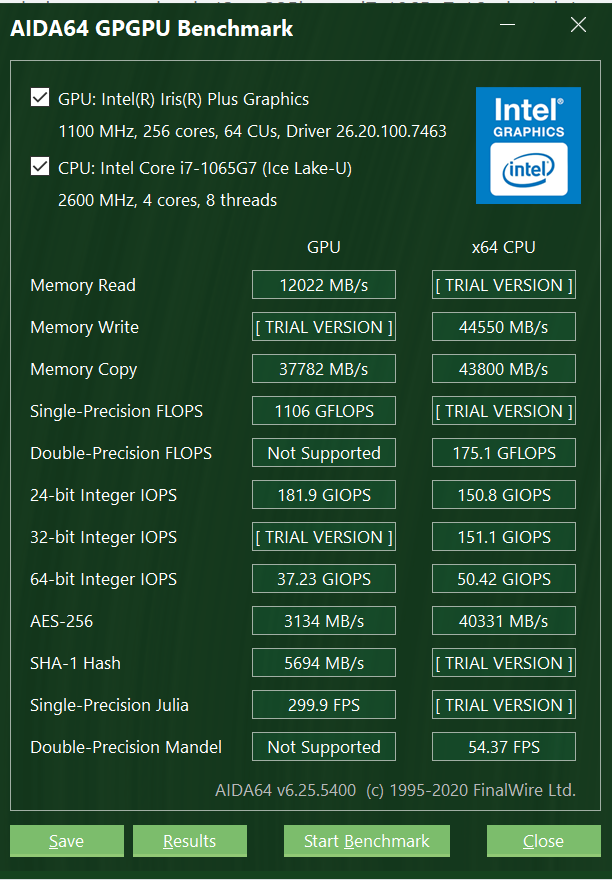 My version of the laptop has this powerful configuration. It allows you to play even more demanding games, albeit at lower settings. Still, this is no gaming laptop.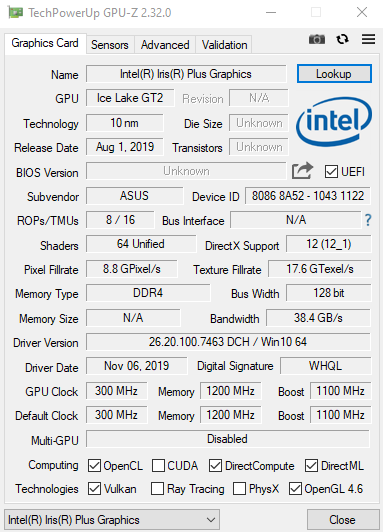 The 3200 MHz LPDDR4X RAM in the test laptop has a volume of 16 GB, operates in dual-channel mode and is soldered on the board, without the possibility of replacement. The manufacturer notes in the technical specification a maximum of 32 GB, the minimum 8 GB.
Data is stored on M.2 (2280) SSDs with NVMe controller. The test unit is a 1TB Micron 2200 MTFDHBA1T0TCK.
In tests, it shows a fairly average performance, but it cannot be compared with the slowness of classic HDD disks.
The SSD is covered with a passive heatsink with thermal conductive tape, which, however, only covers two of the three chips.
All this hardware runs Windows 10 Pro.
The overall performance of the ASUS ZenBook 13 (UX325) is really good for an ultraportable laptop. You don't have to worry about any kind of multitasking lag, even if you have 20 tabs open with MS Word and Excel in the background.
But in terms of gaming, not everything is as good. You can run some older games or more modern titles, but on low settings and frame rates. However, if you want to play more or less modern games or do some light video editing, then I suggest choosing Intel Iris Graphics for the best results. I was able to run a couple of old titles like Counter Strike: Global Offensive, DOTA 2, Heroes of the Storm and Fortnite with playable frame rates. It's all good, there are no delays, although I often had to switch from maximum settings to medium ones.
It's worth noting, though, that these ultraportables are not designed for gaming. If you still need a powerful gaming machine, then you'd better look for something like ASUS TUF Gaming or ASUS ROG series.
Temperature and cooling system
The UX325 is cooled by a single fan, which is typical for this category of high-mobility laptops. A single heatsink leads to the fan, which is of course sufficient for comfortable operation. Air is supplied from below and from the second half of the backrest between the hinges, although they are practically not visible in the photo, but there are indeed holes there.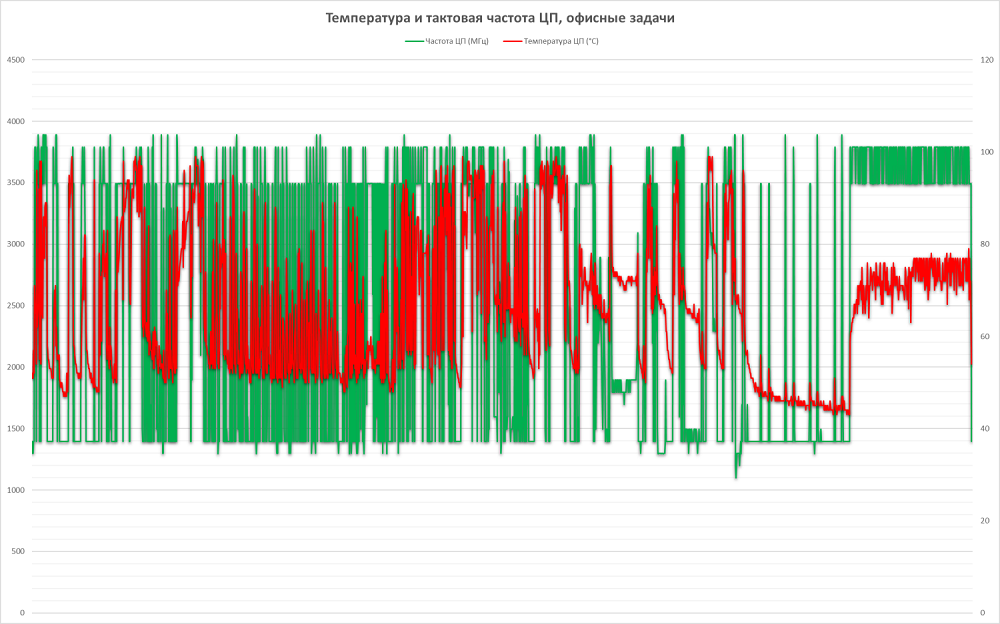 The laptop warms up a little on the keyboard and below, where the processor is located. The laptop is quiet, the fan stops, or spins very slowly during normal use. It goes up to speed only if the processes require more performance from the hardware. Here are some temperature parameters:
touchpad: 29 °C
left side under the keyboard: 30 °C
right side under the keyboard: 29 °C
keyboard left: 35 °C
keyboard right: 36 °C
lower maximum: 37 °C (back middle)
cooling system outlet: 40 °C
power adapter: 37 °C.
Under load, the temperature rises noticeably on the keyboard and below, but it is still acceptable for comfortable operation. The fan runs noticeably louder, or the airflow is clearly audible, but ASUS obviously did a good job on the cooling system design. It is very comfortable.
touchpad: 29 °C
left side under the keyboard: 29 °C
right side under the keyboard: 29 °C
keyboard left: 32 °C
keyboard right: 31 °C
lower maximum: 32 °C (back middle)
cooling system outlet: 33 °C
power adapter: 34 °C.
You can be sure that your laptop will not overheat.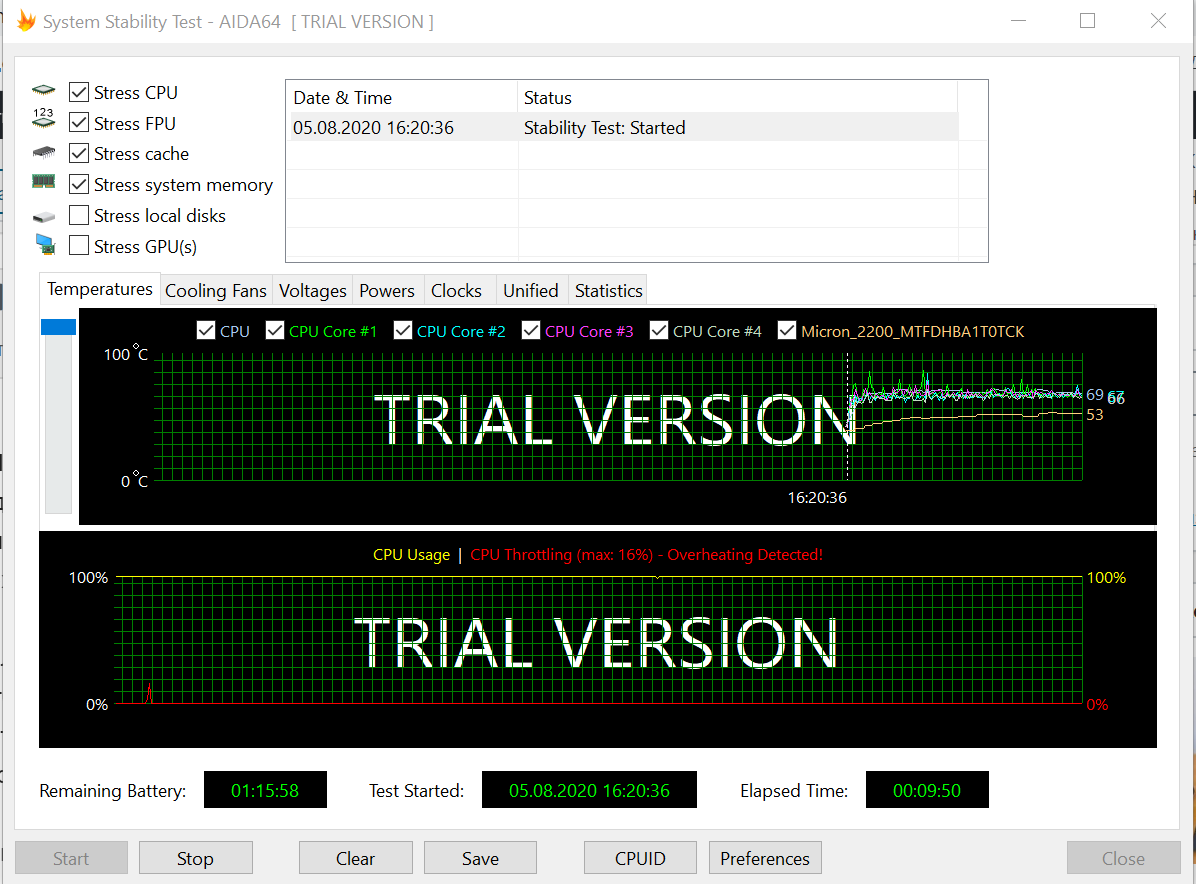 Excellent battery life
Battery life is perhaps the strongest aspect of ZenBook 13. Don't be fooled by the small form factor, as the ZenBook 13 (UX325) has a built-in 67W Li-ion battery. In a standard test of maximum endurance, the laptop ran on a single charge for almost an entire day. This is an incredible result for this form factor!
A more realistic power consumption test when playing video over Wi-Fi at full screen brightness also showed a decent result. The laptop ran for almost 8:00. In fact, depending on how you work, the battery life can be even better (working with documents, sometimes on the Internet), or worse (more demanding programs or 3D graphics). It all depends on how you use your ultrabook. But you can be sure of one thing, it will definitely work for the whole day, and maybe more.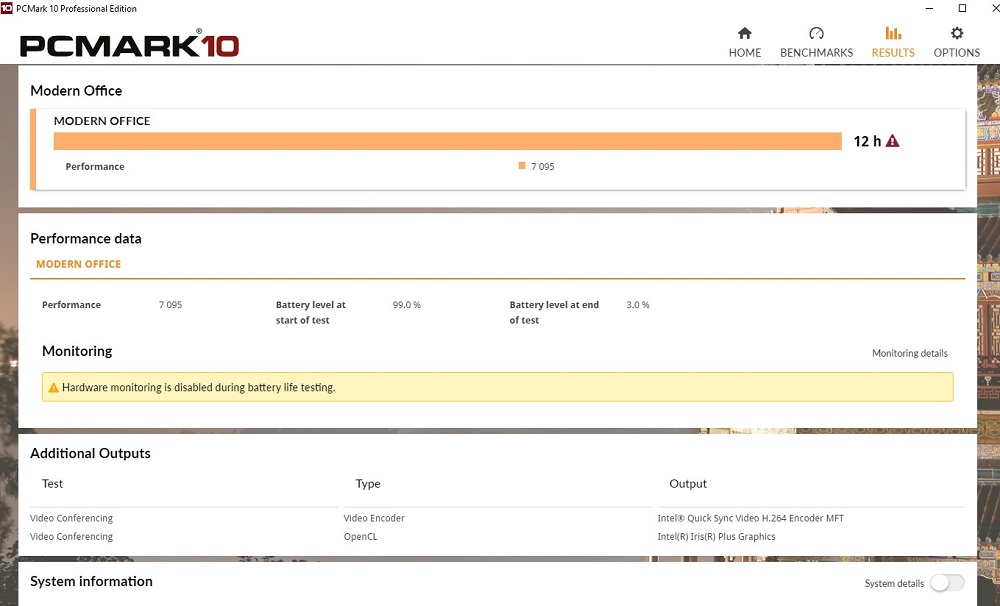 In addition to the battery life, ZenBook 13 also has fast charging support via the USB Type-C port. We have a compact adapter with a size of 130 × 63 × 35 mm and a weight of 224 g, which will provide 65 watts of power. It can charge your laptop from 0% to 60% in just 48 minutes. It can take just under two hours to fully charge your laptop.
Verdict
Frankly, I really like the ASUS ZenBook series. Recently, it has become the gold standard of compactness, convenience and endurance. The hero of my review has once again confirmed that the Taiwanese company is moving in the right direction. Its ultraportable devices have taken their rightful place in the market. At first I wanted to write about the competitors of ASUS ZenBook 13 (UX325), but then I changed my mind, because I think that it is impossible to compare different approaches and solutions in the 13-inch segment. Everyone has their own way, their own vision.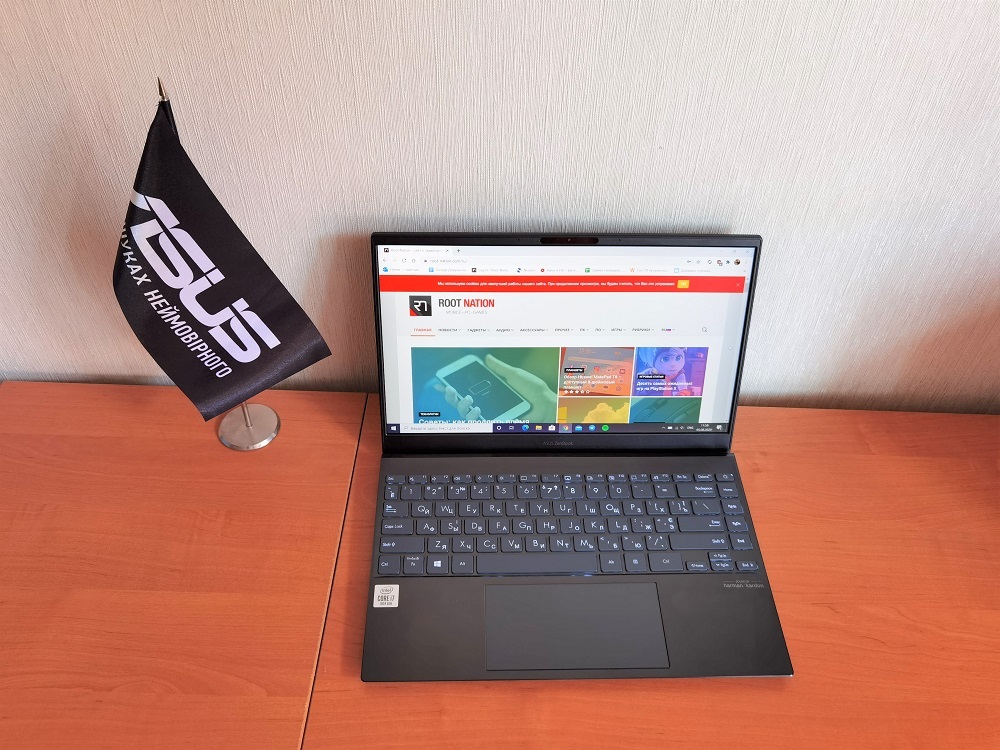 In a nutshell, this is an ultra-competitive ultrabook. ASUS ZenBook 13 (UX325) offers all the benefits of a premium ultrabook, including a durable battery, high performance, high-quality audio, a comfortable keyboard, and superb build quality. Additionally, for some, there's the multifunctional NumberPad touchpad. Sadly, the the screen is not the best, considering the price.
In conclusion, I will say that this ultrabook can be an ideal companion for businessmen and office workers who travel constantly.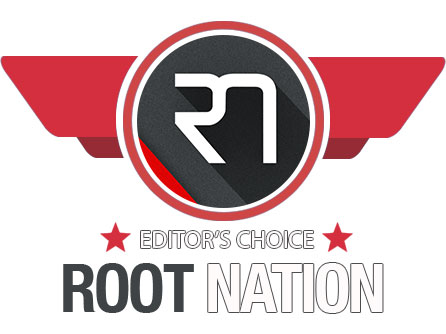 Pros
compact, lightweight and premium;
good build quality;
comfortable keyboard and touchpad;
a sufficient number of ports and connection interfaces;
powerful performance, fast in daily use and multitasking;
Quiet fan, silent in daily use;
fast SSD drive;
wonderful battery life.
Cons
not the best screen considering the price;
mediocre webcam, albeit with an IR sensor;
limited performance with tougher tasks.
Where to buy
Subscribe to our accounts: