Today I have tested the "laptop of the future" – ASUS ZenBook Pro Duo UX581GV. Let's find out what kind of future ASUS has in store for us.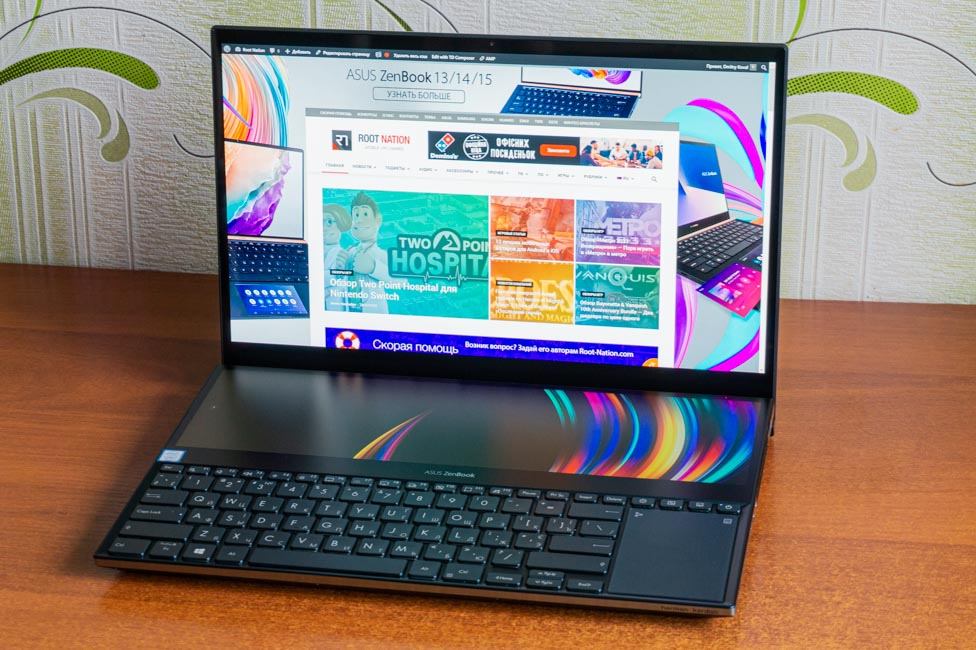 ZenBook Pro Duo Philosophy
Every year, many leading laptop manufacturers are trying to surprise consumers with new approaches. Sometimes it's too conceptual, sometimes very bold, and sometimes the early samples grow into something much more serious.
ASUS' addition of a second screen in the laptop has evolved systematically. We can even remember exactly how. At first, the touchpad could act as a numpad (called NumberPad). After that it grew into a much more functional ScreenPad: a full-fledged second screen, but within the touchpad. And here in front of me is a laptop with ScreenPad Plus – the second 14-inch touch-sensitive IPS-display with UHD-resolution, which occupies half the topcase.
ASUS ZenBook Pro Duo UX581GV-H2002T Technical specifications
| | |
| --- | --- |
| Type | Laptop |
| OS | Windows 10 Home |
| Diagonal | 15,6 + 14 |
| Coating Type | Glossy + Anti-Glare |
| Resolution | 3840×2160 + 3840×1100 |
| Matrix Type | OLED + IPS |
| Touch-sensitive | + |
| Screen refresh rate | 60 |
| Processor | Intel Core i7-9750H |
| Frequency GHz | 2,6 – 4,5 |
| The Number of Cores | 6 cores, 12 threads |
| Chipset | Intel |
| RAM, GB | 16 |
| The maximum amount of RAM | 32 |
| Memory Type | DDR4 |
| Memory Frequency | 2666 MHz |
| SSD, GB | 1024 |
| HDD, GB | – |
| Graphics adapter | Discrete NVIDIA GeForce RTX 2060, 6 GB, GDDR6 + integrated Intel UHD Graphics 630 |
| External ports | HDMI 2.0, 2 × USB 3.1 2Gen Type-A, 1 × USB Type-C (Thunderbolt 3), 3.5 mm combo audio jack |
| Card Reader | – |
| HD webcam | HD |
| Keyboard Backlight | + |
| Fingerprint Scanner | – |
| Wi-Fi | 6 (802.11 a/b/g/n/ac/ax) |
| Bluetooth | 5.0 |
| Weight, kg | 2,5 |
| Size, mm | 359×246×24 |
| Case Material | Aluminum |
| Body Color | Sky Blue |
| Battery, W * h | 71  |
ASUS ZenBook Pro Duo UX581GV: Configurations and Cost
What are the ZenBook Pro Duo UX581GV configurations? There are different processors (Core i7 or i9), the amount of RAM (16 or 32 GB) and SSD-drives (512 or 1024 GB). Perhaps Windows 10 editions – Home and Pro – are also different, but I don't have exact information on this. A test copy came with Windows 10 Home. In some European countries, you can mainly find three options for the UX581GV model:
UX581GV-H2001T – Intel Core i9-9980HK, 1 TB SSD, 32 GB RAM;
UX581GV-H2002T – Intel Core i7-9750H, 1 TB SSD, 16 GB RAM;
UX581GV-H2004T – Intel Core i7-9750H, 512 GB SSD, 16 GB RAM;
Prices for a laptop start from $3024 in the basic version (H2004T), while the one with the same processor, but with a terabyte drive (H2002T) costs at least $3077. That's the one we're testing. As for the top version on Intel Core i9 (H2001T), it costs about $4200.
What's in the box
The laptop comes in a relatively large cardboard box, which contains two more smaller boxes. Unsurprisingly, they look premium, and are quite pleasant to the touch. In one box we have a laptop, and in the second a charger. The latter is quite large, 230W, with a separate power cable and a proprietary plug.
Along with ASUS ZenBook Pro Duo UX581GV, the hero of today's review, we can find documentation, a proprietary ASUS Pen stylus and a separate wrist rest. I will tell you about the stylus in a separate section, and about the stand in the section about the keyboard. In general, it's nice that with the device you will receive additional accessories that increase the comfort of use. Or not? We will find out soon.
Design, materials and build quality
In general terms, ASUS ZenBook Pro Duo UX581GV looks like a typical representative of the ZenBook line. It's a time-tested classic.
In this device, the manufacturer moved away from golden accents, replacing them with silver ones. Personally, I like it. The case is made mainly of aluminum, with rare exceptions. There are several inserts made of plastic. There can be only one color – sky blue, as the manufacturer calls it.
The edges and ends are a bit sharp, beveled, with polishing. This adds a certain high cost to the device as a whole and it looks more solid. But, of course, all the most interesting stuff is inside.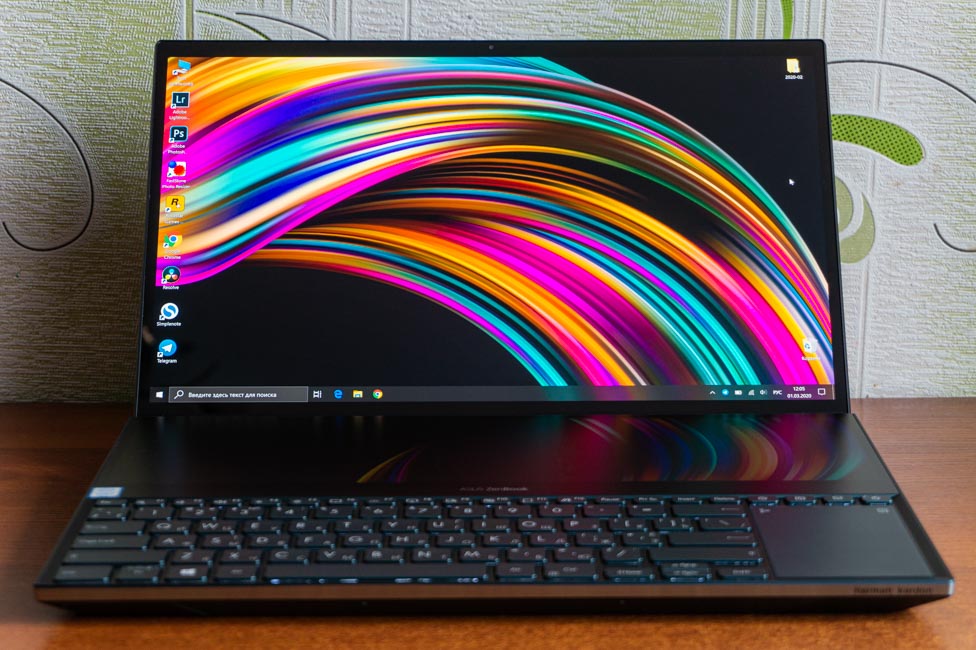 The bezels around the main display are not very wide, if you do not take into account the indentation from the bottom. An additional screen, which is located on the topcase, also has thin top and sides margins. But the bottom is thicker, but naturally, which is hardly a drawback.
As for the dimensions, here, of course, ZenBook Pro Duo UX581GV is very different from what we are used to. The dimensions of the case are: 359 × 246 × 24 mm, weight – 2.5 kg. And the most critical among them is thickness and mass. Of course, you can take it with you if you wish, but you must admit that it will not be as convenient as ZenBook 14 or 15. However, the class of the device here is a bit different. Opening the laptop with one hand is no problem.
There's no reason to criticize the build quality; it's excellent. The display cover is very durable, and does not bend. ErgoLift hinges are here, and the larger the opening angle of the lid, the higher the lower part of the body will rise above the surface. The case is a fingerprint magnet, although it's easy to clean. Now, the screens are much harder to wipe.
Element configuration
The cover looks usual for the ZenBook series with concentric circles and an ASUS logo. However, now they have shifted from the center to the right.
The lower part of the perimeter is beveled, in the center there are two perforated ventilation areas and service information and stickers. Above them is a long, narrow strip (that looks like it's made out of leather). Under it is the same strip, but wide, which together with the top provide excellent stability on a surface. There are other slots as well, plus Torx cogs that secure the lid.
On the right side there are two LED indicators and power supply, a Thunderbolt 3 port, a combined 3.5 mm audio jack, a wide cut-out of the cooling system and one USB 3.1 Gen 2 Type-A port. On the left are the power connector, HDMI 2.0, the second USB 3.1 Gen 2 Type-A and the same cutout.
And that's all the ports. There are not very many of them here, as you understand. With such a large case, it seems a bit strange decision, I think another Type-A could brighten up the situation a bit. But what is probably the most critical is the lack of a card reader. Why? The positioning of the device implies working with both video and photo, but you can't connect the memory card directly without adapters. There's a place for cards readers even in some ultrabooks, but they haven't found a place here. A bummer.
There are several microphones on the front of the display cover, and on the main part in the center there is a thin indicator strip. It can signal the work of the voice assistant, change color when switching the fan modes and glow during charging. In the corner to the right is harman/kardon logo.
Above the main display above is a webcam and a second infrared camera, below it is nothing. The topcase looks divided into two parts – a second display and a keyboard. Under ScreenPad Plus we have the ASUS ZenBook inscription. To the right of the keyboard is the touchpad.
ASUS ZenBook Pro Duo UX581GV Screens
We turn to the main features of the ASUS ZenBook Pro Duo UX581GV – its screens. Let's start with the main one: this is a 15.6-inch display with an OLED matrix, UHD resolution (3840 × 2160 pixels), and 16:9 aspect ratio. It occupies 89% of the front panel and, among other things, is touch sensitive, with a glossy finish.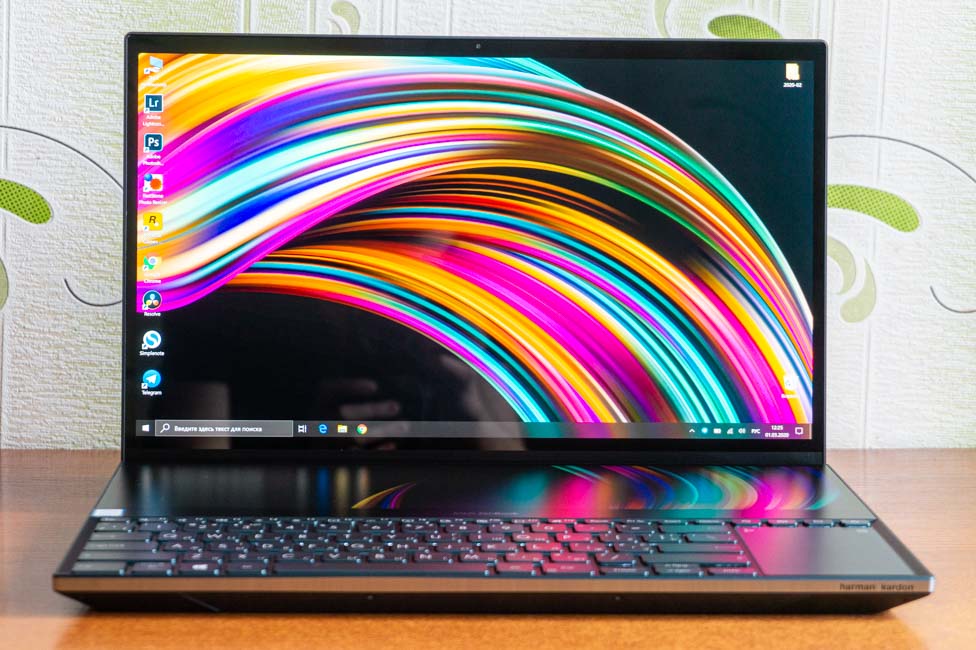 The second display is ScreenPad Plus with a diagonal of 14″, IPS matrix, 4K resolution (3840 × 1100 pixels). The aspect ratio is 14:4, with matte finish, the panel is also touch-sensitive.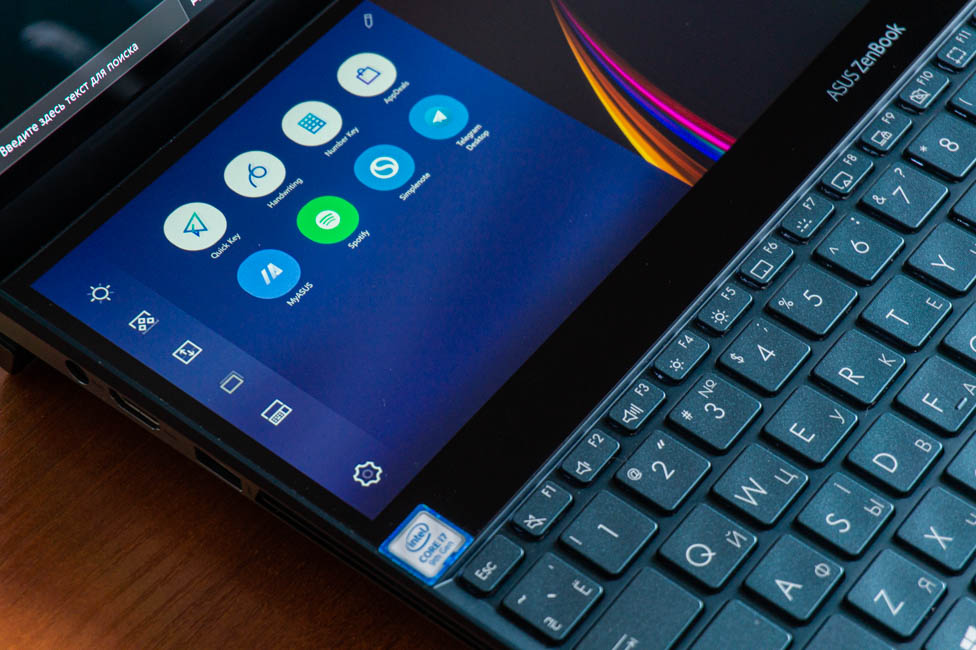 The main screen stands out at least in that it is OLED. And this is a great rarity, and it's expensive as well. But as a result, we have a beautiful display in almost all respects. Bright, saturated, contrasting, with the deepest black color. The manufacturer promises 100% coverage of the DCI-P3 color space.
Viewing angles are good (178˚), but like in most smartphones with this type of matrix, green-pink tints can be seen at an angle, espe cially against a light background or objects.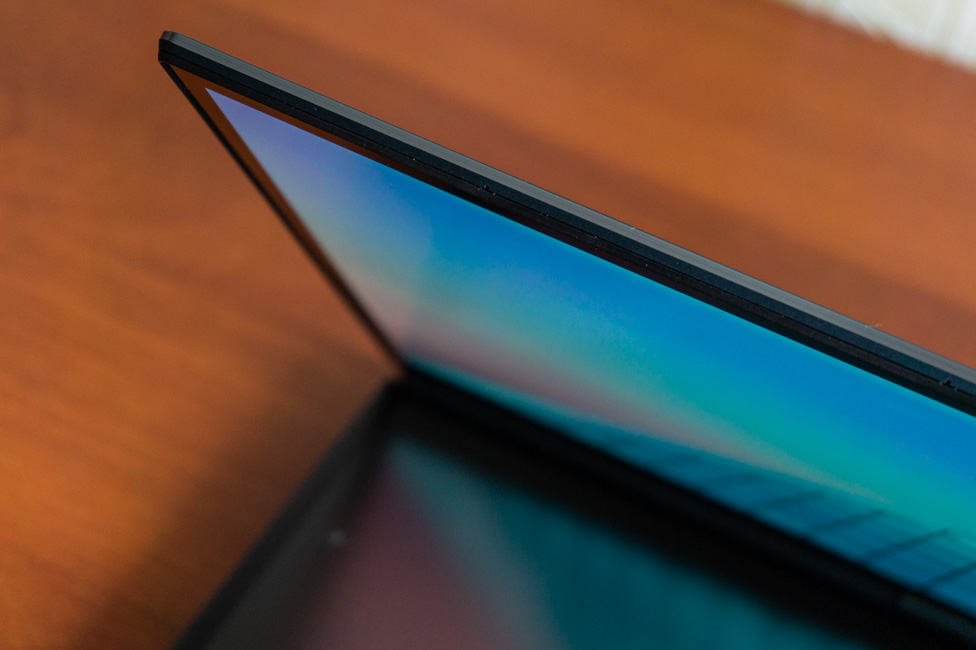 In general, this is a beautiful screen, which is nice to work on, play, and watch videos or movies. But it is worth remembering that PWM is present here and therefore the laptop is not suitable for people sensitive to this effect. In addition, I am afraid that after a long time of use, the screen may burn out. ASUS made some efforts to reduce the likelihood of this, but still it can happen. To avoid this, you should often change the wallpaper, the location of the icons, do not leave the screen turned on for a long time with some kind of static high-contrast image and a high level of brightness.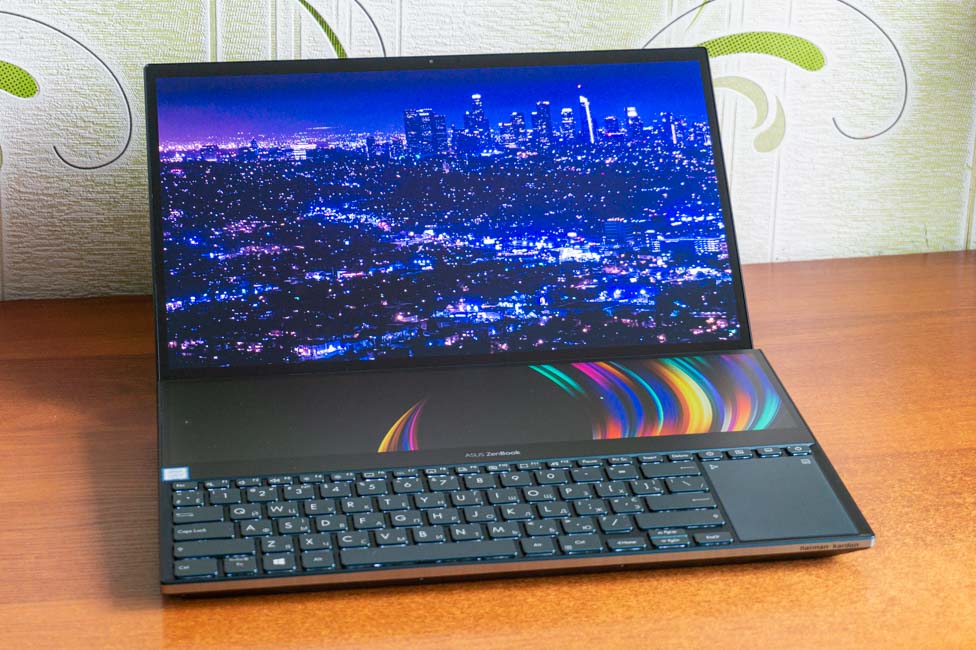 Now, the second screen. The technical characteristics make it clear that the two displays are different. This can cause some inconvenience when working with color. But in fact, I do not see this as a particular problem.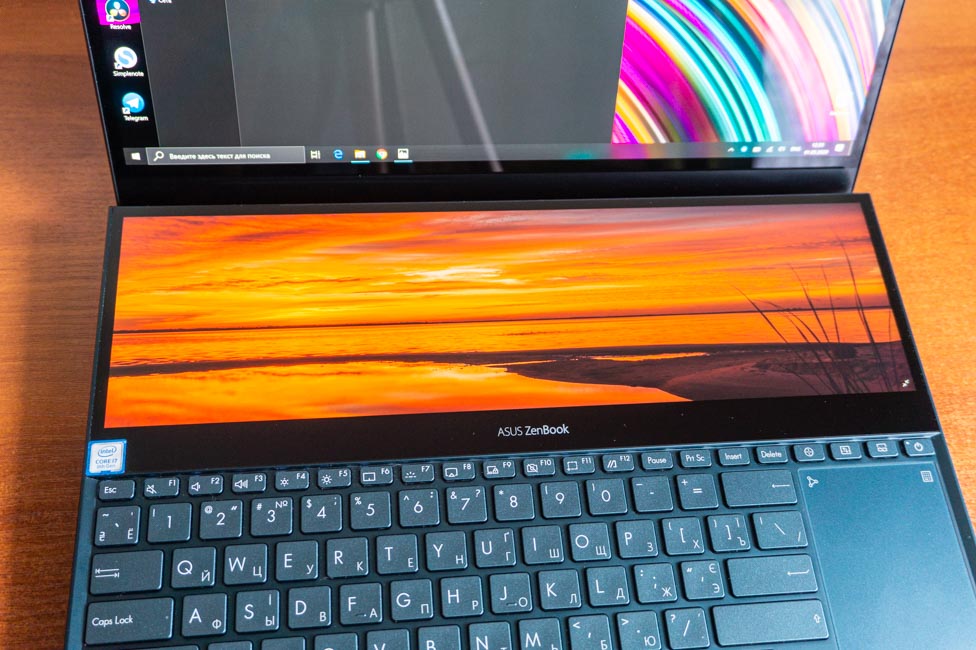 Of course, viewing photos on the second screen is not very convenient and, for obvious reasons, the quality is worse. The reason is matte finish, plus the difference between OLED and IPS, plus a completely different angle of inclination. Dark tones fade slightly, the brightness is adjusted separately.
Why do I need ScreenPad Plus?
This is a separate issue and in fact, there can be many options for use. The manufacturer offers several usages of an additional screen for individual creative (and not so) professions: for photographers, programmers, video editors, musicians, designers and even streamers. The main idea is to place additional tools, windows and programs on this screen, thereby freeing up space on the main working screen.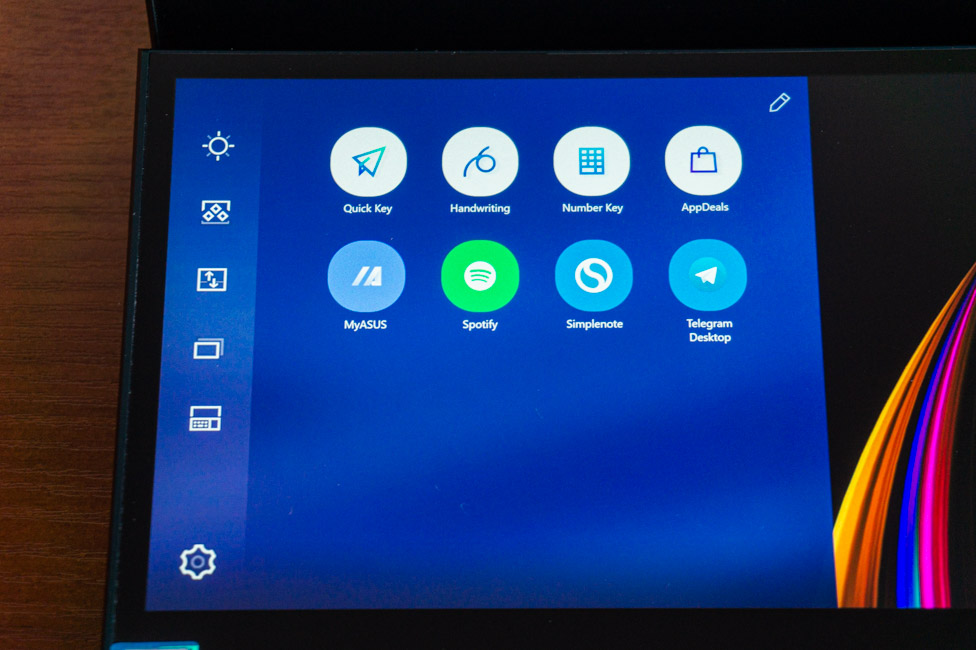 How did this display help me? I am not a professional user of specialized software for video, graphics or audio. Most often I have to deal with images. In Photoshop, it is possible to bring some toolbars to the second screen, but everything turned out to be much simpler – I opened the file manager and image preview there. So, I can see, for example, a full-length screenshot, make sure that it is the one that I need, and grab it and drag it into the working environment.
I agree, a somewhat primitive format, but it helped me a lot when I needed to combine several dozen screenshots from a smartphone into 5-7 common images. On one 15-inch display, it would take longer time, but here it is faster and much more convenient.
What else… I actively took advantage of the second screen when I collected background information on ZenBook Pro Duo UX581GV. On the one screen I had a browser, on the second – a text editor with quick notes and some kind of streaming music service, like YouTube Music.
But sometimes it happened that I had to transfer the main software down. And for this it was necessary to press only one button above the touchpad. But now is not about that. I transferred Photoshop there for one reason – I had to draw with a stylus. It's much more convenient to do this on this second screen.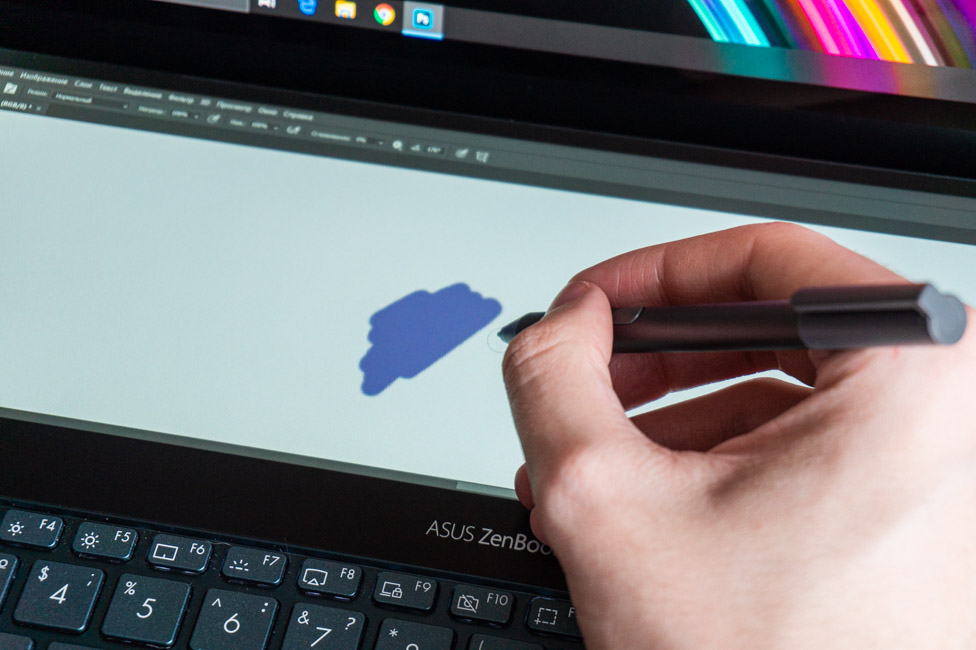 In general, it seems to me that everyone can come up with their own scripts for the second screen. And as it turned out, it's really convenient. ScreenPad Plus undoubtedly speeds up and simplifies typical tasks.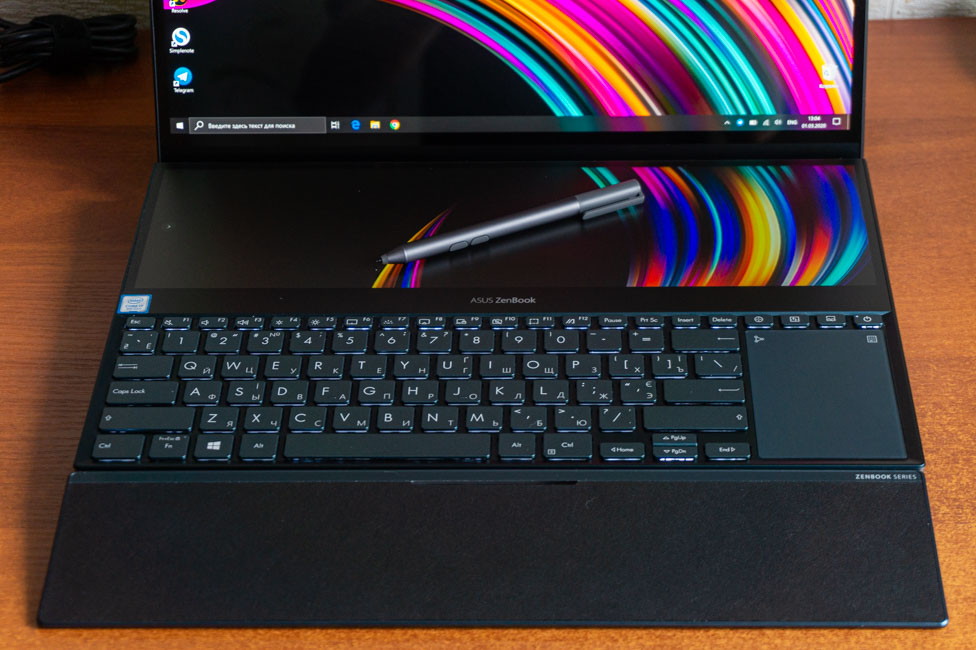 Features and capabilities of ScreenPad Plus
Interaction with ScreenPad Plus is implemented at the highest level – it is not just a screen to which you can transfer part of the windows. As in the case with the previously known ScreenPad 2.0 (remember ASUS ZenBook 14 UX434F?), the Plus version has its own user interface. On the left, by pressing the arrow button, a menu opens, in which several utilities are located.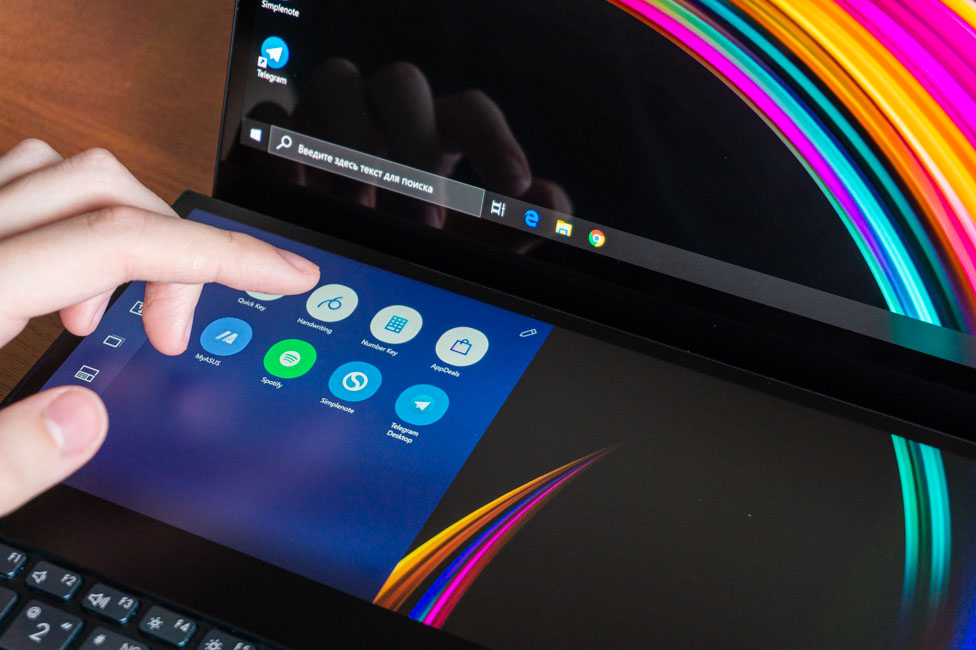 Among the default ones are Quick Key, Handwriting, Number Key, AppDeals, MyASUS and Spotify. The first essentially contains hot keys and you don't need to hold down various combinations on the keyboard, but just touch the desired button in this application. Hotkeys can be grouped, you can add your own and sort in any order. With manual input, everything is obvious – the text you write with a stylus will be converted to text. Next is a typical numpad.
AppDeals is an app store that supports working with ScreenPad Plus. MyASUS is a proprietary utility with information about the device and some settings. Spotify is a popular music service. The applications that you add to the menu yourself will open on ScreenPad Plus.
Also on the left you can see several icons: change in the brightness level of the second screen, groups (quick launch of a predetermined set of programs), changing the contents of displays, application navigator (those that are open on the second screen), and a keyboard lock button. In the settings you can change: brightness, background, window size (third, half, full). You can hide the launcher button. Activate or deactivate the organizer – reduce the size of the application to certain proportions. There's an action menu: when you click on the active window, three quick actions will appear with it: move to ScreenPad Plus, add the program to the menu and expand it on both screens. Finally, turn on energy saving and change the resolution of ScreenPad.
ASUS Pen stylus and touch input
The bundled ASUS Pen stylus looks like a regular pen. The casing is made of aluminum and gray plastic. On the cap you can find ASUS Collection inscription, it hides an AAAA battery underneath. There are two buttons on the case imitating both mouse buttons – or other actions, depending on the active software.
According to the characteristics, the stylus has the following specs:
Pressure Strength: 10 to 300 g
Pressure Levels: 1024
Linearity: 0.2 mm
Battery life: up to 10 months
According to my feelings, it is most comfortable to use it in conjunction with ScreenPad Plus. Because it has a matte finish, which means the pen glides over it more easily. Plus, it is located in the usual horizontal way.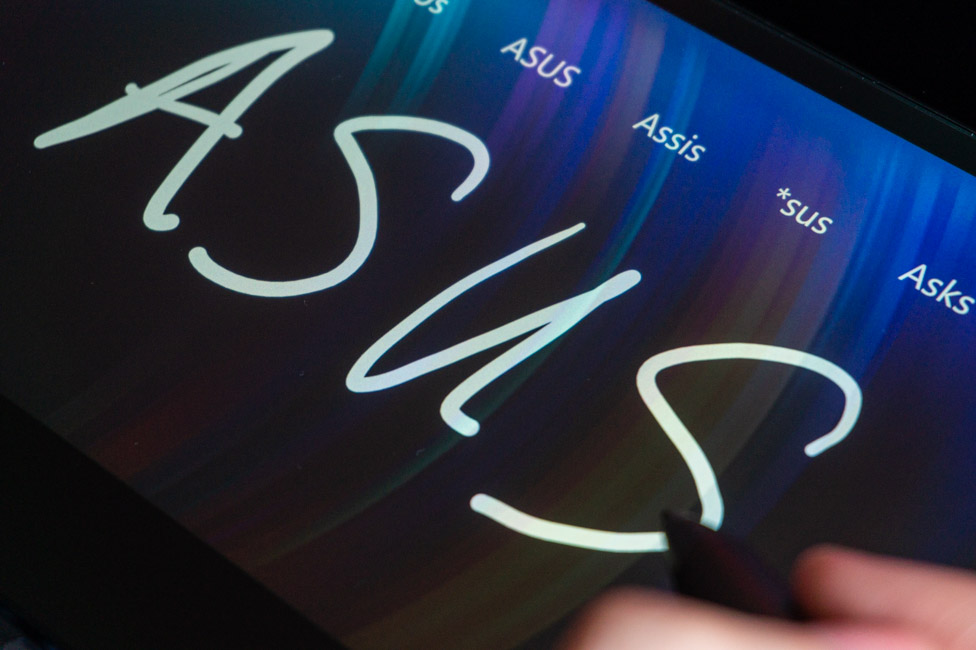 And a few words about the main touch screen. Surprisingly, it doesn't seem superfluous. I will say more – I used taps on the display more often than the touchpad. Typically, the touch screen is popular in light ultrabooks, which can be folded into a tablet format. But ASUS ZenBook Pro Duo UX581GV is not like that.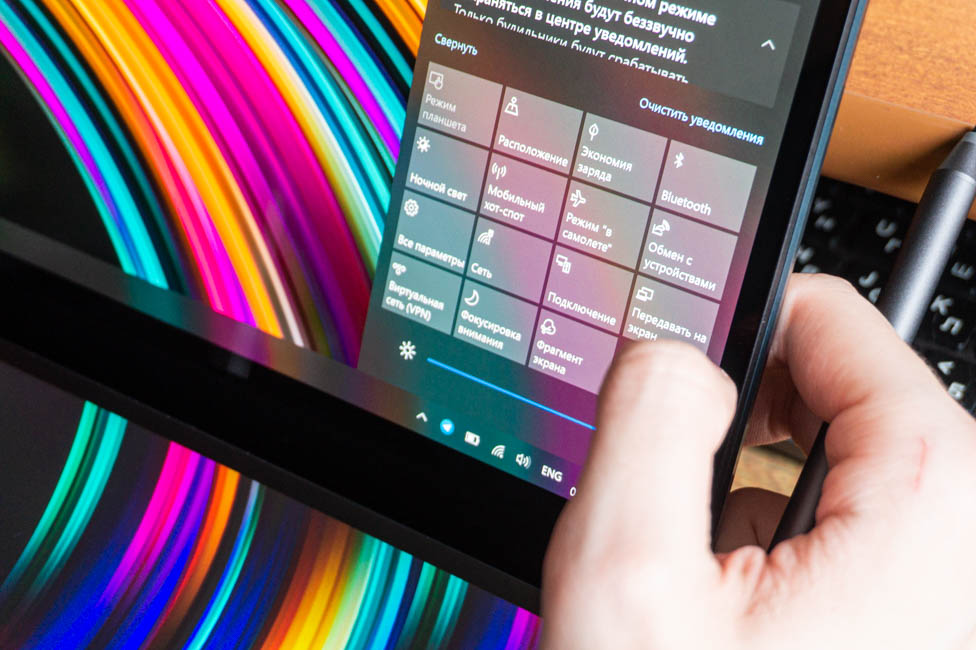 Sound and Wireless Modules
ASUS engineers worked with sound along with Harman Kardon specialists. Such cooperation between companies is not new and has been going on for several years. This cooperation results mainly in a positive result for the built-in audio system. Two speakers placed on the slanted ends to the right and left.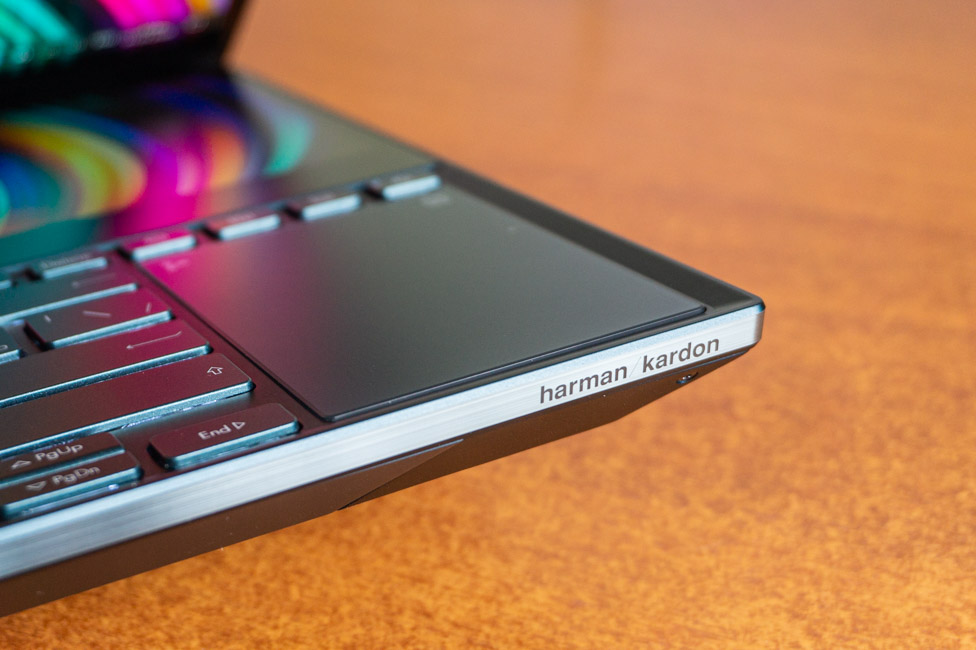 The volume level that the speakers provide is quite good. For a small and quiet room it's more than enough. Plus, the sound as a whole is almost not distorted even at the maximum volume level. Perhaps a slight advantage of high frequencies in some compositions will be heard, but nothing rattles and the sound remains clean, and moderately deep. Quality in general is not bad here.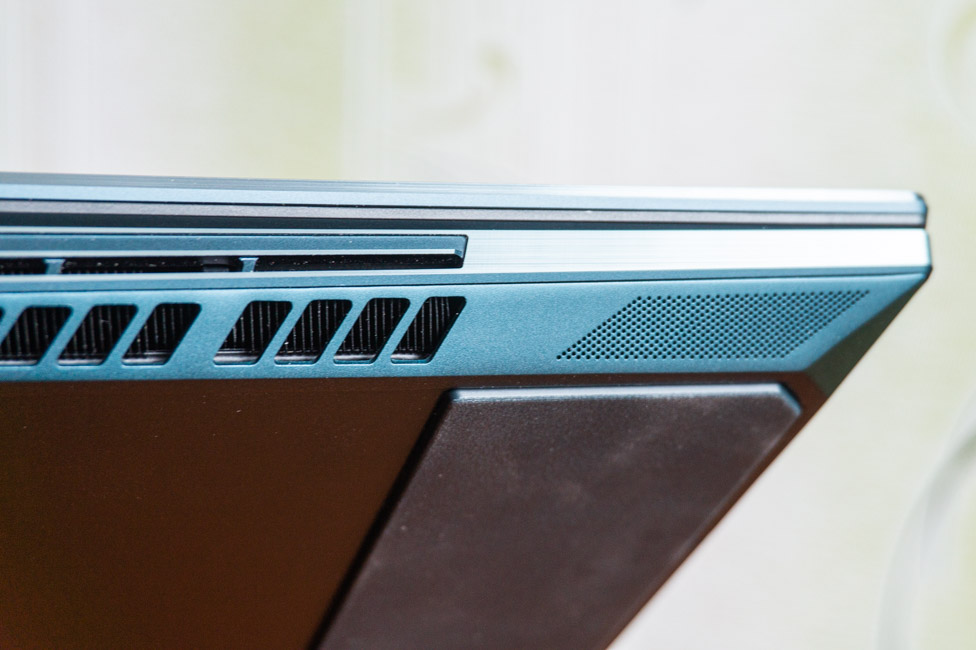 But it's clear that there is not much bass, and therefore, fans of saturated bass will probably not give up external speakers. But for a laptop the sound is very good. In the headphones, the sound is okay, both wired and wireless. I have no complaints about the quality or the output volume.
The sound can be adjusted in the Realtek Audio Console utility: there is a ten-band equalizer with a considerable number of prepared profiles, surround sound setup, tone compensation, pitch change, voice suppression. The Omni Speaker effect is available: it's like surround sound, but I personally did not appreciate it at all.
Let's talk about the wireless modules installed in the ASUS ZenBook Pro Duo UX581GV. There is Bluetooth 5.0 – nothing unusual; it's relevant and stable. But the Wi-Fi module is interesting in that it is Intel Wi-Fi 6 with support for Gig + technology. That is, in addition to the 802.11 a/b/g/n/ac protocols, the latest IEEE 802.11ax is also supported. This means increased productivity, protection and less latency. It remains only to wait for the mass of routers with Wi-Fi 6.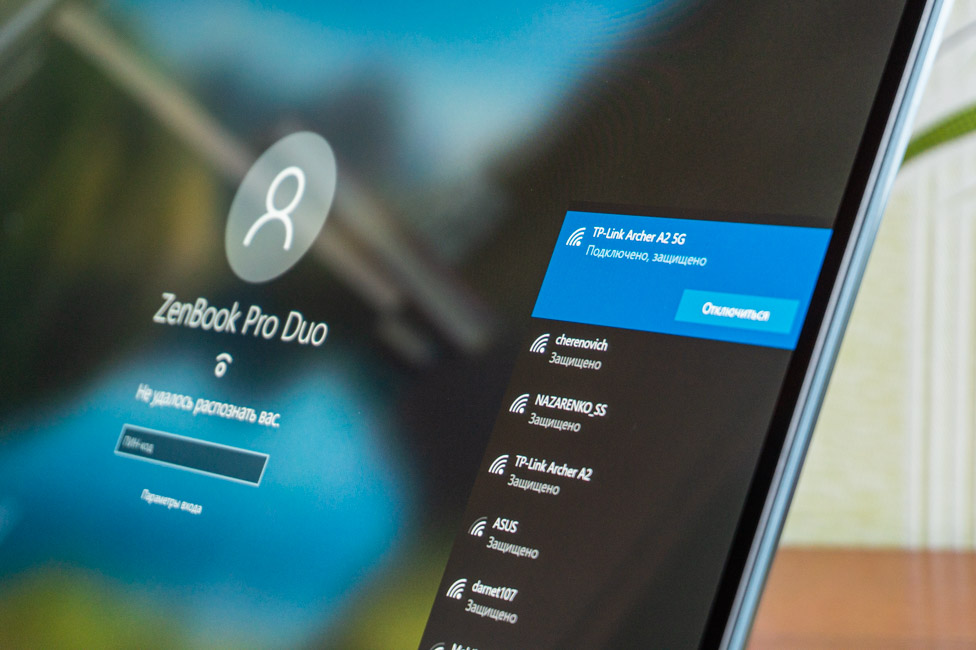 Security
The laptop comes without a built-in fingerprint scanner, which is a bummer. At the same time, looking at the entire topcase, it seems that there was simply nowhere to put it. Because on one half there is the display, and on the other is the keyboard and touchpad. Perhaps it would be worth taking a little space from the latter… But, looking ahead, this is not the most ordinary touch panel.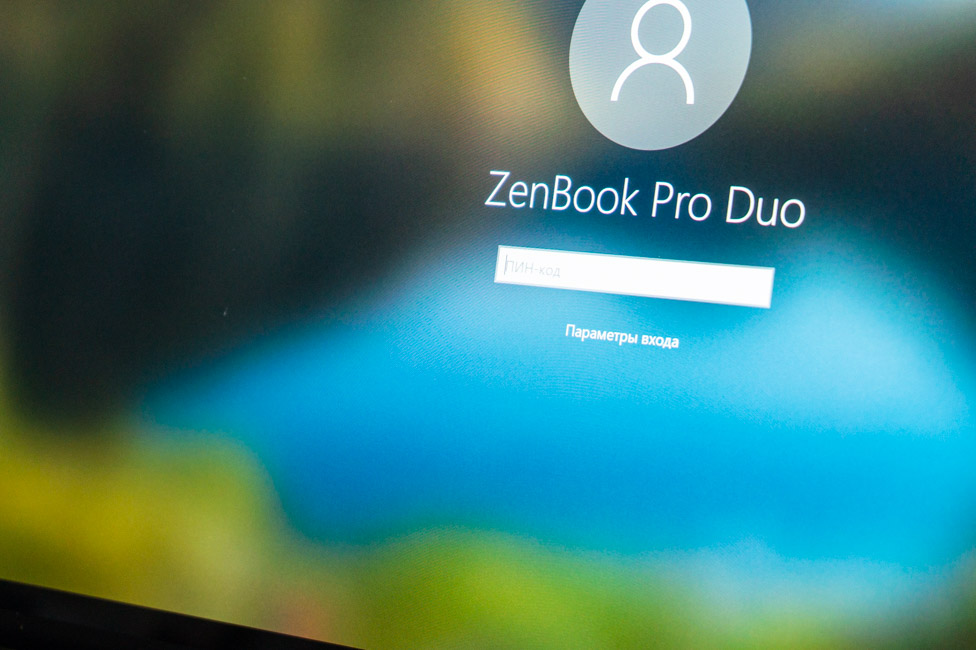 However, there is convenient user authentication: we have a webcam, and a second infrared one. We have an implementation of the Windows Hello function, and I have no complaints about it at all. Pretty fast, convenient, and  it works both during the day and in complete darkness. What else do you need?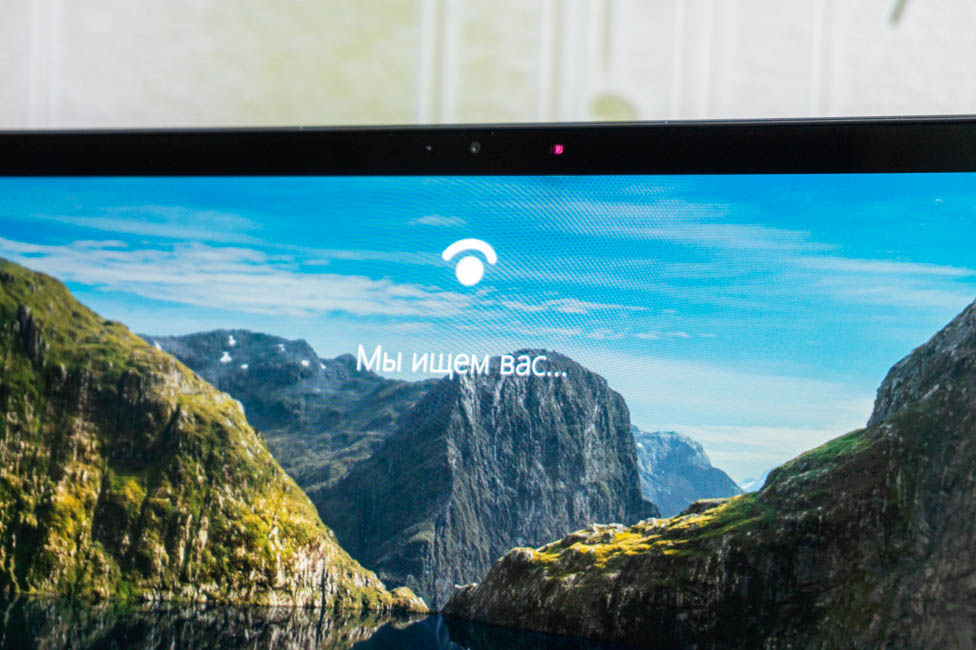 Keyboard
Now, input devices. We already know that the keyboard unit has moved down (or forward), and the touchpad is located to the right of the keyboard. ASUS has already done something similar. For example, in some models of gaming ROG Zephyrus. But there is no second screen above the keyboard, but simply ventilation slots and the ROG logo. We'll later discuss whether it was a good solution. We'll also talk about the impact of the wrist rest.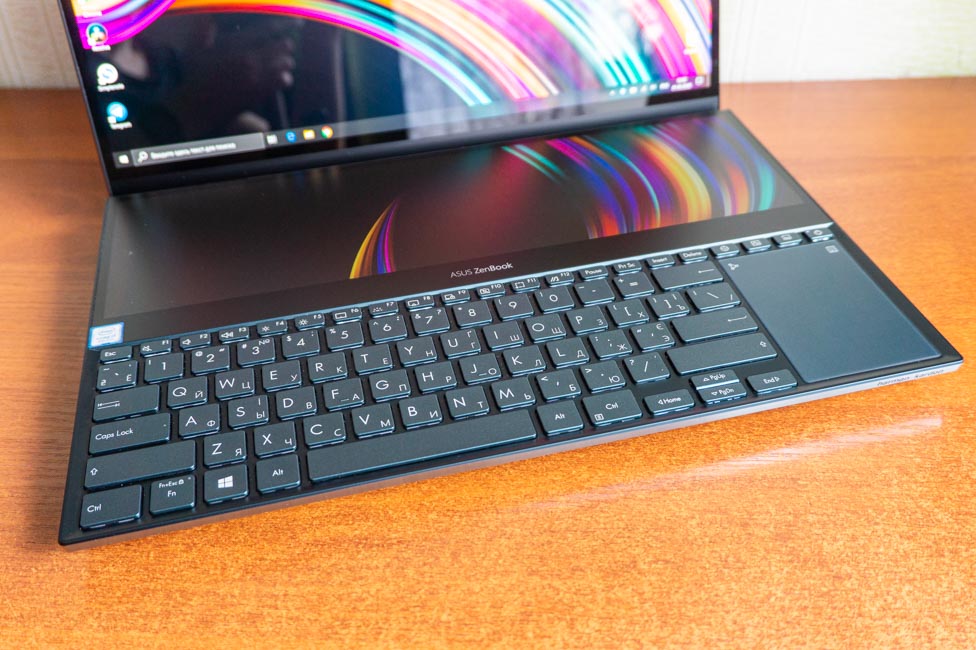 There are 85 keys in total, in the usual (as a whole) layout: a series of function keys of reduced height, both Shift keys are long, Enter is one-story, the arrows are reduced and combined with PageUp/PageDown and Home/End. Power button, Caps Lock and Fn – with their own LEDs. By default, F-keys can be used to control the device: sound, screen brightness, keyboard backlight, disable the touchpad/camera, and so on. Standard F1-12 are available either through a combination with Fn held down, or Fn + Esc.
In addition to the power button, there are three additional keys above the touchpad. The first is switching the cooling system. The second one is moving active windows from the main screen to an additional one and vice versa, plus if something is open on both, then just swapping. The third is the ScreenPad Plus mute button.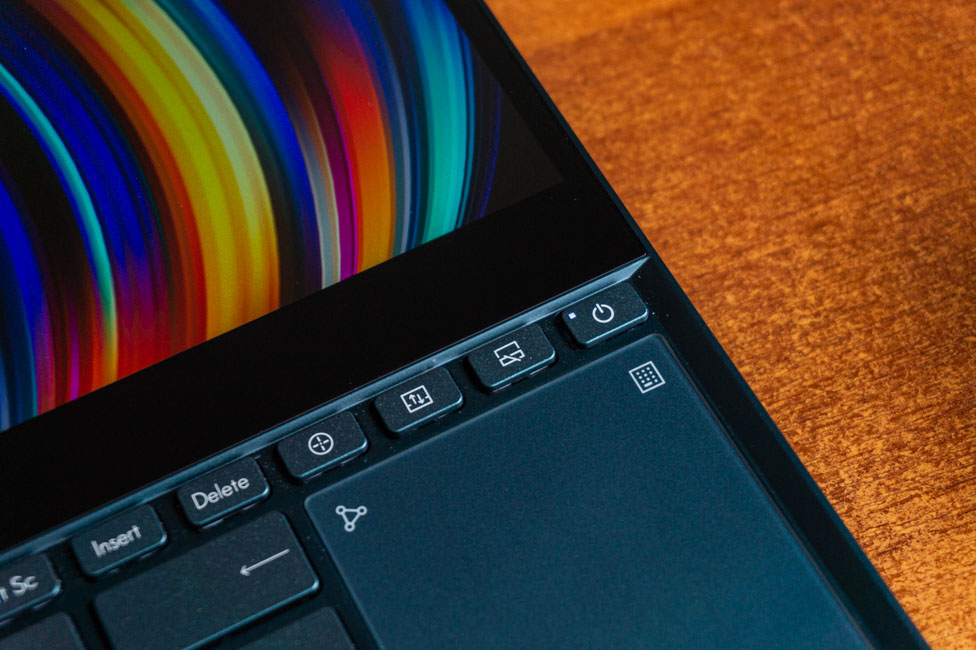 The keyboard has a scissor mechanism and 1.4 mm travel distance. It is convenient to type on, it's is pleasant and moderately tight, the distance between the keys is good. All the clicks are felt, and generally in terms of the keys, I can't say anything bad.
But there are nuances. Without the use of the stand, the wrists will be on the table, and the working surface will be high and you will definitely have to get used to it. If you have to keep the laptop on your knees, then your hands will hang in the air. However, the laptop and its dimensions seem to hint that it's not worth using it on your knees.
The bundled stand does not attach to the laptop in any way. Below there are two rubberized strips. The outer part is made of fake leather, which is better than just plastic. But some traces still remain on it and they will have to be cleaned off. A glossy strip with the inscription ZenBook Series runs across the entire upper part. But in the center there is a small translucent strip and thanks to the "corridor" of the stand, we have the opportunity to see the LED strip that is on the front end of the laptop.
Is it more convenient to work with the stand? I think yes, especially when you need to type a lot. But you can work either way. This is individual, but choice is always good.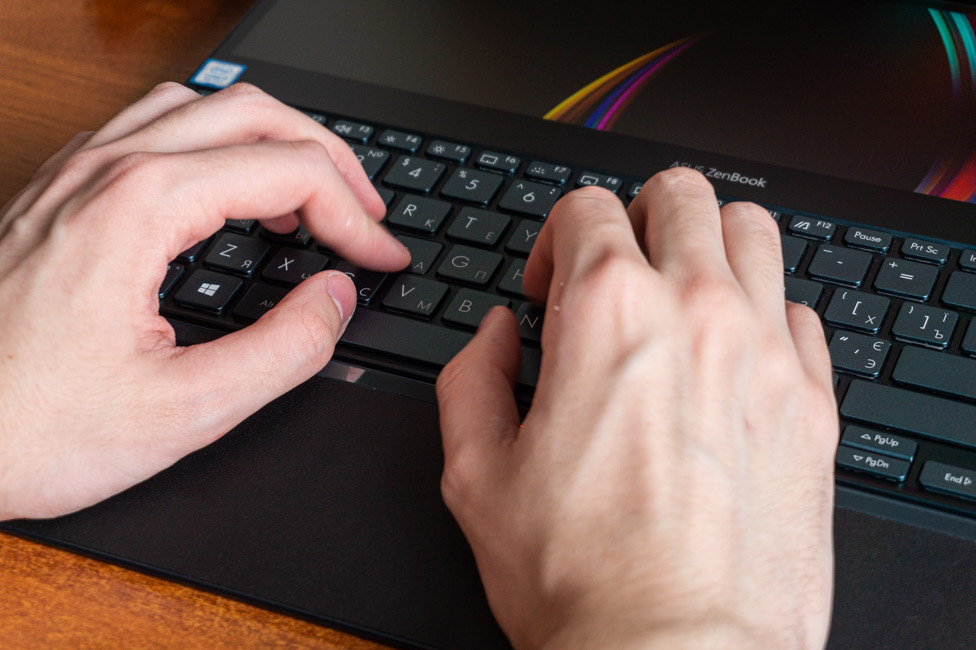 The keyboard with a three-level backlight in white and letters with symbols are generally well illuminated.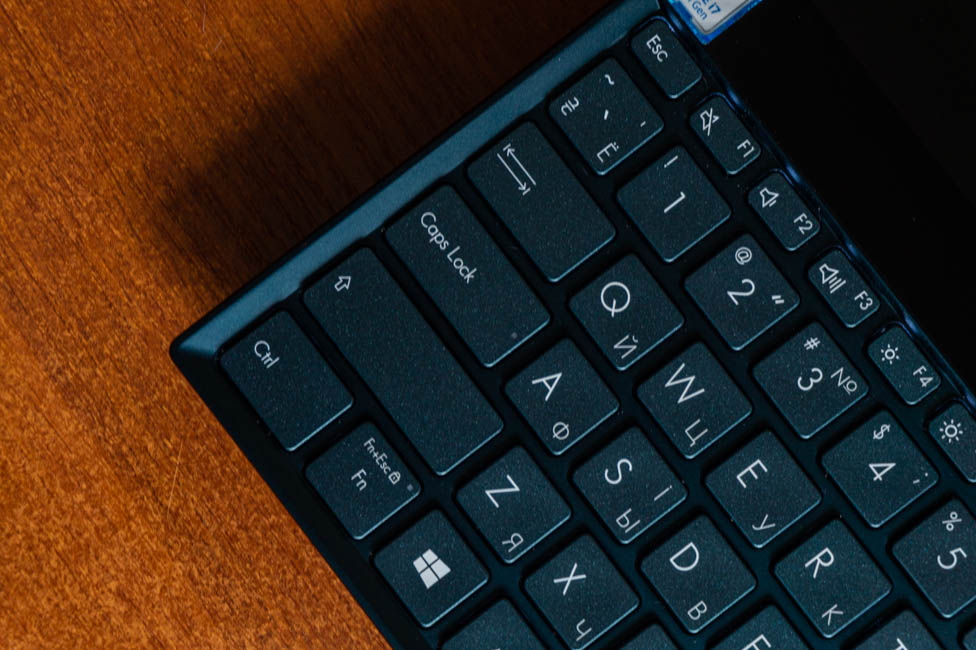 Touchpad with NumberPad
The touchpad is located, so to speak, vertically. It's, well, logical in some sense. Firstly, in a standard horizontal way, it would simply not fit. Secondly, if the second screen is exactly below the main one, then "throwing" the cursor over an additional one is faster and easier with a touchpad of such a format.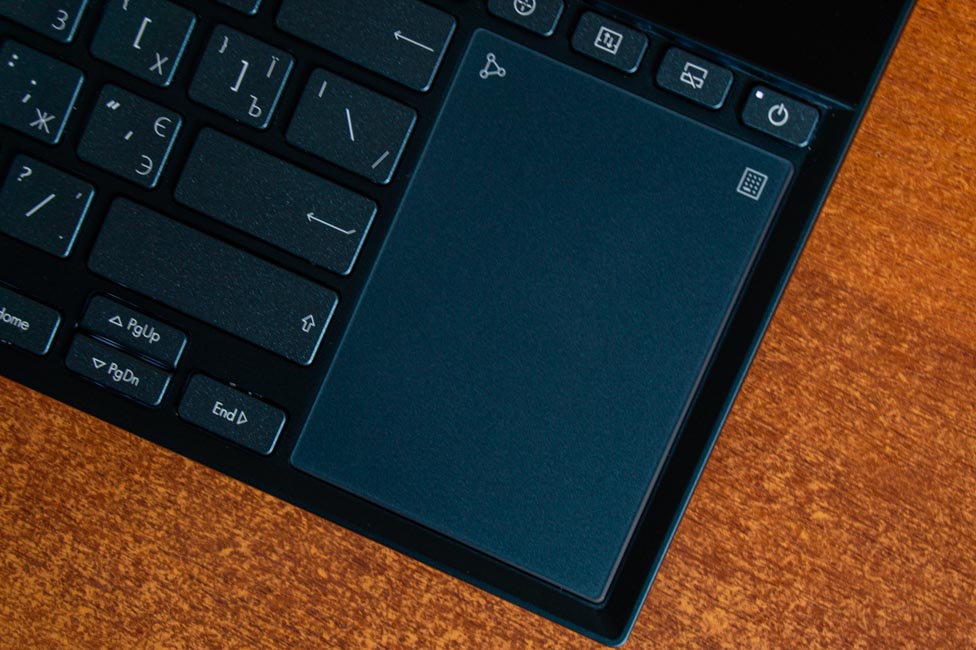 The panel has a glass surface, the finger glides nicely, gestures are recognized, and clicks are clear. The only thing I did was increase its sensitivity. But that's why I used it less often than the touch screen – it seems to depend on the offset. The fact is that when the surface is under the keyboard, I can leave all the fingers (in addition to the thumb) on the keys, and swipe around the panel with the thumb. With ZenBook Pro Duo, I can't do such a trick, which is why it was easier to use the screen.
But since there was no place for numpad, ASUS decided to integrate it into the touchpad. So, we have a "virtual" NumberPad. It is activated by holding the icon in the upper right corner of the touch panel. With the active block, the touchpad continues to perform its direct function, only for mouse clicks you now need to physically click on it, and not tap on the panel.
In the upper left corner of the panel there is another icon, by holding which the brightness of the "buttons" changes, and by swipe – the calculator opens. But the window is not made active, and before performing mathematical operations you must select the calculator window. In my opinion, it would be more convenient if the application would immediately become active and something could be counted right away with the help of NumberPad.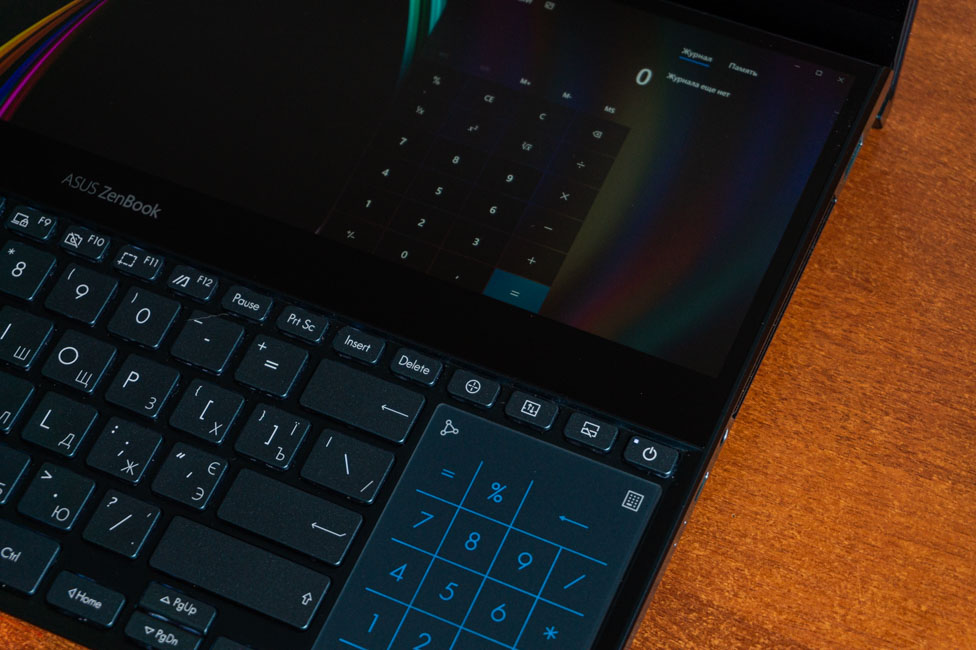 Features and Performance of ASUS ZenBook Pro Duo UX581GV
About the hardware, which in can be installed in ZenBook Pro Duo UX581GV, I talked about at the very beginning of the review, so now we will talk about what is installed in my model (H2002T). Here we have Intel Core i7-9750H processor, the discrete graphics of NVIDIA GeForce RTX 2060 (6 GB, GDDR6), 16 GB of RAM and 1 TB SSD.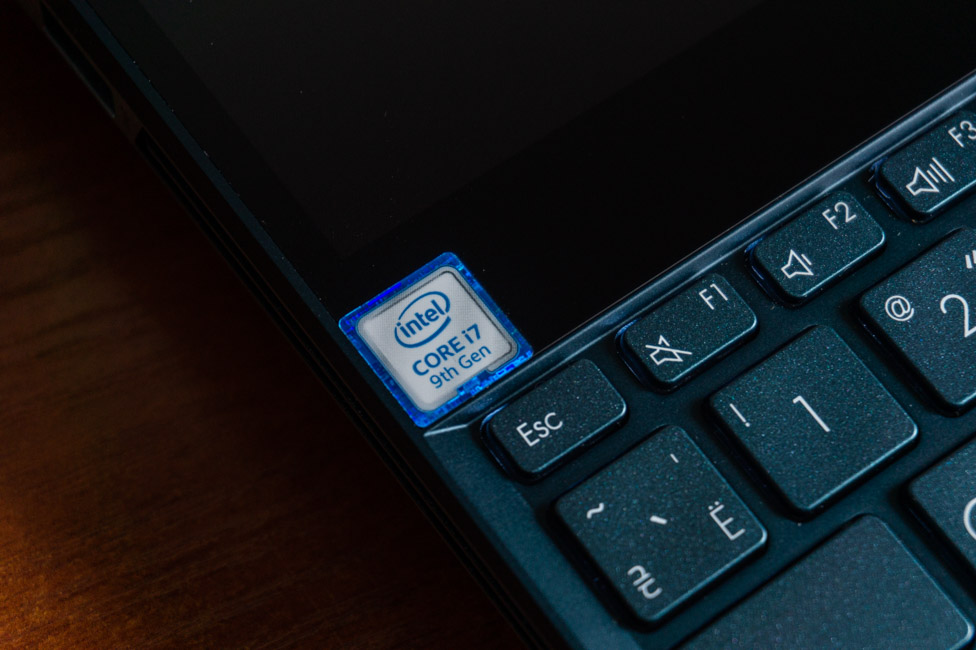 Intel Core i7-9750H we already know from other ASUS laptops. ASUS ROG Zephyrus S GX502GW and Lenovo Legion Y740-15IRHg also use it. That is, we have a 14-nm processor with 6 cores and 12 threads, respectively. Clock frequencies from 2.6 to 4.5 GHz in Turbo Boost mode, 12 MB cache, TDP – 45 W.
Integrated graphics are also time-tested – Intel UHD Graphics 630, with memory from RAM and clock speeds from 350 to 1150 MHz. The discrete card is NVIDIA GeForce RTX 2060, with 6 GB of GDDR6 video memory. NVIDIA Turing architecture with Real-Time Ray Tracing (RTRT) and Real-Time Deep Learning Super Sampling (DLSS) technologies. Frequencies – from 960 to 1200 MHz, bus width – 192 bits.
There's 16 GB of RAM, but it is soldered to the motherboard, and therefore it can not be replaced. This is one of the reasons that can lead the buyer to the top configuration on the Core i9, because it has 32 GB. DDR4 memory operates in dual channel mode, effective frequency is 2667 MHz.
The SSD has a capacity of 1 TB from Samsung, the model is MZVLB1T0HALR – the one used in expensive laptops. The SSD speed in the test laptop is definitely good. Connected via an M.2 slot through four PCIe 3.0 lanes. If you choose a lower configuration with 256 or 512 GB, then you'll get two lanes.
As a result, we have a powerful solution on which you can easily work with images and videos, as well as solve other professional tasks. ASUS ZenBook Pro Duo UX581GV test results in the main benchmarks are below.
Heating, throttling, Turbo Fan mode
Now let's talk about how internal components behave under load. For this, the stress test AIDA64 was used, which was carried out from the socket and from the battery. In addition, testing was carried out in Turbo Fan mode, which accelerates the fans to maximum speed. So what are the results?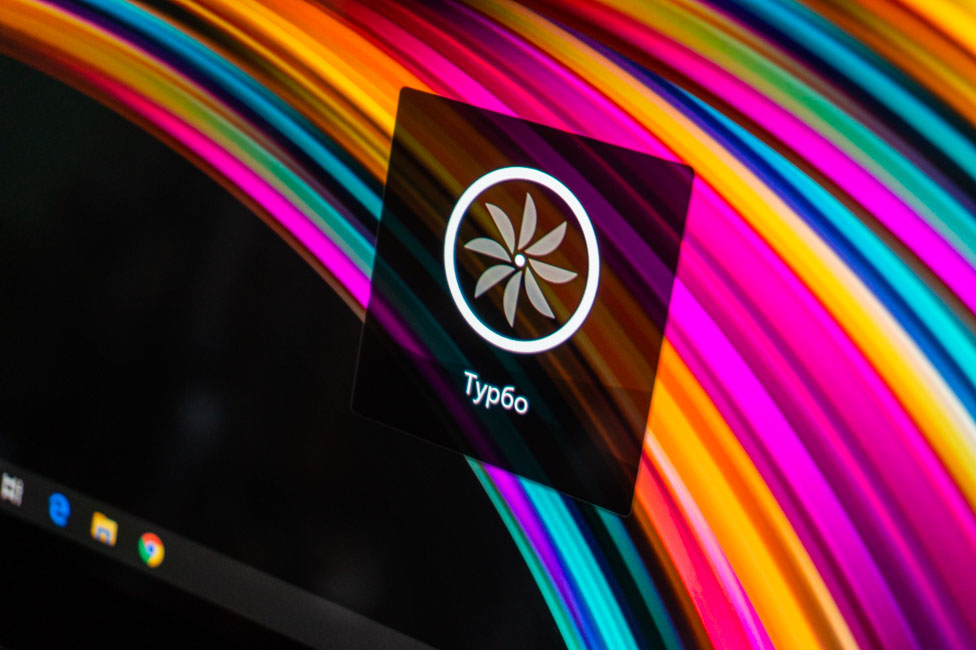 First, let's test the auto cooling system at maximum performance. From the battery, after 20 minutes of load, the processor operates at a frequency of 2.6 GHz, but with a fairly frequent short-term decrease to 800 MHz. The processor temperature did not rise above 82 degrees.
This suggests that there is throttling in this mode and it manifests itself not only in such tasks, but also, for example, in games. If you play something resource-intensive, FPS will noticeably sag for 5-10 seconds, after they'll stabilize. Rinse and repeat. Not a comfortable situation by any means. Perhaps in some tasks the phenomenon will be subtle, but still.
From the network, in the same automatic mode, we get of 2.4-2.5 GHz. The temperature of the CPU, however, has grown to 96 degrees at maximum. But in the same games I didn't see dropdowns, which is not surprising. Once again we have to accept the fact that you can't go anywhere without power supply.
With the active Turbo Fan mode, you will not get an increase in the clock frequency and its stability either from the socket or from the battery. Because he does not affect this value. The mode serves to maintain lower temperatures due to a greater number of fan revolutions. And accordingly, the noise emitted by them will also be louder. It should be used in cases when you plain on overworking the laptop over a long period of time. This is exactly what the manufacturer says on his site.
The temperatures are as follows: when operating from the battery it was not higher than 79°, and from the power source not more than 96 °. Through simple manipulations, we find out that when working with the power supply, this mode did not affect the CPU temperature at all. But in the case of the battery, we have a temperature 3 degrees lower. But these are numbers with tests lasting from 20 to 30 minutes. Perhaps the indicators will differ if the load is for an hour or two.
Coolers at this time make a decent noise, blowing hot air from the slots on the left and right ends. Keep in mind that such an arrangement may cause some discomfort if the right side is too close to the edge. But in idle time or during undemanding tasks, fans are almost inaudible.
The heating is mostly felt on the field labeled ASUS ZenBook, between the second display and the top row of the keyboard. So even under load, the keyboard area does not heat up much and you can continue to use it without any difficulties.
Testing ASUS ZenBook Pro Duo UX581GV in games
ASUS ZenBook Pro Duo UX581GV as a whole is positioned not as a gaming solution, but as a productive working tool. But the key word here is productive, which means I could not miss the opportunity to try it in several games. Below is a table with the game and the average FPS in Full HD and UHD resolution. Of course, focus is primarily on FHD, because the native UHD is not something you should expect from it. And yes, the graphics. In all the examples below, I twisted it to the maximum and included all the effects that could be.
| | | |
| --- | --- | --- |
| Game | Average FPS in Full HD | Average FPS in UHD |
| Assetto Corsa Competizione | 50 | 25 |
| Battlefield 5 | 53 | 17 |
| Counter-Strike Global Offensive | 188 | 114 |
| DiRT Rally 2.0 | 57 | 29 |
| DOOM | 111 | 49 |
| GTA 5 | 58 | 18 |
| Hitman 2 | 65 | 29 |
| Kingdom Come Deliverance | 55 | 19 |
| Metro Exodus | 43 | 8 |
| Shadow of the Tomb Raider | 44 | 22 |
| The Witcher 3: Wild Hunt | 67 | 27 |
| Tom Clancy's Ghost Recon: Wildlands | 36 | 18 |
Once again I mention that this machine is not intended for games and for this money you can find a much more suitable option. However, you can play anything if you run games in 1080p and do not try to set the maximum possible values ​​for the graphic parameters. In general, you can count on high settings and a comfortable stable frame rate with a value of 60 or higher.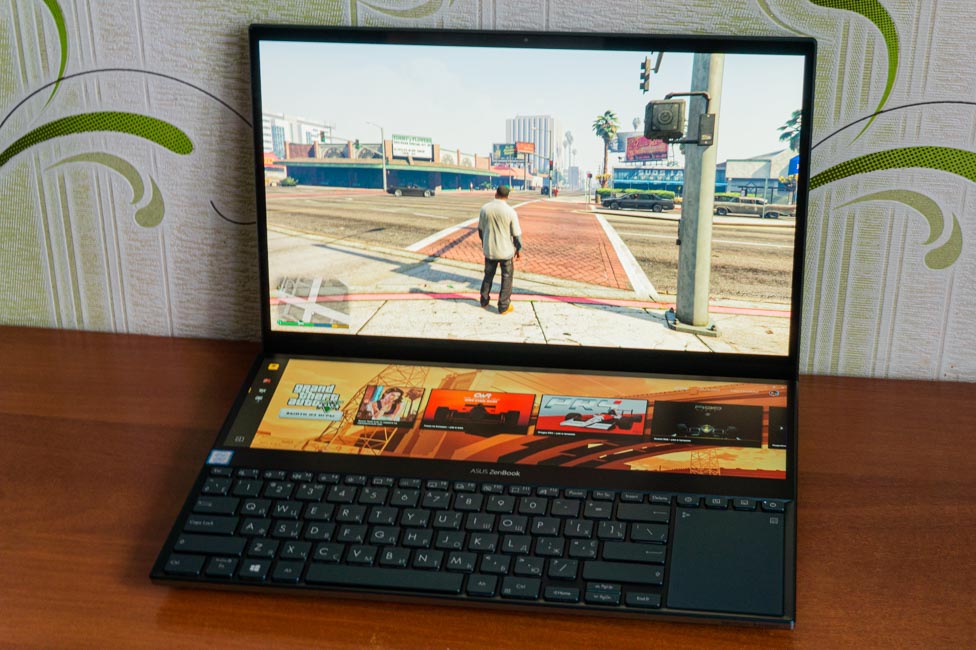 Battery life
The manufacturer's website reports that the capacity of the built-in battery can vary in different laptop configurations: 62 or 71 watt-hours. However, in which version there will be less volume it is not clear. My model has an 8-cell, 71 watt-hour lithium-polymer battery. How long it will last is directly dependent on the operating scenario. But one thing is for sure – a powerful laptop, also with two screens, won't beat any records in that regard.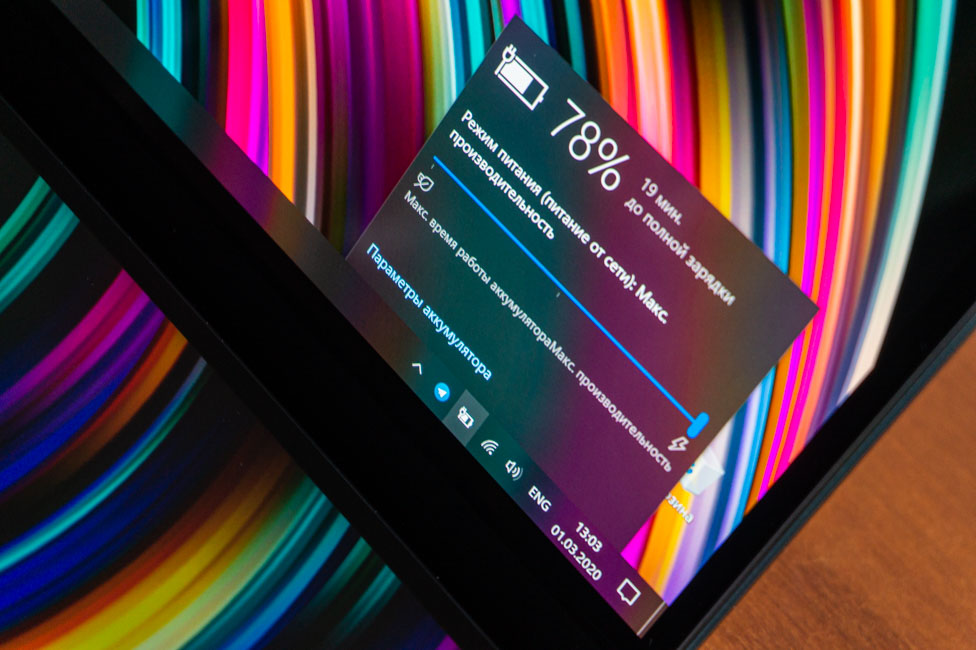 Using a laptop as a machine for active browsing and a text editor, I had about three hours of battery. In resource-demanding tasks you should not expect more than two hours of operation without an external power source. Modern Office from PCMark 10, which simulates active office use, gave out only 3 hours and 33 minutes. This is with the optimal performance mode, the brightness of the main screen at 50% and the additional one turned on – with about the same brightness.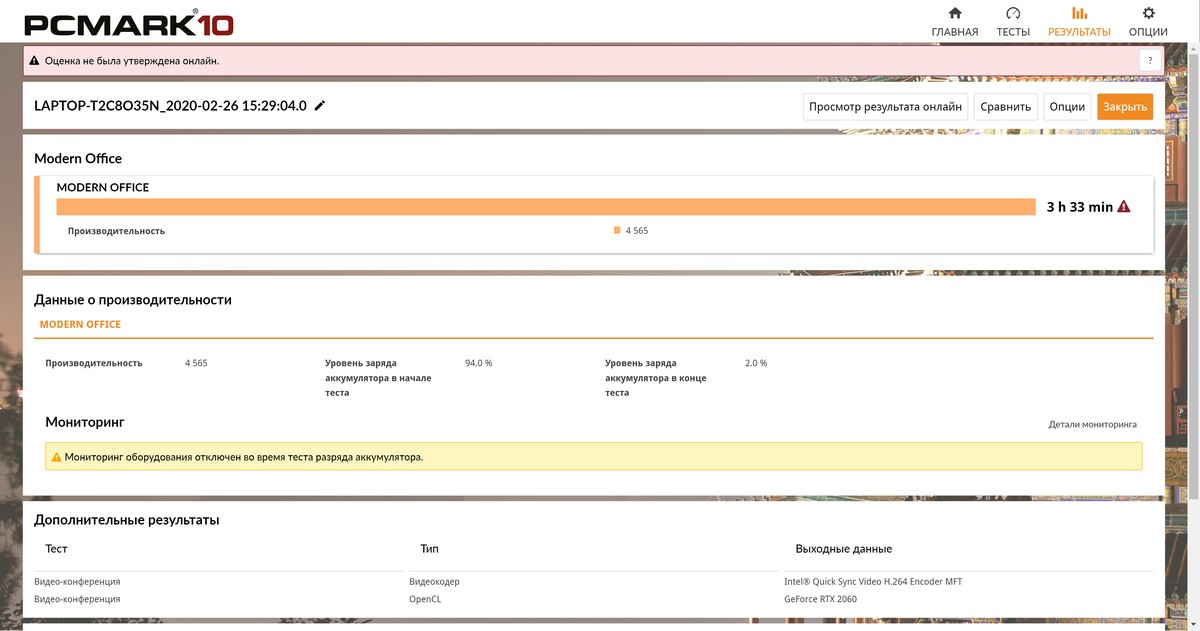 The figure, frankly, is not impressive. But this is an hour more than a gaming laptop with the same processor, but with an RTX 2070 Max-Q and a 57 watt-hour battery. Even 15 minutes more than the inexpensive ASUS VivoBook 15 (X512UF) with 32 watt-hour and an incomparably low-power hardware. The verdict: ASUS ZenBook Pro Duo UX581GV is not about long-lasting battery.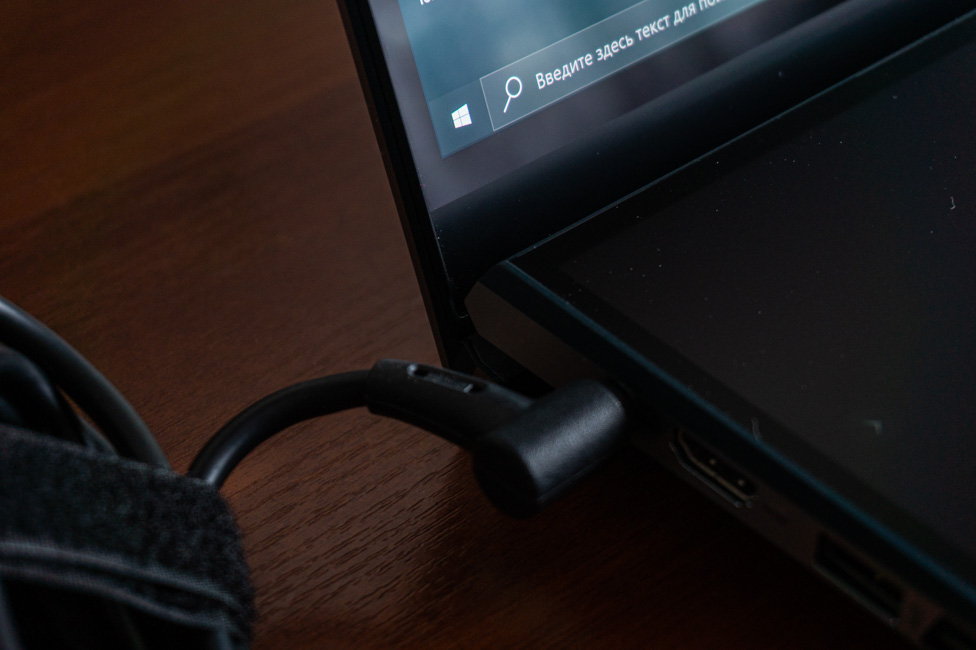 By the way, the smaller battery should be replenished by 50% in 15 minutes. But in a test sample with a larger battery this does not happen. The charging speed of a laptop with the bundled power supply is as follows:
00:00 — 20%
00:30 — 57%
01:00 — 86%
MyASUS Utility
The laptop has a preinstalled utility called MyASUS, in which you can change some settings, find answers to all kinds of questions regarding ZenBook Pro Duo, perform system diagnostics, update drivers and BIOS, go to the program store that supports the second screen and connect the laptop to the smartphone.
In the equipment settings, it is possible to select a charging mode to extend its service life, limiting charging to 60% or 80%. You can change the fan operation mode if the physical button for some reason does not suit you. Select one of the color display modes in the Splendid sub-item or adjust the color temperature manually. Another thing you can do is to turn on Tru2Life (increase the clarity of the video), change the operating mode of the F1-12 keys and activate the Wi-Fi roaming option.
Verdict
ASUS ZenBook Pro Duo UX581GV is a very interesting and powerful laptop, the primary feature of which is the additional ScreenPad Plus screen. This is an example of a successful, thoughtful and very functional solution for a professional user who wants to have a productive and relatively mobile work tool.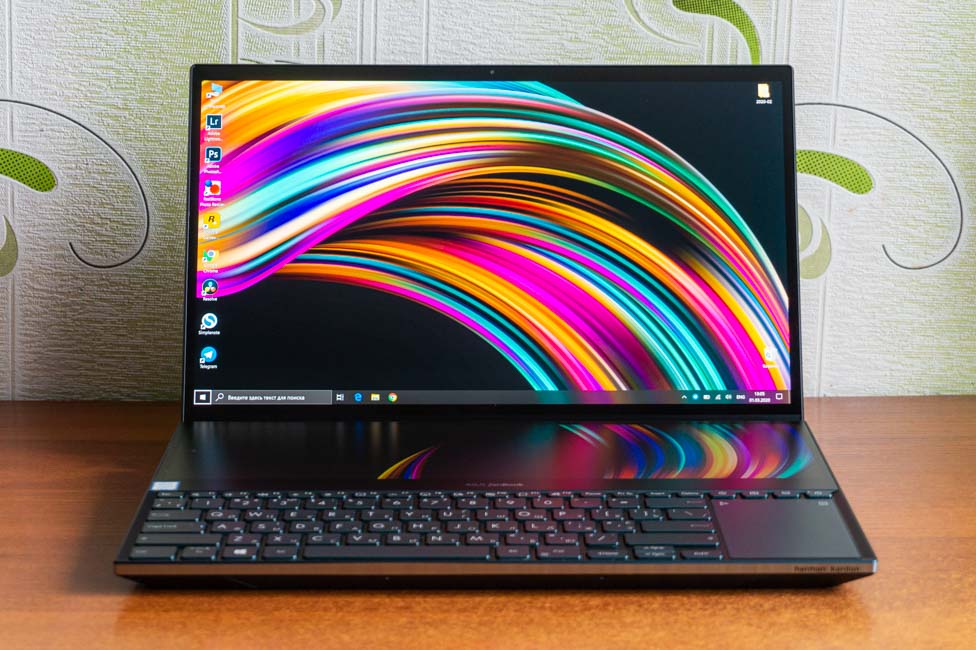 Design, build quality, screen, another screen, sound, Wi-Fi 6, productive hardware – there are many pros that can outshine any cons. Yes, the battery life could be better, and you'll have to get used to the location of the keyboard and touchpad. The dimensions are far from ideal as well.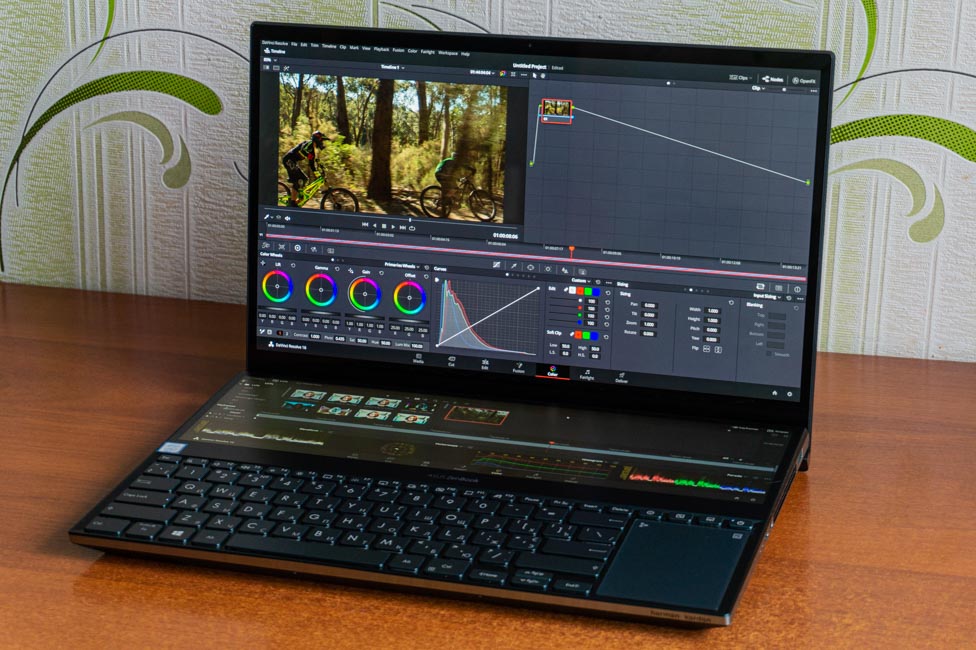 The price tag is definitely impressive, but who will offer something similar for a cheaper price? Who can offer anything similar at all? The 14-inch ZenBook Pro Duo doesn't count! it's simply a unique device. So if you want something like that and have enough money, then ASUS ZenBook Pro Duo UX581GV is definitely worth a try.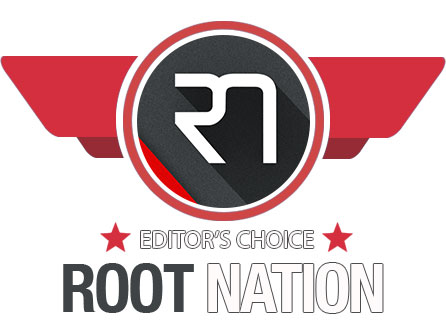 Subscribe to our accounts: