Twitter, Facebook, Google, Microsoft, Amazon. Each of these companies is famous for its unique corporate culture, which is highlighted by its exuberant offices. However, they all have transferred most of their employees to remote work. Forever and ever. Despite the difficulties with the restructuring of communication and management. What can we say about small and medium-sized businesses?
The massive transition to telework has spurred the demand for laptops that allow you not to be tied to the workplace. In such circumstances, Lenovo has very timely announced the updated line of laptops. One of them is on our test today; it's a 15.6-inch Lenovo Ideapad 3i based on a Core i5-1021U processor. This is a relatively inexpensive machine for $642.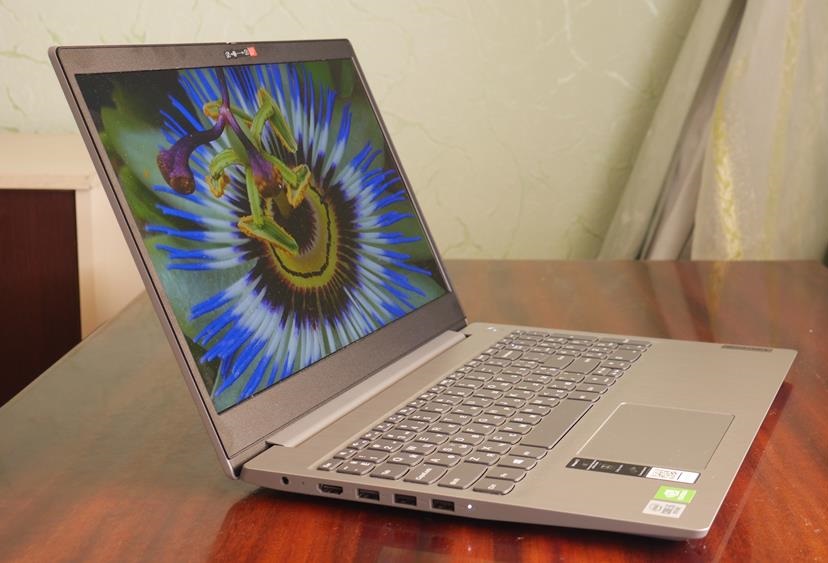 Technical features of Lenovo Ideapad 3i (15IML05)
Despite the discrete NVIDIA graphics, this is not a gaming laptop or a machine suitable for professional work with photos and videos.
However, it has proven itself well when working with heavy documents, spreadsheets, and active browsing with dozens of tabs, which makes it an excellent solution for office tasks. Therefore, we decided to pay attention to the quality of the keyboard, webcam, microphone, speaker and the general practicality of this working tool.
The table below shows the specifications of the Lenovo Ideapad 3i test laptop in the 15IML05 configuration:
| | |
| --- | --- |
| Type | Laptop |
| OS | DOS |
| Display dimensions | 15.6″ |
| Cover type | Anti-glare |
| Resolution | 1920 x 1080 pixels |
| Matrix type | IPS |
| Touch sensative | no |
| Screen refresh rate | 60 Hz |
| CPU | Intel Core i5-10210U |
| Frequency, GHz | 1.6-4.2 |
| Number of processor cores | 4 cores, 8 threads |
| Chipset | Intel Comet Lake |
| RAM | 8 GB (4 GB + 4 GB) |
| Maximum memory | 12 GB (4 GB + 8 GB DDR4) |
| Memory type | DDR4 |
| Memory frequency, MHz | 3900 |
| SSD, GB | 256 (supports up to 2TB SSD + up to 1TB 2.5 ″ HDD) |
| Graphics | Intel UHD Graphics + NVidia GeForce MX330 |
| M2 slot | 1x 2242/2280 PCIe NVMe 3.0 x4 |
| External ports | 3 USB-A (1x 2.0, 2x 3.2 Gen 1, up to 5 GB / s) HDMI 1.4b combo 3.5 mm audio (minijack) |
| Card reader | SD / SDHC / SDXC / MMC |
| Webcam | VGA |
| Backlit keyboard | – |
| The fingerprint scanner | – |
| Wi-Fi | 802.11ax |
| Bluetooth | 5.0 |
| Weight, kg | 1.85 kg |
| Size, mm | 362.2 x 253.4 x 19.9 mm |
| Body material | plastic, metal |
| Body color | silver |
| Battery, W*h | 32 |
Appearance and practicality
The Lenovo Ideapad 3i is a laptop that's not chasing fashion. There's nothing interesting in terms of design, its appearance can be described as inconspicuous. And this is its advantage – it does not distract from work, while not feeling cheap and tasteless.

The lid looks interesting due to the characteristic texture and mirrored insert with the manufacturer's logo. However, perfectionists are unlikely to like it, since it is very quickly gets covered with fingerprints. Especially if you eat in the workplace or work in the kitchen.
When opened, the laptop looks utilitarian – a dark gray display frame, a silver working panel. At first glance, the body seems to be made of metal, and this feeling is reinforced by a pleasant chill from touching the operating panel. But no, the laptop is completely plastic, which is quite normal for its price.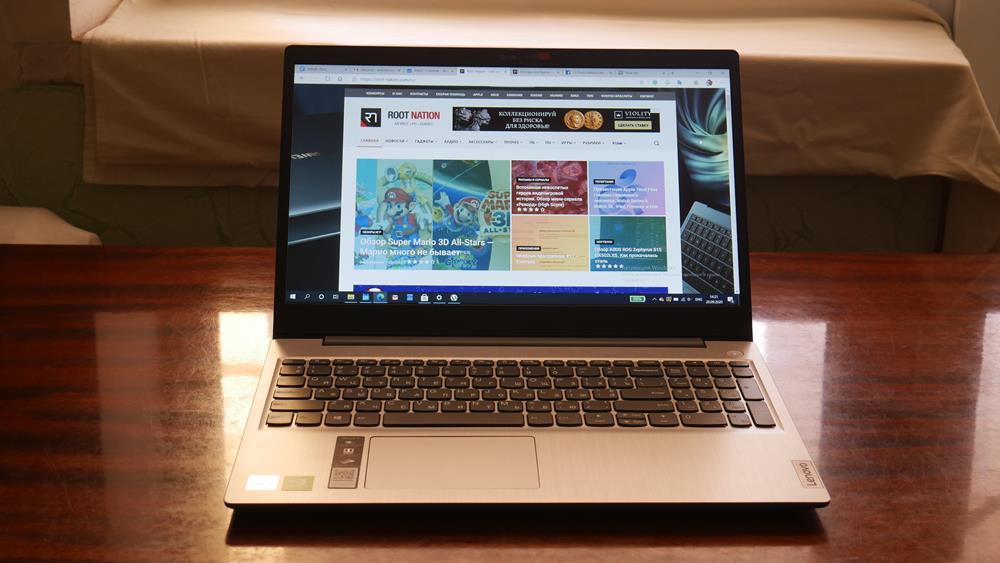 The screen hinge allows the case to be opened 180 degrees, which is very practical. When opened, the bottom of the laptop lifts up and needs to be supported by the other hand. And if you open it with a jerk, the lid will spring. But this affects almost all laptops in this price category, so if this is a critical drawback for you, get ready to double your budget.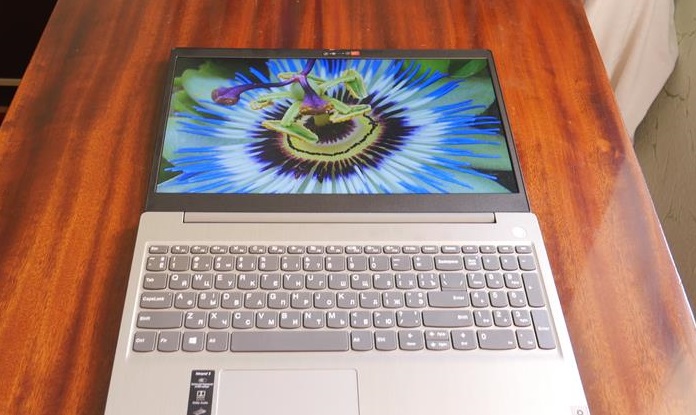 The edges of the laptop are organized very thoughtfully – the vents for air from the cooling system are located next to the screen hinge. So the hot air does not burn your hands when you use a mouse. It is also comfortable to hold the laptop on your lap due to the successful weight distribution and the absence of heating from below.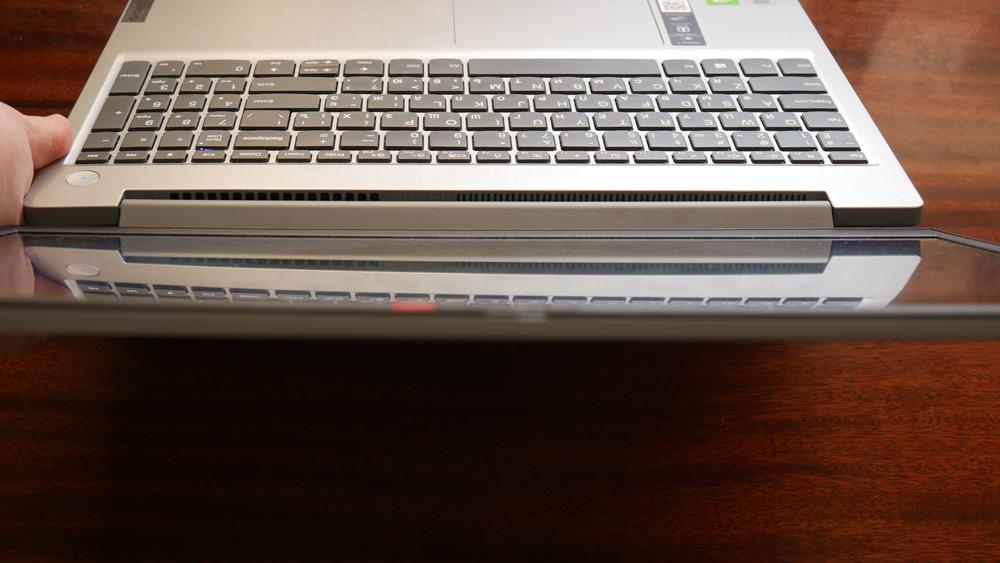 There are 3 USB-A ports, full-size HDMI, and a card reader for full-size SD cards. The laptop is charged through the proprietary connector – the manufacturer has not been generous with USB-C.
But the charging unit itself is very compact and does not take up much space in the bag.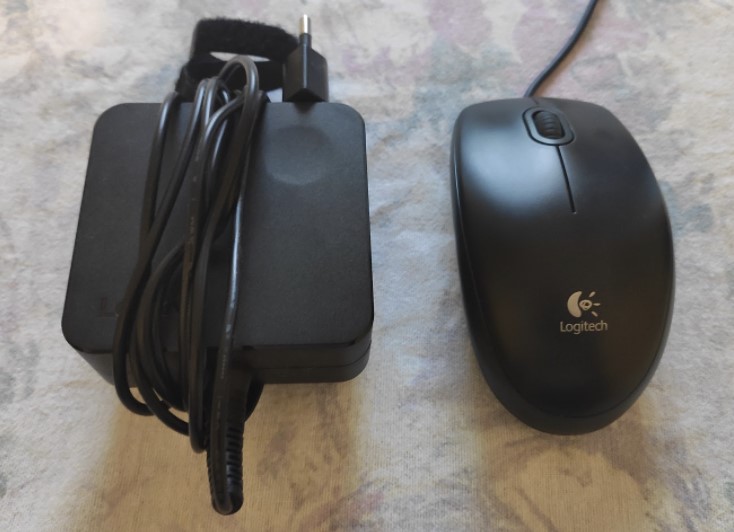 Display
We tested the Lenovo Ideapad 3 configuration with a 15.6-inch FullHD screen. It has an AU Optronics B156HAN02.1 IPS-matrix with good viewing angles and high-quality anti-reflective coating.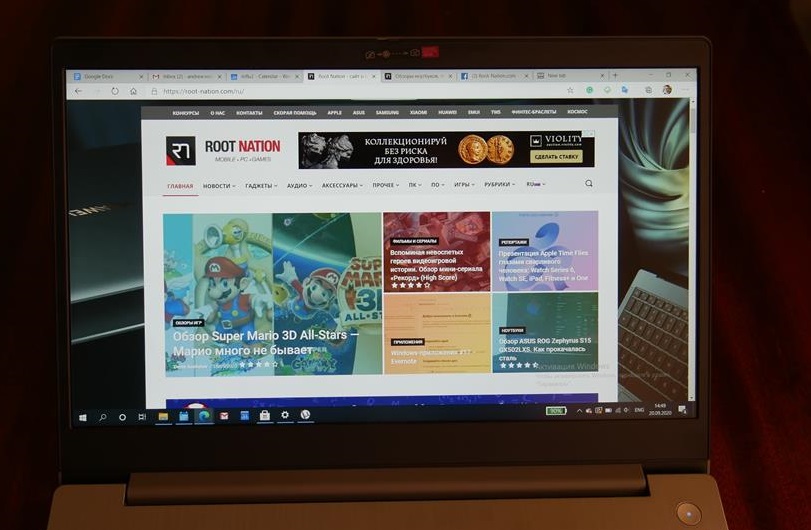 Although 15.6-inch laptops are rarely bought for use "on the go", I cannot but mention the low brightness of the matrix which is only 250 cd/m2. This figure is still one of the best in the class, but it is not enough for comfortable work outdoors and in bright light.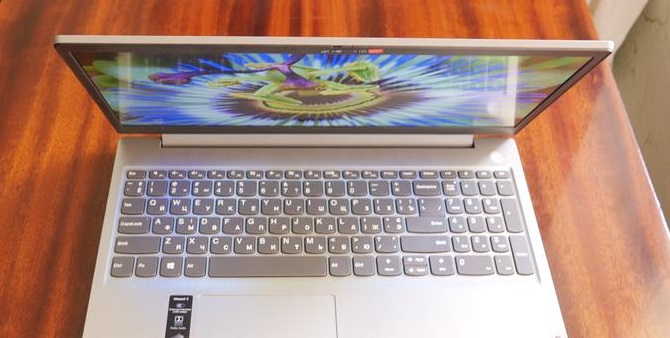 Processing photos on this laptop is also not a good idea – the color gamut is only 46% NTSC, and the contrast is 800:1.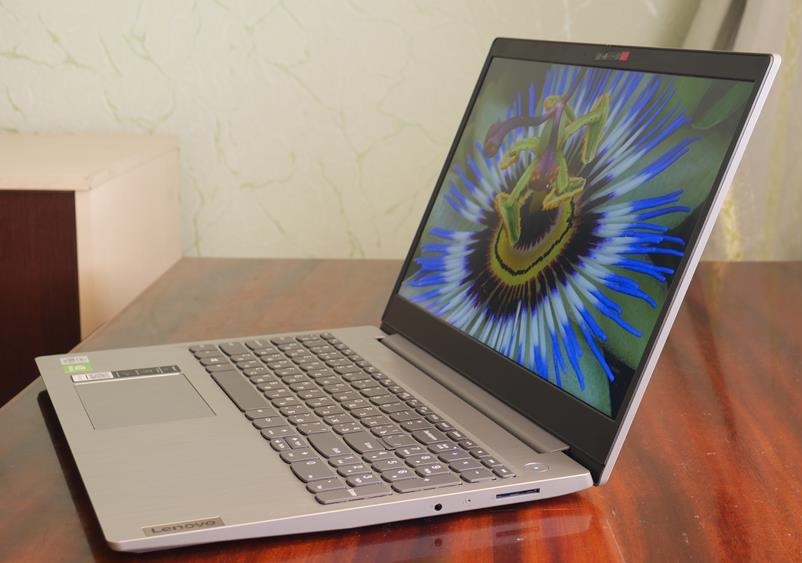 Keyboard and touchpad
Since this is laptop for office tasks, let's talk about the keyboard in more detail.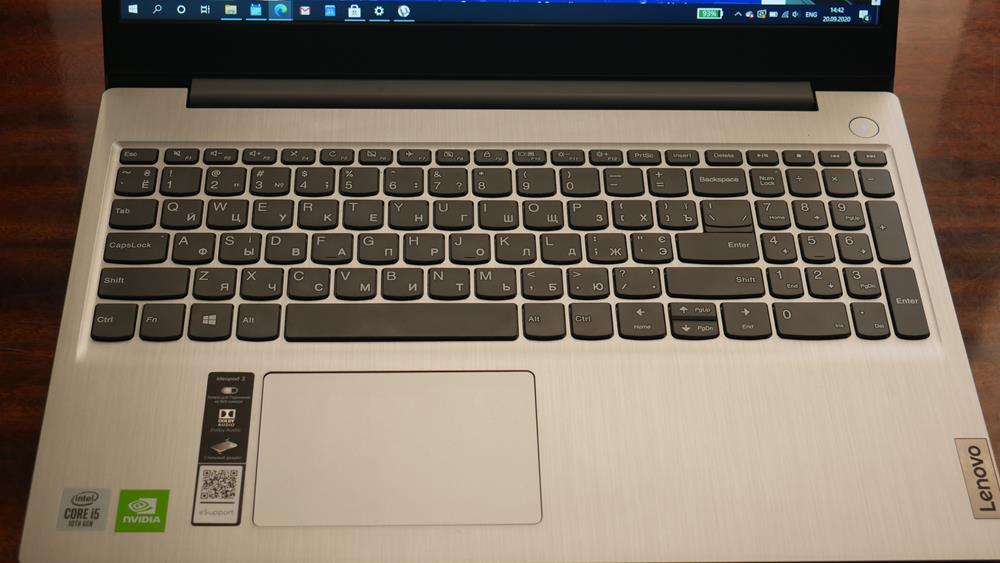 The keys are very comfortable for blind typing and have a very clear stroke. I got used to them in just two hours, although I consider myself a spoiled fan of good old MacBook keyboards.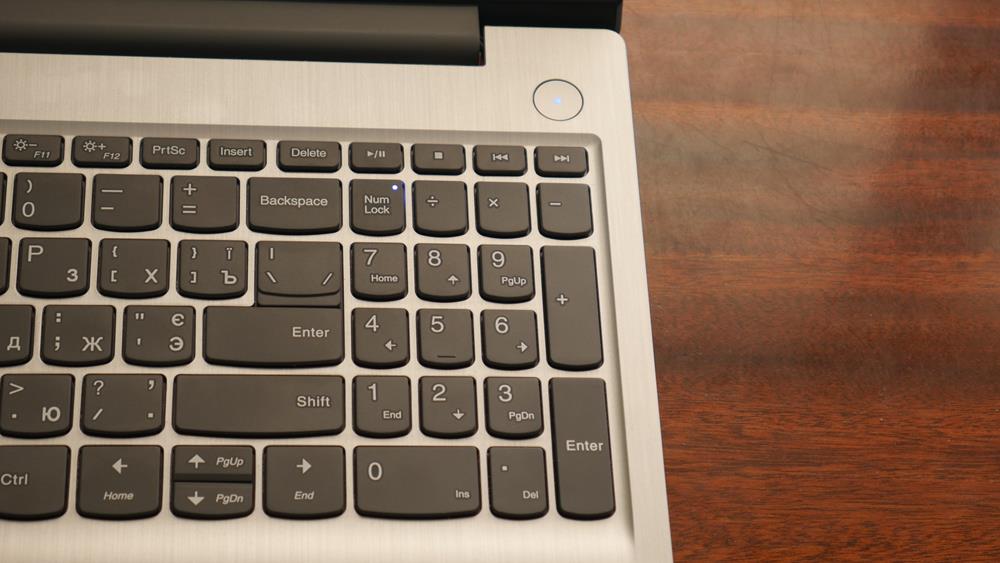 Unfortunately, the backlighting of the keys is missing and the only lights on it are the indicators in the Caps Lock and Num Lock keys.
The keys of the NumPad are full-sized. And above there are convenient player control keys.
The touchpad in terms of sensitivity and accuracy of reaction is not inferior to those of ultrabooks, including MacBooks. The bitter experience of testing budget laptops made me play it safe and ask for a mouse. But I didn't need it – the touchpad is good.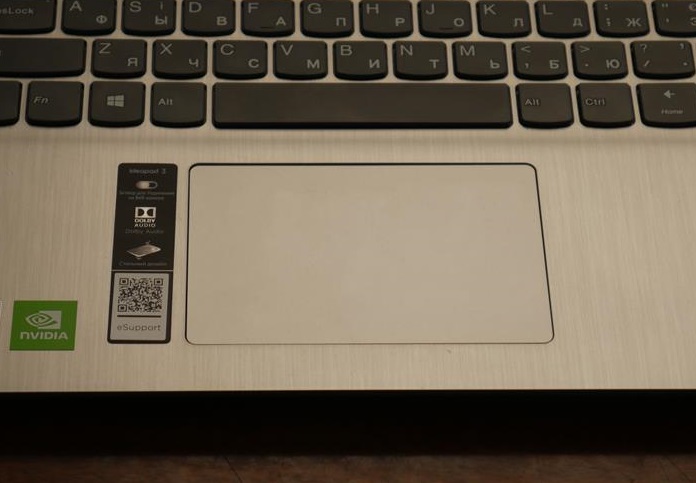 And to complete the picture, there is a large set of available gestures that allow you to quickly switch between programs and desktops.
Webcam, microphone, speakers
With the shift to telework, more and more people are learning the benefits and drawbacks of meetings in Zoom, Skype, or Microsoft Teams. Even my mom started teaching via Zoom.
The Lenovo Ideapad 3i is nothing to write home about. This is due to the low VGA resolution – in 2020 I would like to see at least HD. And yet in low light the picture does not noticeably deteriorate. There's also a mechanical camera shutter.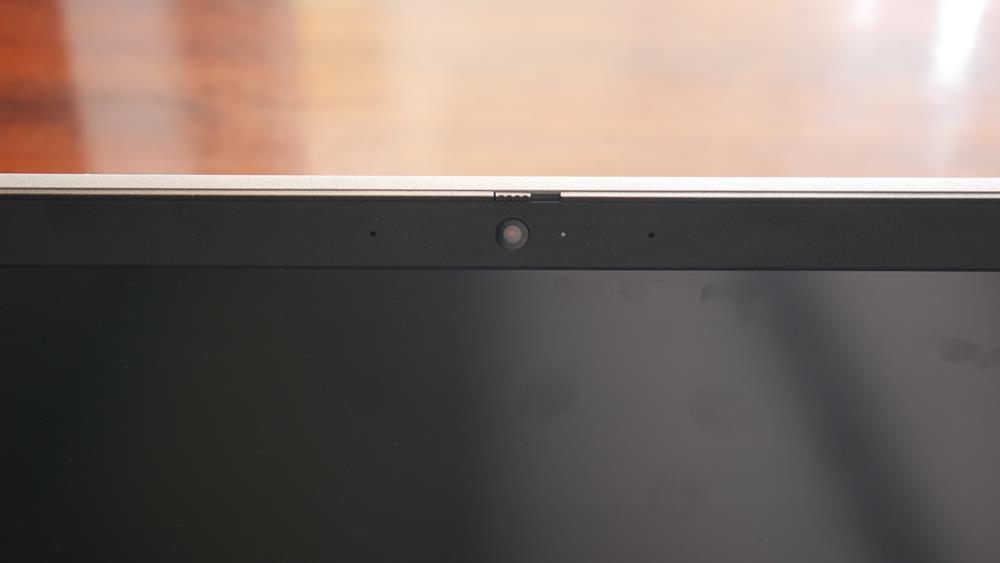 For virtual background in Zoom there is enough power, the silhouette is well recognized.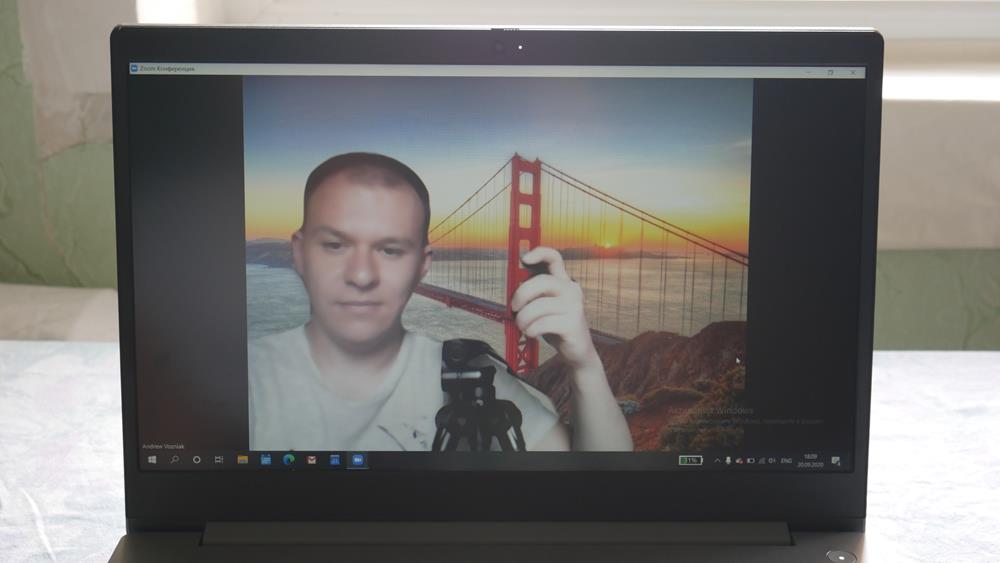 The microphones are located next to the webcam, so they pick up the voice better than if they were placed at the edge or next to the keyboard. The sound quality is good.
But the location of the speakers in the front end is not the best – in order to achieve an acceptable volume and sound quality, the laptop must be on a horizontal surface. The sound from the speakers is average – there are no low frequencies, and the speakers are choke on heavy and multi-instrumental music. But if you limit yourself to video conferencing and watching movies, then they will be enough.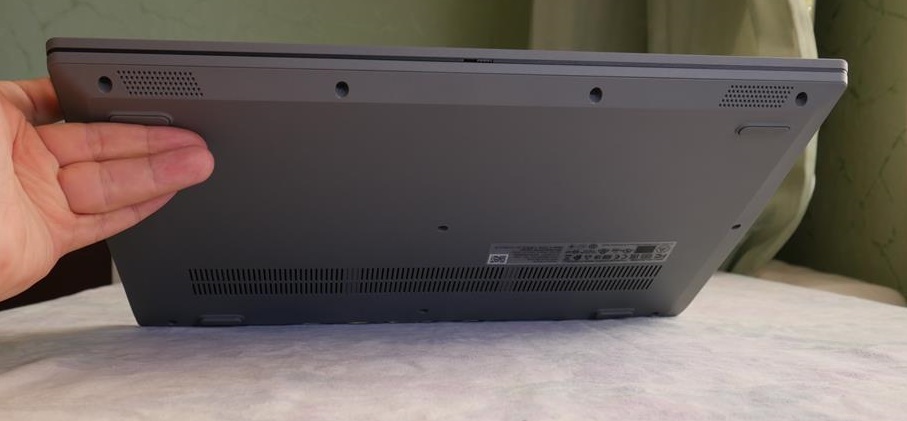 Performance
To evaluate the performance of the laptop, I ran many a lot of tests. Screenshots of the results below.
In short, this laptop is clearly not designed for hardcore gaming or video editing. Although games like Counter Strike, Civilization V, Dota, and similar hits are quite playable.
However, the current 10th Gen Intel processor is the Lenovo Ideapad 3i's strong suit. In conjunction with 8 gigabytes of RAM and an SSD drive, it provides a comfortable work with dozens of tabs in the browser, be it online applications, a CRM system, or heavy Google Docs.
Switching between windows is lightning fast. The laptop falls asleep and wakes up in a matter of seconds. Connecting an external monitor does not affect performance, as is often the case with entry-level laptops.
The Lenovo Ideapad 3i also lacks the bottleneck of many office laptops, which is lack of RAM or storage.
Processor performance tests:
RAM and built-in storage tests:
Graphics card performance tests:
Upgrade options for Lenovo Ideapad 3i
An indisputable advantage of the laptop is that four gigabytes of RAM are soldered on the motherboard, and a removable SODIMM strip is responsible for the remaining four. If you replace it with an 8-gigabyte one, you can get considerable 12 gigabytes (by the way, there will also be versions with that much storage on sale).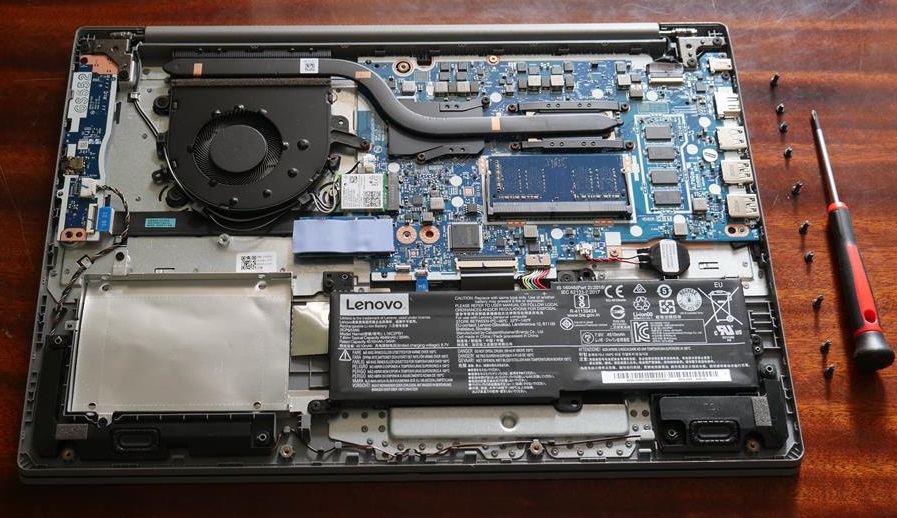 So if something forces you to change your laptop, it is definitely not a lack of memory.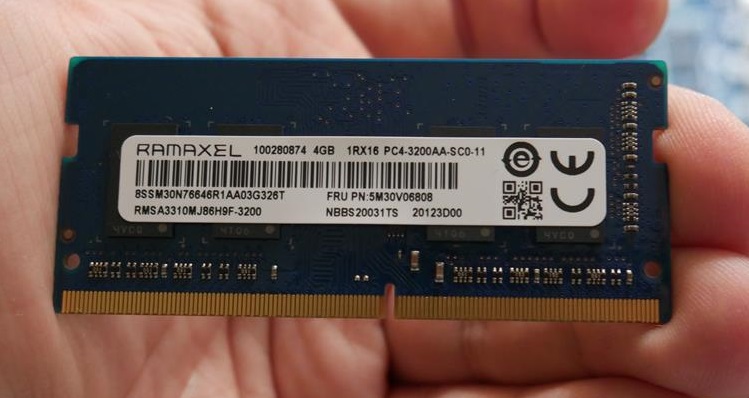 The same goes for the drive. The base is a 256 GB NVMe drive from Western Digital. In addition to it, you can also install a 2.5 ″ SATA drive – there is a separate niche for it inside the case. This method of expanding disk space will cost you much less than replacing the supplied drive.
To do all these operations, you just need to unscrew a dozen standard screws and snap off the latches around the perimeter. Maintaining your laptop is easy too – the heatpipe and CPU cover are easily removable, as is the fan guard for dust-free cleaning.
However, I warn you – before you change or add components yourself, make sure that this will not void the warranty. You can check it on the manufacturer's website. If you want to be sure, I recommend contacting the service center.
Lenovo Ideapad 3i (15IML05) battery life
You probably won't be carrying a 15.6-inch laptop with you often, and the brightness of the display will not allow you to work comfortably on the go. However, long battery life comes in handy if you suddenly lost power at home, or you need to move your laptop from a noisy room to a quieter one.
With maximum display brightness, using Wi-Fi, occasionally watching videos on Youtube and using gluttonous online services through Google Chrome, the battery lasted for decent 4 hours.
I believe that if you save a charge, you can achieve more than 5 hours of battery life, which even more compact models can't always achieve.
Verdict
The Lenovo Ideapad 3i (15IML05) is a decent laptop for the home and office, and it fits the spirit of the times. It will suit you if you perceive a laptop as a work tool and you value speed, reliability, and maximum life cycle thanks to its extensive upgrade options.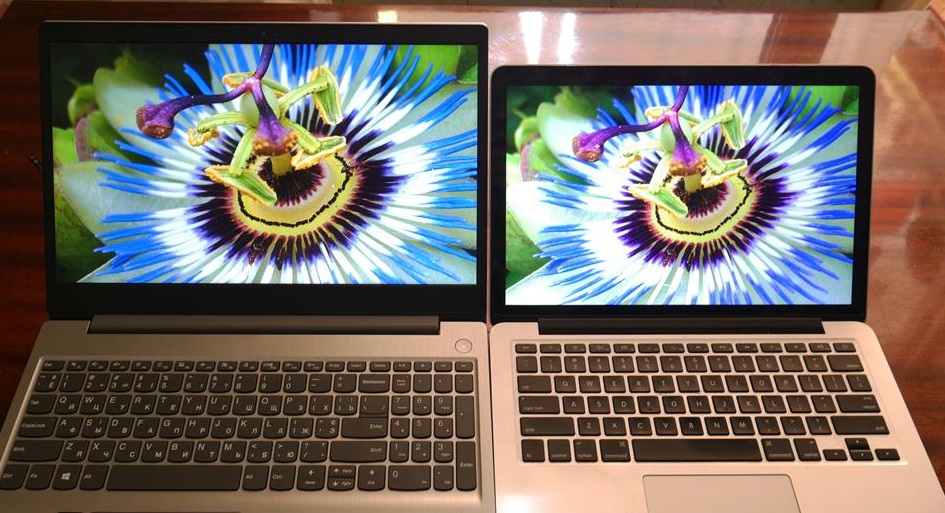 If you are looking for a laptop for gaming, working with photos and videos, or other multimedia tasks, then take a look at other models based on the current Intel Core, but with a more efficient video card.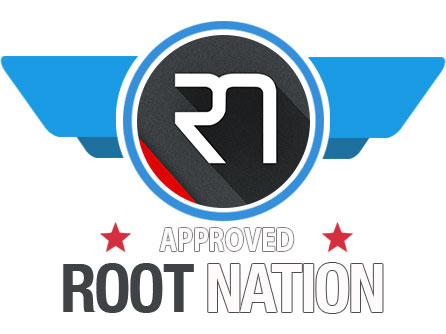 Subscribe to our accounts: