It's not easy figuring out different models of Huawei smartphones. P series, Mate, Lite versions, Nova versions and now also Smart devices. It's a real mess. Are these phones at all different, and if yes, then how? Today we talk about the new Huawei P Smart.
Huawei P Smart
If we ask what is Huawei P Smart, the company itself will tell you it's a budget model, since all "P" devices are supposed to be affordable. Still, you won't call it budget by the looks of it, even though Huawei P Smart is not a flagship by any means. Huawei is sly, and created tons of simplified versions with the Lite moniker.
In that sense, we can call Huawei P Smart a modern replacement for the ever popular Huawei P8 Lite (2017). Overall, a typical mid-ranger with improved specs and features right from the flagships.  You can think of it as a simplified flagship, if you want.
Huawei P Smart Specifications
| | |
| --- | --- |
| Specs | Huawei P Smart |
| Screen size | 5,65" |
| Display | 2160 x 1080, FHD+, IPS, 427 PPI |
| OS | Android 8.0, EMUI 8.0 |
| Processor | Hisilicon Kirin 659, 8 cores, 4 × 2.36 GHz + 4 × 1.7 GHz |
| RAM | 3 GB |
| Storage | 32 GB |
| Memory expansion | Up to 256 GB |
| SIM card slot | 2 nanoSIM |
| Main camera | 13 Mp + 2 Mp |
| Front-facing camera | 8 Mp, f / 2.0 |
| Батарея | 3000 мАч |
| Other | Fingerprint scanner, 3G, LTE, Wi-Fi 802.11 b/g/n, GPS, GLONASS, Bluetooth 4.2 LE (2 devices), NFC, compass, proximity sensor, light sensor, accelerometer |
| Dimensions, mm | 150,1 x 72,05 x 7,45 |
| Weight, g | 143 |
Design, materials, ergonomics
The first thing that separates Huawei P Smart is its looks and the overall feel. The screen is large: 5,65", but thanks to 18:9 ratio and the elongated body with tiny bezels, the phone is comfortable to hold and does not feel oversized.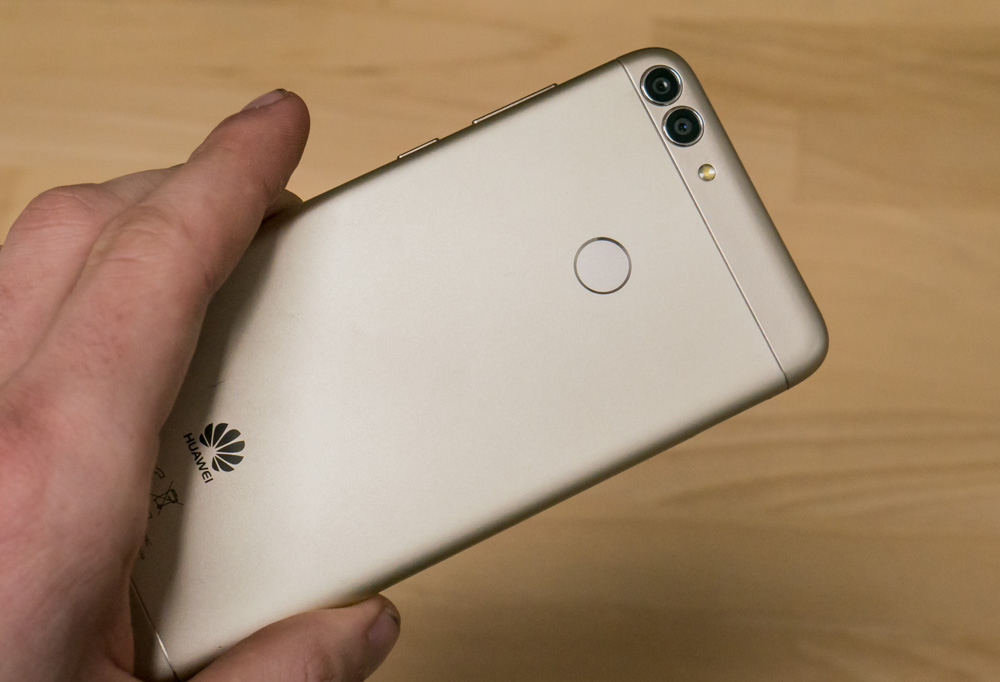 On the front we have a camera, notifications indicator, a speaker, and light and proximity sensors. Under the screen is a Huawei logo.
On the right side there's a volume and a power button. On the left is a hybrid slot for two nano SIM cards or one SIM card and an SD card.
On the lower side is a 3,5 mm audio jack (good to see it here, especially underneath), a mic, a microUSB in the center (don't know why there's no Type-C, which is faster and more convenient). To the right is the main speaker; on the top bezel is an additional mic.
On the back we have a dual camera and a flashlight. Underneath is a fingerprint scanner – very comfy to use. Below is a company logo.
The most of the body of Huawei P Smart is made of aluminum alloy. There's little risk of it getting scratched. It's no fingerprint magnet thanks to the matte body, especially when using the gold model. The upper and lower parts of the body are plastic, made to look like the rest of the phone. Metal and plastic are separated by the shiny strips. Overall, the phone looks both stylish and modest.
I'd rate the phone's appearance 4+ out of five. It does look like a flagship. If you want to underline your image with a phone, Huawei P Smart will do fine.
The build quality is also excellent. There are no audible creaks or noises coming from the phone. Even buttons are sturdy, which is not always the case with Huawei devices.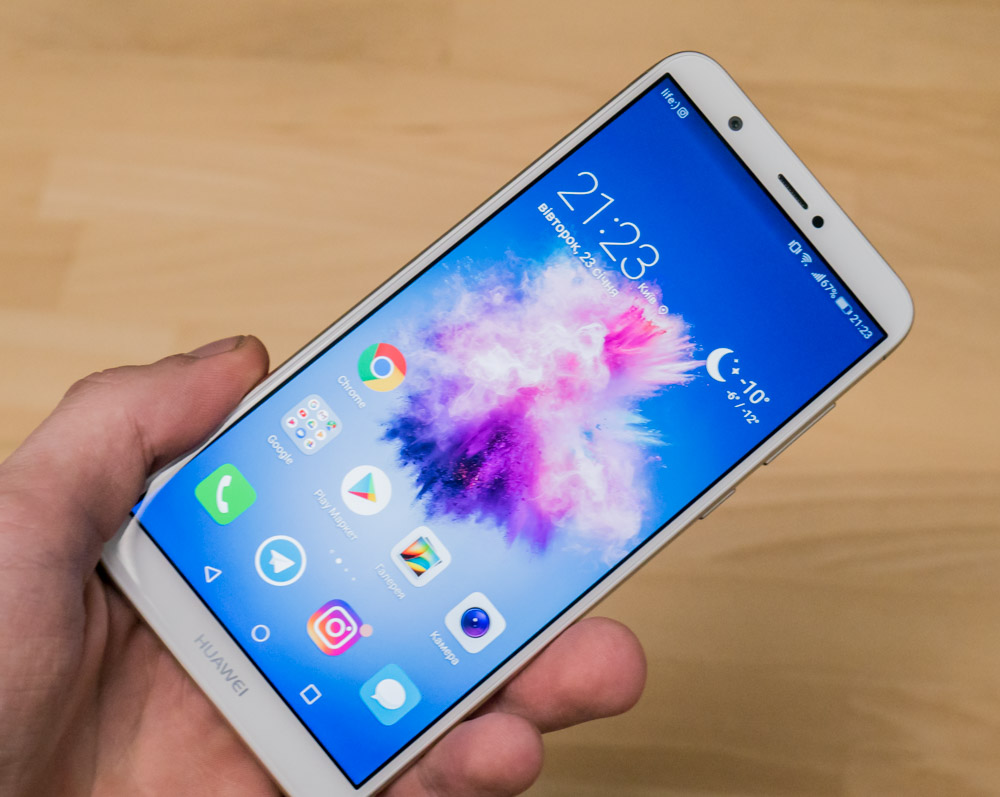 Huawei P Smart feels good in my hand thanks to compact size and rounded edges. Sometimes it can slip out, but even after a couple of weeks I am yet to encounter an accident.
Screen
Huawei P Smart has an IPS 5,65' screen with 18:9 ratio and Full HD+ (2160x1080p, 427 PPI) definition. The display takes about 76% of the front and is covered with a protective 2.5D glass with nice oleophobic coating.
The display is vibrant, with natural colors. Viewing angles are maximal. Brightness is decent; it's more than enough for reading on a bright sunny day. On the other hand, the lowest settings are still not low enough – it's hard to use the phone in the dark. Automatic brightness sensor works fine.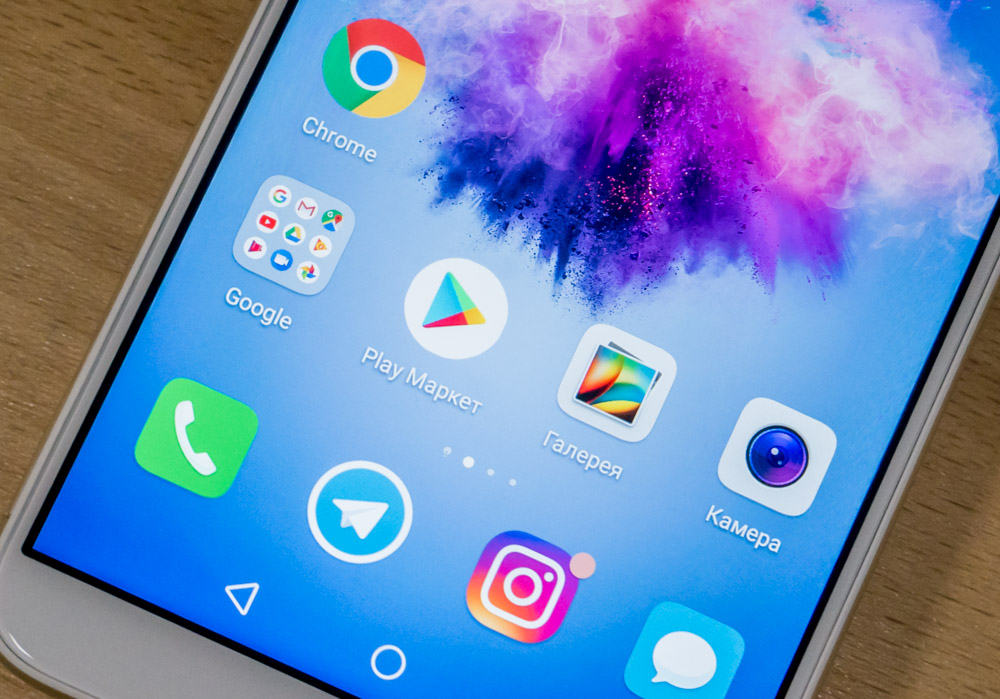 There is a night mode in the settings (activated via the notification shade or automatically) and deep color adjustments.
Overall, the screen is very good, which is obvious from the moment you first look at it. Thanks to tiny bezels, the device has a premium feel to it. If you want to boast, your friends will be impressed with the price for such a looker.
Hardware and performance
The smartphone is based on eight-core Kirin 659 (4 × 2.36 GHz and 4 × 1.7 GHz Cortex-A53) chipset and Mali-T830 MP2 video accelerator. A similar platform is also used in Nova 2 and Mate 10 Lite. 3 GB of RAM, 32 GB of storage. More than enough for normal use. Want more storage? Sacrifice the second Sim and install a microSD card (up to 256 GB).
The smartphone doesn't freeze and is very stable. Synthetic tests results are mediocre, but that didn't disappoint me; I was rather surprised, considering the high speed of work.
In terms of games, Huawei P Smart is okay, but that's about it. Games with good optimization (from Gameloft, for example) run great. Even the heavy titles are playable on lower settings.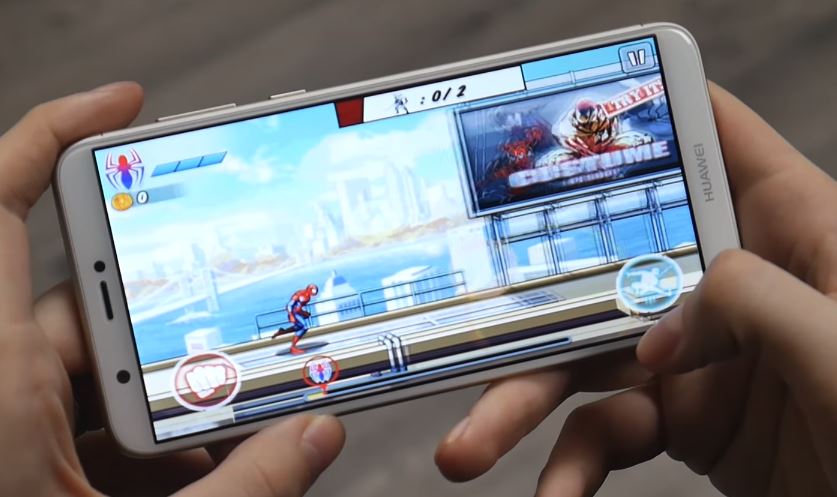 OS and shell
Huawei P Smart has the newest Android 8.0 and Huawei's brand EMUI 8.0 shell. I like the UI, although there aren't that many visual changes compared to the 7th version. The shell performs admirably.
Fingerprint scanner
The scanner is conveniently placed and works instantaneously and without mistakes – as per usual for Huawei. I would rather have the scanner below the screen, but we live in the era of bezel-less phones, and such configuration is obsolete. The scanner can be used for unlocking the screen, for authorization and even for notification shade and camera.
The phone also has a face recognition software, which is fast – even in the dark. It allows the user to unlock the phone by looking at it.
Cameras
Huawei P Smart has a dual main camera (13 Mp + 2 Mp). This means a portrait mode, which is quite good. The phone can blur the background with no problems – a rarity for a mid-budget phone. And believe me, I've tried a lot of devices.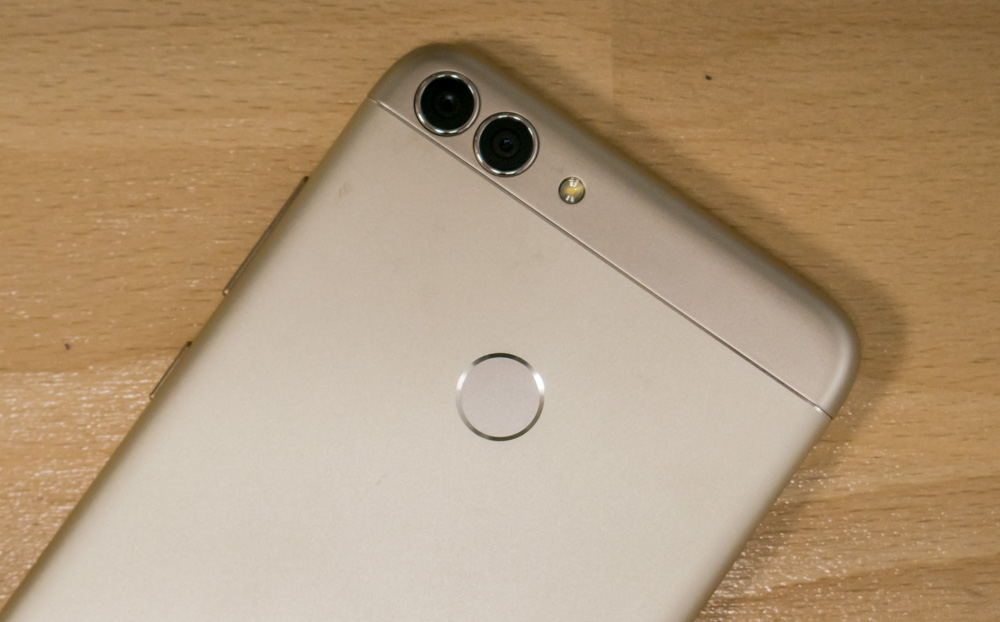 The camera software supports face recognition, geotagging, gesture shooting, autofocus and point-of-focus detection, HDR, and panorama. Due to the use of the dual module, we have a portrait mode (with face beautifier), wide aperture (bokeh) effect imitation and postfocusing in the gallery.
The quality of photos is great; details and color rendition are excellent. You can manually adjust whatever you want in the settings. The device can even make good photos in the dark. These are not great – this is not a flagship – but still adequate.
The front-facing camera has an 8-megapixel module. Instagrammers will be more than satisfied with the quality of their selfies.
The selfie camera supports portrait mode, which is fantastic. It's worse when it comes to blurring the background, but still decent.
The smartphone records video at Full HD 1920×1080 30 fps, with stereo sound.
Battery life
The phone has a 3000 mAh battery. Not much, but the system (and Android 8) is optimized to be energy-efficient. You definitely won't need to recharge the phone during the day. Huawei P Smart can even survive for a day and a half.
One hour of charging gets you 50%. It's not exactly quick (there's no official support), but it's not slow either. 10 minutes of video on YouTube sucks 3%.
Sound
The main speaker is loud and clear even at maximum volume. I won't call it excellent, but it works. When talking on the phone, I can hear everything perfectly.
The quality of music is average, but can be improved with proprietary Huawei Histen software. There are different sound profiles and the equalizer. The sound is loud enough for everyday use.
Communications
No problems here. Judge for yourself – 3G and LTE, Wi-Fi 802.11 b/g/n (unfortunately only 2.4 GHz), Bluetooth 4.2 BLE, GPS, GLONASS and NFC module for contactless payments. All means of communication work reliably, no problems.
Verdict
Huawei P Smart is easy to judge. It's a good mid-ranger, which will cost you only about $270.
The device has it all: A great screen, a good battery, the newest versions of EMUI and Android, NFC and a quality camera. The phone is fast in any mode, and thanks to the design, everyone will think that you own a flagship.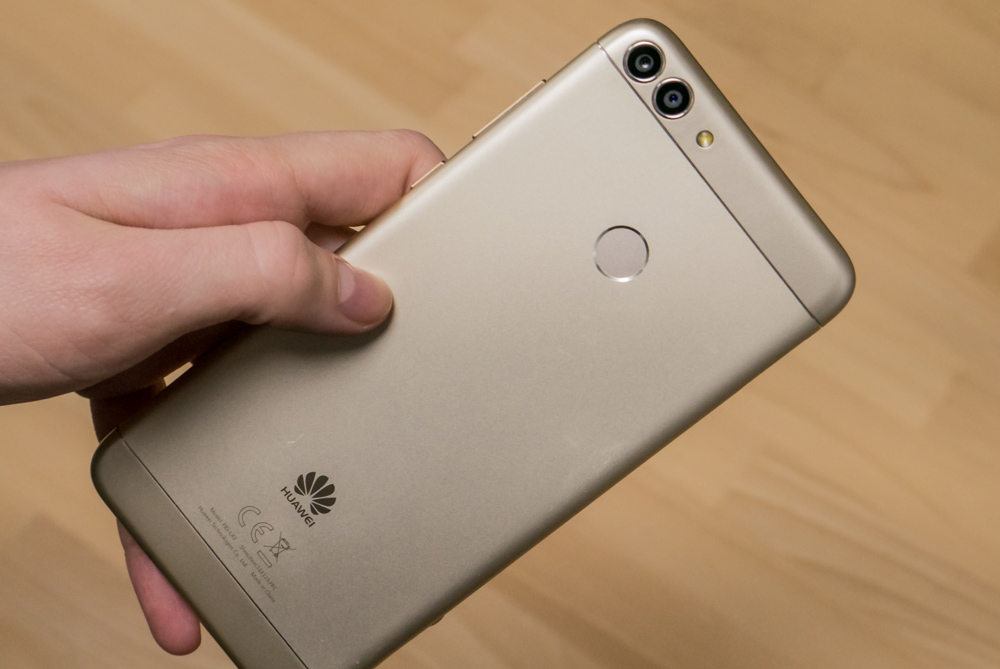 When smartphones like that cost so little, you can't help but question why we need flagships at all. If you want a decent and affordable smartphone, look for Huawei P Smart.
There are only a couple of cons: microUSB (Type-C would be much better) and no 5 GHz Wi-Fi. Not a big deal. The phone certainly deserves to get our stamp of approval.