In 2017 Huawei have continued their tradition of releasing two flagship smartphones. We've already tested the more compact P10, and now it's time for the biggest model – Huawei P10 Plus.
Huawei P10 Plus
At first look, the phones look different only in size, screens and cameras. Maybe also in battery size. And mostly this assessment is correct. I recommend reading our review of the smaller flagship. Many things mentioned there can be said here. Still, the Plus version has some differences in software, and that's what I'm focusing on here. In this review I'm going to talk mostly about what separates Huawei P10 Plus and the "standard" model.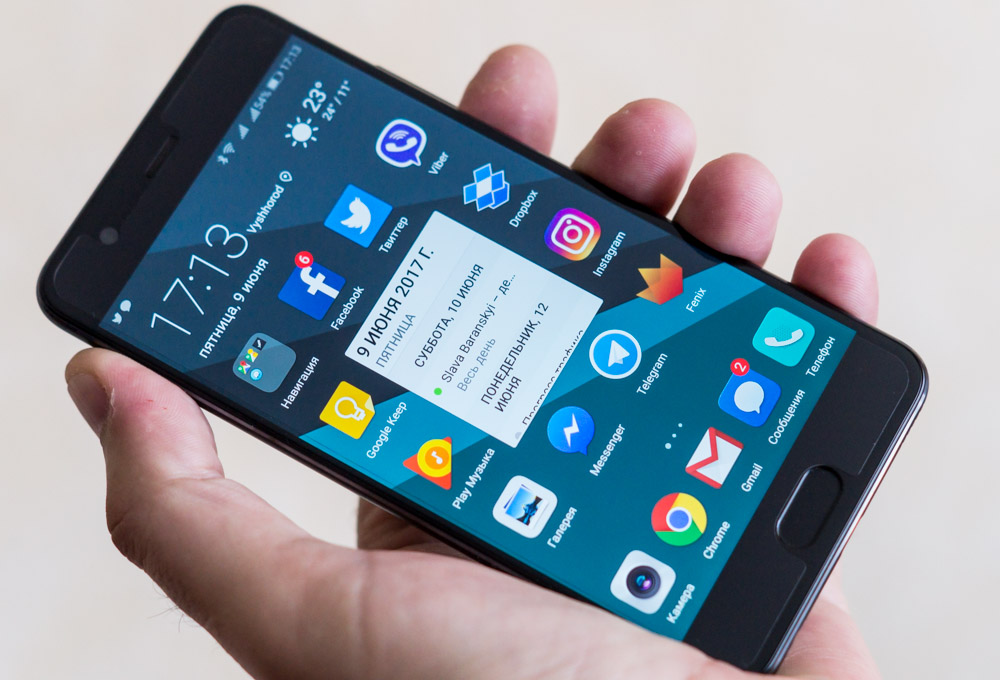 You can also read: Huawei P10 review – new and improved
Design and configuration
As I was saying, Huawei P10 and Huawei P10 Plus are twin brothers, only one is bigger than the other. The design is pretty much the same. Mostly they look like iPhone 7, albeit with a few improvements. Huawei P10 Plus has no protuberances – the metal and glass body is totally smooth. When touch, it reminds me of pebbles.
About configuration. The front is, of course, the screen, covered with 2,5 D Corning Gorilla Glass 5. Below is the speaker, sensors, frontal cameras and a small light LED indicator. Underneath the screen is a multifunctional fingerprint scanner, shaped like an oval recess.
On the right – a power and a volume button. On the left – 2 nano-SIM slot (you can insert SD card instead of SIM). Below – a 3,5mm audio jack (thank gods!), USB Type C, mic, speaker. On the top of the phone – a second mic and IR port.
On the back we can see a glass panel (also Gorilla Glass 5) over 2 camera modules, and a laser focusing unit. Two-tone LED flash is embedded into the glass panel. On the right, as usual, LEICA logo and optics' specifications. There we can see the differences between two phones. Huawei P10 Plus has a more advanced optics – SUMMILUX-H with f/1.8 diaphragm (unlike SUMMARIT-H with f/2.2 diaphragm in Huawei P10).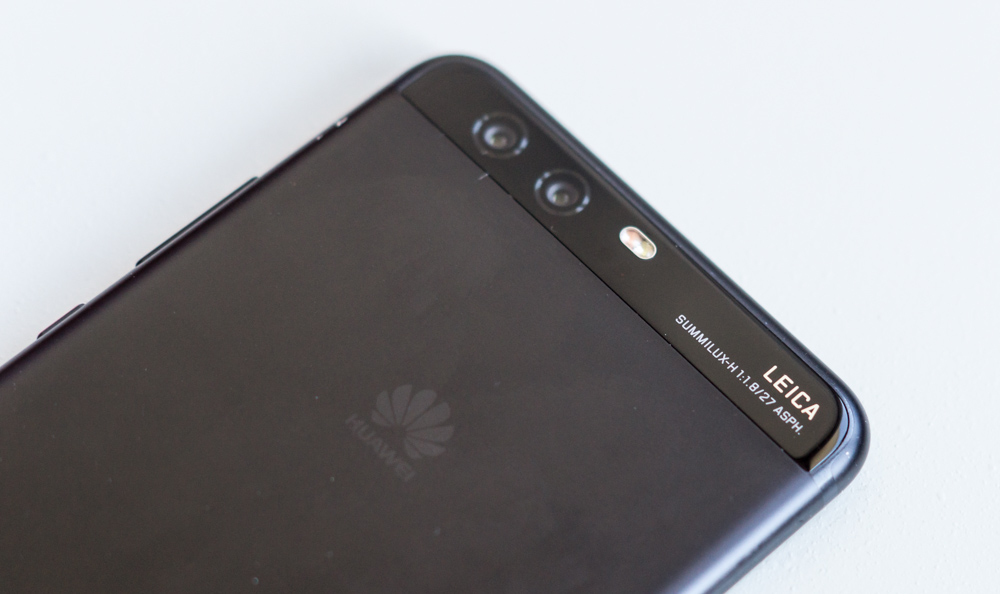 The build quality is perfect, not counting the volume button, which is a bit unpleasant to push.
Size and ergonomics
There are some anthropometric differences between the two smartphones. 5,2 inches versus 5,5. Personally, I prefer the smaller device, which is more comfortable to hold and use with only one hand. Still, the bigger screen of Huawei P10 Plus means more freedom. The icons look bigger and all elements are easier to interact with. That's why 5,5" screens are the most popular. This size is a golden medium between convenience and screen size.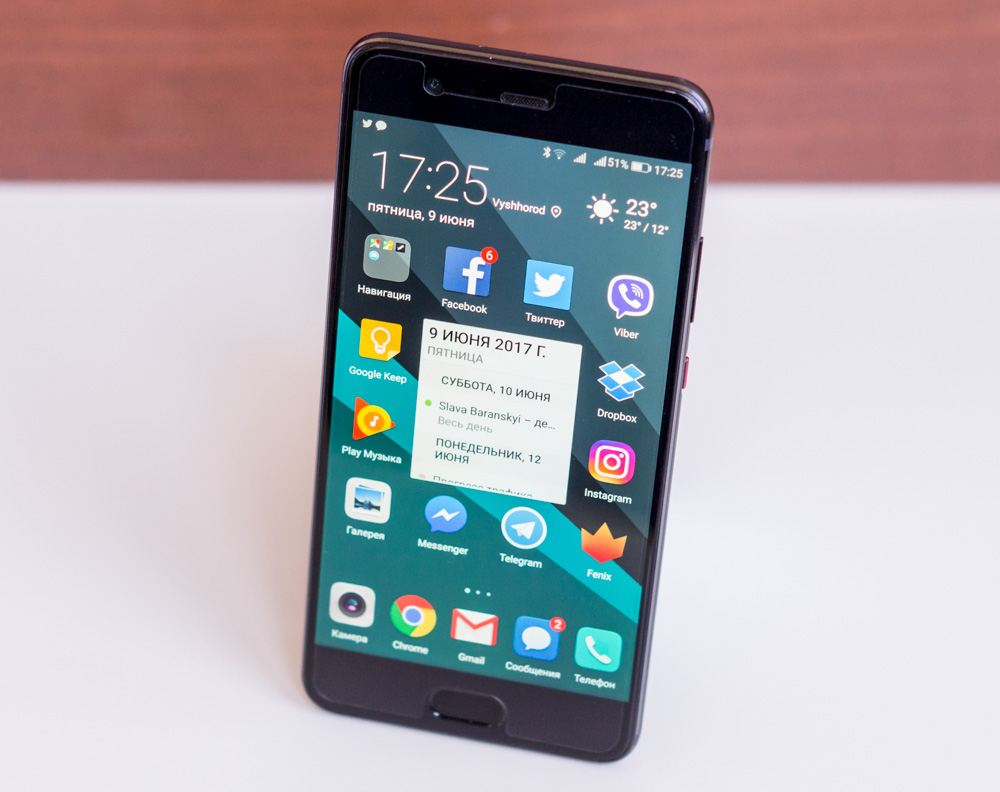 Huawei P10 Plus is a typical "big" smartphone with all the usual consequences. This year's trendy bezel-less technology hadn't been noticed by Huawei, who released a fairly standard phone with bezels and big spaces on the sides of the screen. iPhone 7 Plus is still bigger, thankfully, but Huawei P10 Plus is almost as big as Google Pixel XL. Overall, this is not a compact phone, although it's thinner and lighter than both of the previously mentioned devices.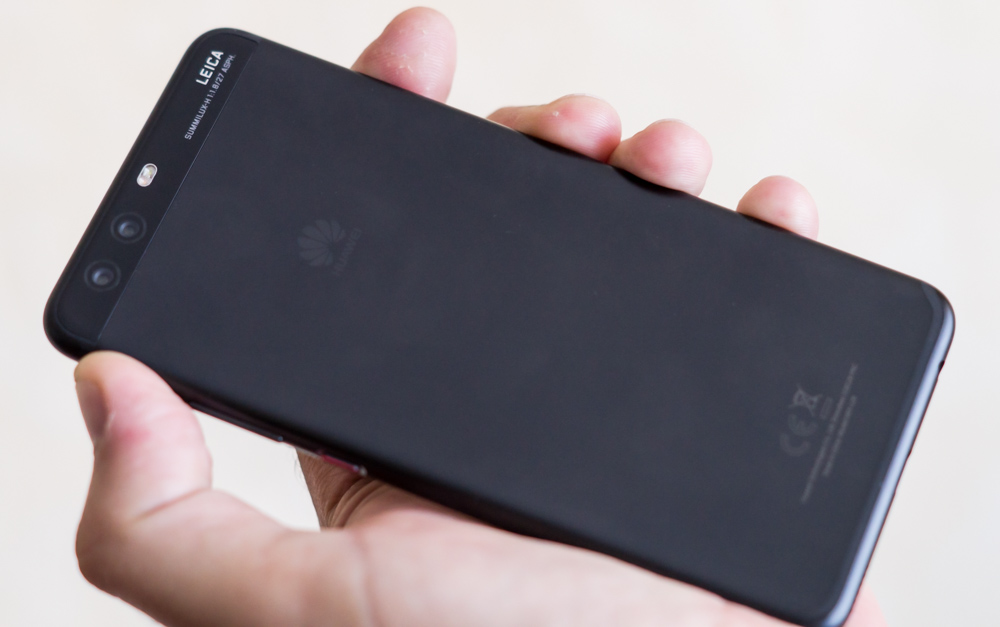 Generally, the smartphone is comfy to use – for a 5,5-inch device. I myself prefer 5,2-inch devices, so I may be a bit prejudiced. All elements are in their places; the power and volume buttons are easy to find, the same can be said about the fingerprint scanner (which can be used for navigation). One problem: Huawei P10 Plus is slippery in dry hands, but that's the price you pay for premium metal and glass.
Display
In terms of raw numbers: IPS-NEO LCD-matrix 5,5 inches, QHD 2560 x 1440m resolution, pixel density about 540 ppi.
Huawei P10 Plus has a real flagship display – one of the best on the market. You can throw rocks at me, but I will stand by this statement. First of all, the quality of display can only be tested in day-to-day situations. I am all for consumer tests while determining the screen. A bright sunny day, electric lighting or complete darkness; at home, on the street or in the car – this display works great just about everywhere. Even polarized sunglasses don't hamper the overall impression – you can use the phone without taking them off.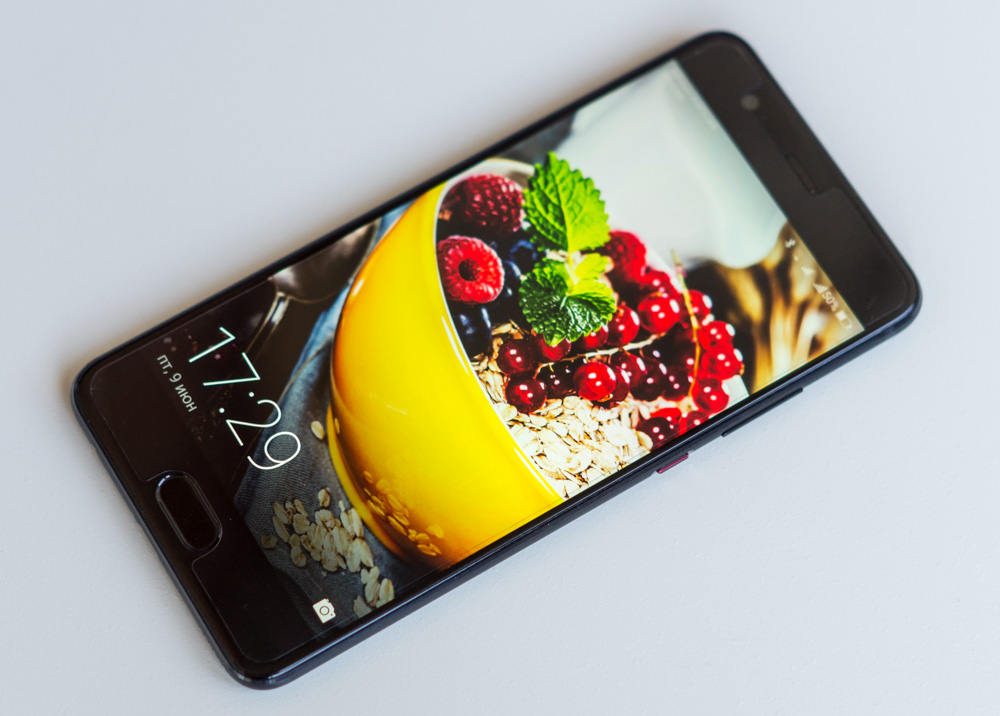 The display has very good brightness levels and is comfortable to use in any situation. The colors are juicy; the contrasts are great – as are view angles. The screen is very sharp thanks to high pixel density; fonts, icons, multimedia content and games all look fantastic. After my time with Huawei P10 Plus many other screens look bleak and blurry – comparing them with the hero of this text may be costly.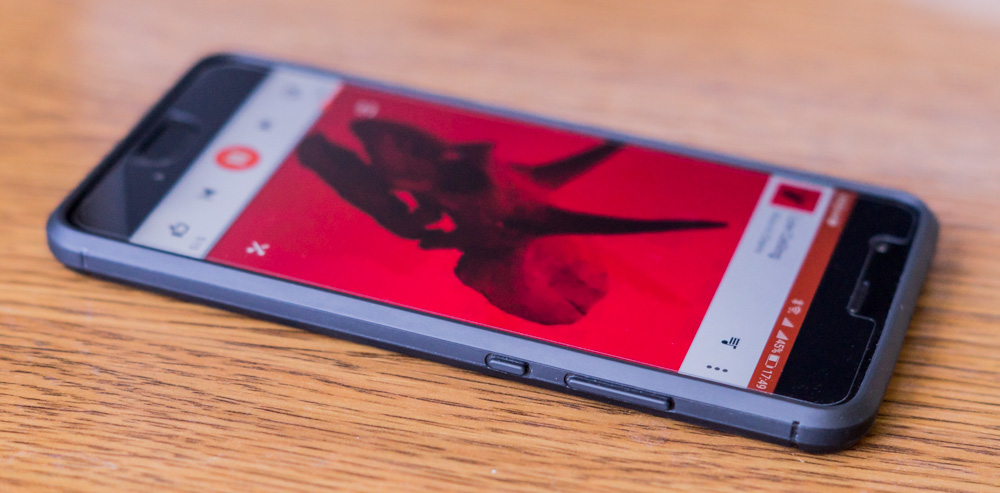 The colors in Huawei P10 Plus tend to be cold, but that can be remedied in settings.
Huawei P10 Plus has a mode that protects your eyesight; it can be activated either manually or be setting specific time. This mode should be used during nighttime.
As it was with Huawei P10, I have a sample version of Huawei P10 Plus without the oleophobic coating. My device has a screen protector, but all retailers should get a version with proper oleophobic coating.
Hardware and performance
Huawei P10 Plus has the same hardware platform as a normal P10: HiSilicon Kirin 960 processor (4×2,4 GHz Cortex-A73 and 4×1,8 GHz Cortex-A53) and Mali-G71 GPU. The performance levels are similar, with one exception: because the screen resolution is higher, hardware is responsible for rendering more pixels. That leads to some minor performance changes, mostly in 3D Games – standard 2D rendering is not as resource-intensive.
All of that leads to lesser points in synthetic tests of 3D graphics. In reality, the difference is almost indistinguishable, but it is here, and it needs to be noted. Nominally, P10 looks more powerful than its big brother, but in everyday use you won't notice it. Huawei P10 Plus is fast – no slowdowns or lags. Benchmark results:
Battery life
I'll be honest: I expected more. 3750 mAh is okay for a battery, but Huawei P10 Plus didn't not impress me. The battery life is average – one day of active use and a bit more; about 12-15 hours of work and 5-6 hours of working screen. Comparted to P10 (with 3200 mAh), Huawei P10 Plus works for about hour/hour and a half longer. It won't last for two days – maybe for one and a half.
Huawei P10 Plus has an important feature – quick charge option. Wait for about an hour and the phone is charged for a day of work. I advise to charge it in the morning, and not at night, as usual. While you are doing your morning routine, the phone charges. Quick and easy. I tried to charge the smartphone from adapters and power banks with Qualcomm Quick Charge, and got the same time.
In the energy saving settings there's an option to prolong the phone's life by lowering the screen resolution.  Maybe I'm getting old, but I can't see any differences in picture with this mode on. The same can be said about energy consumption – I hardly noticed any improvements. Maybe there's something there, but it extends the battery life for no more than 10-15 percent. Even that may be a measurement error.
Cameras
As before in P9, Huawei P10 Plus offers improved options for photographers. Thanks to Leica partnership, the cameras are better than ever. A smaller P10 could compete with Samsung, Apple and LG, but Huawei P10 Plus simply blew me out of the water. P10 was great, but P10 Plus is fantastic.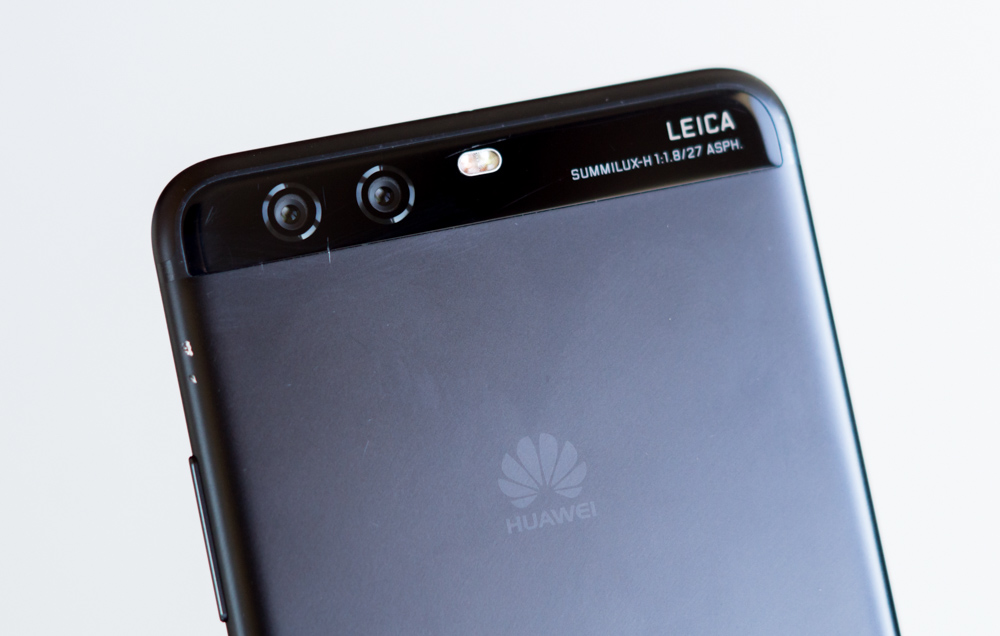 Let me remind you of how Huawei cameras actually work. The main black and white module handles detalization and wide dynamic range. Info about colors comes from the second – color – camera. The system allows to make amazing photos, which mimic pictures from old black and white film cameras. Or you can use a wide diaphragm mode (beautiful bokeh) and refocus the photos afterwards.
The main camera uses 20 MP black and white module and 12 MP color module. Huawei P10 Plus uses better (1.8 diaphragm) Leica optics – unlike 2.2 diaphragm that was used in "standard" P10. Thanks to that we can make brighter photos in bad lighting. Here's a simple, yet powerful example from our Instagram:
I won't bother you with boring details and just say that Huawei P10 Plus shots great photos in any environments. Main module, frontal camera and video all impressed me. Examples below speak for themselves.
Examples of photos and videos in full resolution
Examples of photos and videos in full resolution
Here's how Huawei P10 Plus records concerts. Just listen to the stereo sound – it's flawless and clear. The video itself is great.
The camera UI is pretty standard for Huawei – expect for new modes of recording and saving in RAW format. The app is easy to use; there are tons of settings, features and effects, and even a professional manual mode.
Sound
No problems there. I enjoyed the main speaker, which has great loudness and wide frequency range. The person's voice is very clear.
In settings there's a peculiar feature Stereo+, which allows to use the upper speaker in tandem with the main speaker below. This works when the phone is landscape orientation. The same technology can be found in iPhone and Huawei Mate 9, but it is absent in the smaller P10. A neat feature for watching videos and plating games. The volumes of two speakers are different, but software takes care of that. The angle of speakers also varies, which helps with volume differences. The stereo effect really works.
The main speaker below the display is great, with perfect levels of loudness and sharpness, and wide frequency range.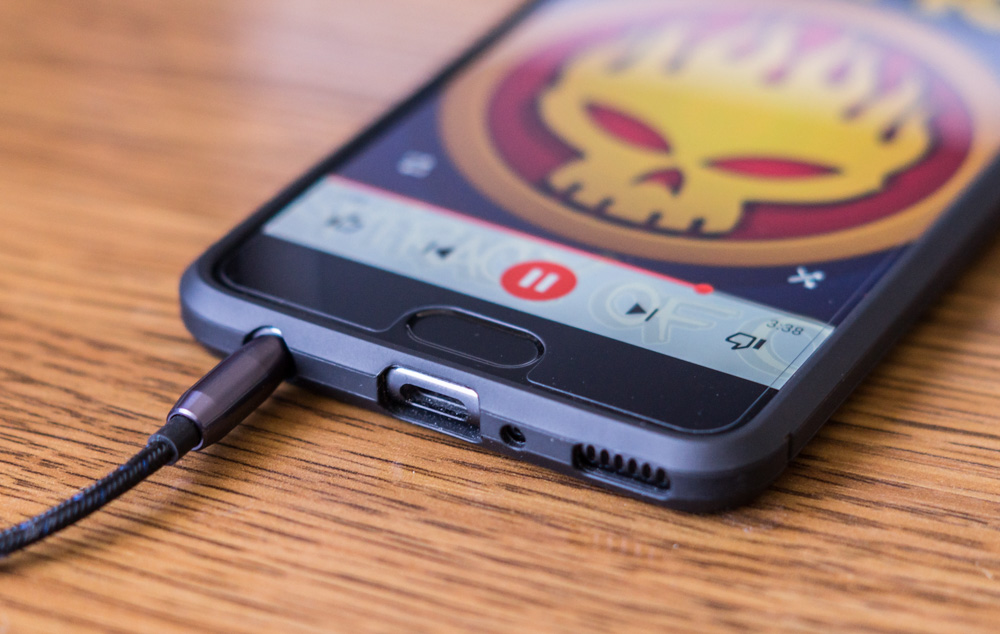 In headphones all is great as well. Both P10 and P10 Plus use advanced sound chip, which allows for converting sound with 24-bit / 192kHz sampling – High-Resolution audio. If you happen to collect lossless music and have good headphones, Huawei P10 Plus will help you to hear all of it's potential. I used Hi-Res on-ear Panasonic RP-HD5 and in-channel triple-driver 1MORE E1001 headphones, and got great results.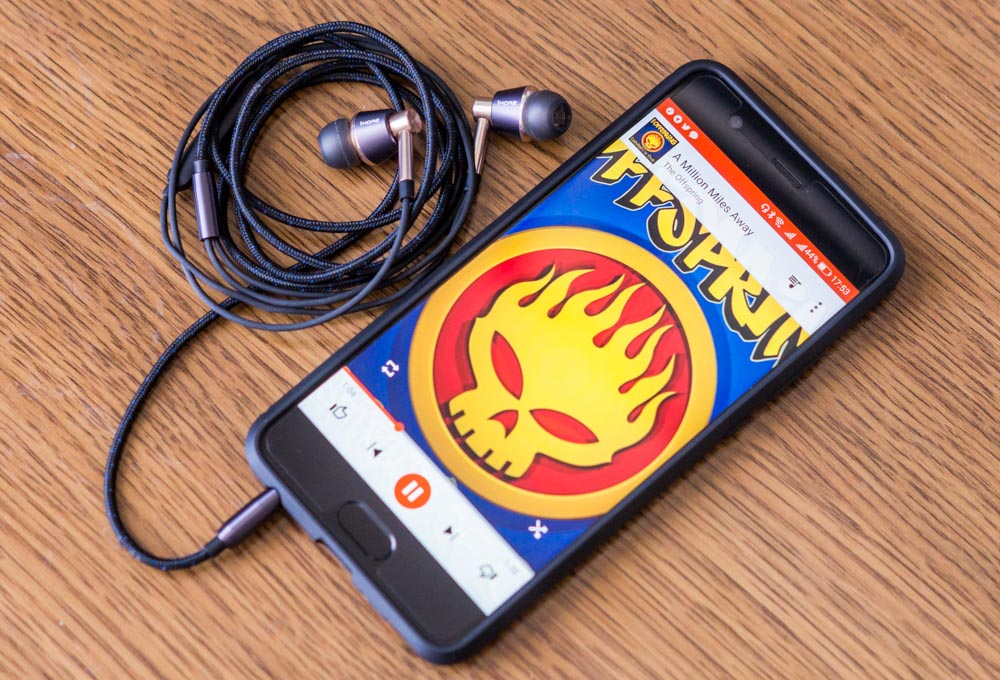 Along with hardware there's pre-installed software converter and DTS equalizer, which allows to widen the panorama by adding presence effect and improving the missing frequencies. It really helps to improve the sound in headphones.
Connectivity
In terms of connectivity all is well. Cellular networks work fine with two SIM-cards. Bluetooth 4.2 has no problems.
Geolocation comes with a lot of options with classic GPS, A-GPS, GLONASS, BDS and GALILEO. It starts up fast – no longer than 2-3 seconds. The positioning is precise.
The phone has Wi-Fi 802.11 a/b/g/n/ac module and supports dual-band 2,4 and 5 GHz, DLNA, Wi-Fi Direct, hotspot. Near the router the speed is excellent, the range is big. The phone doesn't easily lose the signal. There's an option to turn on the cellular network when Wi-Fi signal is weak.
Unlike the standard P10, Huawei P10 Plus has IR port, which turns the phone into a remote control. There's a special app for creating and setting up different remote controls.
Huawei P10 Plus has NFC module which will help with contactless payments, which become more and more popular.
Fingerprint scanner
I have nothing to add after Huawei P10 review. Huawei scanners have always been one of the fastest on the market. They are literally faster than the speed of thought. All thanks to Kirin processor, which handles reading data from the sensor in the background in real time. 360-degree fingerprint scanner works flawlessly 99,9% of the time.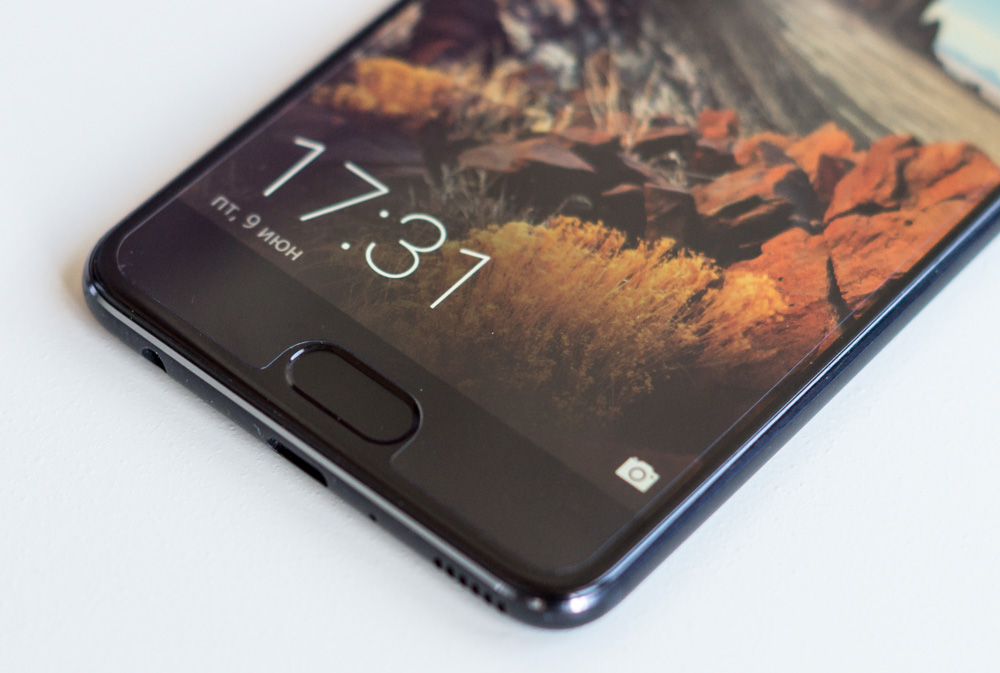 One of the main features of the scanner in Huawei P10 / P10 Plus is the ability to use it for navigation. Just activate the option in settings. Fast tap means "back", long press means "go to desktop", side swipe is for multitask menu. It works great, although the side swipe requires a bit of skill – first couple pf times you will likely just go back. When using navigation via scanner, on-screen navigational buttons disappear, which makes the work area bigger.
Accessories
Well, only one accessory here. Let me tell you about the case that came with the phone.  It is a flip case. I don't usually like those (they are not meant for car holders; I prefer bumper cases), but this one is at least interesting.
The case is made of rubberized plastic and has a fabric finish, which is very nice to the touch. The main feature is translucent part, which forms a window to the right of the display. You can check the weather, time or any notification without opening the case. Even more – you can interact with it, because it's touch-sensitive. You can change music tracks, for example.
Also, the smartphone reacts when you open the case – the screen turns on. When you close the case, the screen first shows info in the right side, then gradually goes into sleep mode.
Firmware and software
Huawei P10 Plus is using EMUI 5.1 shell on Android 7.0. The shell is similar on every phone, so no reason to talk about it in depth.
Материалы по теме:
EMUI for Huawei P10 has some features like using fingerprint scanner for navigation and Stereo+, but I've already talked about all of it.
Verdict
Huawei P10 Plus is a very cool smartphone. I really liked it. It's stylish, thin, greatly built and made of premium materials. The screen is one of the best on the market. The sound is spectacular. The camera for photos is probably the best among the modern smartphones. Sure, it's arguable, but it's still somewhere in the top ten. Shooting video is not a main feature, but the phone does it fairly well.
Overall, the phone does everything great. You won't encounter any problems. The firmware is very stable with no bags or flaws. USB Type C port, 3,5 mm audio jack, modern communication modules, NFC and IR port, fast fingerprint scanner underneath the screen – Huawei P10 Plus is packed with everything you need in a true flagship.
In terms of cons you might say the phone has a very uninteresting design with nothing unique. Unfortunately, it is a typical smartphone with nothing special about it.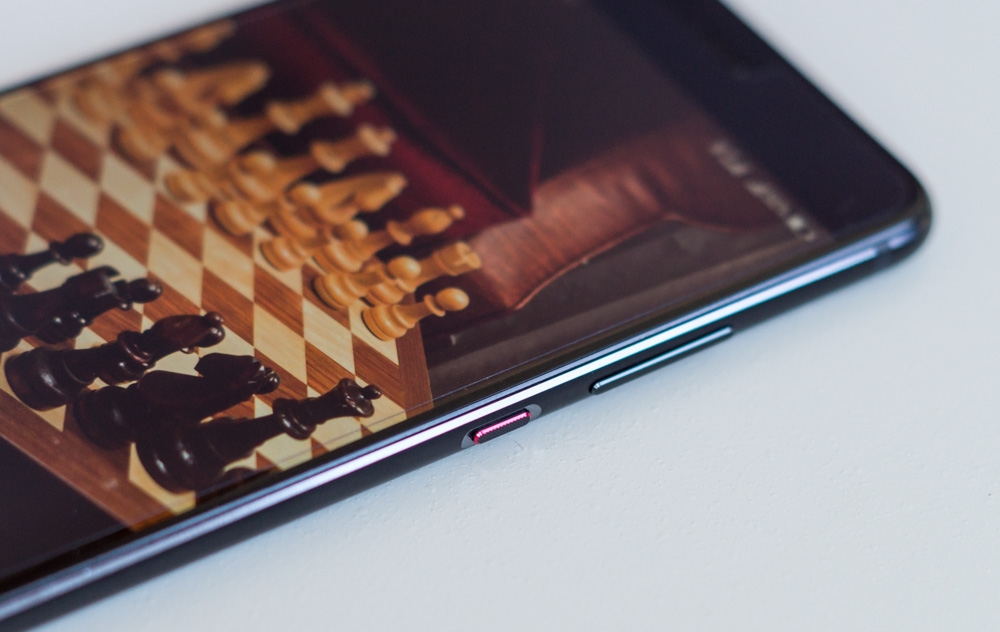 I was also disappointed with the battery life. I expected more, but you can charge it every day. Thanks to quick charge, this is not that big a deal (looking at you, iPhone). With less active usage the phone will work for up to 1,5 – 2 days. But people who use phones like that rarely buy flagship devices.
Also, it's hard to understand the current situation with oleophobic coating. Before, the manufacturer fixed the issue in previous devices, but I can't say for sure. There's also a rumor about the deficit of fast memory, which will lead to Huawei implementing less powerful chips. But all this information requires proof. Those of you with serial devices are welcome in the comments.
Overall, Huawei P10 Plus looks like one of the best flagship smartphones of 2017. The phone is cheaper than its rivals. Huawei P10 and P10 Plus are still the cheapest flagships from the A-brand. If you want to buy a top smartphone, I recommend these two devices.