While testing the numerous new A-series from Samsung, I could not understand one thing. Where are our promised new mid-ranger features? Where is that approach, when mid-ranger first get interesting features, and only then its flagships' turn? Neither Galaxy A30 nor A40 offered anything like that, these are simply good "classic" smartphones. Finally, I've found the device that does exactly what I wanted – Samsung Galaxy A80. Large and expensive, with a motorized camera unit and an almost bezel-less screen. Interesting? Let's take a look.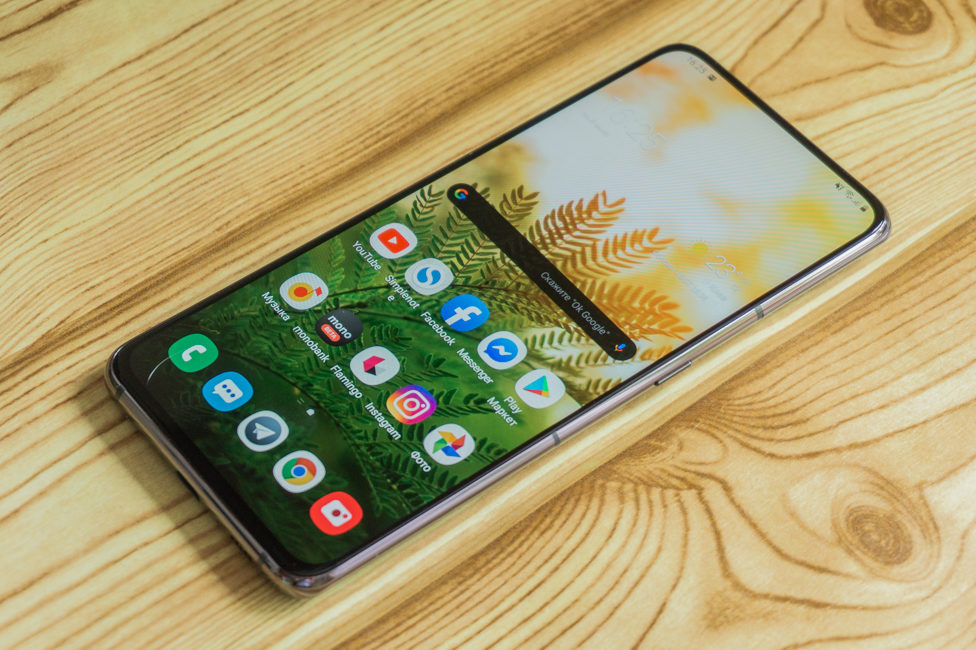 Specifications Samsung Galaxy A80
Display: 6.7″, Super AMOLED, 2400 × 1080 pixels, 20:9 aspect ratio
Chipset: Qualcomm Snapdragon 730, 8-core, 2 Kryo 470 Gold cores with a frequency of 2.22 GHz, 6 Kryo 470 Silver cores with a frequency of 1.8 GHz
Graphics accelerator: Adreno 618
RAM: 8 GB
Storage: 128 GB
Support for microSD memory cards: no
Wireless networks: Wi-Fi 802.11 a/b/g/n/ac, Bluetooth 5.0 (A2DP, LE), GPS (A-GPS, GLONASS, GALILEO, BDS), NFC
Cameras: 48 Mp main module, f/2.0, 1/2″ aperture, 0.8µm, PDAF, 26 mm; additional extra wide-angle module 8 Mp, f/2.2, 12 mm, 1.12µm; ToF 3D camera, f/1.2, 30 mm
Front camera: motorized rotating main unit
Battery: 3700 mAh
OS: Android 9.0 Pie with One UI 1.1 shell
Dimensions: 165.2 × 76.5 × 9.3 mm
Weight: 220 g
Our video about Samsung Galaxy A80
If you do not want to read the text – watch the video!
Price and positioning
At the time writing, Samsung Galaxy A80 is the most expensive 2019 A-series device. Or the most expensive phone in this lineup ever. The recommended price is 780 dollars.
What can we conclude from this? In retail, A80 comes close to Galaxy S10e. A flagship in 2019 – a little simplified, but a flagship nonetheless. I don't know about you, but I personally cannot call Samsung Galaxy A80 a mid-ranger if you look at its price tag. So let's try to understand what exactly is A80.
Design, materials and build quality
This smartphone offers something new and unusual. Even in front, where everything should be obvious: a hole with a camera or a drop-shaped notch. But no, we have something cooler. Here a large display occupies almost the entire front panel. No notches, minimal bezels, only the field below is slightly wider than the others.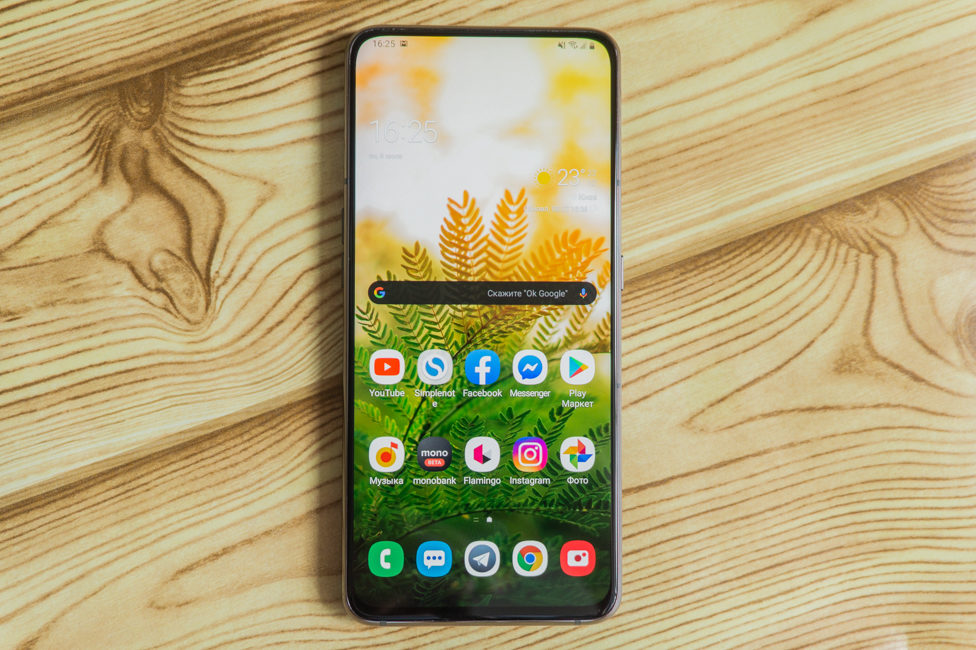 It looks… nothing special, really. But it's damn cool. Roughly speaking, apart from the picture there is nothing. Only Xiaomi Mi Mix 3 that I tested can be called somewhat similar. And it really looks great.
Despite the fact that the display does not have curved edges, it still looks fine. It uses standard, slightly rounded, Gorilla Glass 3.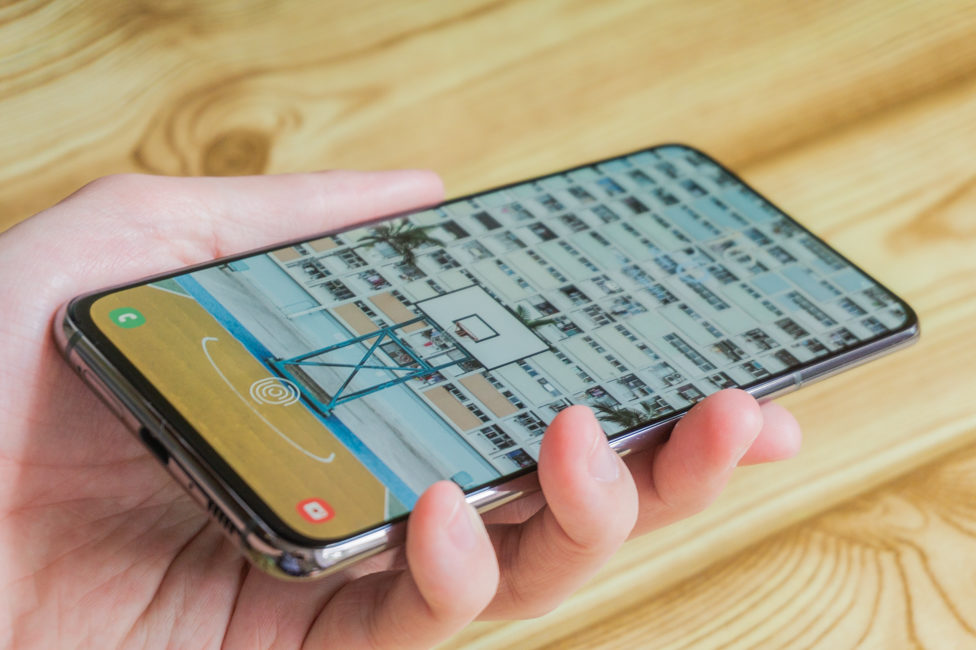 With the rear panel, the situation is simple and clear – also glass, but better: Gorilla Glass 6. It gets dirty and scratched as usual. But of course all the attention goes to the block with cameras. Which is also additionally highlighted by a golden (or copper) color.
I will tell you all about it in the next section, but for now let's go back to the materials. A polished steel frame runs along the perimeter, which naturally underlines the style. It is quite a bit different from the main body color.
I have on my test a Phantom Black model sample. In reality, it's Dark Steel, popular among other manufacturers. No elaborate gradients (perhaps because of the design) – standard three-color classics. Black, white and golden pale pink or something like that.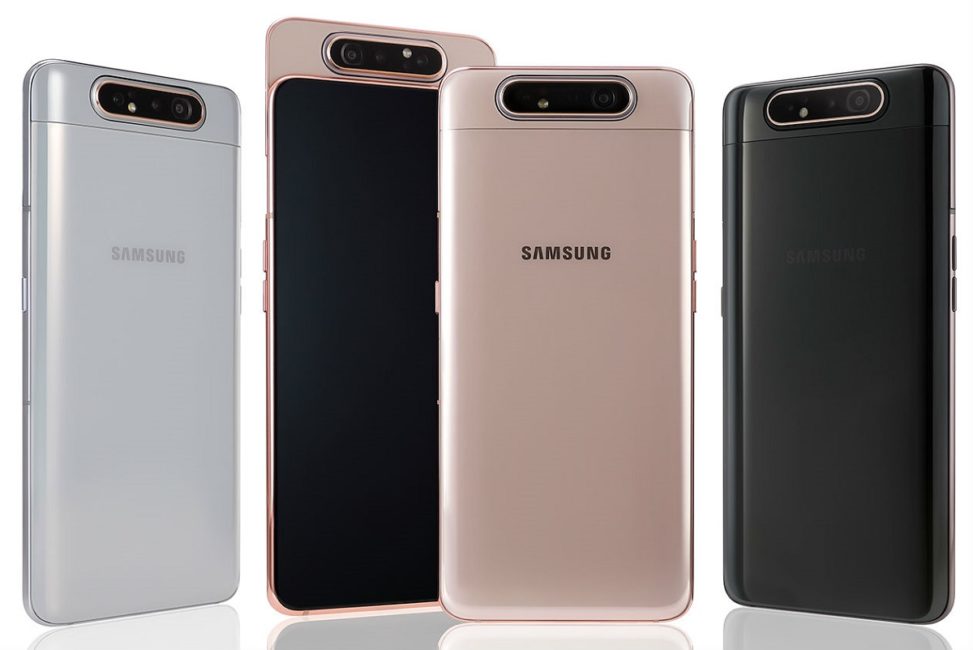 The design of the camera unit
Let us turn to the most interesting element of the design – the sliding and rotating mechanism of the camera unit. Such cameras are another feature that's supposed to help create truly bezel-less phones. Periscopes with a front-facing camera, flip-flops when the main cameras from the rear panel turn over and become frontal. Like in ASUS ZenFone 6, for example.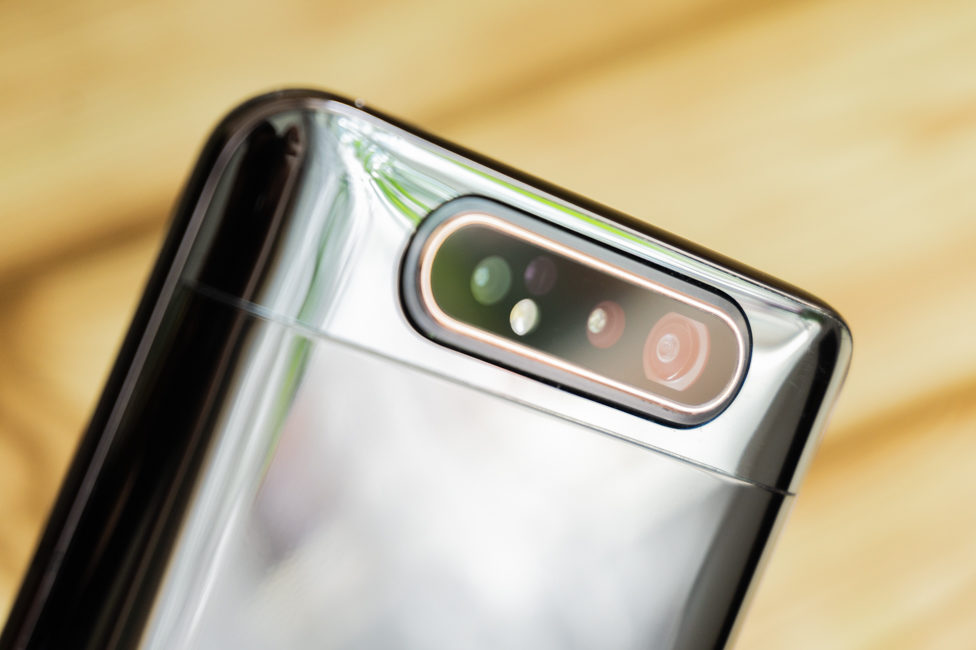 But Samsung Galaxy A80 uses something in between. The platform emerges from the top of the case and, at the same time, the block with cameras itself unfolds 180 ° facing the user. It is not as simple as it seems.
From an aesthetic point of view… well, I find it difficult to call it a neat decision. The smartphone is getting even longer. Although it certainly adds to a wow-effect. There are very few such unique solutions on the market, which is why they still look unusual. A process of transformation is also accompanied by a very quiet sound of the mechanism. And I would like it to be a little faster. Because sometimes what happens is you close the camera and put the smartphone on the table, but the block has not returned to its position yet.
But the more complex this mechanism, the more questions arise about its durability and reliability. In a moving mechanism, especially when several elements are mobile, as here, there are gaps, whatever one may say. The smartphone is surrounded by dust, after all. And what can happen with this is not at all difficult to guess.
In addition to such wear, any serious fall can disable moving parts. Also note that the unit is already "looking" up a bit. But I think it should be placed vertically, right?
Protection of the unit against falls is available – it folds up if the accelerometer determines "freefall". But if the smartphone lies on a flat solid surface with an open camera application and you accidentally or specifically turn on the selfie camera, then the unit extends, but it cannot turn over and returns to its original position.
In general, it looks unusual, but as with all such sliders there are questions. I want to believe that the Samsung engineers did everything in their power to make the mechanism as durable as possible. At least for the moment. Motorized blocks are the only way out, if you hate notches and holes in the screen. But at the same time, you will have to be especially attentive and take care of the device since it's probably even more susceptible to damage than the previous models.
Elements' configuration
Where are all the usual elements usually located in front? They are under the display. The earpiece speaker in the usual sense is absent, and the voice comes directly from the acoustic display. On the market, this solution is used in the flagship Huawei P30 Pro. There is no LED for notifications either, but it is partially replaced by the Always On Display function.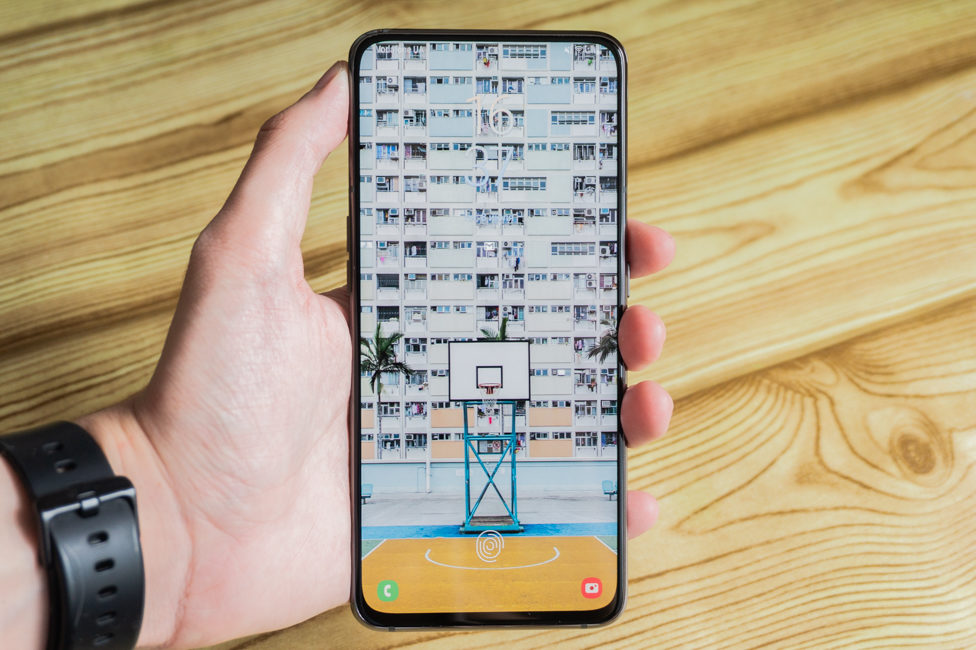 On the right side there is only one power button, except for plastic dividers under the antenna. On the left, two buttons – reduce and increase the volume, they are separate. Thankfully, no Bixby button!
At the bottom there is a slot for two nanoSIM with rubberized seal. But do not count on the usual moisture protection – there's a motorized mechanism here, remember?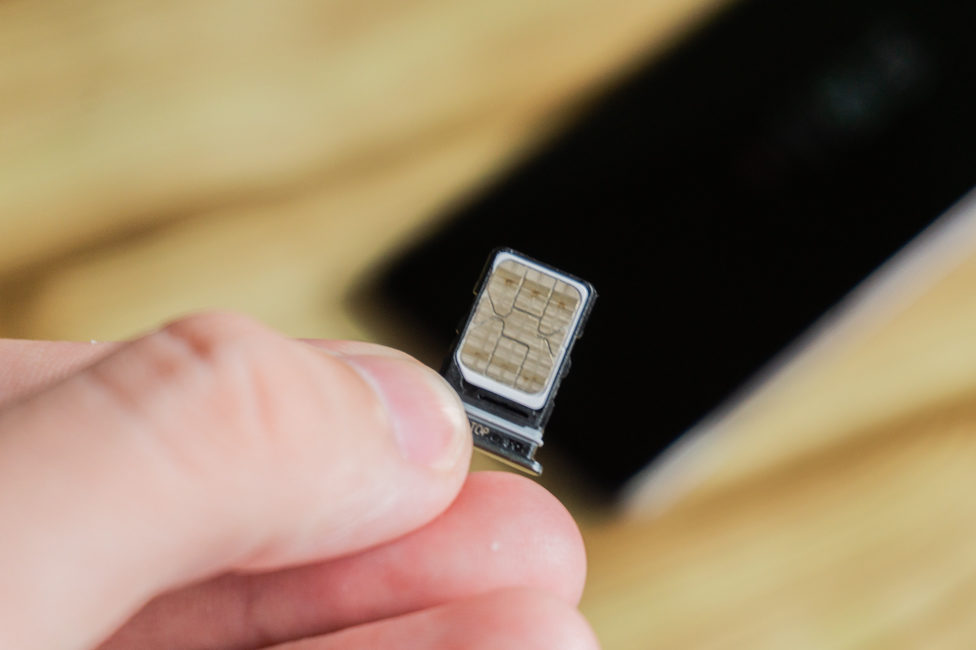 Nearby there is a Type-C port, a microphone and a multimedia speaker. From above – the second additional microphone. Something is missing, huh? There was no space for a 3.5 mm audio port.
But Samsung is one of the few companies that kept to the last. First, Galaxy Tab S5e (but it is very thin), and now A80… Of course, I am not an engineer, and therefore won't say "there was no place for an audiojack in such a large case." Maybe they really could not fit it in.
On the back of the rotating unit there's a flash and three camera modules. On the back of the case is the only manufacturer's logo. Even additional markings aren't there. I approve.
Ergonomics
The first thing you notice is the dimensions of the Samsung Galaxy A80. It is large (165.2 × 76.5 × 9.3 mm) and rather heavy – 220 grams. According to subjective sensations, the upper part does not outweigh (at least significantly), but what can not be taken away is the fact that the smartphone is very slippery.
This fact leaves its mark on the operation of the device, so that you need to hold it as tight as possible. Ideally, keep it in a case, no matter how it looks on a gadget with such a mechanism.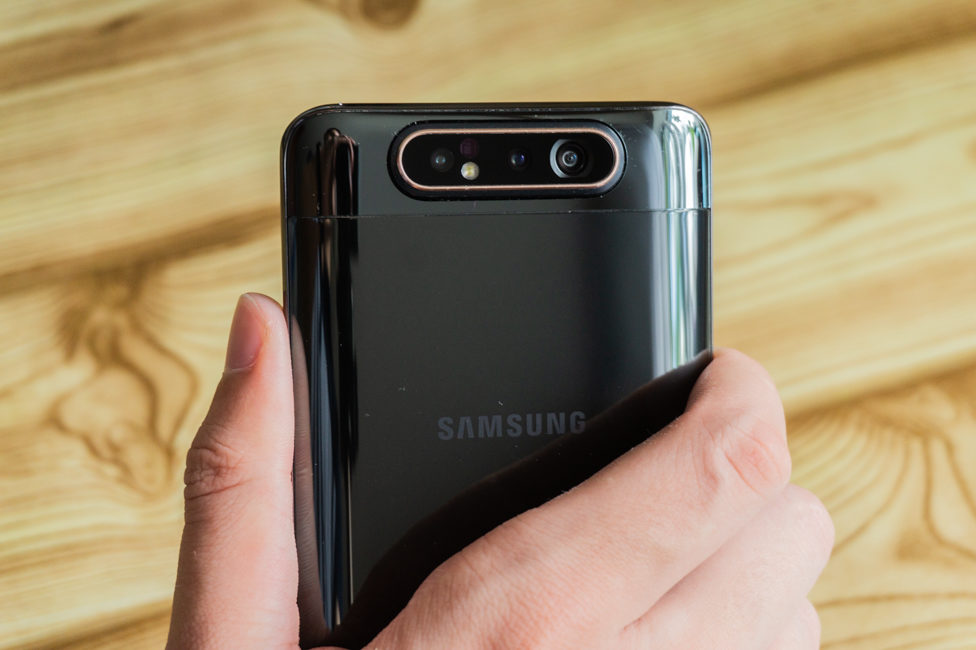 Obviously, controlling Samsung Galaxy A80 with one hand is a quest. Even if One UI has done a lot to simplify this process, but it doesn't help much. Smartphone is really hard to manage with one hand, and especially for a long time.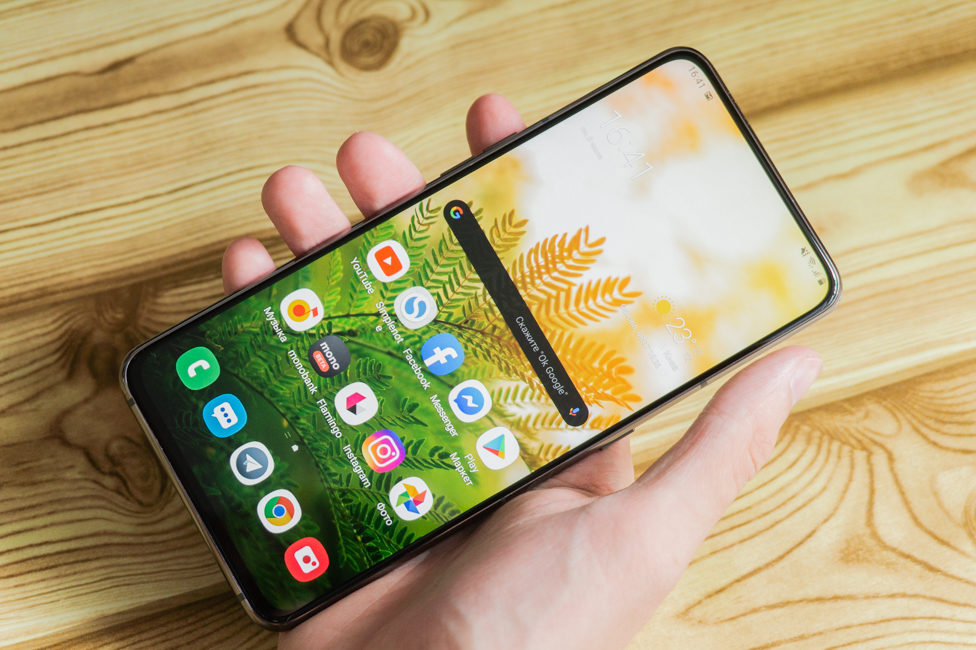 As for the physical buttons, everything is mostly good. They are not too high. But I managed to accidentally make tons of screenshots. The buttons are on different sides, but the volume down key is directly opposite the power button. Coupled with a slippery body, it complicates things. But maybe you will not face such a problem.
Samsung Galaxy A80 Display
Display in Samsung Galaxy A80 is one of its main features. The fact that it is devoid of any notches, droplets and holes is already known to you, which doesn't make it any less cool. The screen diagonal is large – 6.7″. The matrix is ​ Super AMOLED – a classic, and the resolution is 2400 × 1080 pixels. The pixel density is approximately 393 ppi – that's enough, I did not see any problems concerning clarity of the fonts.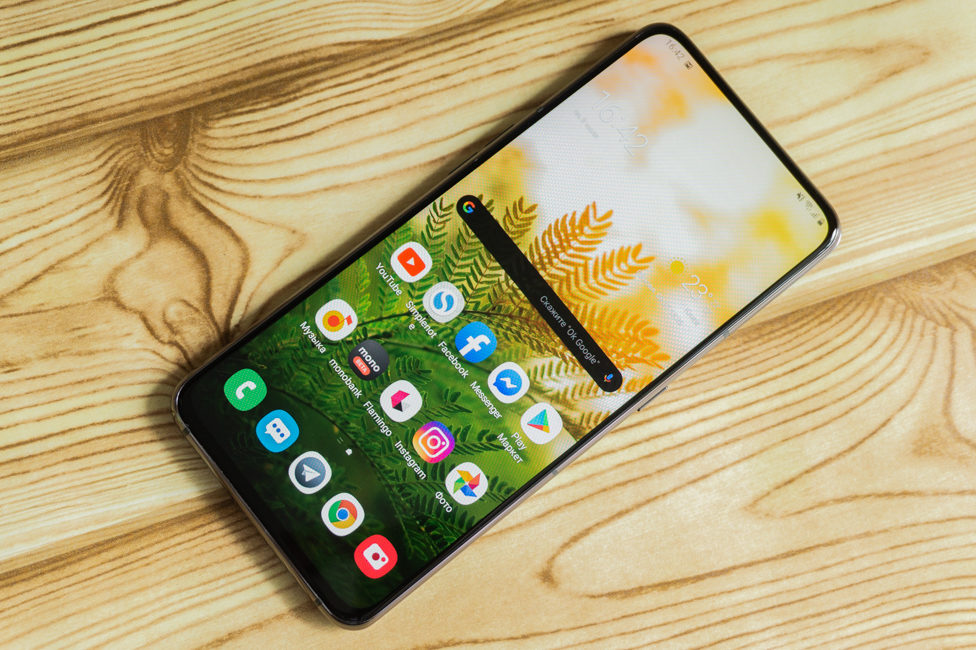 Of the interesting things – the screen of the smartphone has a slightly non-standard aspect ratio – 20:9. Something in between, so to speak, a typical elongated format (18:9 and derivatives) and a very long 21:9, which is used in the latest Sony smartphones – Xperia 10 and Xperia 1. At least the device is not very wide.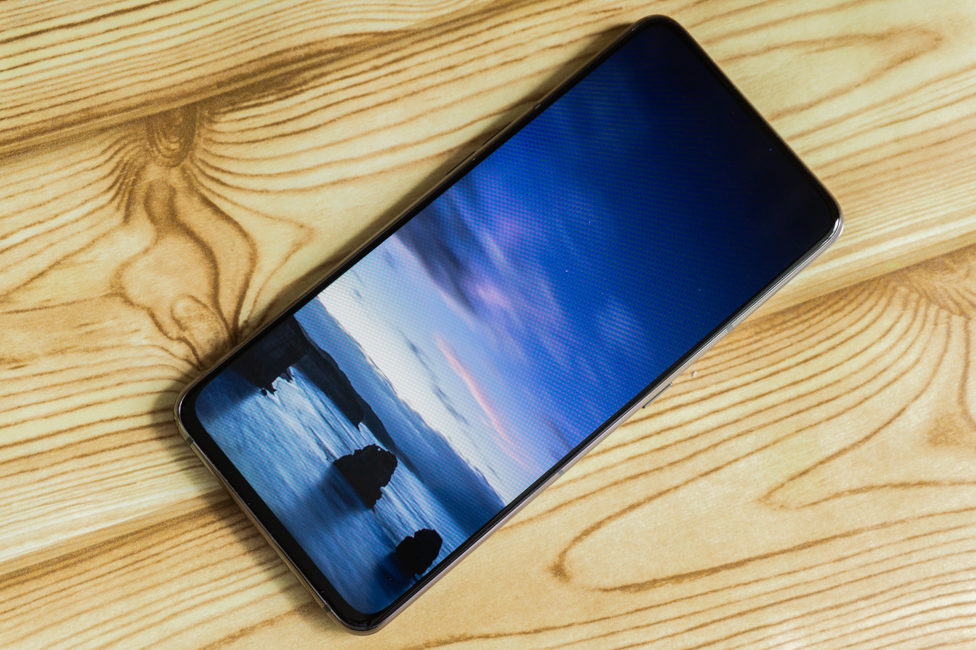 We have a good margin of brightness, though not a record one; excellent viewing angles, as well as a rich and contrasty image. Everything we love (or not). White color is still distorted at extreme angles, but this is not visible in actual operation.
In general, typical AMOLED. Everything on this screen looks good. It is nice to flip through social networks, watch videos and play games. And not only because of the quality of the picture, but also the dimensions.
There are two profiles available in the color settings: rich and natural colors. The first allows to change the temperature of the screen and adjust the white balance. There is a blue filter, forced full screen (if the developer of the app is lazy), increased screen sensitivity and Always On Display. The latter is can be widely customized: style of the dial, color and display mode.
Samsung Galaxy A80 performance
Currently, the Samsung Galaxy A80 is the most "charged" in the A line in terms of hardware. The smartphone has Qualcomm Snapdragon 730 chipset (8-nm process technology). It consists of 8 cores, which are divided into two clusters. The 2 high-performance Kryo 470 Gold cores operate at a maximum clock frequency of 2.22 GHz, and the remaining 6 Kryo 470 Silver cores operate at frequencies up to 1.8 GHz. Graphics handled by Adreno 618.
Judging by the synthetic tests, the performance level is at the same level as the flagship 835th chip. Throttling test showed a performance loss of about 12% – quite a bit.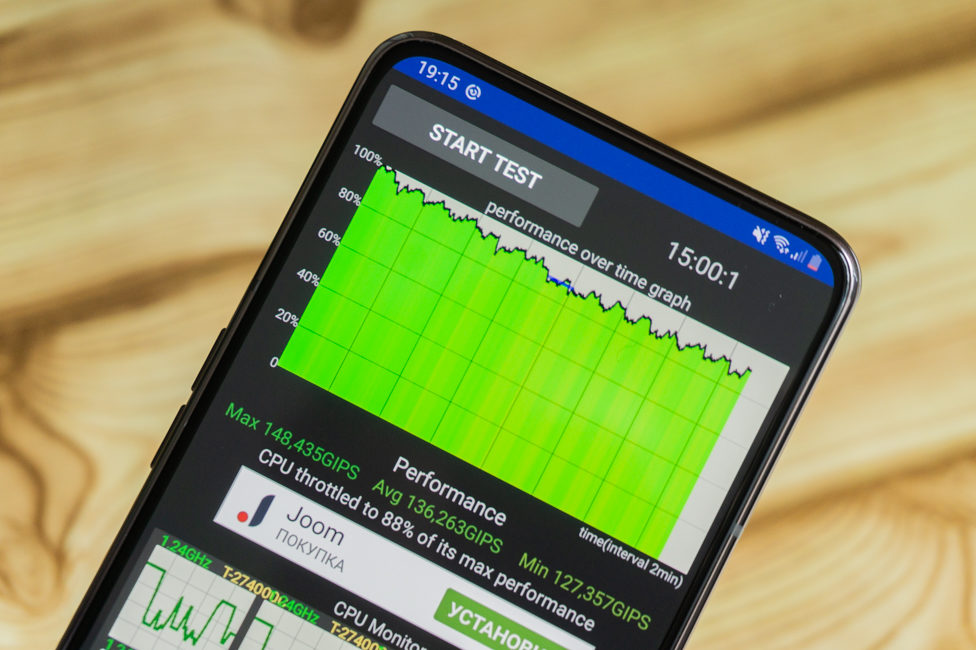 The Galaxy A80 offers as much as 8 gigabytes of RAM, which is enough for any tasks you like. Applications are not unloaded from memory in batches, switching between them takes place without the slightest laginess. In short everything is just fine. The phone can stay relevant for 2-3 years.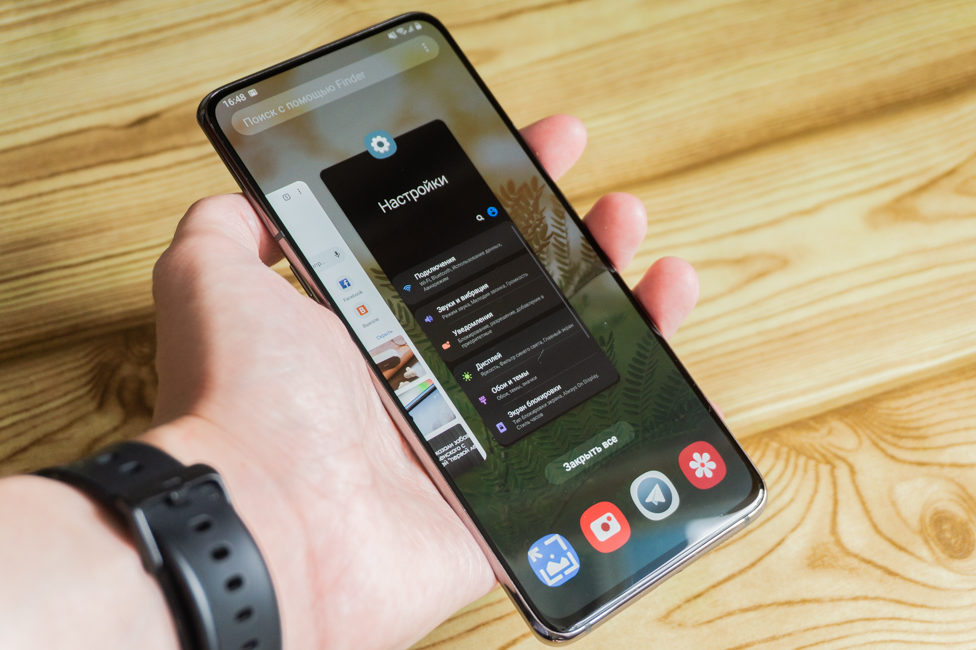 There's 128 GB of storage, of which 109.91 GB is free to use. The manufacturer does not offer any other configurations, but it is impossible to expand the memory by installing a microSD card.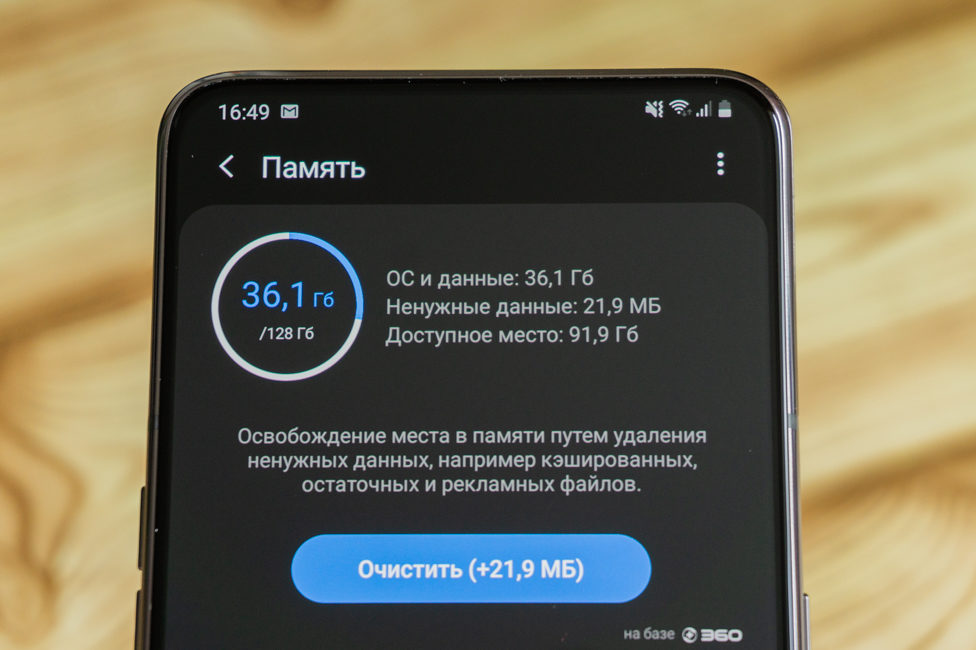 The UI is fast and responsive, as expected. No differences from a flagship, at least when it comes the shell and applications.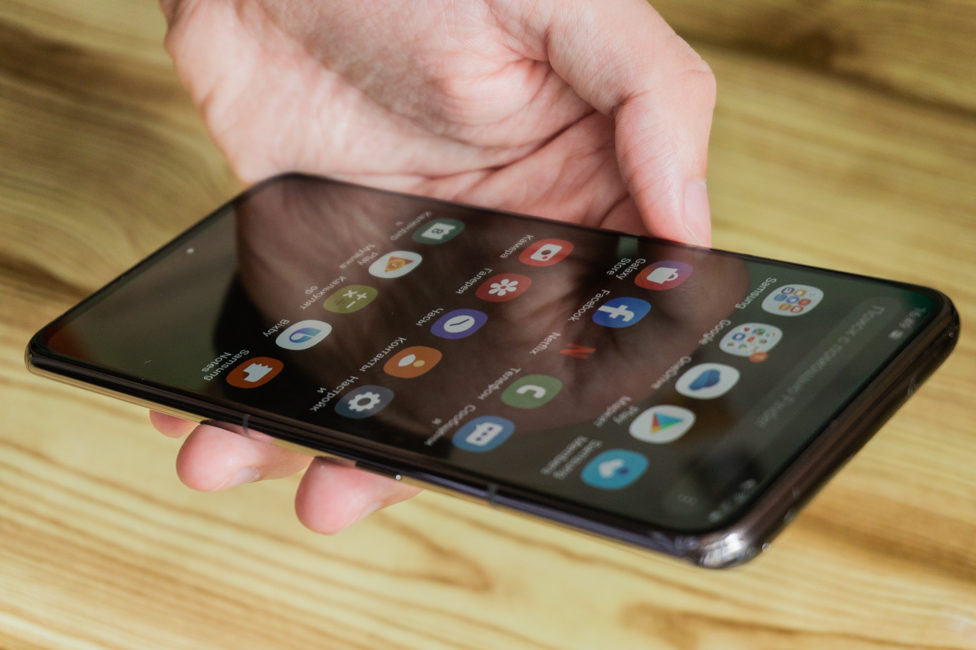 With games, the behaviour is also quite good: PUBG runs on high settings with stable 30 FPS without noticeable lags. But Fortnite does not allow you to select graphics options higher than the average, and runs with 25-30 fps max. Shadowgun Legends on ultra-graphics shows 35-47 fps. Generally, you can play everything and with good graphics.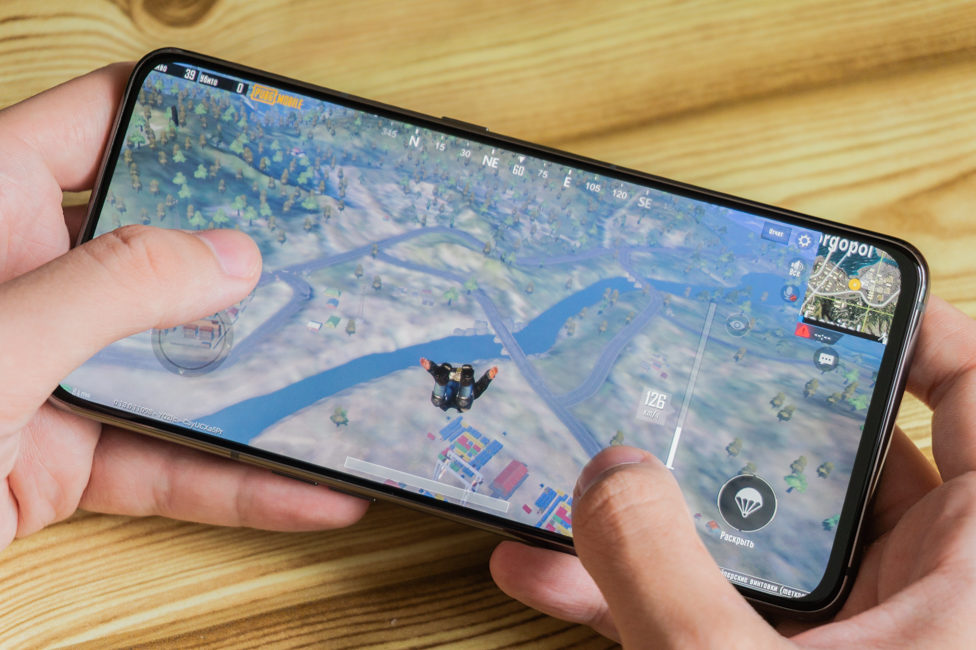 Samsung Galaxy A80 Cameras
Samsung Galaxy A80 has cameras with three lenses. Main module has a resolution of 48 megapixel, f/2.0 aperture, 1/2″ sensor size and 0.8µm, PDAF focusing system, focal length is 26 mm. The second sensor supports ultra wide angle: 8 megapixel resolution, f/2.2, FR 12 mm, pixels 1.12µm. And the third is a ToF sensor (Time of Flight) or in other words a 3D camera, which knows the distance to an object, can create its three-dimensional model, and so on.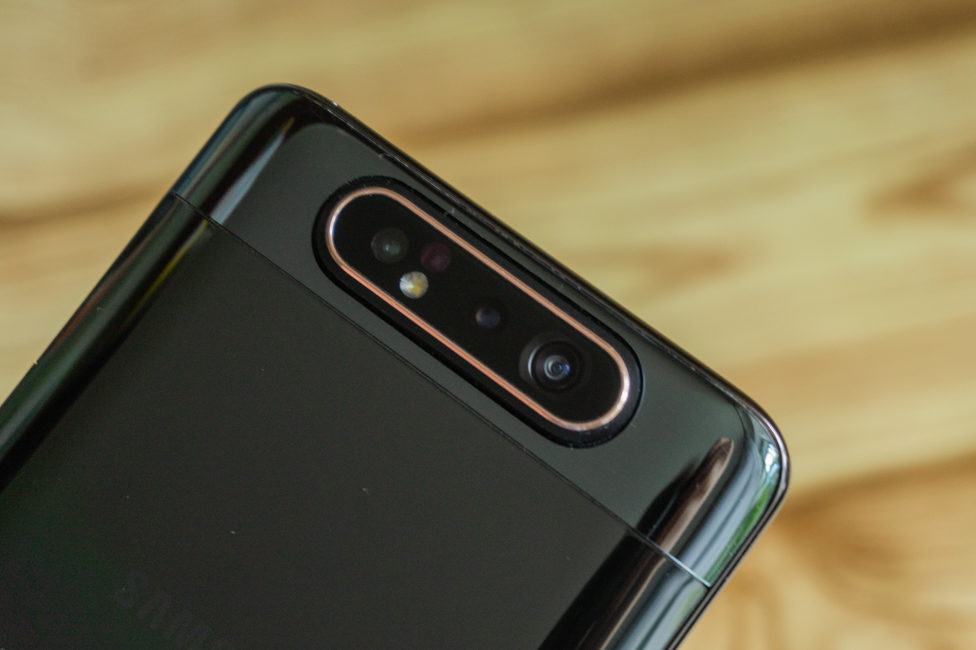 The main standard module smartphone takes great photos. On a fine day, we get clear and sharp pictures, with the right colors and good detail. The dynamic range in such conditions is quite good. But at night or in bad light, this camera shows a mediocre results: there are very few details – everything is eaten up by an aggressive noise. The camera is not bad, but it's hardly the best in this class.
However, it is worth considering that I have a pre-sale model on my test and Samsung promises to significantly improve the quality of shooting in commercial devices. In general, the camera seems to have the potential, and we will hope that it will be realized in the future.
PHOTO EXAMPLES IN FULL RESOLUTION
By default, photos are taken with a resolution of 12 megapixels, but it is possible to switch to all 48 megapixels. However, one should not expect a strong increase in quality. Sometimes it happens and vice versa – in some cases, pictures with 12 megapixels look better than those taken in high resolution. But perhaps with subsequent updates, the difference will be more pronounced.
The second module turned out to be of high quality in terms of detail, but again – in the proper shooting conditions. There are practically no differences in color rendition compared to the main one. Basically, it does what it has to do.
PHOTO EXAMPLES IN FULL RESOLUTION
You can blur the background easily. It can be used for a photo or a video.
By the way, about the video. Recording can be done in 4K resolution and with 30 frames per second. In terms of quality, everything is fine, but there is certainly not enough electronic stabilization. Yes, the application has a corresponding icon, but apparently software is not final, because when you activate this stabilization, we get a picture from a wide-angle module and only in Full HD. Again, let's wait for updates.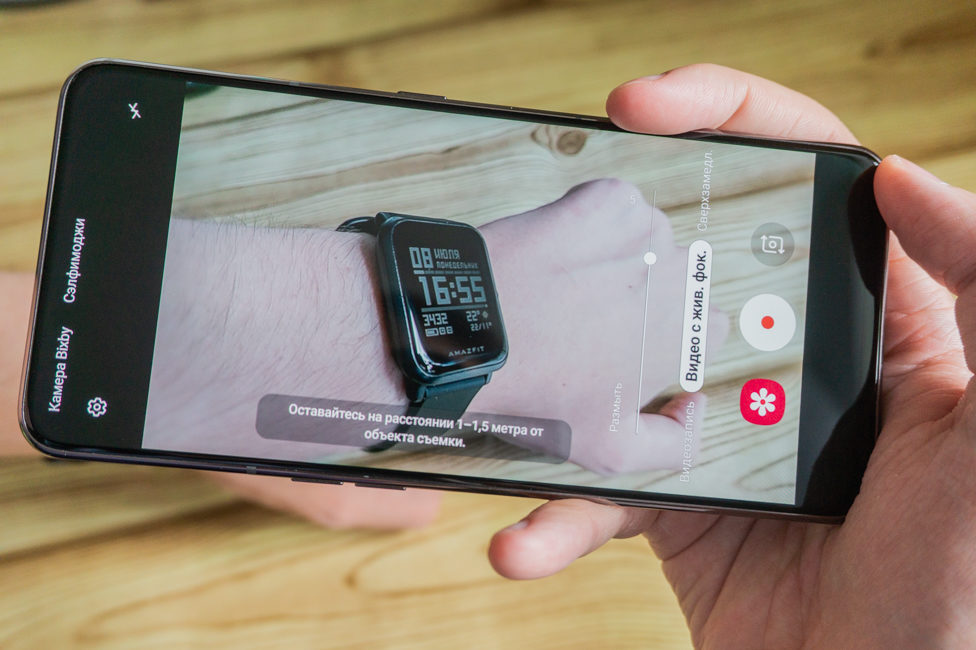 Usually, in this place of the review I tell about the selfie camera. I usually say something like "everything that I have said above is applicable to the front camera" or "Samsung Galaxy A80 makes cool selfies". But it not as simple.
The thing is that when the camera is turned towards the user, some of its capabilities are lost. The most obvious is that autofocus disappears. With the outstretched hand this is not critical, but there's no way to get quality selfies that way. 4K video is also unavailable. At least there's a third switch, which brings the image from the main module a little closer and thus eliminates possible optical distortions.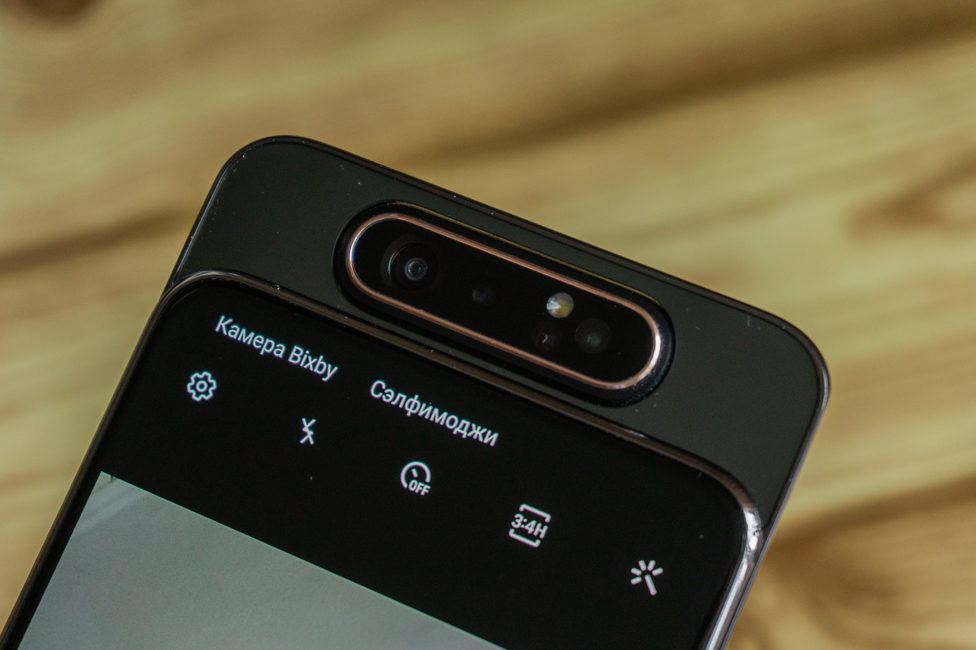 In fact, selfies do turn out good. But why artificially limit the full potential of the module? Perhaps later the situation will change.
The camera application has all the necessary modes. Video and slowmo, and super slowmo and hyperlaps. For a photo, you can set manual shooting parameters, and there is still a night mode. But at this stage it works poorly – we are waiting for updates.
In-display fingerprint scanner
In Samsung Galaxy A80, a fingerprint scanner is built into the screen. Not ultrasonic like in S10/S10+, but optical. In my practice, this is the second smartphone with this type of sensor and it upset me very much. Unlike Xiaomi Mi 9 SE, it is not only slower, but also not stable at all.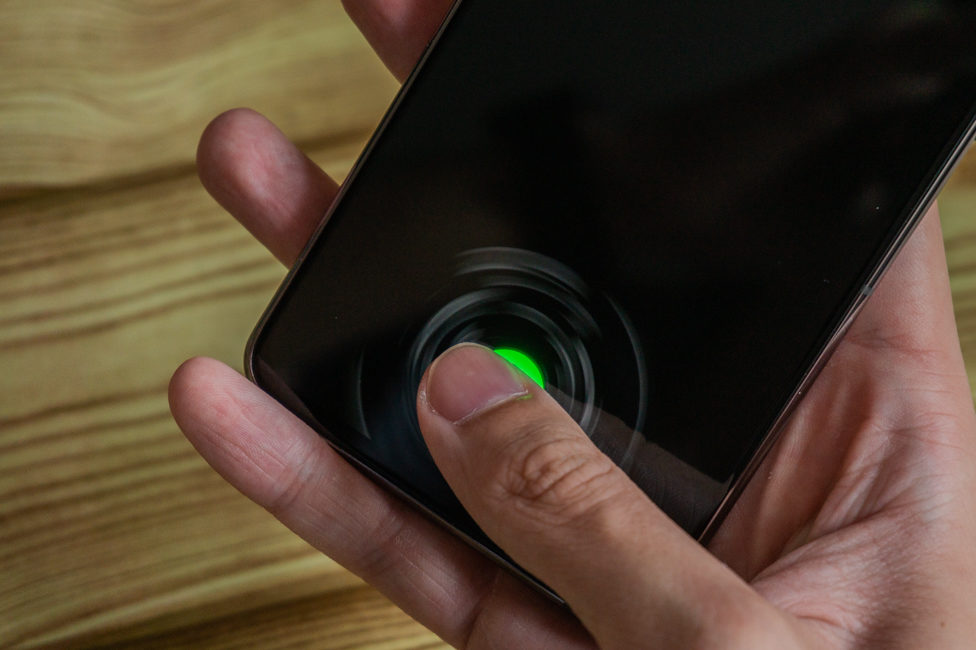 Standard capacitive scanners in the A-series aren't lightning fast, but at least they work fine. You can get used to it, of course, but the manufacturer also needs to finish this module, it is currently working 3 times out of 5.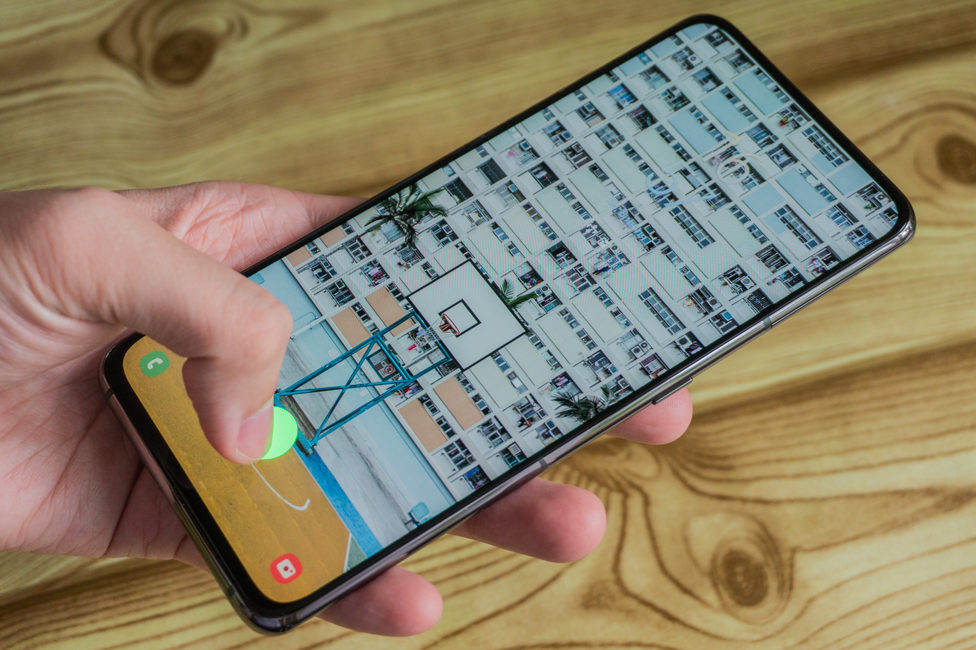 Face unlocking in absent, but do we actually need it? Given the not-so-fast mechanism? I don't think so.
Samsung Galaxy A80 battery life
Galaxy A80 has a 3700 mAh battery. Bot bad, but such a large screen does takes lots of energy. You can easily count on a confident day of active work: social networks, instant messengers, music, camera and AOD.
In the PCMark test with maximum display brightness, A80 lasted 5 hours and 53 minutes. There is no wireless charging, but quick charge is supposed to be here. I couldn't check it – I didn't have the bundled charger.
Sound and communication
As I have already said, during conversations the voice comes from under the screen. The smartphone shows where the best audibility will be, but there is also a nuance here. How critical it is depends on how often and where you communicate.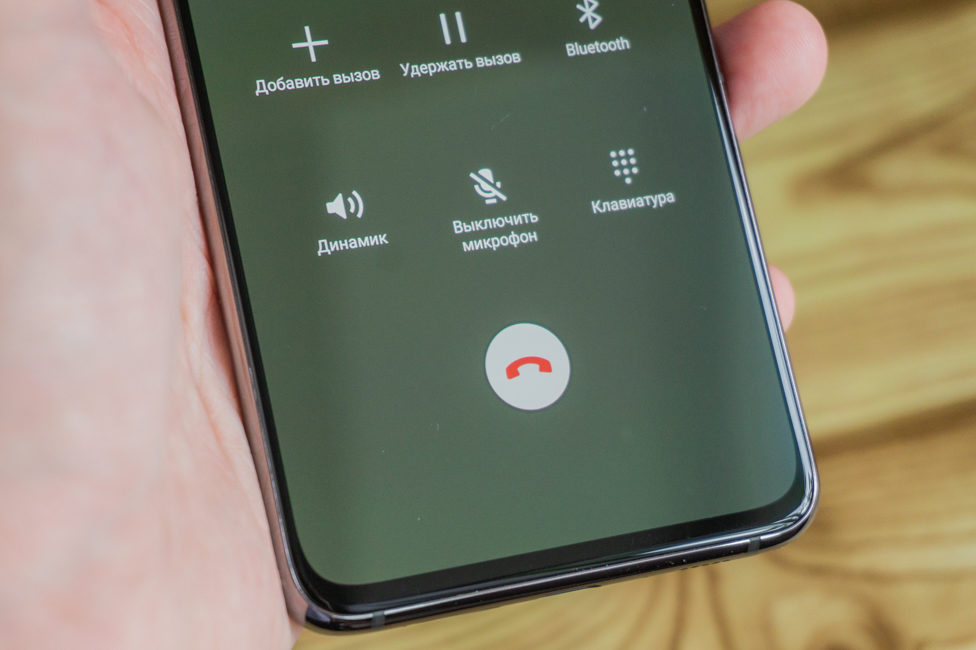 What I mean is that in a quiet place the voice is heard clearly, but as soon as there is extraneous noise or you are talking on the street the volume may not be enough and like any other person in this situation you start to raise it. But the adjustment step is large and as a result the volume gets too loud. Now others can also hear everything.
As for the multimedia speaker, it has a normal quality, but a small margin of volume. It's not good for music, but you can play or watch videos with no problems.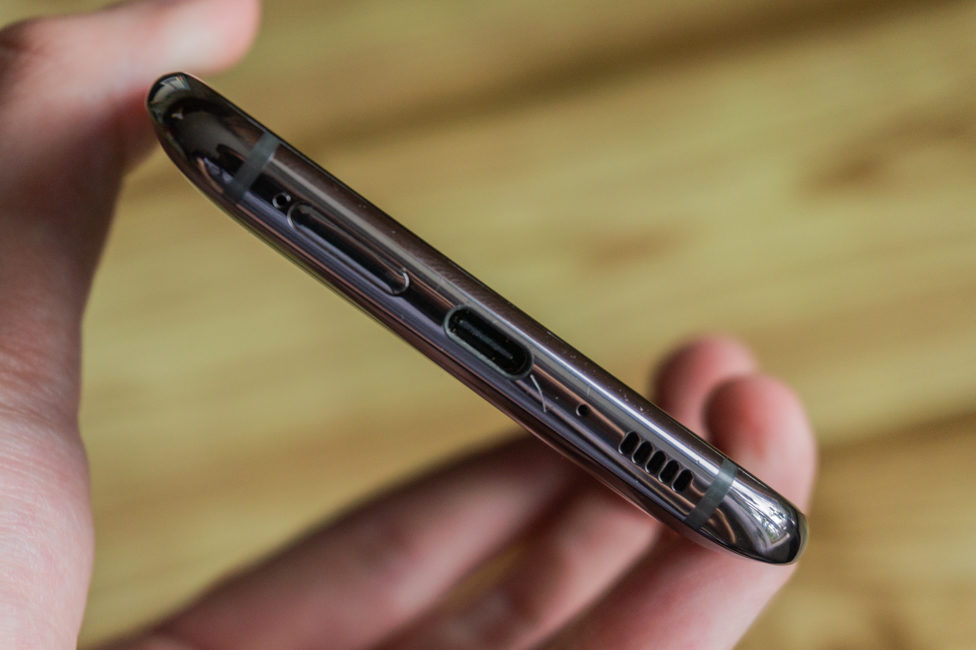 The A80 wireless headphones sound good, there is also a small set of effects that can improve it further.
3.5-mm audio jack, I want to remind you, is nowhere to be found. Apparently, the box will include the adapter. I connected the one from Pixel 2 XL – it worked, the sound was good.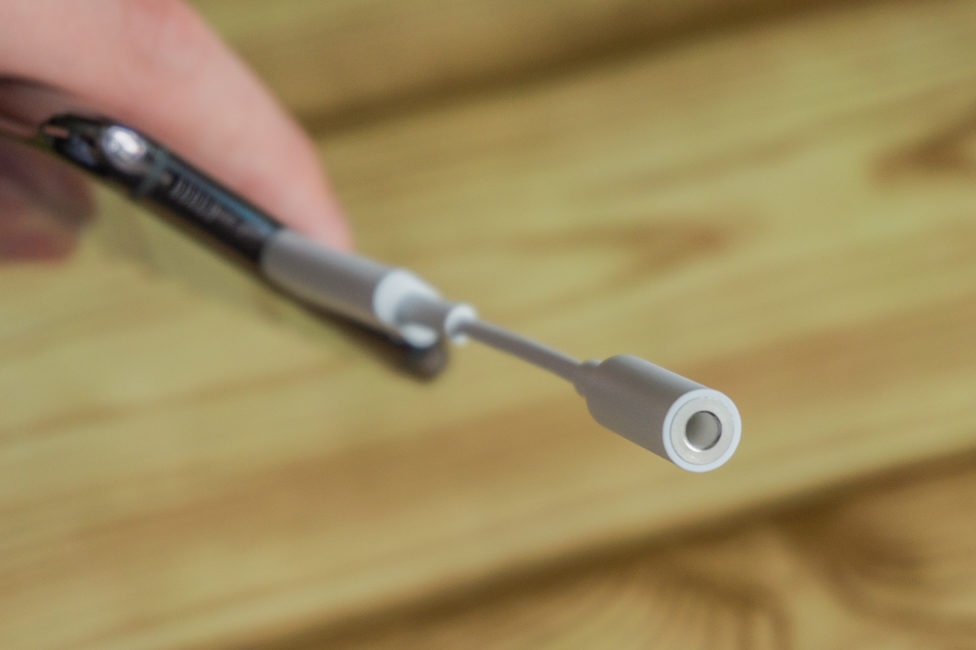 A set of wireless modules is usual for a gadget for this price: 5 GHz Wi-Fi 802.11 a/b/g/n/ac, Bluetooth 5.0 (A2DP, LE). The GPS module (A-GPS, GLONASS, GALILEO, BDS) is quite accurate, NFC is also available.
Firmware and software
Samsung Galaxy A80 is running Android 9.0 Pie, with One UI 1.1 shell. It is comfortable and functional. In general, I did not see any differences from A30 or A40 shell, so you can read their reviews if you need any details.
Verdict
Samsung Galaxy A80 finds itself in a very competitive price segment. And consumer demand for smartphones is high. But even multiple rivals most likely will not have the main feature of A80 – a bezel-less and large screen. The ultramodern effect of the device is also enhanced by a unique camera.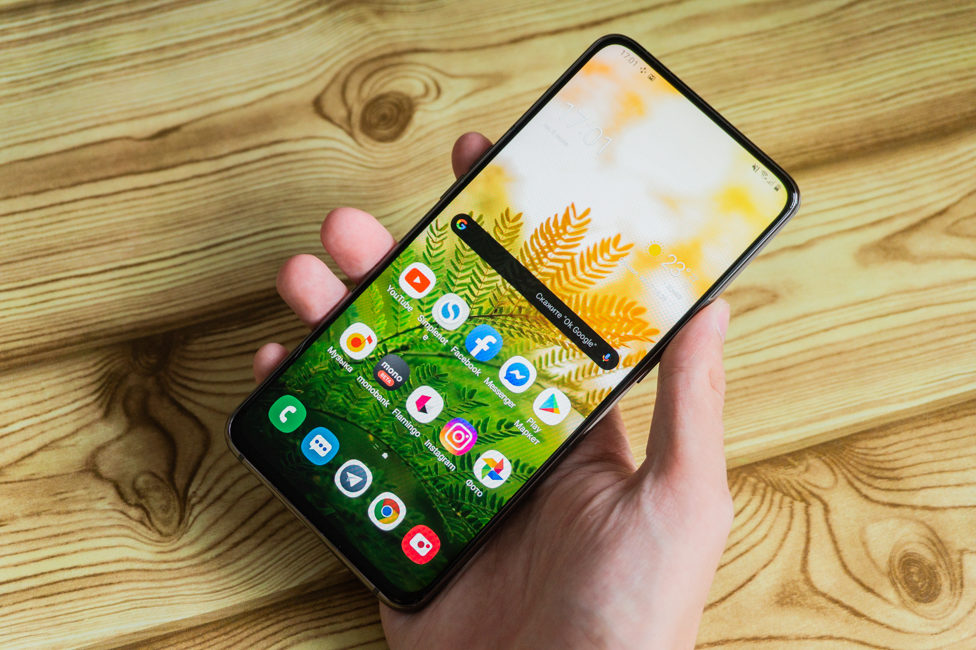 Samsung Galaxy A80 is not suitable for everyone, because it is large, heavy and slippery. It's impressive, but it's not quite flagship level. The cameras, for me, aren't the best, although they can get better with time.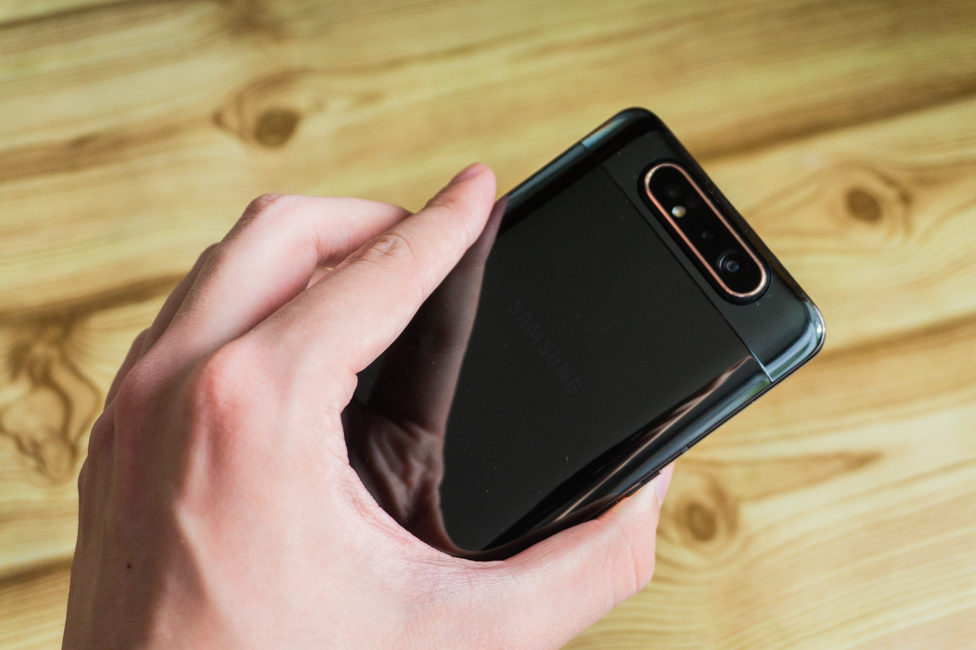 In addition, there are too much small problems for a phone this expensive. We can only hope, once again, for an update.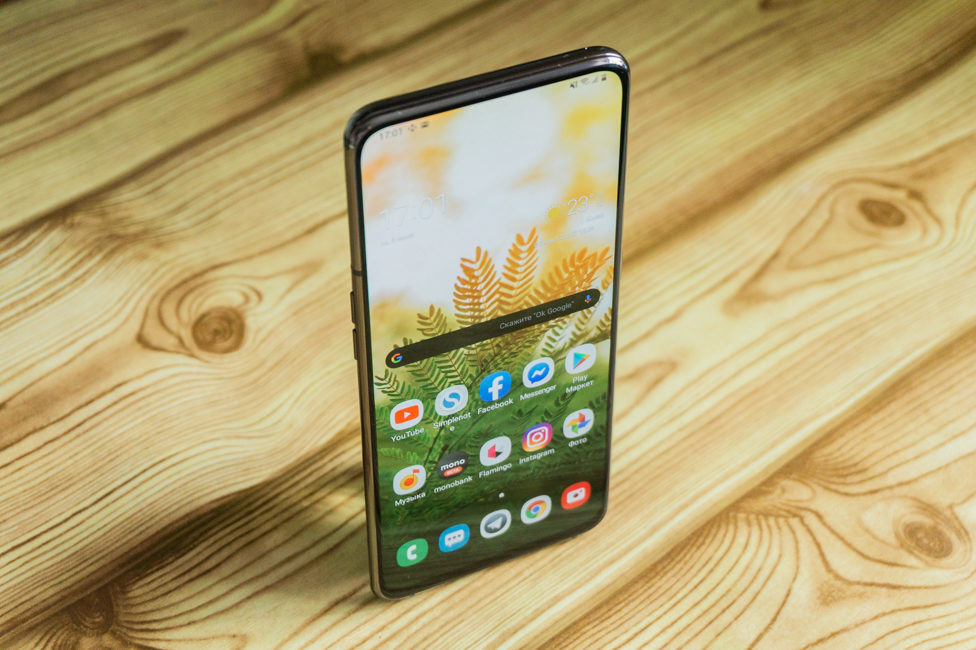 The smartphone is classy and certainly different from the others. And for haters of boring smartphones with notches it's really a good option. Galaxy A80 is, without a doubt, original to the extreme. And also expensive.
Subscribe to our accounts: