GeIL – Golden Emperor International Ltd. – One of the world's leading manufacturers of components and peripherals for PC announced the release of its new gaming memory kits: EVO V DDR5 RGB Hardcore with high-frequency modules clocked at 4800 MHz to 6600 MHz, which are available in large kits with a capacity from 32 GB to 64 GB. The unique design features active cooling and exciting RGB lighting effects and is available in titanium gray or glacial white.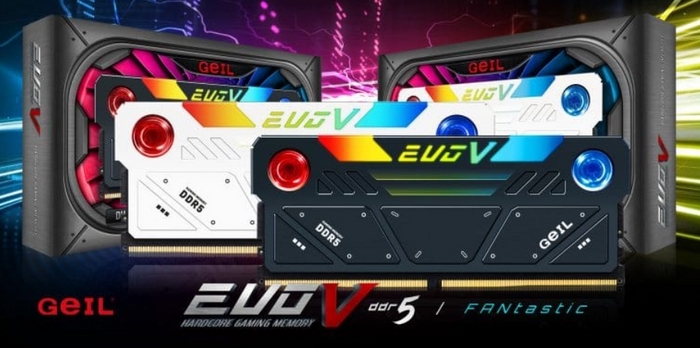 GeIL has developed a revolutionary cooling solution for EVO V modules that combines a stunning RGB light strip and two cooling microfans into a single cast aluminum heatsink. Most importantly, the physical height of the heatsink allows it to be compatible with most CPU coolers on the market without any mechanical interference. Two cooling fans are located in the upper right and left corners of the heatsink and provide additional airflow, maintaining the operation of the modules in the perfect temperature range. Cooling heatsink with two fans can dissipate about 45% more heat than a traditional one.
"The EVO V has established a new standard in heat shield design as we have created an active dual-fan "FANtastic" cooling system to keep EVO V within an ideal thermal range," Jennifer Huang, the VP of GeIL Memory, said.
The exceptional DDR5 memory architecture is based on a locked/unlocked PMIC (Power Management Integrated Circuit), which can provide threshold protection, synchronized voltage monitoring, smart voltage control and power management to achieve a more comprehensive voltage control under normal and overclocking conditions.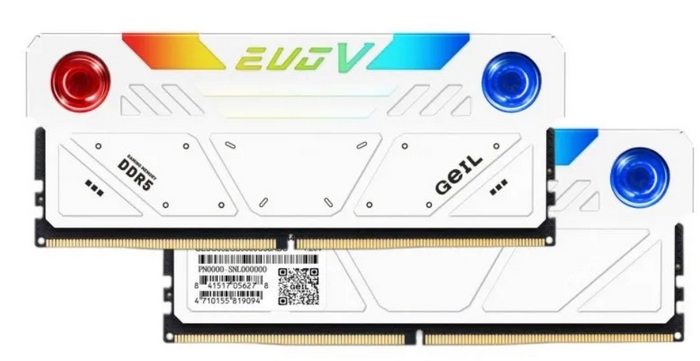 In addition, the built-in ECC feature provides active error correction to improve data integrity, memory performance and stability. GeIL EVO V supports the latest Intel XMP 3.0 profiles for precision and stability of automatic overclocking, giving users more access to customizable memory performance.
GeIL EVO V DDR5 RGB Hardcore gaming memory will be available in July in major retail stores around the world with a frequency of 4800 to 6600 MHz at a voltage of 1.10 to 1.35 V and a capacity of 32 GB to 64 GB.
You can also help Ukraine fight with Russian occupants via Savelife or via an official page of the National Bank of Ukraine.
Read also: