San Diego Comic-Con is considered one of the most impactful events in not just comic culture, but pop culture in general. After a 2-year break due to COVID-19 pandemic, the convention is back in-person, and this year both major comic publishers were also there to present their latest projects.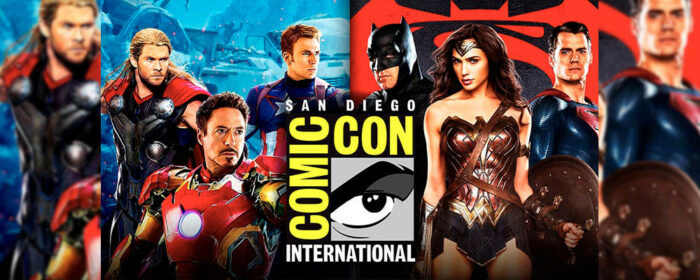 There's big news for pretty much everyone: Marvel fans got a mostly solid timeline of the next two phases and three years of our lives, with some long-awaited (and grim) returns of fan favorites, as well as interesting teasers for new heroes who are sure to play a big role in the coming several years.
DC fans, meanwhile, got another look at the still-shifting hierarchy of power in the DC universe, or at least how it relates to the two films closest in release dates, Black Adam and Shazam: Fury of the Gods. (yes, there is a "DC SuperPets" animated movie coming out next weekend, but it probably isn't part of what is now considered the DC Universe now).
For those who prefer sci-fi and fantasy on their TVs over movies, the big juggernaut at SDCC was Amazon with new information on The Lord of the Rings and The Wheel of Time. Netflix released the first trailer for Sandman, Star Trek delivers fans both a nostalgic trip and one of the most interesting crossovers ever, and HBO Max finally gave us a look at the Gremlins sequel.
We've collected the most interesting Marvel announcements:
MCU Phase 5 schedule — starting in 2023
Phase 6 announcement – with as many as 2 Avengers movies in 2025
Black Panther: Wakanda Forever trailer, the movie premieres November 11, 2022
Release dates for "Fantastic Four", "Blade", "Thunderbolts"
SheHulk: Attorney at Law series final trailer – releasing August 17 on Disney+
I am Groot animated series trailer – releasing August 10 on Disney+
Numerous new series announcements, including the return of Deredevil with Charlie Cox, Loki, season 2 and Agatha's solo series Coven of Chaos
More details about the animated series: X-Men '97, Marvel Zombies, Spider-Man: Freshman Year and the new season of What If…
Non-Marvel fans will aslso be pleased by the following news:
Black Adam premieres October 21, 2022
Shazam: Fury of the Gods premieres December 2022
Sandman series releases on August 5 on Netflix
The Lord of the Rings: The Rings of Power releases on Prime Video on September 2, 2022
Dungeons & Dragons: Honor Among Thieves – in theaters on March 2023
The Walking Dead season 11 premieres October 2, 2022 on AMC
New Animated Feature Film in the Avatar: The Last Airbender universe is coming
For All Mankind renewed for the 4th season – premiering in March 2023 on Apple TV+.
And here's our personal favorite: John Wick 4 will be released in theaters on March 24, 2023.
You can also help Ukraine fight with Russian occupants via Savelife or via an official page of the National Bank of Ukraine.